These turmeric and coconut dog treats are a fun treat for your puppy! Made with coconut oil.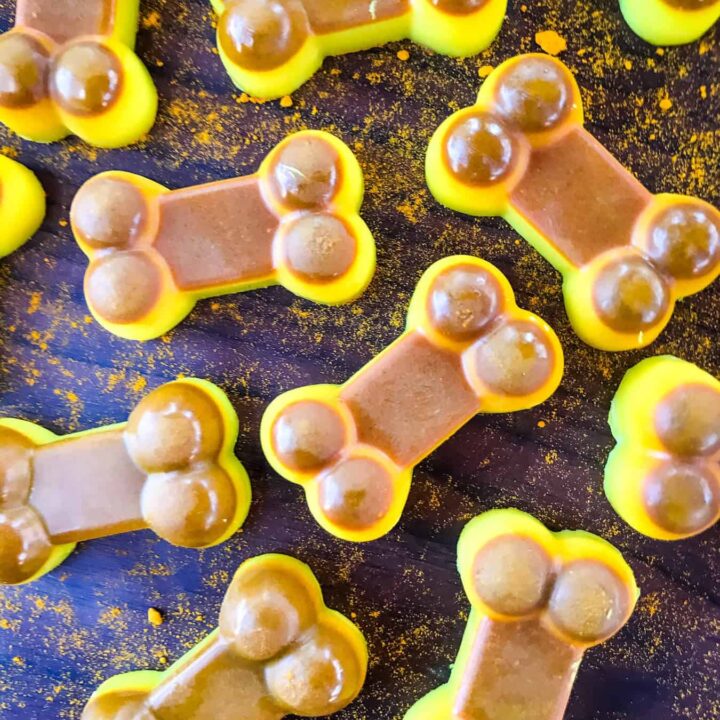 These Frozen Turmeric Coconut Dog Treats are delicious, healthy treats for your dog!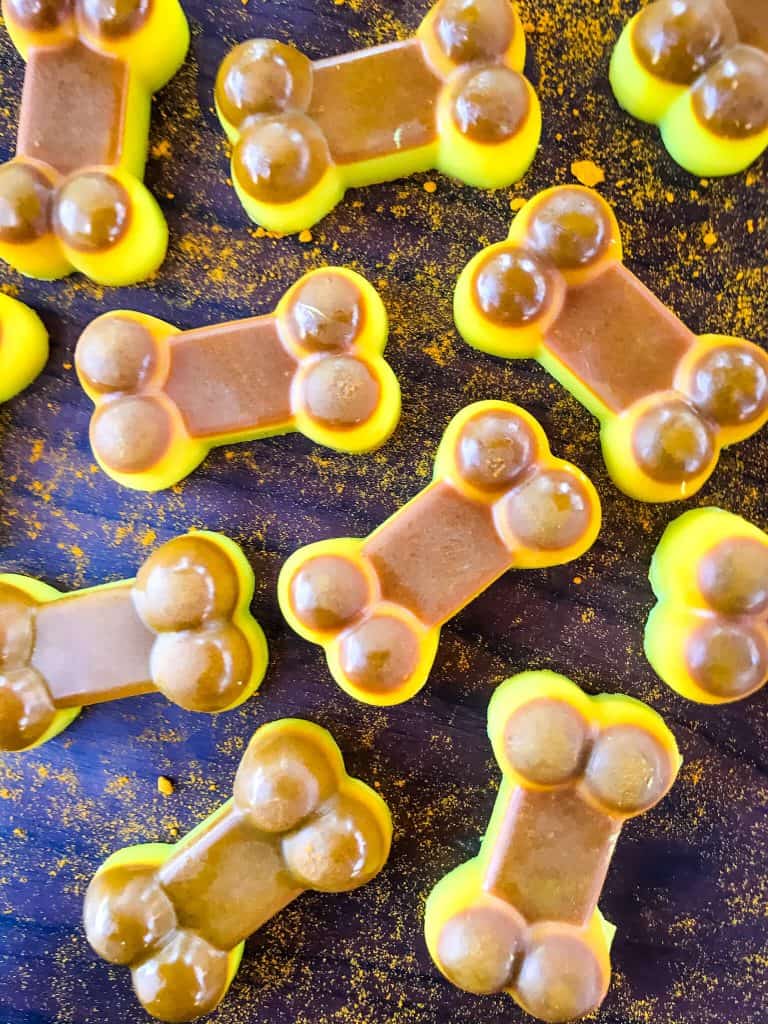 This post contains affiliate links.
I love making simple and easy DIY homemade dog treats for my puppy! And while they can be healthy and helpful, please note I am not a vet or any other trained professional. Please contact your vet for more information about what is safe and appropriate for your pet. Find more of our dog treat recipes here!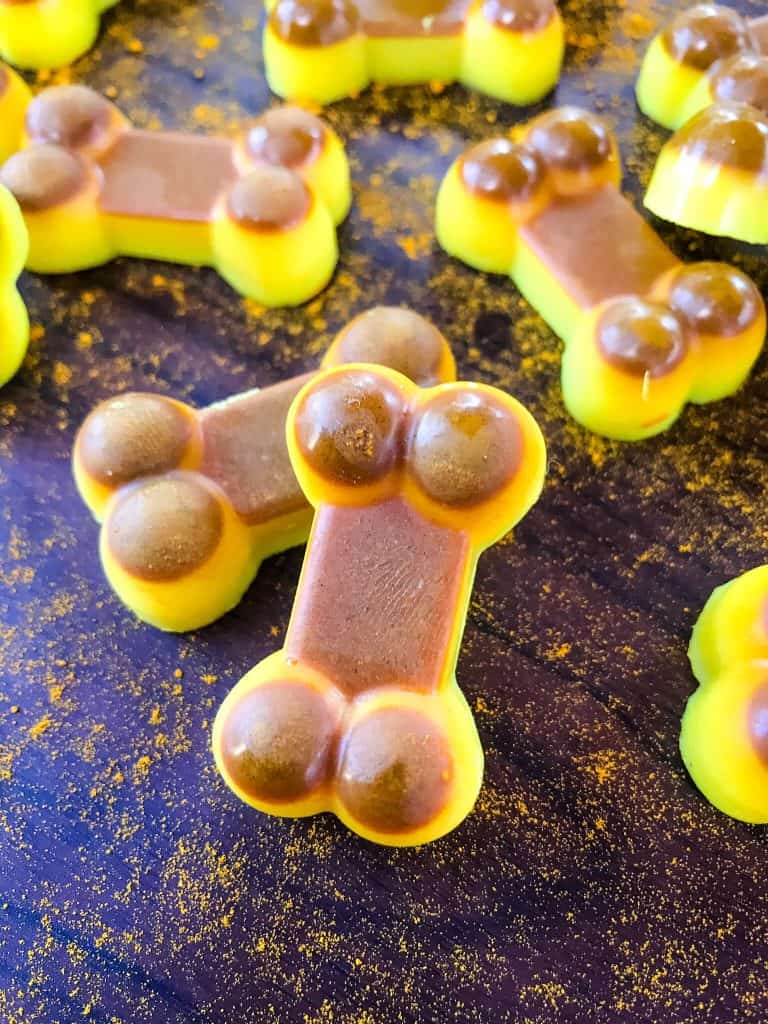 Coconut oil dog treats can also be great for a dog's skin and fur. I know my puppy gets really dry skin every spring, so treats like this help him from getting so dry.
While the coconut oil may be helpful for dogs, you should still limit how much they get. It is high in calories and fat, and typically dogs should only get 1/4 teaspoon up to 1 Tablespoon worth a day depending on their size and health. Talk to your vet for more information about what is appropriate for your dog.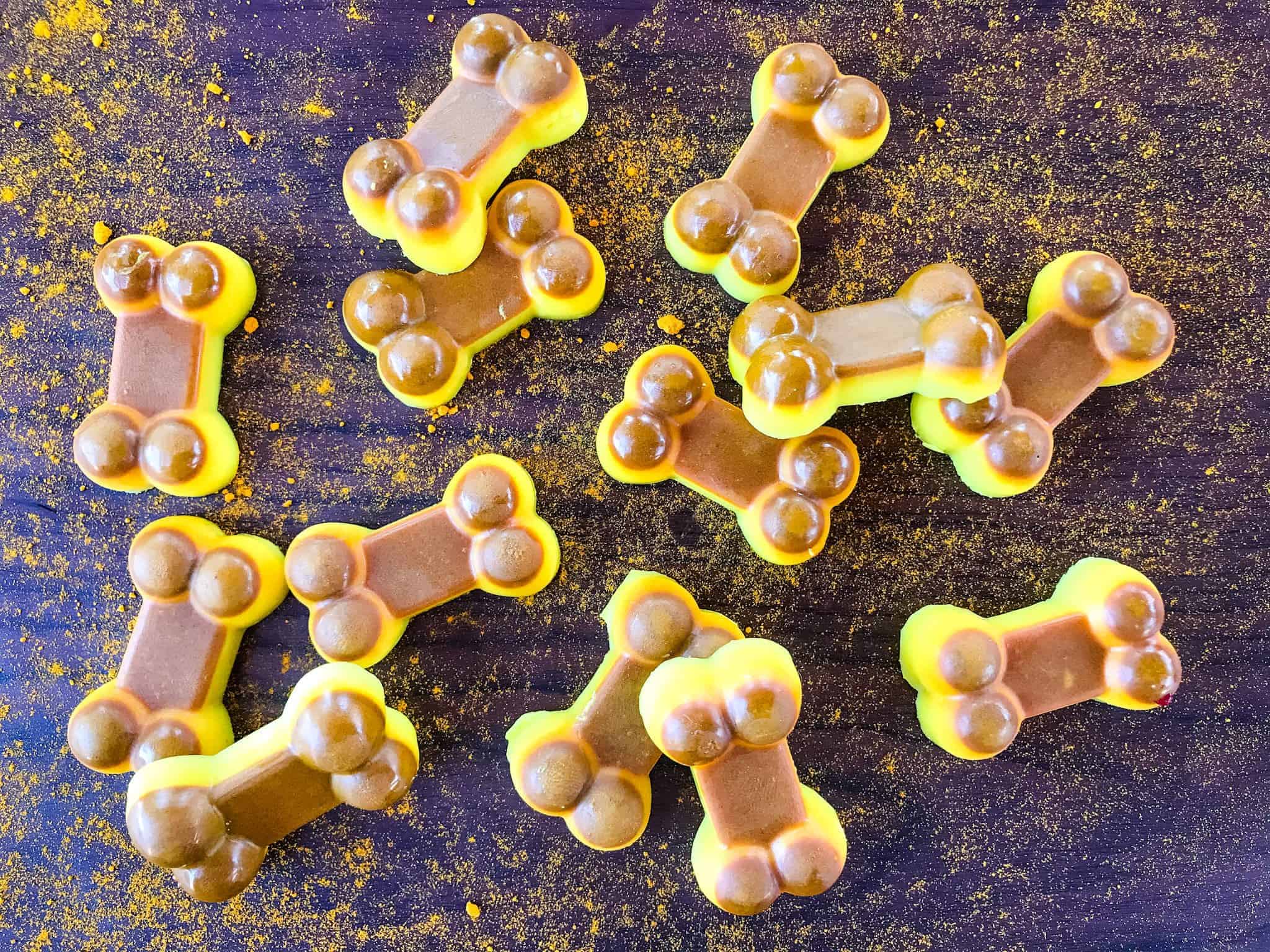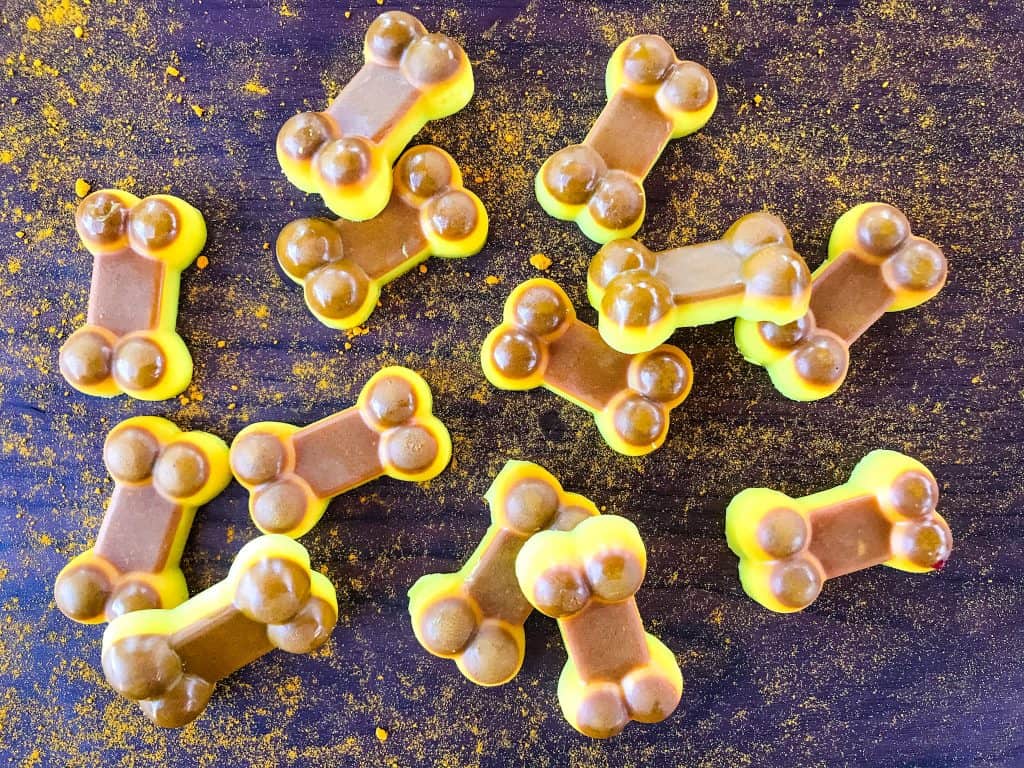 This is the dog silicone mold that I used for these turmeric coconut dog treats. It comes with one paw shaped and one bone shaped mold. The paws are larger, so you could use that one instead for bigger pupsicles treats but will get a smaller number of treats from the same recipe. You could also use any ice cube or silicone mold that you have.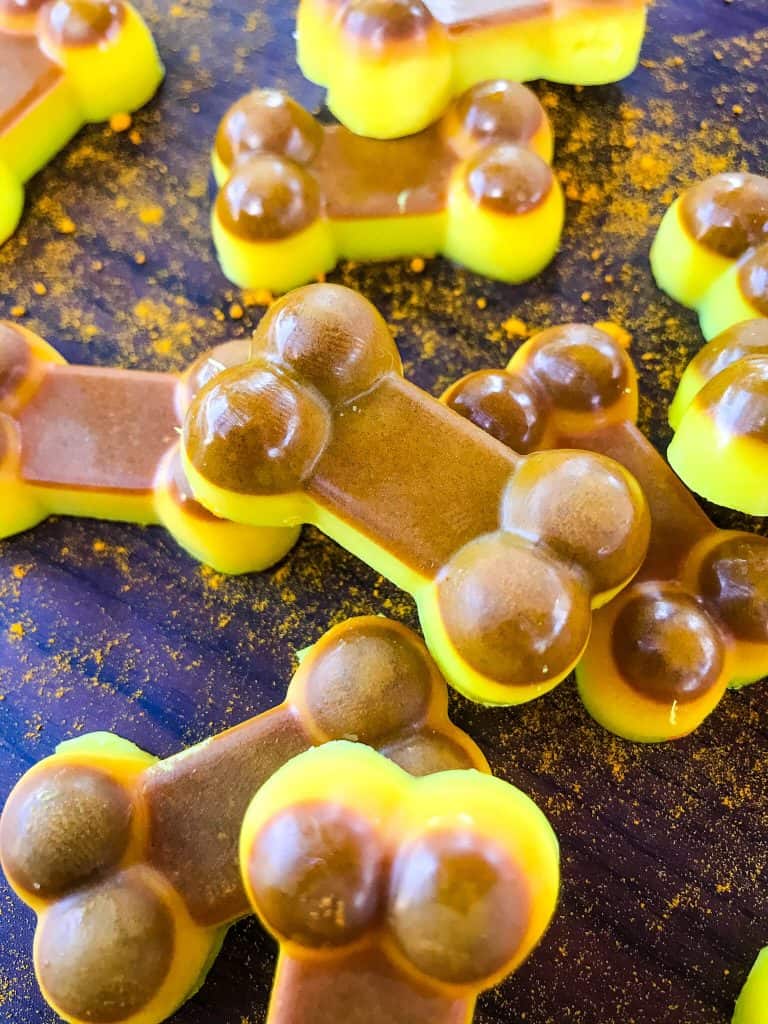 While these frozen dog treats say "frozen" and are kept in the freezer, the coconut oil does not get as hard as ice. They are very easy to chew, similar to the texture and firmness of an apple. But it is still recommended to keep them in the freezer so that the coconut oil does not melt at room temperature when it is warmer. The treats DO get cold, so they are great for any dogs that love ice cubes.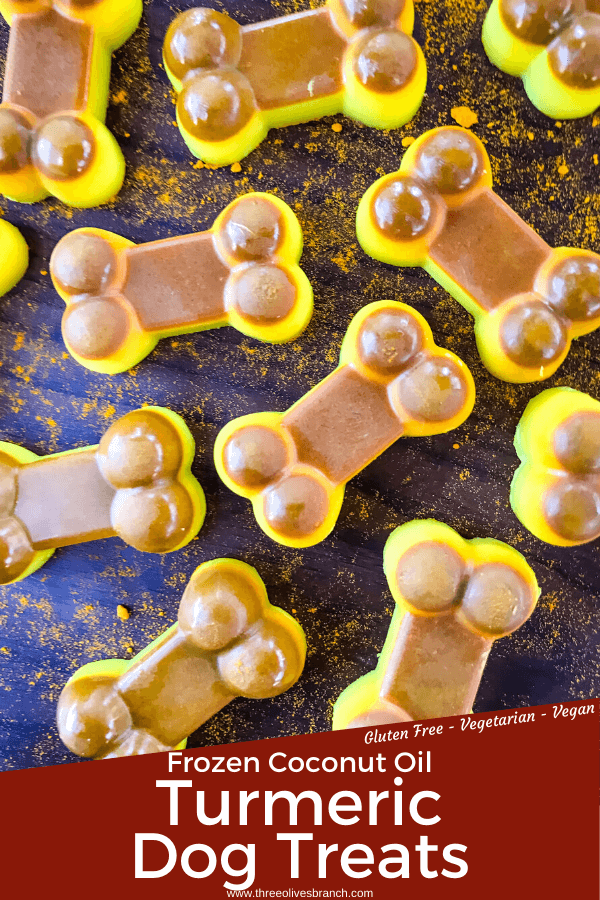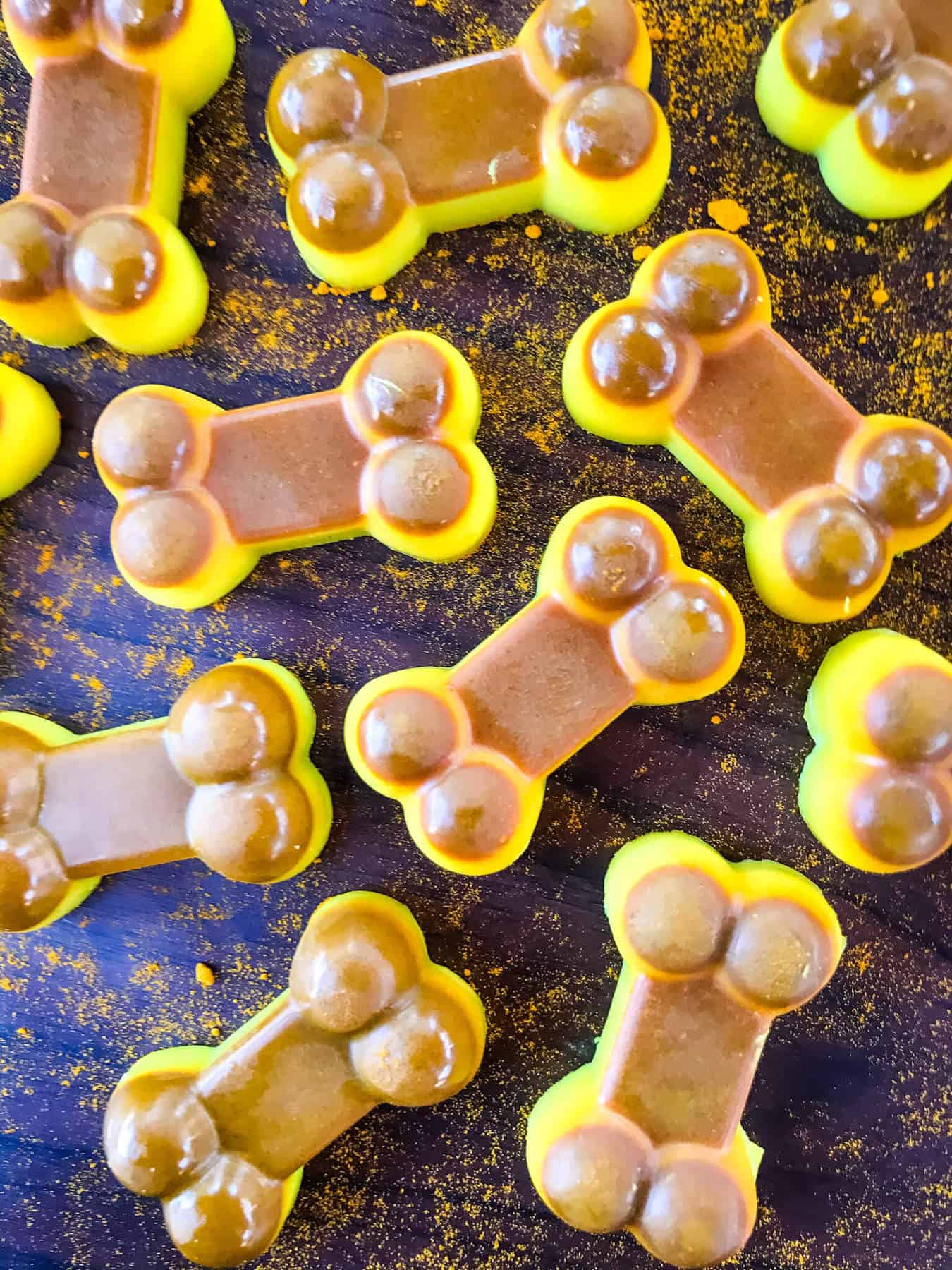 Instructions
Measure out your coconut oil either into a small cup/bowl or a larger measuring cup (such as a 1 cup measuring cup).

Microwave the coconut oil to melt it in 30 second intervals.

Prepare your silicone mold by laying it on a small baking sheet or something else that is stiff for easy transfer to the refrigerator.

Add the turmeric to the coconut oil and stir to combine. Pour the melted coconut oil into each mold, up to the top.

Transfer the treats to the refrigerator (approximately 1 hour) or freezer (approximately 30 minutes) until set.

Pop the dog treats out of the mold and store in the freezer in a container or bag. Storing frozen will ensure the oil does not melt at room temperature, which especially happens in warmer climates and months.
Notes
This is the dog silicone mold I used for this recipe. It comes with one bone shape (smaller) and one paw shape (larger). You can use any mold size and shape as preferred, however it will change the total number of treats you make in one batch. 
You could also use coconut water in place of coconut oil.
While these treats are cold and frozen, they are not hard like ice and dogs can easily chew them. They are similar firmness/texture as an apple.
The turmeric settles a little while chilling which makes the bottom of the mold (top of the bone) the darker brown color and the rest a yellow color, giving it the stripe effect.
Nutrition
Serving:

1

treat

|

Calories:

36

kcal

|

Carbohydrates:

1

g

|

Protein:

1

g

|

Fat:

4

g

|

Saturated Fat:

4

g

|

Sodium:

1

mg

|

Potassium:

10

mg

|

Fiber:

1

g

|

Sugar:

1

g

|

Vitamin C:

1

mg

|

Calcium:

1

mg

|

Iron:

1

mg

By