If you have never had limoncello before, the real stuff not the pre-bottled stuff that you get in the liquor store, you are missing out.
Now I love lemons, I use them all the time, but I also have an obsession with grapefruit.  (Grapefruit margarita, anyone?  Or a paloma! Mmmm).  I wanted to make all sorts of citrus versions of limoncello, and so grapefruit limoncello (grapefruit-cello) was an obvious choice.
It is so incredibly simple to make this stuff, but it takes some time.  Like a few weeks, so you need to plan in advance.
It is very important that when you peel the grapefruit that you avoid as much of the white part of the peel as possible because it will make it bitter!  I found that a cheap, dull peeler is great for this because it does not peel too deep.  My awesome, go-to peeler took a ton of white off, so I bought a different peeler for just a couple bucks specifically for this process.  Here is a picture to show you what a "thin" peel versus what a "too deep" peel would look like.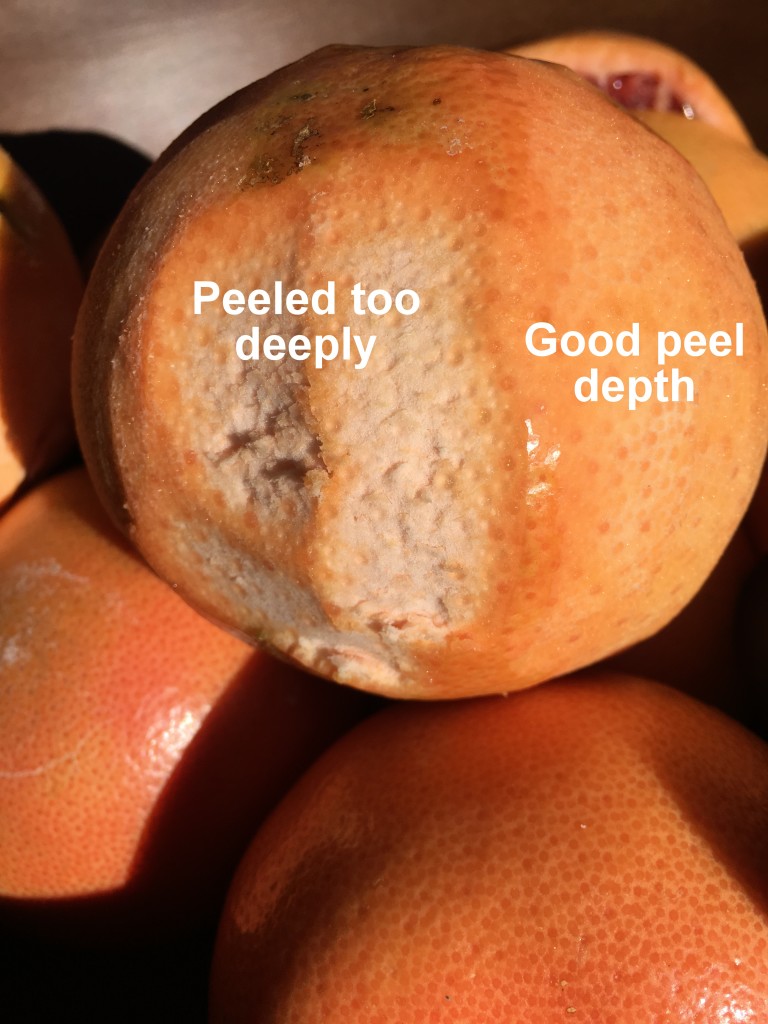 (This post contains affiliate links).  My favorite bottles to store the grapefruit-cello are these glass bottles that have a seal so that they can go in the freezer easily without spilling.  I have a few pretty, decorative bottles as well but they just have a cork stopper, so those are used simply for display and serving.  You can find those bottles here.  You will also find bottles that have a color tint, however I like to stick with the clear ones so that you can (a) identify which bottles are which flavor of limoncello and (b) see the beauty of the liquor itself.  You will also need a gallon sized glass jar for the steeping process.
If you want a strong batch, knock down the sugar water mixture to 2 cups sugar,  cups water.  For a sweet batch, use 4 cups sugar, 5 cups water.  It will affect the overall final volume of how much you make, but the strength will determine how you use it and what you want to add to it.  Depending on how much sugar water you add, you will likely fill around 3 bottles with this recipe.
Ingredients
10

large

grapefruits

(try to get ones with lots of color)

750

ml

vodka

unflavored

750

ml

everclear

(or you can sub for more vodka)

3

cups

sugar

(see note)

4

cups

water
Instructions
Wash your grapefruits. Using a duller peeler, peel just the top layer of the skin off the grapefruits. Avoid peeling off any of the white pit as much as you can. The white parts will make it bitter. I have found that cheap peelers are not very sharp to begin with and perfect for this. If you do get a lot of white on the peels, use a knife to scrape as much as you can off. This is not a fun process, so the cheap peeler is the best approach.

Place the peels in a large, 1 gallon glass jar that has a lid. Pour the vodka and everclear into the peels.

Place the lid on the jar and let it sit for at least one week, up to four weeks. Keep it out of direct sunlight.

When this step is complete, make the sugar water. Combine the sugar and water in a medium saucepan and heat over medium heat until the sugar is dissolved. Let the sugar water cool to room temperature.

When cool, add the sugar water to the peel mixture in the gallon jar. Cover and let it sit for another week.

After it sits for a week, strain out all of the peels and bits that are in the liquid. Funnel the grapefruit-cello into the glass bottles with stoppers. Store in the freezer. The grapefruit-cello can be served straight or as part of a mixed drink. Taste the grapefruit-cello so that you know how strong that batch is based upon how much sugar water you use.
By