Holiday Cranberry Ginger Cobbler is a perfect quick and simple Christmas or Thanksgiving dessert ready in 30-45 minutes. A cranberry ginger filling is topped with light ginger cinnamon biscuits. A perfect holiday dessert. #christmasdessert #thanksgivingdessert #holidaydessert #cranberryrecipes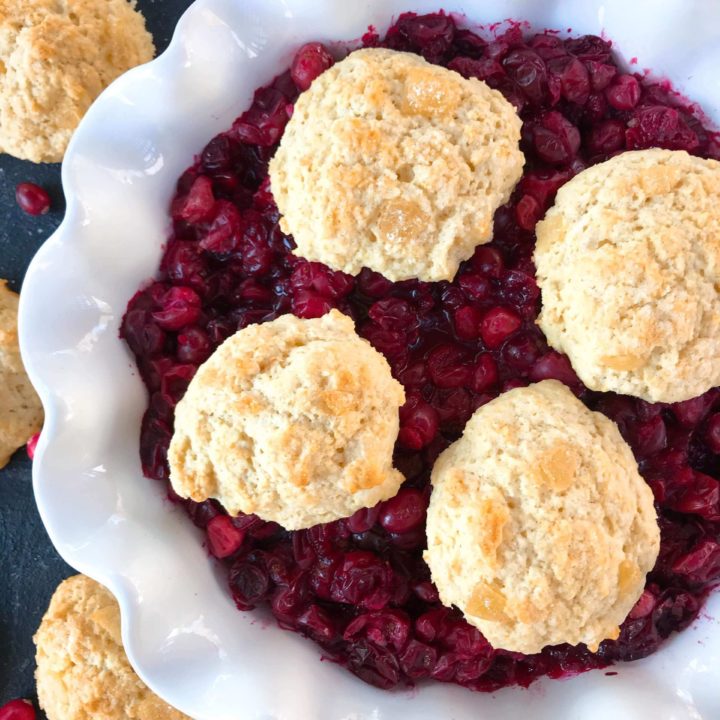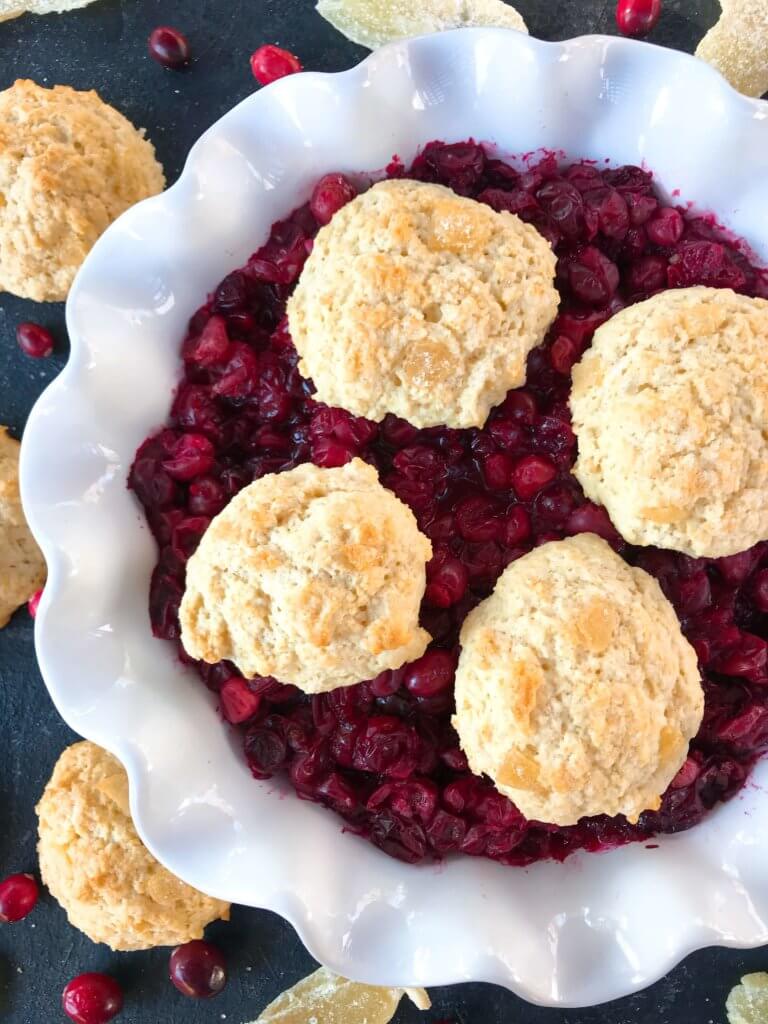 This Holiday Cranberry Ginger Cobbler is a sweet and tangy dessert recipe perfect for Christmas, Thanksgiving, and the holidays!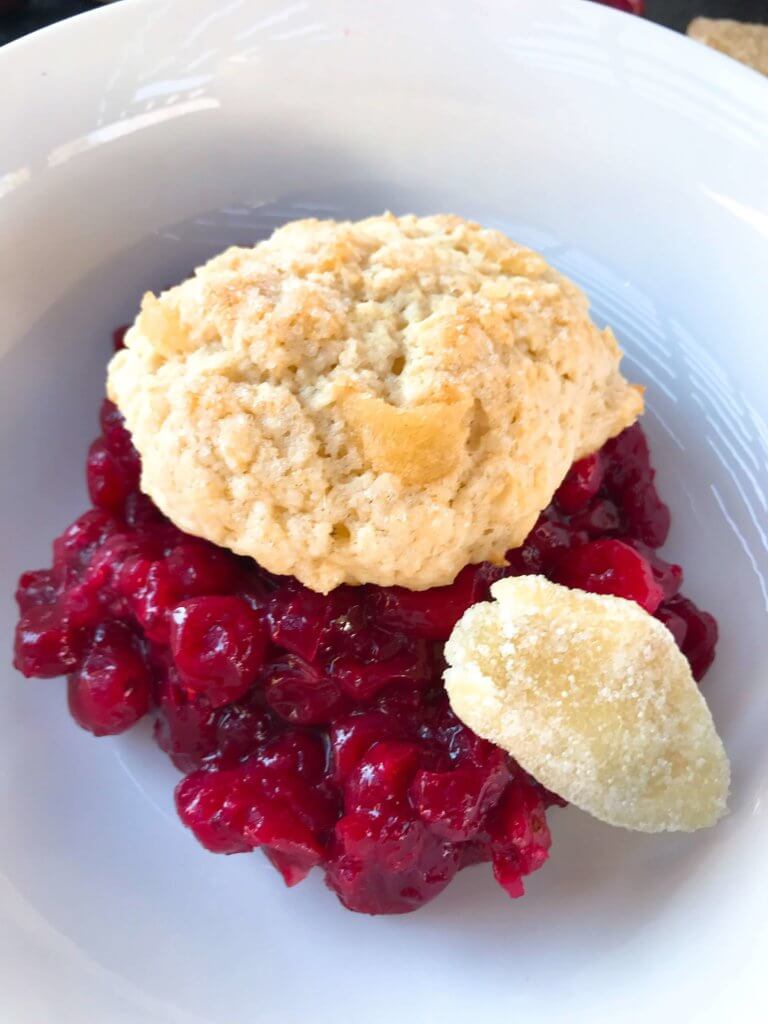 This post contains affiliate links.
I am a big fan of cranberry and ginger together. The flavors balance in a really great way between sweet, tangy, and a slight spice. I love them so much together that I have been combining them in many different recipes.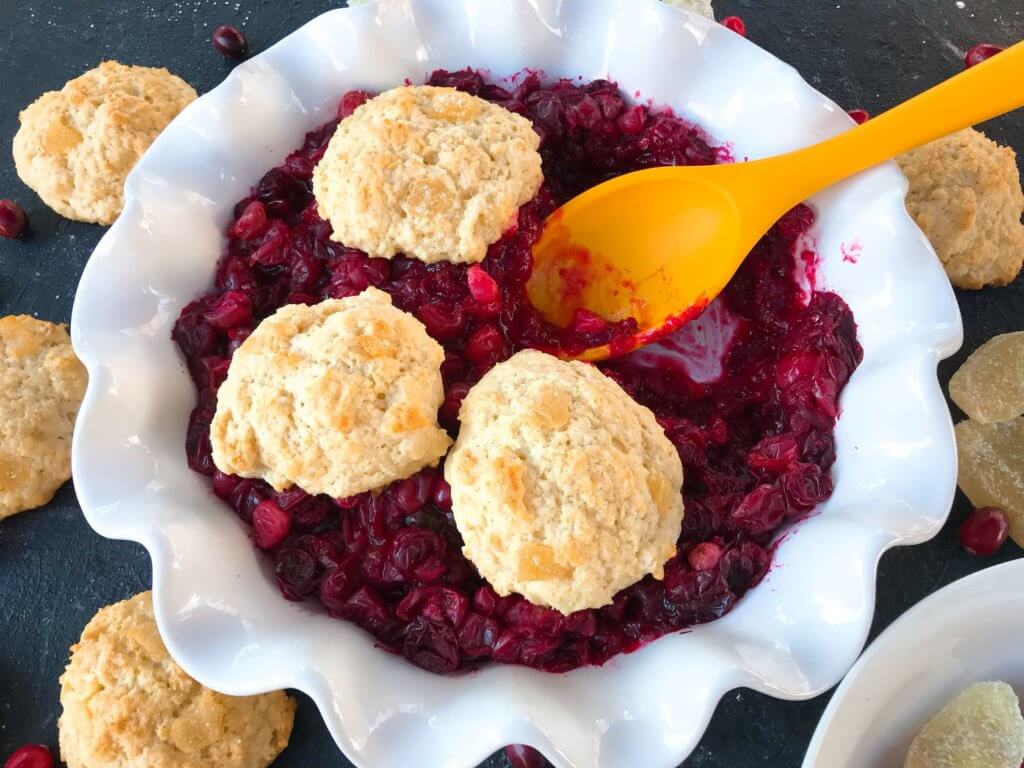 I am in LOVE with this pie dish! It is Emile Henry from Williams-Sonoma and I have an entire set of baking dishes that match. It is perfect for this recipe because it is a deep pie dish, which is best to use in case the filling bubbles over. It definitely makes a mess! I cleaned up the edges of the pie dish when it was out of the oven. If you do not have a deep pie dish, you can also use any type of baking dish.
You can find crystalized ginger online here or it might be in the bulk bin section of your local store. Around the holidays, you might get lucky and find it in the baking or dried fruit section. I LOVE this stuff! Crystalized ginger are also called candied ginger. It still has a little bit of the spice or bite from ginger but is much sweeter from the sugar process.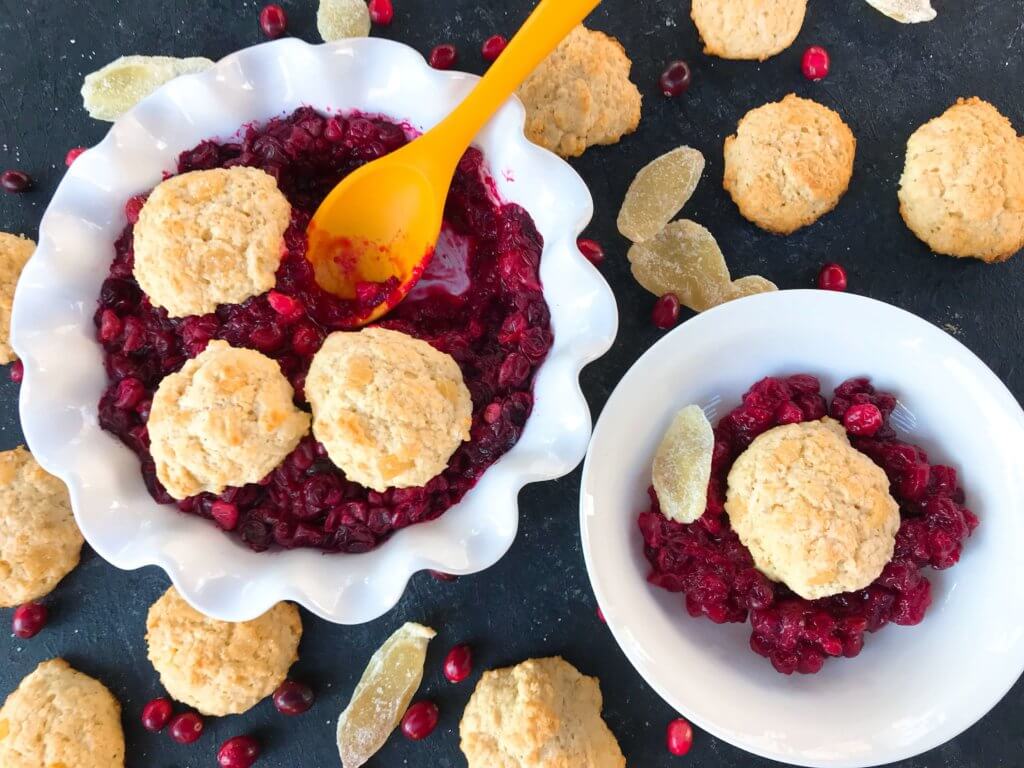 The flavors of cranberry and ginger make this Holiday Cranberry Ginger Cobbler perfect for Christmas and Thanksgiving, but I crave and make it all year round! Finish it off with some 5-minute Homemade Whipped Cream!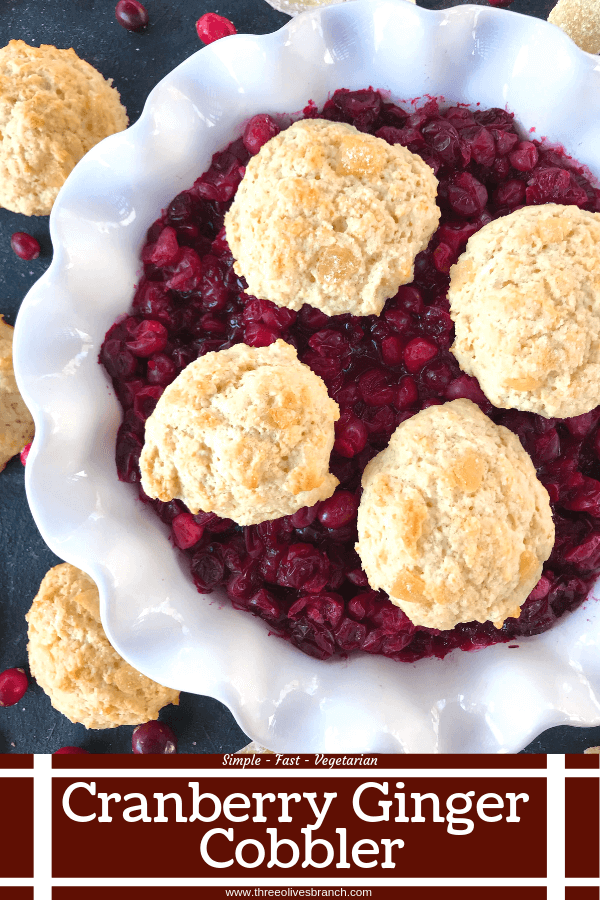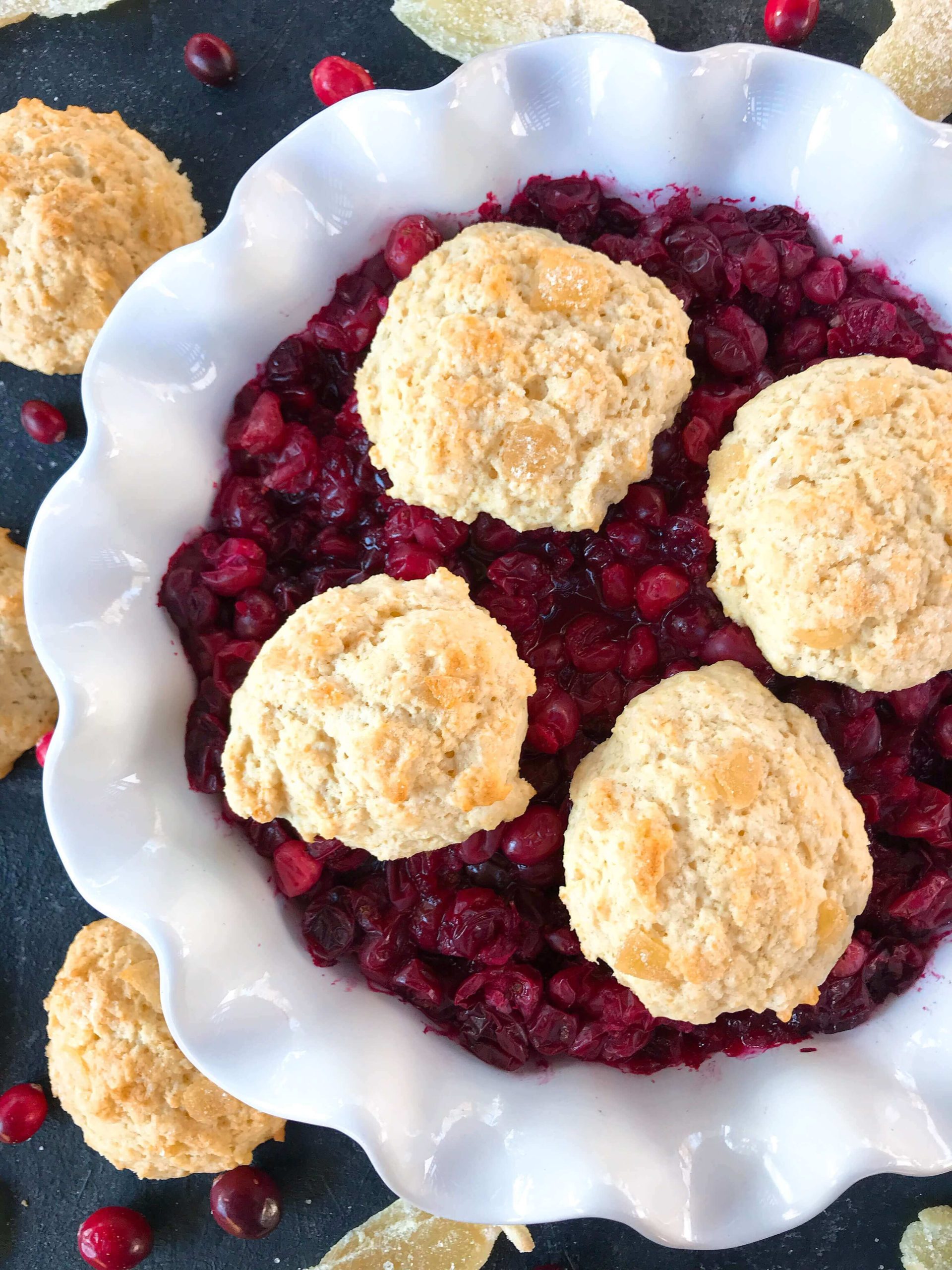 Instructions
Preheat oven to 400F.

In a medium bowl, combine all of the filling ingredients and toss to combine.

Transfer the cranberry mixture to a 9 inch pie dish (deep dishes are best). Line a baking sheet with foil (to help with anything that spills over) and put the pie dish on the foil lined sheet. Cover the cranberry mixture in the pie dish with another piece of foil. Set aside.

Make the biscuit mixture my whisking together the flour, sugar, baking soda, baking powder, salt, ground ginger, cinnamon, and crystalized ginger.

In a small bowl, combine the cold buttermilk with the warm melted butter. Stir the buttermilk and butter until small clumps form. Add the milk mixture to the dry ingredients and stir until just combined.

Scoop out the dough into 8 biscuits on a silicone baking sheet. Bake until they are just starting to brown on the bottom, approximately 10 minutes. Remove and set aside.

Place the foil covered cranberry mixture in the oven and bake until the cranberries are releasing juice, approximately 20 minutes (you can fit both the first round of biscuit baking above and this step in the oven at the same time).

Remove the cranberry mixture from the oven and remove the foil. Place the biscuits on top and bake until the biscuits are golden brown, approximately 10-15 minutes. If not all of the biscuits fit in the dish, finish cooking the remaining biscuits on the silicone lined baking sheet. Serve warm.
Notes
You can find crystalized ginger online here
For a sweeter cobbler, use 2/3 cup sugar in the filling.
If you do not have buttermilk on hand, squeeze 1 Tablespoon of lemon juice into a one cup measuring cup.  Add milk until the liquid totals the 3/4 cup.  Let sit for 5 minutes.  Proceed with the recipe as needed using this mixture in place of buttermilk.
This can easily be made in advance.  I like to stop before the second bake in step 8, and complete that final step when I am ready to serve.
Nutrition
Calories:

263

kcal

|

Carbohydrates:

42

g

|

Protein:

3

g

|

Fat:

10

g

|

Saturated Fat:

6

g

|

Cholesterol:

25

mg

|

Sodium:

134

mg

|

Potassium:

131

mg

|

Fiber:

1

g

|

Sugar:

22

g

|

Vitamin A:

300

IU

|

Vitamin C:

1

mg

|

Calcium:

64

mg

|

Iron:

1

mg

By