A simple and easy homemade almond nut butter!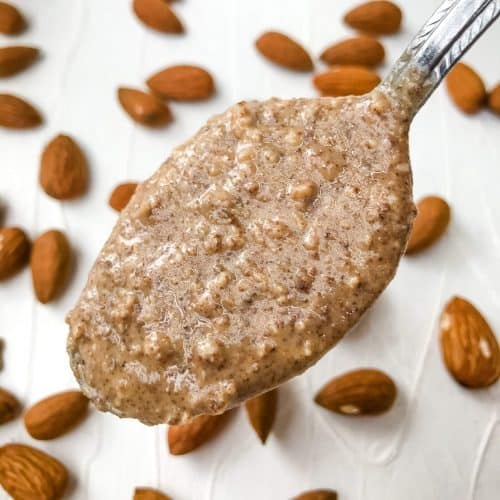 This Homemade Crunchy Almond Butter has made me a raving fan of nut butters! A fast and easy homemade nut butter recipe.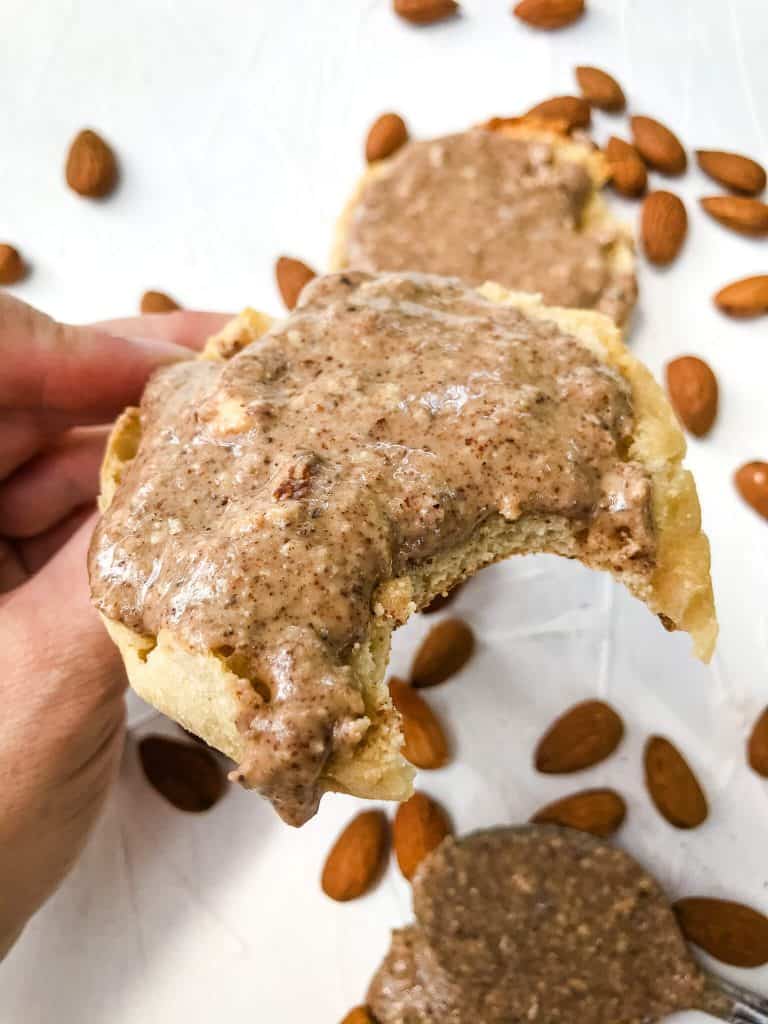 This post contains affiliate links.
Oh LORD Homemade Crunchy Almond Butter is SO GOOD. I like peanut butter but am definitely not a raving fan of peanuts or peanut butter in general. I'll eat it, but I have other favorites and do not seek out peanut-butter-anything. But this almond butter is freaking amazing!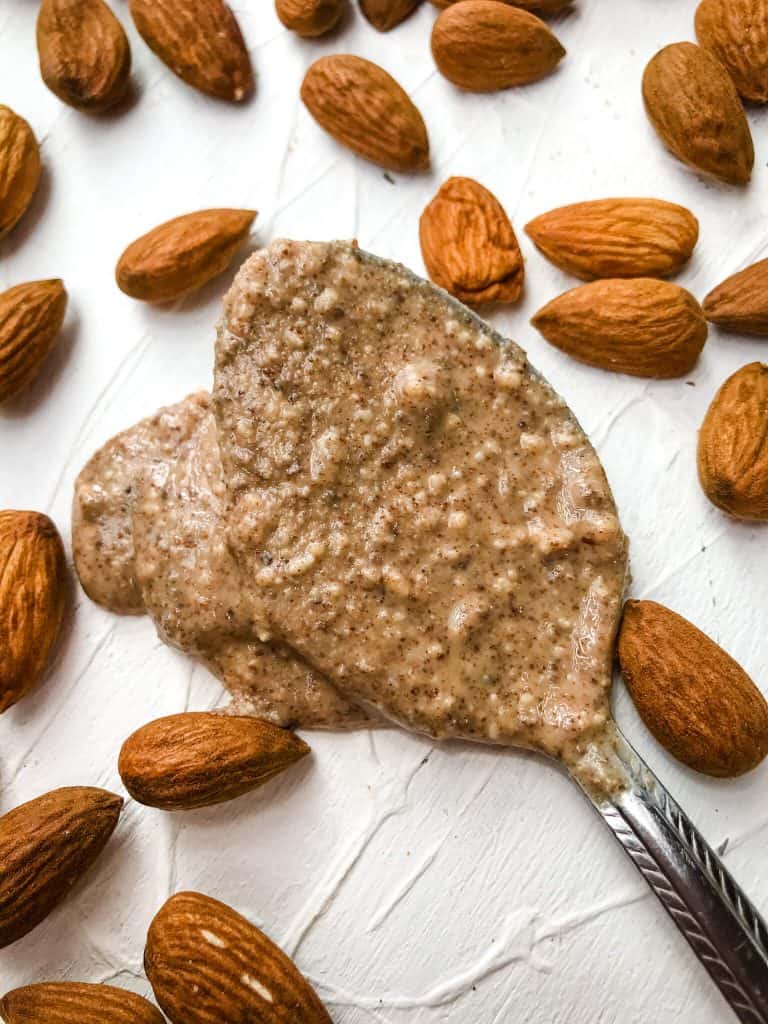 I made up these warm, toasted English muffins for the pictures and took a bite with the homemade almond butter and it was HEAVEN. I promptly ate the entire half.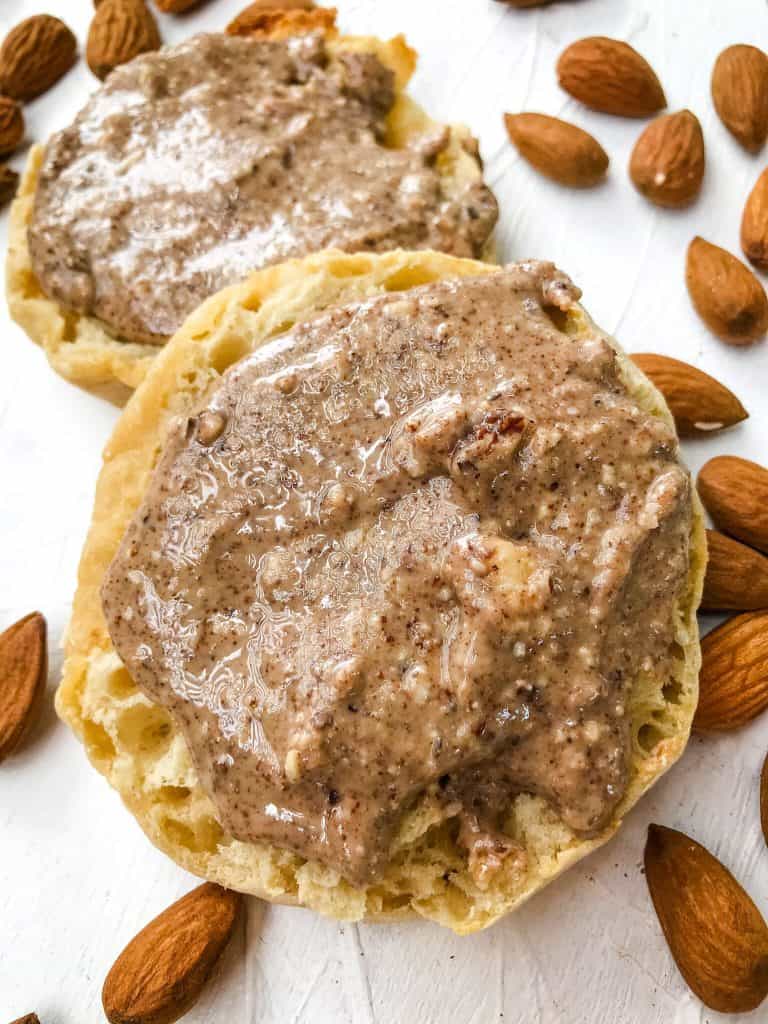 Now if I am eating nut butter of any kind, especially peanut butter, I want the chunky kind. I love getting those little bits of texture and crunch. So I knew I had to do the same thing with a chunky almond butter.
All you need to make this homemade nut butter is blend them in a food processor.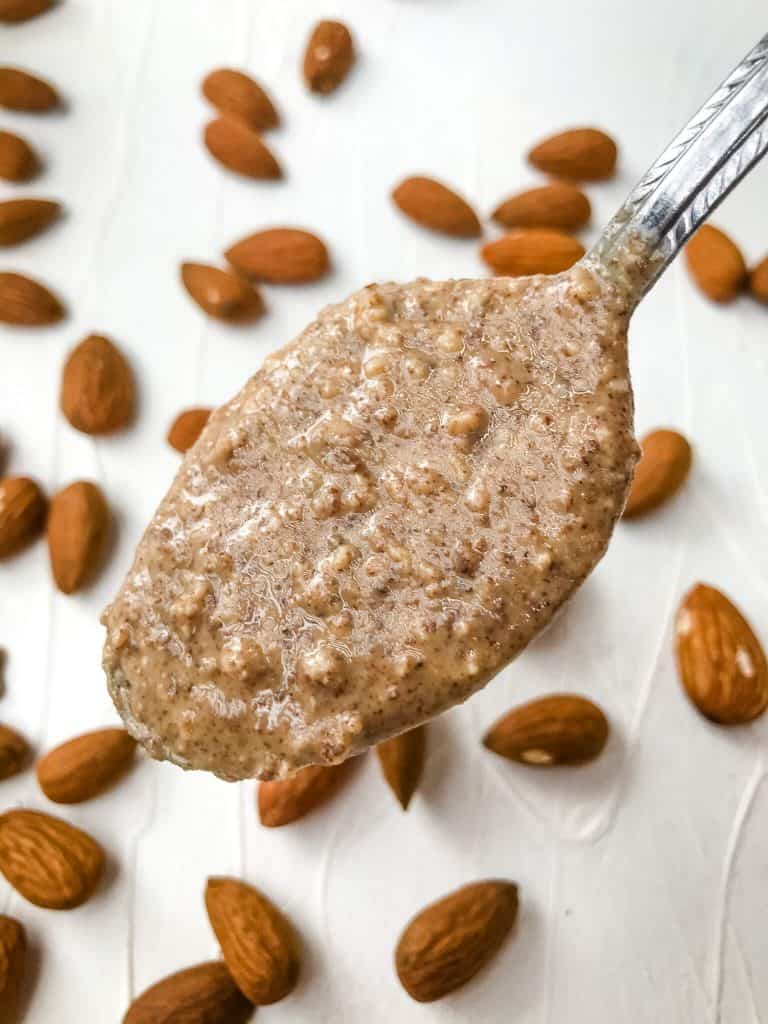 My Homemade Crunchy Almond Butter looks…wrong?
So I must admit the first time I was making almond butter, it just seemed to be going wrong. I was doubting it. It looked so thick and typically thick in a food processor means it is being over processed. So I was fighting urges about trying to fix it.
Just let it run. It takes time to get to a smooth and creamy texture. But it will get there. Walk away if you need to and don't think about it too much. The oils will keep coming out of the nuts and will turn into a butter.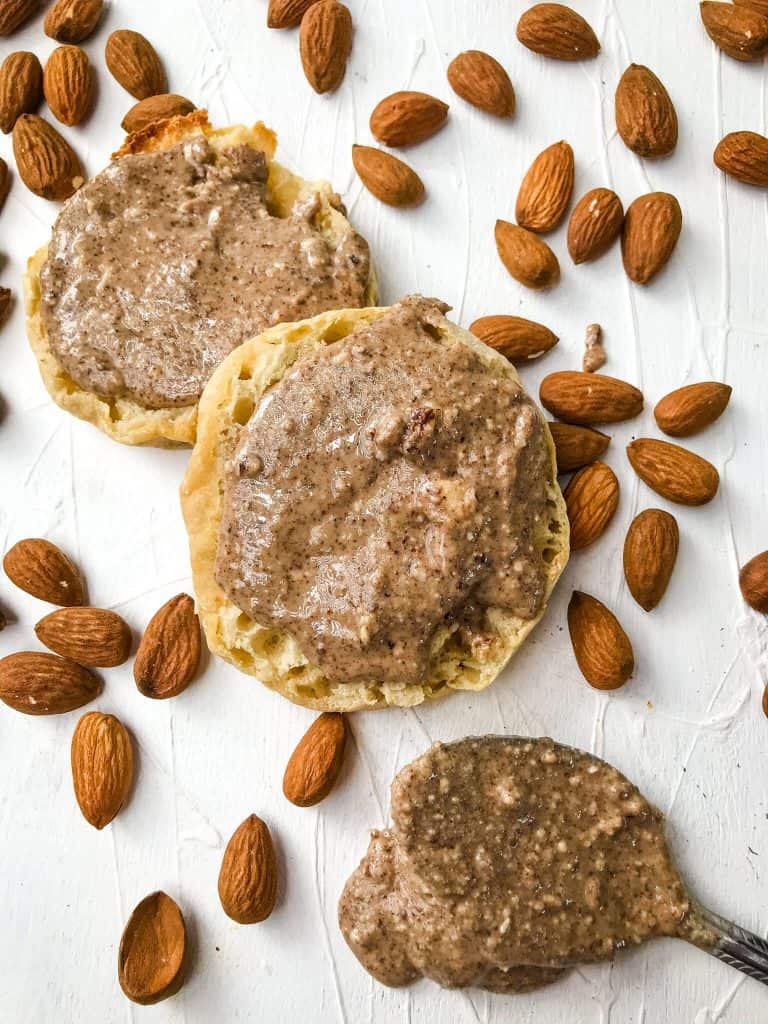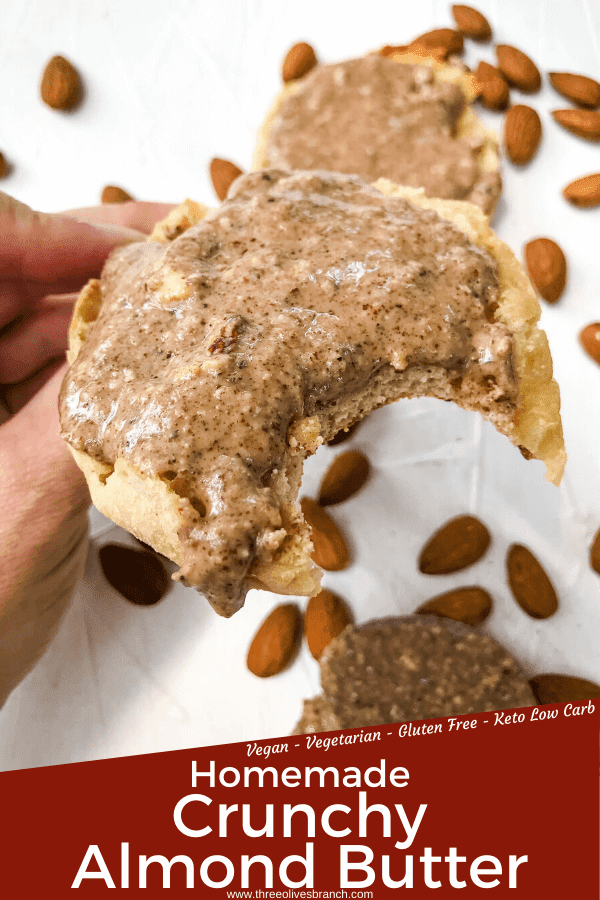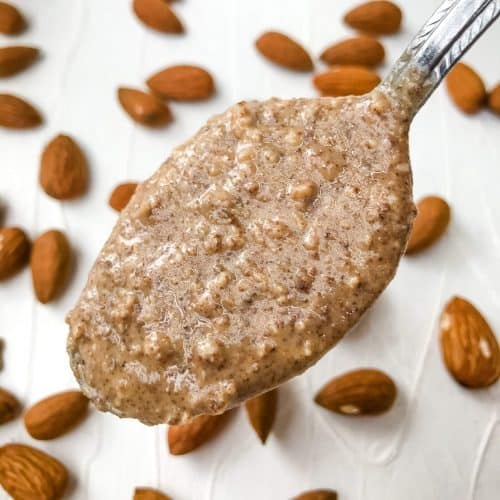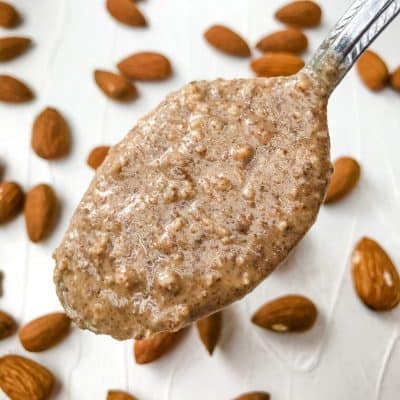 Homemade Crunchy Almond Butter Recipe
A simple and easy homemade almond nut butter!
Print
Pin
Rate
Ingredients
4

cups

almonds

(1.25 pounds)

1 1/2

teaspoons

salt

to taste
Instructions
Lay the almonds out on a baking sheet in a single layer.

Bake the almonds to slightly toast. They will JUST start to darken and you will smell the almonds. Do NOT overcook or burn as it will be bitter (err on the undercooked side). This will take approximately 10-15 minutes.

Remove the almonds from the oven and let cool slightly on the baking sheet until still warm but you are able to touch them.

Set 1 cup of the almonds aside. Put the remaining 3 cups of almonds in a food processor. Add 1 1/2 teaspoons salt. Blend.

Blend, scraping down the sides occasionally, until you reach your desired consistency. Depending on the sharpness of your blade and your preference, this can take anywhere from 10-20 minutes.

When you reach your desired consistency, add the remaining 1 cup of whole almonds. Process briefly to break them up as much or little as you want to get your crunchy texture.

Season to taste with additional salt if desired.

Store in a jar or container (room temperature is fine) for up to 2 months.
Notes
It is important that the almonds are still warm when you process them so they release their oils more easily.
I have not tried this in a blender, but I imagine it could work if you typically have good results with your blender making things like pesto and hummus.
If your almond butter is too thick and not cooperating, you can add a little neutral oil (canola, vegetable) to help loosen it. The nut butter also loosens more when put on warm bread than when it is cold.
Nutrition
Calories:

1645

kcal

|

Carbohydrates:

62

g

|

Protein:

61

g

|

Fat:

141

g

|

Saturated Fat:

11

g

|

Sodium:

1747

mg

|

Potassium:

2016

mg

|

Fiber:

35

g

|

Sugar:

11

g

|

Calcium:

755

mg

|

Iron:

11

mg

By