These sweet pickles, without dill, are great for sandwiches and snacking!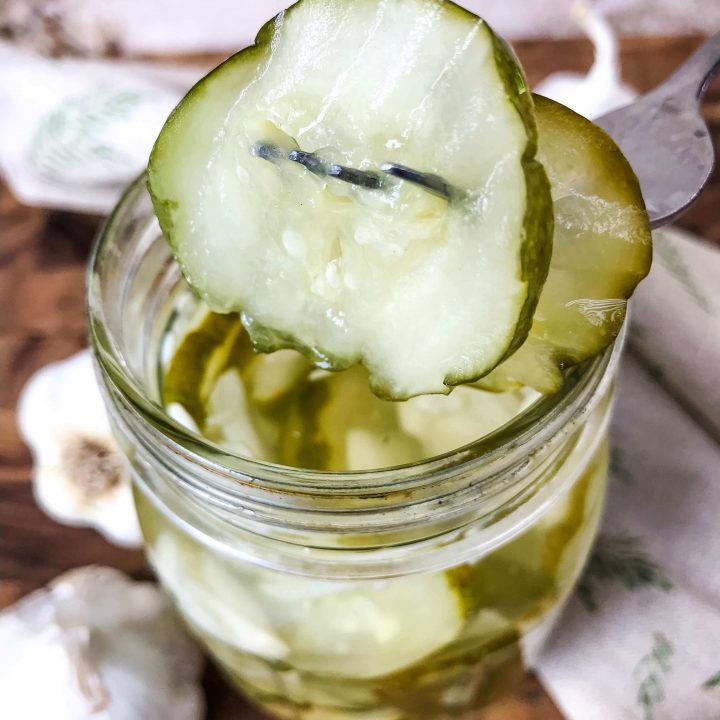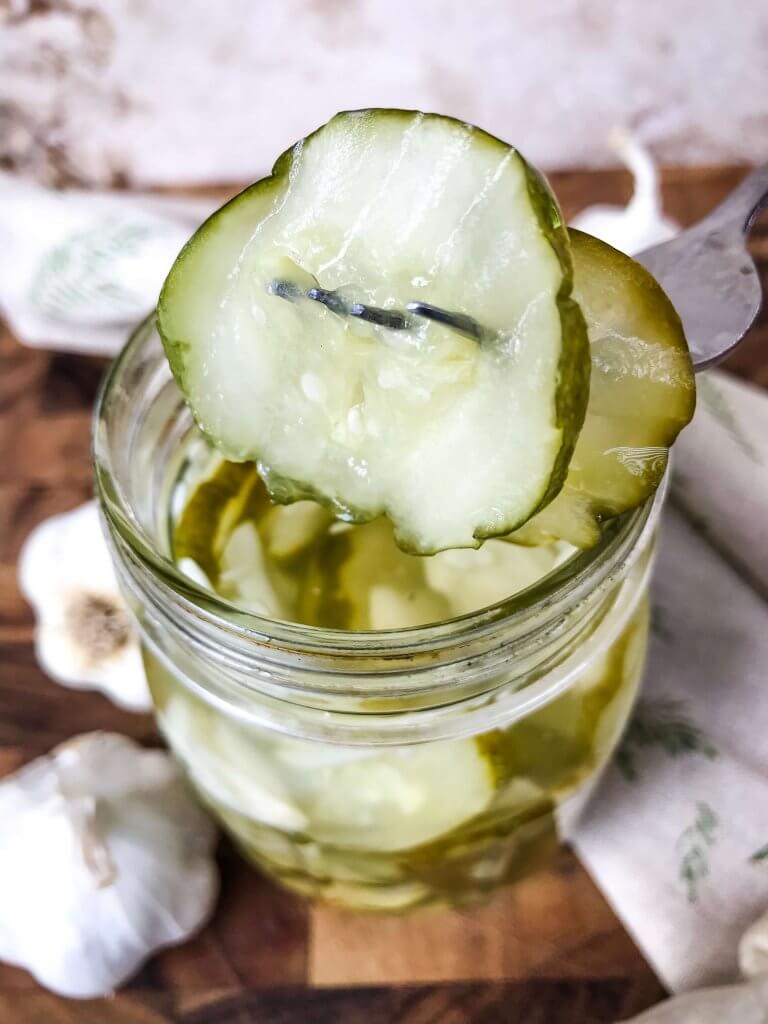 These Homemade Garlic Bread and Butter Pickles are sweet pickles, great for sandwiches, burgers, and snacking!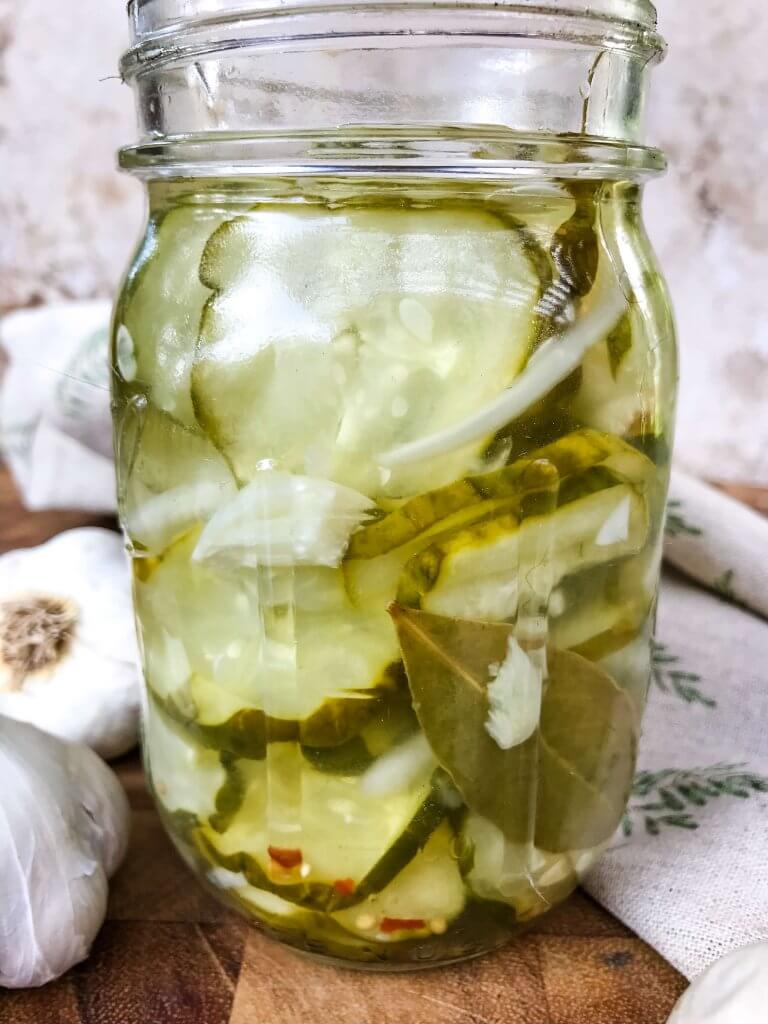 This post contains affiliate links.
I love making homemade pickles and all of the flavor variety you can add. These Homemade Garlic Bread and Butter Pickles are sweeter than a dill pickle, and also without the dill. I added a head of smashed garlic cloves for a little extra flavor and kick, and they are delicious!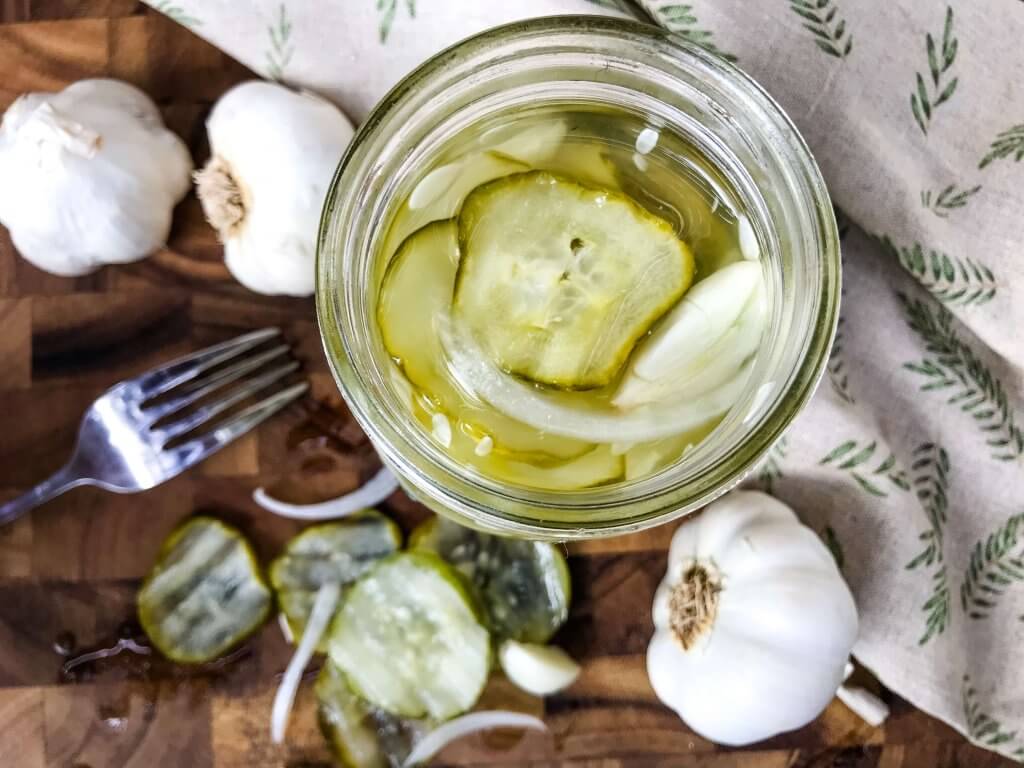 Homemade pickles are best with kirby cucumbers, which are meant for pickling. Kirby cucumbers are small with a thicker skin. They can be tricky to find, so you might need to call around. I like to grow my own. I would not use the traditional or English cucumbers.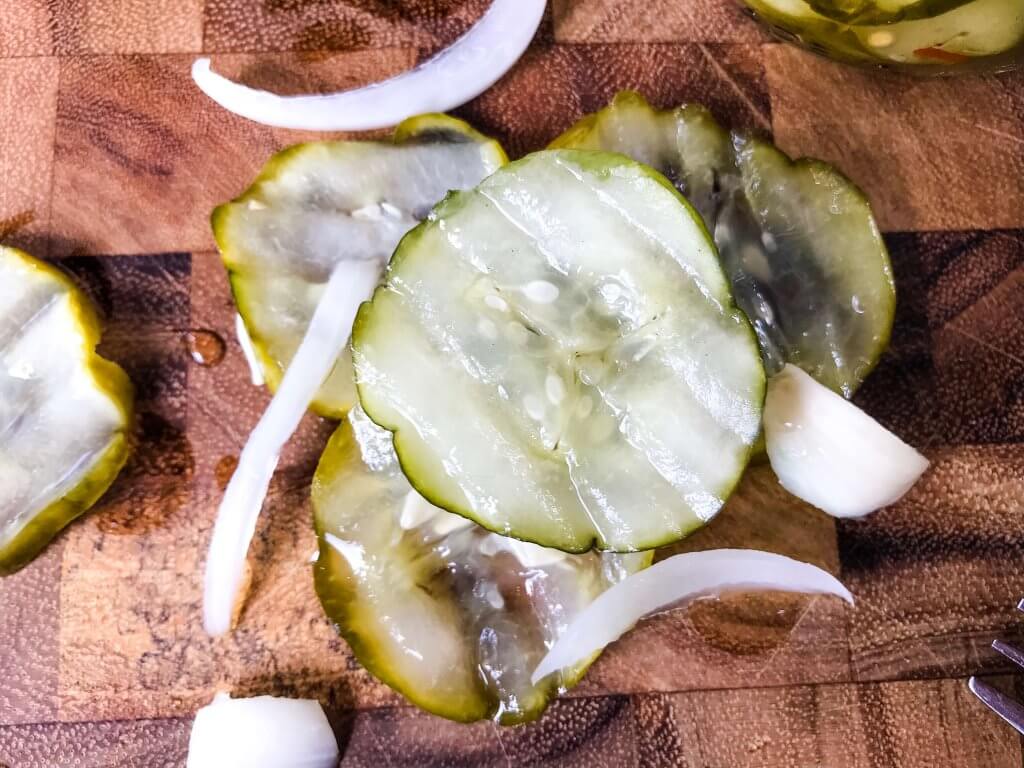 To make the Homemade Garlic Bread and Butter Pickles, first make the brine. Add the cucumber pieces and let it soak. Then refrigerate them with the brine. That's it! The pickles can last up to 2 weeks. Use any shape and size of cucumber pieces that you like. I personally am a fan of oval shapes that are wavy. You can get thin slices or wavy slices by using a mandoline. This is mandoline I have, which I love! There are so many different slicing plates to pick from, and the thickness is adjustable.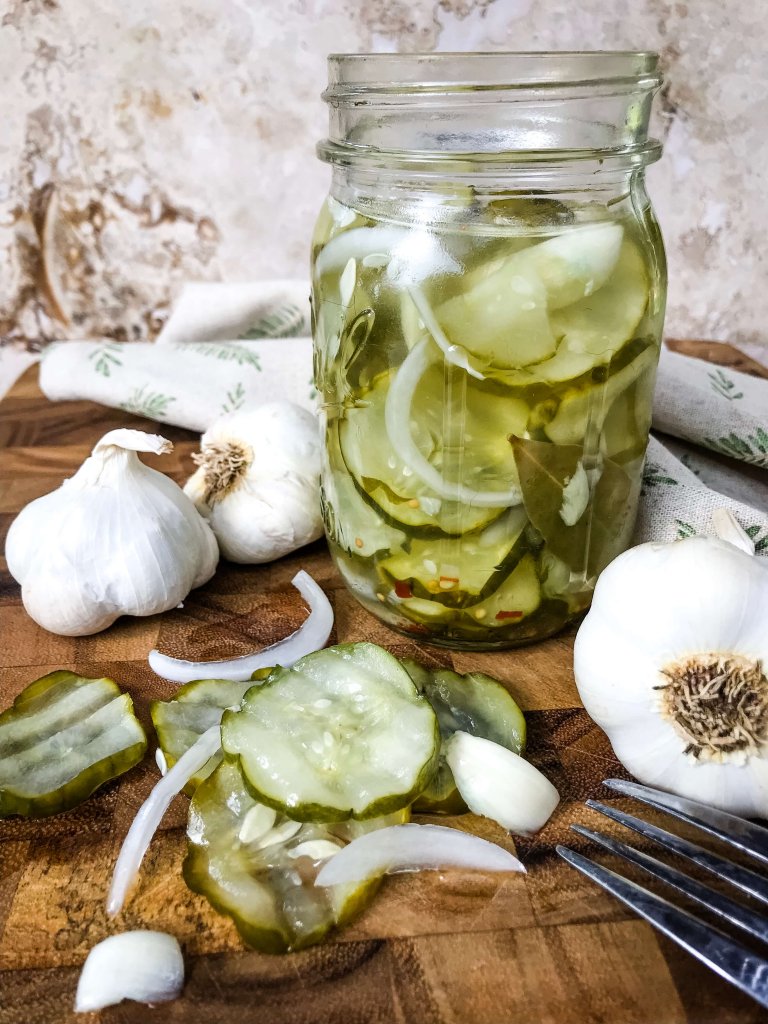 I have also found that when you add the pickles changes the final result. If you like softer pickles, add the cucumber to the brine when it is hot. If you want crunchier pickles, add the cucumber after the brine has cooled. The lack of heat prevents the pickles from cooking.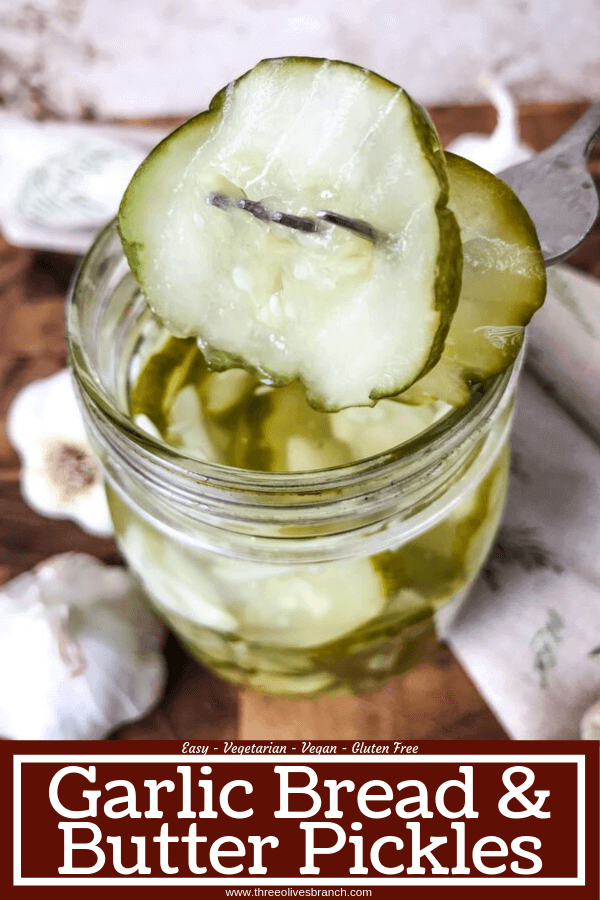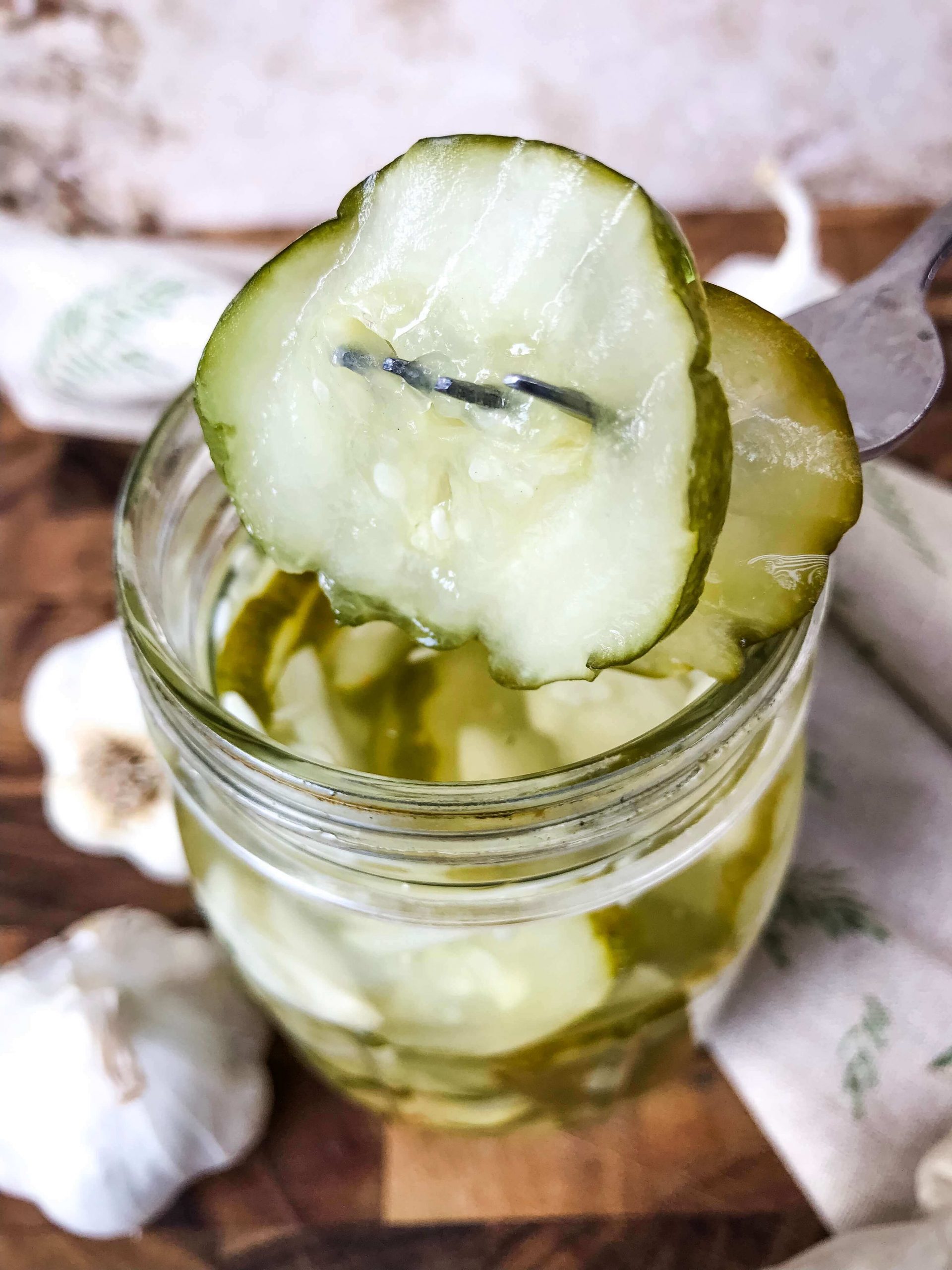 Instructions
Over medium heat, toast the mustard seeds in a large saucepan. Cook until fragrant, about 2 minutes.

Peel and smash or roughly chop the garlic cloves.

Add the water, vinegar, sugar, garlic, red pepper flakes, bay leaves, and salt to the pot. Simmer for 10 minutes.

While simmering, cut your cucumbers in your desired shape. Make sure spears fit inside the jar (cut off an end if not).

Remove from the heat. Add the cucumbers and onion to the liquid and let cool to room temperature, approximately 1 hour. (If you want crunchier pickles, let the liquid cool BEFORE adding the pickles so the heat does not cook them).

Put the pickles and brine in mason jars or another seal-able container, making sure the pickles are submerged. Keep chilled, ideally for at least 10 hours before eating. Pickles can last up to two weeks.
Notes
This made enough to fill approximately three pint sized mason jars.  The volume will vary with the shape of your cucumbers and what you can fit in a jar.
Try to find cucumbers that are just long enough to fit in the jar if you want spears.  But if they are too long, you can chop off one of the ends for them to fit as spears.
Add more pickles to the same brine to keep the pickle supply going! You may need to add more garlic to lift the flavors as time goes on.
Want a stronger onion flavor? Add them when simmering the garlic and spices in step 3.
Nutrition
Serving:

1

batch

|

Calories:

203

kcal

|

Carbohydrates:

45

g

|

Protein:

3

g

|

Fat:

1

g

|

Saturated Fat:

1

g

|

Sodium:

1181

mg

|

Potassium:

576

mg

|

Fiber:

3

g

|

Sugar:

39

g

|

Vitamin A:

337

IU

|

Vitamin C:

15

mg

|

Calcium:

74

mg

|

Iron:

1

mg

By