A very spicy popcorn seasoning for the heat lovers!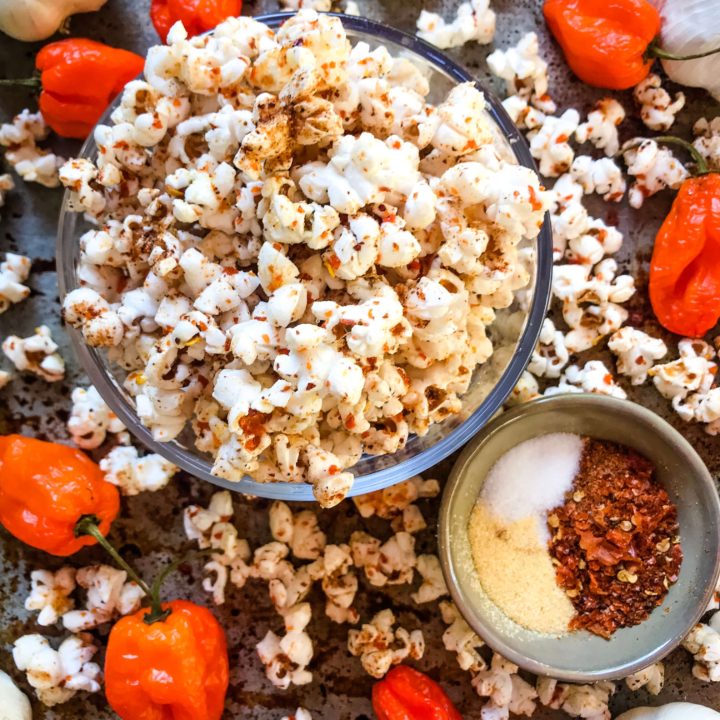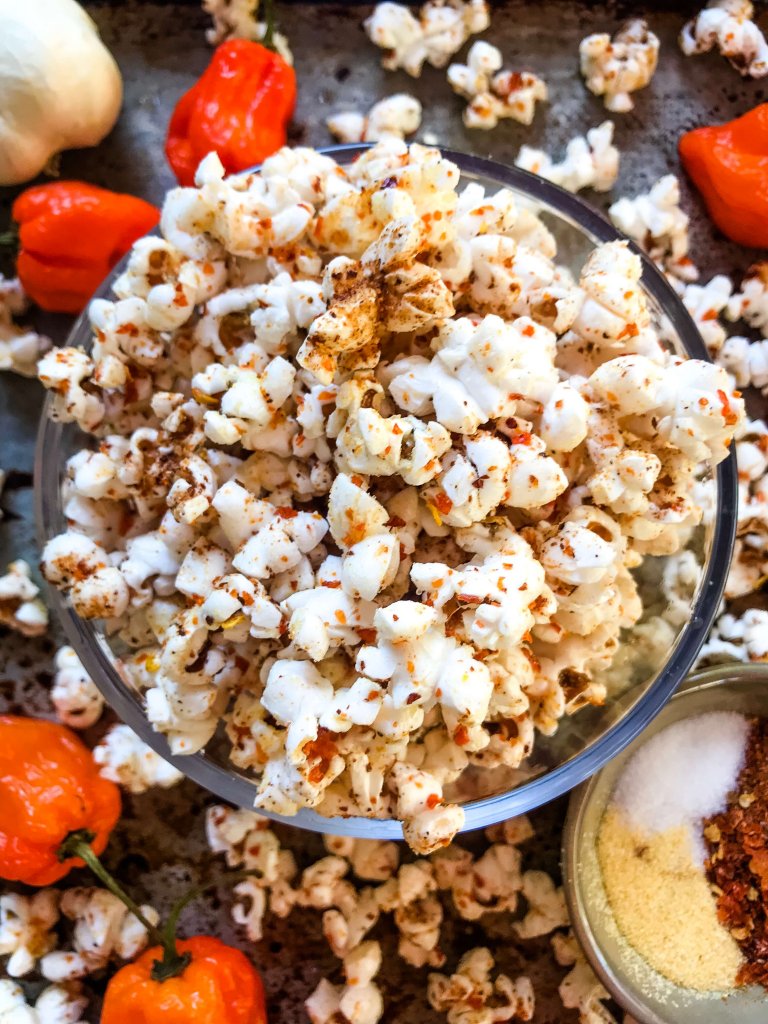 Homemade Habanero Garlic Spicy Popcorn is a spicy, flavor packed snack food that is perfect for the heat lovers. Roasted and dried habanero peppers are ground and mixed with garlic powder and salt for a unique popcorn seasoning.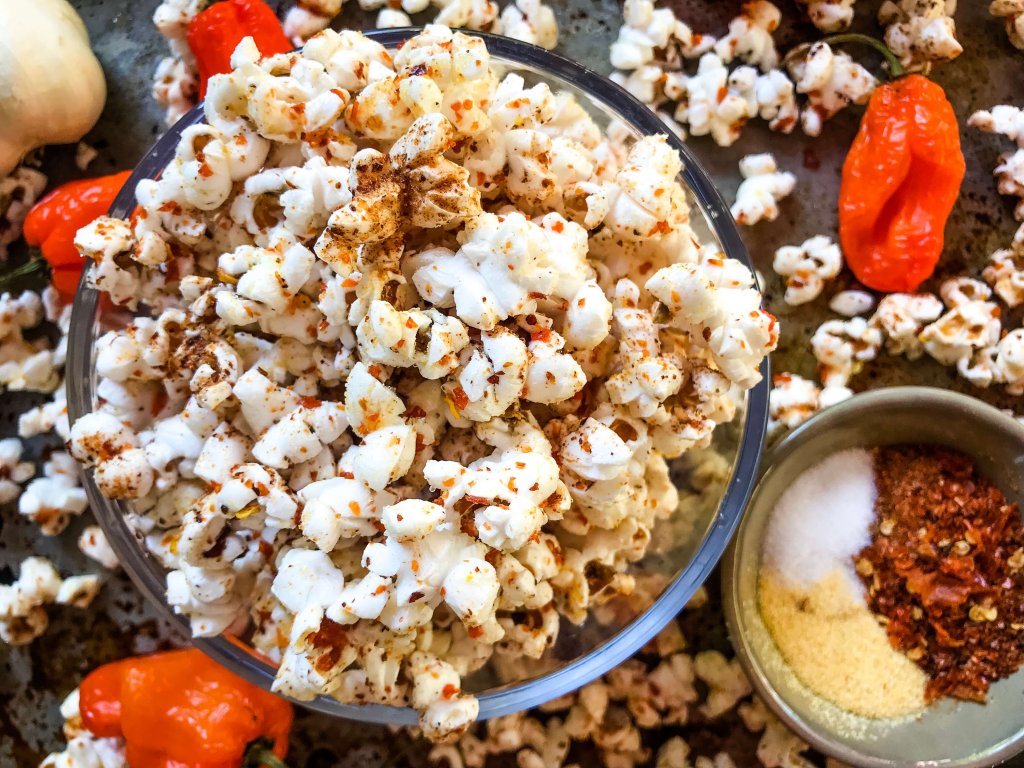 This post contains affiliate links.
This Homemade Habanero Garlic Spicy Popcorn was inspired by someone I know that just LOVES a strong, spicy food. Not only do the habanero peppers bring a strong, spicy flavor, but the peppers and garlic provide great flavor. Popcorn is a great way to add some fun flavors to your snack, appetizer, and party finger food. Find more popcorn recipes here!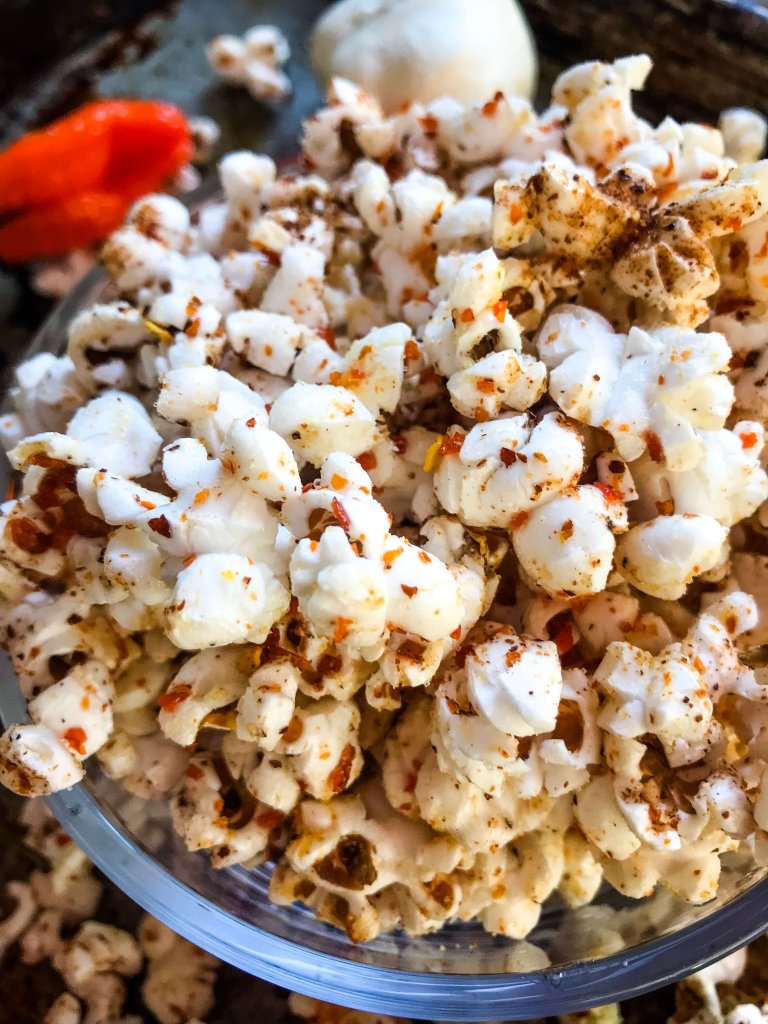 There are a lot of different homemade popcorn options out there, like microwaveable bowls and machines. This machine is perfect for a desk, but I typically prefer to make popcorn on the stove with a large stockpot. Get popcorn kernels here!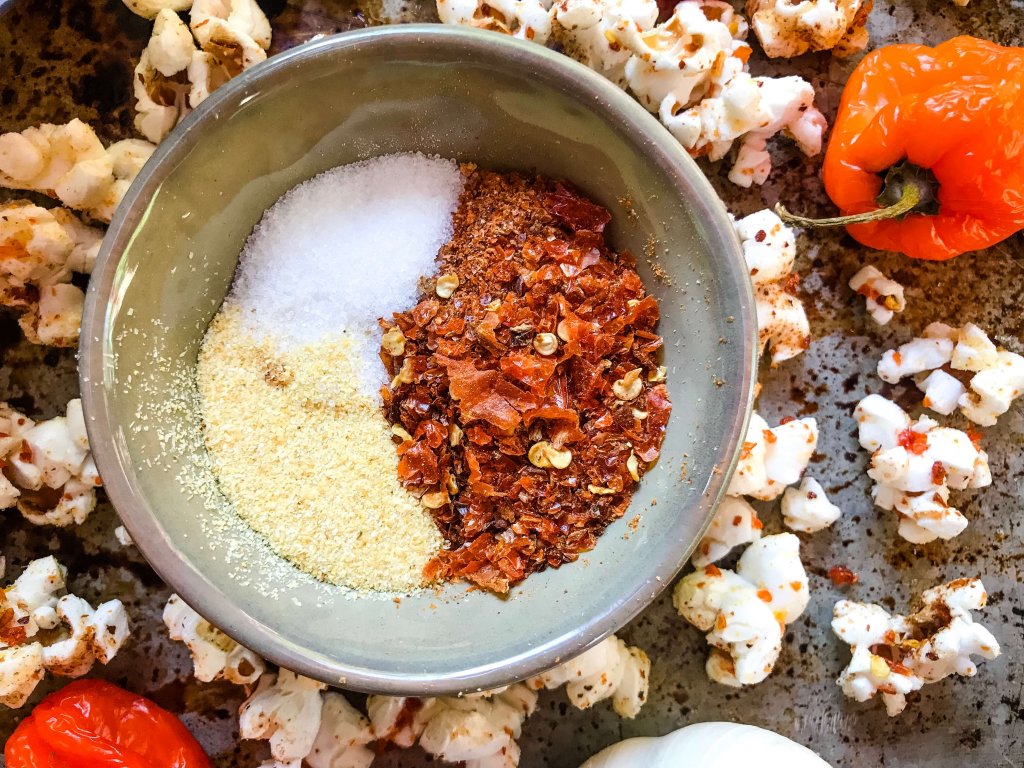 Homemade popcorn is fun and really a lot easier than it may seem. Use a large soup or stock pot and put the oil and the kernels in it over medium heat. As it heats, shake the pot back and forth every so often. In just a few minutes, you will have popcorn kernels popping and making popcorn! It typically only takes 5-7 minutes, that is it! Then drizzle the popcorn with a little oil to get the seasoning to stick, and sprinkle with your seasoning. I absolutely love fresh popcorn, knowing there are no preservatives or anything else in the mix. And the flavor options are endless! Just 2 Tablespoons of popcorn kernels will give you 4 cups of popcorn. In no time, that soup pot will be full of a delicious snack!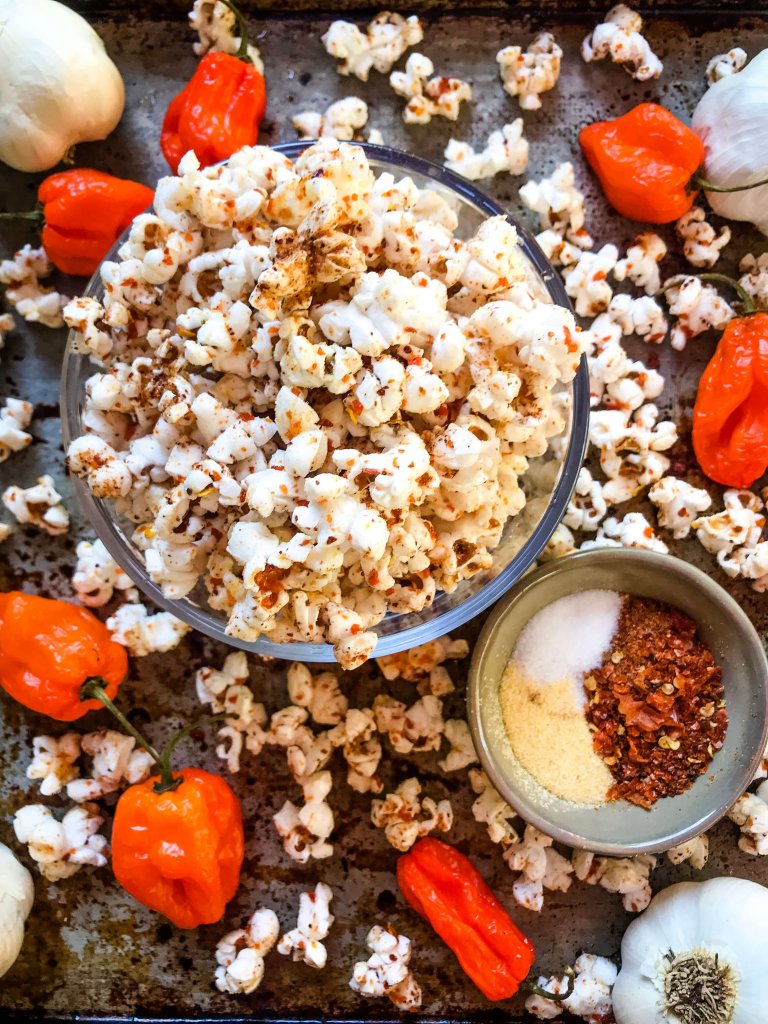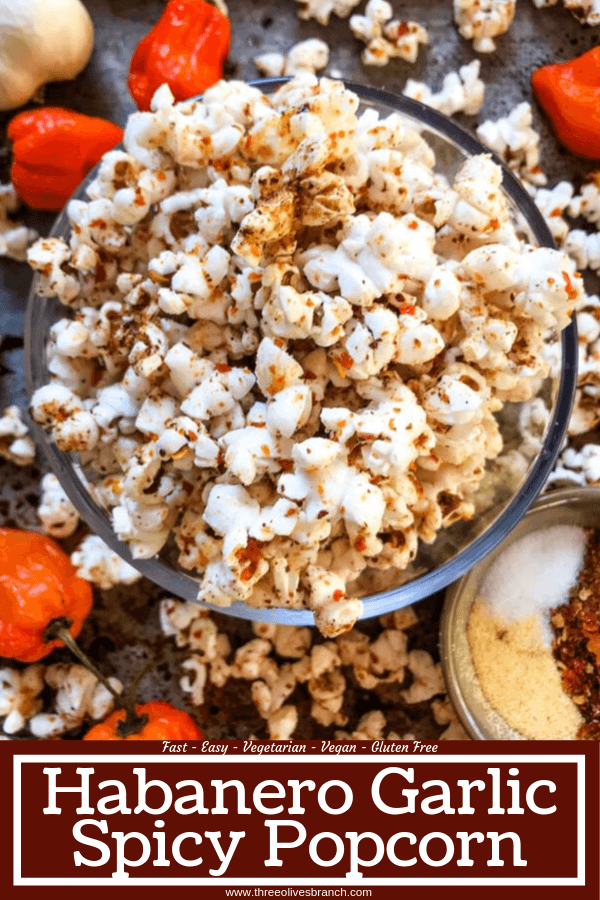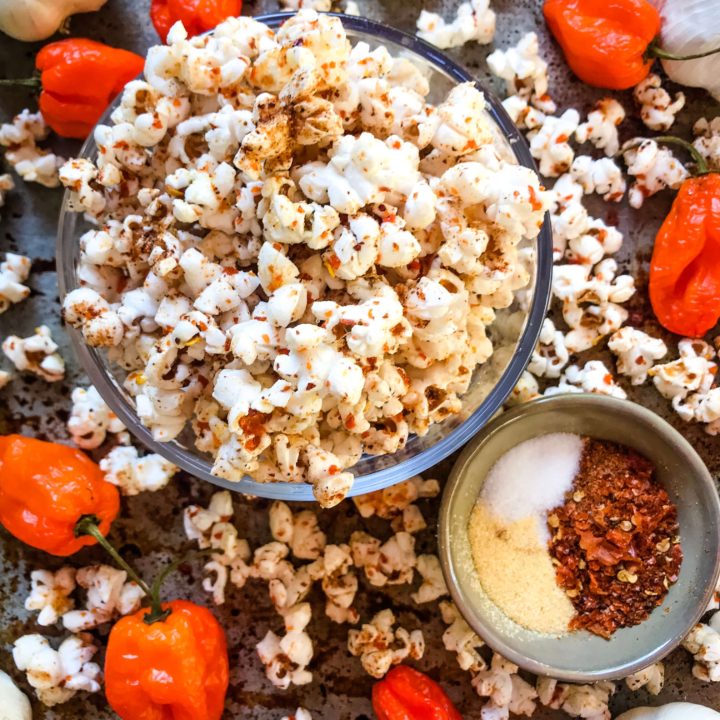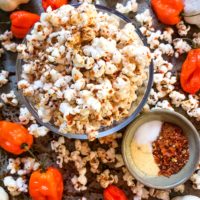 Homemade Habanero Garlic Spicy Popcorn
A very spicy popcorn seasoning for the heat lovers!
Print
Pin
Rate
Instructions
First, dry your habaneros by slicing them down the middle and putting them in the oven at 200F. Keep an eye on them and if they start browning, drop the temperature so they keep their orange color. Continue cooking until they are rather shrunken and dried out but not completely crisp, approximately 2 hours. Remove from the oven and let cool (where they will harden).

When the peppers are dried, pulse them in a food processor or spice grinder to make a powder.

Cook the popcorn as per package directions, or as follows: Add the oil to a large, 3 quart or larger pot over medium heat. Add the popcorn kernels and cover, with the lid ajar.

Shake the pot back and forth every few minutes. Remove from the heat when the popping has slowed and most kernels are popped, approximately 7 minutes. Set aside.

While the popcorn is cooking, mix the habanero powder with the garlic powder and salt.

When ready to serve, lightly drizzle the popcorn with approximately 1 teaspoon of oil. Just enough to wet the popcorn without it getting greasy or soggy. Stir to coat. Immediately sprinkle the seasoning on the popcorn and stir again to coat. Serve immediately.
Notes
You can also use dried ground red pepper (cayenne) or any other pepper in place of the habanero.
Be very careful of the fumes and breathing in any pepper powder both when drying and grinding the peppers.
The amount of time it takes for your peppers to dry can vary greatly based on your oven heat and the moisture of the peppers themselves.
It is best to use a neutral oil with no flavor like vegetable or canola oil.
Make a large batch of the seasoning to have on hand!
Get popcorn kernels here!
Nutrition
Calories:

74

kcal

|

Carbohydrates:

9

g

|

Protein:

1

g

|

Fat:

4

g

|

Saturated Fat:

3

g

|

Sodium:

293

mg

|

Potassium:

63

mg

|

Fiber:

1

g

|

Sugar:

1

g

|

Vitamin A:

71

IU

|

Vitamin C:

11

mg

|

Iron:

1

mg

By