Festive vegan marzipan (almond paste) pumpkins perfect for decorating your sweets during fall/autumn, Halloween, and Thanksgiving.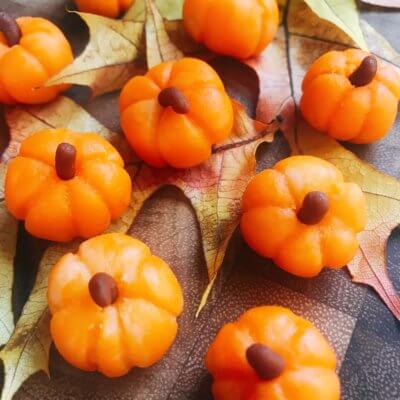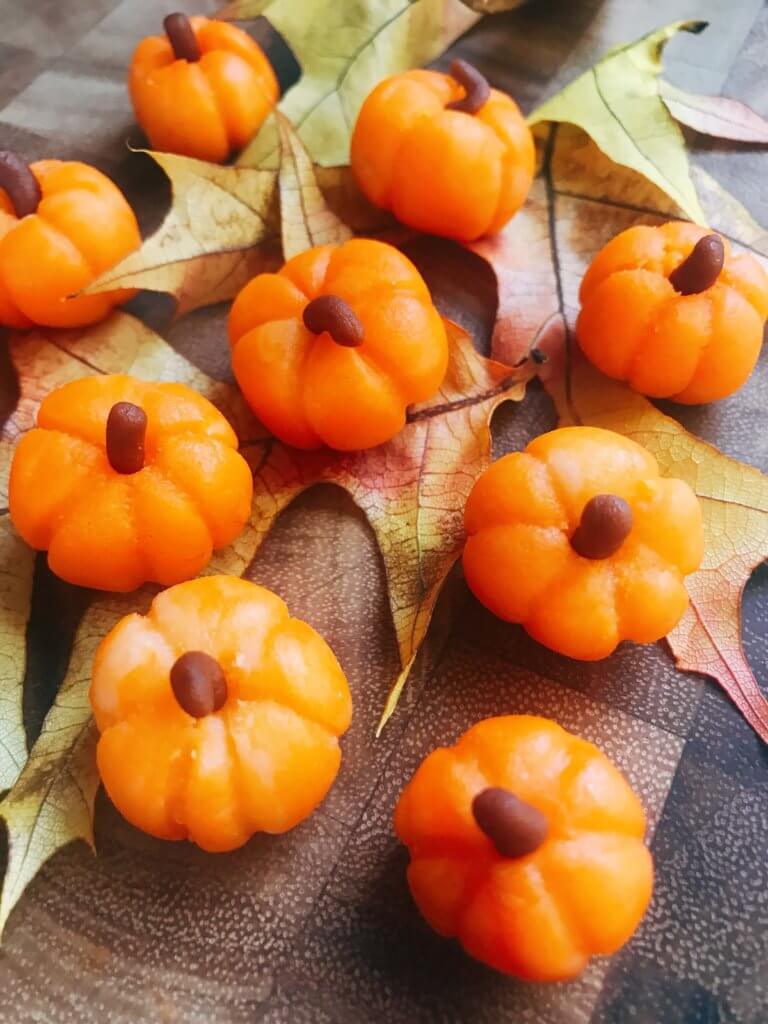 Fall, or autumn, is my absolute FAVORITE time of year and I celebrate it as long as I can!  I love everything about it from the crisp air to the beginning of holiday season and of course, great food!  Learn How to Make Marzipan Pumpkins for all of your fall, Halloween, and Thanksgiving treats!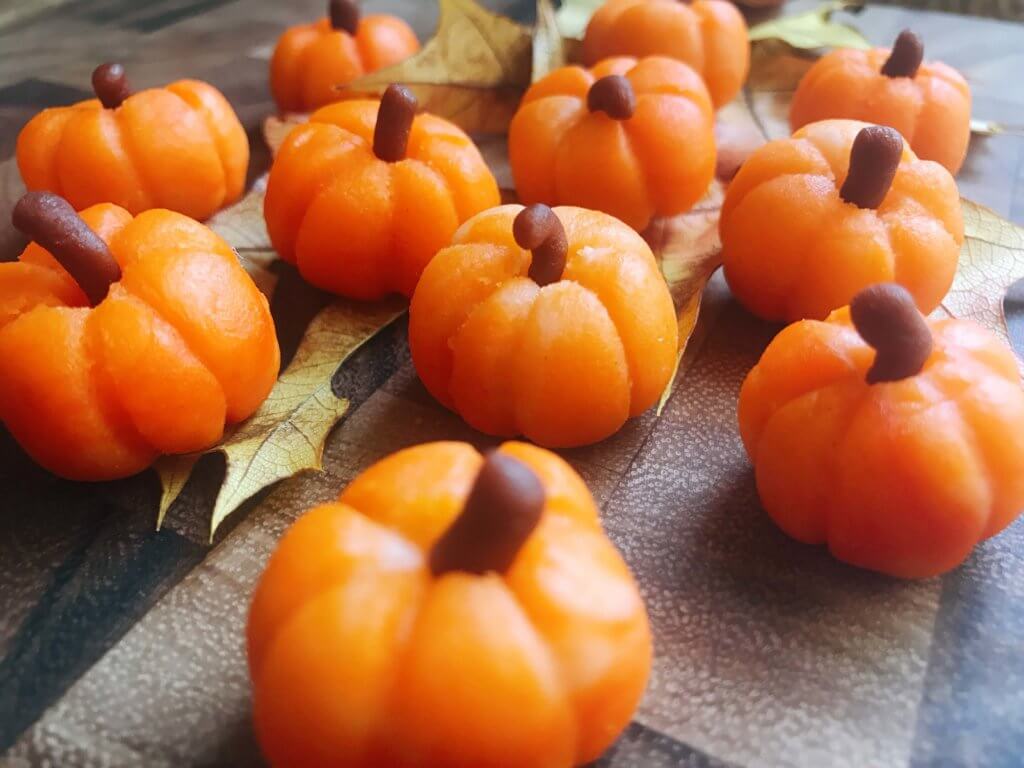 This post contains affiliate links.
Making these marzipan pumpkins is really quite simple.  Follow along with our pictures to make your own!  You can make them any size you want by using more marzipan.  I used approximately 3.5 ounces of marzipan (1/2 of a 7 oz box) to make 12 pumpkins that are 1″ wide and 1/2″ tall.  There are a lot of marzipans out there, but this one from Odense has amazing reviews and is considered the best choice among many bakers.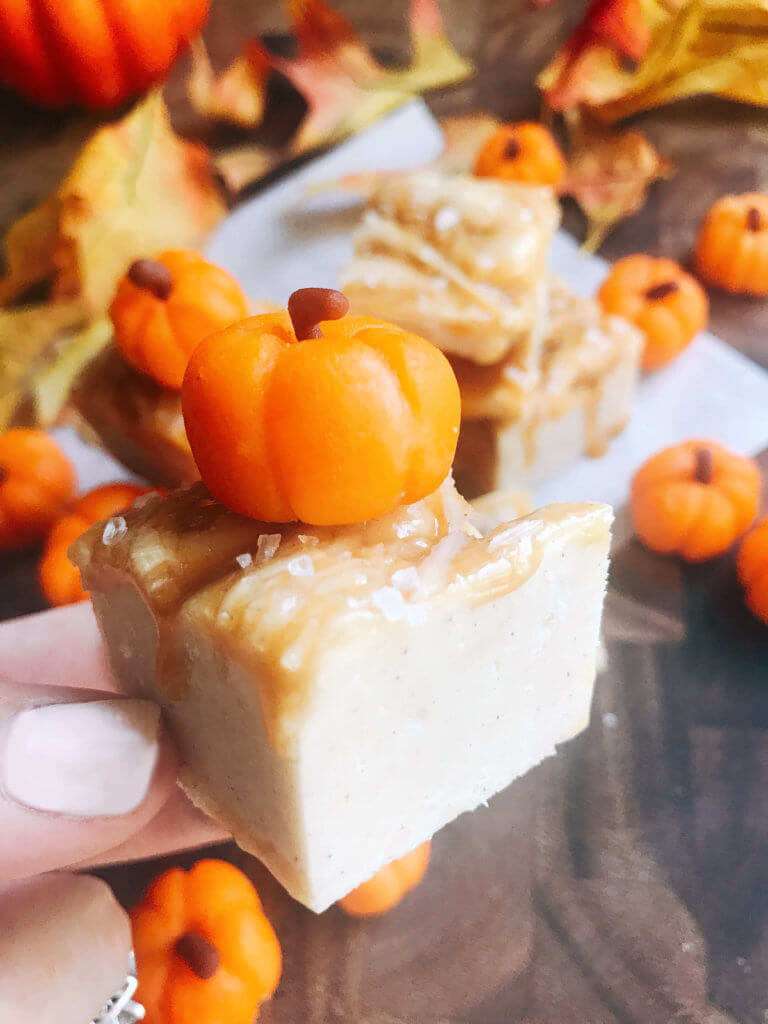 First pinch off about 0.1 ounces of marzipan, about the size of a marble.  This will be for the stems.  Then get your marzipan ready by flattening each piece just a little.  Squeeze in a little orange food dye gel or coloring into the large marzipan.  Use just barely any brown food dye gel in the small piece for the stems.  See notes in the recipe regarding dye vs regular food coloring.  Mix each until the color is incorporated.  I used a rubber glove so my hands did not turn orange!  Add more color if you wish until you get your desired hue.  I left a little marbling effect in the orange on purpose.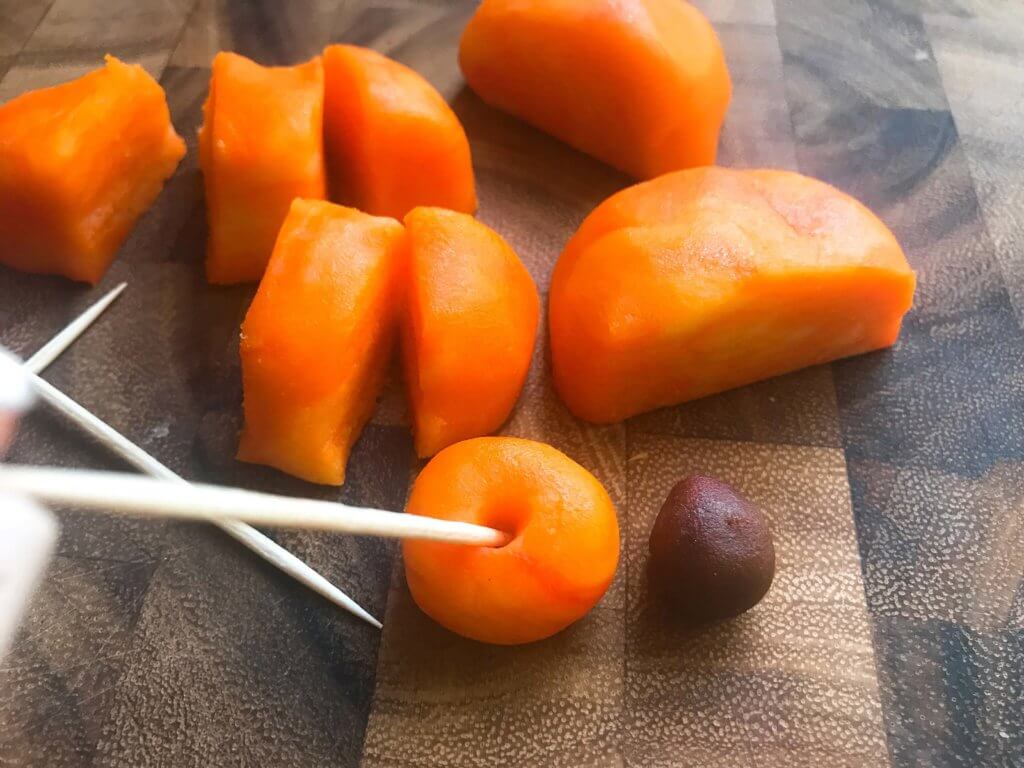 Cut the orange marzipan into 12 roughly even pieces and roll each into a ball.  Then slightly flatten the ball to get the flat top and bottom of the pumpkin.  Use a toothpick rocking up and down to make the ridges along the pumpkin and then a hole in the top for the stem.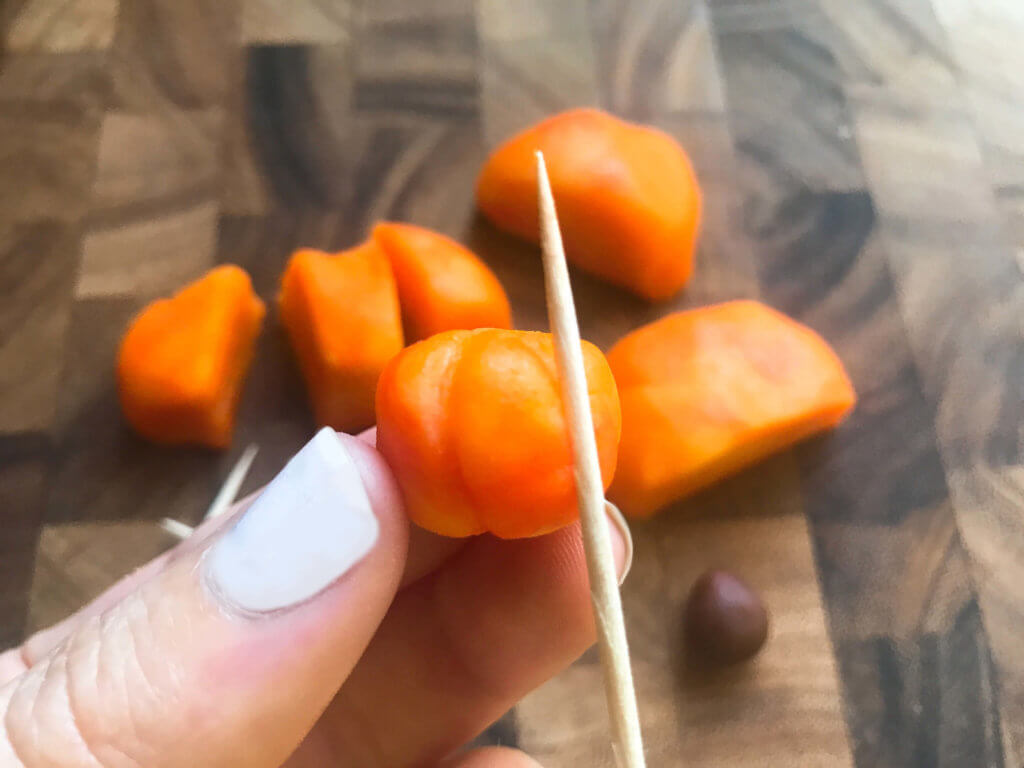 Roll out the brown marzipan into thin ropes, cut into pieces, and insert into the pumpkins for the stems.  That's it!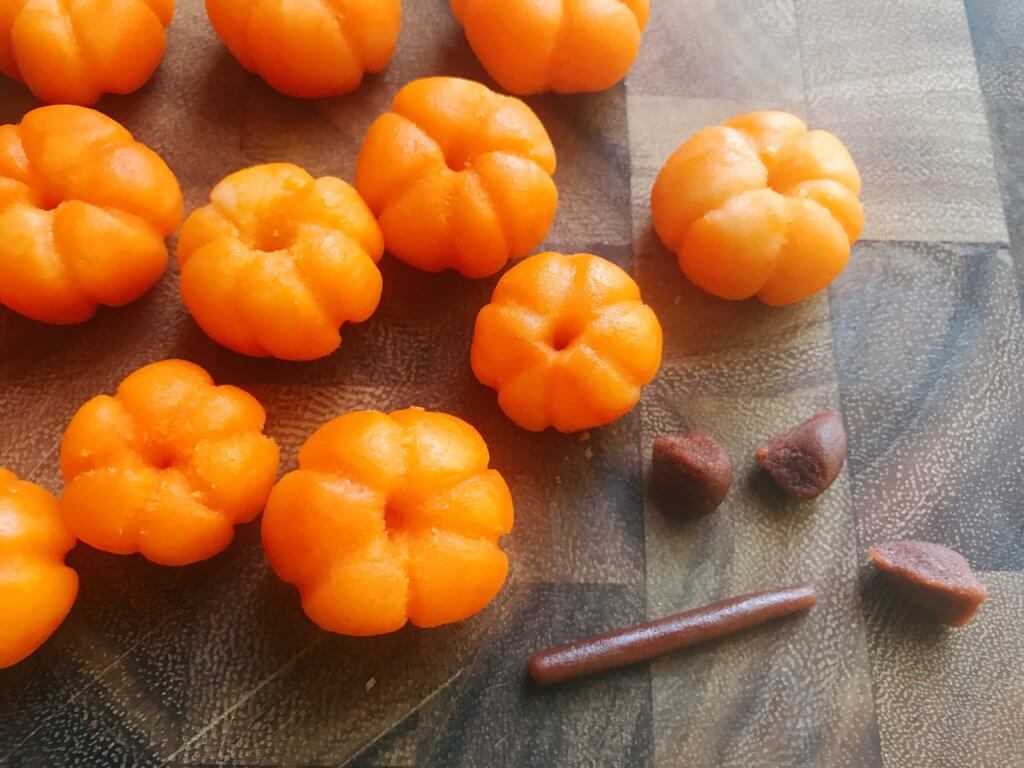 Use these marzipan pumpkins on any treat or sweet during the fall season and holidays.  They are a great edible decoration, such as on our Salted Caramel Pumpkin Spice Fudge!  I seriously cannot get over how cute these marzipan pumpkins are.  I think I will be making them all fall to put on everything!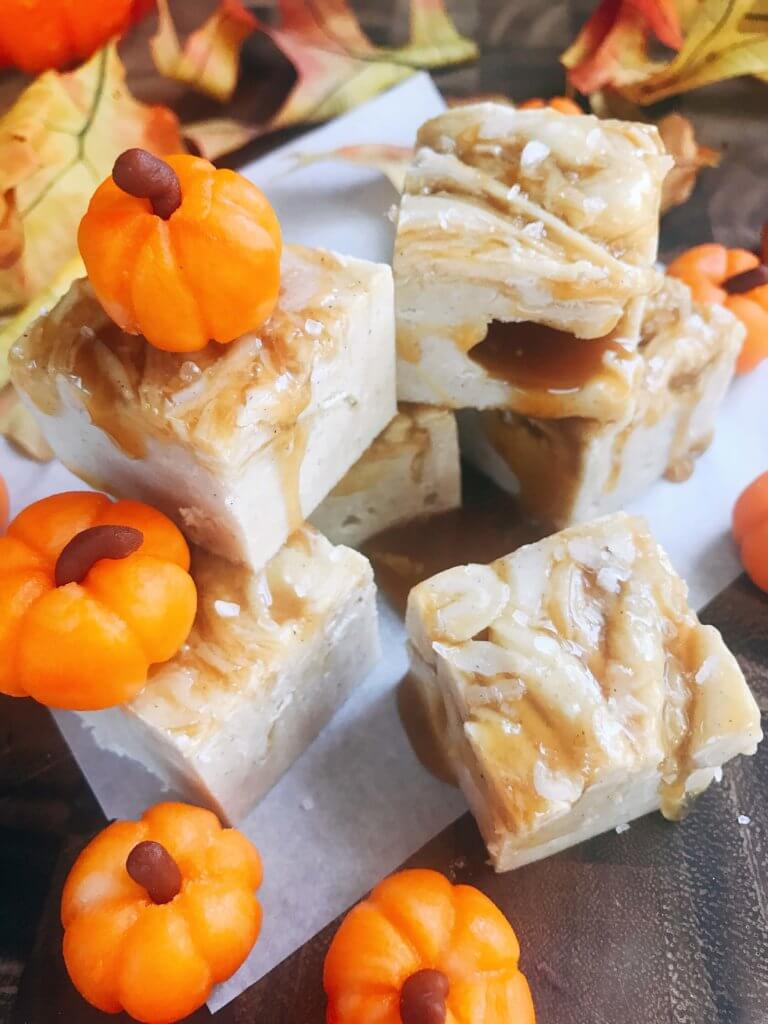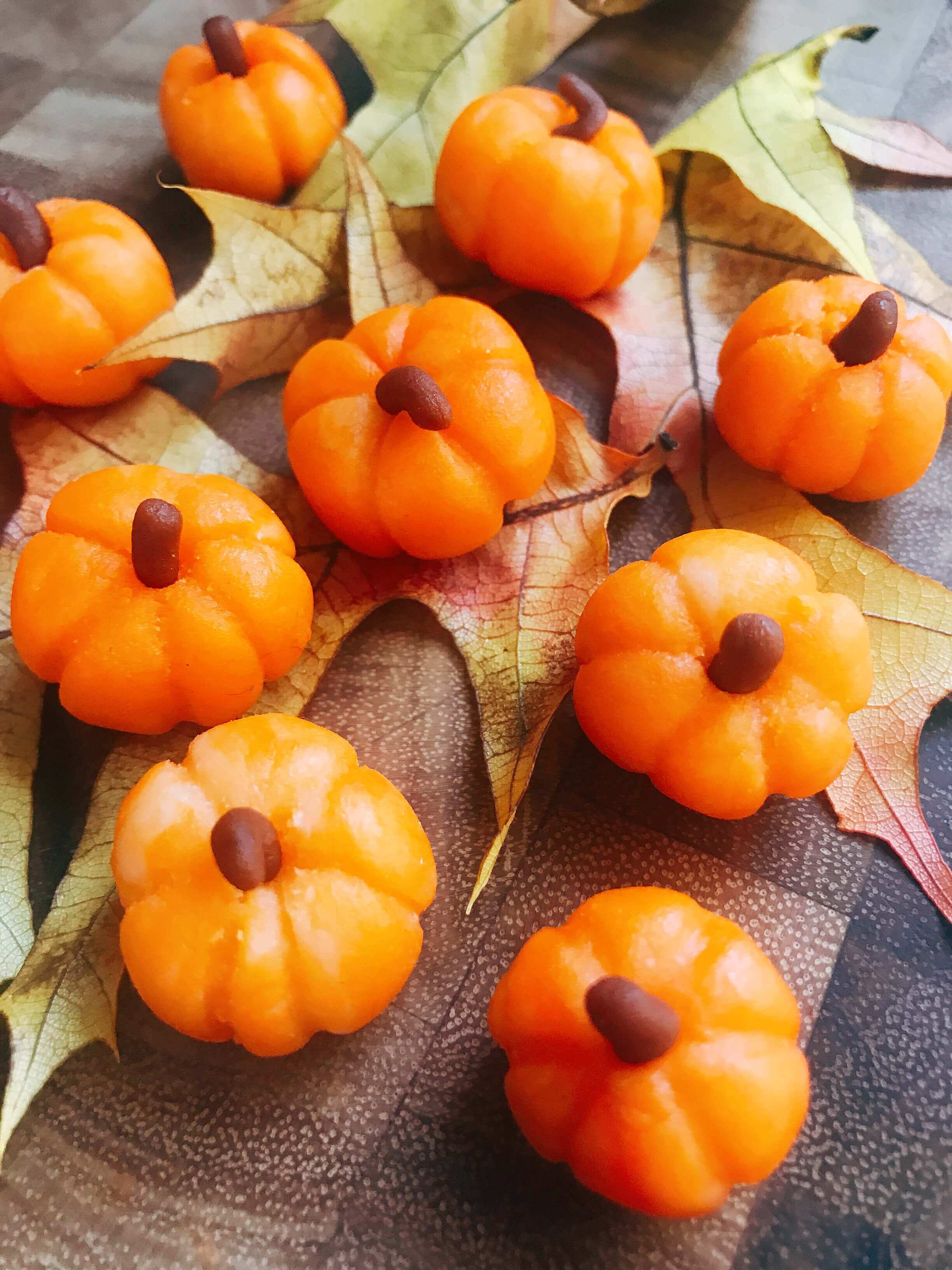 Servings:
12
pumpkins (1" wide, 1/2" tall)
Ingredients
3.5

oz

marzipan

(1/2 of a 7oz package)

orange food dye gel

(or food coloring) (see notes)

brown food dye gel

(or food coloring) (see notes)
Instructions
Cut off a piece of marzipan approximately 3.5 oz in weight (if you use the same product I did, it was 1/2 of the 7 oz tube) (click on the marzipan ingredient to buy)

Pinch off a piece of marzipan that is 0.1 ounces or about the size of a marble. This is for the stems.

Flatten the marzipan to make a flat disk or bowl shape. Apply one brief squeeze of orange food dye gel into the large marzipan and a very small squirt (or even just rub the marzipan on the lid) of the brown food dye gel into the small marzipan piece.

Knead each marzipan to incorporate the color. I strongly suggest using a glove to avoid staining your hands orange! Keep kneading until the color is fully incorporated or leave some marbling effect if desired..

Add more orange if desired and knead again until you reach your desired shade of orange.

Form the marzipan into a sphere or block that is somewhat symmetrical (just to easily cut equal pieces, it is not necessary to be exact).

Cut the marzipan block into half, and then each in half again so you have four equal pieces.

Cut each piece into thirds, so you have 12 pieces.

Using your hands, shape each piece into a sphere. Then slightly flatten the sphere at the top and bottom.

Using a toothpick, gently press the side of the toothpick into the pumpkin in various places to create the ribs. Repeat this around the pumpkin as desired (I did this 5-6 times on each pumpkin). The toothpick should rock between the top and bottom to get lines that reach all the way up and down the sides.

Use the point of the toothpick to make a shallow indentation at the top of the pumpkin. This will make it easier to insert the top. I made mine approximately 1/4" deep.

Take the brown and divide into four pieces. Roll each piece into a thin rope and cut each rope into thirds. This will give you 12 stems.

Round off the cut ends of the stem and insert one into each pumpkin top.
Notes
Food dye is preferred over food coloring because it has less water (moisture) in it.  If you use food coloring, be aware that using too much may start to change the consistency of the marzipan due to all of the extra moisture.

This is the set of food dye gels that I have, and I love them!  The pack comes with 12 colors which are perfect for various baking needs.  They work very well and the pigments are wonderful!

Easily make more or larger pumpkins by increasing the batch size.

Keep your leftover marzipan fresh by following package directions.

By