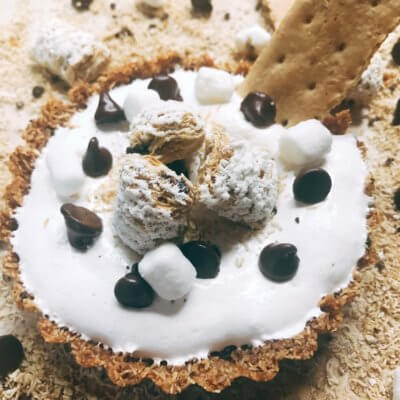 This shop has been compensated by Collective Bias, Inc. and its advertiser. All opinions are mine alone. #PerfectionWithPost #CerealAnytime #CollectiveBias
I love camping in the summer and it is MANDATORY that we have s'mores each and every time. S'mores are a summer classic, and I want to enjoy those same flavors even when I am not camping. These Individual S'Mores Tarts are full of the same great toasty flavors of your favorite campfire treat. And the best part is you can eat them anywhere!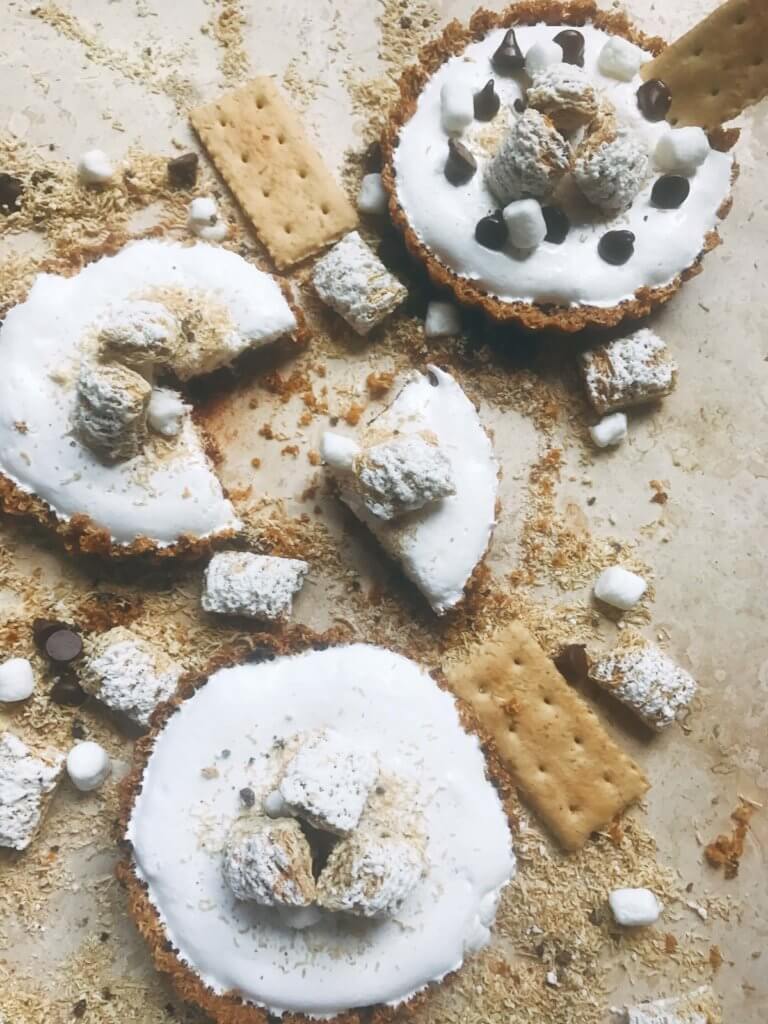 Crusts in pies and tarts are SO important to me, as they are one of my favorite parts, and are the vessel for everything else yummy. Kind of like pizzas, it needs to have a great crust! So using the new Post Shredded Wheat Frosted S'mores Bites was the perfect option for these tarts. Not only is it full of the traditional s'mores flavors, but it makes it so much easier to prepare without having to use a bunch of ingredients to get a great crust, going beyond breakfast as a great ingredient for recipes like this! You can find more inspiration on the Post Pinterest page here!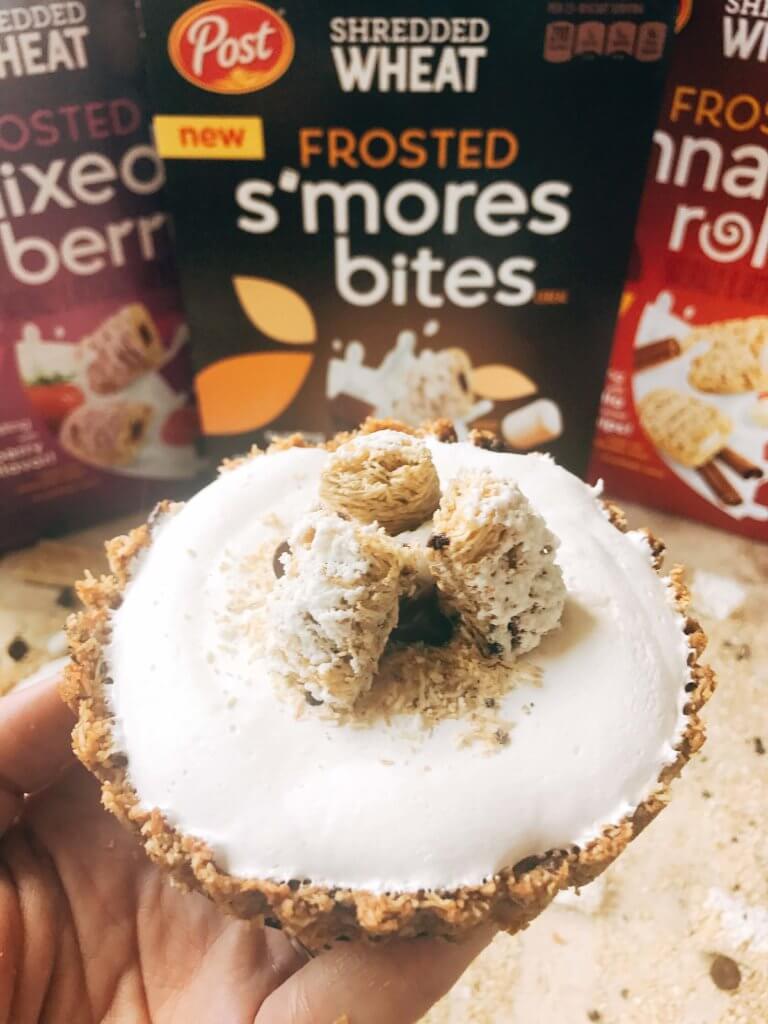 These Post Shredded Wheat Frosted S'mores Bites are a great bold flavor with a burst of real chocolate right in the middle, which you can see in small pieces in these Individual S'Mores Tarts crusts!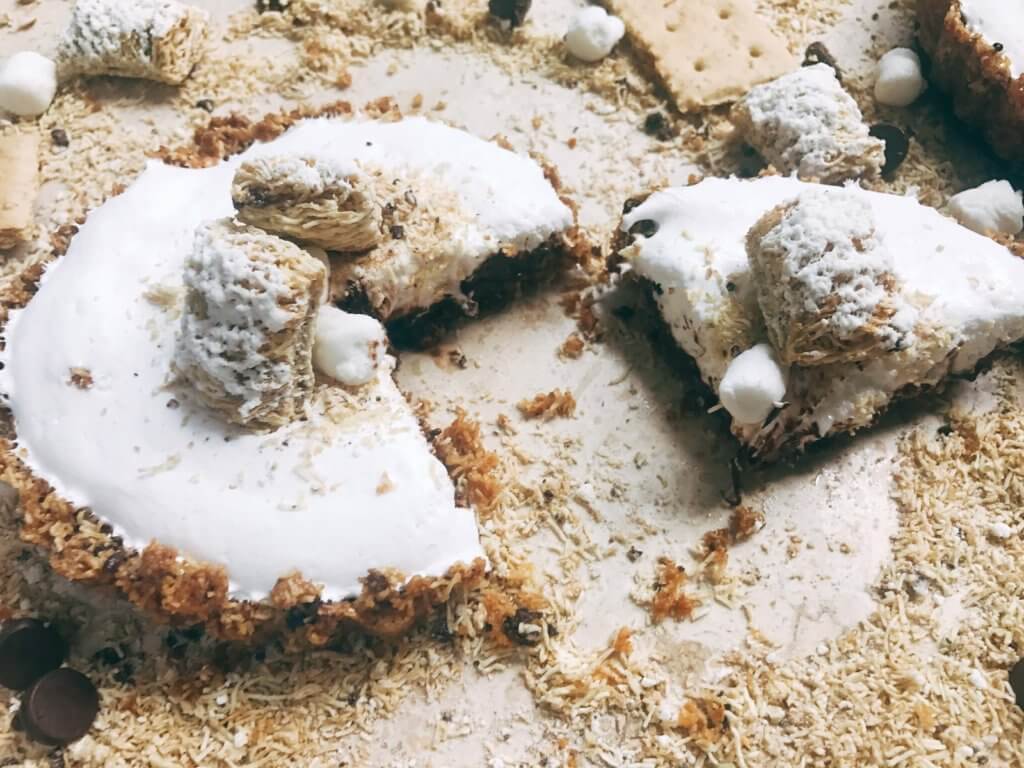 Post Shredded Wheat Frosted S'mores Bites along with their two other new flavors (Frosted Mixed Berry and Frosted Cinnamon Roll) are easy to find in the cereal section of your local Walmart. I am so excited for all three of these new flavors and all the different things I can make with them! And the fact that the base is 100% whole grain shredded wheat makes it perfect for adults and kids alike. And right now you can earn $1 cash back when you purchase ONE box of Shredded Wheat cereal through the Ibotta app!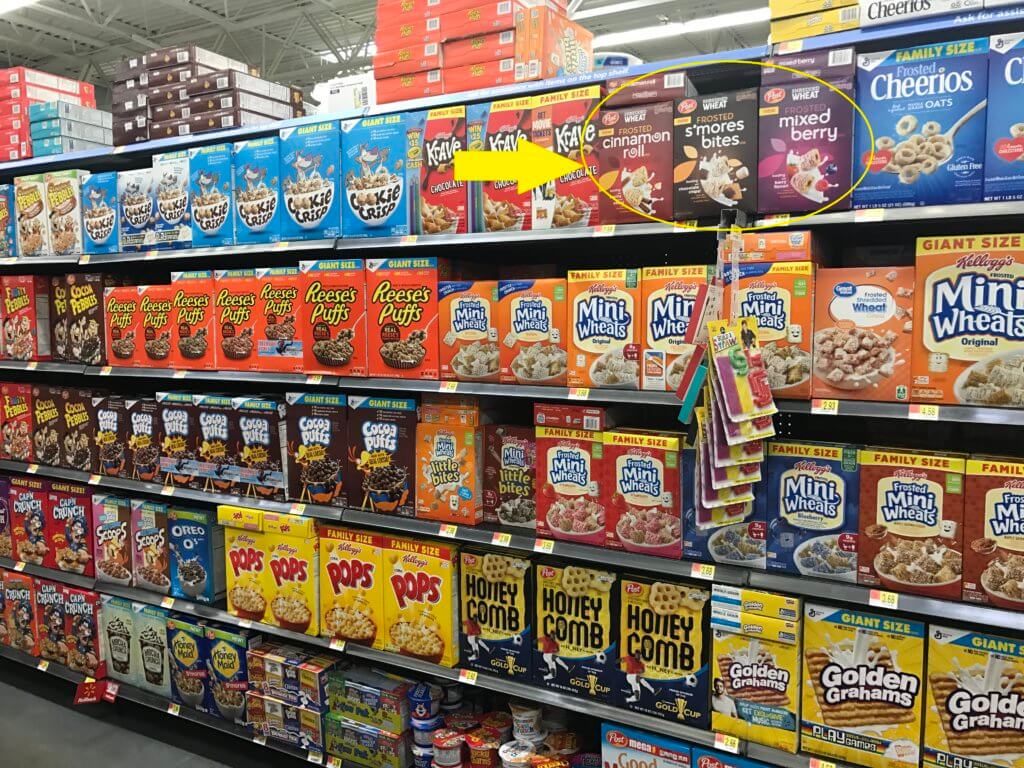 So we took these to our 4th of July tailgate that we attend every year with a big group of our friends, and they were GONE in no time! The crust holds up really well to where they can be eaten by hand and I was asked multiple times what it was made of because it was delicious!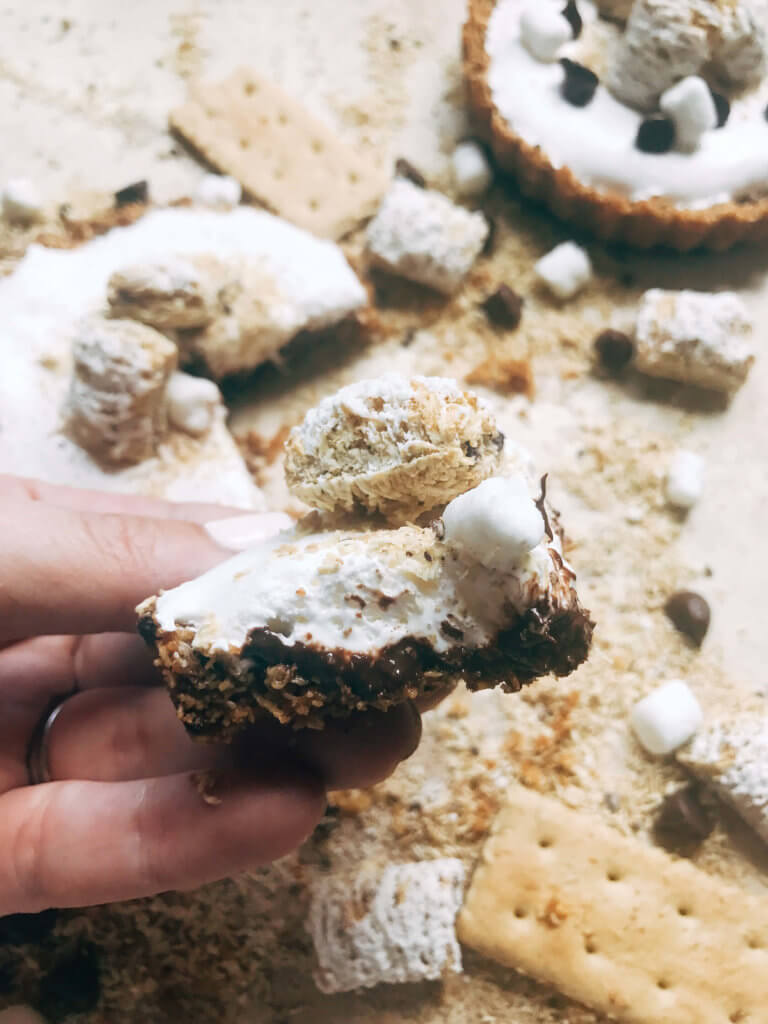 To make these Individual S'Mores Tarts, grind Post Shredded Wheat Frosted S'mores Bites and combine with some ground graham cracker crumbs and melted butter. Press the mixture into the tart pans, all the way up the sides, and bake until golden.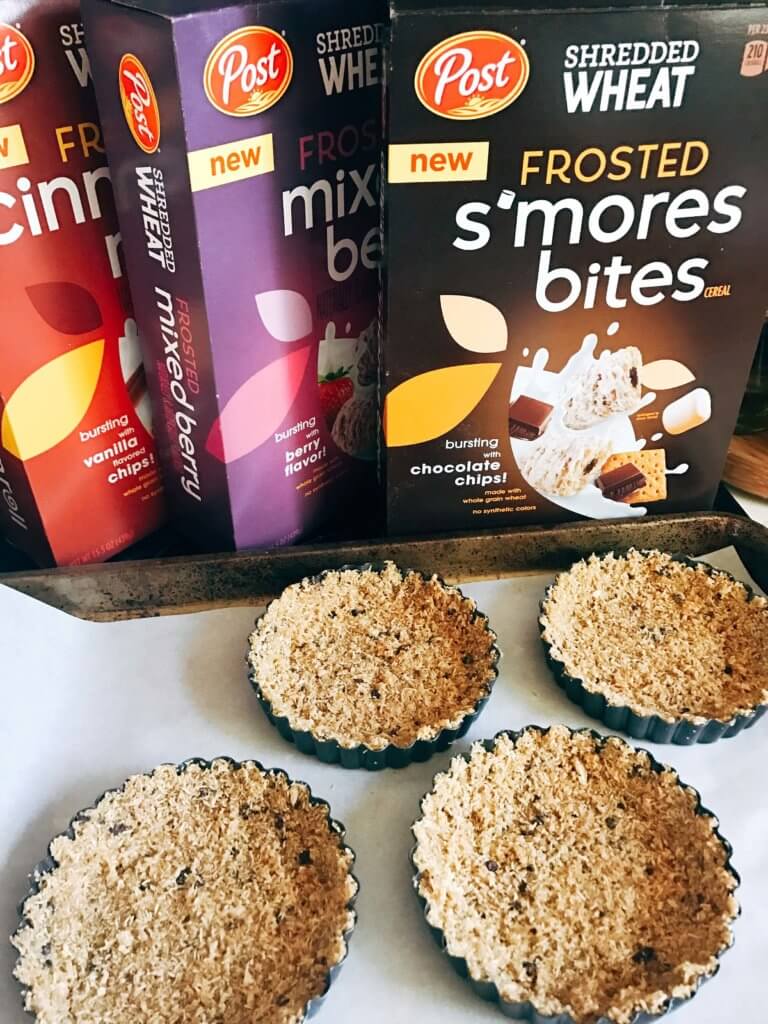 Then spread melted chocolate in the bottom of each crust, followed by piping marshmallow fluff. Decorate and you are all done!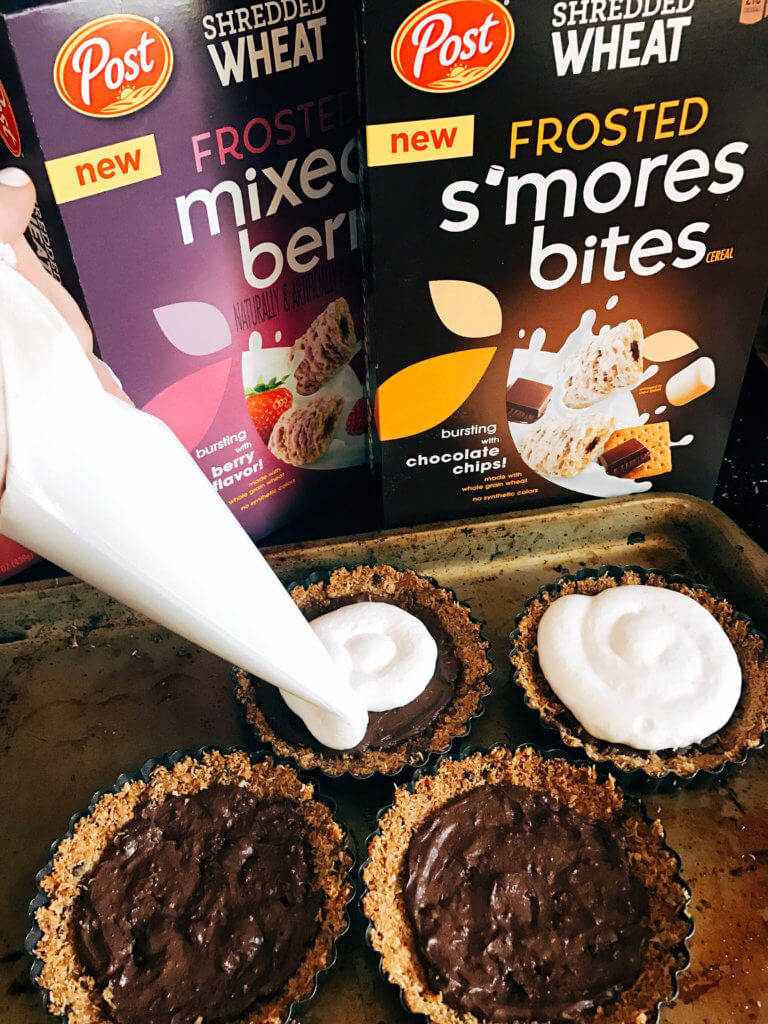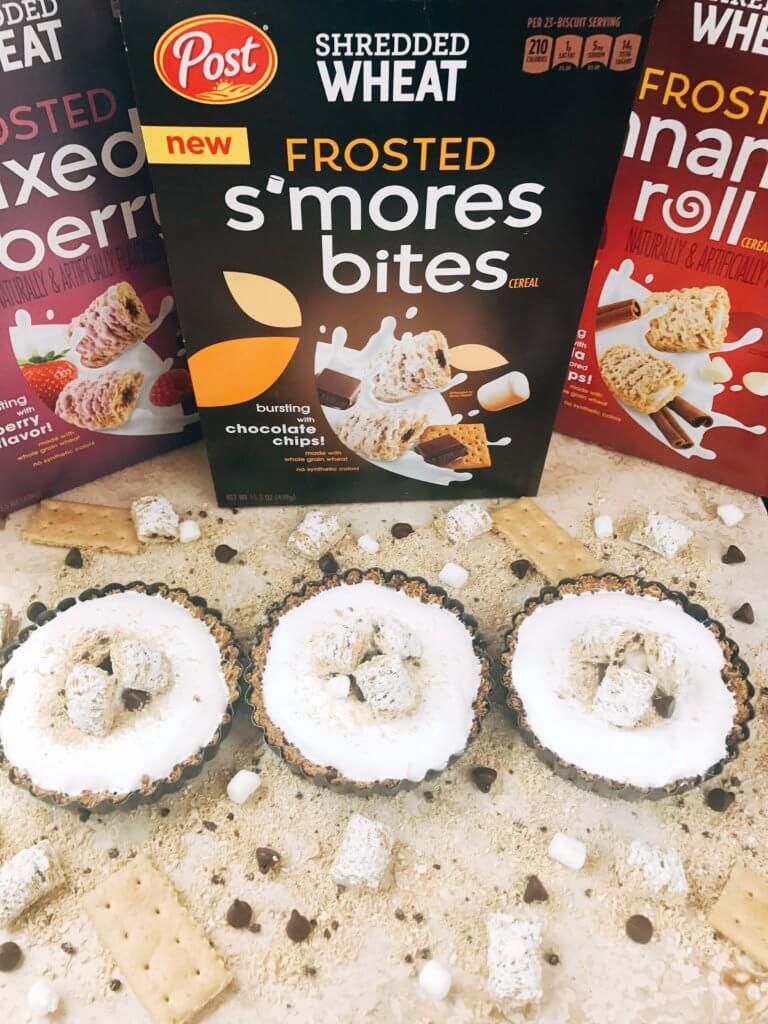 These Individual S'Mores Tarts turned out so cute and were such a hit that we will definitely be making these on a regular basis, especially in the summer for our s'mores fix. Share your favorite way to enjoy S'mores in the comments below!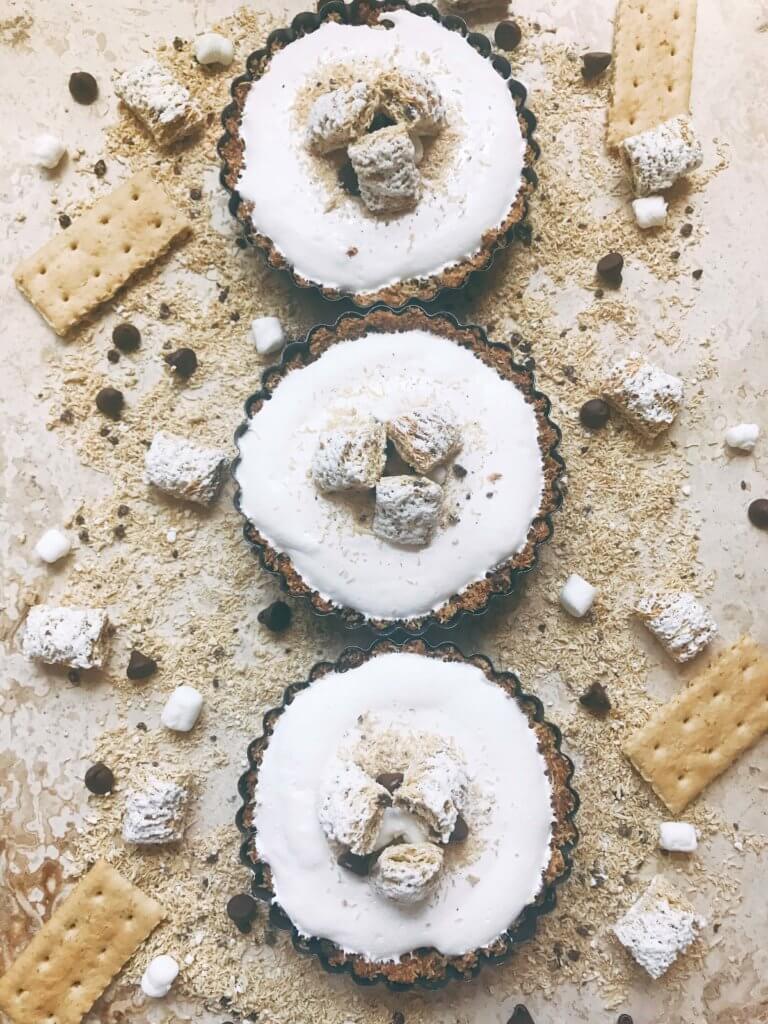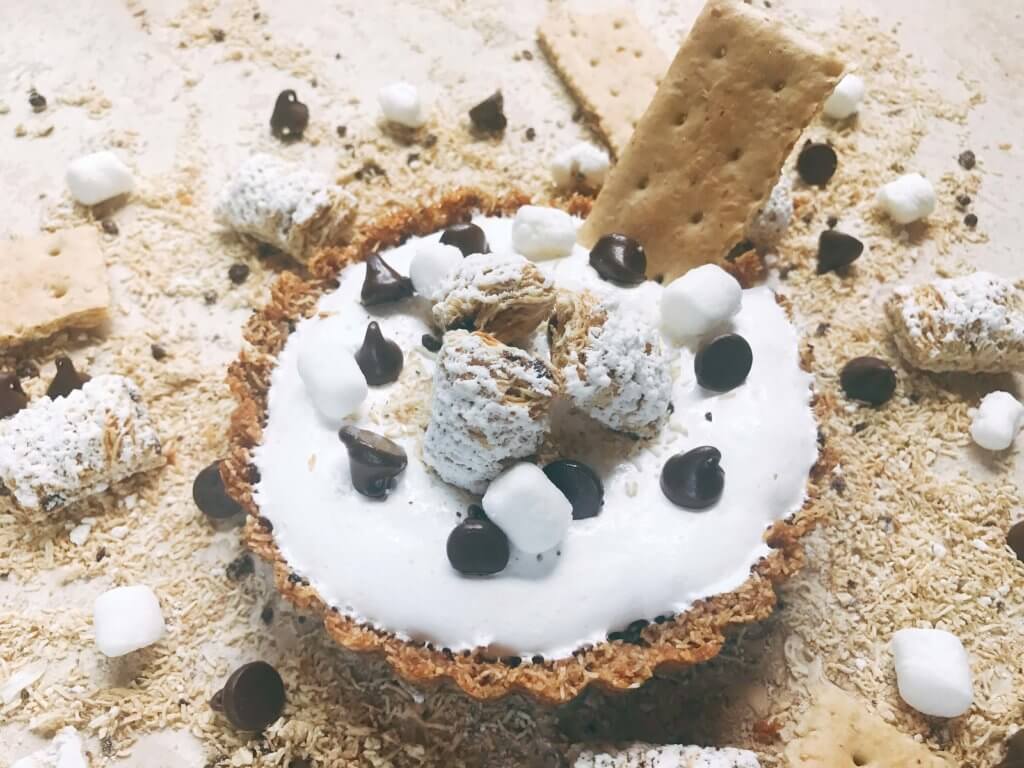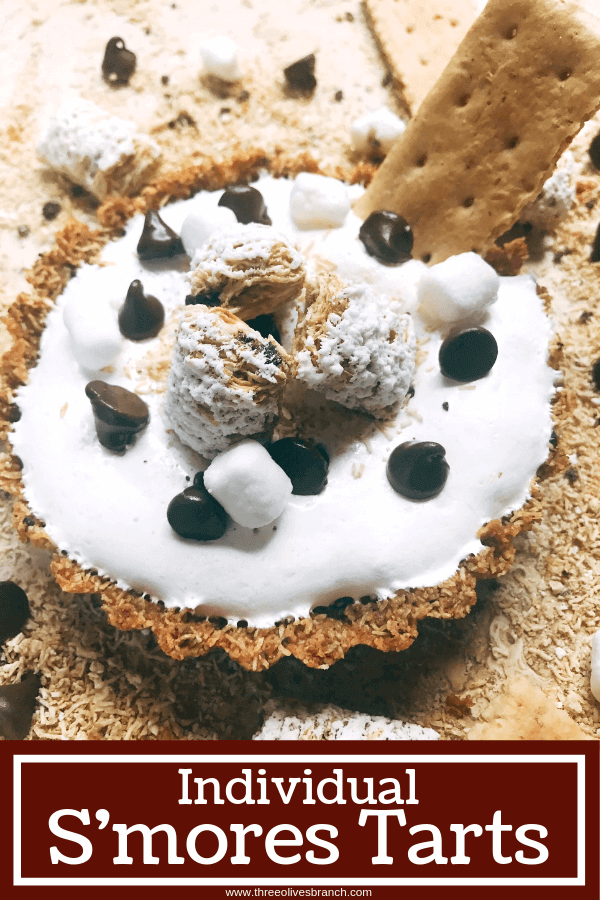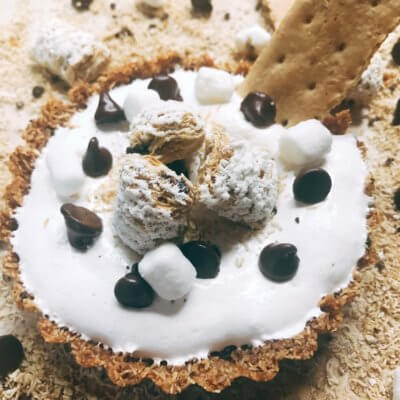 Instructions
Grind two cups of the Post Shredded Wheat Frosted S'mores Bites in a food processor. The shredded wheat should be broken down but not as fine as flour, and there will be small chunks of the chocolate filling remaining. Do not over process so you can keep the texture. You should have one cup once ground (grind more if necessary).

In a small bowl, combine the ground Post Shredded Wheat Frosted S'mores Bites, graham cracker crumbs, and melted butter. The mixture should just hold together when pressed. Add more butter if necessary.

Line up your tart pans on a baking sheet. I used four 4.75" tart pans.

Preheat the oven to 375F.

While the oven is heating, press the shredded wheat cereal mixture into the tart pans. I start on the sides, covering all the ridges, and then press mixture into the bottom. The crust should be relatively thin, just enough to cover the pan. You should have enough mixture for all four tart pans, but can make more if necessary.

Bake the tarts on the baking sheet until they are a light golden brown, approximately 15 minutes. They will still feel a little soft when you remove them from the oven because the butter is still hot but will harden. You can tell they are ready from the top edges being darker and firmer.

While the tarts are in the oven, melt the 1/2 cup chocolate chips. Place them in a small bowl and microwave on high for 30 seconds, then stir until melted. Heat an additional 5 seconds at a time if needed, but be careful not to burn and overheat the chocolate.

When the tarts are out of the oven, spread the melted chocolate along the base of each tart. Be gentle as parts of the crust could potential start incorporating into the chocolate as you spread it. You can also place the melted chocolate in a pastry bag or resealable plastic bag with a small corner cut off and pipe a very thin layer across each tart pan.

Heat the marshmallow fluff in the microwave for 15 seconds (warmer fluff makes it easier to spread) and transfer it into a piping bag or resealable plastic bag. Cut off a corner approximately 1/2" wide. Pipe the fluff into each tart on top of the chocolate.

You can smooth out the fluff to get rid of the lines by placing the tarts back in the oven (turned off, but still warm from baking) and the heat will smooth it out like in the pictures. The heat also causes it to expand a little, so do not pipe all the way to the tart edge. This gives it room to grow out instead of up and over the edges. It will only take a couple minutes for the fluff to smooth out.

Decorate the tarts with additional Post Shredded Wheat Frosted S'mores Bites, chocolate chips, and mini marshmallows as desired.
Notes
I used 4.75" tart pans.  You can use different sizes but the ratio of ingredients and the amount you need will vary.

By