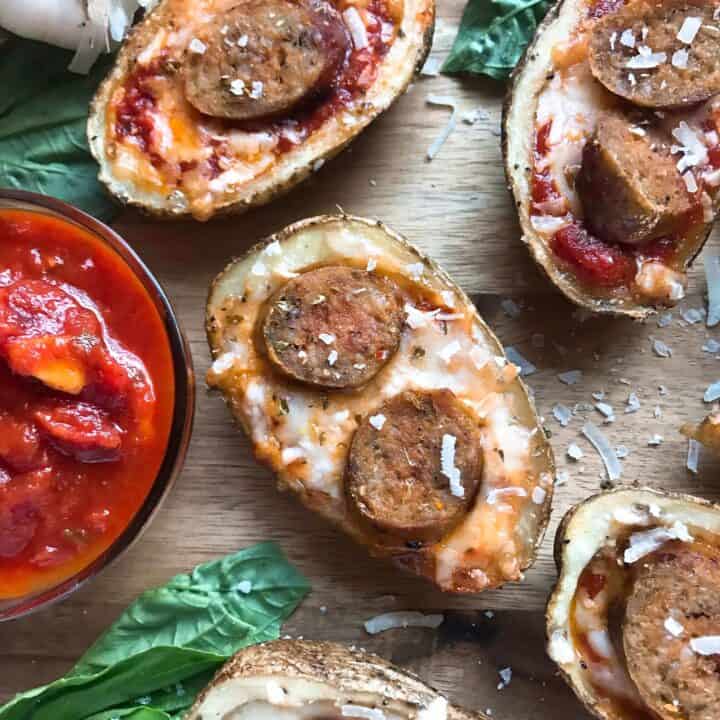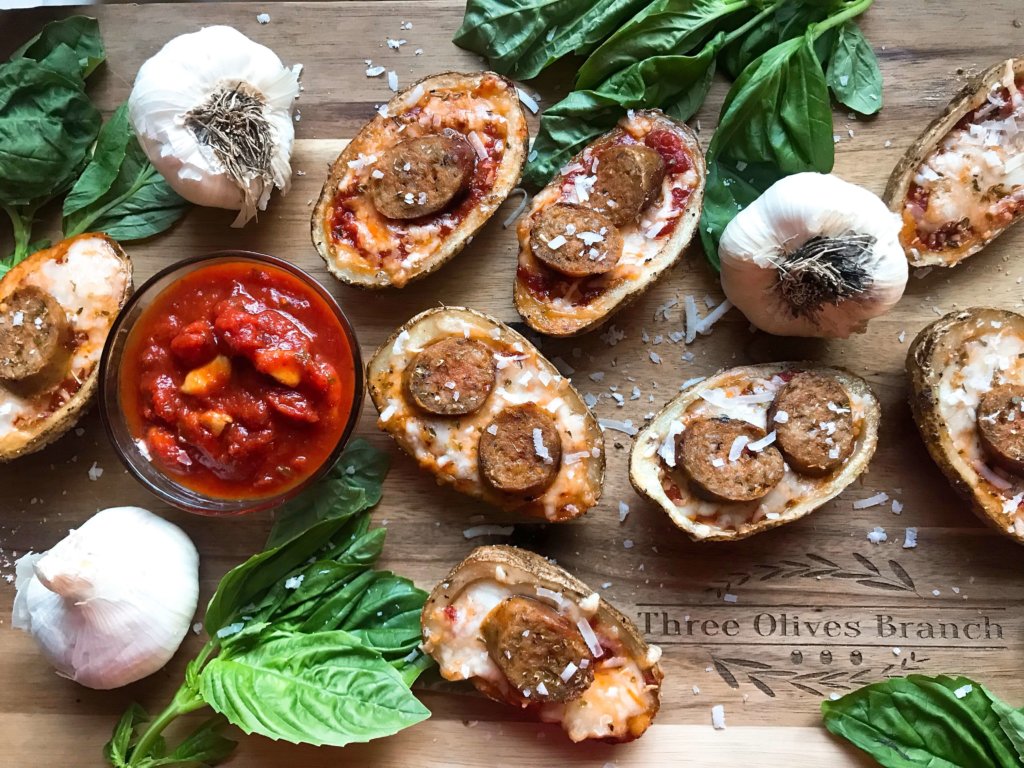 Italian Sausage Marinara Potato Skins are a simple and delicious game day appetizer! Potato skin shells are stuffed with marinara sauce, mozzarella, Parmesan, and sliced Italian sausage.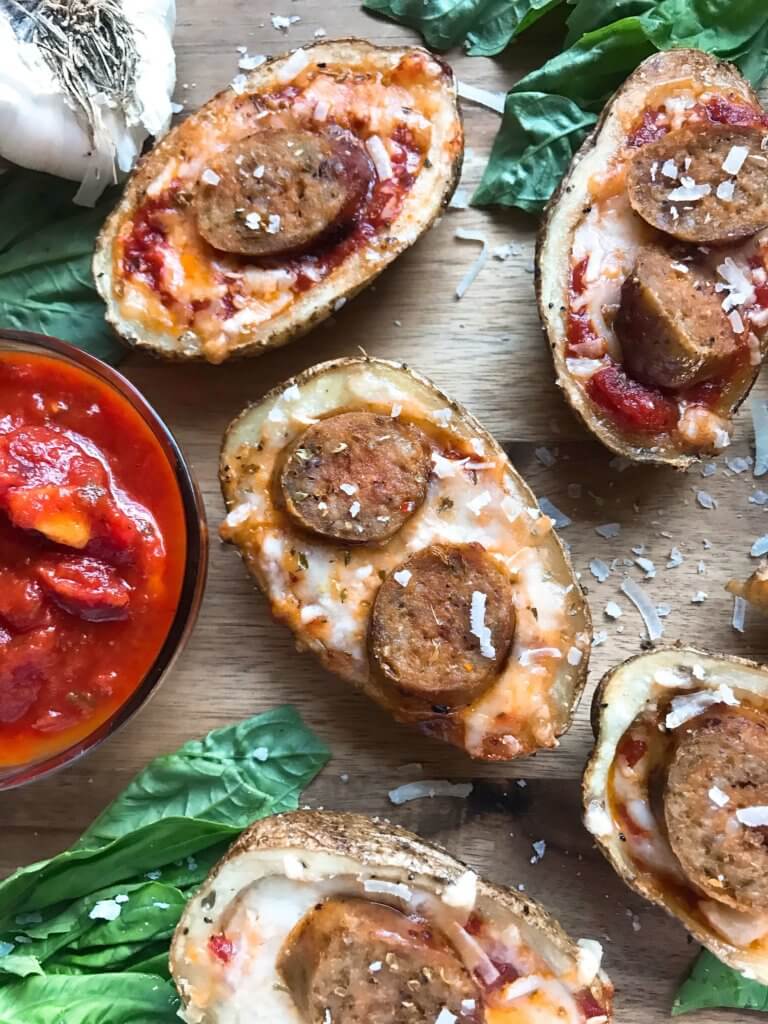 This post contains affiliate links.
I have always loved potatoes, and ever since I figured out how to make an amazing potato skin shell, I make a variation of them all the time for parties and holidays. These gluten free Italian Sausage Marinara Potato Skins are incredibly simple and easy to make, plus you can make the shells, or the entire thing, in advance for a quick finger food option.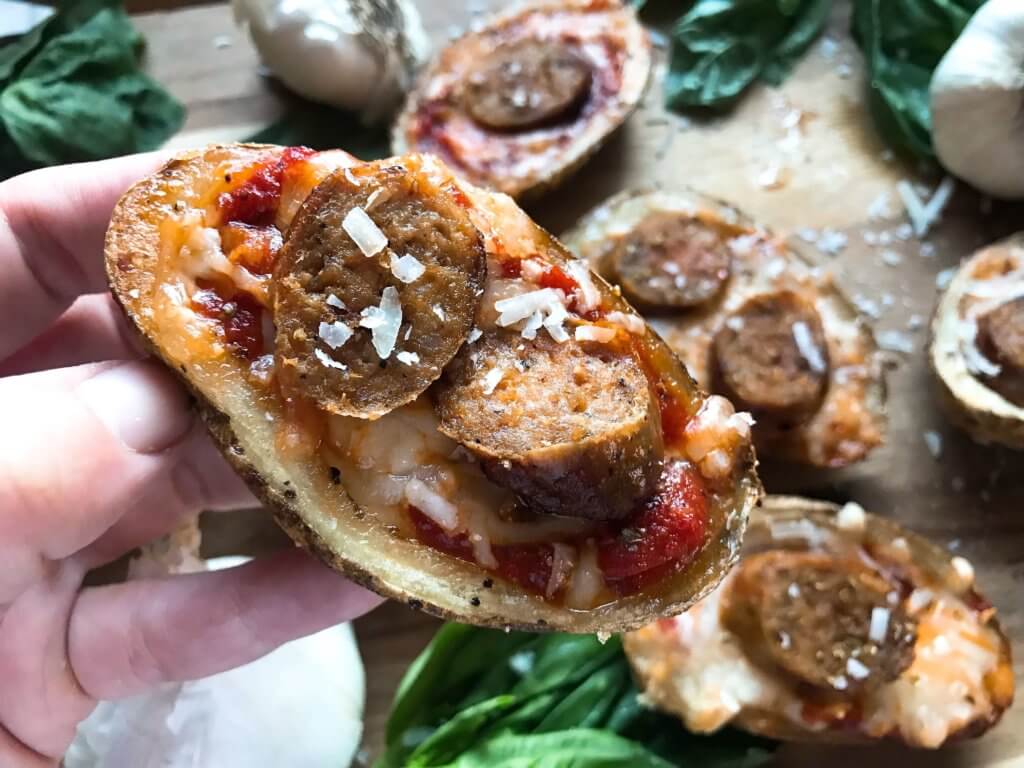 Any marinara sauce you like will work. I always like to make a simple homemade marinara sauce. Fill up those potato skin shells with some mozzarella, the marinara, a sprinkle of Parmesan, and the sausage links and then bake them off until the cheese is melted and slightly golden.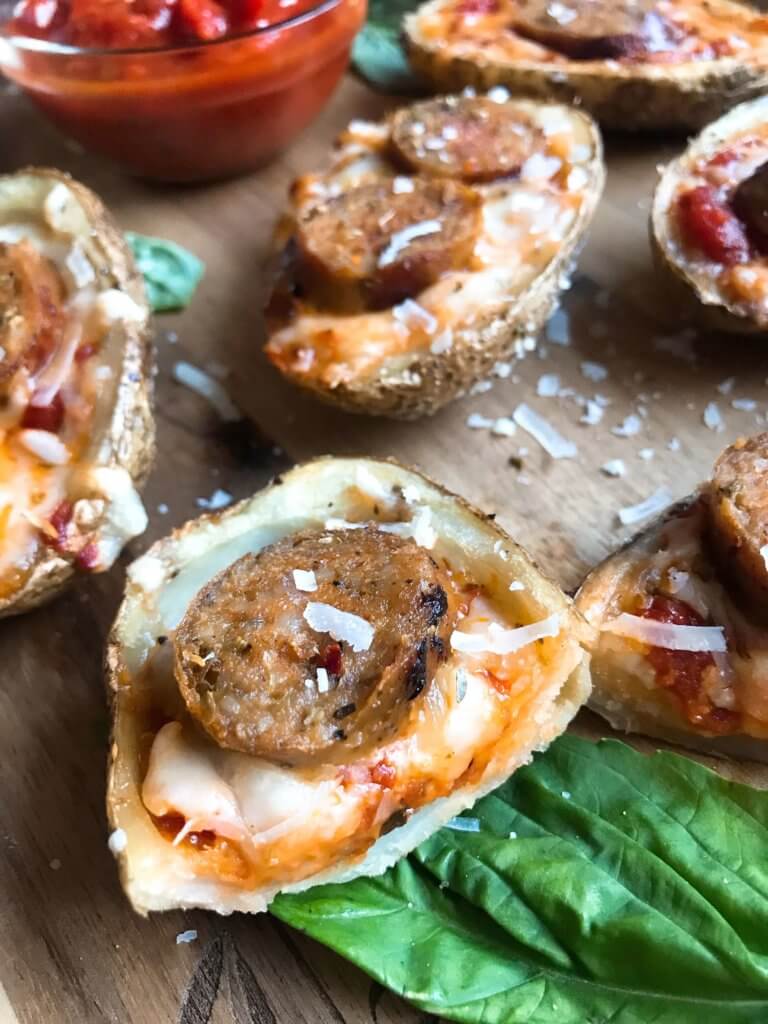 Learn how to make potato skin shells here! It is my favorite technique as I found using baked potatoes were just too soft and difficult to work with. Plus my technique above is so much faster! The topping possibilities are endless! Now that I have a recipe for perfect potato skins, it is somewhat dangerous because they are so good! The potato skin shells are great to make in advance. Just refrigerate until you are ready to load them up and bake. You can also now find potato skin shells in the freezer section of your grocery store with the french fries.
Have you tried any of our other potato skin recipes? They are one of my favorite things to make for parties, game day, and holidays. Find more potato skin recipes here!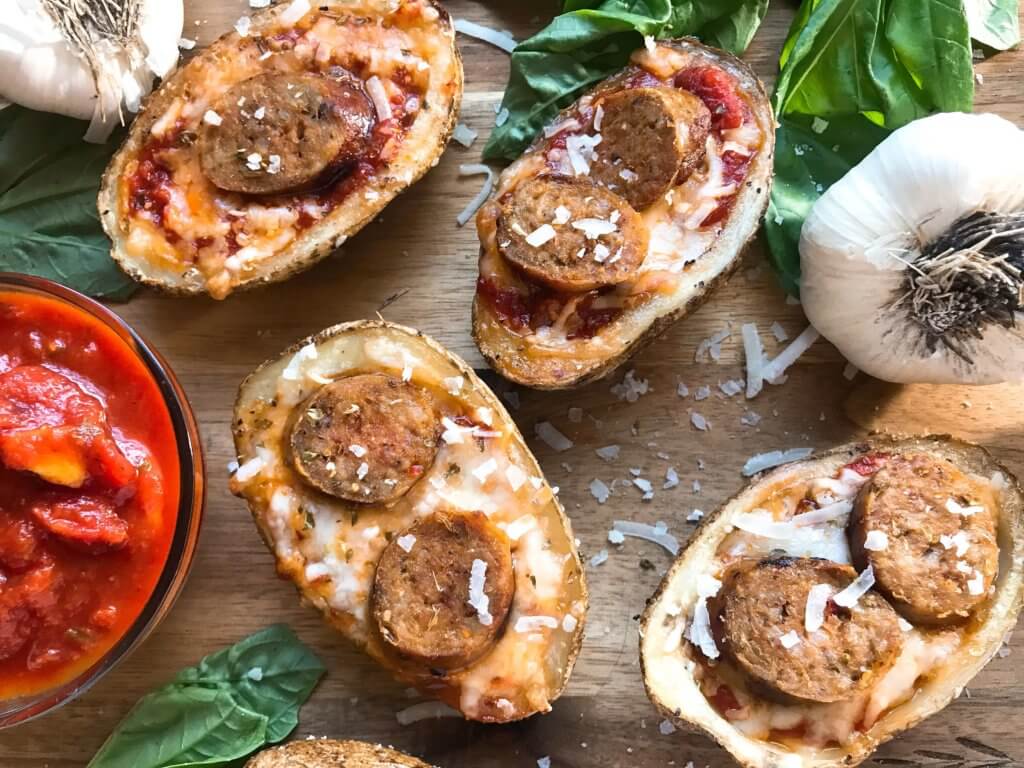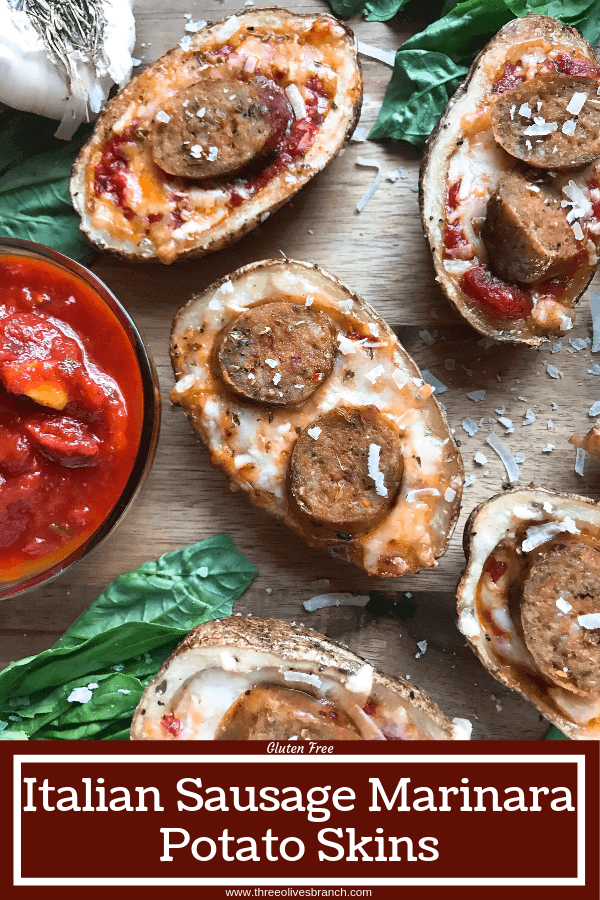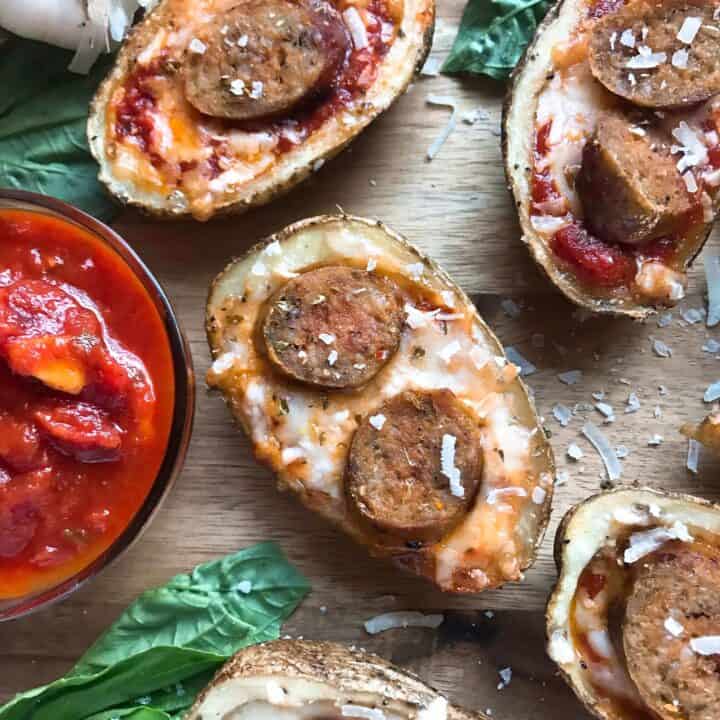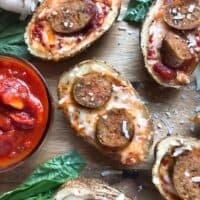 Instructions
Make sure you have your potato skins ready to go. See notes for links to recipes for potato skin shells.

Cook the Italian sausage as per package directions until just cooked through. Slice into 1/4-1/2 inch coins and set aside.

Preheat oven to 350F.

Once your potato skins are prepared (see note below for recipe), place them skin side down on a large cookie sheet.

Sprinkle approximately 1/2 Tablespoon of mozzarella cheese in the bottom of each potato skin shell. Use just enough cheese to cover the bottom.

Spoon approximately 1 Tablespoon of marinara sauce into each potato skin shell. Top with another Tablespoon or so of mozzarella.

Sprinkle with Parmesan cheese and add cooked Italian sausage slices to the top of each potato skin. Sprinkle with a little dried oregano.

Bake until the cheese on top is starting to brown and the cheese filling is hot and starting to bubble, approximately 12-15 minutes. Serve immediately and with additional marinara sauce if desired.
By