A simple cornbread recipe, Jalapeno Cornbread is filled with jalapeno peppers and corn kernels, topped with a crispy cheese crust. Great for fall on its own or with chili. #cornbread #jalapenopopper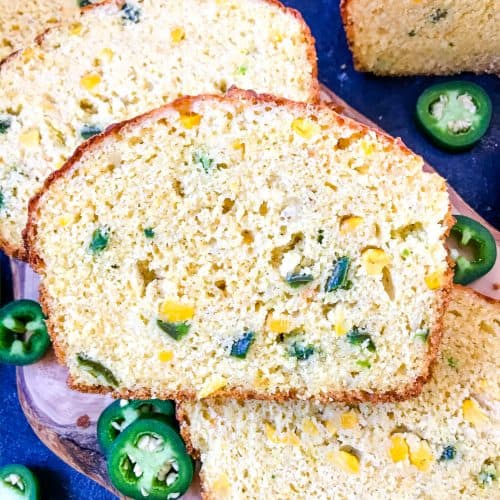 Jalapeno Cornbread is a quick bread recipe filled with fresh corn and jalapeno peppers. It only takes a few minutes to put the bread together and have your house smelling like delicious cornbread while it bakes in the oven!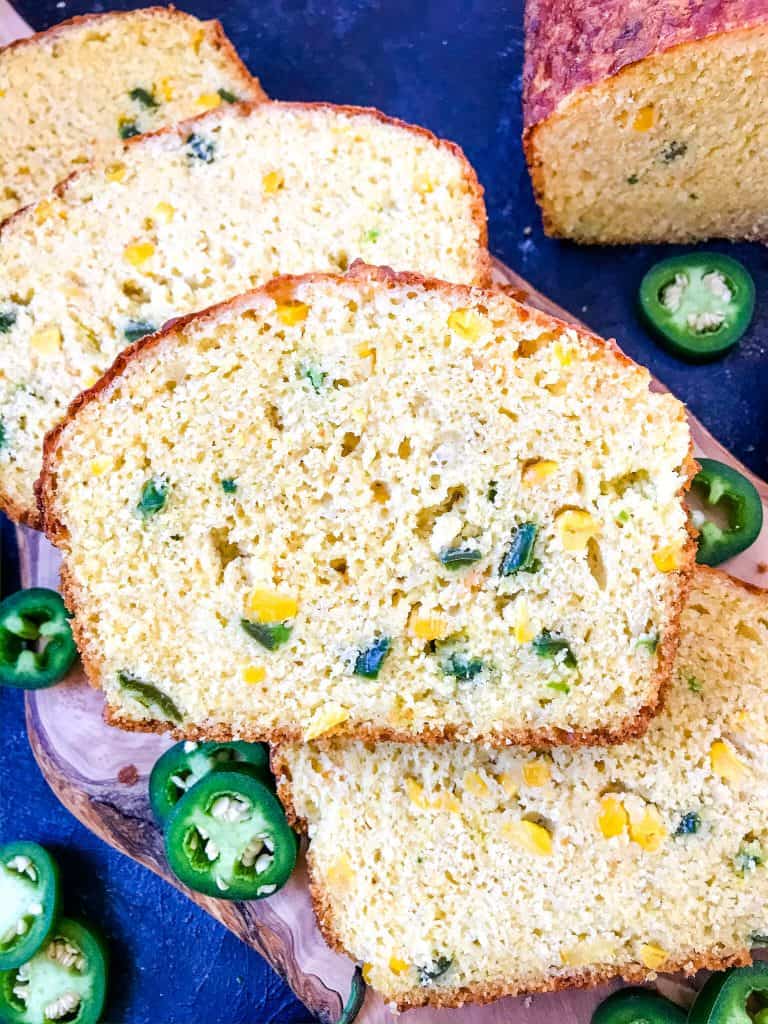 This post contains affiliate links.
I love a good homemade cornbread recipe, but they can get dry. This Jalapeno Cornbread is moist and full of flavor! I also like to add the cheese on top to give it a delicious crust, but you can easily skip the cheese if you want. It makes a great side dish for BBQ or southern foods, or just as a snack! Find more cornbread recipes here!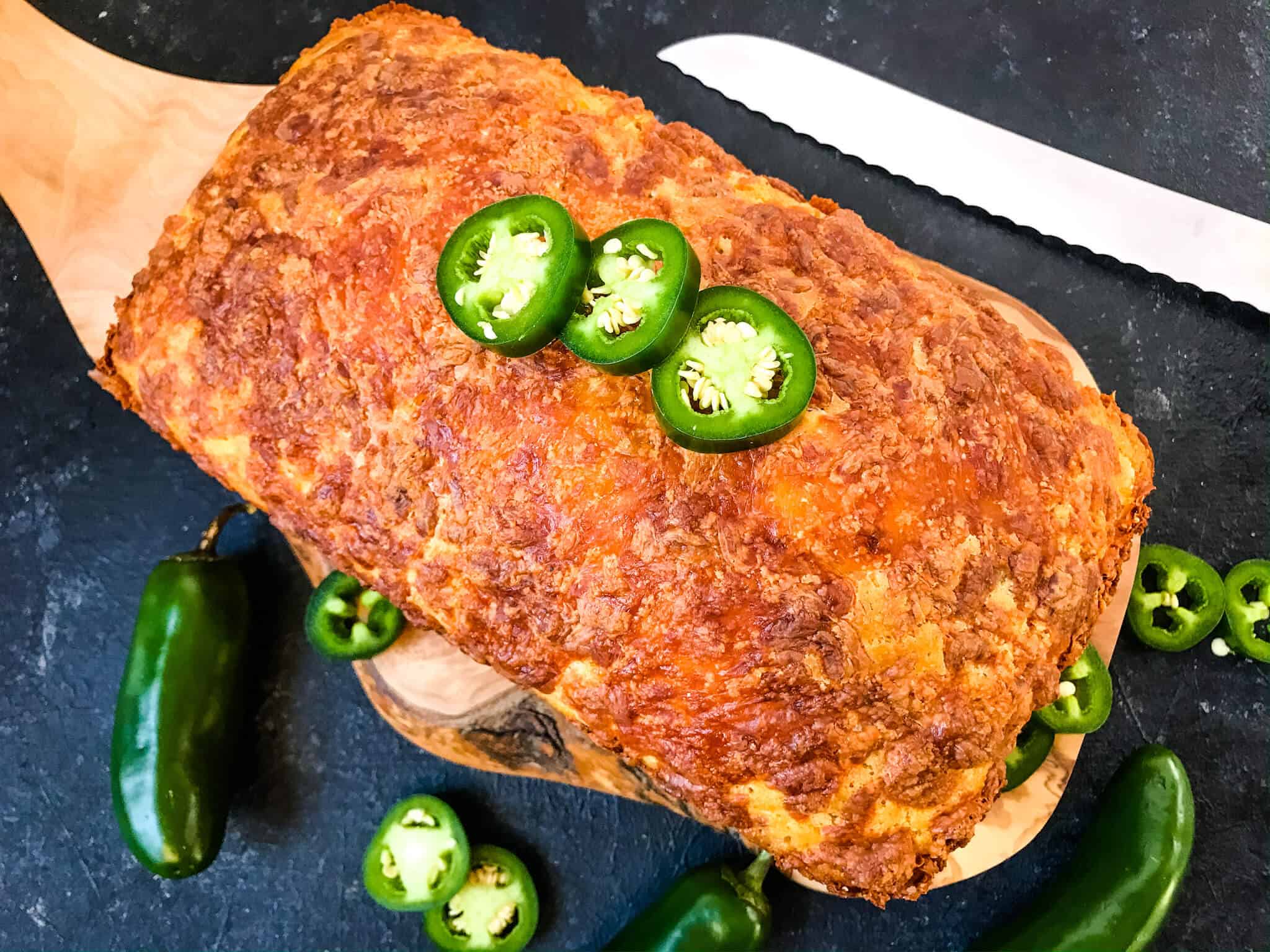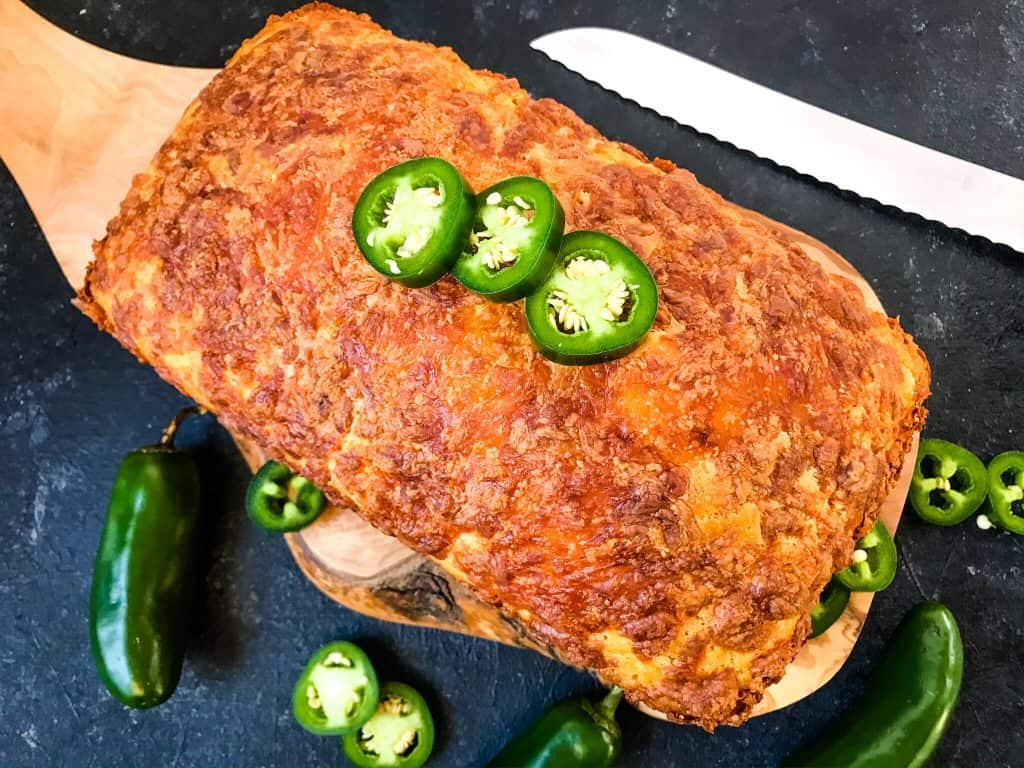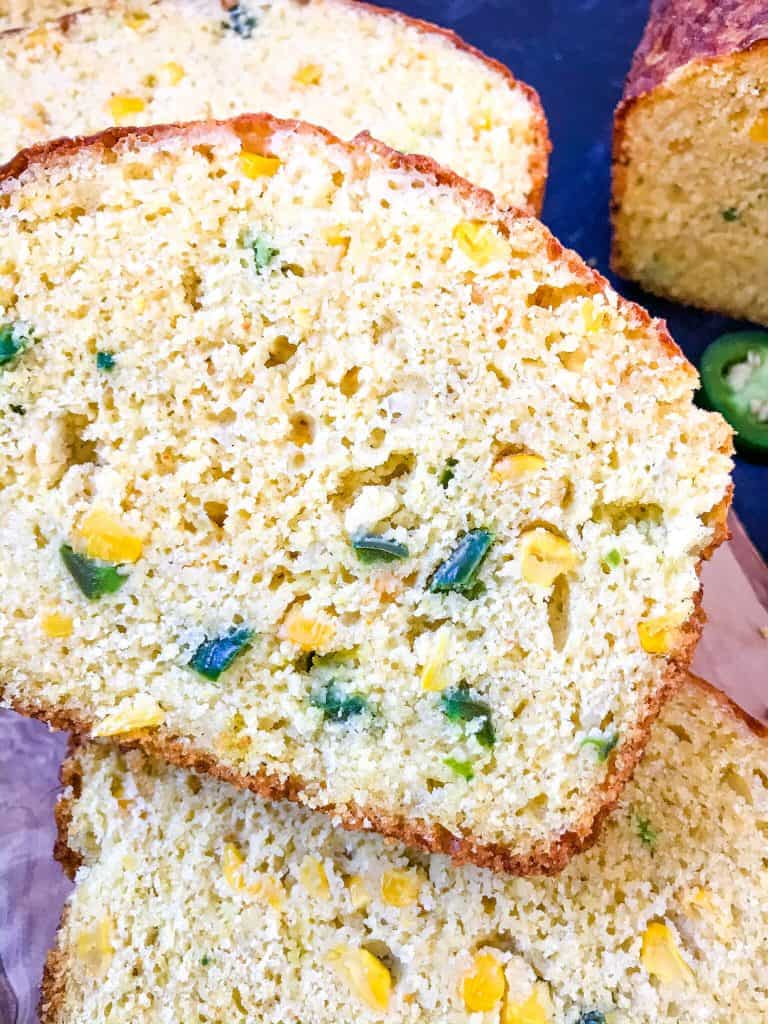 Making Jalapeno Cornbread couldn't be any simpler. Just mix together your dry ingredients and wet ingredients, and then gently mix them together. Also add the cheese, peppers, and corn kernels. Then bake until cooked through, approximately 40 minutes. You could also easily make little muffins or a flatter bread in a baking dish if preferred. Just adjust your cooking time and bake until the bread is cooked all the way through. The addition of cheese makes this almost like a jalapeno popper bread.
This recipe does call for buttermilk, but I never have buttermilk on hand and I don't like buying it when I only need a little. The best trick for a buttermilk substitute is milk and lemon! Simply add 1 Tablespoon of lemon juice to 1 cup of milk (whole milk is best) and let it sit for a few minutes. The acid in the lemon does its science magic on the milk and makes it a great substitute!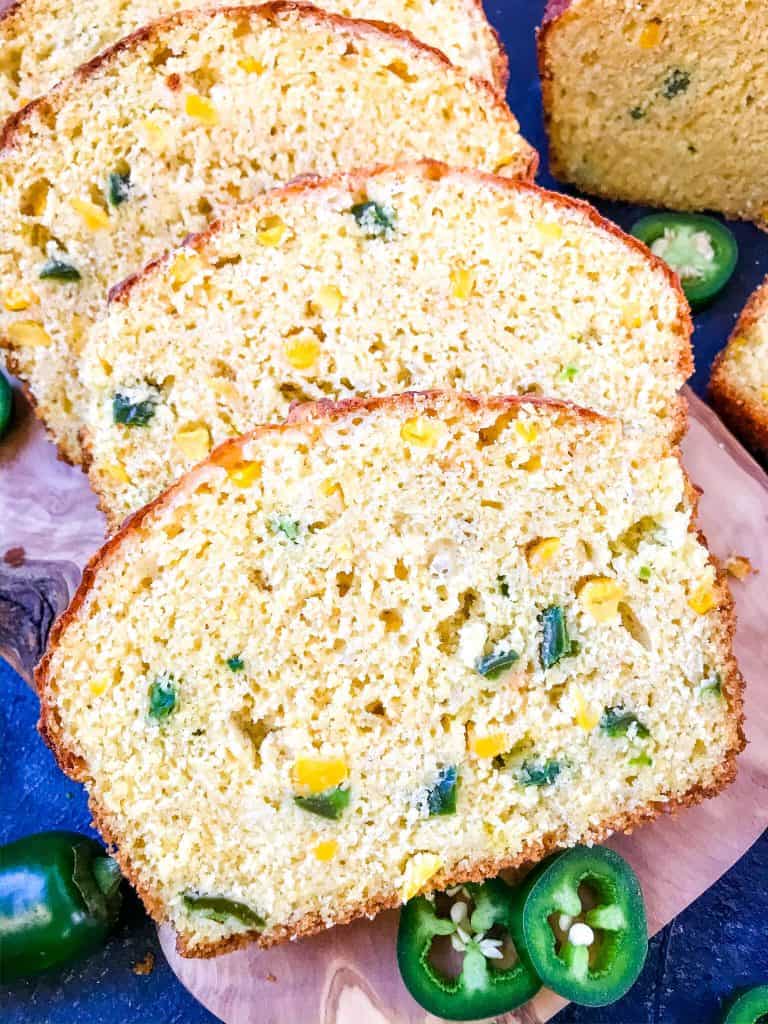 Make the cornbread spicier by using more ground red pepper and/or increasing the amount of jalapeno peppers you use. Or you could also use a spicier pepper. I love the corn kernels in the bread because they bring some texture and moisture.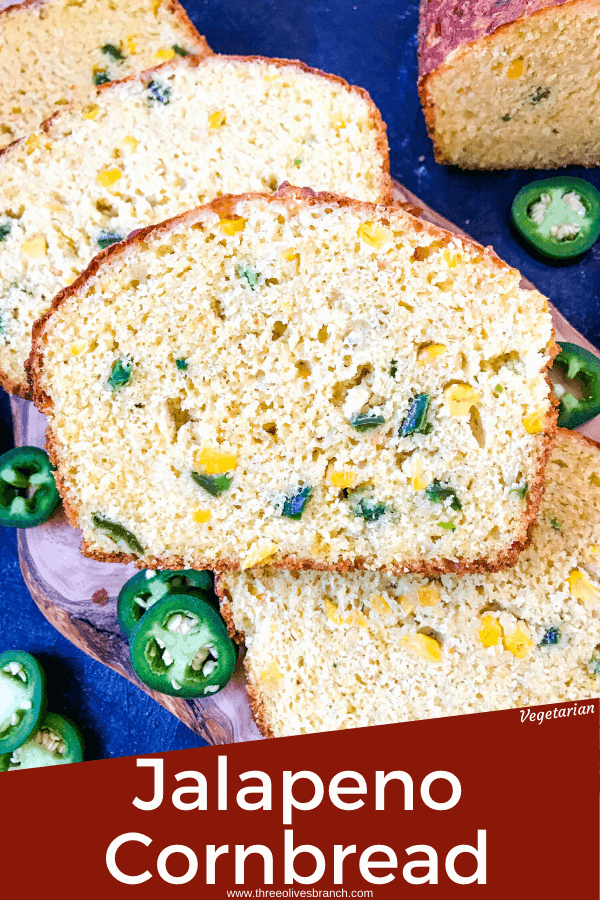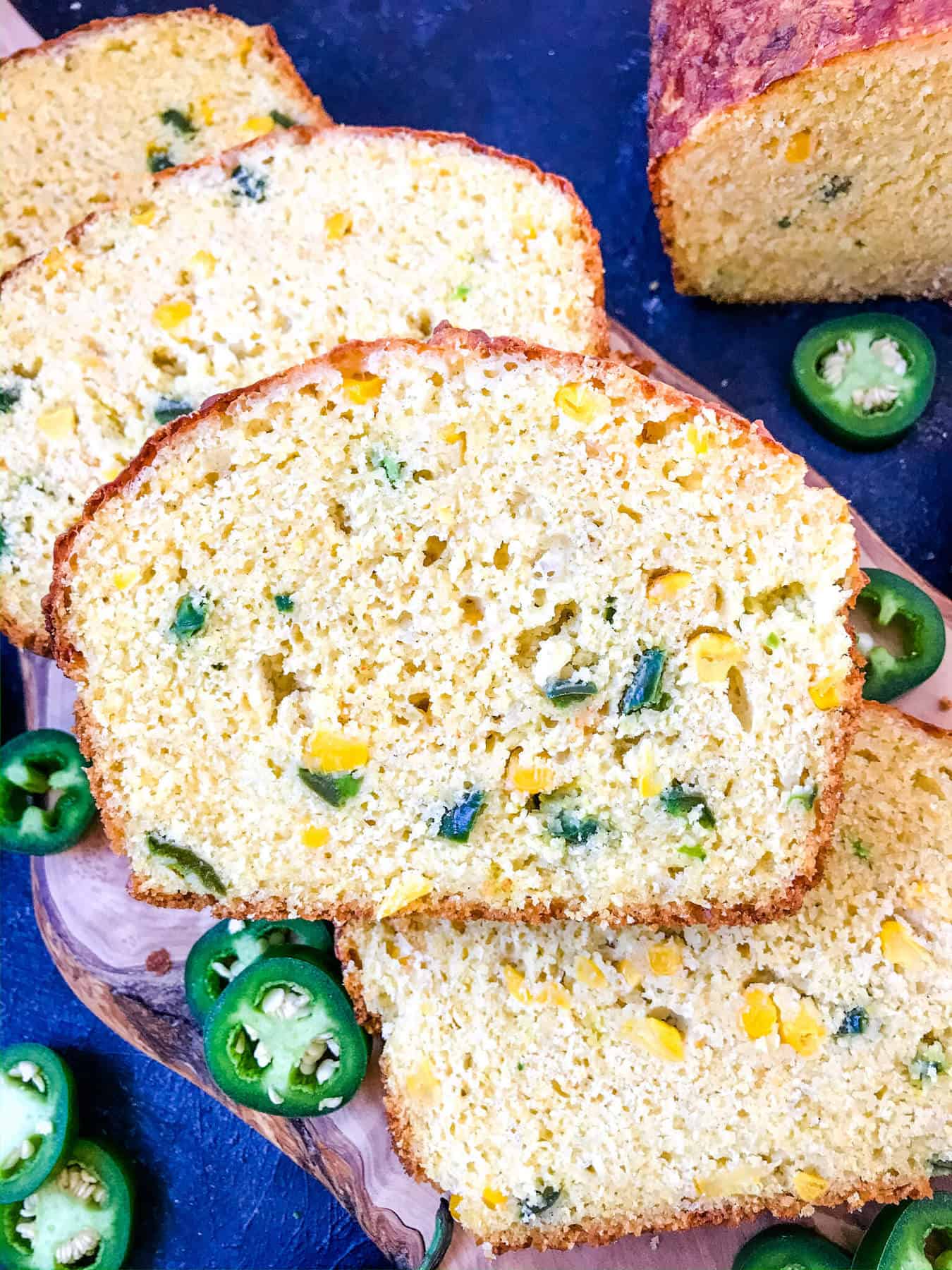 Instructions
Preheat the oven to 400F with the rack on the middle shelf. Coat your baking dish with nonstick spray. Set aside.

In a large bowl, whisk together the flour, cornmeal, baking powder, baking soda, ground red pepper, and salt.

In a medium bowl, whisk together the buttermilk, brown sugar, and eggs.

Fold the egg mixture gently into the flour mixture.

Add the butter, jalapeno, corn kernels, and 1 cup of the Mozzarella. Mix to just combine.

Pour the batter into the prepared dish and level the top. Sprinkle the remaining 1/2 cup of cheese on top.

Bake until cooked through and a toothpick inserted in the middle comes out clean (or with just crumbs), approximately 35-40 minutes.

Remove from the oven and let the bread cool in the pan for approximately 10 minutes. Then remove from the pan and finish cooking on a wire rack.
Notes
For a spicier bread, leave the ribs and seeds in the peppers and/or use more peppers.
You could also make this in any shape or size baking dish, including as muffins, however your baking time will vary.  You will know it is done when a toothpick inserted in the center comes out clean or with crumbs.
If you do not have buttermilk on hand, simply add 1 Tablespoon of fresh lemon juice to 1 cup of milk and let it sit for 5 minutes.
Nutrition
Calories:

315

kcal

|

Carbohydrates:

33

g

|

Protein:

10

g

|

Fat:

16

g

|

Saturated Fat:

9

g

|

Cholesterol:

82

mg

|

Sodium:

461

mg

|

Potassium:

246

mg

|

Fiber:

2

g

|

Sugar:

5

g

|

Vitamin A:

557

IU

|

Vitamin C:

5

mg

|

Calcium:

161

mg

|

Iron:

2

mg

By