Keto Low Carb Shrimp Scampi Spaghetti Squash is a delicious healthy Italian dinner recipe. The stuffed spaghetti squash is filled with a butter, garlic, lemon sauce, peppers, onions, cheese, and topped with shrimp. Chicken will also work great! #ketorecipes #lowcarbrecipes #spaghettisquash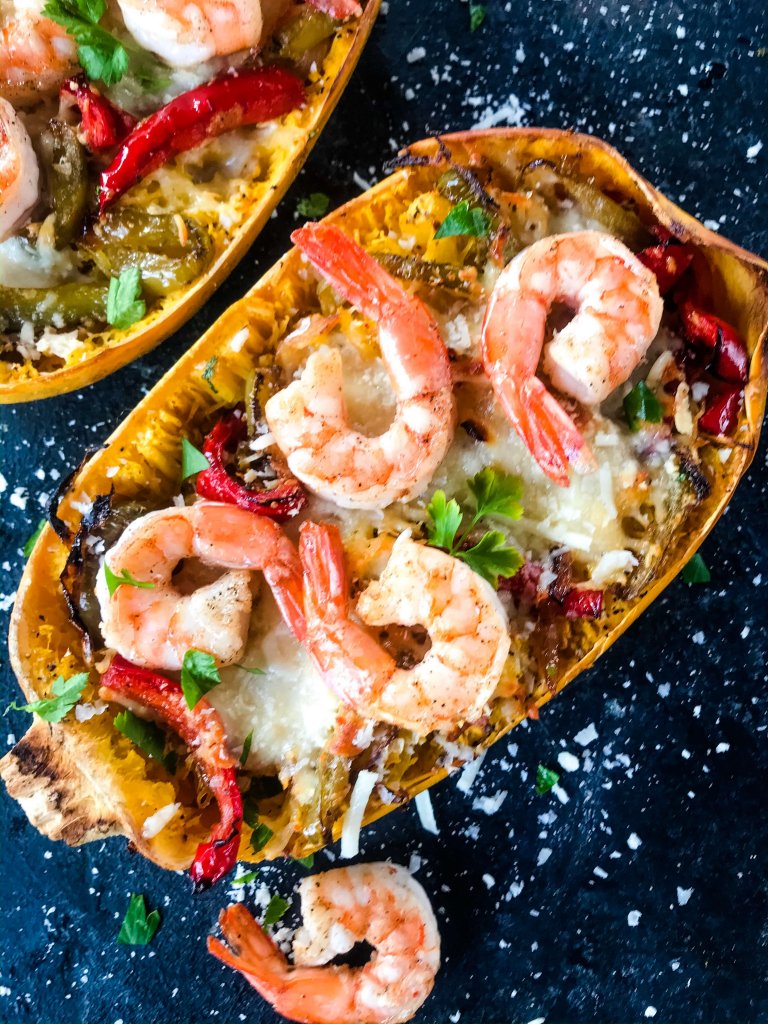 Keto Low Carb Shrimp Scampi Spaghetti Squash is a simple and filling Italian dinner recipe!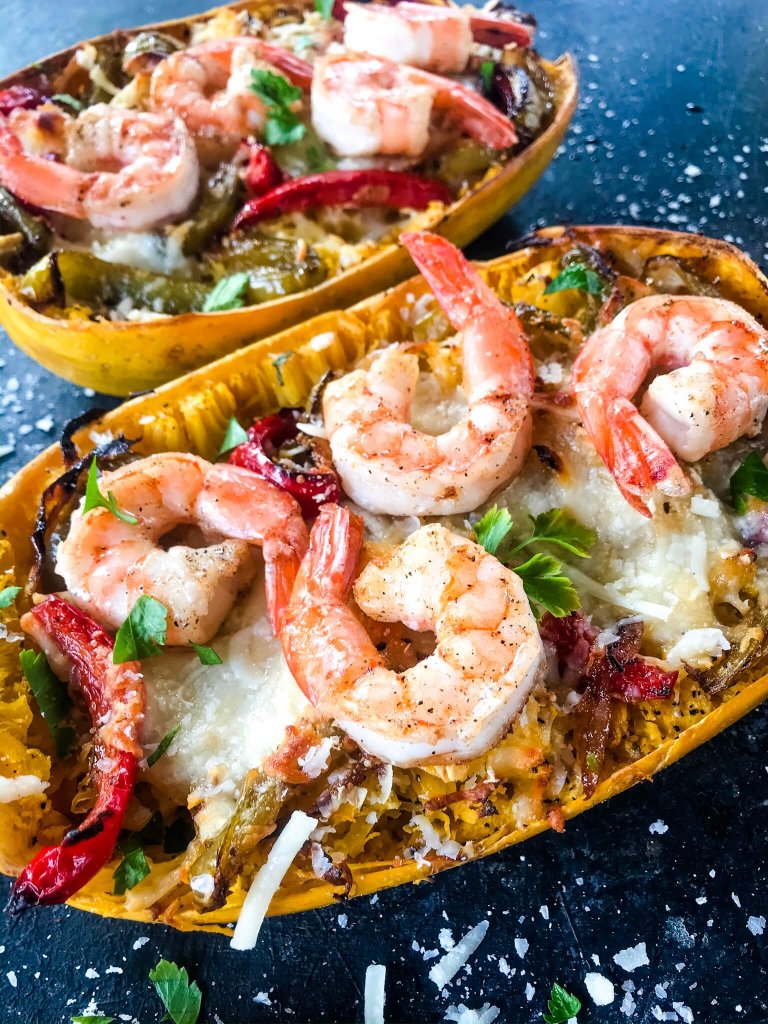 This post contains affiliate links.
Keto Low Carb Shrimp Scampi Spaghetti Squash is inspired by the relatively common scampi pasta dish that you see rather often in Italian restaurants. Served with chicken or shrimp, it often comes with pasta. Scampi sauces are full of butter, garlic, and some wine. It makes a delicious, bright sauce that pairs so well with the shrimp and veggies. I love it when my scampi has peppers and onions, but you could use any veggies you like or have, or skip them altogether.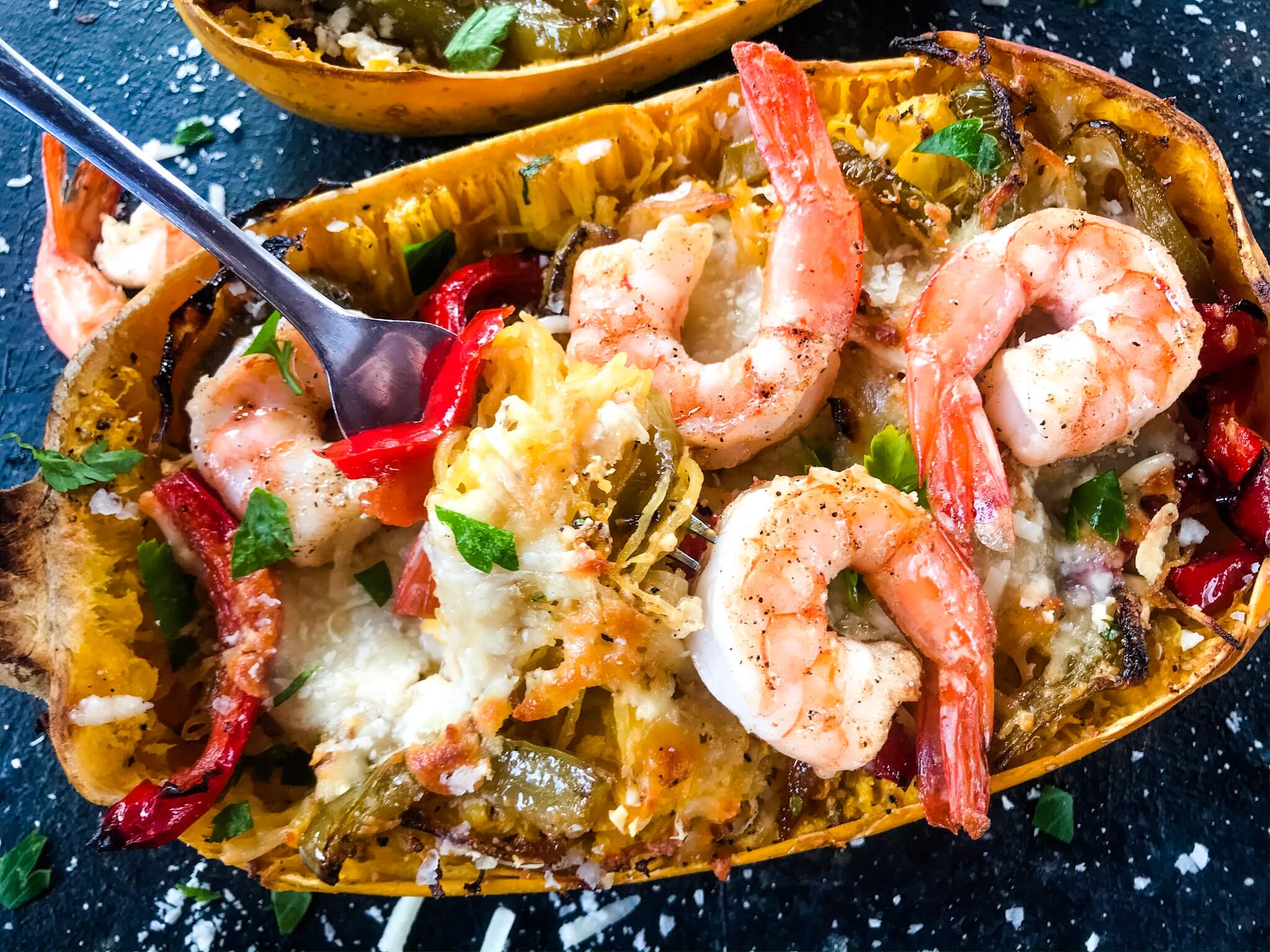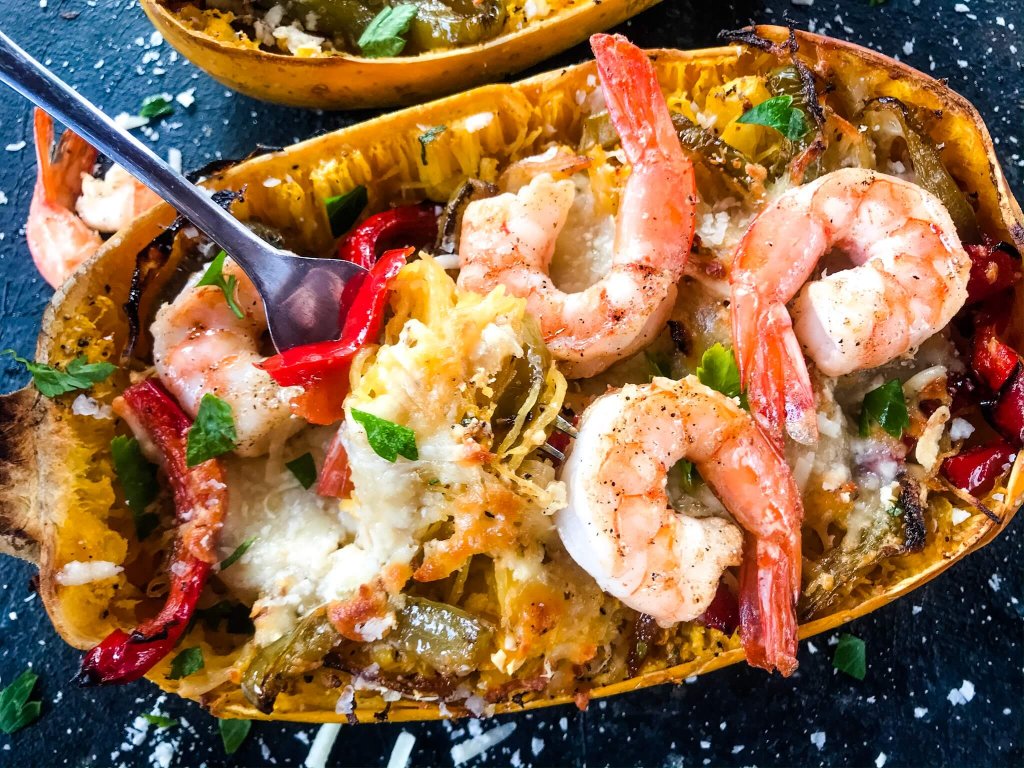 I was very skeptical of spaghetti squash, being quite the pasta lover. Pasta is seriously one of my favorite foods. And any type of stuffed spaghetti squash is going to be different, so the key is not thinking of it as a pasta option, but as something completely different altogether. Then you aren't disappointed in not getting a pasta fix. That's what has worked for me, at least. So now I make it its own food type in my head when I am thinking of what to cook. The stuffed spaghetti squash is also very filling, even more so than pasta. Just 1/4 of this recipe is more than enough to make me full, so it goes a long way. Find more spaghetti squash recipes here!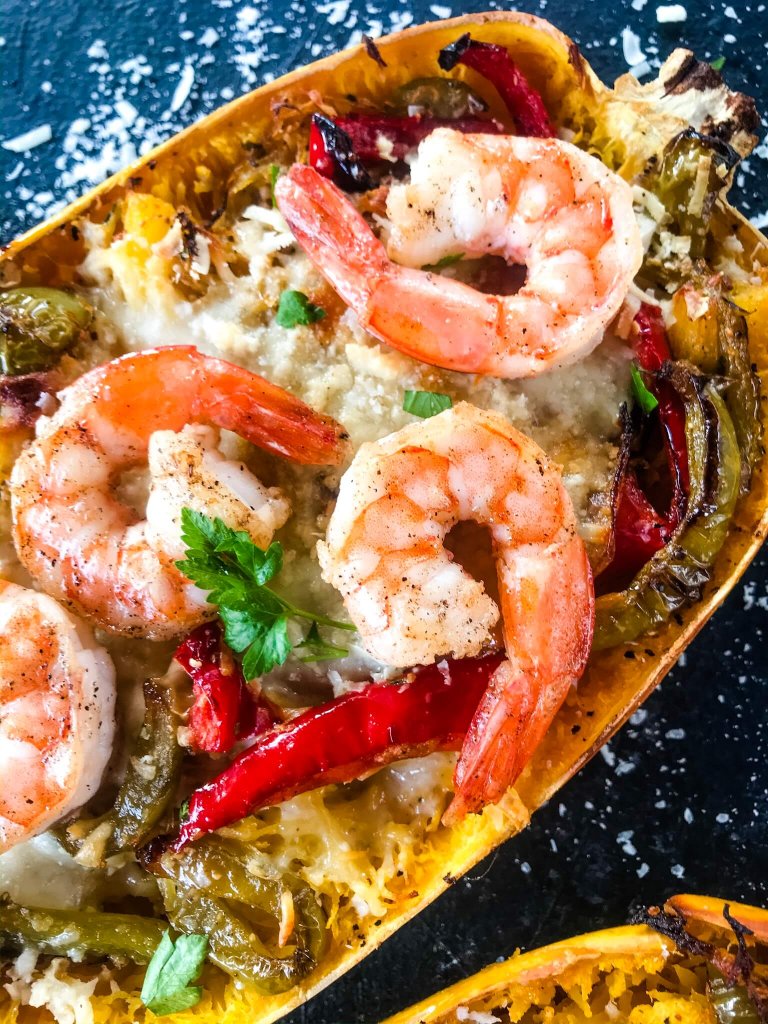 You could also sub out the shrimp in this Keto Low Carb Shrimp Scampi Spaghetti Squash for any leftover chicken that you have. Since chicken is not as delicate as shrimp, it could be mixed in before the final step in the oven. If you use shrimp, just add them on top (or bury them inside) after the final baking. Since shrimp cooks so fast, they will become very rubbery and overdone if they go back in the oven. And adding them raw means you don't know if they are cooked through.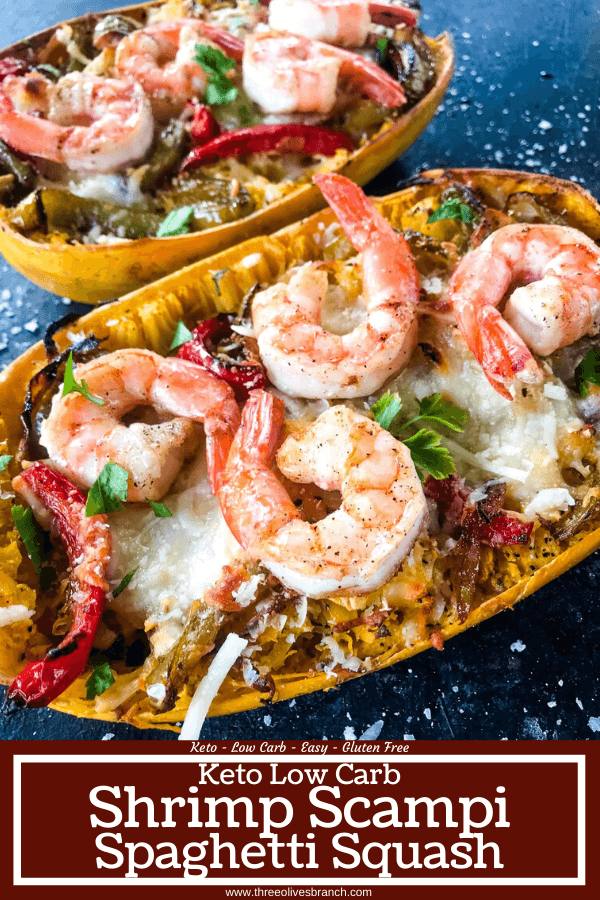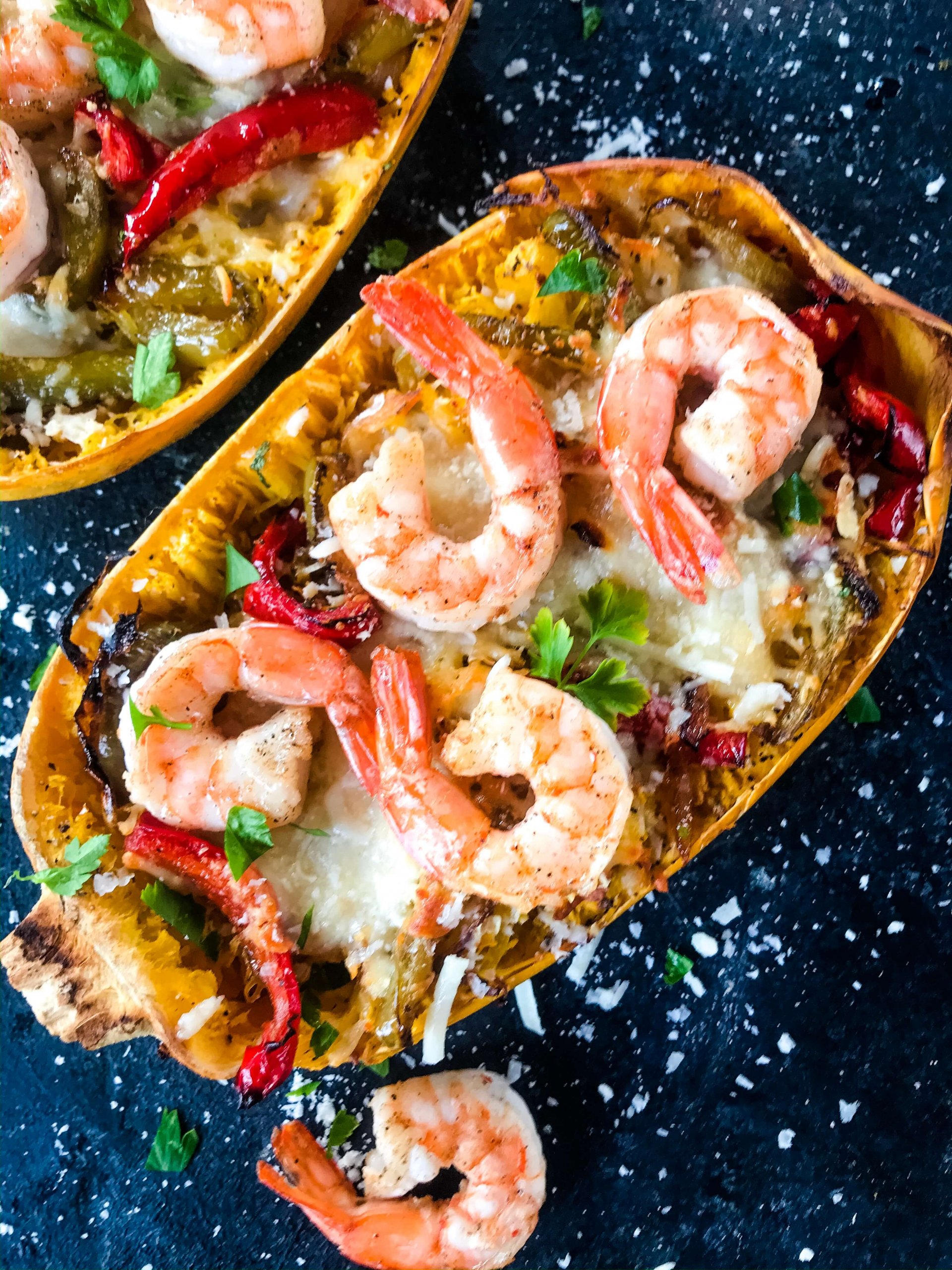 Instructions
Preheat oven to 400F.

Cut the spaghetti squash in half lengthwise. Be careful as it is tough to cut through. Place the squash on towels if necessary to keep it in place.

Remove the seeds by scraping the inside of each half with a spoon.

Drizzle the inside of each half with the oil and sprinkle with salt and pepper.

Place the squash cut side down on a baking sheet. Roast in the oven until tender when pierced with a knife, approximately 30-40 minutes. Remove from oven and let cool slightly to handle.

While the squash is cooking, cook the shrimp. Pat the shrimp dry with paper towels and sprinkle salt and pepper on the shrimp.

Heat 1 Tablespoon of oil in a large skillet over high heat. Place the shrimp in the hot skillet and cook for approximately 90 seconds (for jumbo shrimp) where you see the shrimp is turning white approximately half way up. Flip the shrimp and finish cooking approximately 30 seconds. When it looks like there is no more clear meat in the spine of the shrimp where they were deveined, remove from the heat and cover.

Add another Tablespoon of oil to the skillet if dry. Add the onion and bell peppers and cook to get some color on the vegetables, tossing occassionally, approximately 3-5 minutes.

Add the garlic and cook until fragrant, approximately 30 seconds. Remove from the heat.

Add the butter, wine, juice of one lemon, and cayenne to the peppers. The heat should melt the butter. Stir and season with salt and pepper as desired, or more cayenne for more heat. Toss in the fresh parsley. Set aside.

When the squash is ready, fluff up the interior of each squash by using a fork and shredding at the squash flesh. This will make the "noodles"!

Pour the vegetables and sauce into each of the squash halves. Toss if desired by using a fork to fluff. Keep the shrimp on the side!

Sprinkle the mozzarella cheese and Parmesan across the top of each squash boat. Bake for approximately 15 minutes until the cheese is melted. If you want browned cheese, you can pop the squash under the broiler once the cheese is melted (just make sure it is no longer on parchment or silicone or anything else that would burn!).

Top the squash with the shrimp once removed from the oven and garnish with parsley. Serve immediately.
Notes
Use more or less shrimp as desired. I like to use jumbo shrimp but any size will work here.  You can also substitute chicken in place of the shrimp.
If you want it really saucy, either double up the sauce recipe or add a cup of chicken or vegetable stock when you add the wine.
Nutrition
Calories:

560

kcal

|

Carbohydrates:

27

g

|

Protein:

35

g

|

Fat:

35

g

|

Saturated Fat:

17

g

|

Cholesterol:

359

mg

|

Sodium:

1349

mg

|

Potassium:

585

mg

|

Fiber:

6

g

|

Sugar:

10

g

|

Vitamin A:

2268

IU

|

Vitamin C:

91

mg

|

Calcium:

460

mg

|

Iron:

4

mg

By