A stuffed spaghetti squash recipe, Keto Low Carb Steak Gorgonzola Alfredo Spaghetti Squash is a low carb twist on a classic Olive Garden copycat pasta.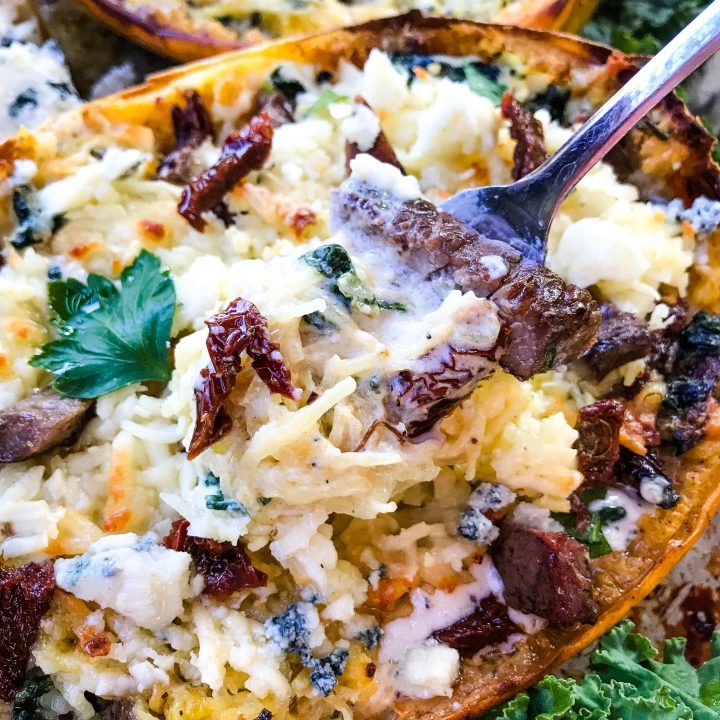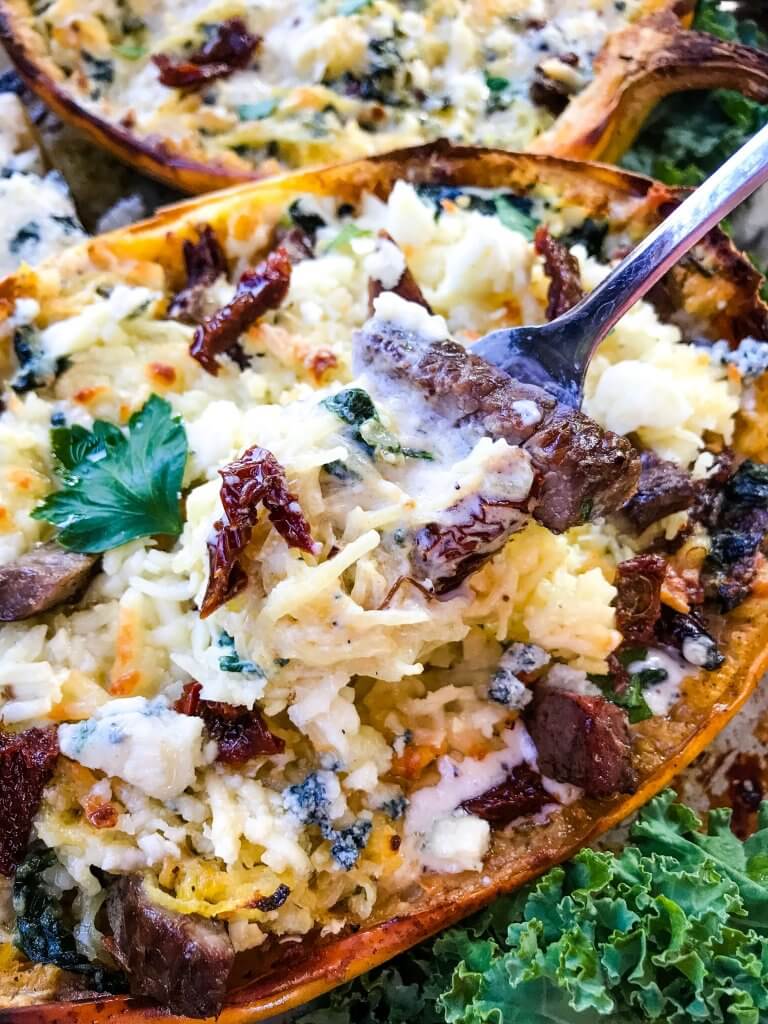 Keto Low Carb Steak Gorgonzola Alfredo Spaghetti Squash is a stuffed spaghetti squash recipe based on a popular pasta dish!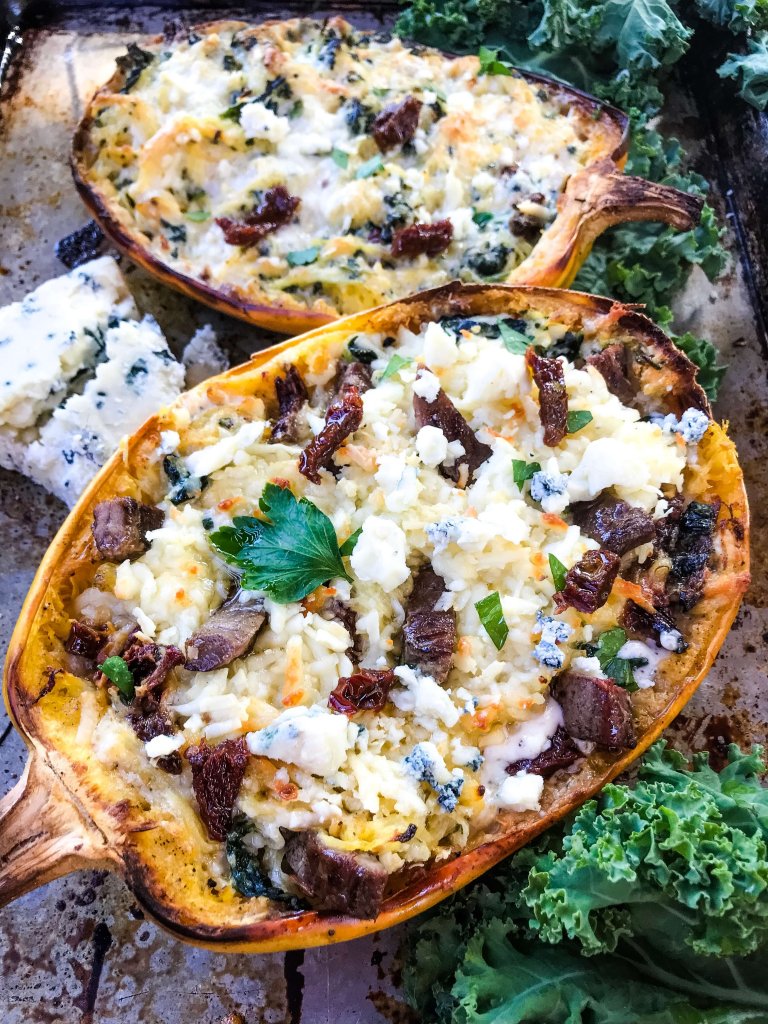 This post contains affiliate links.
My Copycat Steak Gorgonzola Alfredo is one of the most popular recipes on the site, most commonly in the top 3 every single day. And with good reason, because it is delicious! This Keto Low Carb Steak Gorgonzola Alfredo Spaghetti Squash recipe is a keto and low carb twist on the classic. The same great flavors are all mixed inside a stuffed spaghetti squash instead of with pasta.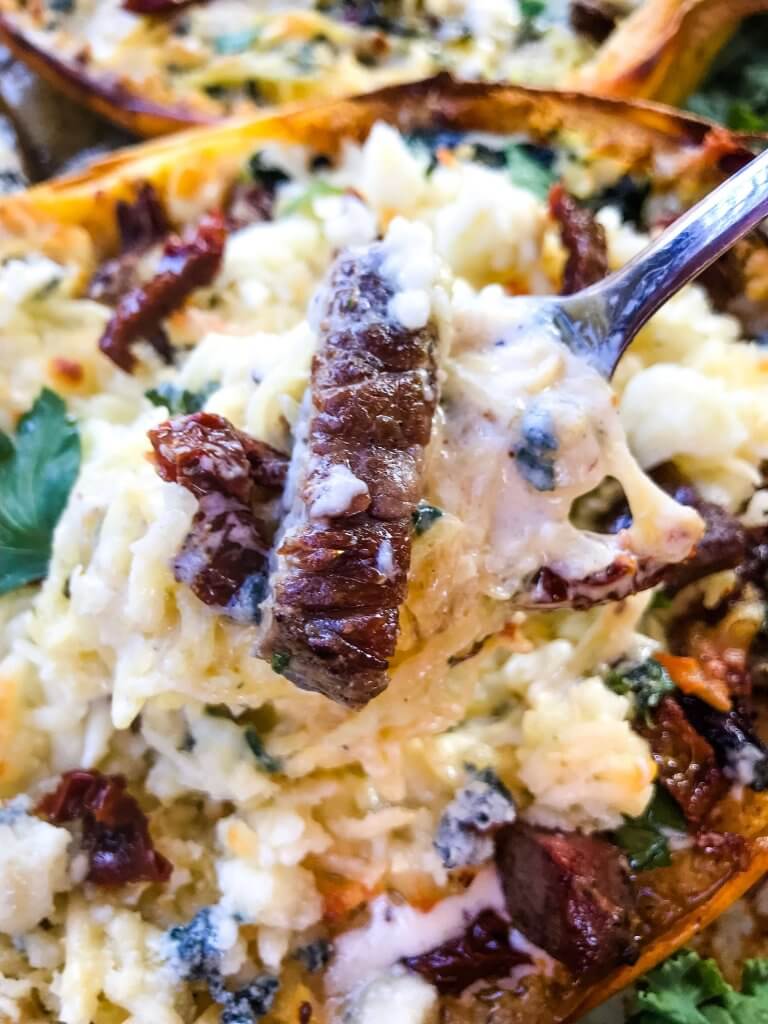 This spaghetti squash recipe is filled with a cheesy, delicious homemade alfredo sauce. When I started out trying to perfect it, I wanted it to be as good as Olive Garden's. But I think it is BETTER! I am obsessed with it, which also makes it dangerous, so I need to consciously not make it too often since it is so rich. The sauce is mixed with gorgonzola cheese crumbles (or blue cheese), sundried tomatoes, and spinach. Classically, this should also have balsamic, but balsamic is not keto friendly. So if you are just looking for a healthier option, but not worried about keto, add some balsamic to the steak or drizzle the finished squash with some balsamic glaze. Yum!
If you have never had spaghetti squash before, I encourage you to try it! I am not a squash person in general, so I was really skeptical about it. But it is actually good and a great substitute for pasta! Part of the trick is thinking of it as an alternative to pasta and not the exact same thing. The squash is like a crispy, crunchy angel hair and does not carry much flavor, especially when you add everything on top of it. If you want to transition to the idea of it, you can always cook just a little regular pasta and mix it in, I find this helps as well in getting used to it.
The stuffed spaghetti squash is also very filling, even more so than pasta. Just 1/4 of this recipe is more than enough to make me full, so it goes a long way. Find more spaghetti squash recipes here!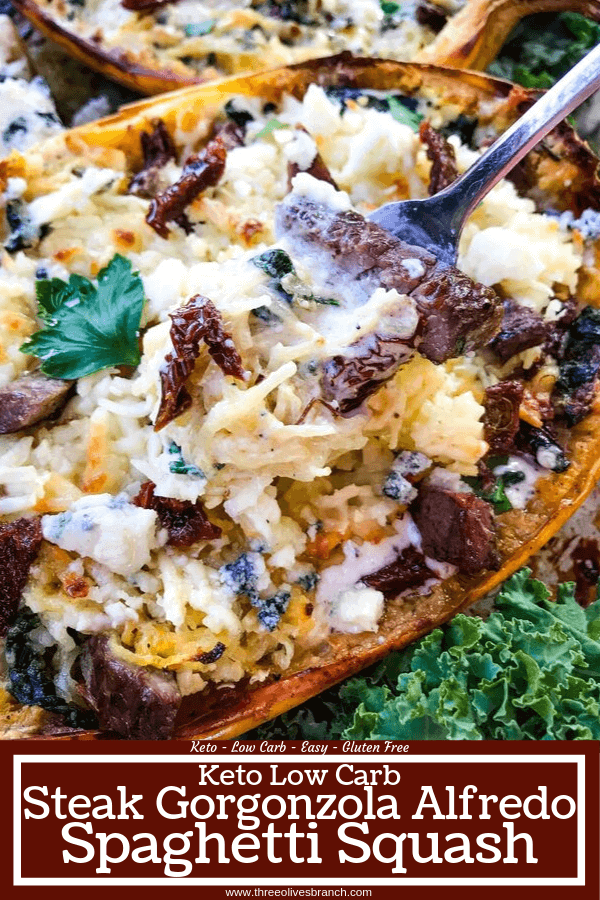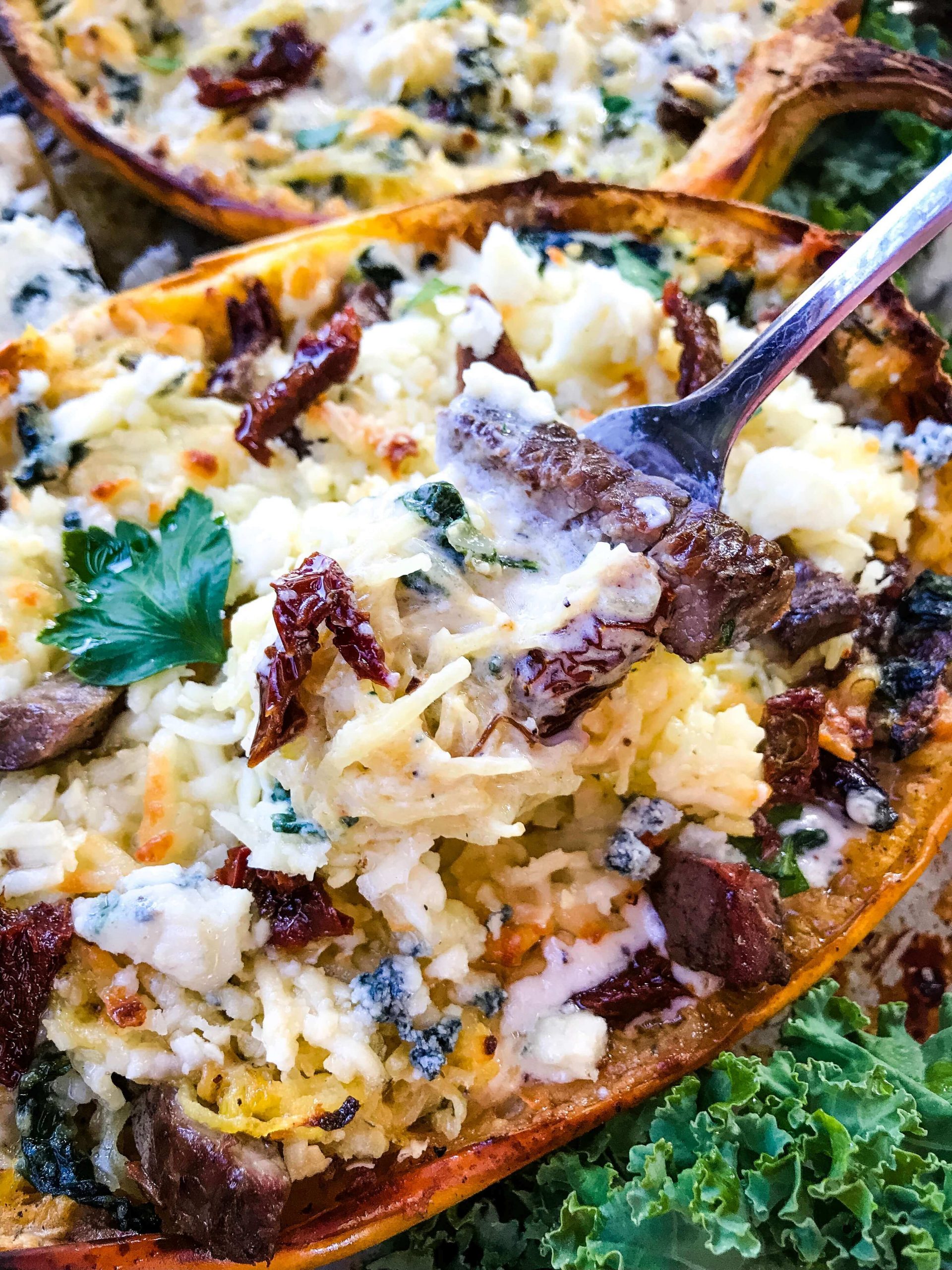 Ingredients
1

spaghetti squash

(2-3 pounds)

1

pound

steak

salt

black pepper

3/4

cup

frozen spinach

chopped, thawed, drained (or 1.5 cups fresh chopped spinach)

1/4

cup

sundried tomatoes

chopped or sliced

4

ounces

gorgonzola crumbles

(or blue cheese) (approximately 3/4 cup)

1

cup

mozzarella cheese

grated
Instructions
Preheat oven to 400F.

Cut the spaghetti squash in half lengthwise. Be careful as it is tough to cut through. Place the squash on towels if necessary to keep it in place.

Remove the seeds by scraping the inside of each half with a spoon.

Drizzle the inside of each half with the vegetable oil and sprinkle with salt and pepper.

Place the squash cut side down on a baking sheet. Roast in the oven until tender when pierced with a knife, approximately 30-40 minutes. Remove from oven and let cool slightly to handle.

While the squash is cooking, cook the steak if not using leftover steak. Season with salt and pepper, and cook in a large skillet over medium heat just shy of your preferred doneness as it will cook a little more in the oven.

Also while the squash is cooking, make the alfredo sauce. In a medium saucepot, combine the butter and heavy cream and heat over medium heat. When the butter is melted, add the nutmeg and stir to combine.

Remove the sauce from the heat. Add the Parmesan cheese and stir until melted. Season to taste with salt and pepper (cheese salinity varies greatly, so you might need no salt, or quite a bit of salt). Set aside.

Fluff up the interior of each squash by using a fork and shredding at the squash flesh. This will make the "noodles"!

Slice the steak. Add the steak, spinach, sundried tomatoes, gorgonzola crumbles, and 1/2 cup sauce to each of the halves of squash. Stir with a fork to combine. Add more of any ingredient as desired.

Sprinkle the mozzarella cheese across the top of each squash boat. Bake for approximately 15 minutes until the cheese is melted. If you want browned cheese, you can pop the squash under the broiler once the cheese is melted (just make sure it is no longer on parchment or silicone or anything else that would burn!).

Drizzle with additional sauce (if you have some and if desired) or additional mix ins like sundried tomatoes and serve immediately.
Notes
Any cut of steak here will work, so use your favorite. You can also substitute for leftover steak that is already cooked (approximately 3/4 pound cooked for same yield).
The alfredo sauce is best fresh, but all other components can be made in advance.
Nutrition
Calories:

1295

kcal

|

Carbohydrates:

28

g

|

Protein:

56

g

|

Fat:

110

g

|

Saturated Fat:

65

g

|

Cholesterol:

369

mg

|

Sodium:

1331

mg

|

Potassium:

1131

mg

|

Fiber:

5

g

|

Sugar:

10

g

|

Vitamin A:

6976

IU

|

Vitamin C:

10

mg

|

Calcium:

900

mg

|

Iron:

4

mg

By