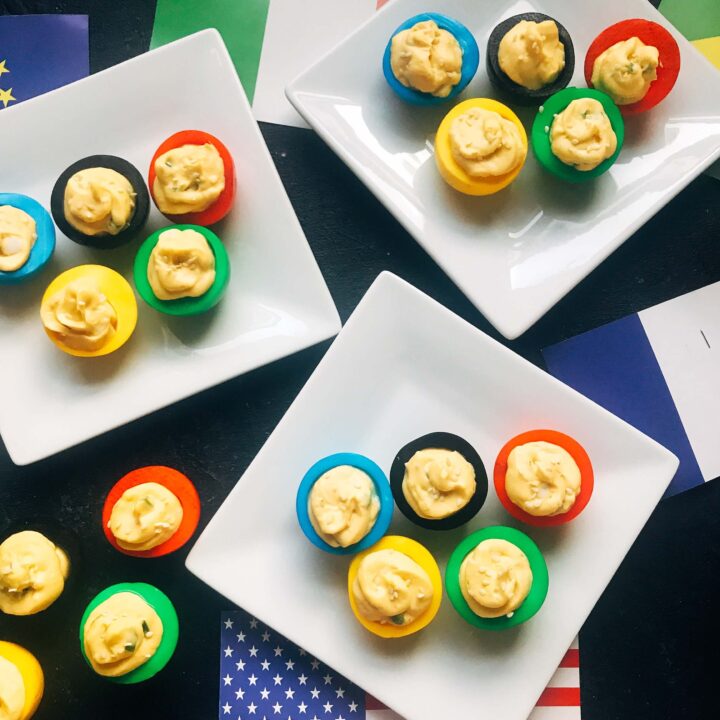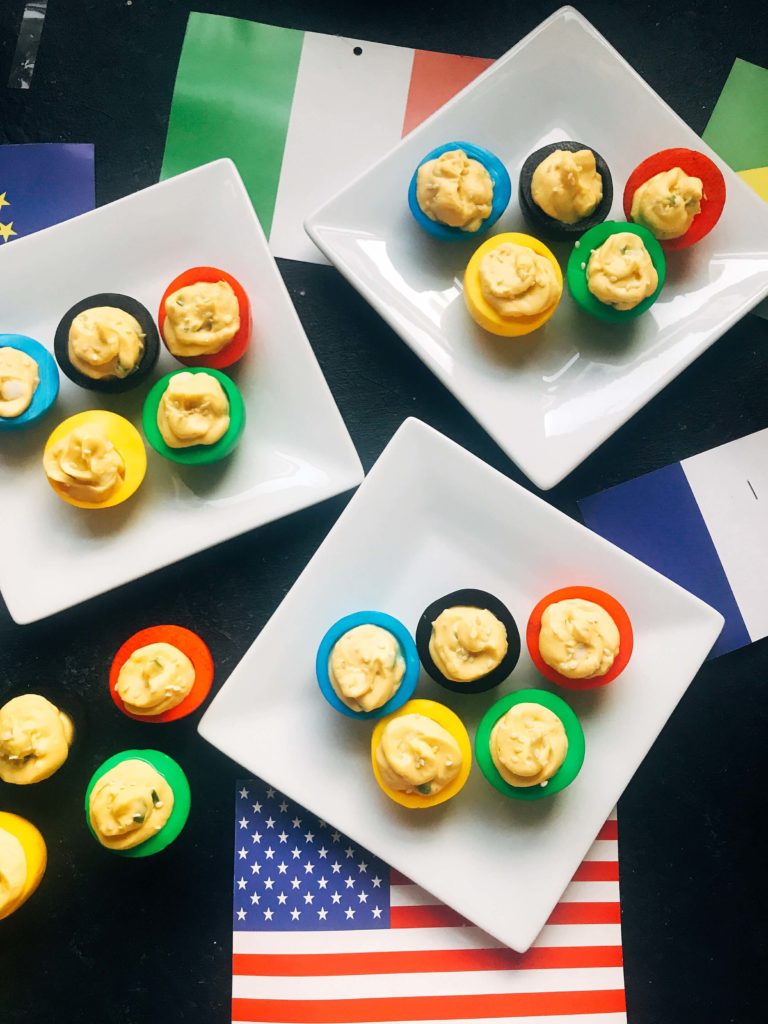 Korean Olympic Ring Deviled Eggs in time for the 2018 Winter Olympics!  These vegetarian deviled eggs are quick and simple to make for your Olympic watch party, whether with a group or at home by yourself.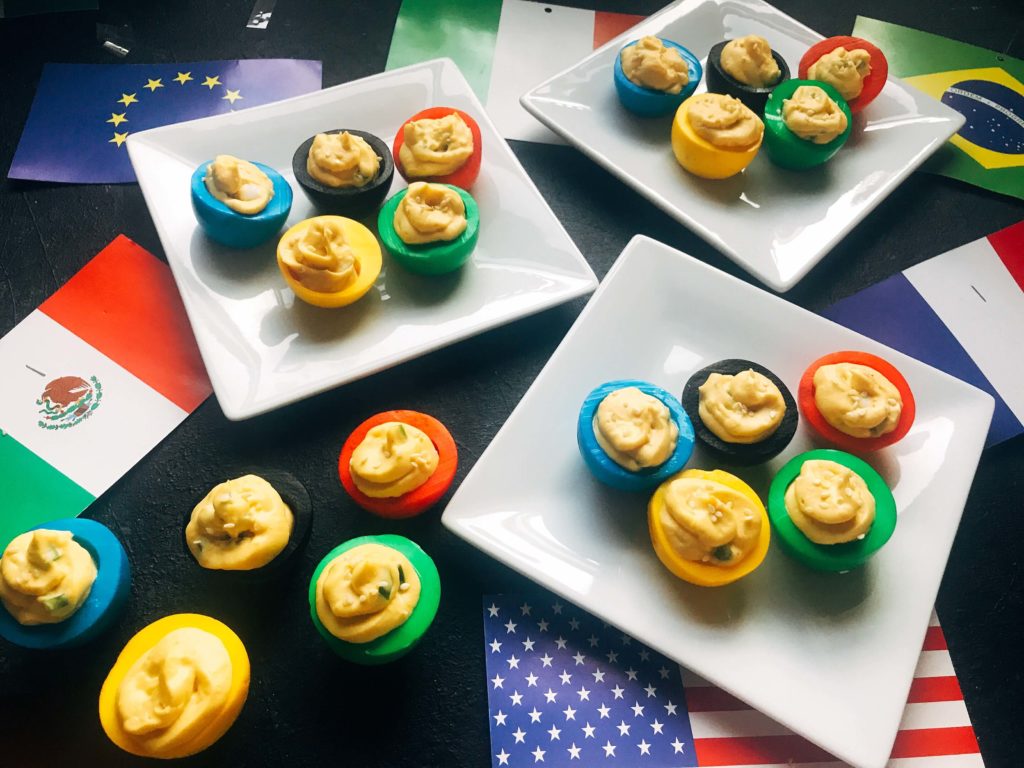 This post contains affiliate links.
I came up with this idea when I was participating in an Olympic themed work challenge.  I had to find a way to make the Olympic rings out of every day objects.  I knew I wanted to make it food related, and this was the result!  The eggs are cut around the middle, instead of long way like a traditional egg, to keep the round ring shape.
I always love watching the Olympics.  I pretty much have it on non-stop and find myself watching sports that I would normally never be interested in.  And I LOVE rooting for underdogs and countries that struggle to even make it to the Olympics in the first place.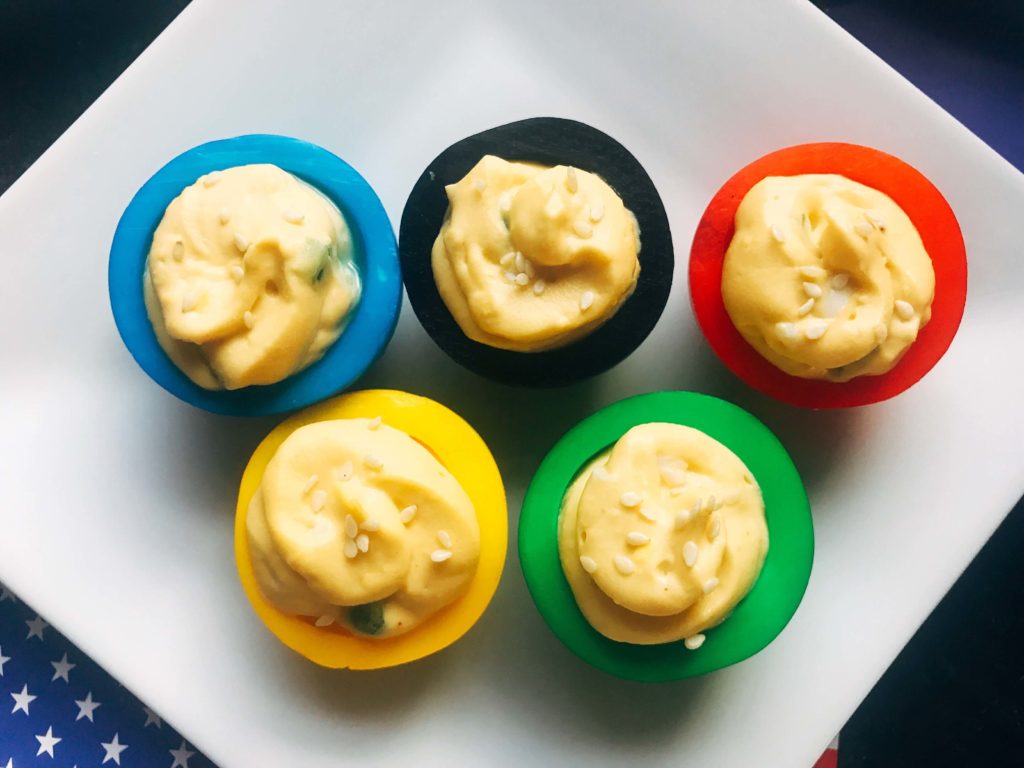 In honor of the 2018 Winter Olympics being held in Pyeongchang, South Korea, this Korean Olympic Ring Deviled Eggs recipe has a Korean flair to it!  I use soy sauce, chile peppers, and sesame seeds in the filling.  Or sub it out for your favorite deviled egg filling like a traditional deviled egg!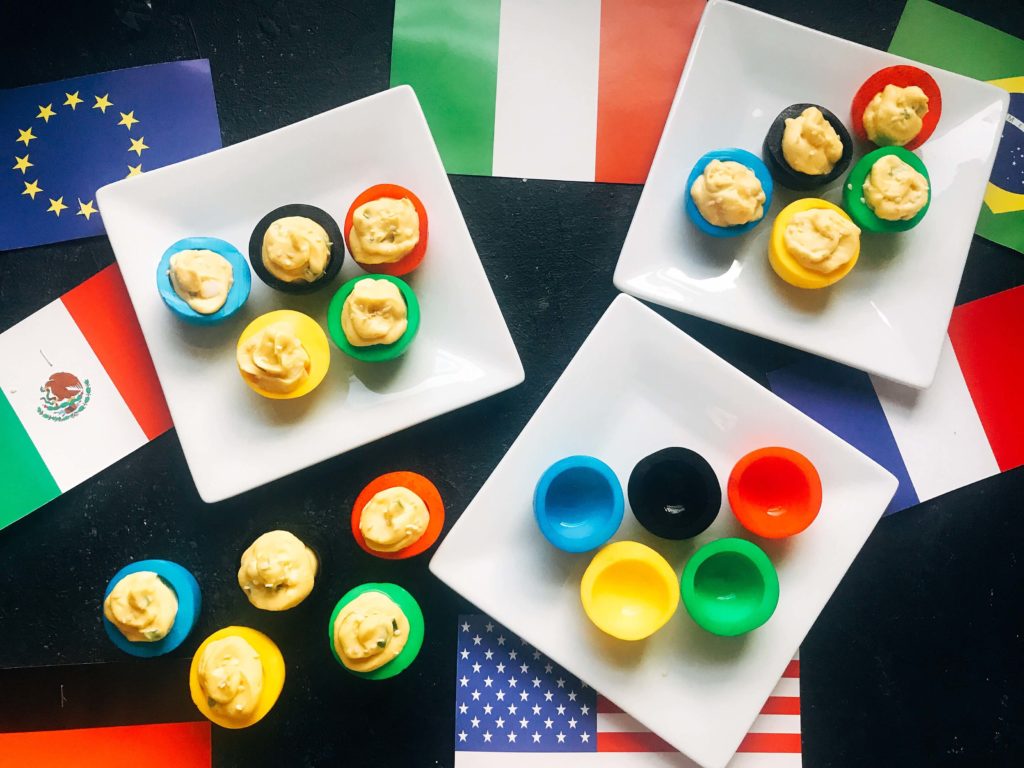 I love to use pre-hard boiled and pre-peeled eggs.  They make it SO much easier and the eggs look much prettier as they are not covered in divots from my attempt to get the shell off.  You can find this type of egg at most grocery stores (I get mine from Costco).  Just pop the egg white halves into cups filled with food coloring, vinegar, and water similar to egg dying at Easter.  Let them sit for a while until you get your desired color.  I have noticed that different brands of food coloring have different strengths, so it may take longer for you to get the color you want.  Add additional food coloring and/or vinegar if it is taking too long.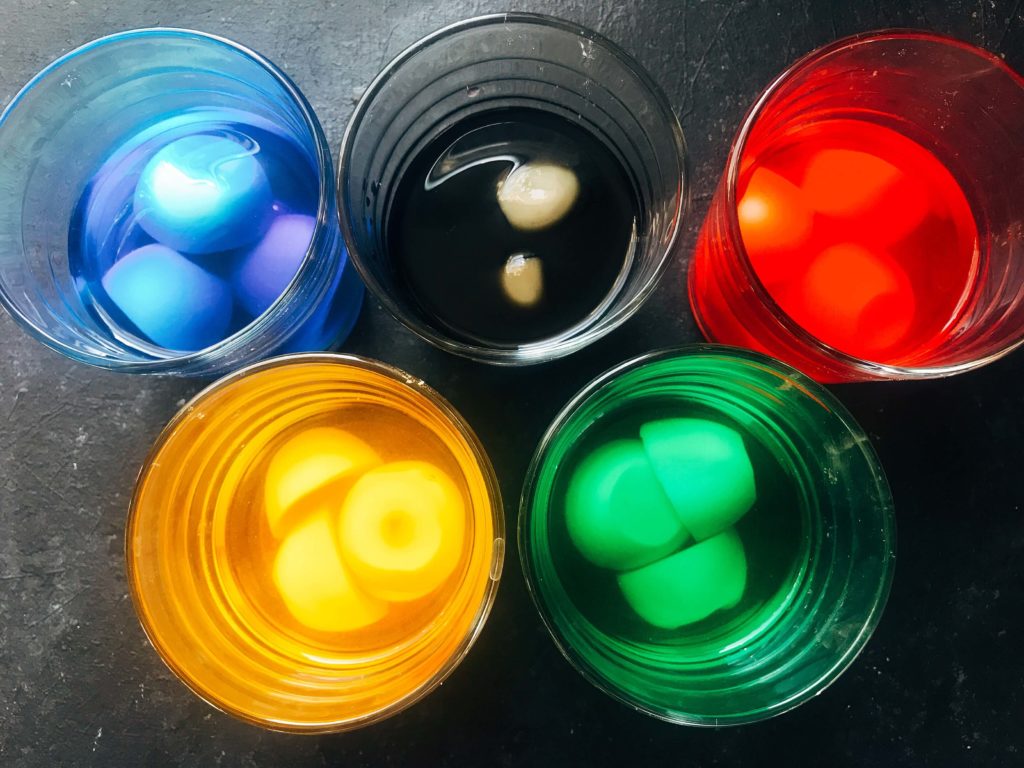 Are you excited for the 2018 Olympics?  What are your favorite winter events to watch?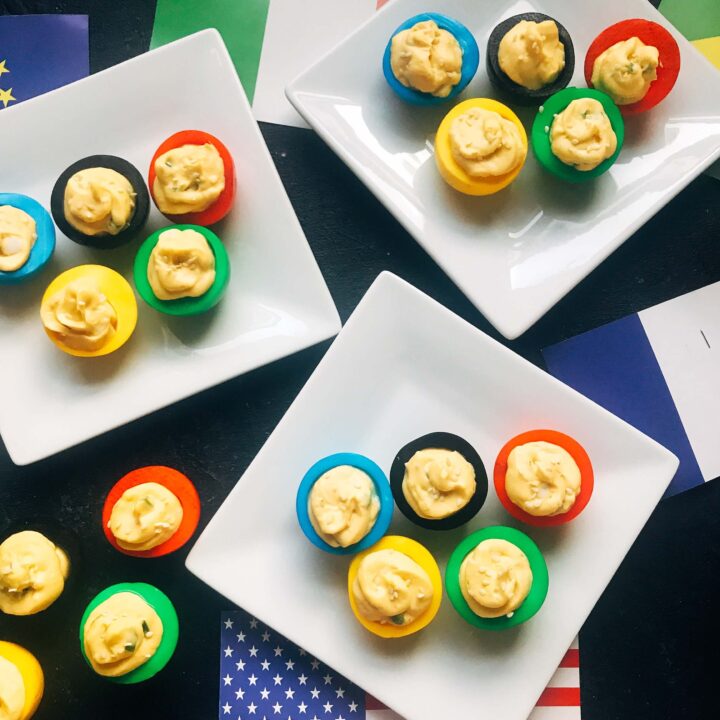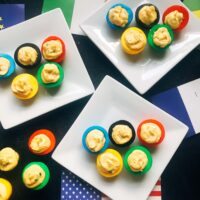 Instructions
Trim a small piece off the top and bottom ends of each egg. This is to give them a flat bottom to sit on so they do not tip over. Then cut each egg in half around the middle, where you think the yolk is. (This is done the opposite of a traditional egg - do not cut it the long way as this results in the oval shape. Cut it around the middle, the short way).

Scoop out the yolks into a small bowl. Set the whites aside.

Put a half cup of water into five cups. Add 2 Tablespoons of vinegar to each cup (this helps make darker colors). Add five drops of food coloring to each cup, one each of red, blue, green, yellow, and black. Swirl or stir each cup until the food coloring is dissolved.

Place four egg whites into each colored cup. Add additional water if needed to ensure they are completely submerged. Let the whites sit in the color for at least 20 minutes.

While the whites are soaking, make the yolk mixture by combining the yolks, mayonnaise, soy sauce, pepper, and salt. Mash the yolks and mix to combine. Season to taste with additional soy, salt, or mayonnaise.

When the whites have turned the color that you want, remove them and let drain on a paper towel upside down. Add additional vinegar and/or food coloring if it is taking too long.

Pipe the yolk mixture into each egg white half using a piping bag or a plastic bag with the tip cut off. (The bag makes it cleaner so the mixture does not get on the edges of the egg, but you can also use spoons to scoop the mixture into the eggs).

Sprinkle the eggs with sesame seeds. Chill until ready to serve.
Notes
The exact time it will take to reach your desired color strength will vary with the color you want and the brand of food coloring you use.  Add more food coloring and/or vinegar to the cups to speed up the process.

Use any flavored deviled egg that you like such as a  traditional deviled egg!

You can buy hard boiled and peeled eggs at your grocery store (I get mine from Costco).

Korean chile peppers can be tricky to find, so I used a serrano here.  Use any pepper you like, such as jalapeno, based on your heat preference.  This recipe is for a mild heat, so add spicier peppers or more peppers (or hot sauce) to give them a kick.

By