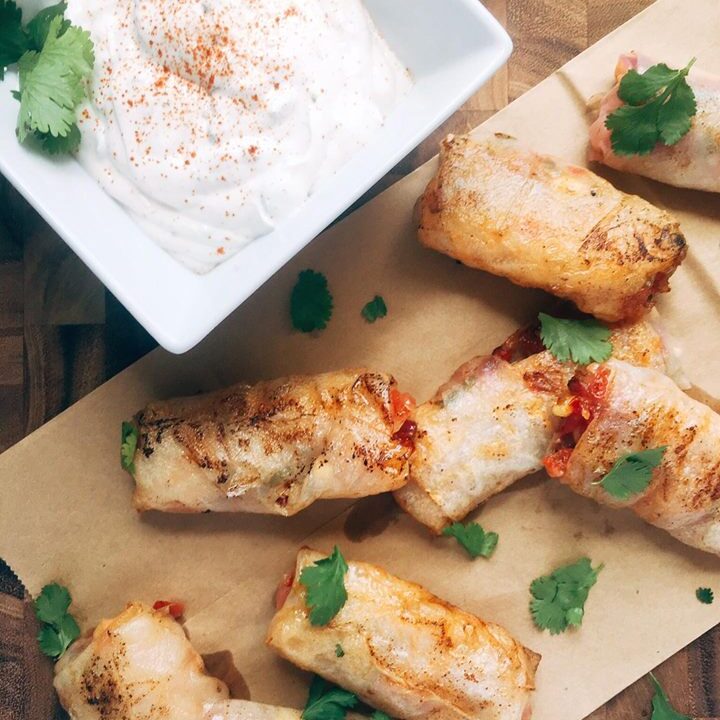 Combining flavors and foods of different cultures has become a thing for me lately.  One of the first things I made that started this trend of mine: Mexican Spring Rolls with Cilantro Lime Dip.  Yuuuum!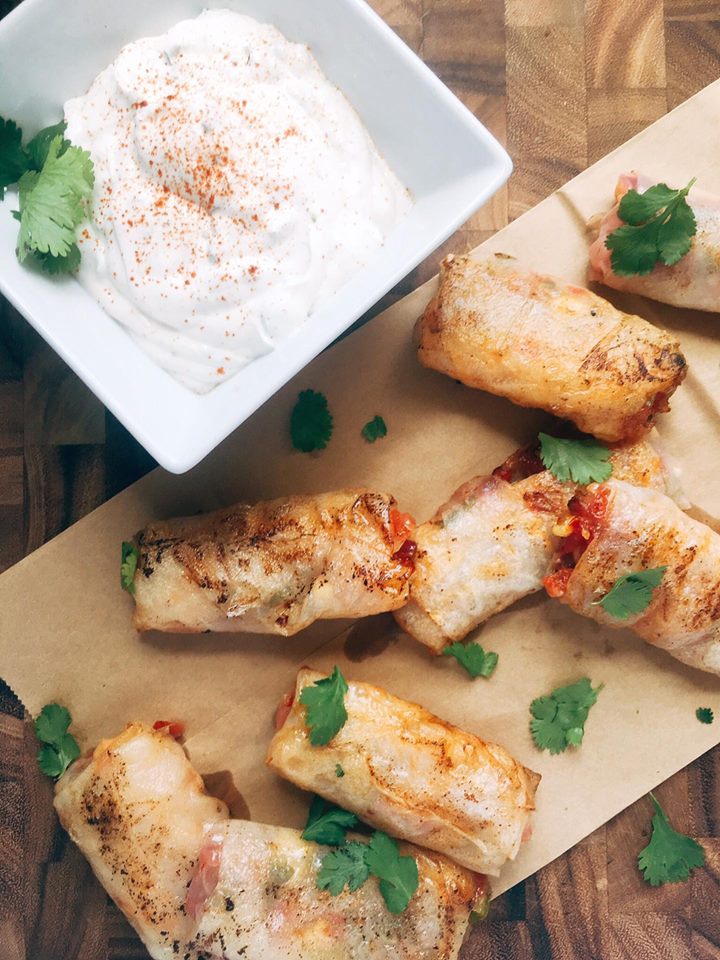 These Mexican Spring Rolls with Cilantro Lime Dip use my Pico de Gallo as the filler.  But you could use any chunky salsa that you like such as our Mexican Street Corn Salsa.  The pico is light, fresh, and therefore one of my favorite appetizers to make.  You could also throw in some avocado!  I love these rolls because even thought they are pan fried, they are still rather light and refreshing.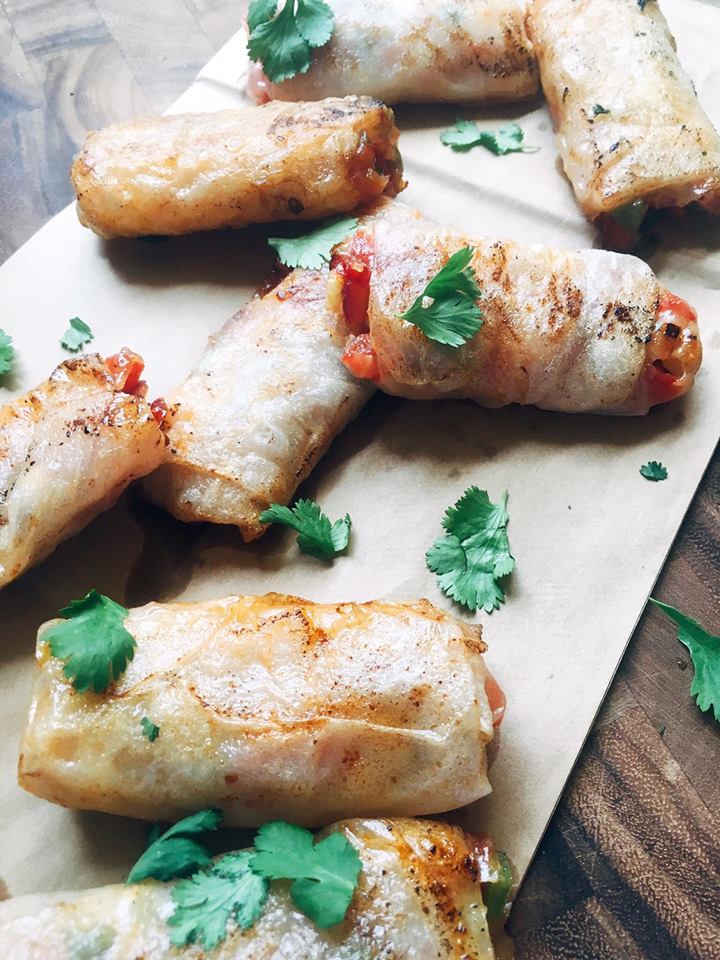 When you are rolling these beauties up, make sure that you are not adding any of the salsa juice.  Otherwise, when they hit the oil they pretty much start EXPLODING!  (Water + hot oil = BOOM).  To avoid those painful splatters, I use a fine mesh splatter screen like this guy which keeps your stove area clean and your skin safe.  I use it allllll the time it is amazing. I love this one because it has feet on it that you can use to prop it up on the counter without getting grease and oil everywhere.
And here are some picture of how you roll these spring rolls up to go along with the instructions.  It is just like making a mini burrito!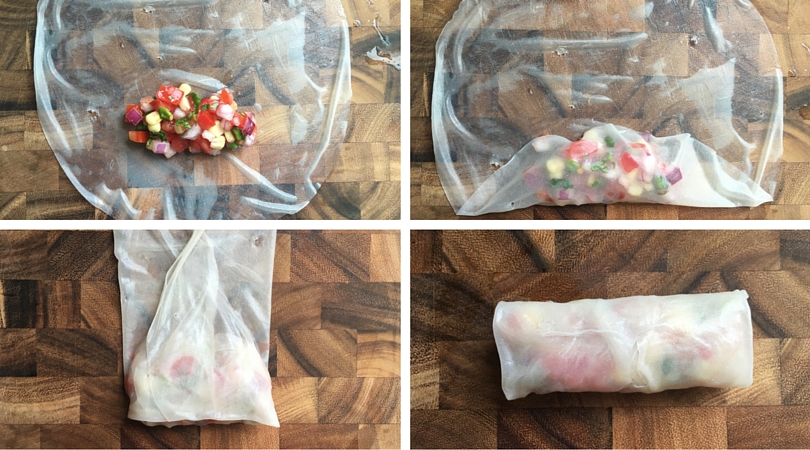 I'm not going to lie, these Mexican Spring Rolls with Cilantro Lime Dip take some time.  Each one is crafted individually by hand so making a good sized batch can be time consuming.  But they are so completely worth it and will be gone in just seconds, making you wish there was a handy machine that could crank them out for you all day.  Seriously, people just devour these.  Have a spare set of hands around?  Put them to work rolling these up and you will be done in no time!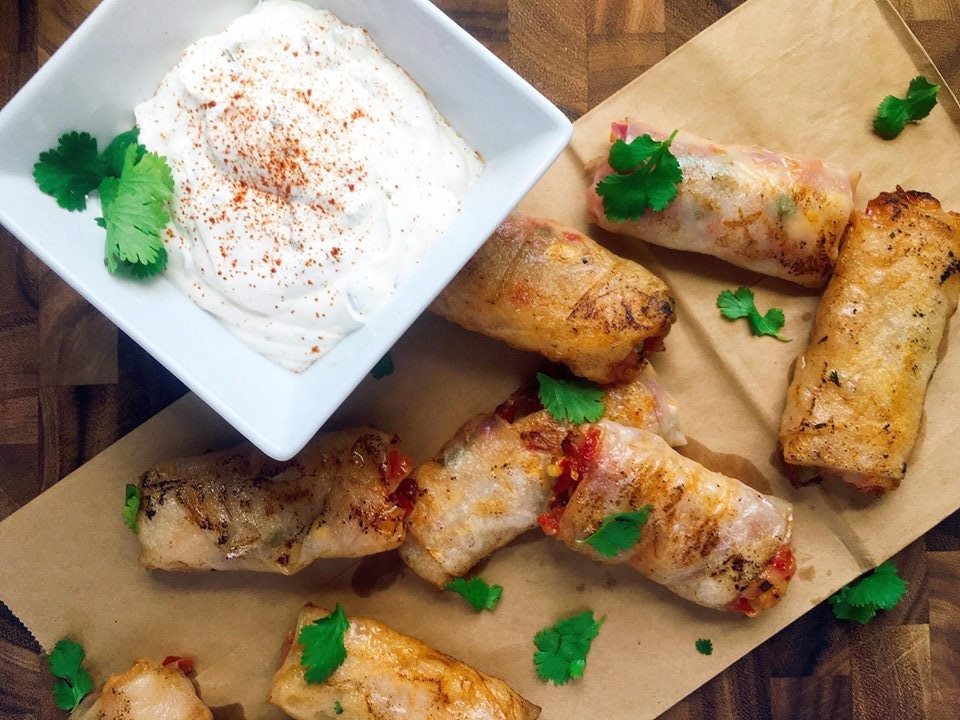 The Mexican Spring Rolls with Cilantro Lime Dip are perfect for Mexican dinners, fun appetizers, snacks, and even game day!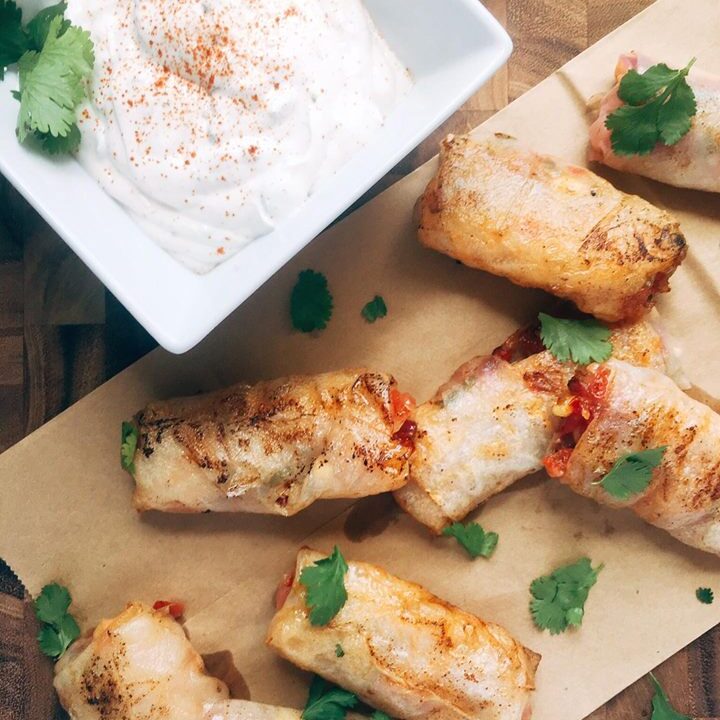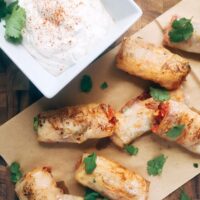 Instructions
Prep
In a medium bowl, combine the tomatoes, red onion, jalapeno, corn, 1/2 lime juiced, and 1/4 cup fresh cilantro. Add a pinch of salt and stir to combine. Set aside.

Make the cilantro lime dip by combining the sour cream, chili powder, 1/4 cup cilantro, and 1/2 lime juiced in a small bowl. Cover and chill.

Fill a large skillet with an inch of water and heat over medium low to warm. This water is needed to soften the spring roll wrappers.

In a second large skillet, add your oil until it is approximately 1/2 inch deep. Heat over medium until warm.

While the oil is heating, start making your spring rolls.
To Make the Rolls
Place one spring roll sheet into the warm water. Make sure that it stays submerged. When softened (approximately 10 seconds), remove and place on a clean working surface such as a large cutting board. Lay it out so that it is relatively flat and circular again.

Wrapping each roll is just like making a burrito! Approximately 1/4 of the way up the wrapper, add 1 1/2-2 Tbsp of the tomato mixture. Keep as much of the liquid out as possible so that the roll does not explode in the oil.

Fold the bottom, short edge up over the tomato mixture.

Fold each side over the salsa rather tightly.

Roll the spring roll up until the wrapper is completely wound around the salsa. Set rolls aside until ready to pan fry. (If you are good at multi tasking in the kitchen, you can continue to make these as you are cooking other batches on the stove to cut down on time).

Test if the oil is hot enough by throwing in a piece of the salsa. It should sizzle and start forming bubbles around the food almost instantly.

When ready, place 3-4 rolls in the pan at a time. Do not overcrowd it or else the temperature will drop too low and the rolls will be soggy! Place the fine mesh splatter screen on top if using. The rolls will likely splatter as they cook, so be careful! Lightly fry until the roll is starting to brown, approximately 3-5 minutes.

Carefully flip the rolls over, replace the screen, and cook until the second side is also starting to brown (approximately 3-5 minutes more).

Drain the rolls on a cooling rack over paper towels to cool. If you place them directly on a plate or sheet, they will become soggy as the heat is trapped. Repeat the pan fry process until all rolls are done.

Serve immediately with the cilantro lime dip.
Notes
You can find spring roll wrappers here!

Leave the pepper seeds and ribs out for a mild heat.  Keep them in or add more pepper for a hotter roll.

Make sure you keep as much juice as possible out of the spring rolls so that they do not explode in the oil.

By