Classic Mexican Streen Corn (Elote) flavors are the star of these vegetarian enchiladas.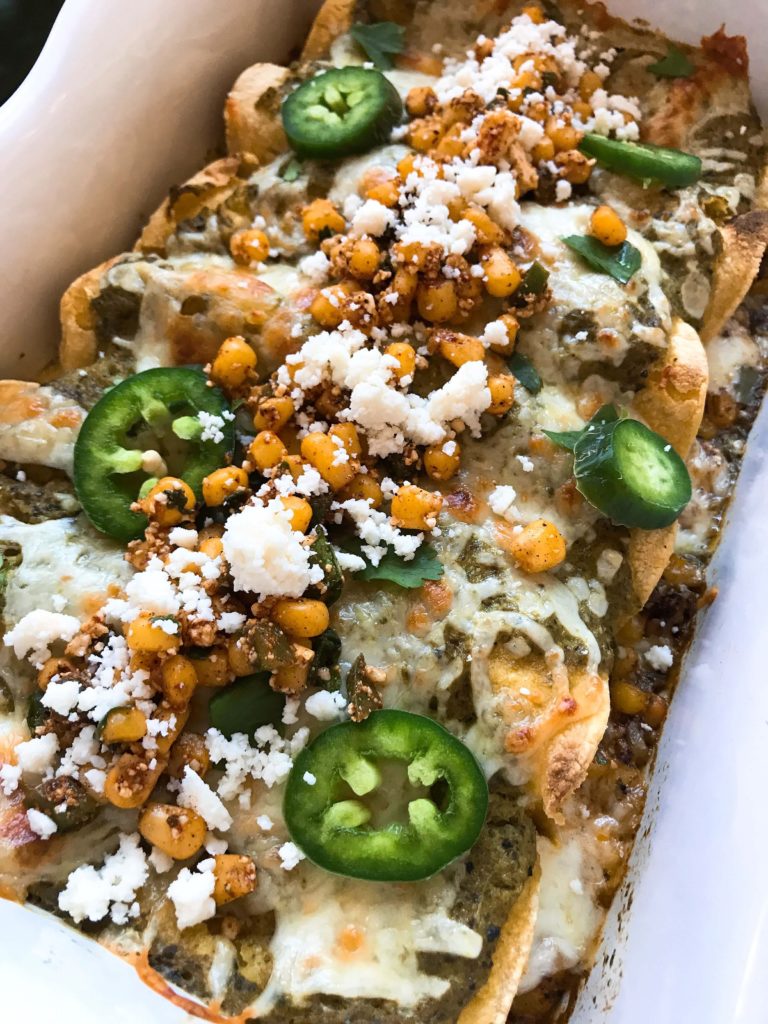 Looking for a unique and different Mexican meal? These Mexican Street Corn Enchiladas are packed full of traditional Mexican food flavors.  I love my Mexican food, especially enchiladas, and I am obsessed with these.  They are so unique and full of flavor!  I hope you love them just as much!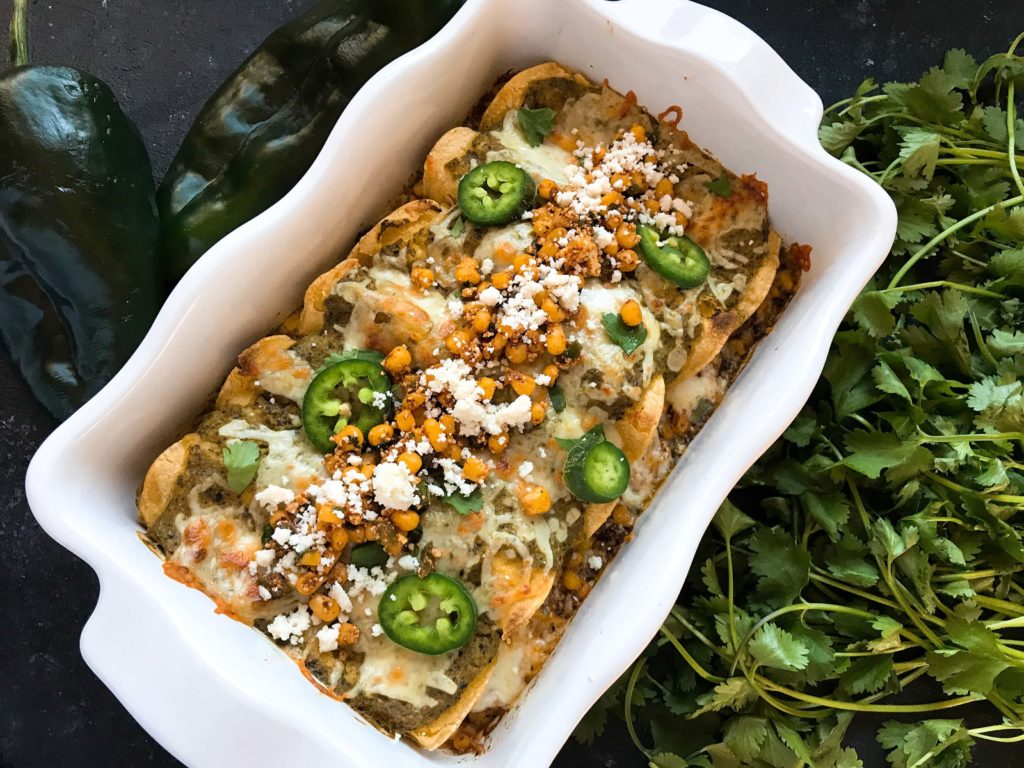 This post contains affiliate links.
I am a lover of Mexican Street Corn anything and have been finding as many ways as possible to incorporate these flavors into new dishes.  Mexican Streen Corn, also known as Elote, is a traditional Mexican street food.  It is typically a roasted corn on the cob with mayonnaise, chili powder, lime, and cotija cheese.  I had my first almost-authentic one in Santa Fe and I was HOOKED.  These same flavors are the inspiration for Mexican Street Corn Enchiladas.
Corn kernels are mixed with cotija cheese, lime, jalapeno pepper, and chili powder and stuffed inside of corn tortillas with Monterey Jack cheese.  My favorite enchilada sauce for these Mexican Street Corn Enchiladas is my Creamy Roasted Poblano and Lime Enchilada Sauce.  It enhances the flavors of the Mexican Street Corn Salsa without overpowering it.  You can also use any favorite enchilada sauce, green or red.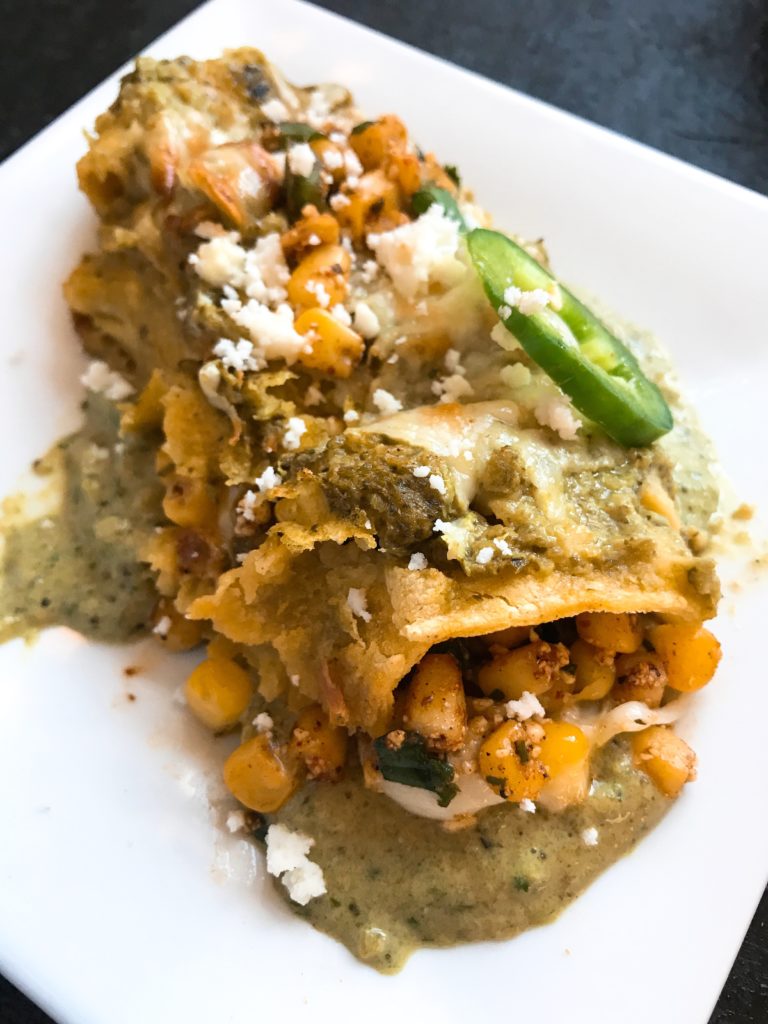 Our Mexican Street Corn Salsa is one of the most popular recipes on our site to date.  And I love it so much that I have been trying to find as many new ways to use it in recipes as I can.  It sounded like the perfect filling for these Mexican Street Corn Enchiladas.
Serve these with your favorite toppings and sides.  I love to use refried beans and my Green Chile Rice as the flavors are a perfect compliment!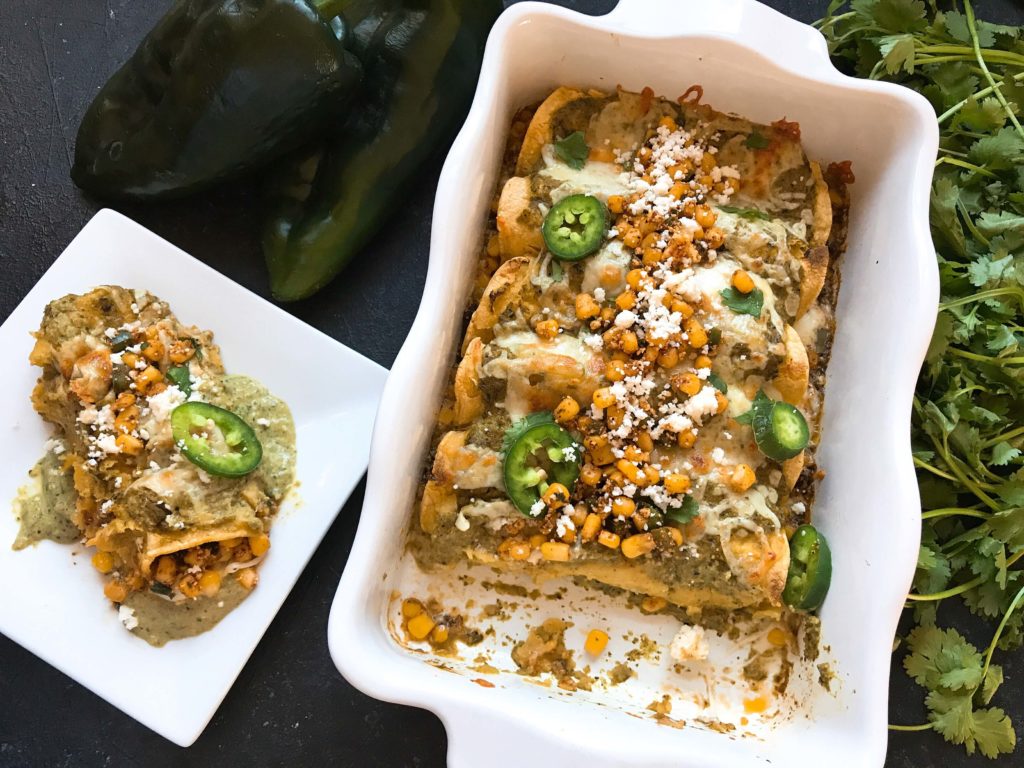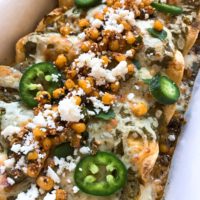 Mexican Street Corn Enchiladas
Classic Mexican Streen Corn (Elote) flavors are the star of these vegetarian enchiladas.
Print
Pin
Rate
Ingredients
Mexican Street Corn Salsa
Instructions
Make the Mexican Street Corn salsa by combining all of the ingredients in a small bowl. Season to taste with additional chili powder, salt, lime, cheese, and jalapeno as desired. Set aside.

Prepare your enchilada sauce.

Preheat oven to 350F.

Place a little of the enchilada sauce in the bottom of your 9x13 inch baking dish. Add 1/4 cup of water, stir, and spread across the bottom of the dish. This will help keep the enchiladas from sticking.

Heat four corn tortillas at a time in the microwave for 5-10 seconds until just warm (this makes them easier to roll).

Lay approximately 1/4 cup of shredded cheese across the tortilla and top with 2 Tablespoons of the corn mixture. Use more or less of each as you wish. Roll up the tortilla into an enchilada and place in the dish.

Repeat this process with the remaining tortillas. Spoon some of the sauce over the enchiladas as you go to help prevent them from cracking.

When finished, spoon the rest of the sauce across the enchiladas (save some for serving if you wish). Sprinkle with additional shredded Monterey Jack cheese.

Bake the enchiladas until the cheese is melted and just starting to brown, approximately 30-45 minutes.

Serve immediately with your favorite sides and toppings.
Notes
You can use any cheese for the filling as you wish.  I find a white cheese like Monterey Jack is the best because it does not overpower the Mexican Street Corn flavors.

Any enchilada sauce will work, but I love our Creamy Roasted Poblano and Lime Enchilada Sauce because the flavors are a perfect compliment to the enchiladas and do not overpower the flavors.

I use frozen corn that has been thawed for the salsa.  You can also use fresh or canned.  Canned may alter the taste slightly due to the brine it is in.

I love to serve these with additional Mexican Street Corn Salsa, sour cream, lime wedges, jalapeno, and avocados.

These enchiladas taste great with our Green Chile Rice!

By