The classic flavors of Mexican Street Corn (elote) in a cheesy quesadilla. A perfect recipe for entertaining, a snack, or lunch.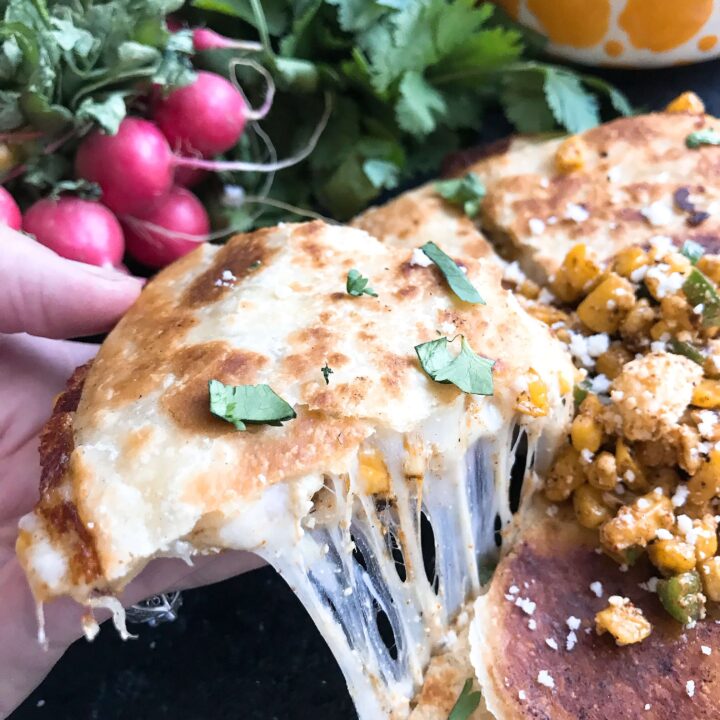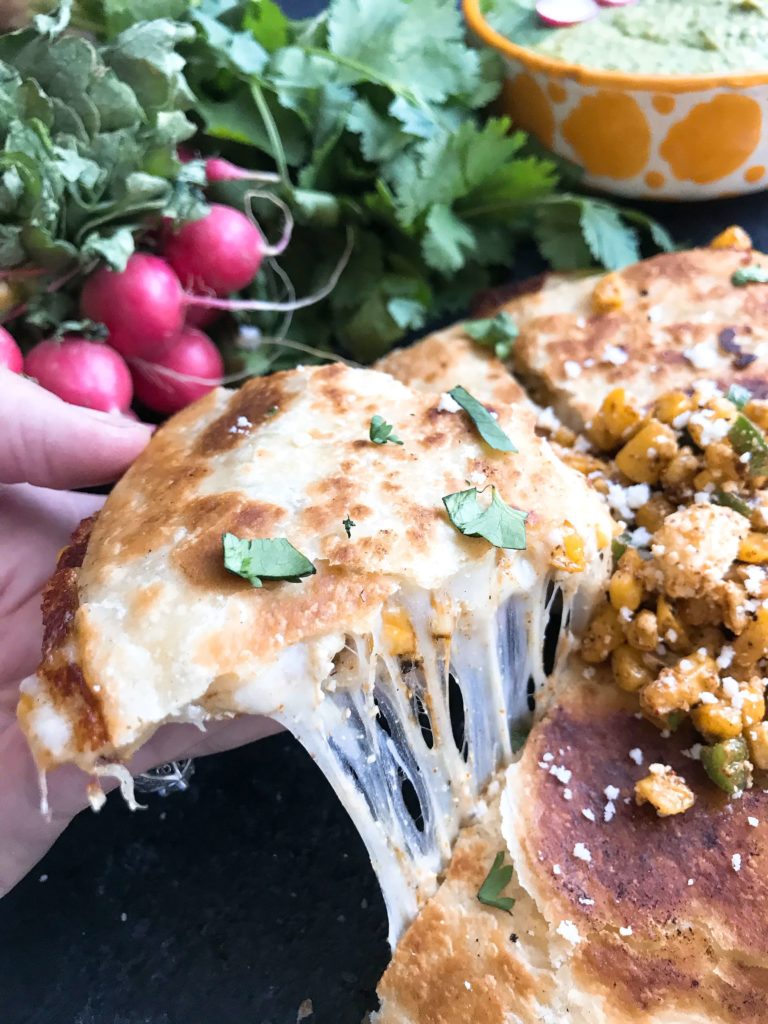 These Mexican Street Corn Quesadillas are a flavorful and fun way to enjoy a quesadilla!  Ready in just minutes, this fast and easy recipe is a great snack, lunch, or party appetizer.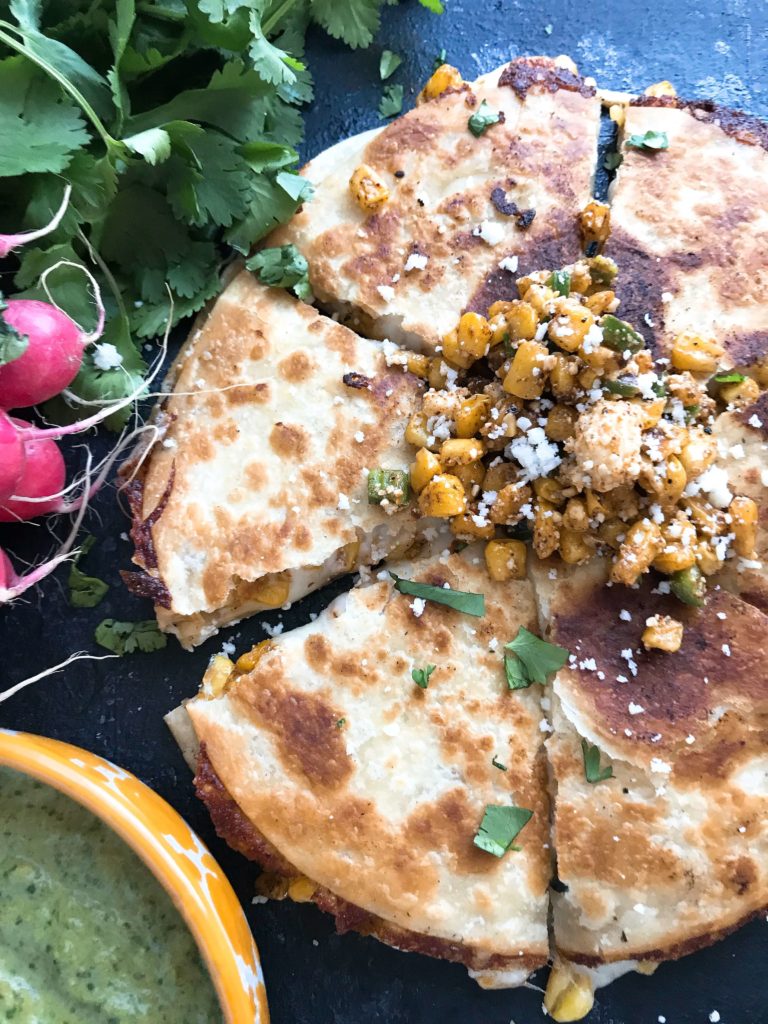 This post contains affiliate links.
I love my Mexican Street Corn Salsa and it is one of the most popular recipes on this site – ever!  I have been incorporating it into different unique recipes and Mexican Street Corn Quesadillas are a fun twist on these delicious flavors.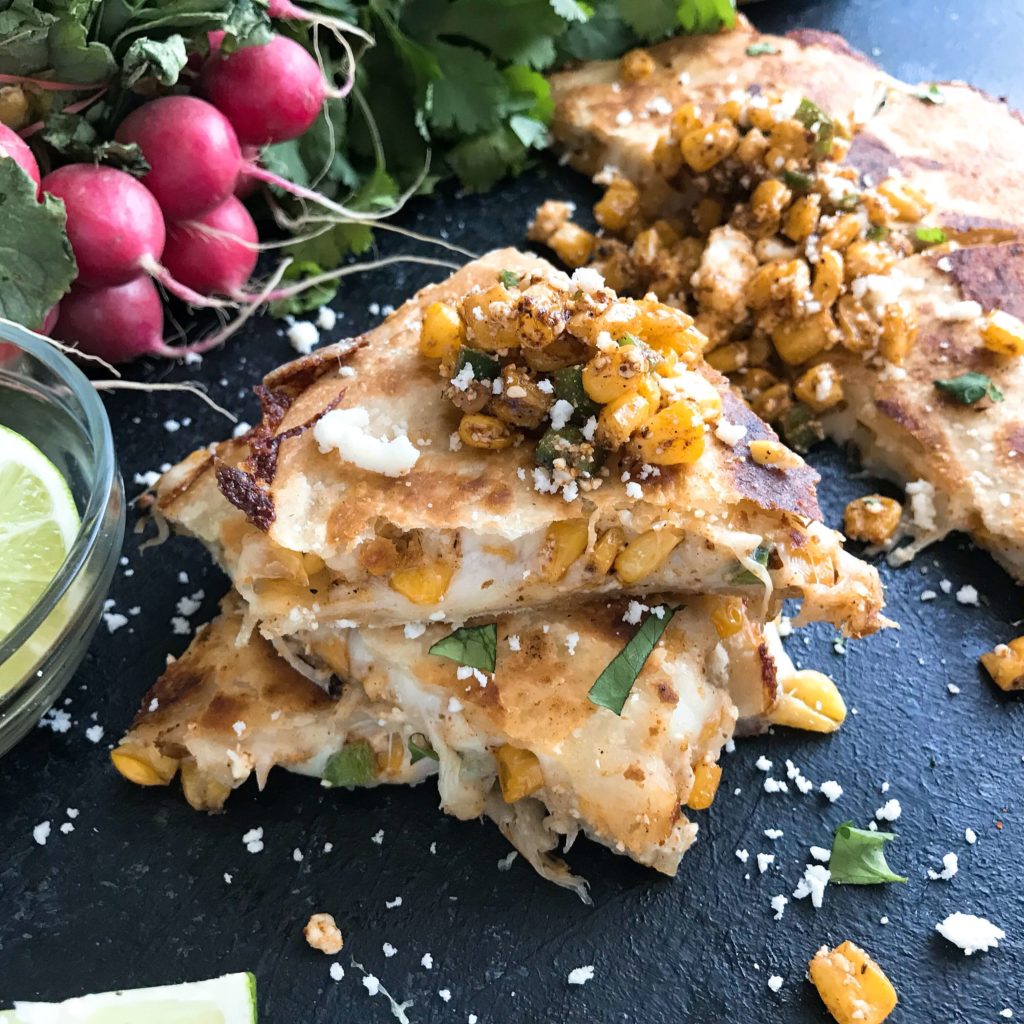 Cheese anything is a huge hit in our house.  I always want to balance it out with some freshness and something crunchy or with texture.  Mexican Street Corn Quesadillas are a great way to get the best of all worlds!
Mexican Street Corn, also called Elote, is AMAZING.  A corn cob is roasted and slathered in mayonnaise, chili powder, lime, cilantro, and cotija cheese.  It is a special, special thing.  One of my favorite party appetizers to make is a Mexican Street Corn Salsa which is always a huge hit.  The flavors are so amazing and simple that they deserve to have a mini line of Mexican Street Corn inspired recipes which you can find here!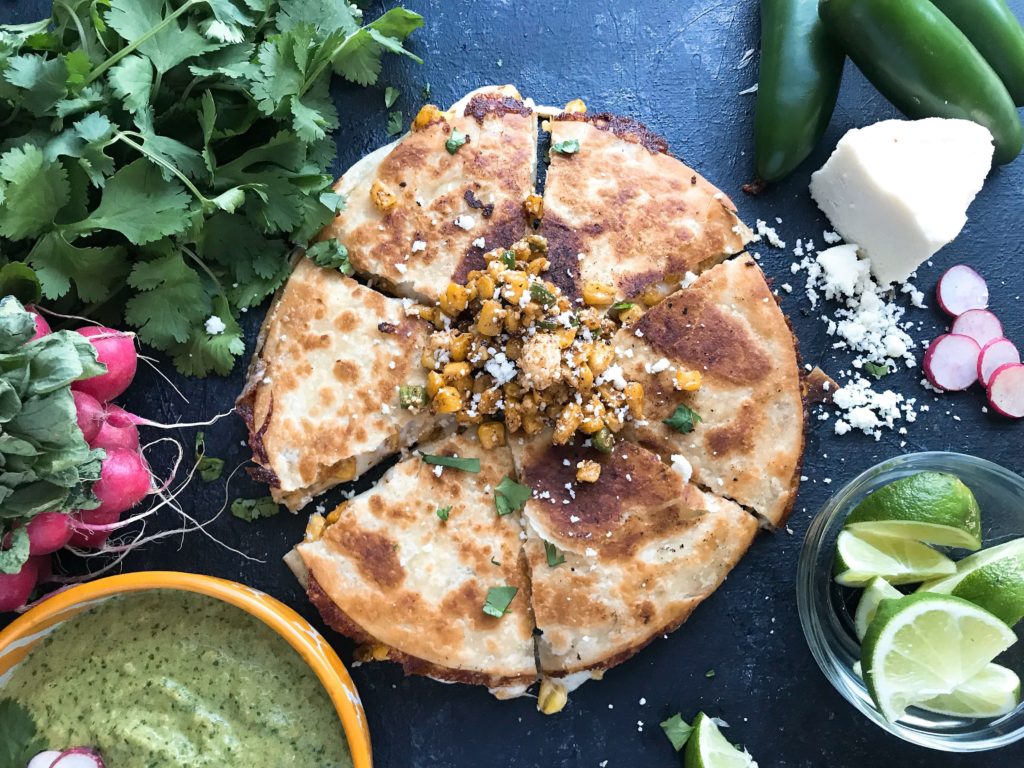 Any white cheese is great here.  Mozzarella is going to give you a great stretch and more likely what you have on hand.  My favorite is to use Monterey Jack or pepperjack (for a little extra heat!).  When the cheese is the star in a recipe, make sure you use a great quality cheese as the flavor is so important.
These Mexican Street Corn Quesadillas are great with guacamole, sour cream, or your favorite sauces like our Roasted Poblano and Lime Enchilada Sauce shown here (SO GOOD!).  They are a great recipe to whip up for guests as an appetizer or finger food since they are so fast and easy, but they make a great lunch or snack as well.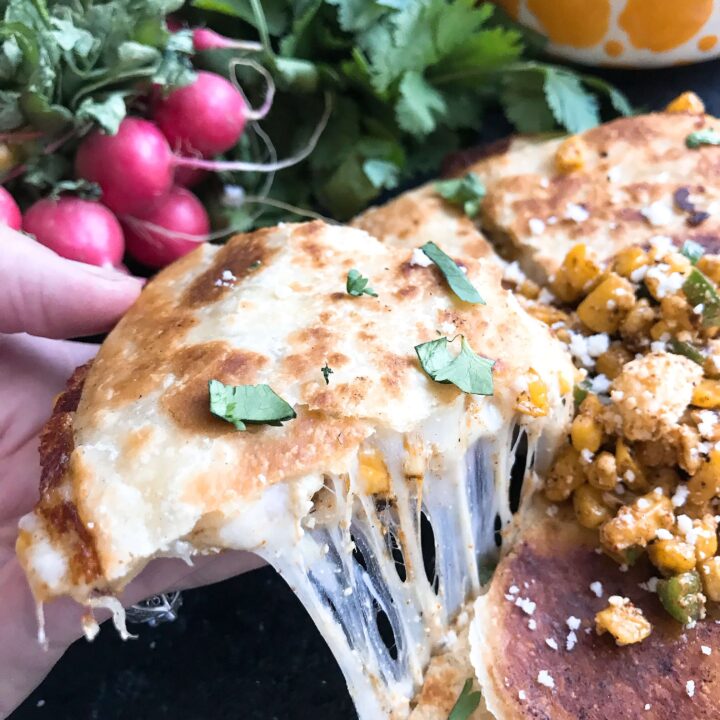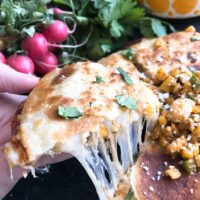 Mexican Street Corn Quesadillas
The classic flavors of Mexican Street Corn (elote) in a cheesy quesadilla. A perfect recipe for entertaining, a snack, or lunch.
Print
Pin
Rate
Servings:
1
large quesadilla
Ingredients
Mexican Street Corn Salsa
Instructions
Pre cook your tortillas if they are not cooked already.

Make your Mexican Street Corn Salsa by combining all of the salsa ingredients. Season to taste with additional chili powder, jalapeno, salt, lime, and cotija cheese as desired.

Heat a nonstick skillet over medium heat. Make sure all of your ingredients are ready to go as you will be building quickly in the skillet.

When everything is ready, put the butter into the skillet. As soon as the butter is melted, placed a tortilla in the skillet.

Add 1/2 cup of the monterey jack cheese spread out on the tortilla in the skillet.

Sprinkle the Mexican Street Corn Salsa across the cheese. Add the additional 1/2 cup of cheese across the quesadilla.

Place the remaining tortilla on top of it all and press down lightly.

Cover with a lid that at least reaches to the edge of the tortilla. This is to trap in the heat to help melt the cheese without overcooking the tortilla itself.

Cook for approximately 3-4 minutes until the tortilla is lightly browned. With a hand on top of the quesadilla, use a spatula to flip the quesadilla over. It should flip relatively easily as the melted cheese will hold things together and the toasted tortilla will be somewhat stiff and stay parallel to the skillet.

Cover the quesadilla again. Cook on the second side approximately 2-3 minutes until that side is also lightly browned and the cheese is melted. If the tortilla is browning too quickly, turn the heat down. If it is not browning fast enough, you can remove the cover to let out the steam and turn the heat up slightly. Exact results will vary based on your stove and skillet.

Remove the quesadilla and place on a cutting board to rest for 1-2 minutes. The resting will let the cheese start to settle so that it does not all leak out when cut.

Cut the quesadilla into triangles and serve with sour cream or your sauces of choice.
Notes
I like to use frozen corn and thaw it before making the salsa.  You can also use canned corn that has been drained.

To ensure a completely vegetarian dish, make sure to use vegetarian cheese.

You can find cotija cheese at your grocery store in the refrigerated hispanic section or in the special cheese section.

The heat level on this is mild.  Make it spicy by adding additional jalapeno or chili powder.

By