A simple homemade bread that is no-knead filled with lemon and thyme.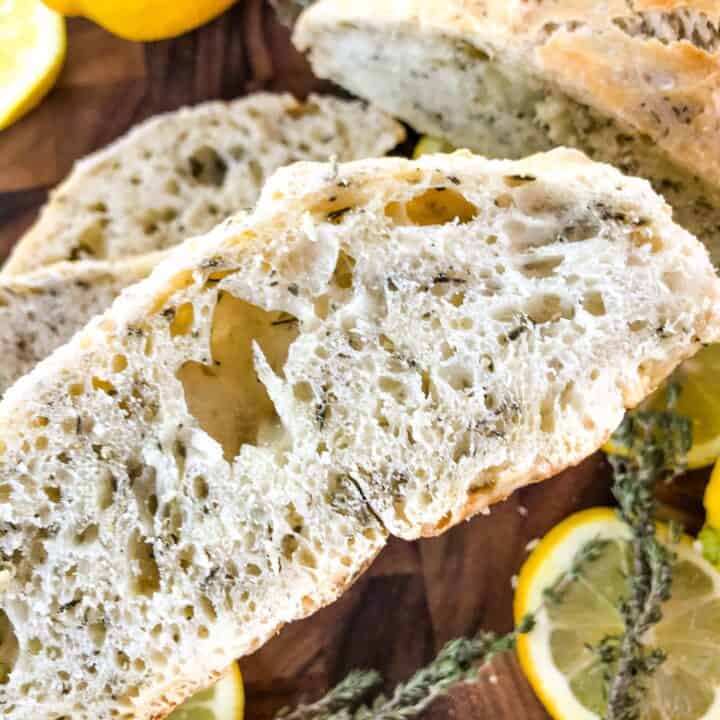 This Dutch Oven No Knead Rustic Lemon Thyme Bread is an easy bread recipe!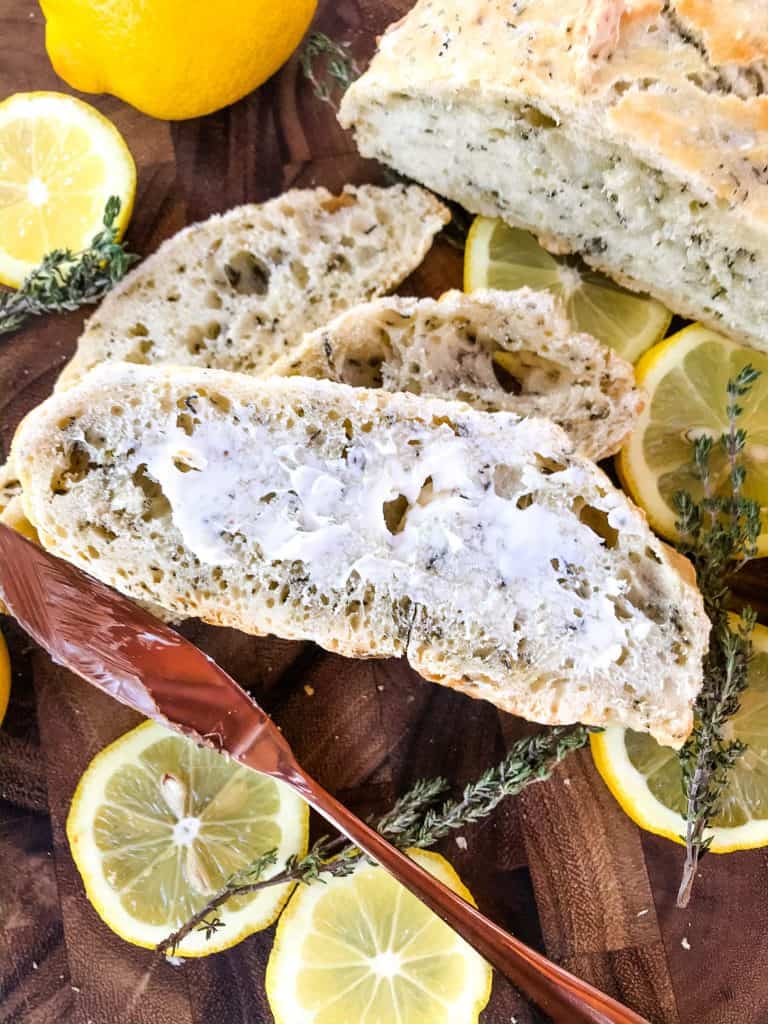 This post contains affiliate links.
I love homemade bread and how great it makes the house smell. Plus you can shake it up with fun flavors, like this No Knead Rustic Lemon Thyme Bread. Rustic bread is my favorite type of bread to make. It is more dense than French breads so it hols up well for soup dunking, buttering, etc. I have been having some fun with different bread flavors as well as different kinds of breads lately. Find more of our bread recipes here!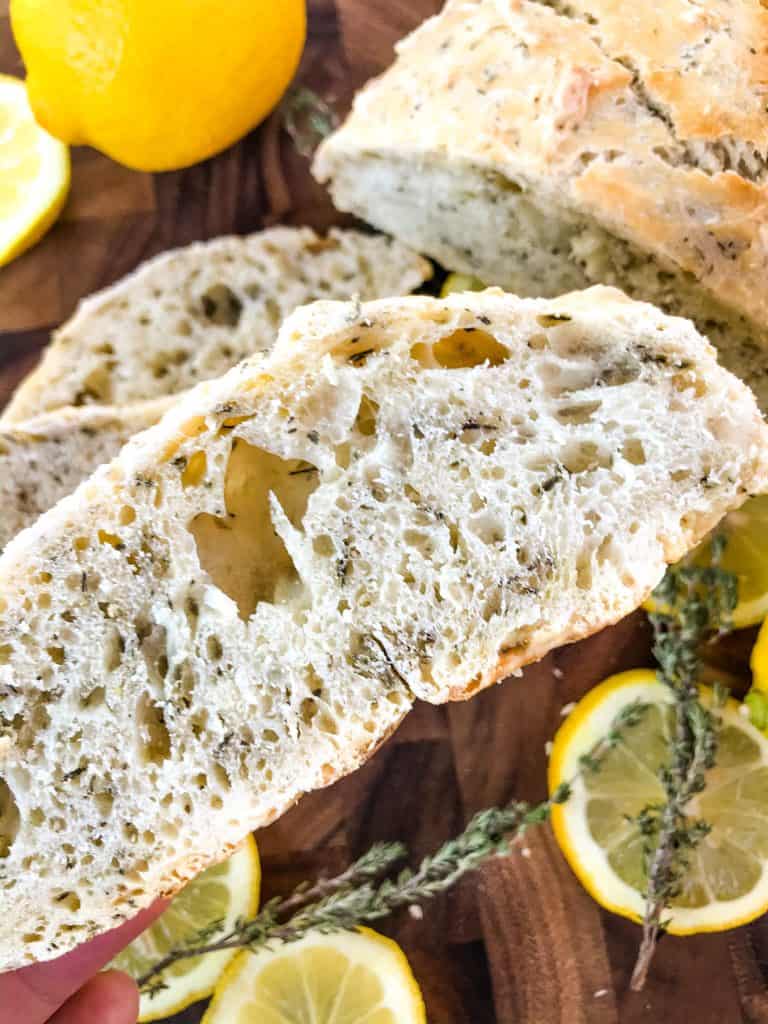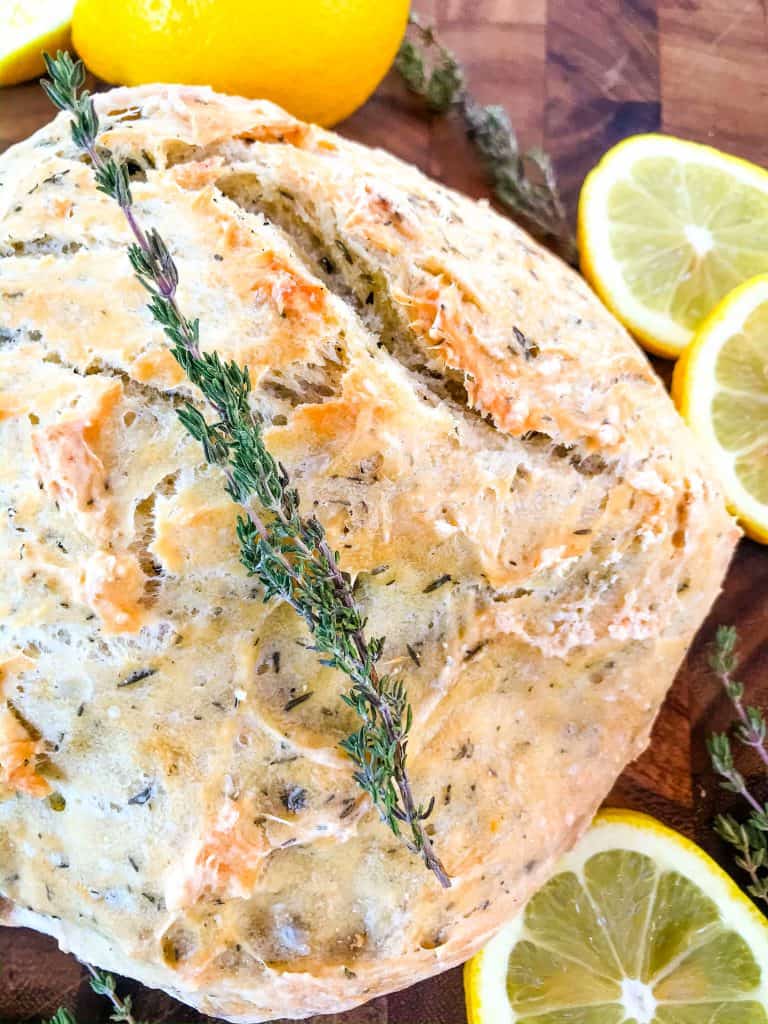 This dutch oven bread is SO easy to make! Just mix all of the ingredients together and let it sit for 8-24 hours. No kneading, no transferring it to another bowl, nothing. Then bake it in a Dutch oven, and you have rustic bread! This bread had more of those air pockets than normal!
Sometimes the bottom of this Italian bread starts to cook too quickly and verge towards burnt. If this is happening to you, place a baking sheet on a rack under the Dutch oven rack to help disperse direct heat from the bottom. I also will put extra flour on the bottom of the pot before adding the dough. It is not absorbed by the bread, and acts like another barrier, so I can just scrape that flour off the bottom. I have the heat issue randomly, so I figure better safe than sorry!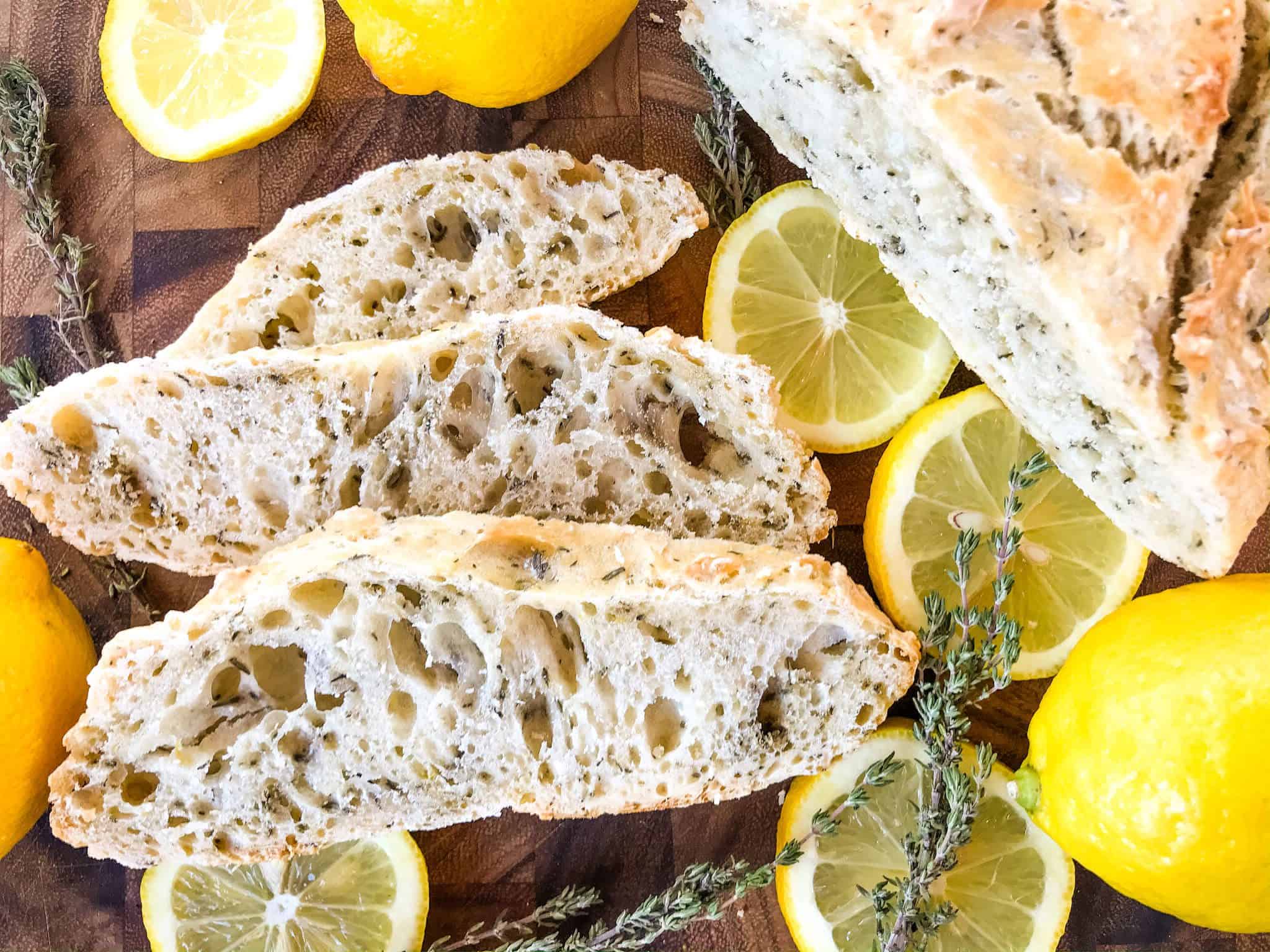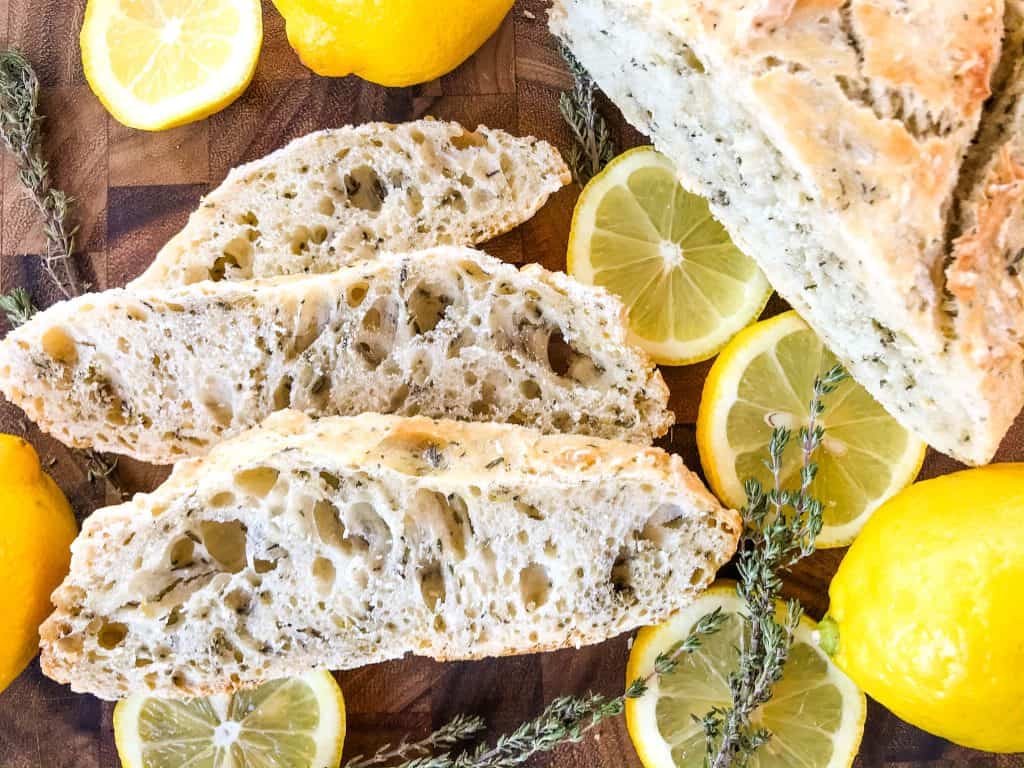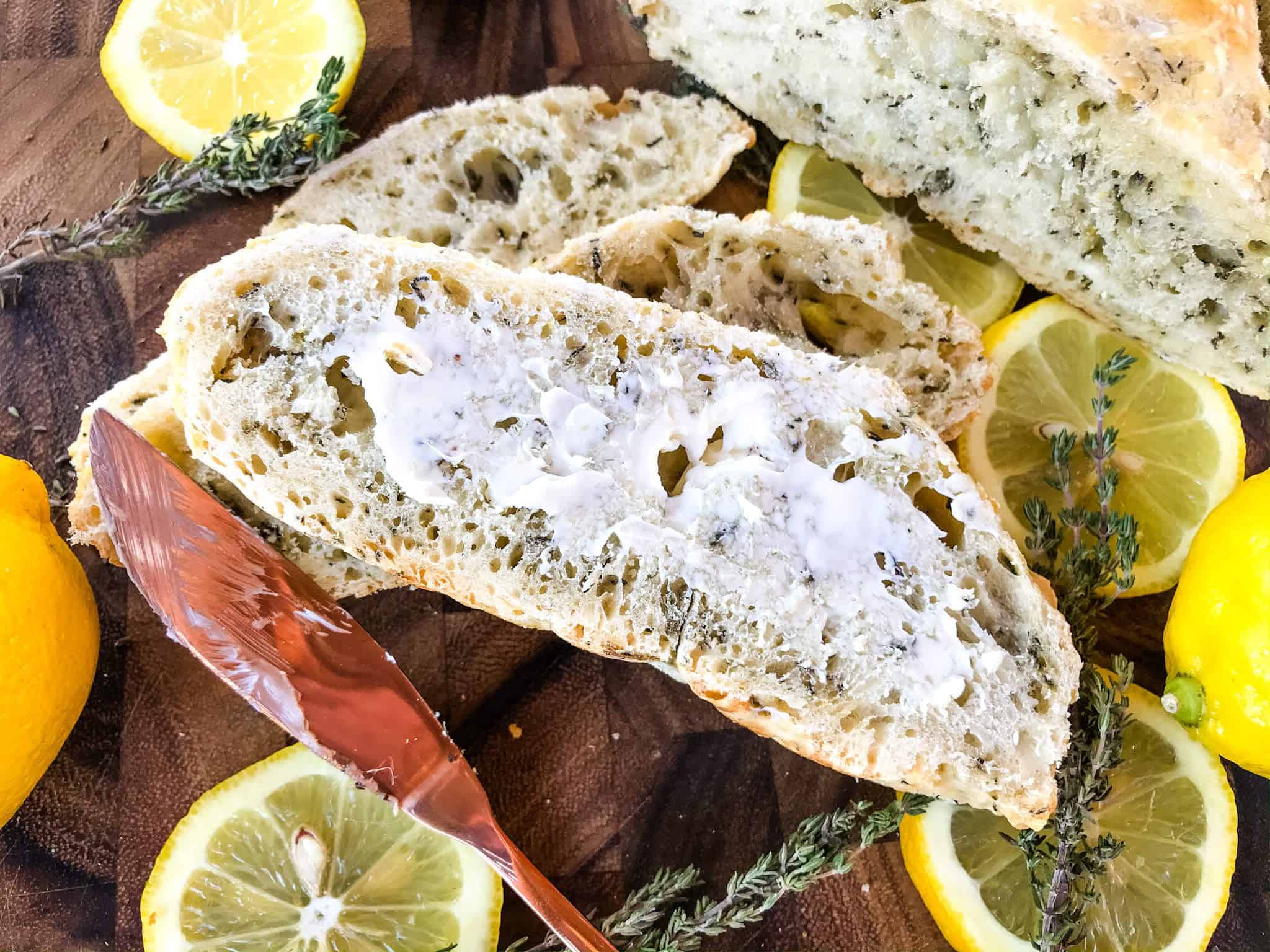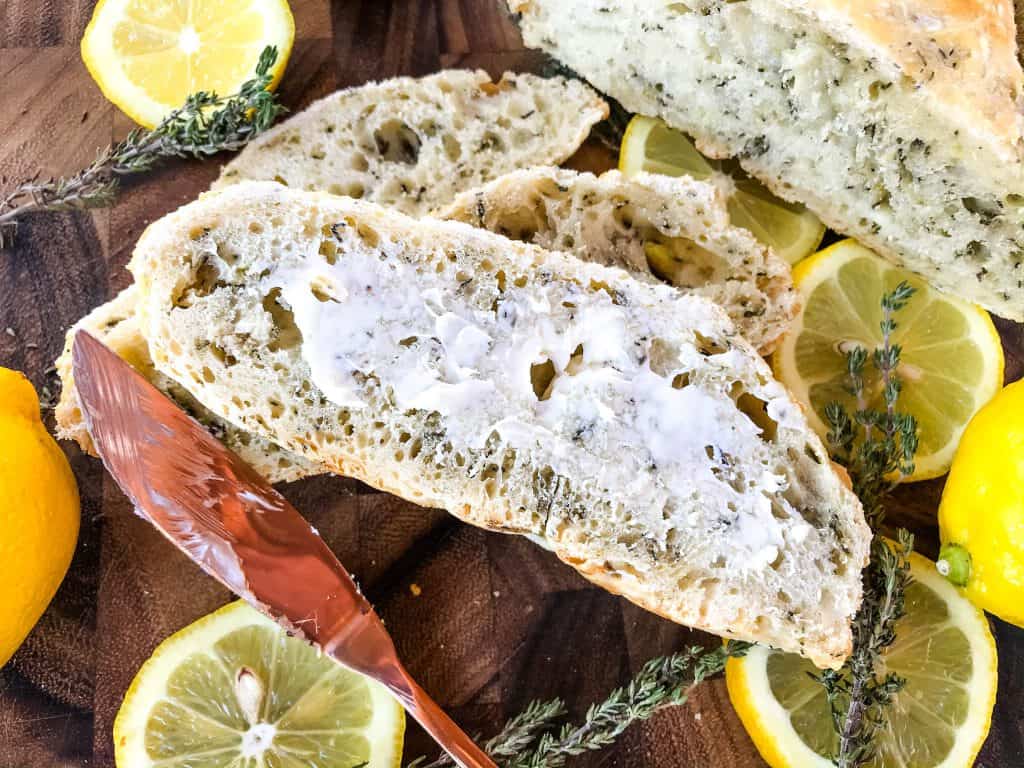 The lemon and thyme bring subtle Italian flavors to the homemade bread without overwhelming it. I want my bread to taste like something, which is where the thyme and lemon helps. But the flavors are not so strong that it overpowers anything else you are making. I hope you enjoy making this bread, whether as part of a meal or on its own!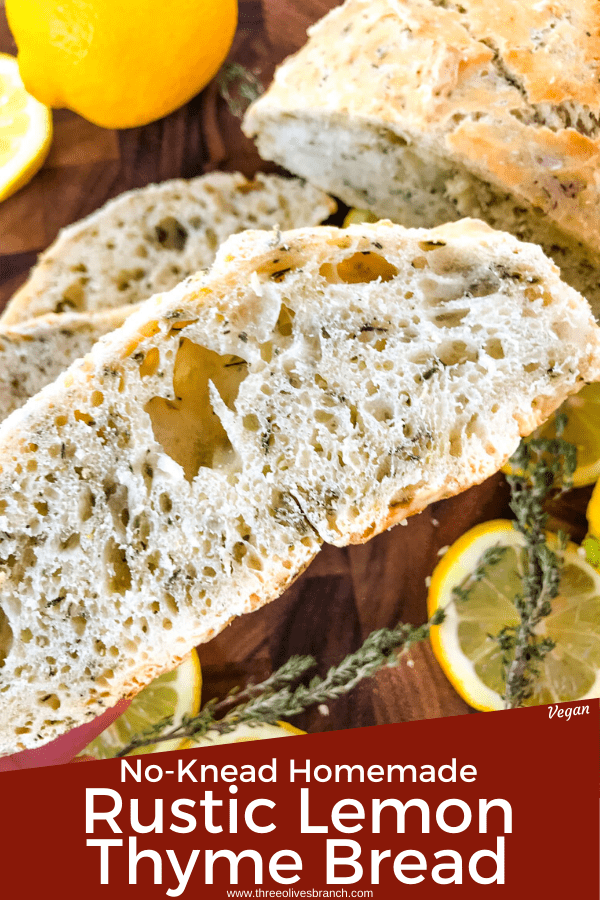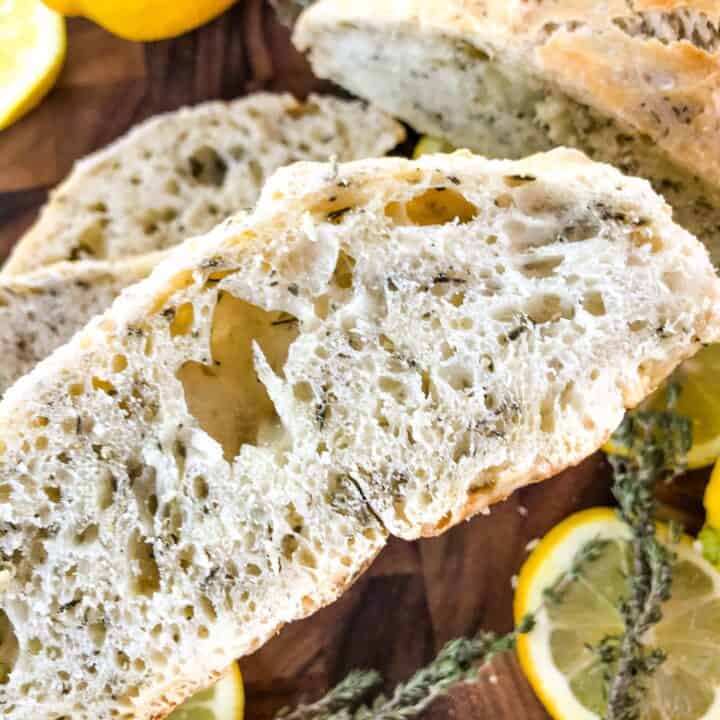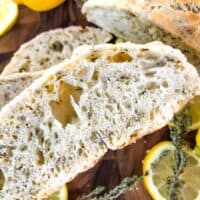 No Knead Rustic Lemon Thyme Bread
A simple homemade bread that is no-knead filled with lemon and thyme.
Print
Pin
Rate
Instructions
Combine all of the ingredients in a large mixing bowl (including both the zest and then juice of one lemon). The dough will not be overly sticky but should come together. Add just a little water at a time if needed to incorporate all the flour.

Cover the dough with plastic wrap and put a towel over the top to help it seal. Set the bowl aside for at least 8 hours to rise (I have gone as long as 24 hours).

When ready to bake, heat oven to 450F. Place a large cast iron pot (dutch oven) on the medium or medium low rack while preheating for it to get hot.

Use a spatula to scoop the dough into the hot pot. (If preferred, shape the dough on the counter during preheating but I find it is easy to drop the dough in a rough circle straight into the pot).

Place the lid on the pot and cook at 450F for 30 minutes.

Remove the lid and let cook an additional 15 minutes to further brown. If it looks or smells done sooner, remove from oven sooner.

Let the bread cool completely on a cooling rack.
Notes
This makes one large loaf of rustic bread, which is much more dense than a French bread.
The lemon is faint in this recipe. If you want a strong lemon flavor, increase to 2 lemons.
If it smells like the bread might be starting to burn, place a cookie sheet on a rack below the Dutch oven rack to help disperse heat. I also make it a habit to put extra flour in the bottom of my pot before adding the bread to act as a barrier, then I scrape it off, since I have this problem somewhat frequently.
Nutrition
Calories:

1429

kcal

|

Carbohydrates:

302

g

|

Protein:

43

g

|

Fat:

5

g

|

Saturated Fat:

1

g

|

Sodium:

3521

mg

|

Potassium:

608

mg

|

Fiber:

16

g

|

Sugar:

4

g

|

Vitamin A:

152

IU

|

Vitamin C:

59

mg

|

Calcium:

171

mg

|

Iron:

23

mg

By