Tender and flavorful chicken, versatile for gyros, salads, wraps, main course, and more!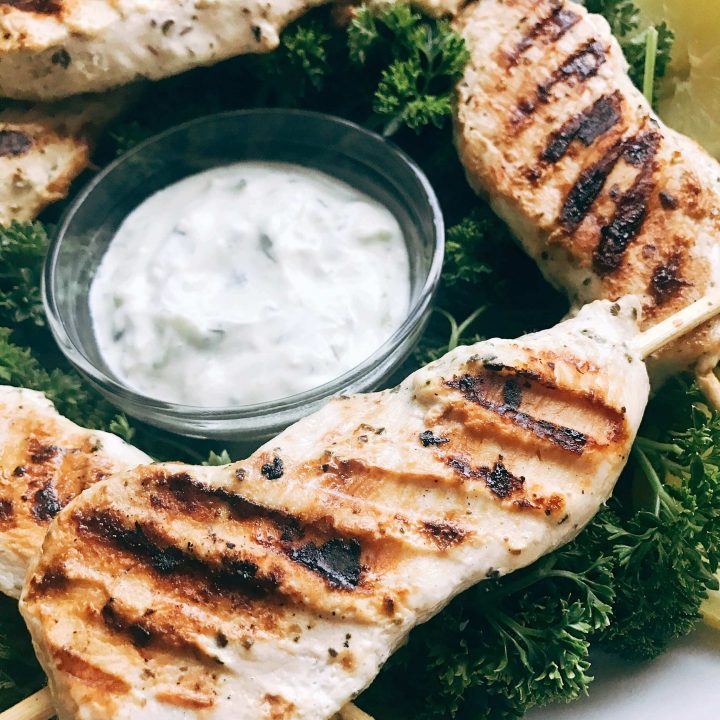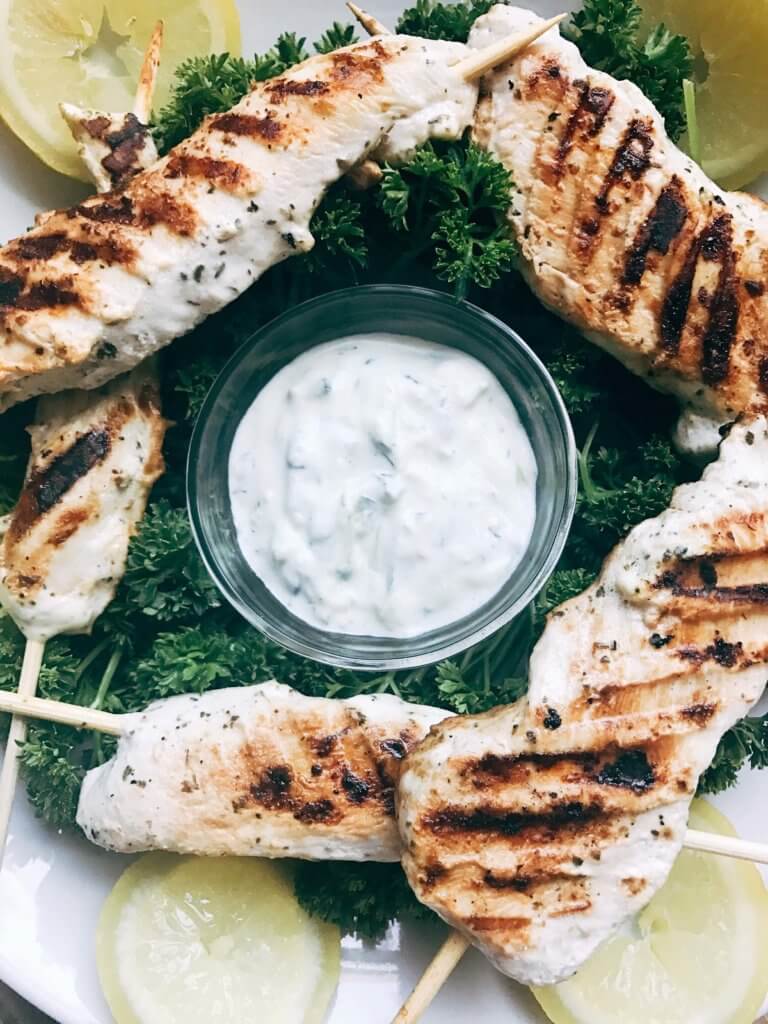 My preferences for food changes based on the season and weather. In the summer I tend to want lighter options (beyond bland and boring salads) and healthier foods. Plus, I like to grill as much as possible! These Oregano Lemon Yogurt Greek Chicken Skewers hit all of those points!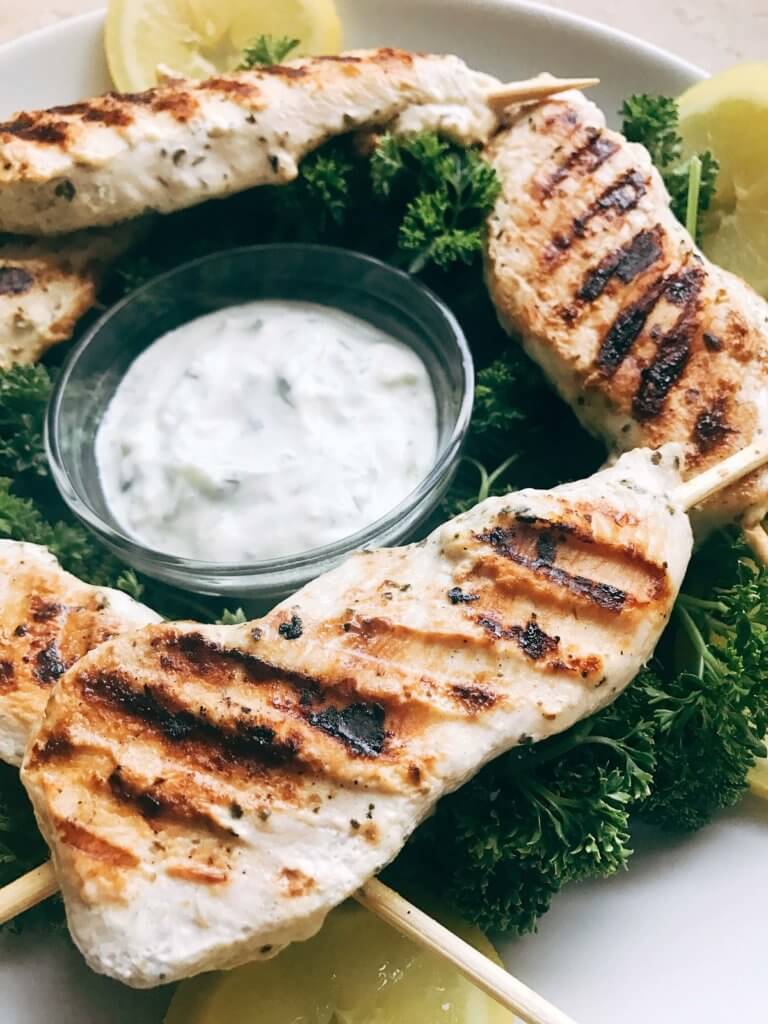 This post contains affiliate links.
I have also been on a Greek food kick lately, also maybe because it is summer? So head over through this link to find our other Greek inspired recipes!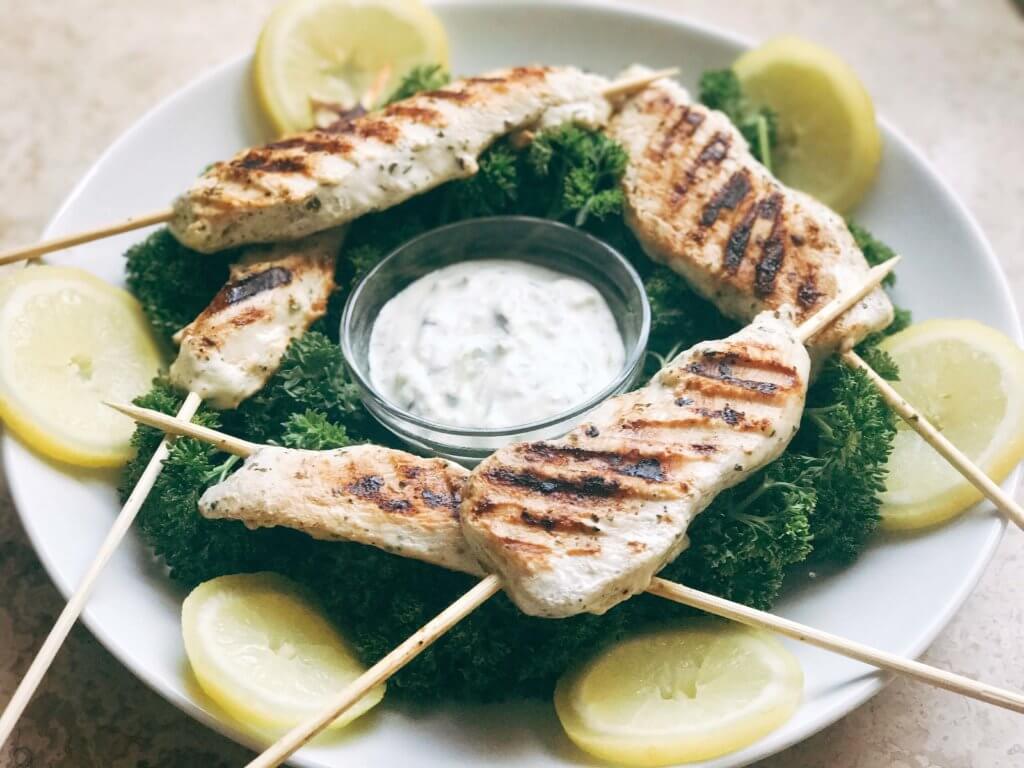 Making these Oregano Lemon Yogurt Greek Chicken Skewers is pretty simple! First cut your chicken into strips (or you can use chicken tenders). Mix all of your sauce ingredients in a baking dish or pie plate. Toss your chicken into the yogurt mixture to coat all sides, cover, and let it sit in the refrigerator for at least 30 minutes.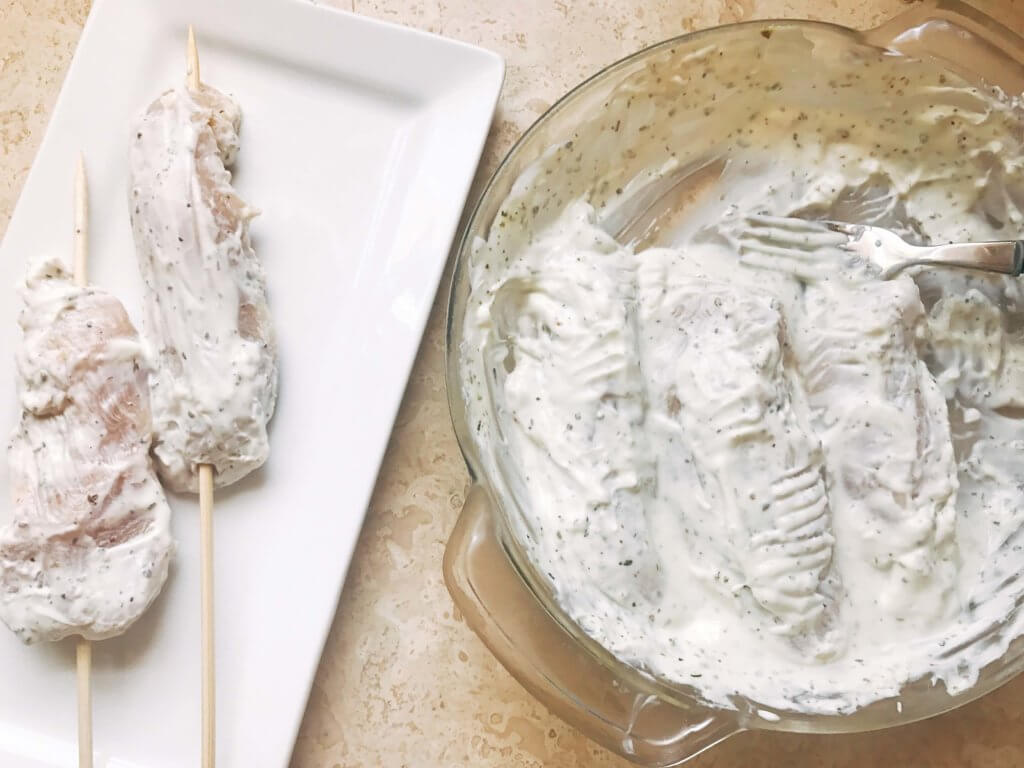 Then remove your chicken, thread the meat onto skewers, and grill over medium heat until cooked all the way through. The skewer piece is optional, you can just put the chicken on the grill if you want, but in the summer I like to skewer anything and everything that I can on the grill! Something about it makes skewers feel more of a summer-time food to me! 🙂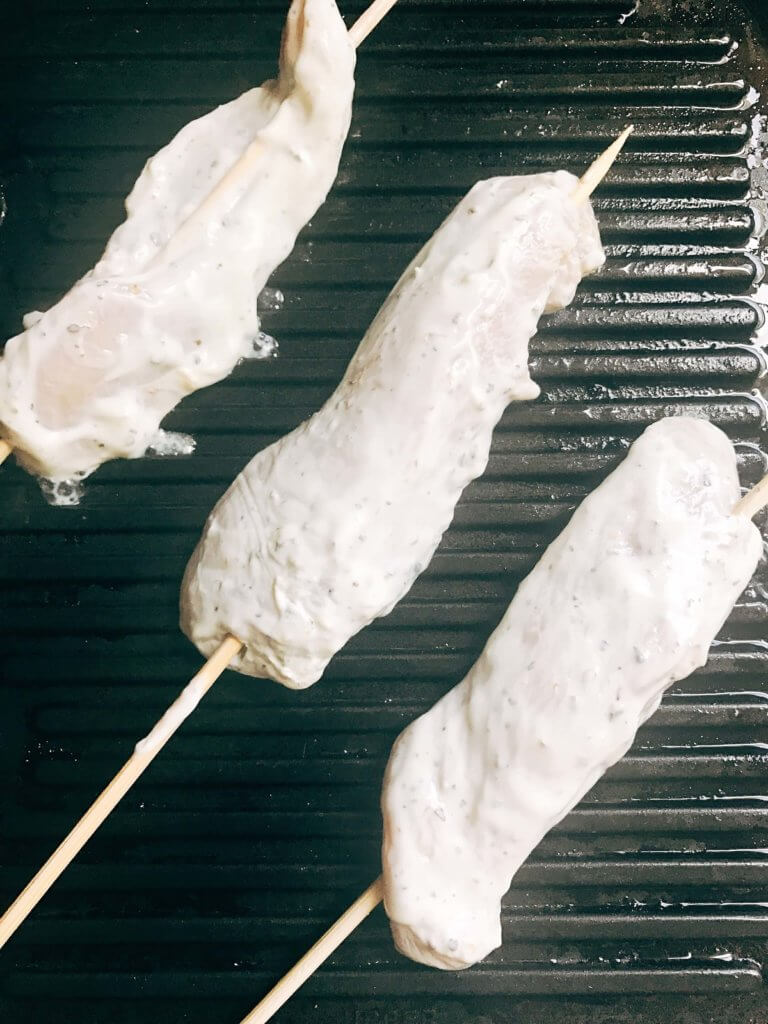 Then you are done! The yogurt adds such a great flavor and tenderizes the chicken in a fantastic way. My favorite thing to do is serve these Oregano Lemon Yogurt Greek Chicken Skewers up with some Greek Tzatziki Yogurt Sauce, which is also incredibly easy to make! Serve it with some additional lemon slices and you have a wonderful meal! You can put the chicken on a salad, serve it up with some couscous or rice, the opportunities are endless! And you could even put them inside of pita bread to make a gyro!
Give it a try, and be sure to tag us on social media! I want to see you trying it out!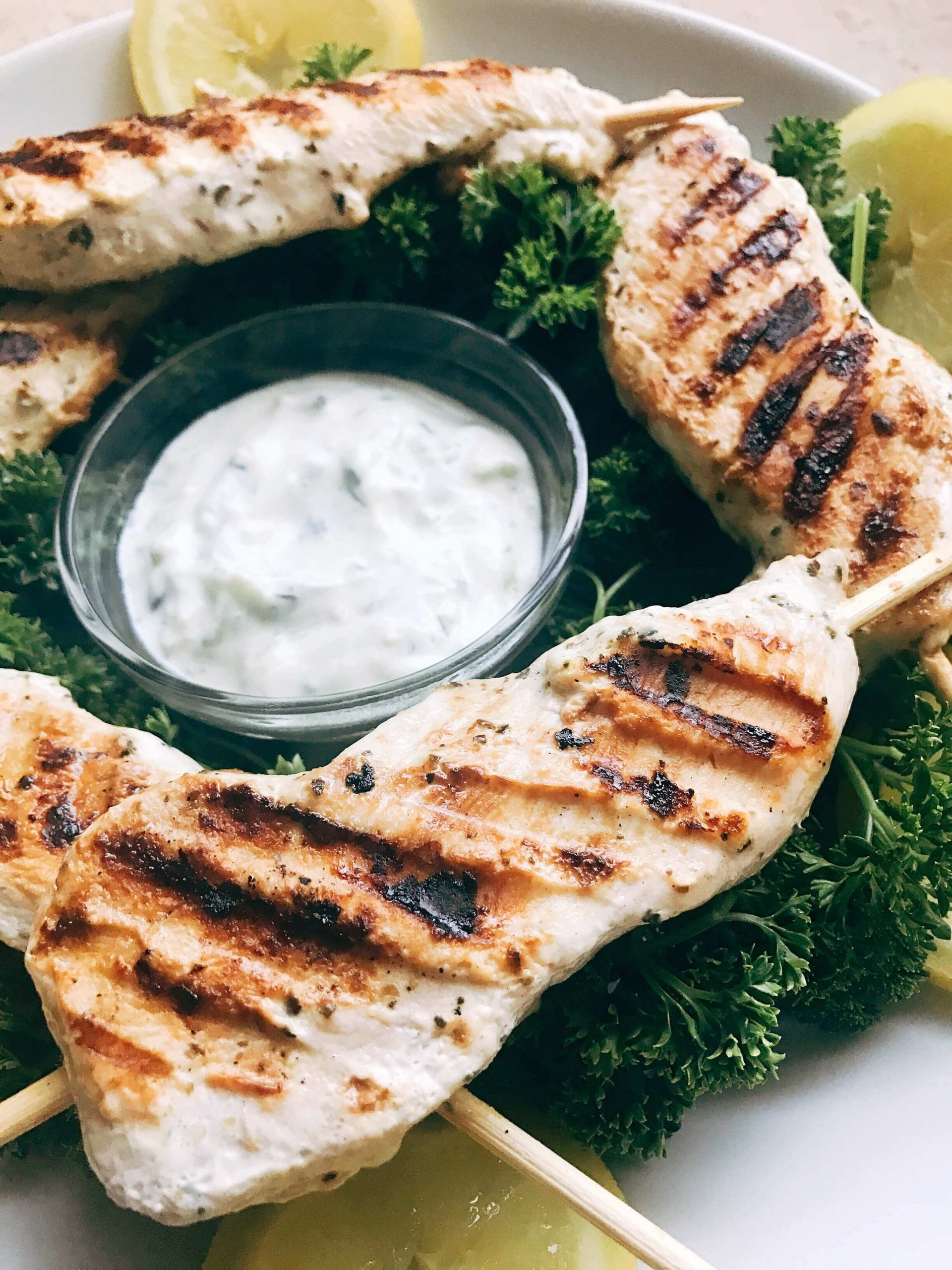 Instructions
Cut the chicken into one inch wide strips.

In a baking dish or pie plate, combine the rest of the ingredients (except tzatziki). Whisk together.

Put the chicken in the yogurt mixture and toss to coat. Cover with plastic wrap and refrigerate at least 30 minutes or overnight.

Thread the chicken onto skewers. You can do this in a zig-zag patter to get through the length of the chicken if it is difficult to get the skewer to stay through the middle.

Heat a grill to medium heat. When hot, place the chicken skewers on the grill and cook 3-4 minutes.

Flip and continue cooking until the chicken is cooked all the way through to 170F, approximately 3-5 minutes more.

Remove chicken from the grill and drizzle with olive oil. Serve with tzatziki sauce if desired or additional lemon wedges.
Notes
The exact time to cook the chicken will vary based on your grill heat and the thickness of the chicken.  The best way to ensure your chicken is cooked properly is to use a thermometer to read the internal temperature of the chicken.  It should be 170F.
This chicken would go great with salad, couscous, rice, and grilled vegetables.  It would also be fantastic in a sandwich or gyro.
Get our recipe for Greek Tzatziki Yogurt Sauce!
Nutrition
Calories:

250

kcal

|

Carbohydrates:

2

g

|

Protein:

40

g

|

Fat:

8

g

|

Saturated Fat:

2

g

|

Cholesterol:

111

mg

|

Sodium:

502

mg

|

Potassium:

682

mg

|

Fiber:

1

g

|

Sugar:

1

g

|

Vitamin A:

51

IU

|

Vitamin C:

4

mg

|

Calcium:

58

mg

|

Iron:

1

mg

By