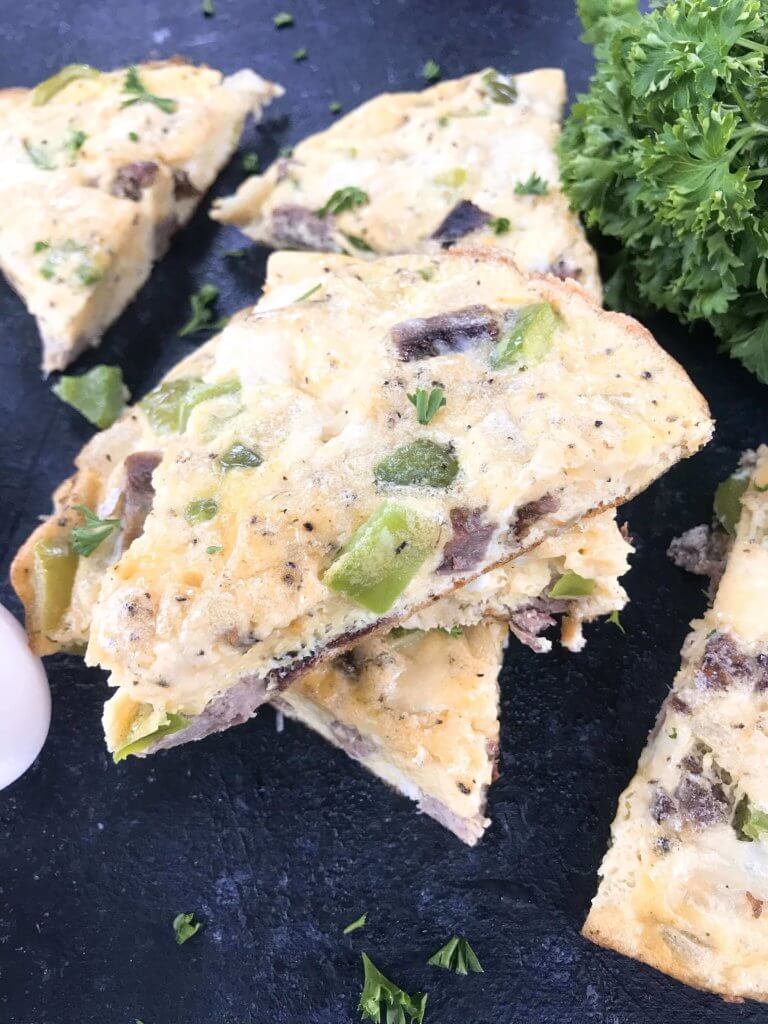 This Philly Cheesesteak Frittata is full of classic Philly Cheesesteak flavors. Stuffed with steak, bell peppers, onion, and provolone, have a gluten free (GF) breakfast or brunch ready in just 20 minutes!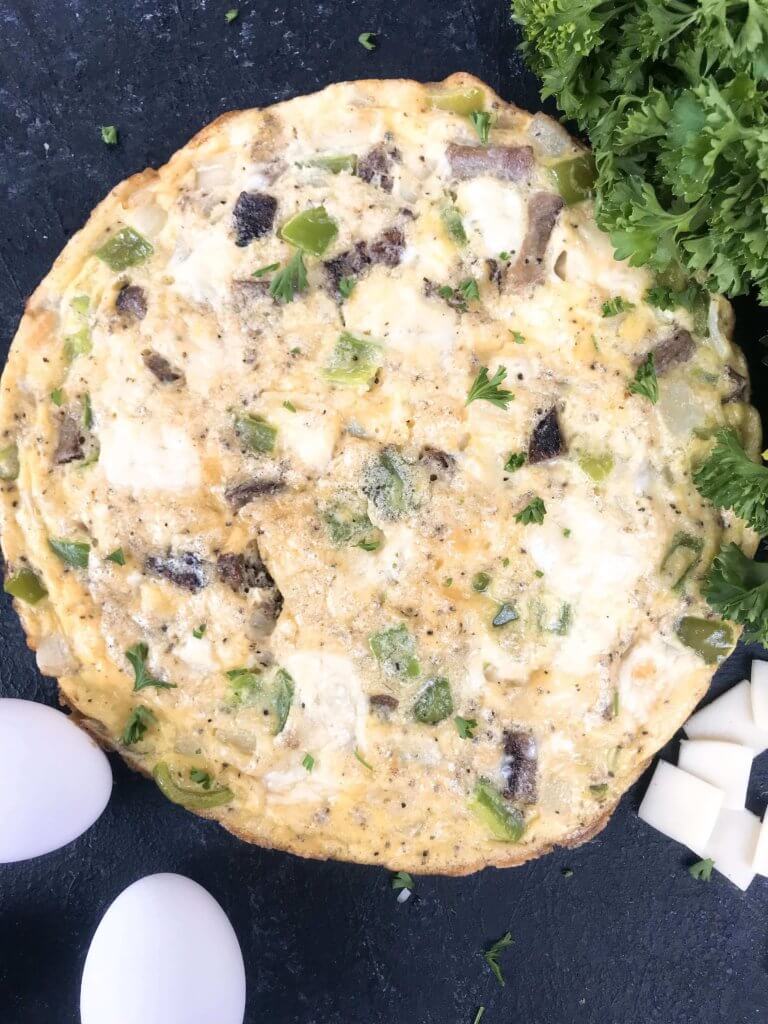 This post contains affiliate links.
If I am making breakfast, I want to use a recipe that is fast and simple. You can bet I am not giving up sleep in order to get breakfast out early with a recipe that takes a long time to cook unless it is a holiday. A frittata is very similar to an omelette, just with the ingredients mixed throughout and it is flat. If you are serving breakfast and looking for something easy but elevated, frittatas are a perfect way to go! They are unique without requiring a lot of effort or time.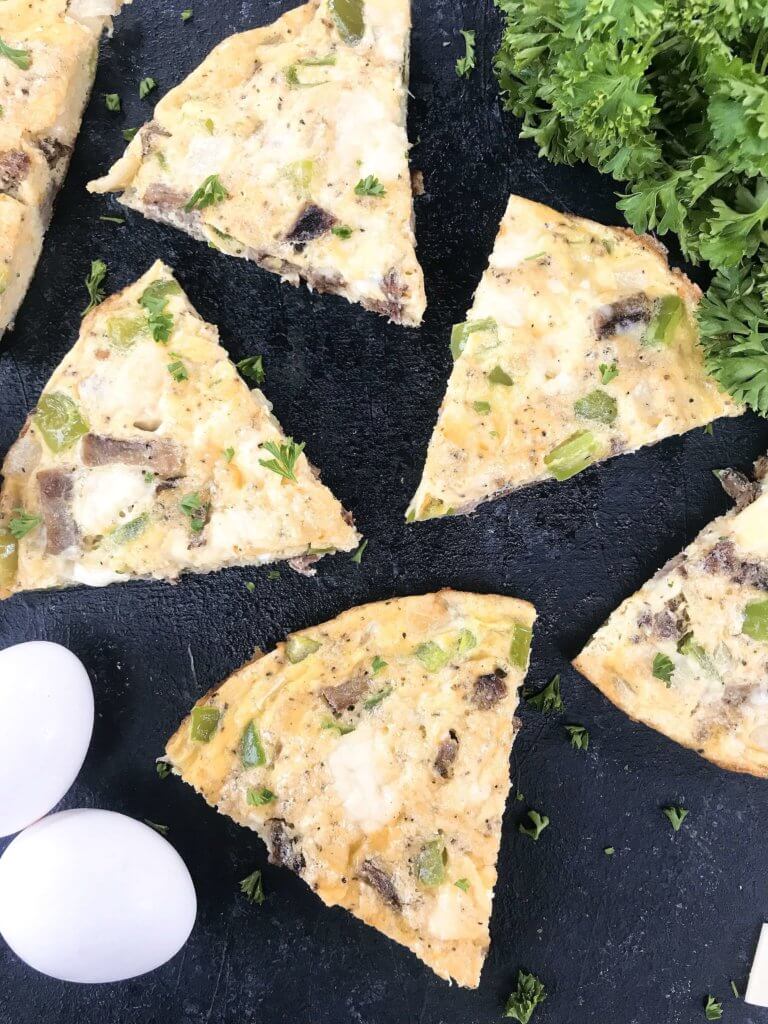 I am in Philadelphia a lot for work since my corporate office is there. I love to try out different cheesesteak places. My favorite so far is Tony Luke's on Oregon near the Eagles stadium. It is just SO GOOD! Even though cheese whiz is an option at most places, I am told that true Philadelphians only eat a cheesesteak with provolone, which I am on board with. With all of my Philly trips, I have been putting the flavors of a cheesesteak in everything I can! Find more Philly cheesesteak recipes here!
To make the Philly Cheesesteak Frittata, you can use any leftover steak or beef. Get your peppers and onions sauteeing in an oven safe skillet. Mix your eggs, steak, provolone, salt, and pepper together in a bowl. When the peppers and onions are ready, add the steak and egg mixture. Cook on the stove until the edges are starting to set. Then transfer the skillet to the oven and cook until dry to the touch on top and the eggs are cooked through, approximately 12 minutes. That's it!
Love quick and simple breakfasts? Find more of our frittata recipes here!




Ingredients
1

Tablespoon

olive oil

or vegetable oil

1

cup

steak

cooked, cut into 1/2 inch chunks

1/3

cup

yellow onion,

diced

6

large

eggs

3

ounces

provolone cheese

cut into 3/4 inch squares

1/4

teaspoon

salt

1/4

teaspoon

black pepper
Instructions
Heat the oven to 350F.

Heat an oven-safe large (10 inches) non-stick skillet on the stove over medium heat.

While the skillet is heating, prepare your ingredients. Dice your steak into 1/2 inch pieces. Finely dice your onion and bell pepper. Cut the provolone cheese slices into squares approximately 1/2 to 3/4 inches.

Add the oil to the hot skillet. Add the onion and bell pepper and cook until just tender, approximately 3-5 minutes.

While the vegetables are sauteeing, in a medium bowl whisk the eggs until broken up. Add the provolone cheese, salt, and black pepper to the eggs and whisk to combine.

When the vegetables are ready, add the steak and stir to combine. Then add the egg mixture to the skillet. Stir very lightly. Let the egg mixture sit and cook on the stove until the edges are just set, approximately 5 minutes.

Turn the stove off and place the skillet in the oven. Let the frittata cook until it is cooked through and dry to the touch on top, approximately 10-13 minutes.

Use a rubber spatula to loosen the frittata and either slide out or flip onto a plate. Serve immediately.
Notes
The smaller the skillet, the thicker your frittata will be and the longer it will need to cook.  The larger the skillet, the thinner the frittata and the faster it cooks.  I use a 10 inch skillet for this recipe.

A non-stick skillet is best, but you can also use a cast iron skillet.  The egg tends to stick more in cast iron, making it difficult to flip out if you choose to do so.

I use sliced provolone cheese that you get in a package.  Cut the cheese into squares approximately 1/2 to 3/4 inches.  Each provolone slice is typically one ounce, so you will need three slices.

This recipe is perfect to use up leftover steak.  If you are using uncooked steak or beef, cook it in the skillet with the onion and pepper until cooked through.

By