Classic cheesesteak flavors in meatball form with a provolone cheese dipping sauce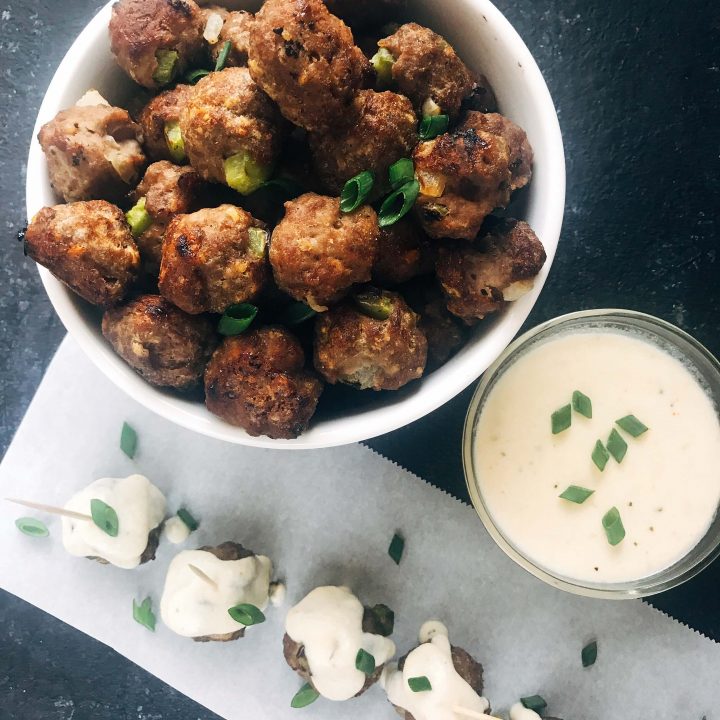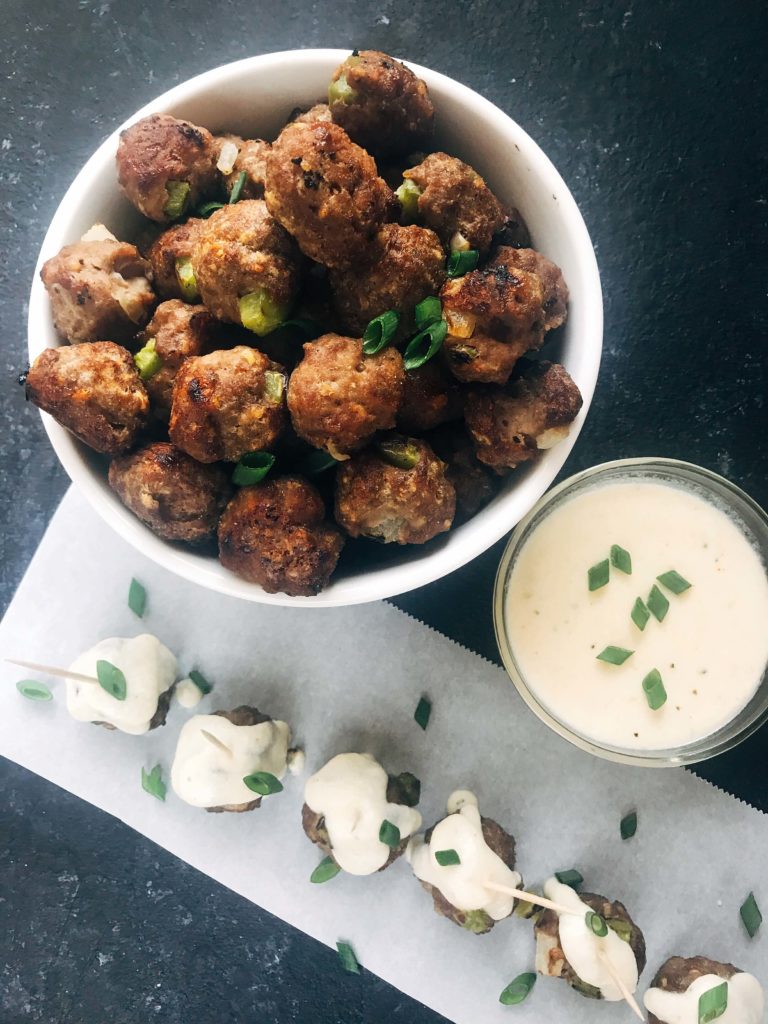 I love to enjoy classic flavors in new and unique ways, and these Philly Cheesesteak Meatballs are perfect for getting the same flavors of a Philly Cheesesteak as an appetizer.  These meatballs are great for a crowd, especially on game day and the Super Bowl.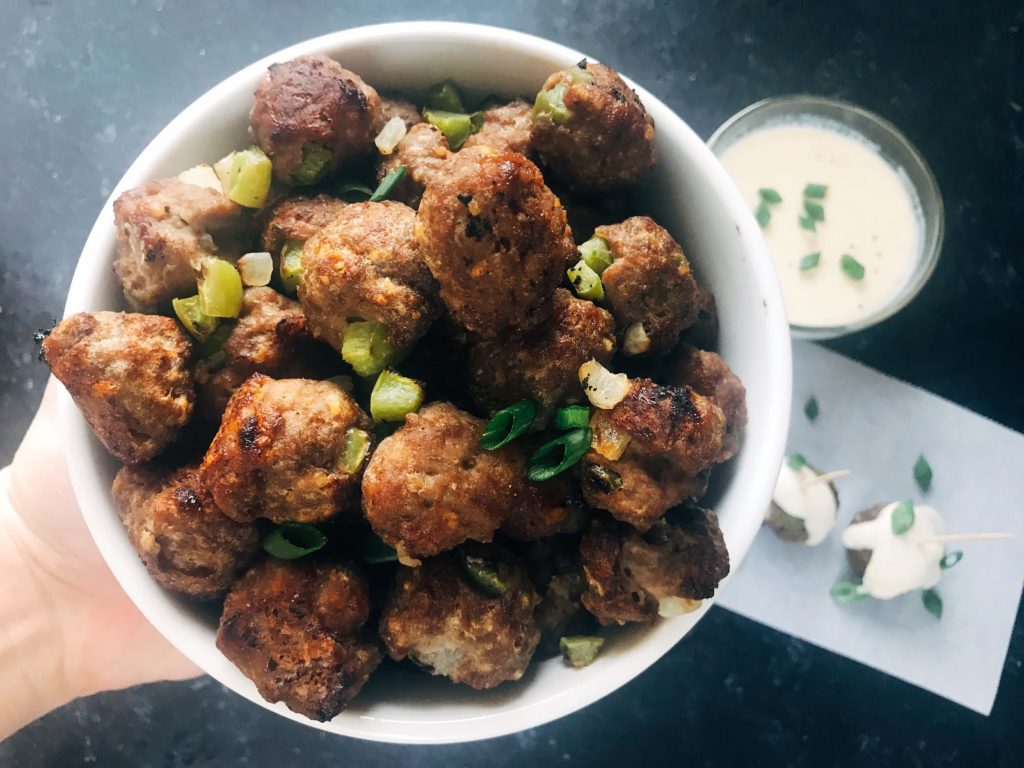 This post contains affiliate links.
My company's corporate headquarters is just outside of Philly, so you can bet whenever I am in town I am venturing out to experience all of their cheesesteaks.  There is definitely a variety in what people consider the best, and it is very rare to hear the same name over and over again.  With so many recommendations and input, there are a lot of cheesesteaks to try out!  And with so many variations, it is even more complicated.  My personal favorite go-to is provolone cheese (instead of Cheez Wiz), with onions and peppers.  Yummy.  I could use one right about now as I think about them!  (And by the way, so far my favorite is Tony Luke's – they also have an amazing veggie sandwich.  And apparently the exact location matters for that chain in quality – the one on Oregon is amazing!).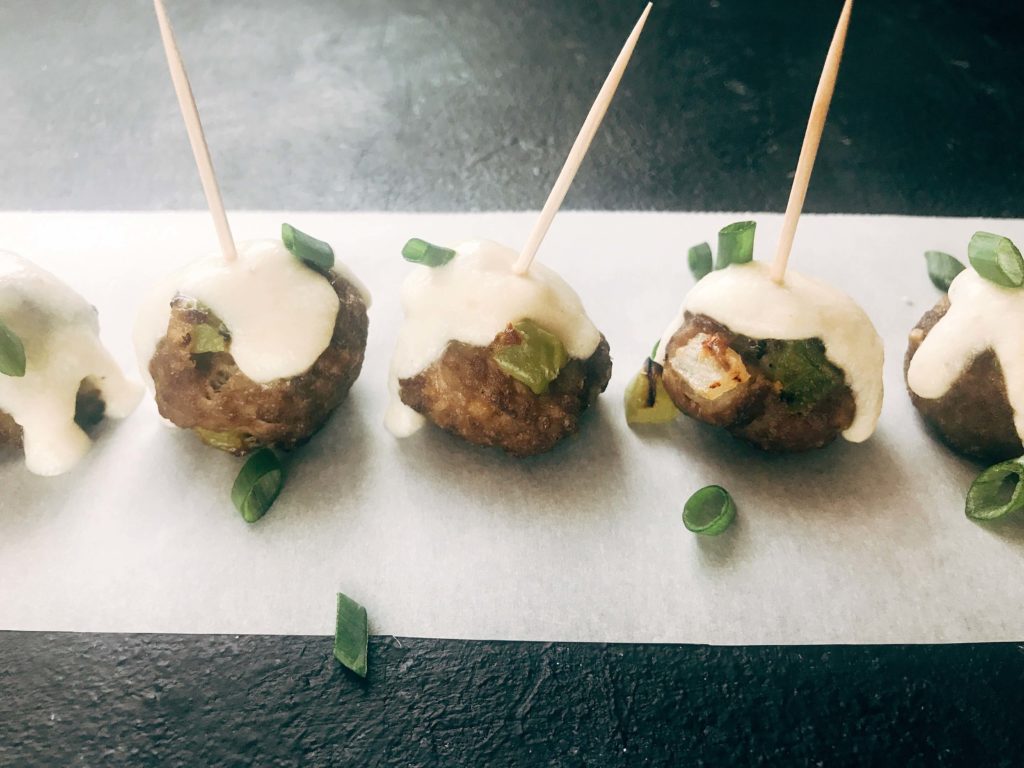 These meatballs are a fun twist on an appetizer or snack!  The beef meatballs are mixed with chopped onions and peppers and served with a provolone cheese cream sauce for dunking.  The Philly Cheesesteak Meatballs are a fun way to enjoy the same flavors of a cheesesteak in a different way.
I love snacks like this for game day, especially Super Bowl watch parties.  I do watch the game, but commercials and half time performances are the best parts!  Snack foods that are filling and delicious are pretty much mandatory for game day, and these are in the regular rotation!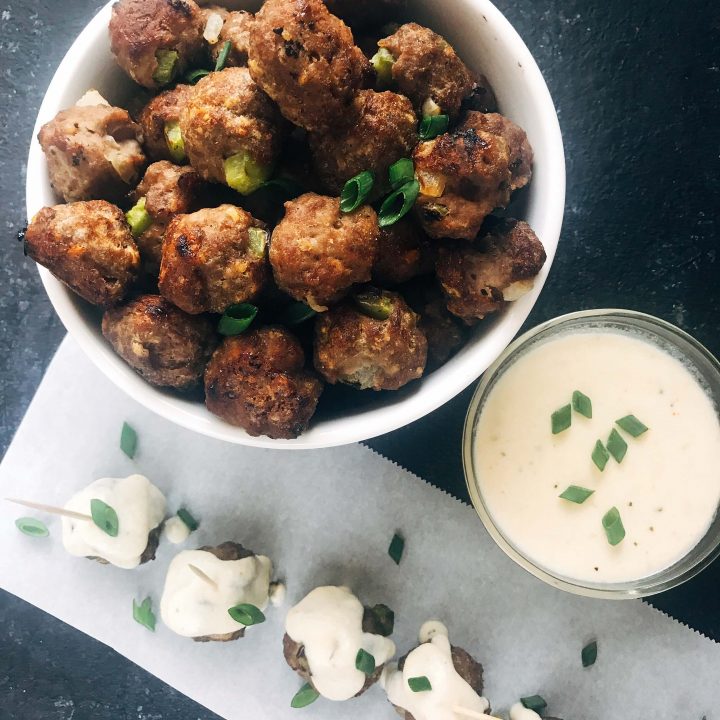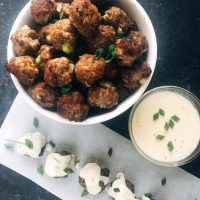 Philly Cheesesteak Meatballs
Classic cheesesteak flavors in meatball form with a provolone cheese dipping sauce
Print
Pin
Rate
Instructions
Preheat oven to 325F.

Cut the crusts off of the bread slices. Blend in a food processor until a breadcrumb consistency. This can also be done by hand but will result in larger pieces and will take longer.

In a medium bowl combine the ground beef, green bell pepper, onion, breadcrumbs, milk, garlic powder, and salt. Mix to combine.

Shape the beef mixture into the meatballs, approximately 1.5 inches in diameter. See notes about size and cooking times. Line the meatballs on a silicone baking sheet or parchment/foil and bake until completely cooked through, approximately 15 minutes.

While the meatballs are cooking, make the cheese sauce. Melt the butter in a small saucepan over medium low heat. When melted, add the flour and whisk to combine. Cook, whisking occasionally, until the roux is a light brown color, approximately 1-2 minutes.

Add the milk and whisk to combine. Turn the heat up to medium heat.

When the milk is warm, add the provolone cheese, salt, and pepper of choice. Whisk occasionally over medium heat until the cheese is melted and the sauce is thickened, approximately 5 minutes.

Serve the meatballs and cheese sauce warm.
Notes
This mixture makes approxiomately 32 meatballs when 1.5 inches in diameter before being cooked.  Meatballs 1.25 inches in diameter (very small size) will make approximately 40 meatballs.

If you use a ground beef that has a higher fat content, the meatballs will shrink more.

It is recommended to cook ground meats all the way through for safety.

By