A fresh and simple salsa that everyone will request! Perfect as a fresh dip or topping for Mexican food.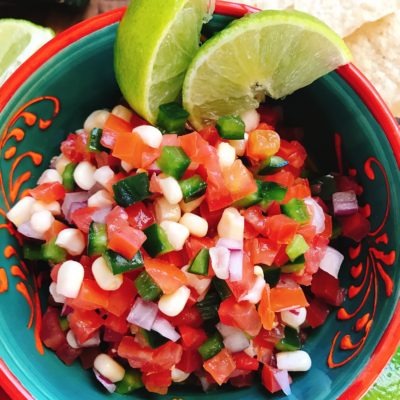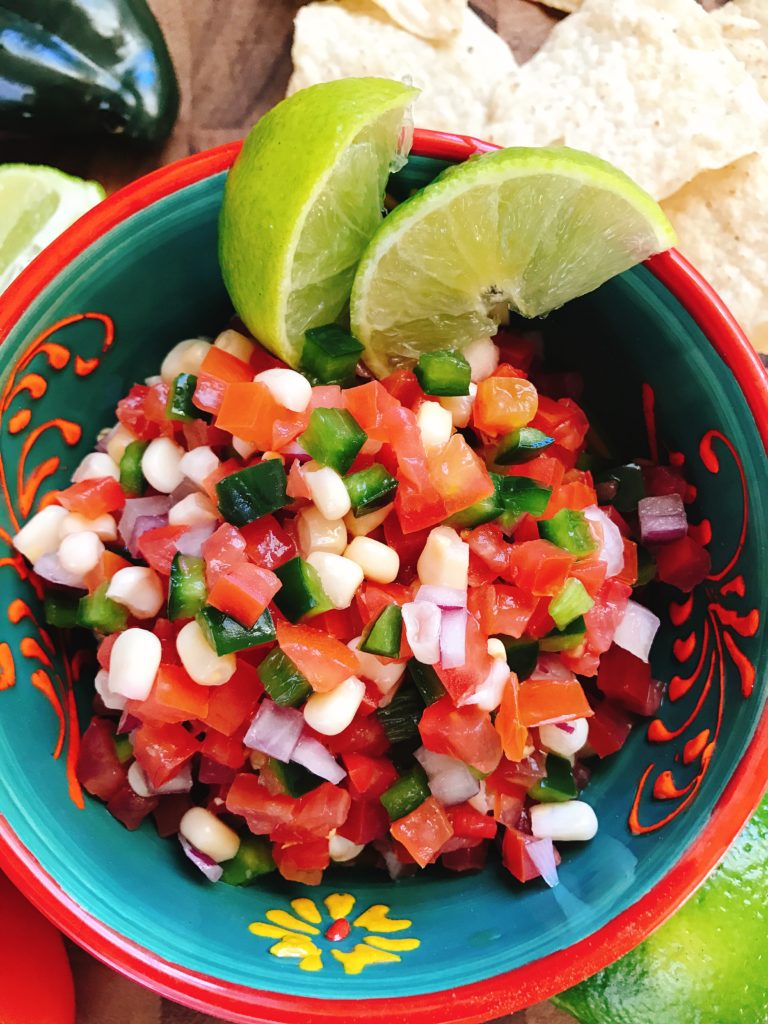 Pico de gallo is one of my favorite things to make for game day, snacks, parties, and to accompany Mexican night.  It is taken with us when we go camping and tailgating.  I am probably asked to make this pico more than anything else that I make.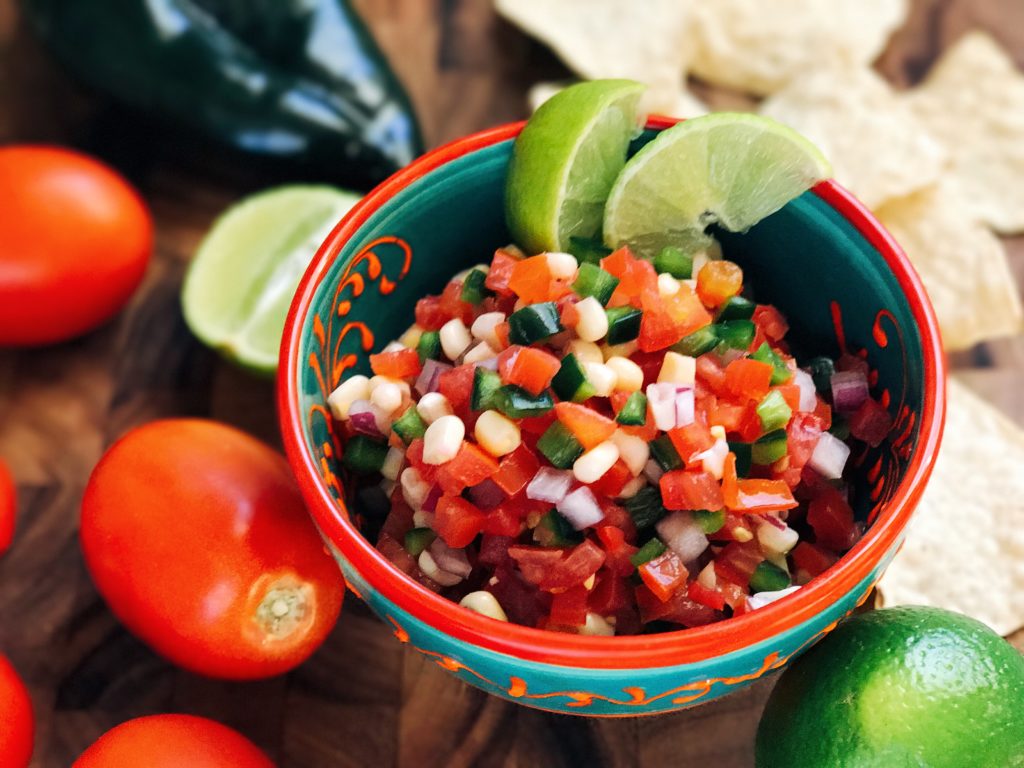 I make this regularly for various pot lucks and events.  My co-workers at a previous job would sign me up to bring this and then tell me, "By the way, I signed you up to bring your pico!"
Typically at our Super Bowl parties, I would bring this and something else.  One year I decided not to make the pico de gallo for another idea that I had, and people came up to me asking "Where is the pico?!?" and saying "I have been waiting for that pico!"  So, needless to say, I will never not make this pico for Super Bowl parties ever again.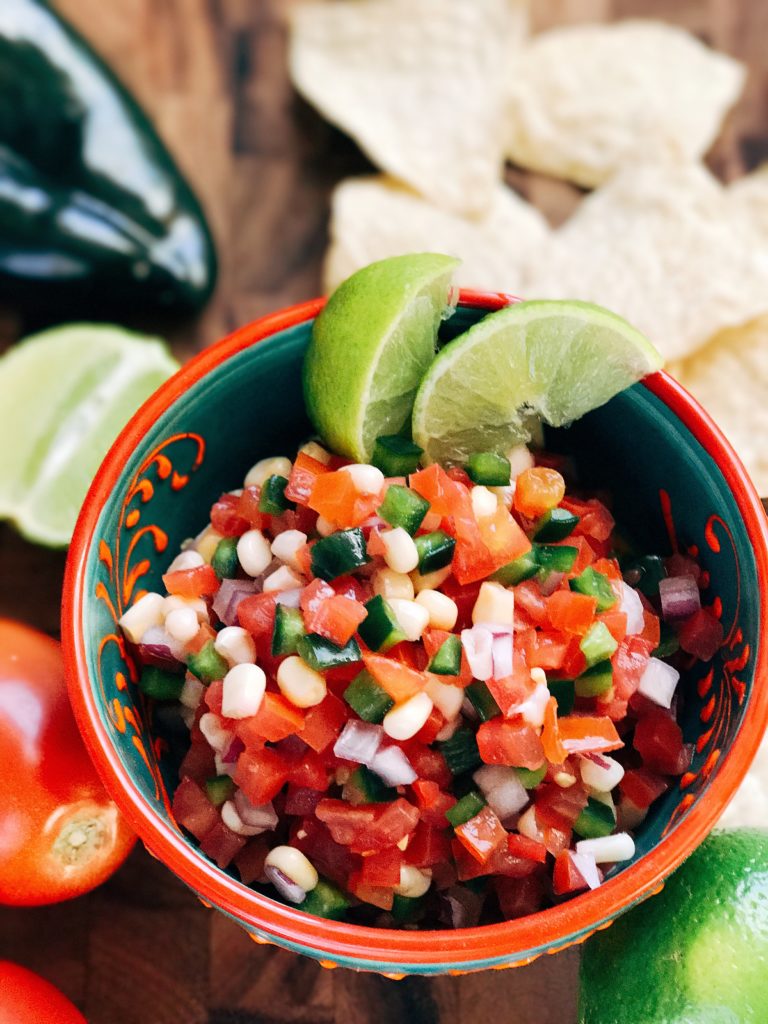 It is very easy to make this salsa, but a little tedious in getting everything chopped, especially if you are making a large batch.  That is where a handy tool for chopping is fantastic!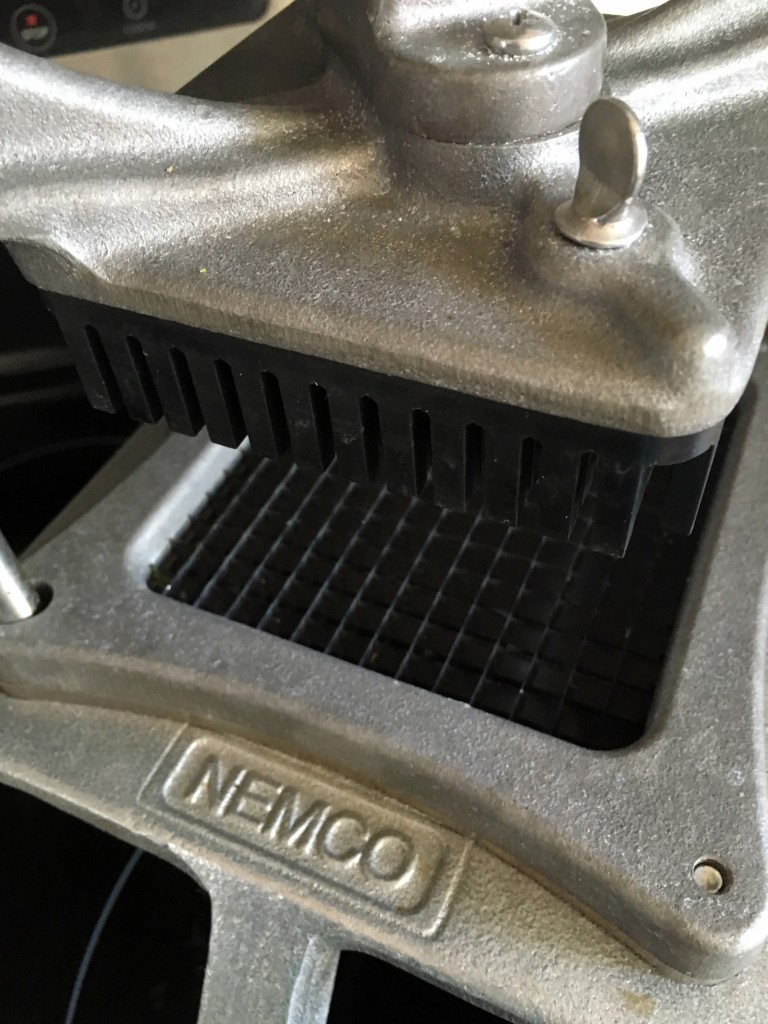 Mine is a commercial kitchen version as it was something I came across when I worked in restaurants and fell in love with.  There are different blades that can be switched in.  But you can also find smaller versions meant for your home kitchen as well that do the same thing without going industrial.  These affiliate links are great options with this spring loaded one or this motorized one that also has an immersion blender attachment.  I love this chopper!  It saves me sooooo much time making the pico and everything comes out in these perfect, uniform pieces.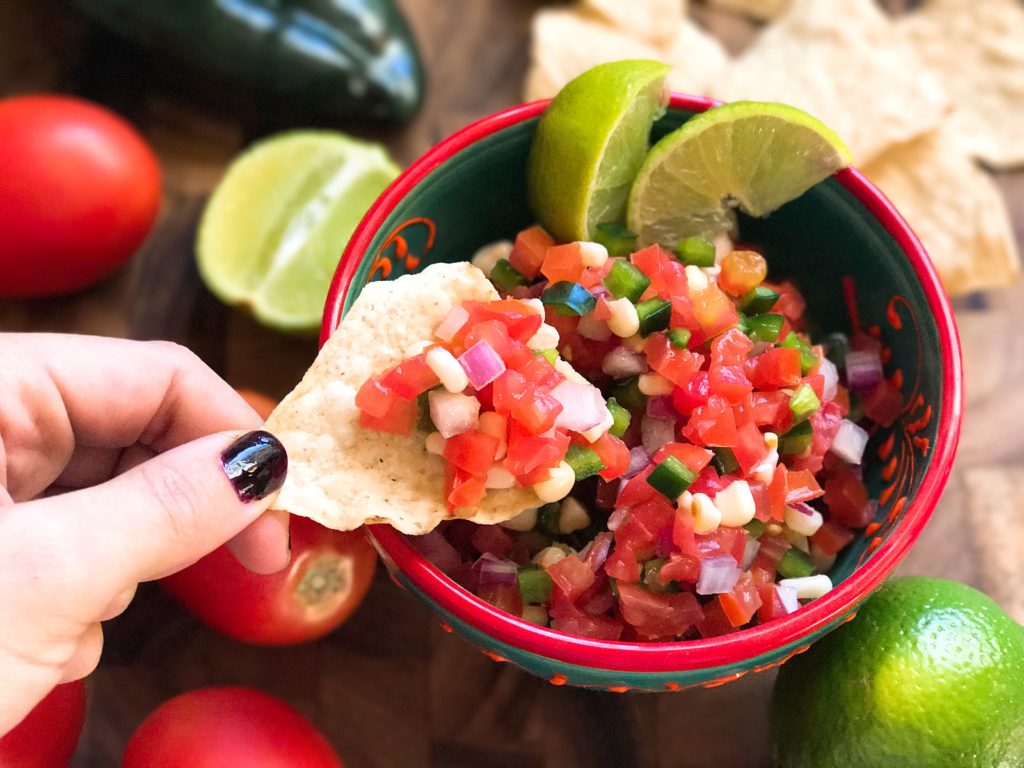 You can easily make this the day before which gives it more time to marinate and for the flavors to meld.  I like the pico best on Day 1 but my husband likes it on Day 2 (if it lasts that long!).  Customize it with black beans, avocado chunks, spicier peppers, and more!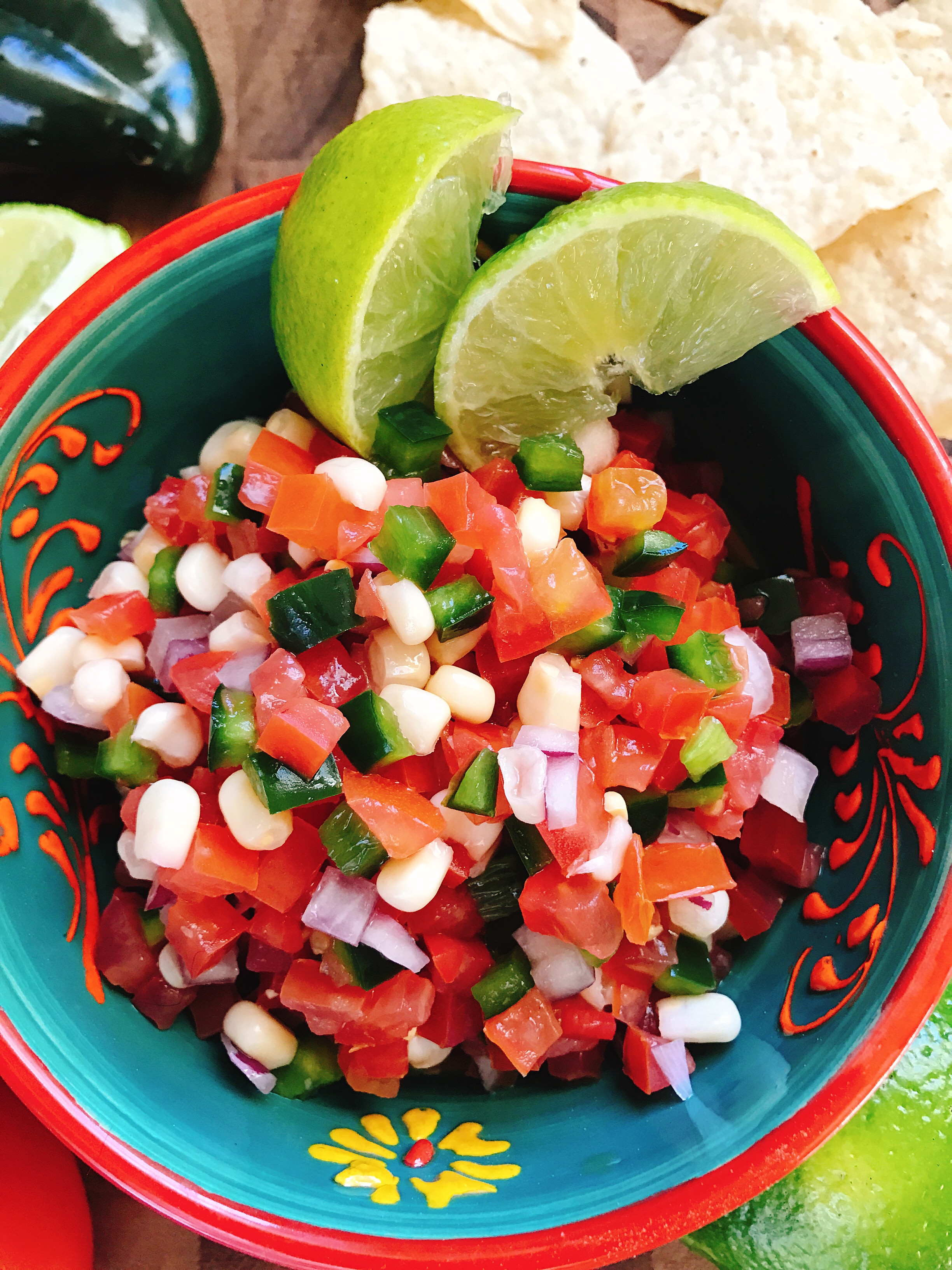 Instructions
Chop your tomatoes into a small dice and discard the guts, leaving just the flesh. Place into a large bowl.

Chop your red onion into the same size and add to the tomatoes.

Cut your jalapenos into a small dice and add to the tomatoes. If you want a milder heat, remove the seeds and white ribs as this is where most of the heat is. If you leave them in, each bite will have more heat from those parts.

Add the corn kernels to the mixture.

Chop the cilantro by hand and add to the bowl. Mix.

Juice the limes into the tomato mixture and add the salt. Mix again.

Refrigerate the pico for at least two hours or until chilled. This can be done overnight. The longer it sits, the salt will pull moisture out of the tomatoes and make a sauce. You can choose to make this in advance and add the salt just before serving to minimize the moisture that comes out.
Notes
After adding each ingredient, watch for the ratio.  I like for there to be a good mix of everything.  It is important to add the jalapeno before the cilantro so that it is easier to identify how much jalapeno is in the mix since they are both green.
Double this recipe for a large batch to feed a crowd.
Follow these links for your own chopper, like this spring loaded one or this motorized one that also has an immersion blender attachment.
Nutrition
Serving:

1

cup

|

Calories:

135

kcal

|

Carbohydrates:

31

g

|

Protein:

5

g

|

Fat:

1

g

|

Saturated Fat:

1

g

|

Polyunsaturated Fat:

1

g

|

Monounsaturated Fat:

1

g

|

Sodium:

167

mg

|

Potassium:

1036

mg

|

Fiber:

7

g

|

Sugar:

14

g

|

Vitamin A:

3118

IU

|

Vitamin C:

72

mg

|

Calcium:

62

mg

|

Iron:

1

mg

By