This simple marinated steak is perfect for summer BBQ grilling or as a camping dish.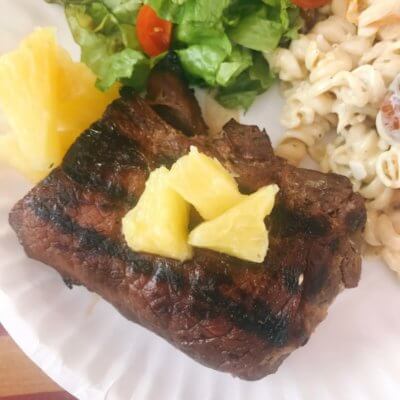 This shop has been compensated by Collective Bias, Inc. and its advertiser. All opinions are mine alone. #KickinItWithKikkoman #CollectiveBias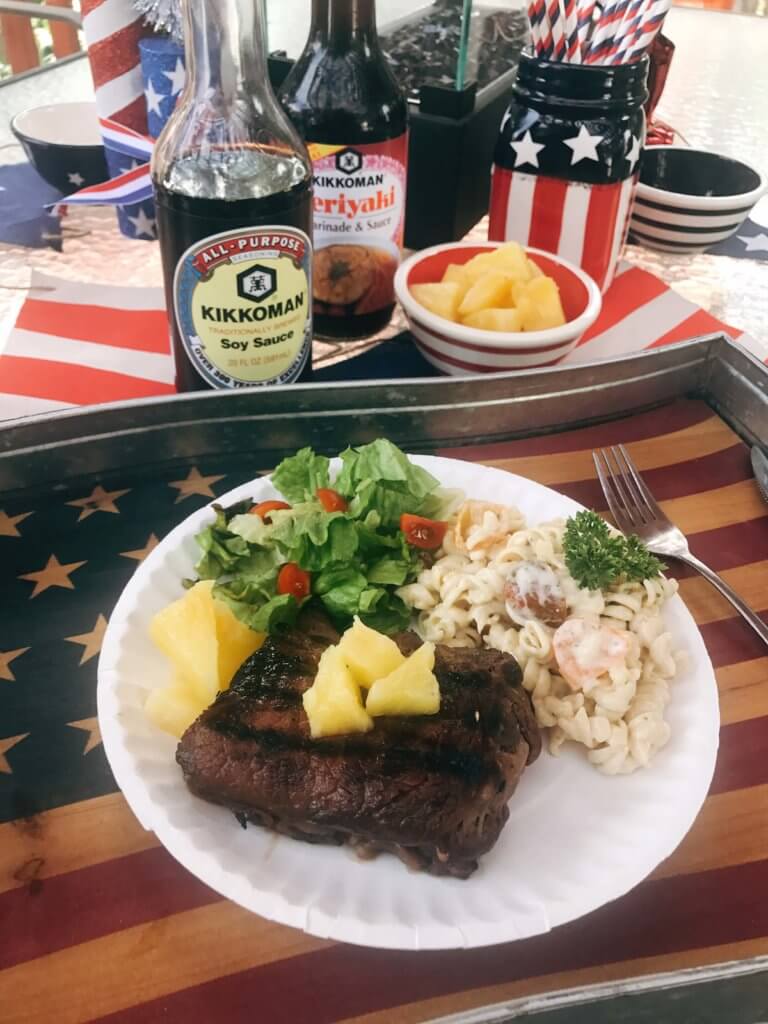 Pineapple Soy Steaks are something that my husband's family often make when grilling or camping.  They are so easy to make and full of flavor.  What more could you ask for?
This is one of my favorite go-to recipes for celebrating the 4th of July!  It is so incredibly simply and easy to make these Pineapple Soy Steaks so they are perfect to feed a crowd.  Since the steaks taste better when they have longer to marinade, due to the pineapple acidity tenderizing the meat, I love to throw it all together the day before.  Just let it hang out in the refrigerator until it is grilling time!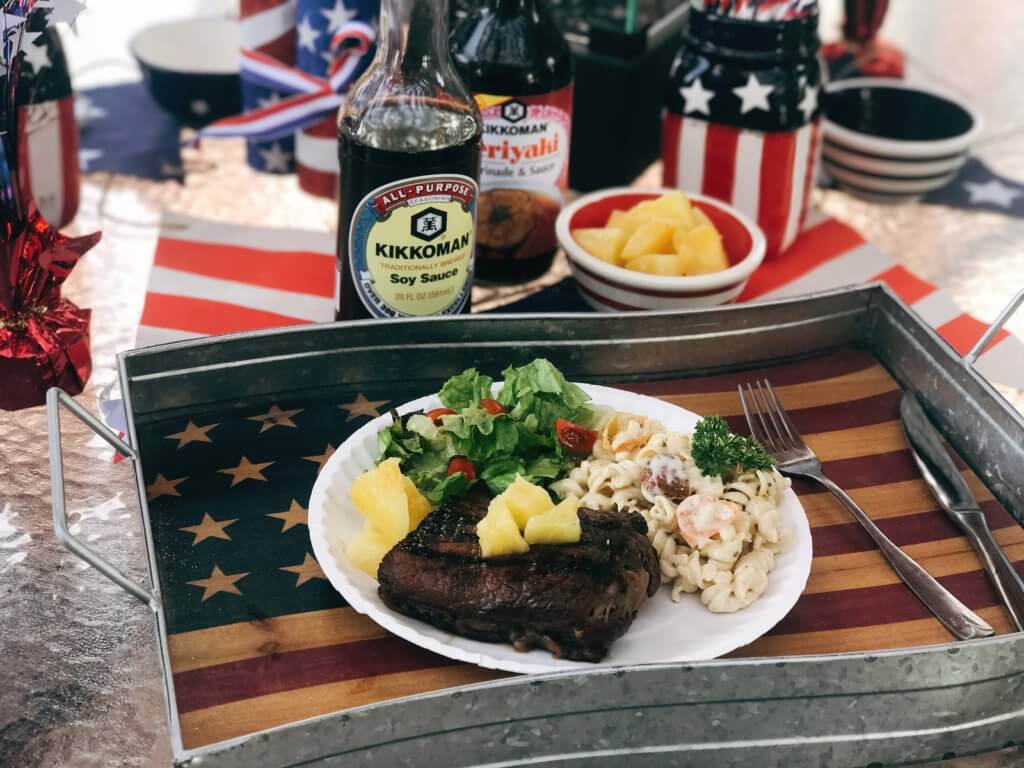 4th of July is one of my favorite holidays.  I love being at a BBQ or grill out, surrounded by a lot of great food and company, enjoying the weather.  Although here in Colorado our weather tends to be….unpredictable.  So it does tend to rain here and there, but luckily it is short lived!  After a leisurely night of eating and relaxing, the mandatory fireworks show is the perfect way to end the day.  Because these Pineapple Soy Steaks are so simple, we can take them anywhere that the 4th may lead us that year.  Whether at our own house, a cabin, camping,. or tailgating before a game.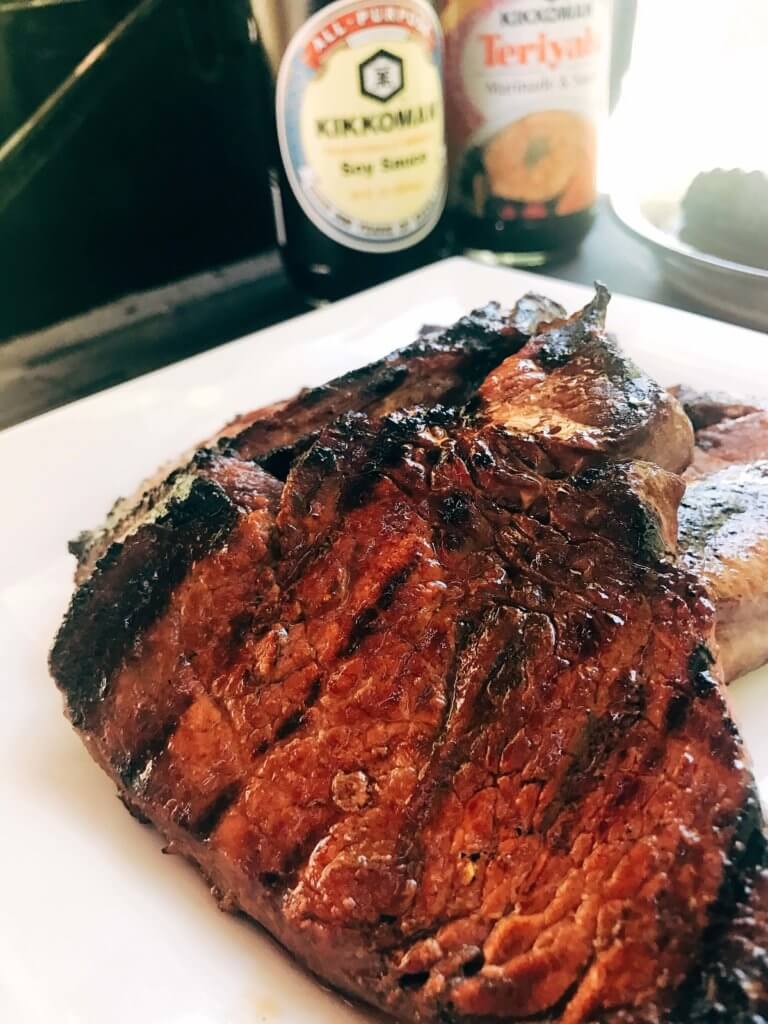 My favorite soy sauce to use around here is Kikkoman's® Traditionally Brewed Soy Sauce because  it balances and rounds out flavors as a major "umami" taste flavor enhancer.  I love using it not just for Asian marinades or sauces, but also for grilling recipes and day-to-day recipes.  Click here for more grilling and recipe inspiration!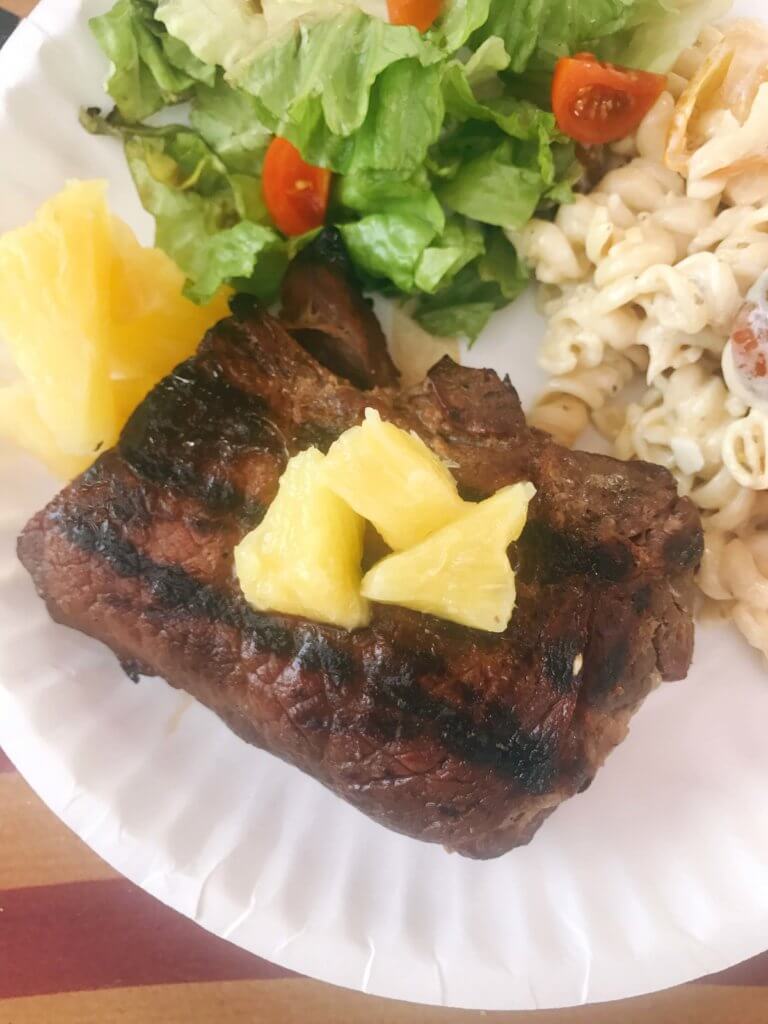 There are only a few ingredients required to make Pineapple Soy Steaks and you can pick them all up at the same time from your local Walmart.  Kikkoman® Soy and Teriyaki Sauces are easy to find in the Asian or International section of your Walmart.  I love to grab the bigger bottles because they are perfect for marinating like this!  You can also use their Kikkoman® Less Sodium Soy Sauce to cut down on sodium without missing out on any flavor.  Grab a coupon for Kikkoman's® Soy and Teriyaki Sauce here!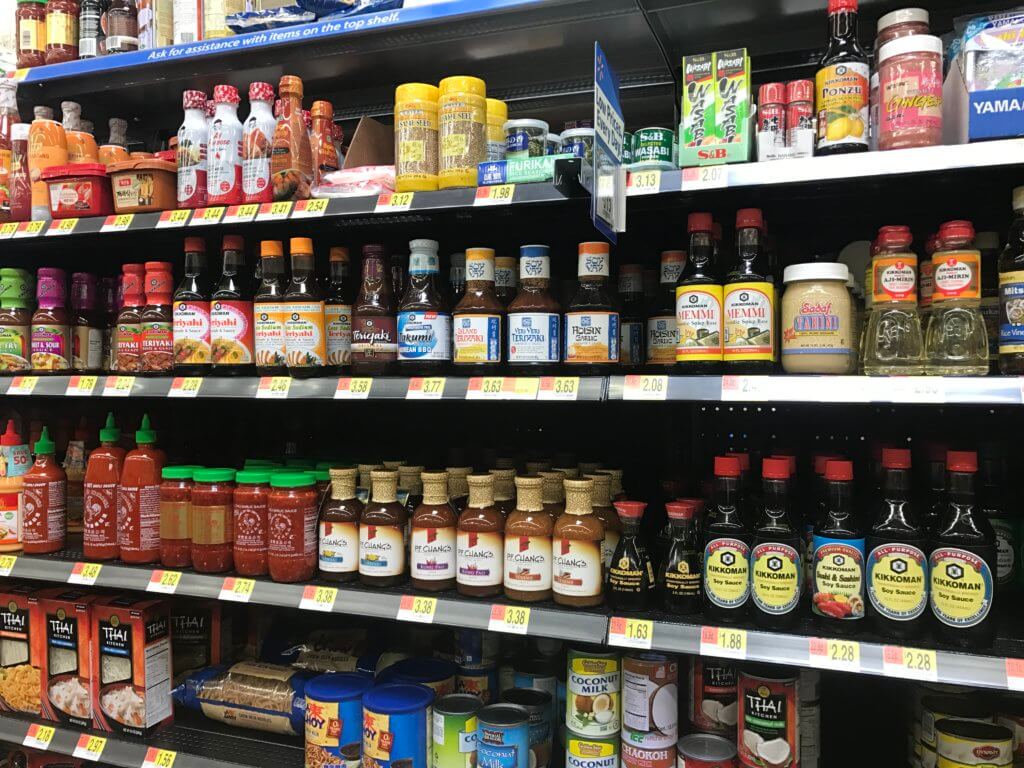 To make Pineapple Soy Steaks, simply prep your steaks by cutting them into your desired portions.  We tend to go with approximately 8 oz (1/2 pound) per person.  Mix the pineapple juice, Kikkoman® Soy Sauce, ginger slices, lime juice, and brown sugar in a large baking dish or resealable bag.  Add the steaks and mix everything to coat.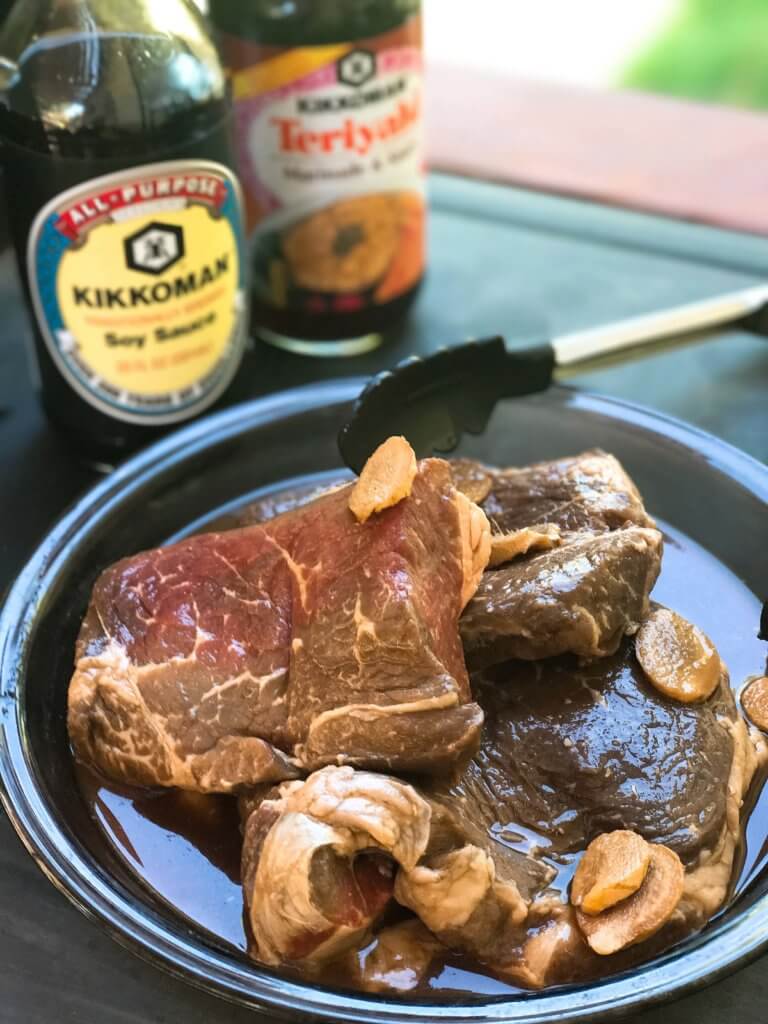 Let this marinade for at least one hour, but it is best if you can leave it overnight.  The acid of the pineapple helps the meat tenderize while all of the delicious soy flavors seep into the steaks.  When you are ready to grill, just remove the steaks from the marinade and go!
The thickness and exact heat of your grill will make the cooking time vary, so the best way to ensure a perfect cook is to use a thermometer on the inside of the steak.  The approximate cook time for different levels of doneness is 3-5 minutes for medium rare (135F), 5-7 minutes for medium (140F), and 7-10 minutes for medium well (150F).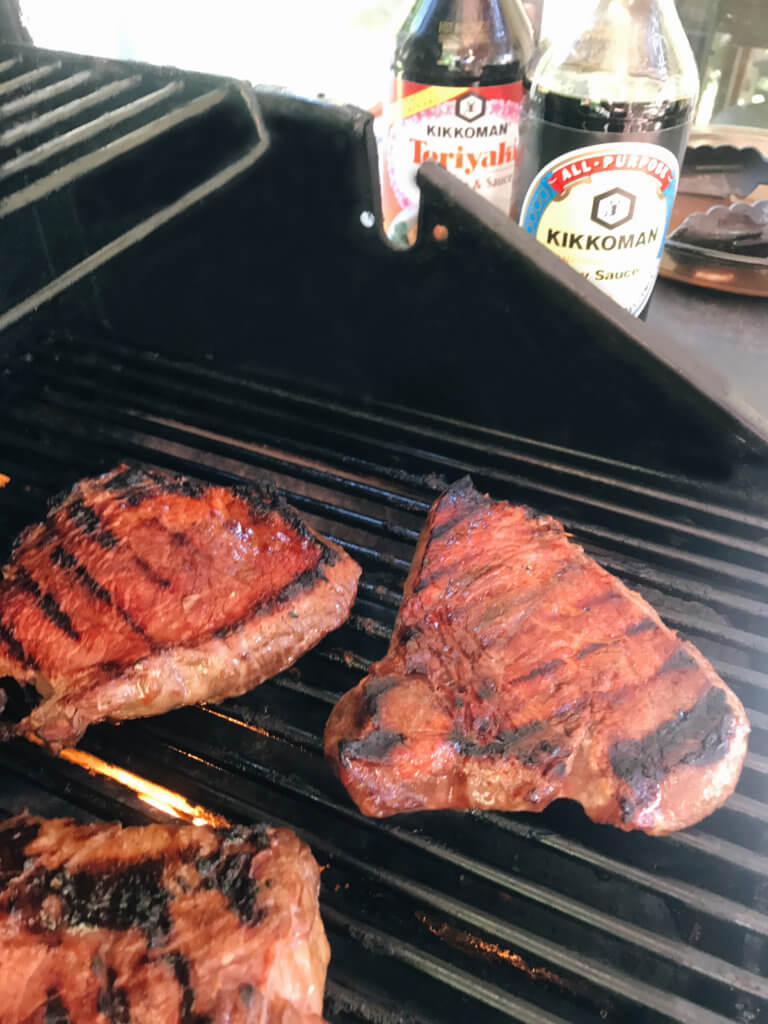 And since these Pineapple Soy Steaks are so versatile, they will work with all of those different side dishes that everyone brings to a cook out.  We personally love to eat them with pasta salad, baked potatoes, and corn.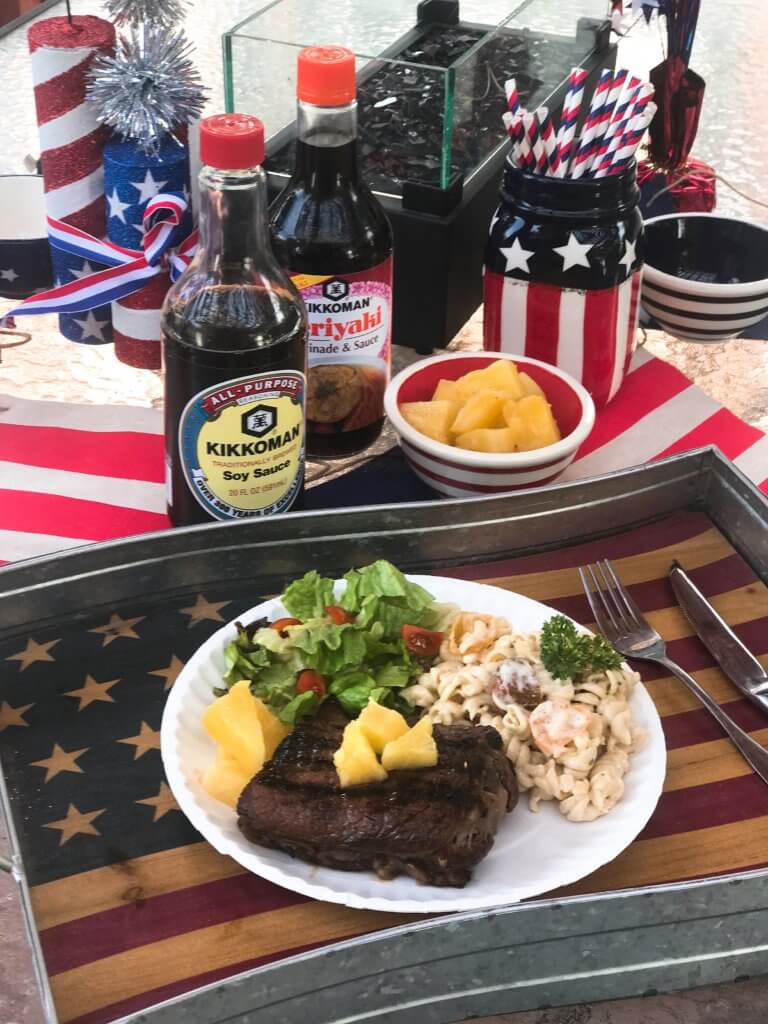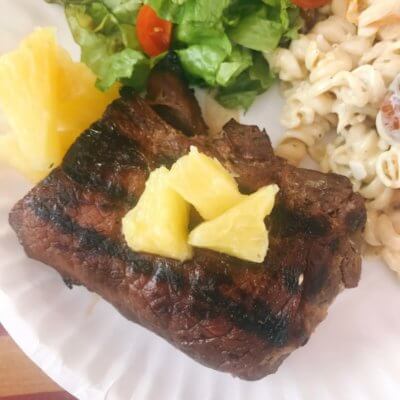 Pineapple Soy Steaks
This simple marinated steak is perfect for summer BBQ grilling or as a camping dish.
Print
Pin
Rate
Instructions
Slice the ginger root into thin coins. You can leave the skin on.

Combine the pineapple juice, Kikkoman® Soy Sauce, ginger pieces, and juice of 1/2 lime in a large baking dish or gallon sized resealable bag.

Cut the steak into 8 oz portions. Add the steak to the marinade mixture.

Refrigerate the steaks in the marinade for at least one hour, or up to overnight. The longer the better as the acid of the pineapple juice will tenderize the meat.

When ready, remove the steaks from the marinade. Grill the steaks over medium heat until they reach your desired doneness. This will vary with the thickness of the steak, approximately 5-7 minutes per side for medium (140F). Use a thermometer to check the internal temperature for doneness.
Notes
This steak goes well with most any sides.  We love to serve it with pasta salad, potatoes, and corn.

The approximate cook time for different levels of doneness is 3-5 minutes for medium rare (135F), 5-7 minutes for medium (140F), and 7-10 minutes for medium well (150F).  This will vary based on the thickness of the steak and the heat level.  Use a thermometer for best results.

By