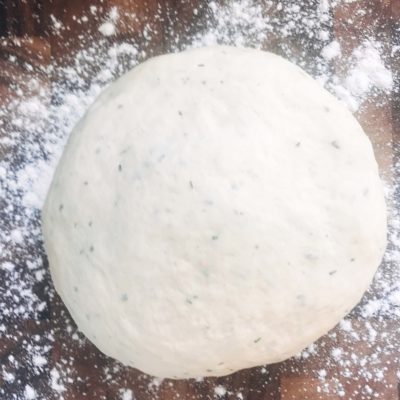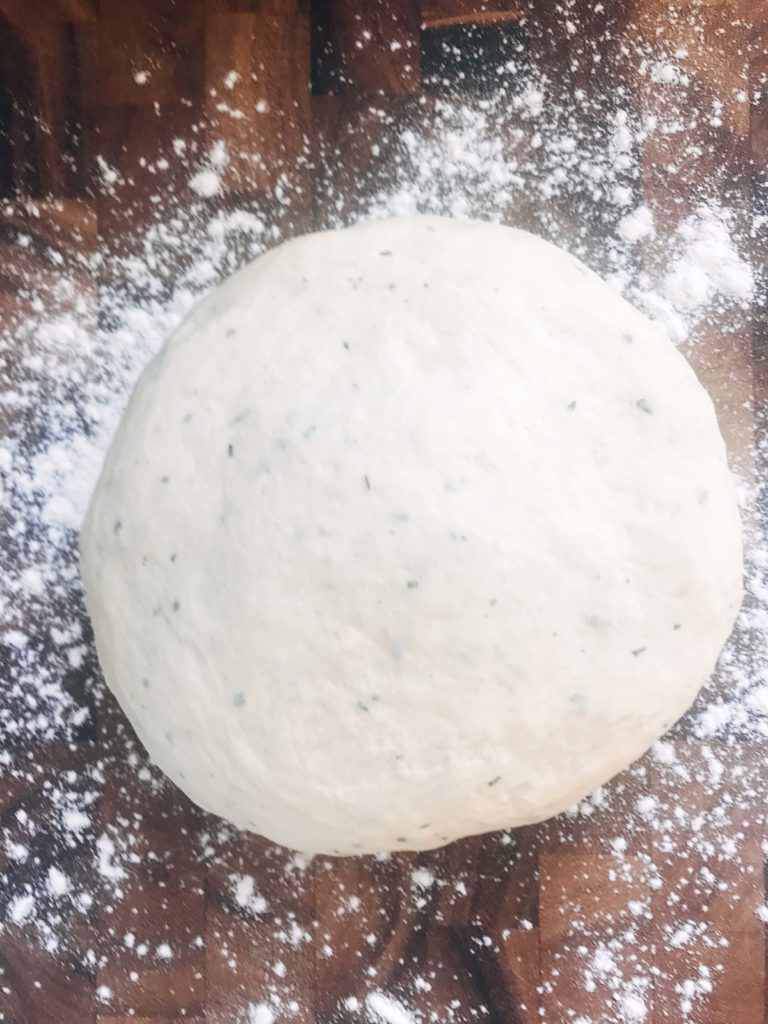 A good pizza requires a good crust, and that means lots of flavor.  I love to use this Ranch Pizza Crust as a flavorful dough base for fun pizzas!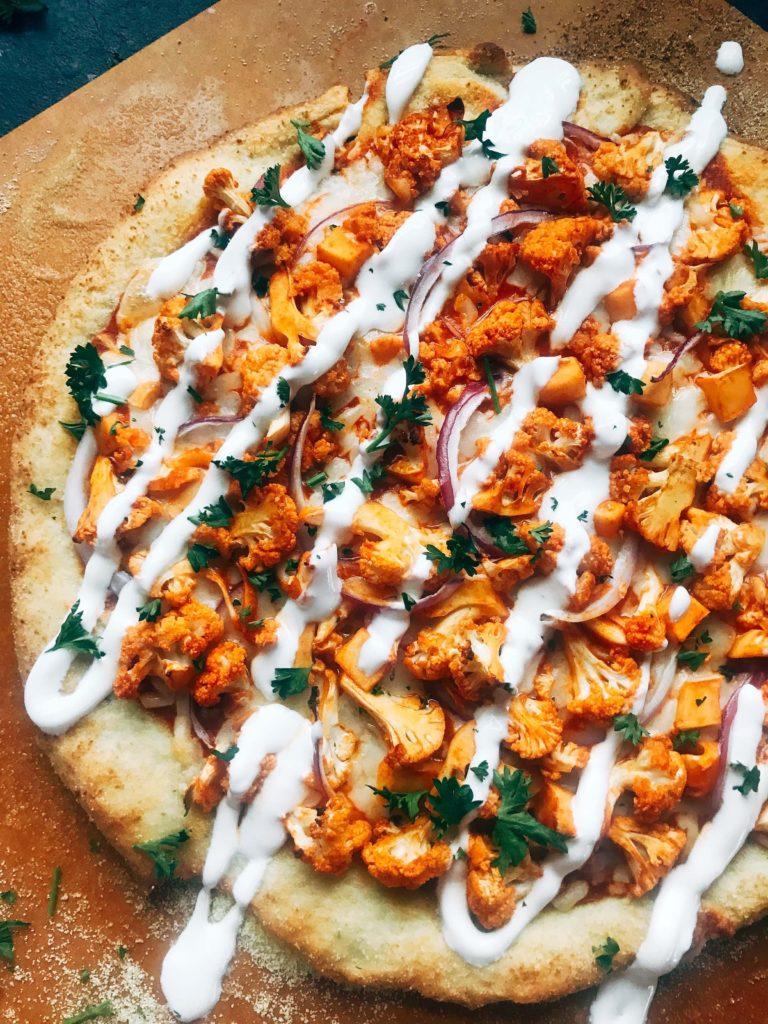 This post contains affiliate links.
This Ranch Pizza Crust is the perfect foundation for any flavor combination that you want to throw on it.  The dough is full of ranch flavors and I especially love to use it for buffalo flavored pizzas, like our Vegetarian Buffalo Cauliflower Pizza or Buffalo Chicken Pizza.
This dough does freeze well.  You can freeze it raw, either in a ball or crust shape, but it tends to do best if it has been at least par-baked.  Par-baked is when the dough is cooked for just a few minutes without any sauce or toppings.  This helps make sure the dough is not raw when the pizza is done.  I like to par bake my crusts, add the sauce, cheese, and toppings, and then freeze that way in large resealable bags or wrapped in plastic wrap (without baking with all the toppings).  Then let it thaw completely before baking as normal, and it turns out great!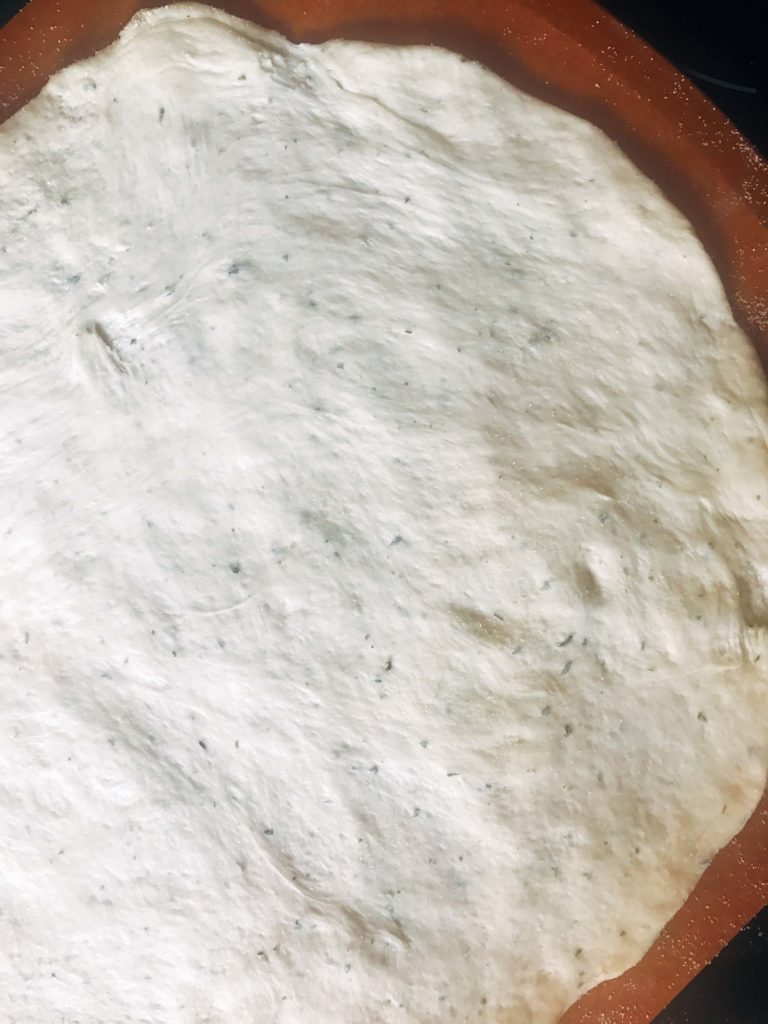 The Ranch Pizza Crust dough does need a little prep time as it has to sit to rise, but other than that it is so incredibly easy and tastes SOOOOOO GOOD!
I make pizzas with a stone that goes in my oven and I use a handy pizza peel that you see in the pictures.  (This pizza peel is pretty close to what I have, and this pizza peel is just GORGEOUS).  I think it is worth it to have these gems because the stone makes my pizza crisp up beautifully and the peel makes it so easy to get the dough/pizza in and out of the oven.  But you can also use a plain cookie sheet if you want.
One batch will make either two thin crust 12″ pizzas or one thick crust.  I always go for the thin crust as I like to make my pizza all about the toppings and sauce without too much dough getting in the way.  Do you prefer thick or thin crust pizza?
If you do a thicker crust, you will want to blind bake it (the first step of baking without the toppings on it) longer to make sure that it cooks all the way thorough and you do not end up with a doughy center.  And as always, the exact times will vary with your oven since each one seems to be a snowflake and cooks differently than all the rest, so just keep an eye out as you go along to make sure nothing is burning.
Find the rest of our pizza recipes here!  From dough to sauce to toppings, we have you covered.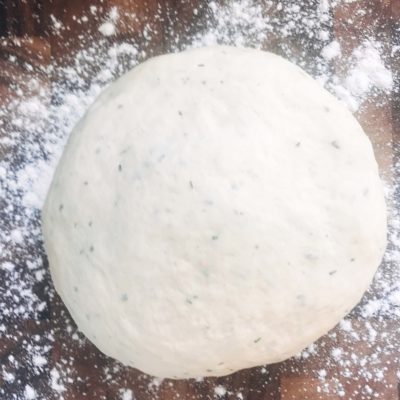 Instructions
In a large mixing bowl combine the water, yeast, honey, and olive oil. Stir to combine and let it sit until it starts to foam, approximately 5 minutes.

Add the ranch seasoning mix to the yeast mixture. Add 1 1/2 cups of the flour, mixing gently until incorporated. Add the flour a little at a time until the dough is a little sticky and smooth. You will likely not need all of the flour.

Remove the dough and knead on a floured surface for 3-5 minutes until the dough is still a little tacky but smooth. You will know it is done when you press on the dough and it bounces back. You can also stretch it while holding it up, and you should be able to make it very thin where you can see light through it without it breaking.

Cover the inside of the large mixing bowl with some more olive oil. Put the dough in the oiled bowl and turn dough to coat with the oil. Keep the dough in the bowl and cover with plastic wrap. Let sit in a warm place for approximately 90 minutes until the dough is doubled in size.

When you are ready to start making the pizza, place your pizza stone (or a large baking sheet) in the oven on the center rack. Preheat to 450F.

Dust your pizza peel with some cornmeal. The cornmeal will give the crust a great texture and bite while also preventing it from sticking to the surface you are working on. Cut the dough in half for two thin crust pizzas.

Roll out one piece of the dough to your desired size, approximately 12" is what I aim for, on the pizza peel and make sure that the size and shape will fit onto your stone or cooking sheet that is in the oven.

Using a fork or knife, poke holes in the dough everywhere except for the crust edge. This will allow air to escape and prevent the dough from bubbling up too much.

Make sure that the dough is loose on the pizza peel by shaking it gently. The dough should move around. If the dough is sticking anywhere, pull up that area and throw some more cornmeal under it until nothing is sticking.

When the oven is done preheating and you are at 450F, open the oven door and throw some cornmeal onto the stone or sheet. Use the pizza peel to shimmy the dough onto the stone/sheet. If you have the cornmeal under the dough, this should be rather easy to do.

Blind bake the dough (without toppings or sauce) for approximately 5 minutes. Pull out the crust using your pizza peel when the dough is not soft to the touch anymore and it is just barely starting to get some color on it.

Brush the crust edge with some olive oil and sprinkle with some garlic salt, parmesan, and/or oregano to give it some flavor.

Add your sauce and toppings. Put the pizza back in the oven and cook approximately 10-12 minutes longer until the cheese is melting and starting to brown. Let the pizza rest just a couple minutes before serving.
Notes
Remember that the exact cooking times will vary based on your oven, so watch the dough along the way to make sure that it is not getting too dark or is too raw.
I do not add salt because there is salt in the ranch seasoning mix.  If your mix does not have salt, add 1 teaspoon of salt.
Nutrition
Serving:

1

crust

|

Calories:

827

kcal

|

Carbohydrates:

161

g

|

Protein:

21

g

|

Fat:

9

g

|

Saturated Fat:

1

g

|

Polyunsaturated Fat:

2

g

|

Monounsaturated Fat:

5

g

|

Sodium:

1075

mg

|

Potassium:

240

mg

|

Fiber:

6

g

|

Sugar:

9

g

|

Vitamin C:

0.1

mg

|

Calcium:

33

mg

|

Iron:

9

mg

By