A fun cocktail popsicle featuring raspberries and rosé wine. A twist on Frosé!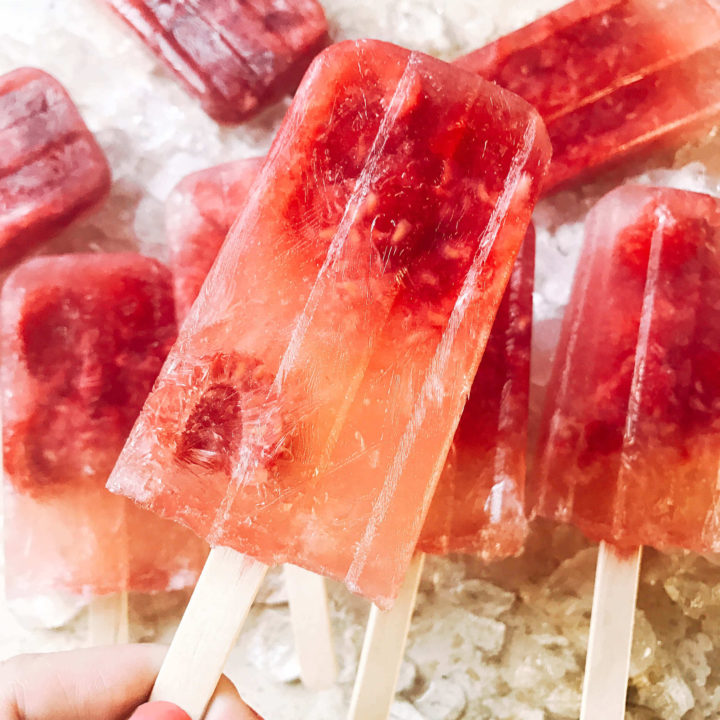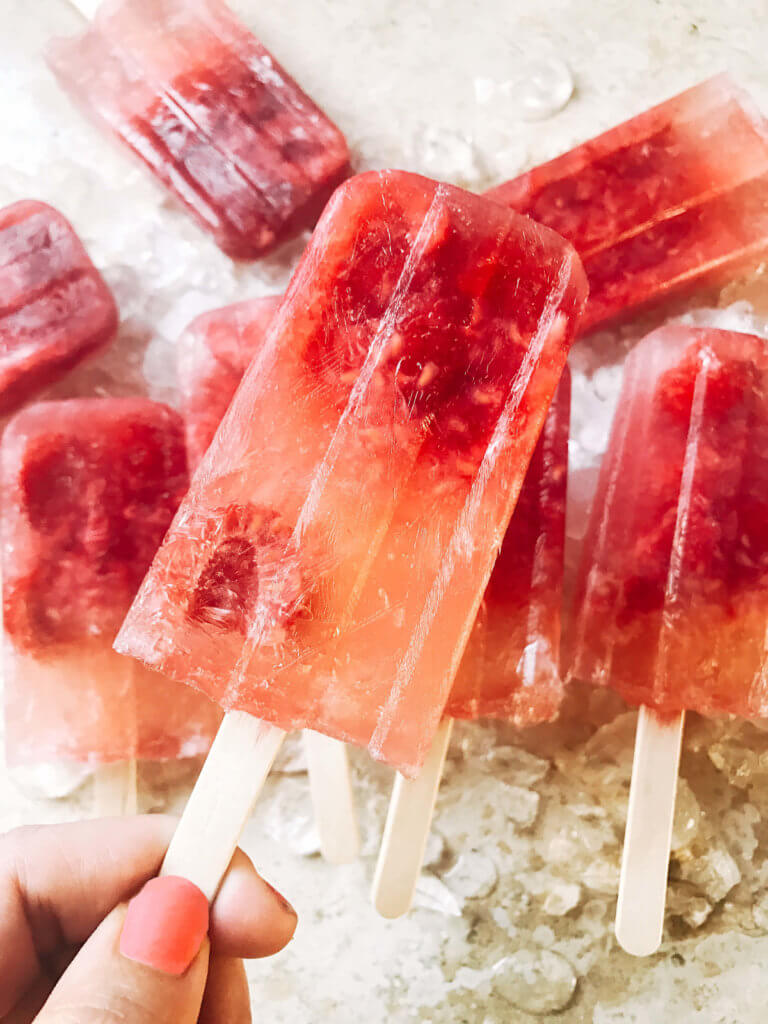 Frosé has been all the rage lately, which is frozen rosé wine with some other goodies. These Raspberry Rosé (Frosé) Popsicles are a twist on that trend in an easy to eat and fun way! Plus, I mean, frozen wine is always a good idea.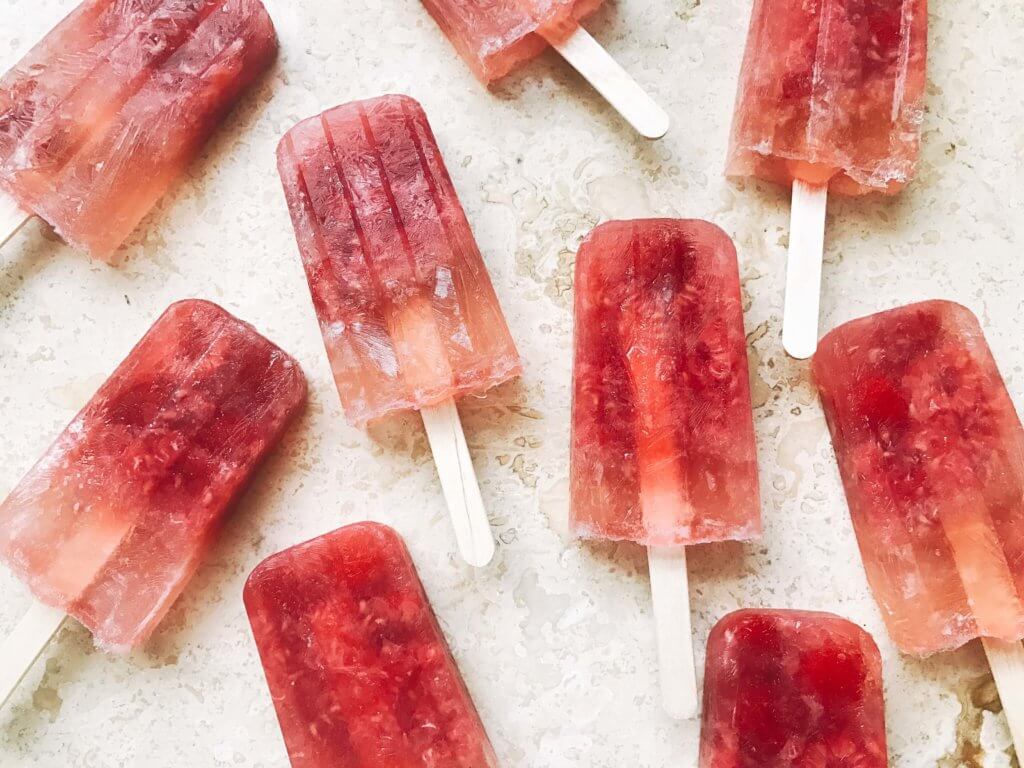 This post contains affiliate links.
Rosé takes longer to freeze than a traditional popsicle because of its alcohol content, so I recommend freezing them overnight or all day just to make sure they are solid and ready for when you need them.
I love this classic popsicle shape and look. Plus, no need to keep track of all those silicone sticks and pieces! You can find this classic popsicle mold here which makes 10 popsicles.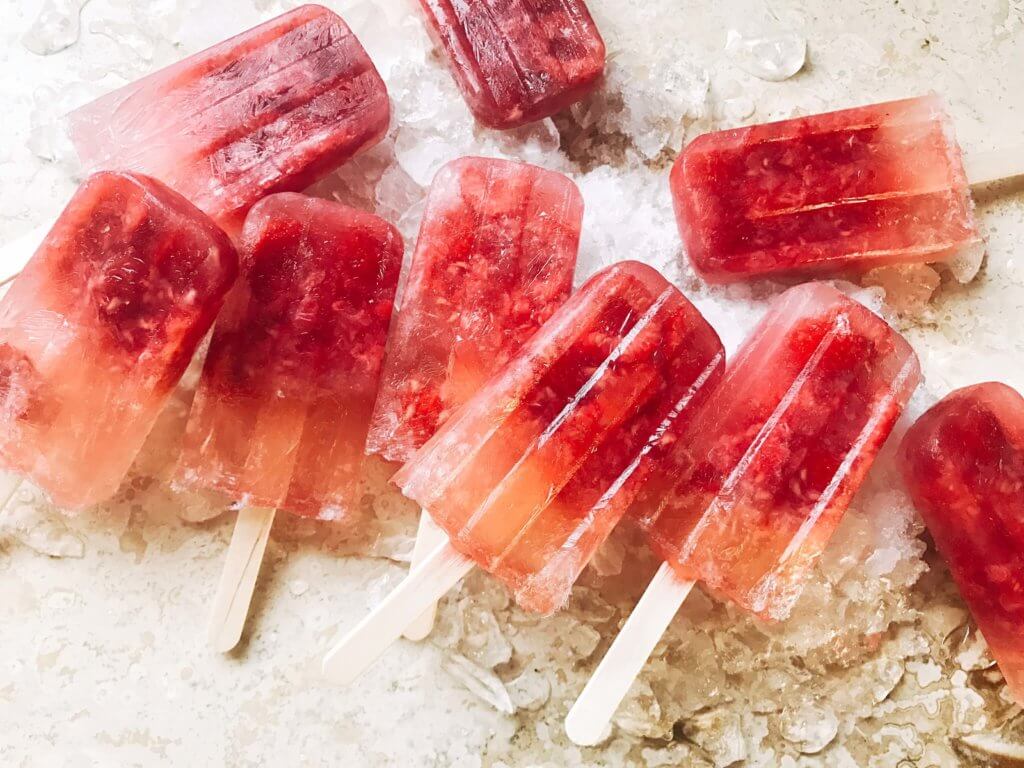 Have you seen this latest trend where you put a popsicle in a glass of wine or sparkling wine? Throw these Raspberry Rosé (Frosé) Popsicles in a glass of the same rosé for an extra special treat!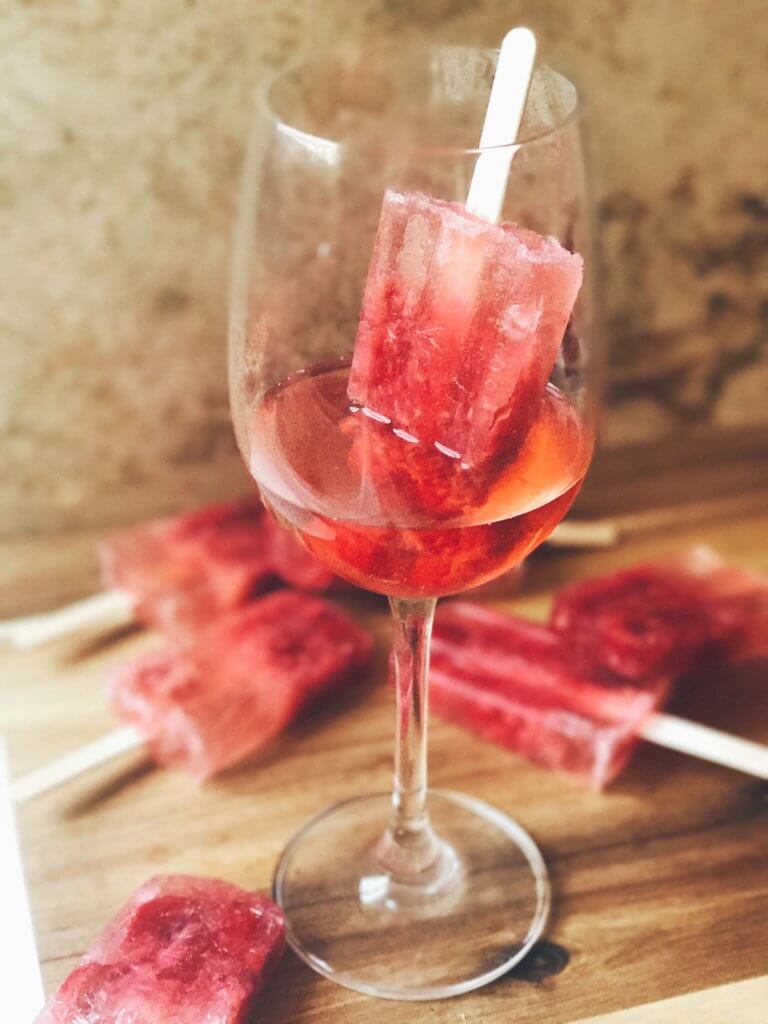 The raspberries tend to sink due to their weight, so if you are freezing these during the day I suggest using the sticks to pull the raspberries up every once in a while in an attempt to get some floating toward the stick end of the popsicle. Same goes for the raspberry puree. I waited around 3 hours before I added it, and it still sunk on most. For more of a floating effect, I would add the puree when the popsicles are in a slushie state so that the ice crystals support the weight of the puree. Alternatively, you can also add it after they have completely frozen to get a layer of raspberry puree at the stick end. So many options, it is up to you!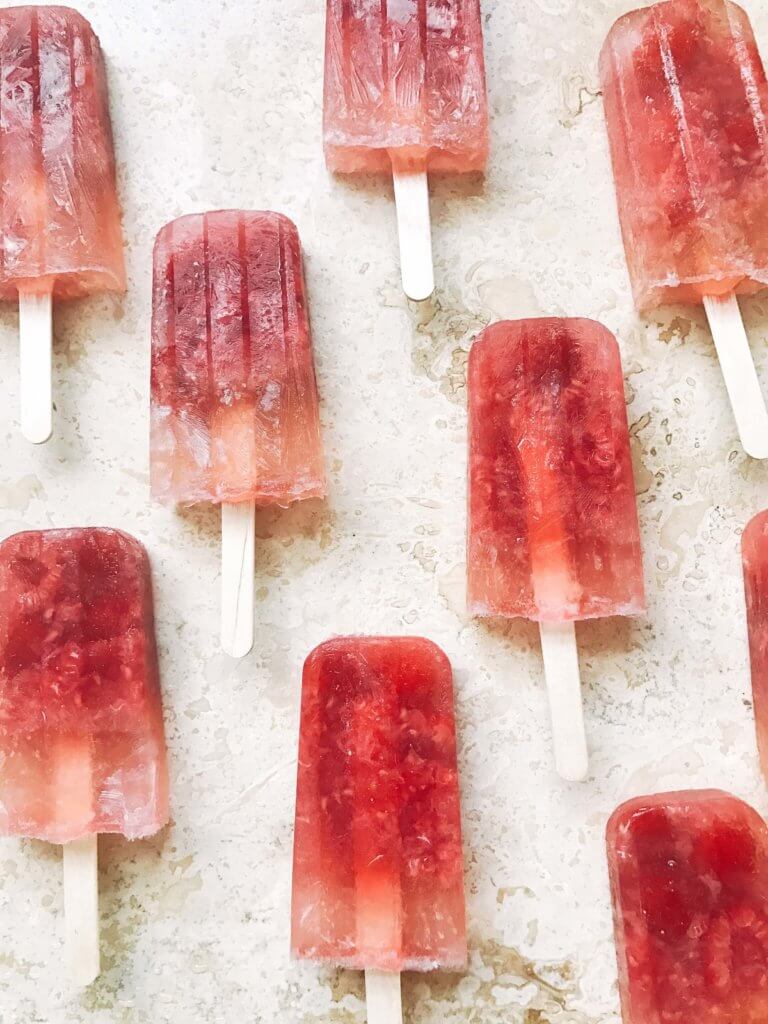 Raspberries can be a little tart, so this would also be fantastic with strawberries! What poptail would you make?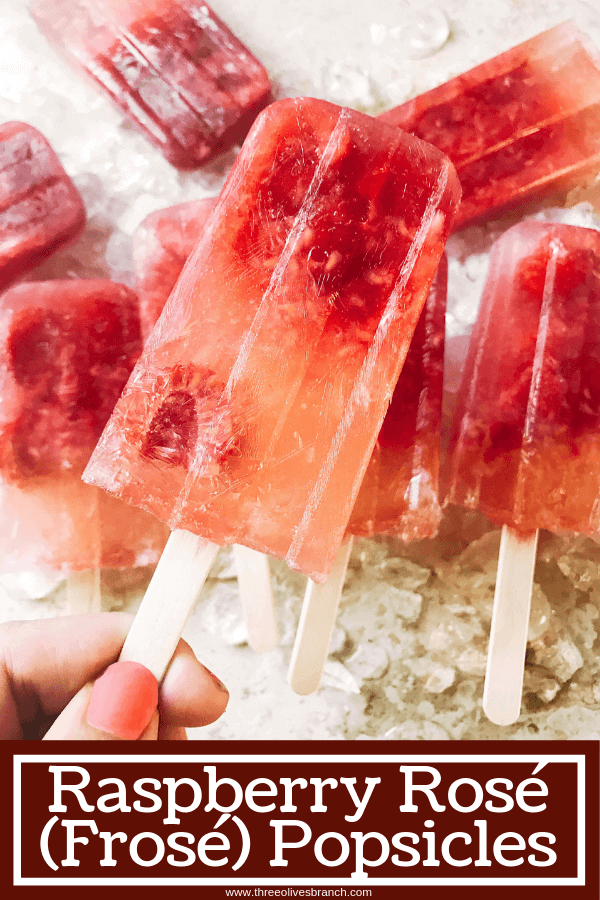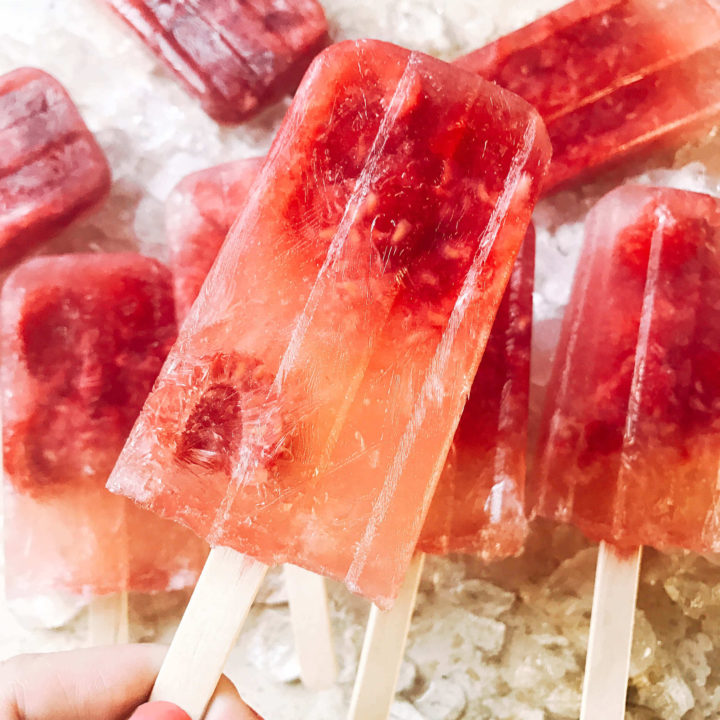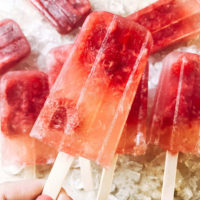 Raspberry Rosé (Frosé) Popsicles
A fun cocktail popsicle featuring raspberries and rosé wine. A twist on Frosé!
Print
Pin
Rate
Instructions
Remove 20 raspberries from the package (approximately half). Cut each of those 20 raspberries in half and place 4 halves (2 whole raspberries) into each of the 10 molds.

Fill each mold with the rosé wine leaving a 1 inch gap to the top of the mold.

Place the lid on the mold and insert sticks into each slot.

Meanwhile, make the raspberry puree. In a small bowl heat the sugar, lime juice, and 2 additional Tablespoons of rosé and stir until the sugar is dissolved. Add the raspberries and mash. Set aside.

Freeze for three hours. Remove and use the popsicle sticks to guide some of the raspberry halves toward the top of the popsicles (bottom of the molds) if desired.
Spoon the raspberry puree into each popsicle mold, leaving a gap of just 1/8-1/4" at the top so that it has room to expand. (See note).

Replace the lid and readjust the popsicle sticks. Make them as straight as possible so it is easy to get the lid off when frozen. Use the raspberries to wedge them in place if needed.

Freeze until completely solid, preferably overnight, typically at least 5 hours longer. The alcohol content makes it take longer to freeze.
Notes
I used this popsicle mold.
This recipe fills 10 popsicles, 3 oz each.  Different molds may have a different size and require more or less ingredients.
Raspberries can be a little tart.  For a sweeter popsicle, add more sugar or use strawberries.
You can also add the puree immediately when you pour in the wine, however the puree will likely sink to the bottom. This makes it easier to assemble as you do not need to keep track of when to add the raspberries, but it will be more of a layered effect instead of mixed.
Nutrition
Calories:

45

kcal

|

Carbohydrates:

4

g

|

Protein:

1

g

|

Fat:

1

g

|

Saturated Fat:

1

g

|

Sodium:

2

mg

|

Potassium:

63

mg

|

Fiber:

1

g

|

Sugar:

2

g

|

Vitamin A:

6

IU

|

Vitamin C:

5

mg

|

Calcium:

7

mg

|

Iron:

1

mg

By