Pizza dough with a little kick!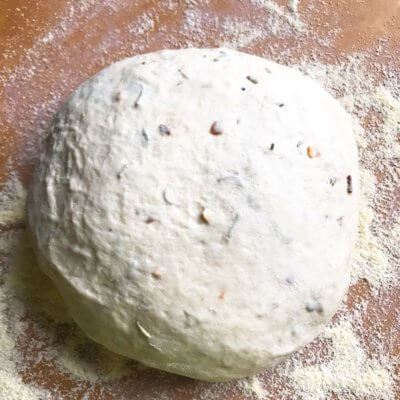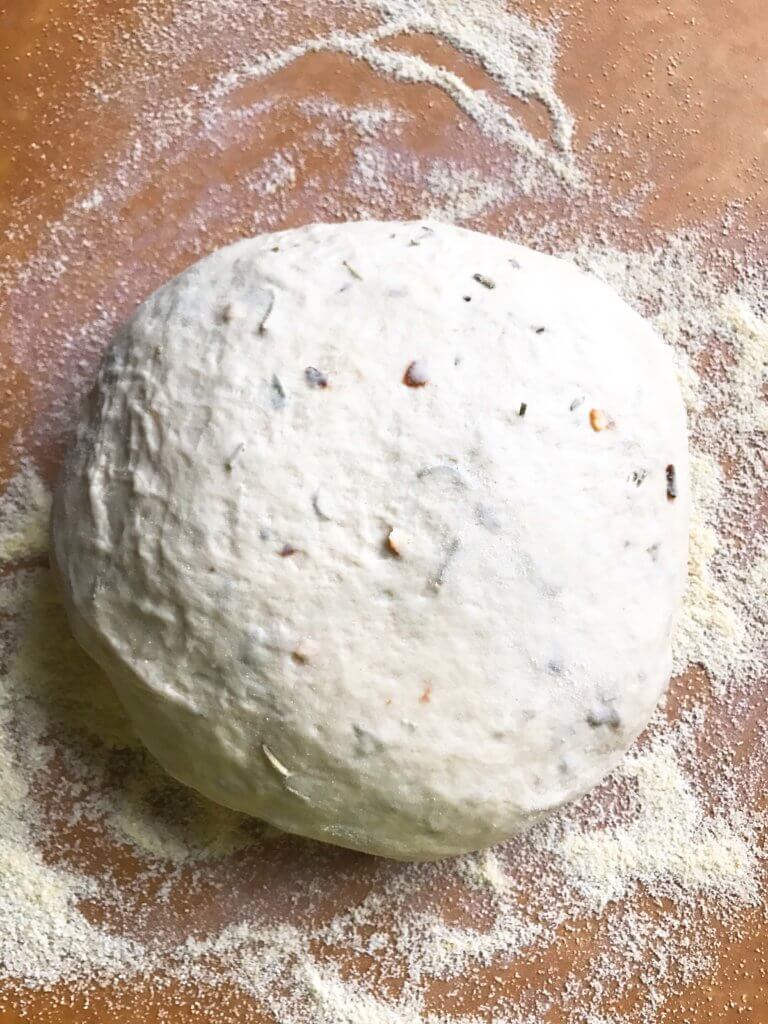 I am just obsessed with homemade pizza. My first experience with it was in college when some friends got together for a pizza night. Each person got to make their own and from then on I was HOOKED. I have been on a mission to make different flavor options of pizza dough, and this Rosemary Red Pepper Pizza Dough is one of my favorite go-to's!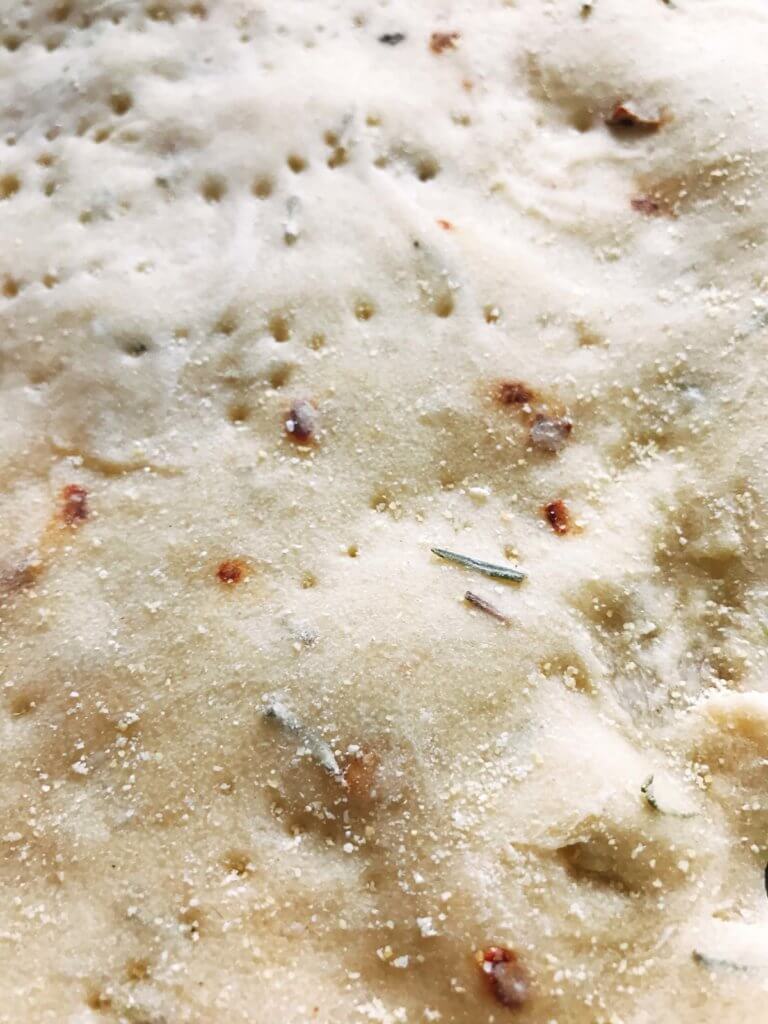 This post contains affiliate links.
Pizza doughs, and doughs in general, can sometimes be bland. I am convinced that this is why I tend to dislike the crust at so many places. But if it is seasoned well, you can BET that I will be finishing off every last piece of it! So I always make sure that I am flavoring my dough with some fun mix ins, and that the dough flavors work with the toppings. My Oregano Garlic Pizza Dough is made of classic pizza flavors, but I wanted to make one that had a little "zip" to it.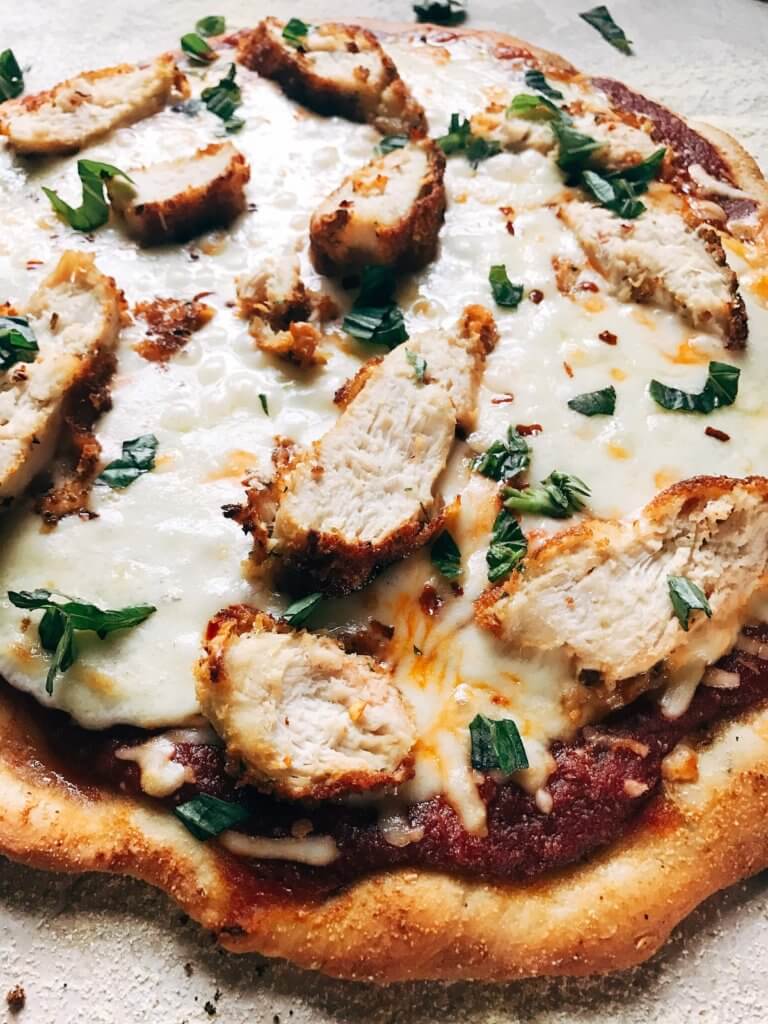 Enter, red pepper flakes! The red pepper flakes add a subtle heat to the dough with the earthiness of the rosemary. If you want a mild spice, reduce the red pepper to 1 teaspoon. You could also switch it out for some garlic powder.
This Rosemary Red Pepper Pizza Dough does need a little prep time as it has to sit to rise, but other than that it is so incredibly easy and tastes SOOOOOO GOOD! I will even make the dough the day before and go through the first blind bake, and then leave the pizza crusts in a large, new garbage bag overnight to keep them from drying out. I also have readers that have tried freezing the dough if you want to make it far in advance and it works well that way too!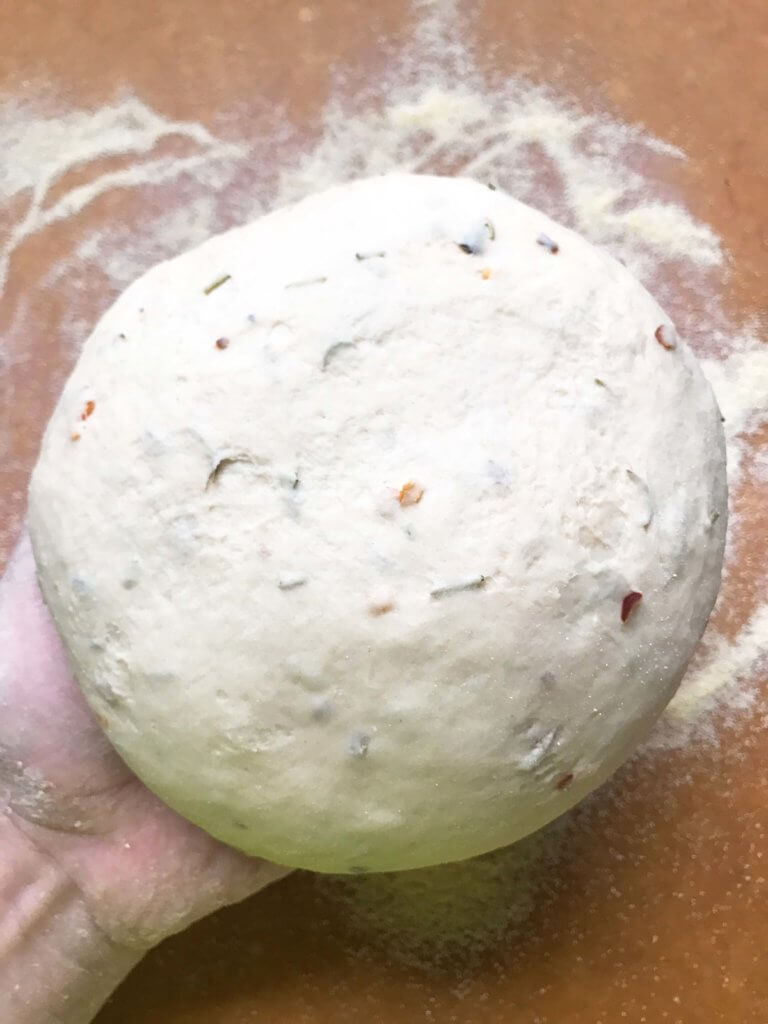 I make pizzas with a stone that goes in my oven and I use a handy pizza peel that you see in the pictures. (This pizza peel is pretty close to what I have, and this pizza peel is just GORGEOUS). I think it is worth it to have these gems because the stone makes my pizza crisp up beautifully and the peel makes it so easy to get the dough/pizza in and out of the oven. But you can also use a plain cookie sheet if you want.
This batch of Rosemary Red Pepper Pizza Dough is enough for two pizzas approximately 12″ wide with a thinner crust. There are so many toppings that would taste great on this dough! What is your favorite type of pizza?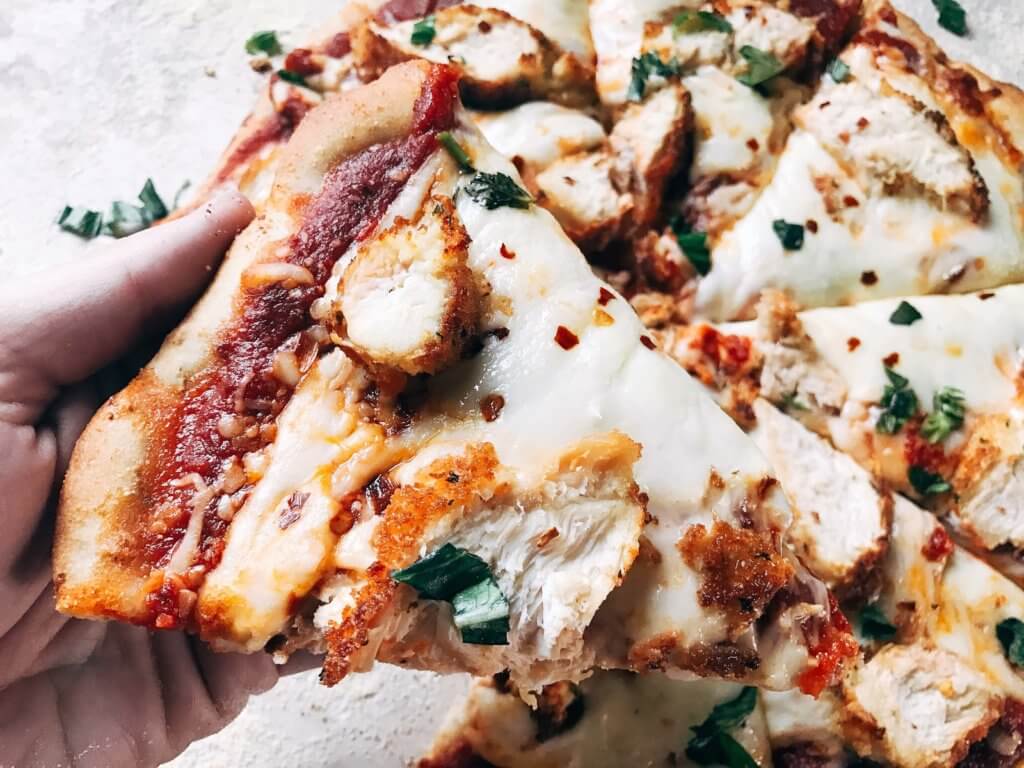 More pizza recipes here!
This recipe is slightly adapted from this site.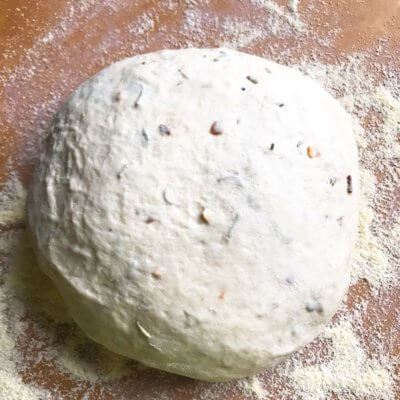 Rosemary Red Pepper Pizza Dough
Pizza dough with a little kick!
Print
Pin
Rate
Instructions
In a large mixing bowl combine the water, yeast, honey, and olive oil. Stir to combine and let it sit until it starts to foam, approximately 5 minutes.

Add the rosemary, red pepper flakes, and salt to the yeast mixture. Add 1 1/2 cups of the flour, mixing gently until incorporated. Add the flour a little at a time, working the flour into the dough after each addition, until the dough is a little sticky and smooth. You will likely not need all of the flour.

Remove the dough and knead on a floured surface for 3-5 minutes until the dough is still a little tacky but smooth.

Cover the inside of the large mixing bowl with some more olive oil. Put the dough in the oiled bowl and turn dough to coat with the oil. Keep the dough in the bowl and cover with plastic wrap. Let sit in a warm place for approximately 60-90 minutes until the dough is doubled in size.

When you are ready to start making the pizza, place your pizza stone (or a large baking sheet) in the oven on the center rack. Preheat to 450F.

Dust your pizza peel with some cornmeal. The cornmeal will give the crust a great texture and bite while also preventing it from sticking to the surface you are working on. Cut the dough in half for two thin crust pizzas.

Roll out one piece of the dough to your desired size, approximately 12" is what I aim for, on the pizza peel and make sure that the size and shape will fit onto your stone or cooking sheet that is in the oven.

Using a fork or knife, poke holes in the dough everywhere except for the crust edge. This will allow air to escape and prevent the dough from bubbling up too much.

Make sure that the dough is loose on the pizza peel by shaking it gently. The dough should move around. If the dough is sticking anywhere, pull up that area and throw some more cornmeal under it until nothing is sticking.

When the oven is done preheating and you are at 450F, open the oven door and throw some cornmeal onto the stone or sheet. Use the pizza peel to shimmy the dough onto the stone/sheet. If you have the cornmeal under the dough, this should be rather easy to do.

Blind bake the dough (without toppings or sauce) for approximately 5 minutes. Pull out the crust using your pizza peel when the dough is not soft to the touch anymore and it is just starting to get some color on it.

Brush the crust edge with some olive oil and sprinkle with some garlic salt, parmesan, and/or oregano to give it some flavor.

Add your sauce and toppings. Put the pizza back in the oven and cook approximately 10-12 minutes longer until the cheese is melting and starting to brown. Let the pizza rest just a couple minutes before serving.
Notes
Remember that the exact cooking times will vary based on your oven, so watch the dough along the way to make sure that it is not getting too dark or is too raw.
Do not load on too much sauce or toppings as it will be difficult to cook everything through.
Skip the honey and this dough is vegan.
Nutrition
Calories:

797

kcal

|

Carbohydrates:

155

g

|

Protein:

21

g

|

Fat:

10

g

|

Saturated Fat:

1

g

|

Sodium:

1208

mg

|

Potassium:

273

mg

|

Fiber:

7

g

|

Sugar:

9

g

|

Vitamin A:

624

IU

|

Vitamin C:

1

mg

|

Calcium:

48

mg

|

Iron:

9

mg

By