Skillet Bacon Wrapped Chicken in Tomato Bacon Parmesan Sauce is a gluten free one pot easy dinner. Make extra creamy cheese sauce to spoon over vegetables, potatoes, or rice. Quick and simple meal.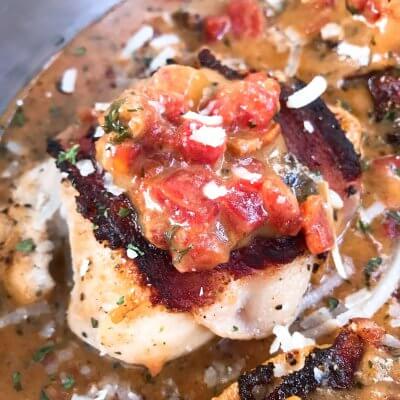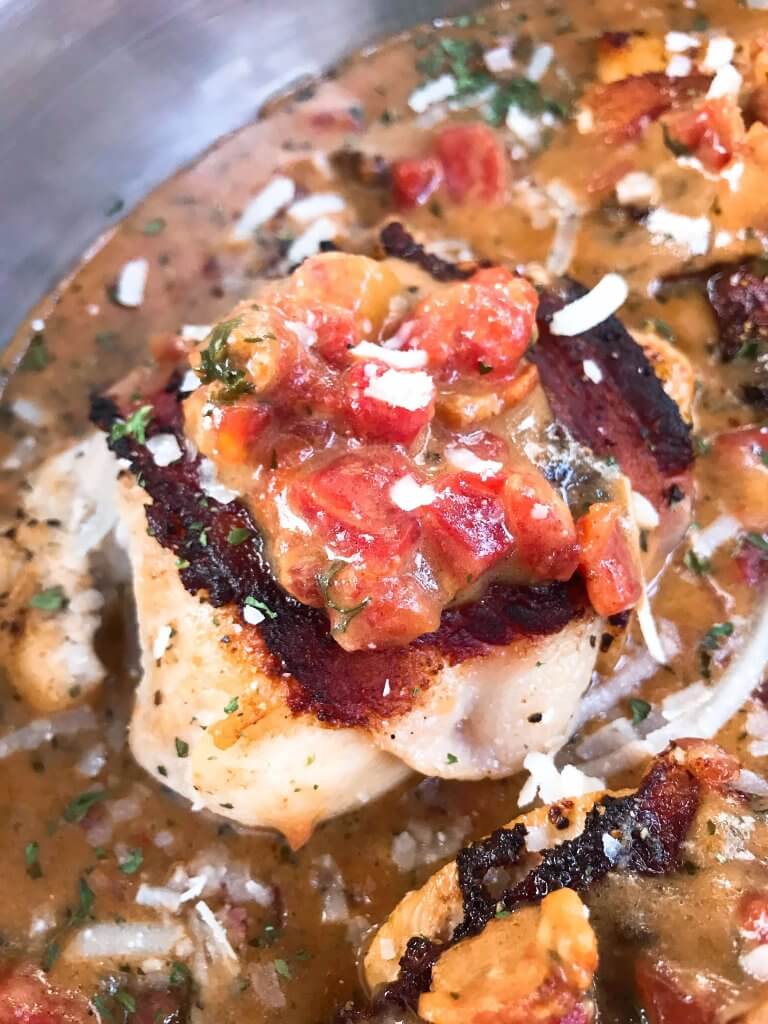 So many yummy things in one dish! Skillet Bacon Wrapped Chicken in Tomato Bacon Parmesan Sauce is a simple and easy comfort food recipe for busy nights.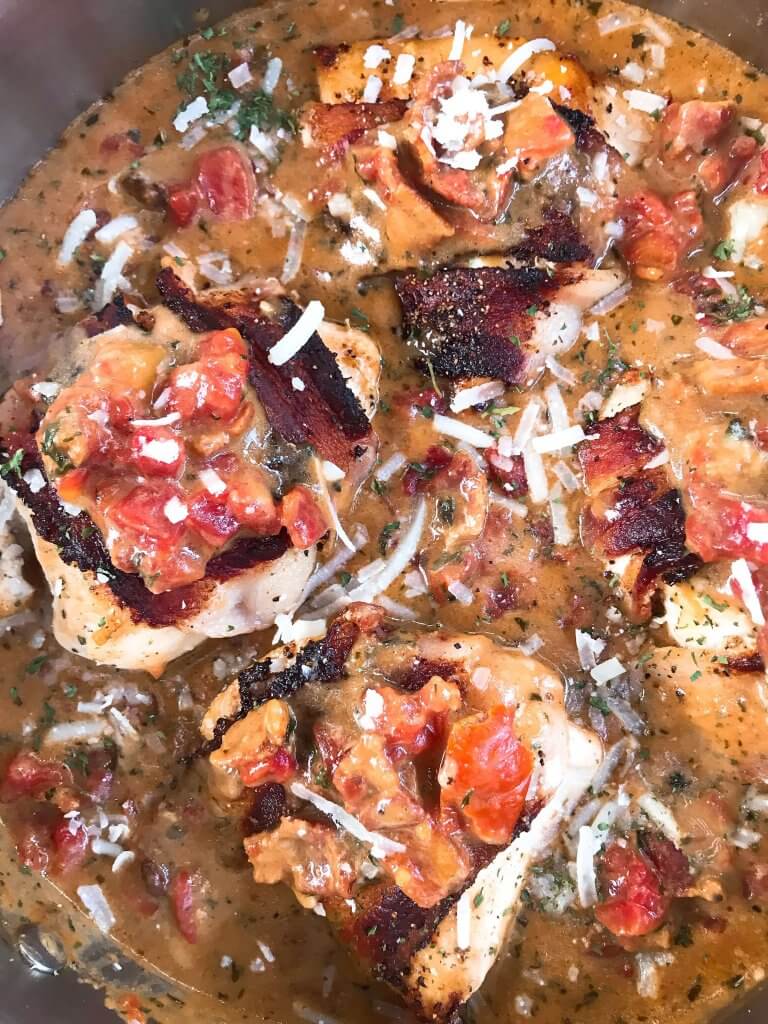 This post contains affiliate links.
Skillet Bacon Wrapped Chicken in Tomato Bacon Parmesan Sauce is full of amazing flavors. Chicken is wrapped in bacon and cooked, served in a creamy sauce made of more bacon, tomatoes, garlic, and Parmesan cheese. When you make this, your kitchen is going to smell amazing! It might look like the bacon is a touch burnt, but it wasn't! Partially due to the photo, and me liking bacon crispy, it looks a little dark.
One of the best things about this recipe is that it is ready in such a short period of time, perfect for busy nights. Find more skillet chicken recipes here, ready in 30 minutes! It is also gluten free with cornstarch to thicken the sauce instead of flour. I like a lot of sauce with my food. If you are planning on using the sauce to coat pasta, as a potato gravy, or also like a lot of sauce, I recommend doubling the sauce ingredient quantity.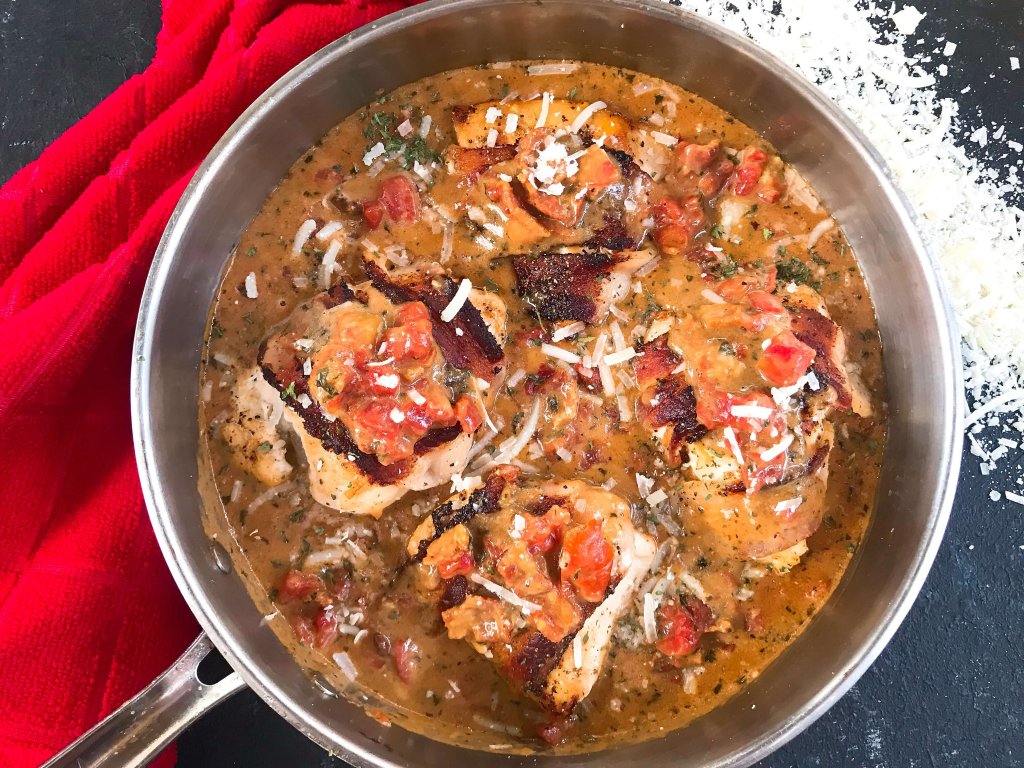 This Skillet Bacon Wrapped Chicken in Tomato Bacon Parmesan Sauce can be served with potatoes, pasta, rice, or vegetables. My favorite is putting the chicken and a lot of sauce all over a bed of pasta. So good! This is a gluten free one pot meal that is ready in just 30 minutes.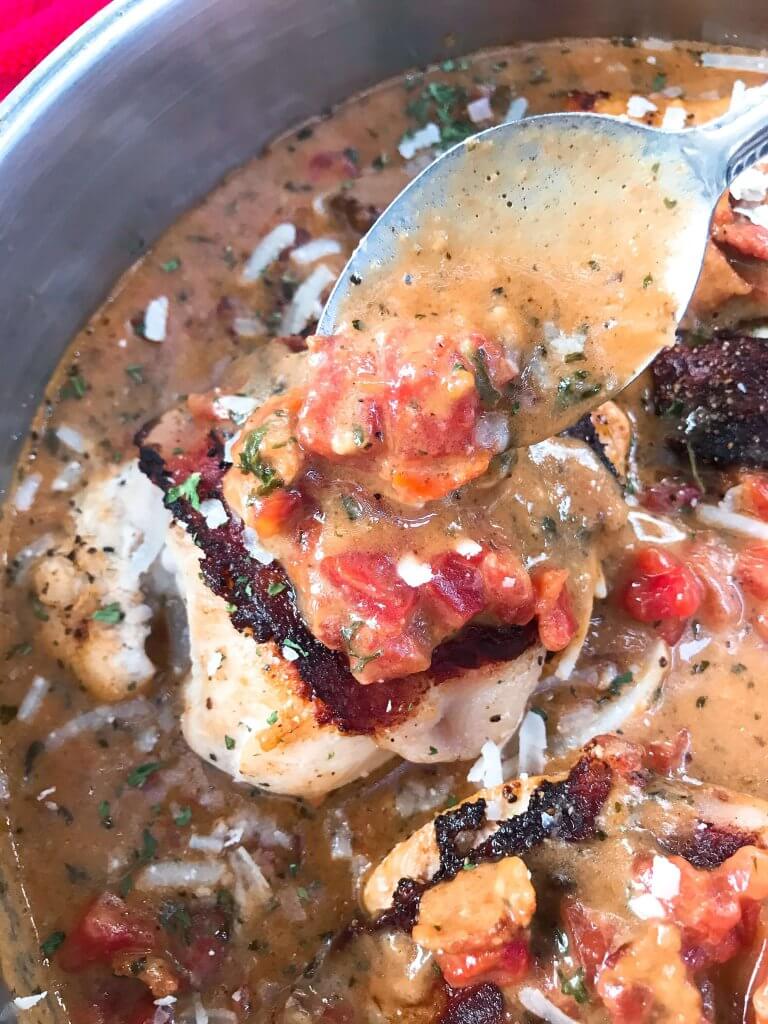 To make Skillet Bacon Wrapped Chicken in Tomato Bacon Parmesan Sauce, first wrap your chicken with bacon and secure with toothpicks if desired to keep it all in place. Then sear and cook the chicken in a skillet. When cooked through, set aside. In the same skillet cook the bacon and add all the sauce ingredients. Cornstarch to thicken in place of flour, garlic powder, stock, and milk get the sauce going. Then diced tomatoes and Parmesan cheese fill out the flavors.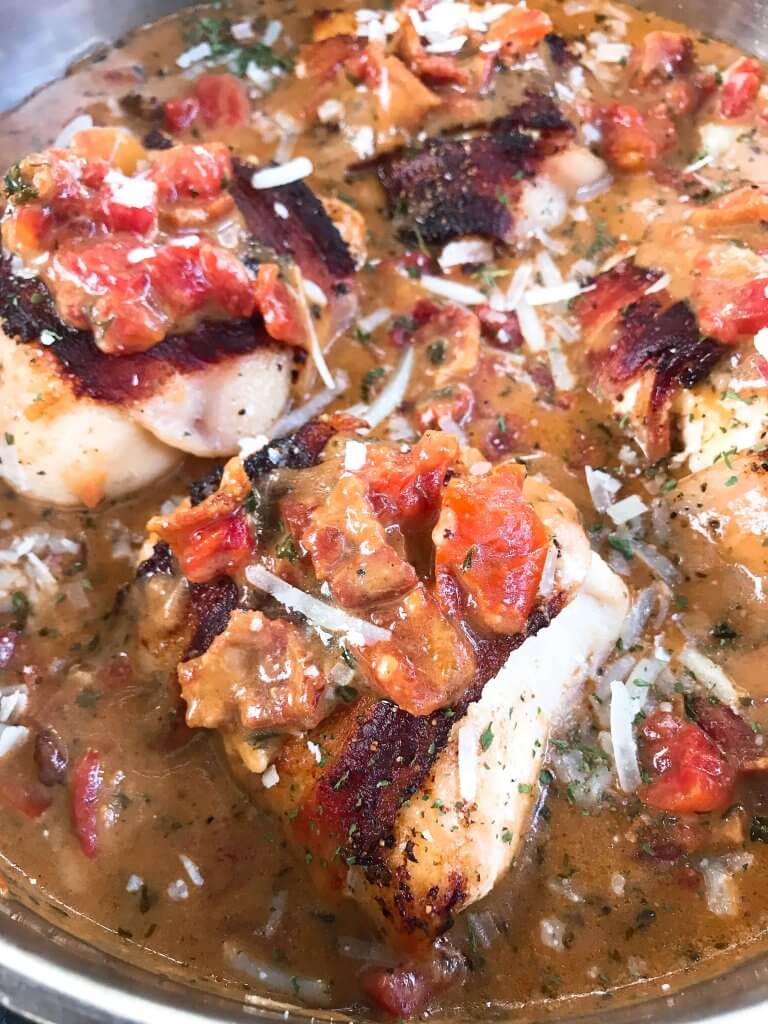 This Skillet Bacon Wrapped Chicken in Tomato Bacon Parmesan Sauce was a hit!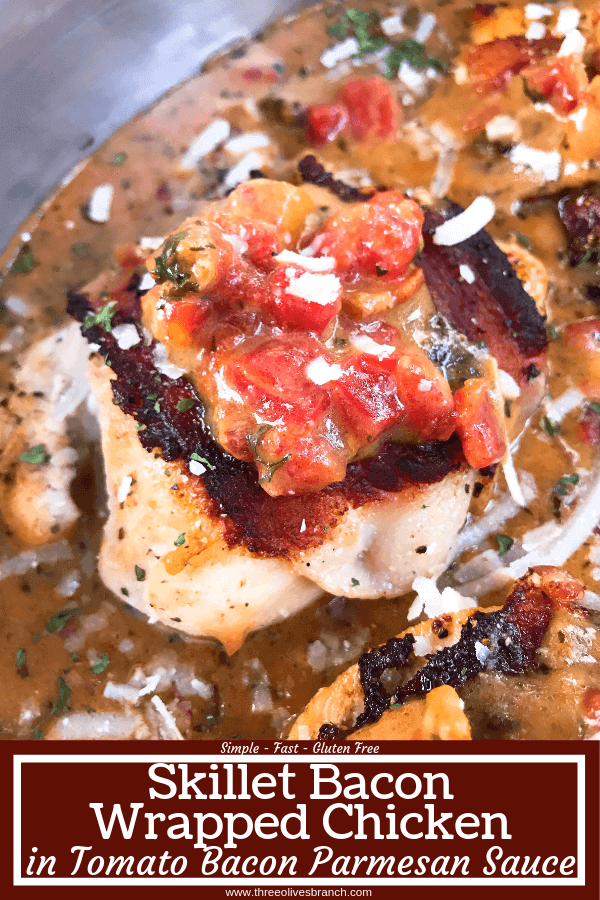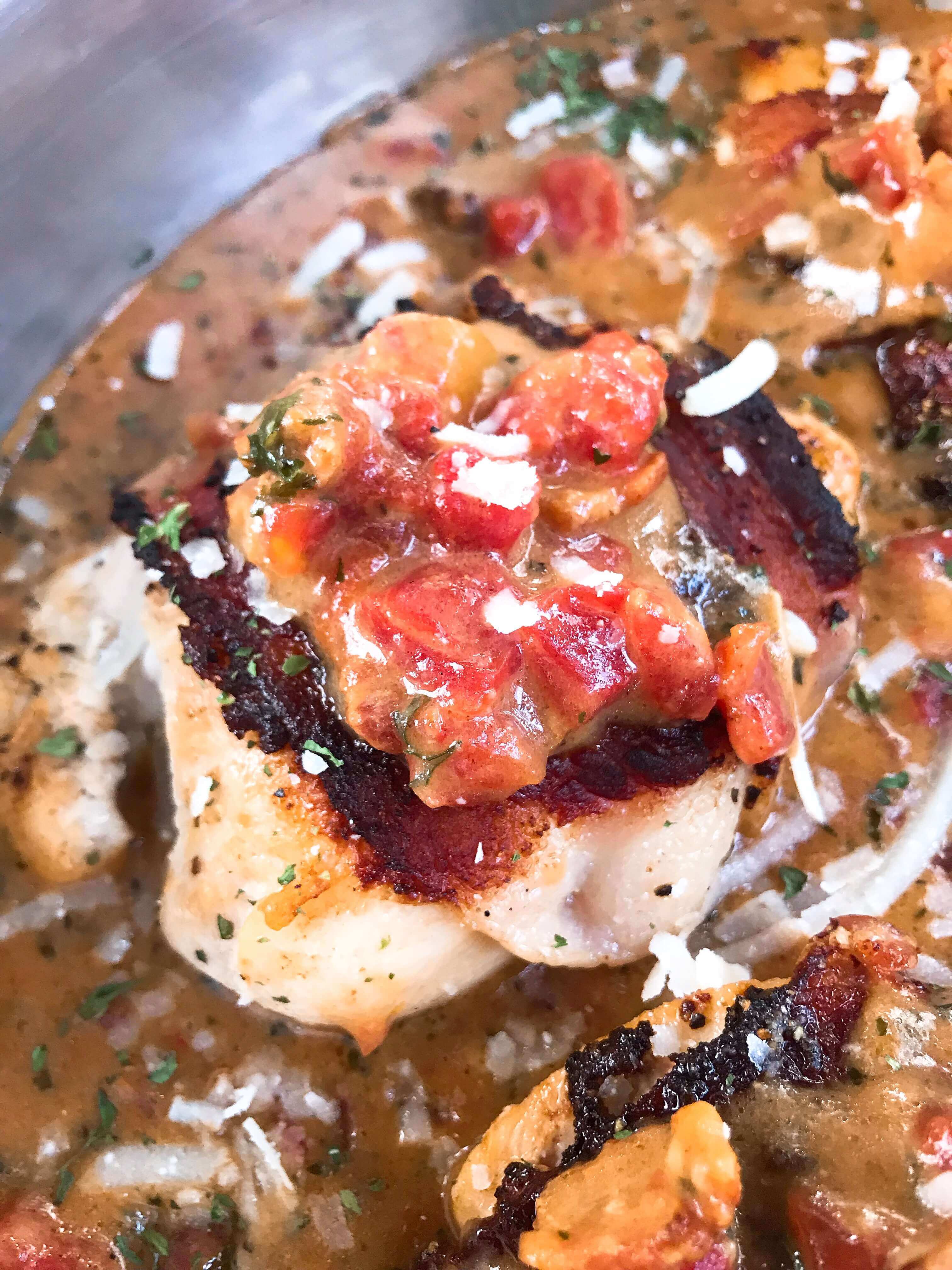 Instructions
Season both sides of the chicken with salt and pepper. Wrap a piece of bacon around each chicken breast. If the chicken is large, you will need two pieces of bacon (see note). Secure ends of bacon in place if desired with toothpicks sticking out of the sides of the chicken (so they are not in the way of cooking in the pan).

Heat 2 Tablespoons of the vegetable oil in a large, deep skillet over medium heat.

When the oil is hot, add the chicken. Do not move it as the bacon is cooking, it should release and not tear once cooked. If cooking too fast and starting to burn before the chicken is cooking, turn temperature down. If not browning fast enough, turn the heat up just a little. Cook until golden brown, approximately 5-7 minutes.

While the chicken is cooking, dice the rest of the bacon into a rough chop (approximately 4-6 slices).

Flip the chicken over and cook an additional 5 minutes until golden brown and also cooked all the way through. Add a little more oil if needed. If your chicken is browning too fast, reduce the heat to slow browning but continue cooking the chicken. The chicken is done when it is 165F in the thickest part. (If browned but not cooked through, place all the chicken in a baking dish and finish in the oven at 350F until the chicken reaches 165F internally and is cooked through).

Remove the chicken from the pan and set aside. Add the chopped bacon and cook until rendered, approximately 2-3 minutes.

Remove excess fat, leaving approximately 2 Tablespoons in the skillet. Leave the bacon in the skillet as well.

In a small bowl combine the cornstarch, garlic powder, and water. When the bacon is cooked, add the cornstarch to the bacon and stir.

Add the diced tomatoes, stock, and milk to the skillet. Bring to a simmer and cook until the sauce is thickened, approximately 5-8 minutes.

Remove the skillet from the heat. Add the parsley and Parmesan cheese and stir until melted. At this point, taste and season with additional salt, pepper, garlic, or Parmesan as desired. (The bacon and cheese makes this salty, so no need to season until now!). If the sauce is too thick or too strong/salty, add additional milk or stock until you reach your desired consistency and flavor.

Serve the chicken and sauce immediately over pasta, rice, potatoes, or vegetables.
Notes
If your sauce is too thick, add some water or chicken stock.  If too thin at any point, continue to cook over medium heat to thicken.

If your chicken is larger and requires two slices of bacon per breast, you will need closer to a full pound of bacon in total.  The chicken will also take longer to cook.

Each stove and pot is different, so keep a close eye on the chicken and bacon!  Adjust the heat up or down as needed to get a nice sear without burning.

By