Any leftover chicken works great here whether shredded or chopped. Make the chicken, sauce, and shells in advance for fast and easy assembly!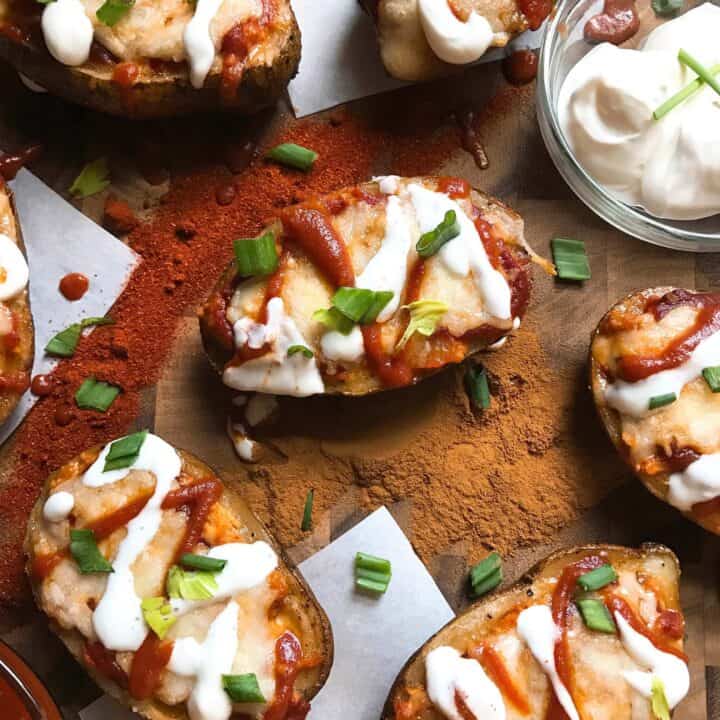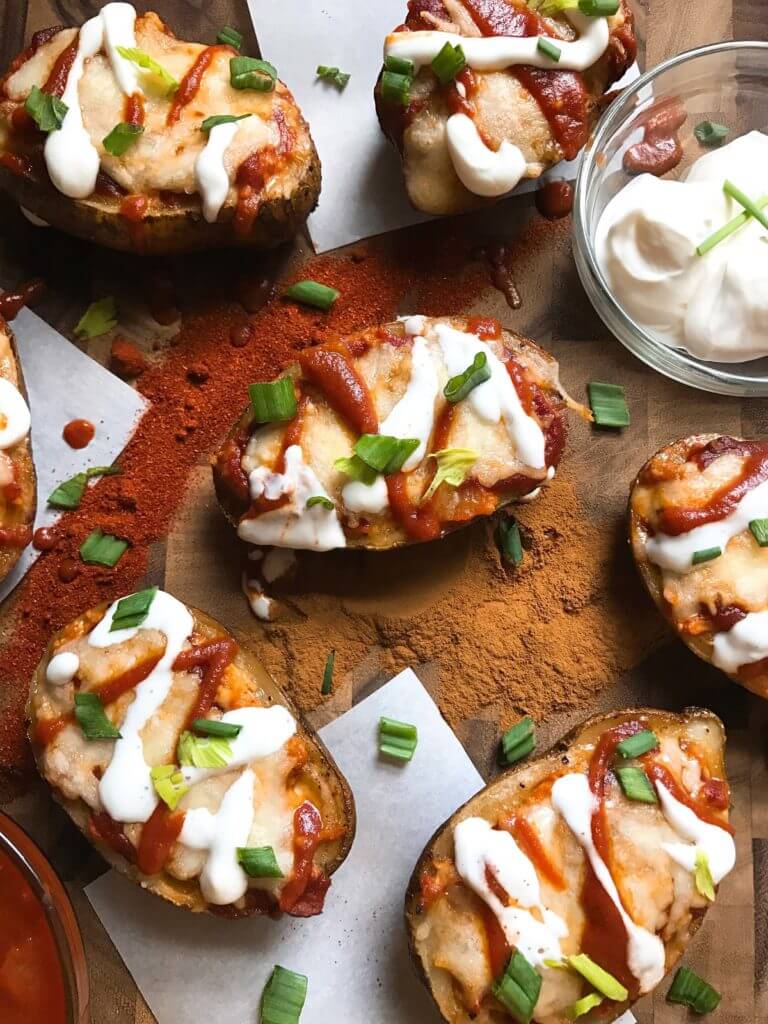 Potato anything is always a good idea in my world, and these Smoky Chicken Enchilada Potato Skins are a great combination of flavors!  I must say, they are pretty amazing.  My husband can't get enough of them!  They are perfect as a snack or appetizer for any event.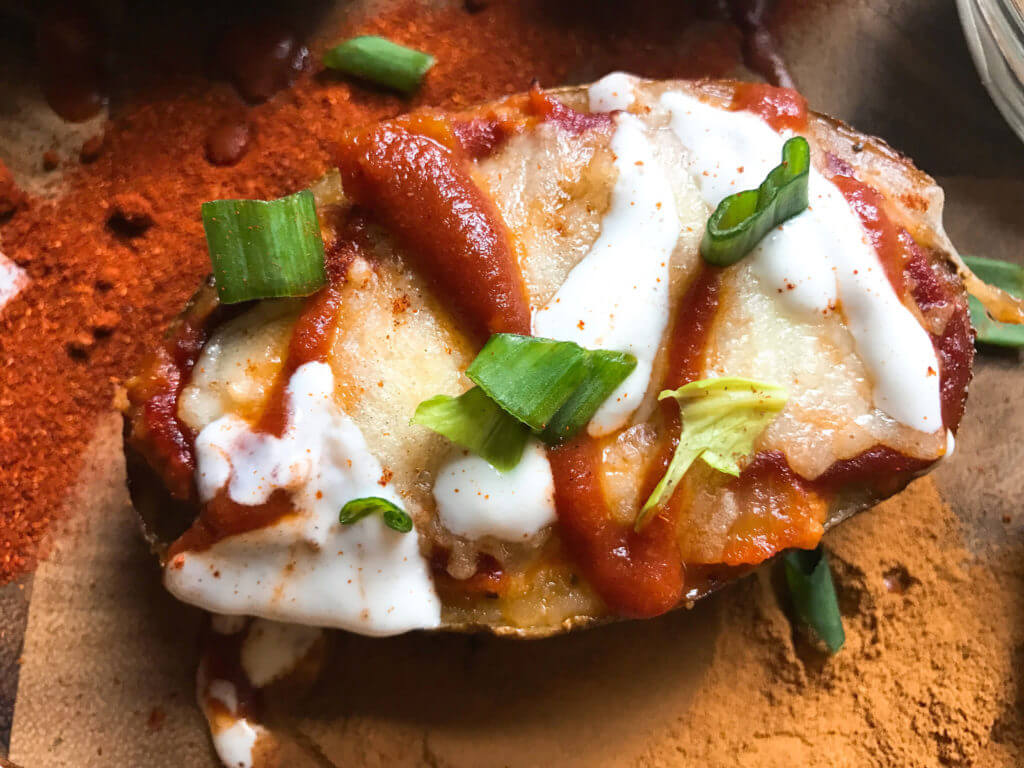 Aren't potato skins some of the best snacks for watching sports? They are such a classic appetizer and perfect for those homegating parties when entertaining family and friends.  Pressed for time?  I love that you can make the chicken, sauce, and potato skin shells in advance for fast and easy assembly.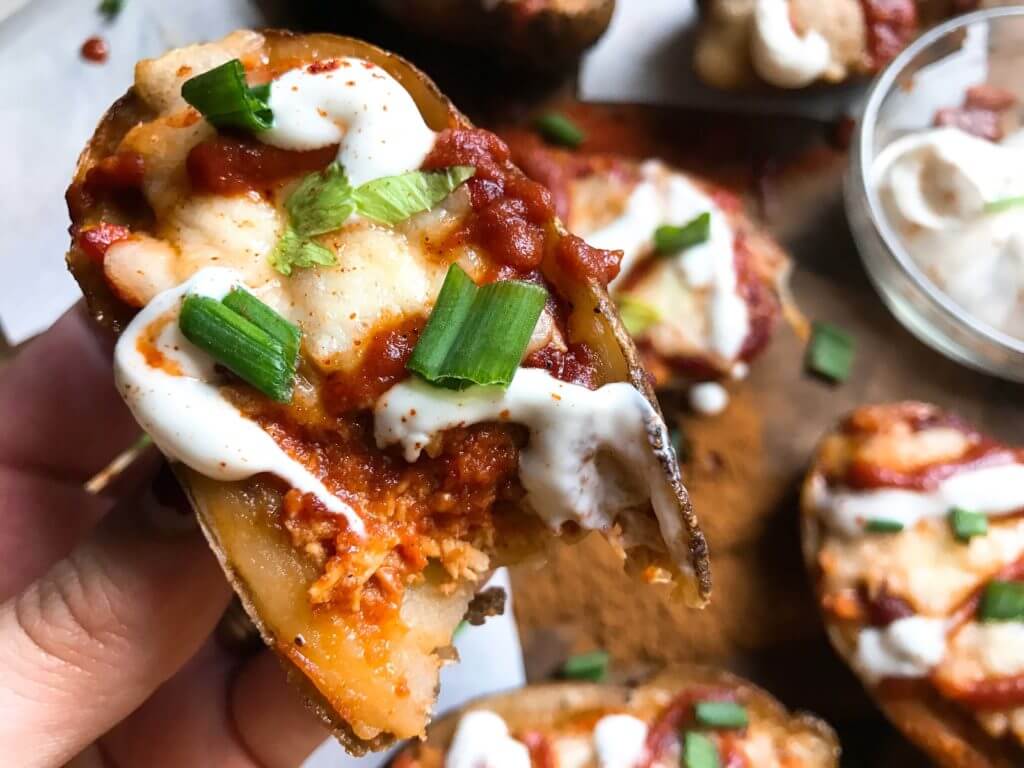 One of my favorite things to do is combine different dishes and flavors into one for a new, fun twist on food!  These Smoky Chicken Enchilada Potato Skins are a perfect example of that.  Using all the same flavors of a chicken enchilada, stuffed inside a potato skin shell, tuned out amazingly well!  It makes a messy, more difficult to eat dish portable and perfect for your football game or entertaining event.  When I cook for a crowd, I always err on the side of mild and provide some spicy options like jalapenos or hot sauce so everyone can be happy!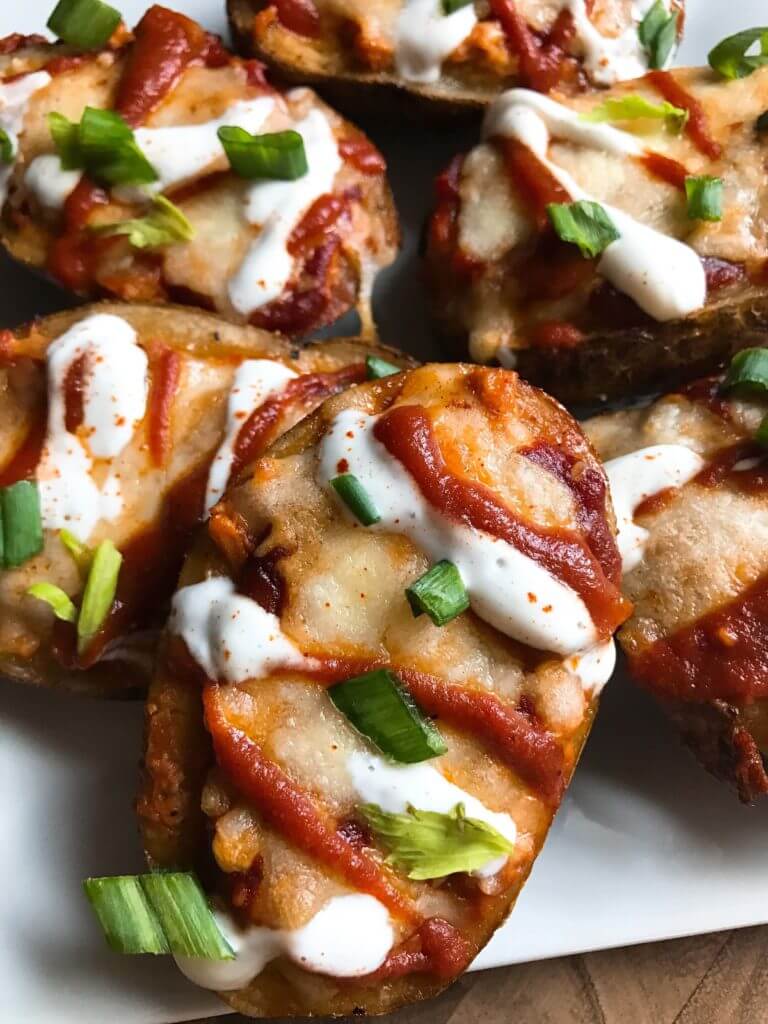 You can find detailed instructions on how to make the best potato skin shells here!  It is my favorite technique as I found using baked potatoes were just too soft and difficult to work with.  Plus my technique above is so much faster!  The topping possibilities are endless!  Now that I have a recipe for perfect potato skins, it is somewhat dangerous because they are so good!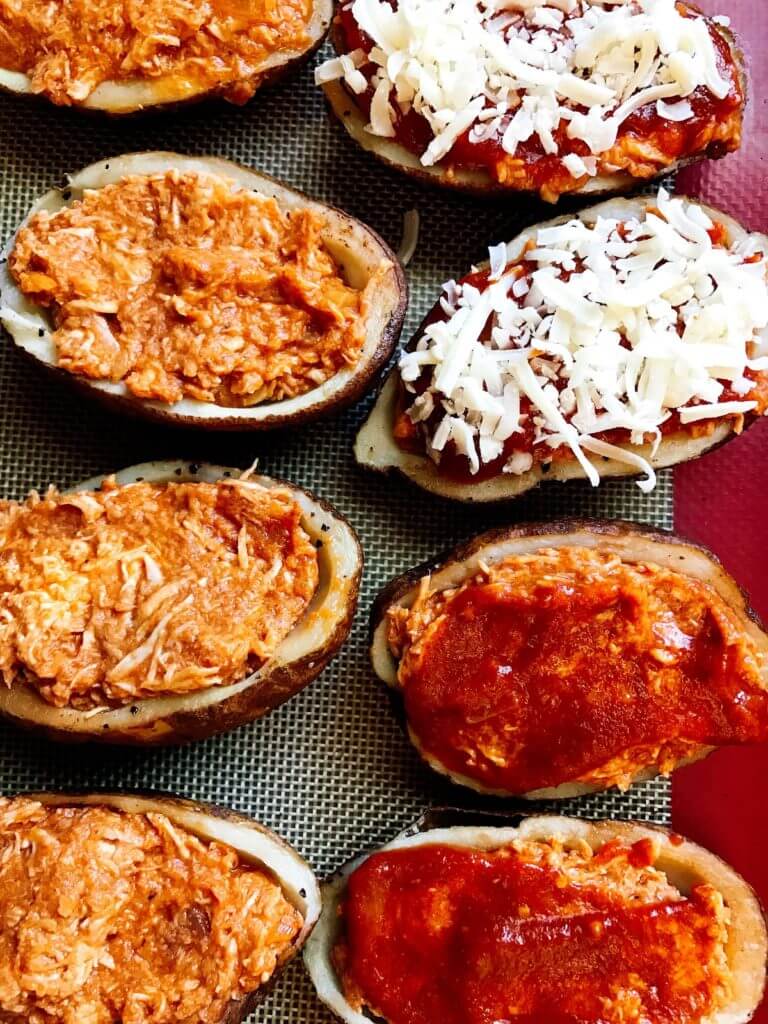 Any of your favorite enchilada sauces will work for this recipe, but I love making my own.  It is so simple and fast, you can do it to!  Follow this link for our Smoky Chipotle Enchilada Sauce which we used in this recipe!  Just a few ingredients simmer together and you will get a wonderful, flavorful sauce.  Make it as spicy or as mild as you would like.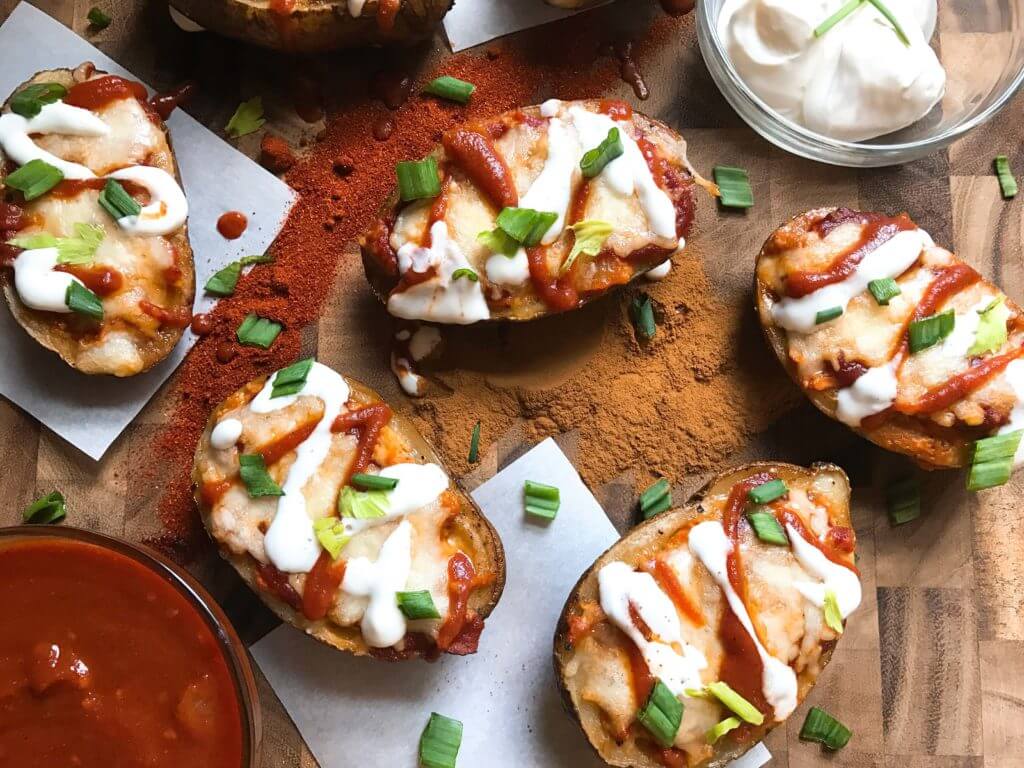 What do you think would be a great filling for potato skins?
Check out our other Potato Skin flavors!
Bacon and Bourbon Blue Cheese Potato Skins (coming soon!)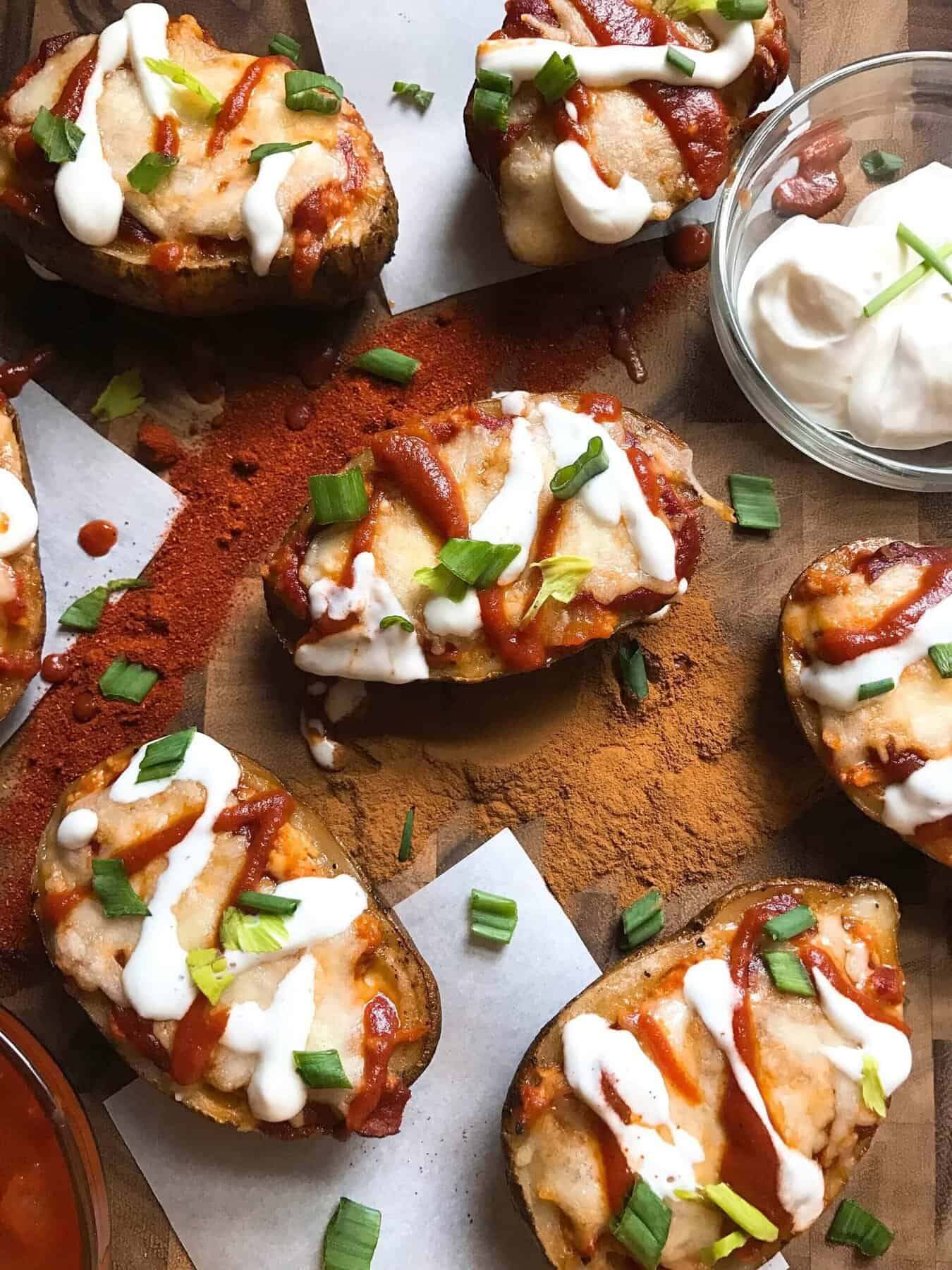 Ingredients
12

potato skin shells

(see note for recipe)

1 1/2

cups

chicken

cooked, shredded or chopped (approximately 1 pound)

2

cups

smoky chipotle enchilada sauce

(see note for recipe) (or your favorite enchilada sauce)

1

cup

monterey jack cheese

shredded

sour cream

for serving

green onions

for garnish, if desired
Instructions
Make sure you have your enchilada sauce, chicken, and potato skins ready to go. See notes for links to recipes for sauce and potato skin shells. Use any leftover chicken, shredded or chopped, or bake some until cooked.

Preheat oven to 350F.

Once your potato skins are prepared (see note below for recipe), place them skin side down on a large cookie sheet.

In a small bowl, combine the chicken and 1 cup of enchilada sauce. Stir to combine and add more sauce as needed. With shredded chicken, I used approximately 1 1/2 cups sauce. Make it as saucy as you would like!

Scoop the chicken mixture into each potato skin shell to the top of the potato skin. The exact size and shape of your potato skins will make the filling amount for each skin vary.

Spread a little more sauce over the chicken on each potato skin. Then sprinkle each potato skin with the shredded cheese.

Bake the potato skins until the cheese has melted and is starting to turn a light brown, approximately 12-15 minutes.

Remove the potato skins from the oven and serve warm with sour cream and additional enchilada sauce or toppings as desired.
Notes
Learn how to make your own potato skin shells here!  They can be made in advance and stored in the refrigerator.  The longer baking time is to account for making the potato skin shells themselves if you have not done so already. Grab the recipe for Smoky Chipotle Enchilada Sauce here!  One batch is the perfect amount for this recipe.  You can also use any favorite enchilada sauce instead.

The potato skin shells, chicken, and enchilada sauce can be made in advance for quick assembly.

By