Smoky and slightly spicy fried pickles take on a new life! Tangy ranch flavors are combined with chipotle chile powder for a twist on a classic county fair dish. A crispy breadcrumb coating make these fried pickles perfect for an appetizer or snack, whether for the big game day, a party, BBQ, or summer grill event.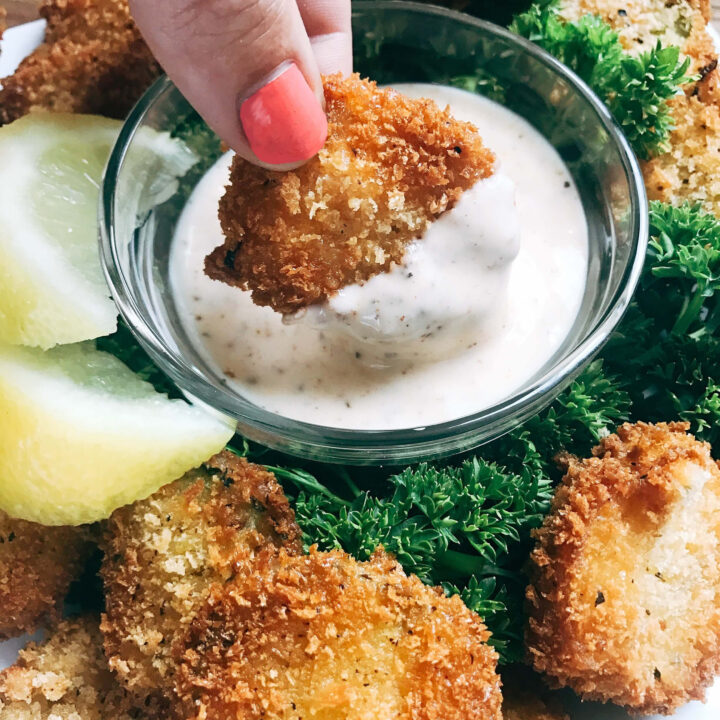 This shop has been compensated by Collective Bias, Inc. and its advertiser. All opinions are mine alone. #CreateWithOil #CollectiveBias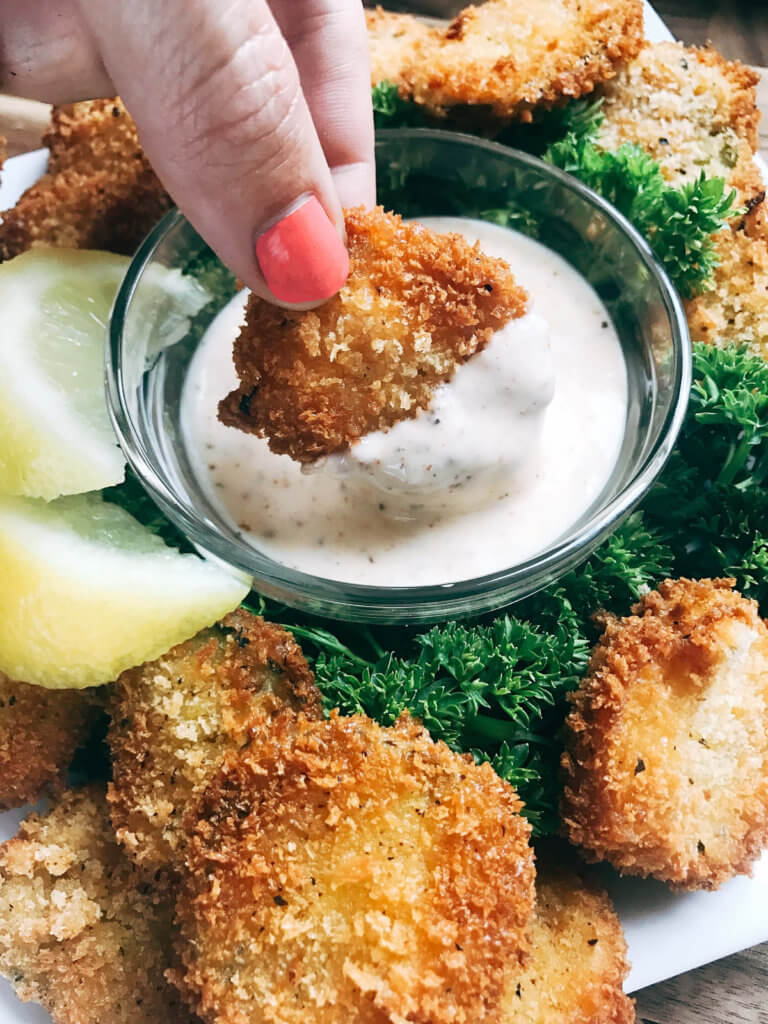 I love fried pickles because they remind me of the country fairs that pop up around this time of year!  The tang of pickles pairs perfectly with the smoky and slightly spicy chile powder in these Smoky Chipotle Ranch Fried Pickles for a twist on the classic.
Fried pickles are a wonderful thing on their own, but if you stop by here often you know that I love to combine different flavor profiles and dishes together.  So flavored fried pickles have become one of my favorite things to experiment with!  Smoky Chipotle Ranch Fried Pickles have a spicy kick from the chipotle chile powder with the tangy ranch.  A little lemon brightens it all up for a fun and unique appetizer or snack!  They are perfect for game day, parties, and entertaining like a BBQ or summer grilling event.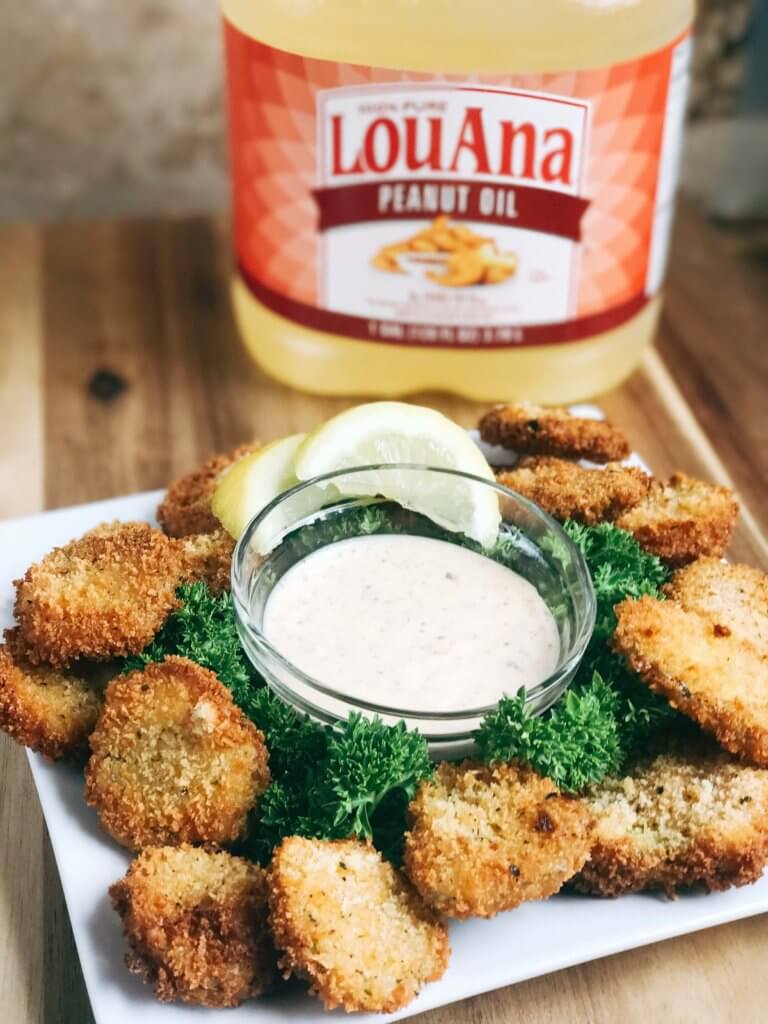 LouAna Peanut Oil comes from Lou Ana of Opelousas, Louisiana in 1820 where food is an expression of love, flavor, and family.  That means that LouAna has been one of the most trusted cooking oils in the country for over 120 years!  The LouAna brand has over 14 types of cooking oils which means you can find the perfect oil that you need for cooking, regardless of what you are making, to put the best dish possible on the table every time.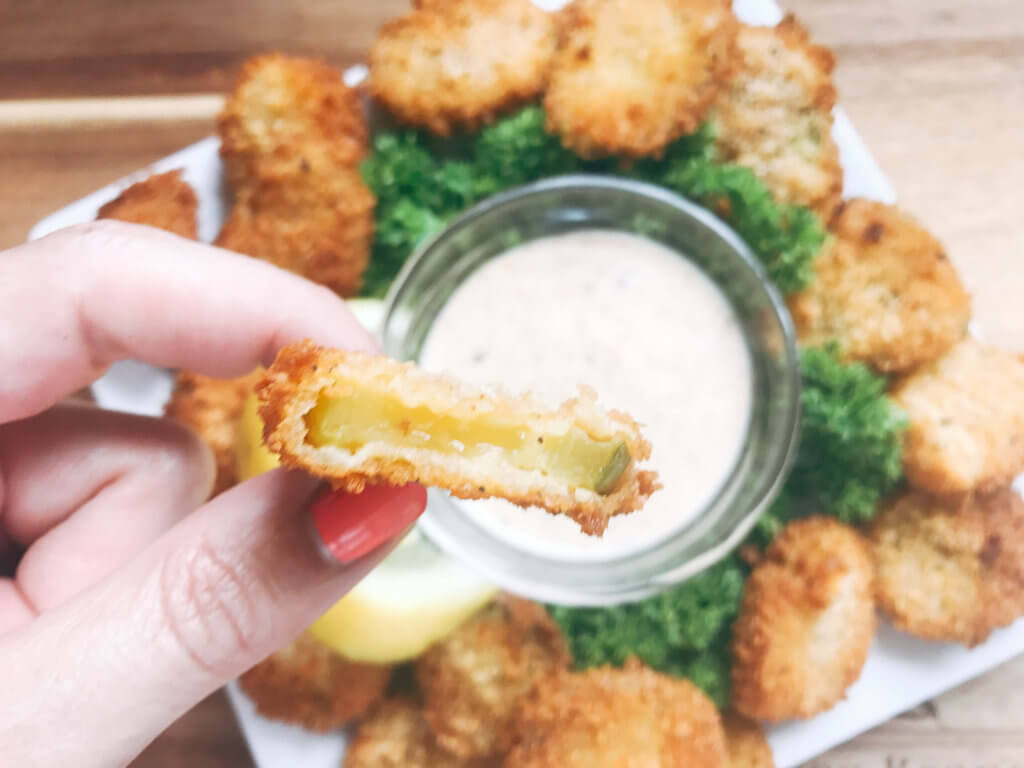 You can easily find the LouAna Peanut Oil at your local Target.  I am always at Target anyway, so it is incredibly easy to grab everything I need for these Smoky Chipotle Ranch Fried Pickles!  I love the peanut oil for this recipe because it has a high smoke point.  This high smoke point makes a seal that locks in the food's moisture to cook from the inside out for a crispy, juicy, and tasty fried pickle.  LouAna is the #1 brand of peanut oil in the country, and with good reason!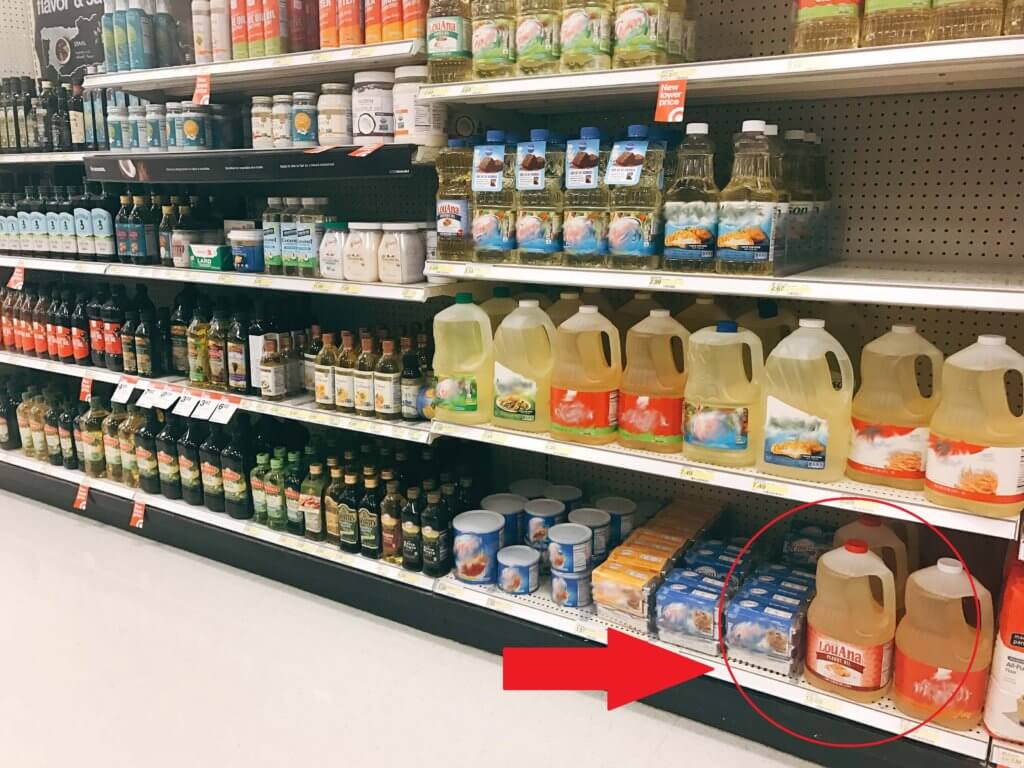 To make the pickles, get your LouAna Peanut Oil heating in a large skillet over medium low heat until it reaches 360-375F.  While the oil is heating, mix together the batter ingredients in a small bowl, and the panko breadcrumbs with chipotle chile powder and ranch seasoning mix in another small bowl.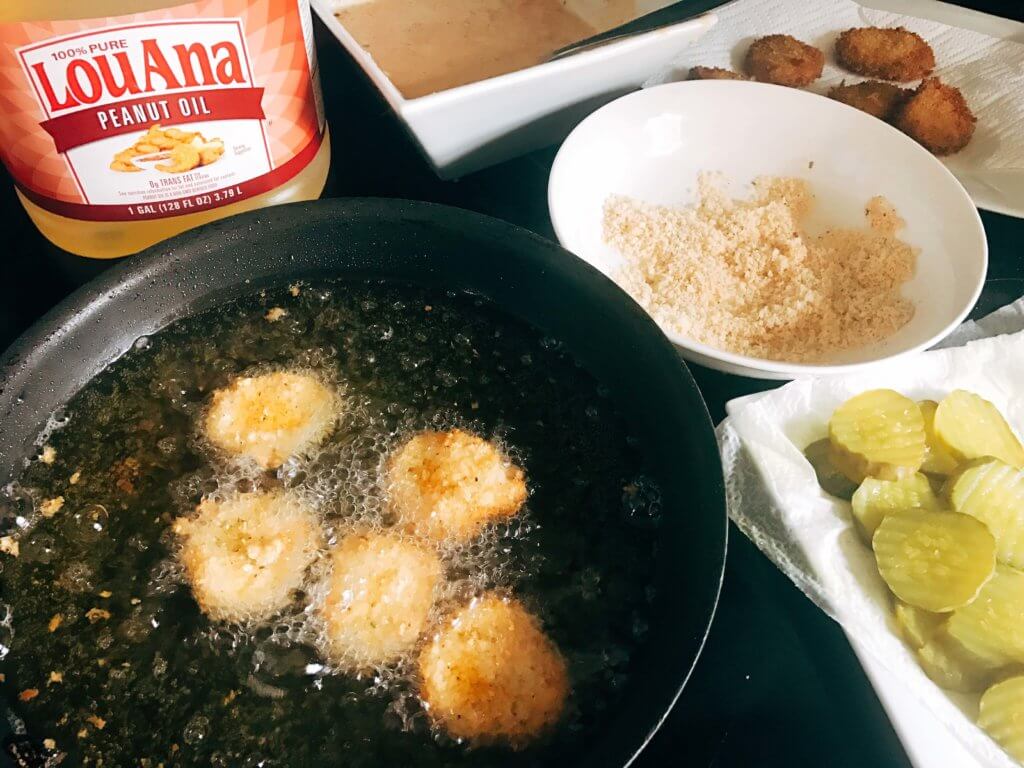 Pat the pickles dry with a paper towel.  Then using a fork, dredge them in the batter and then the breadcrumbs.  Fry them in small batches until golden brown, approximately 3 minutes.  Let them drain on a paper towel while you finish cooking the rest.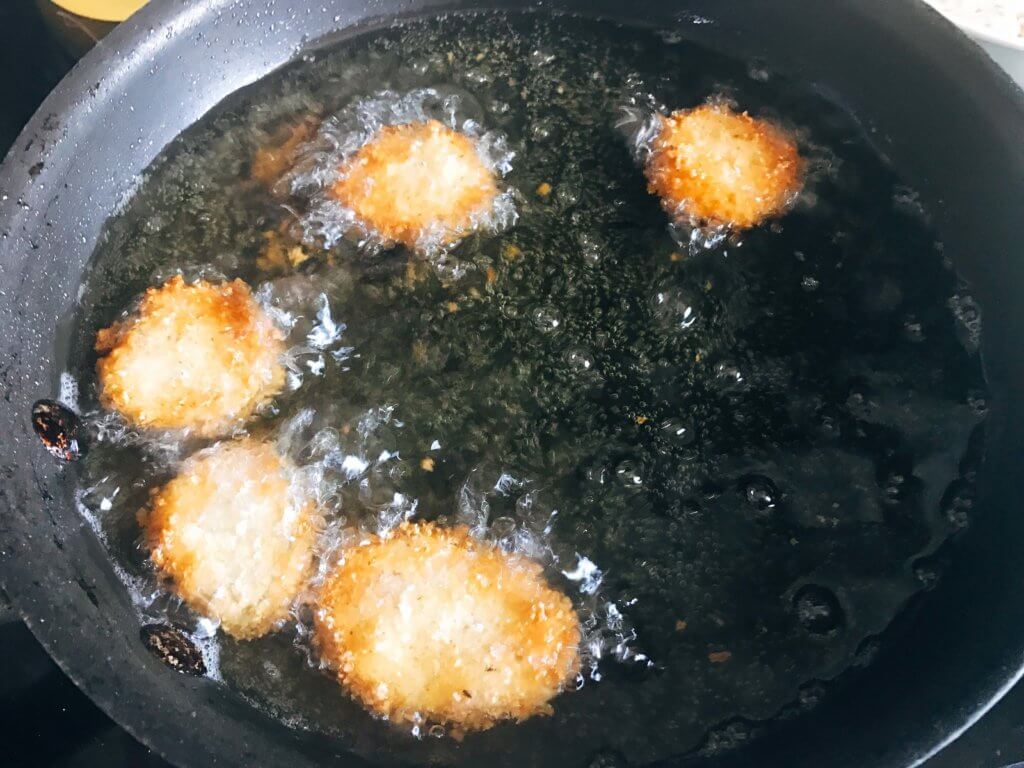 Serve them up with a tangy and spicy ranch dipping sauce and you have a tasty and unique appetizer or snack!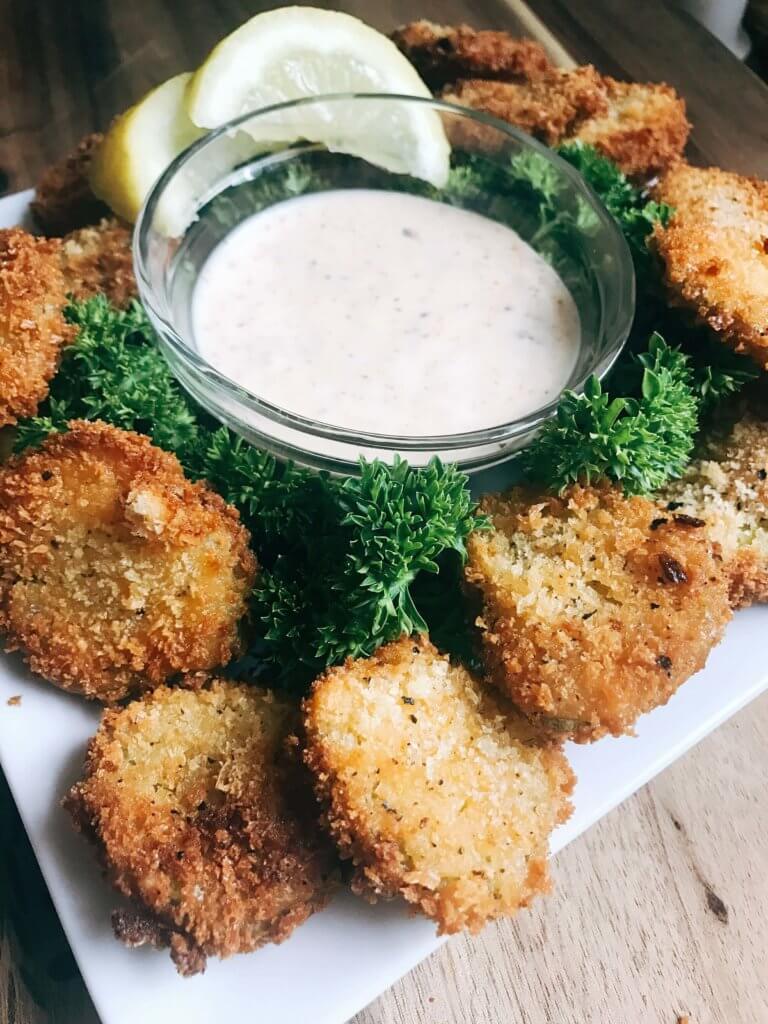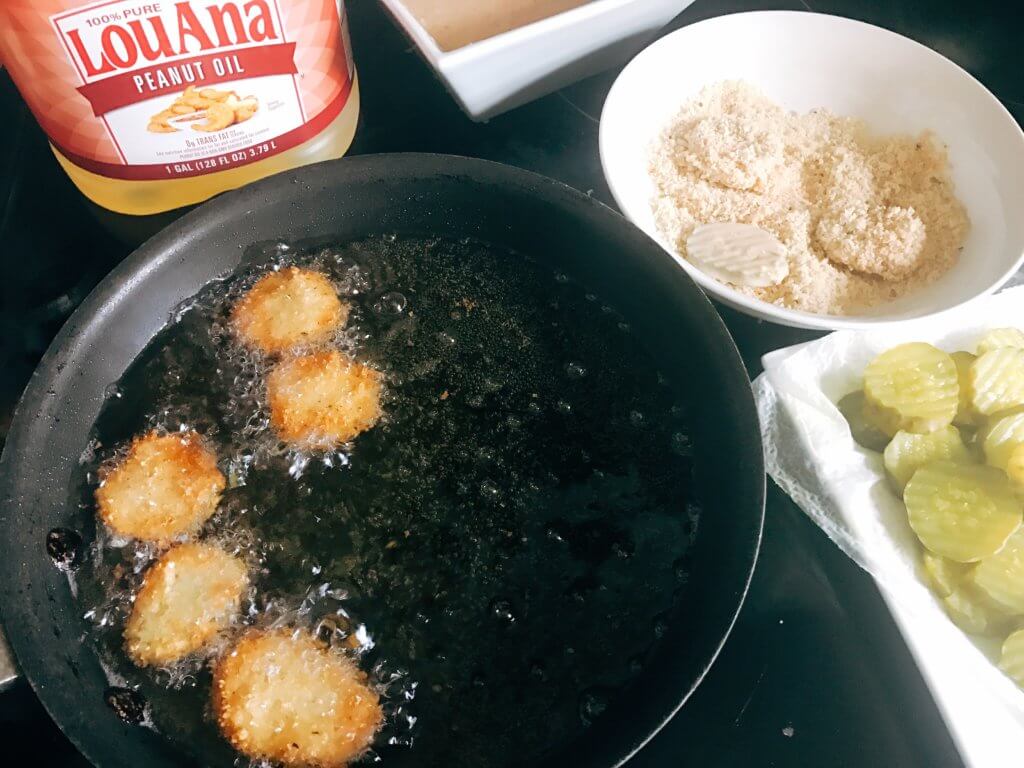 Do you have a favorite county fair dish that you love to make?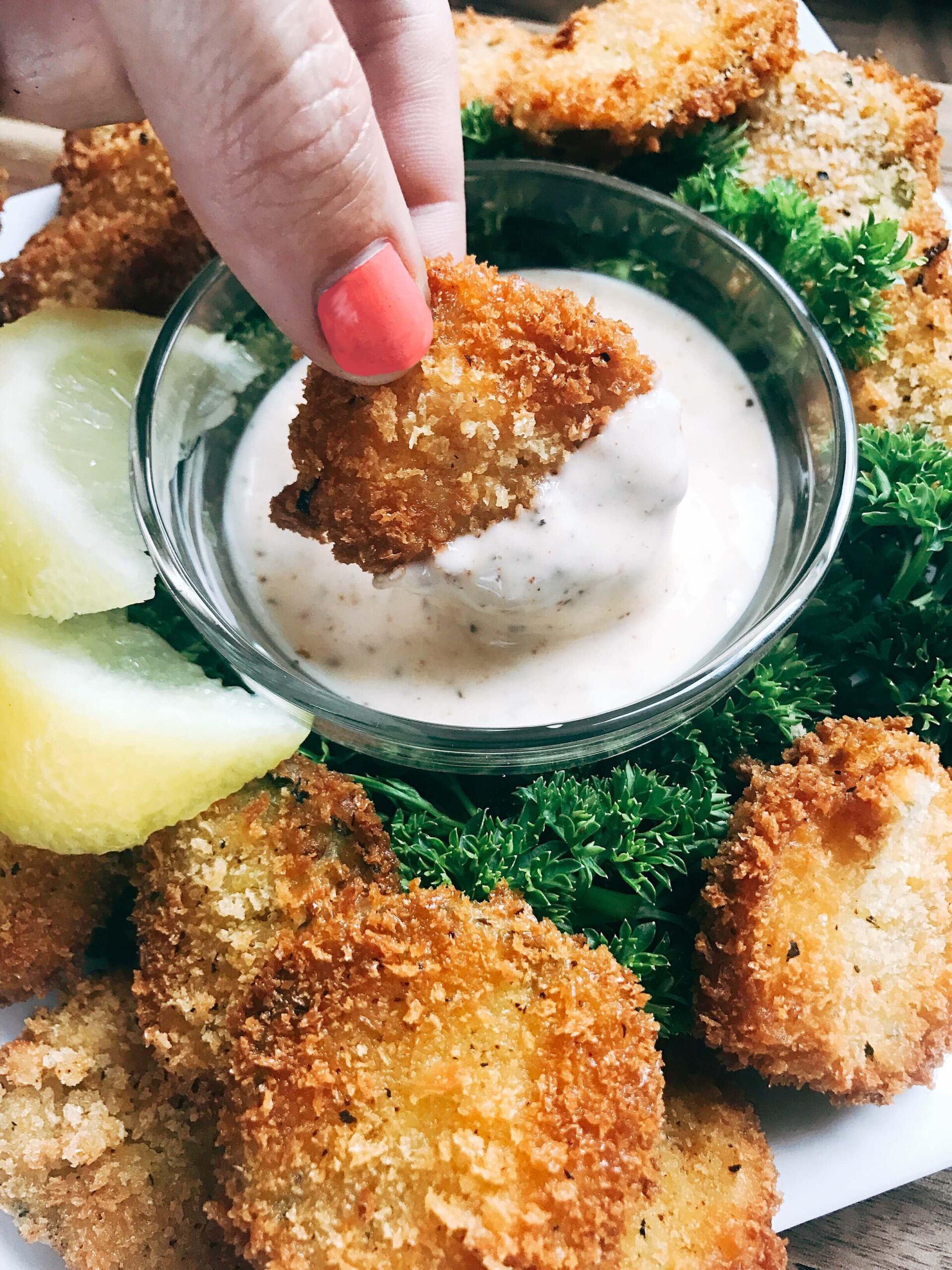 Instructions
In a large nonstick skillet, heat the LouAna Peanut Oil over medium-low heat. The oil should be 1/2" deep. Heat until the oil reads 360-375F.

While the oil is heating, prepare the pickles by first dabbing them with a paper towel to remove most of the moisture.

In a small bowl, combine all of the batter ingredients and whisk together.

In another small bowl, combine the Panko breadcrumbs, 2 tsp chipotle chile powder, and 1/2 tsp ranch dip mix. Whisk together.

Using a fork, dredge each pickle in the batter. Tap the fork on the edge of the bowl to shake off most of the excess batter.

Transfer to the breadcrumb bowl and toss to coat.

When the oil has reached 360-375, fry the pickles in smaller batches. Too many pickles will cause the oil temperature to drop and they will not cook properly.

Fry until they are a golden brown, approximately 3 minutes. Remove and set on paper towels to drain. Wait for the oil to heat back to the 360-375F range before adding the next batch. The exact size of your pickles will determine how many you cook at a time, but I used large oval shaped pickles approximately 2" wide and cooked 5-8 at a time.

Continue the dredging and frying process until all pickles are cooked.

Combine the dipping sauce ingredients in a small bowl and whisk together.

Serve the pickles with the dipping sauce immediately.
Notes
36 pickle slices was approximately 1/2 of a 24 oz jar for me.  The exact size and shape will change the amount of batter you need to cover them.
This recipe makes enough batter for an entire jar of pickles.  If you want to make more, simply keep the batter recipe the same but increase the amount of pickles and breadcrumb mixture.
The larger the pickle, the thinner the batter ratio will be.
Nutrition
Calories:

262

kcal

|

Carbohydrates:

29

g

|

Protein:

7

g

|

Fat:

14

g

|

Saturated Fat:

3

g

|

Cholesterol:

46

mg

|

Sodium:

754

mg

|

Potassium:

253

mg

|

Fiber:

2

g

|

Sugar:

4

g

|

Vitamin A:

721

IU

|

Vitamin C:

1

mg

|

Calcium:

130

mg

|

Iron:

2

mg

By