Classic s'mores flavor in a simple and easy tart!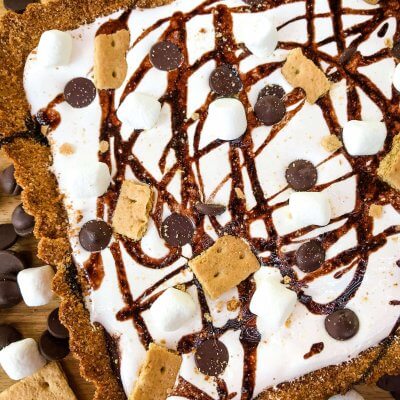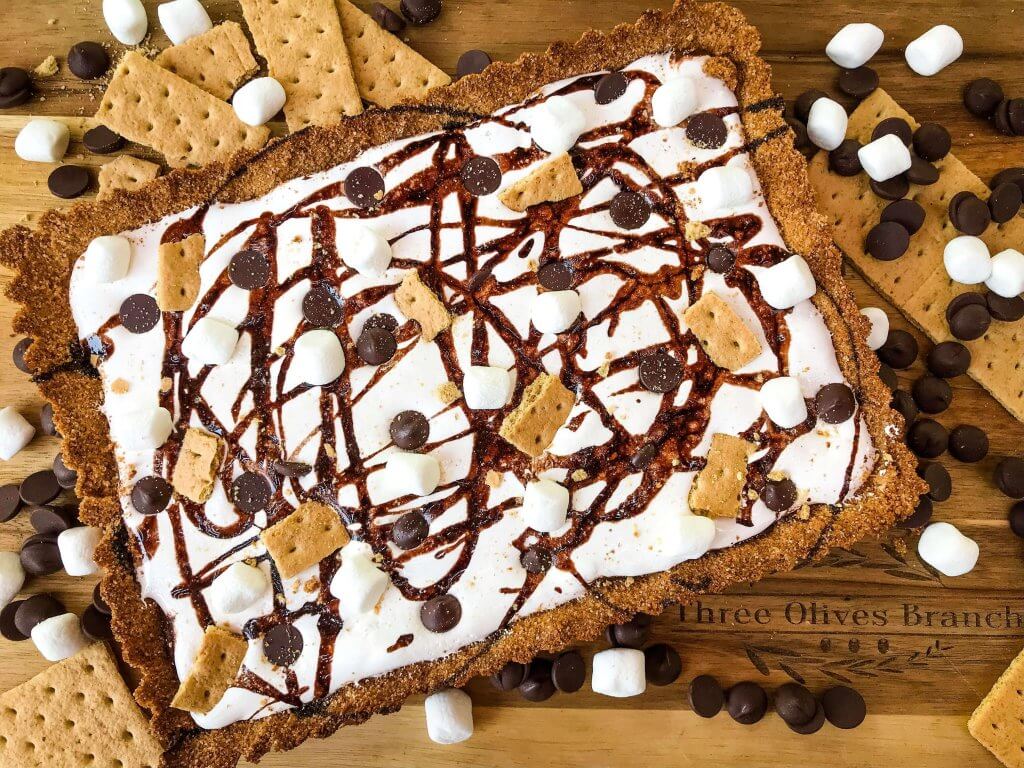 This S'mores Tart is a fun and simple dessert, perfect for the summer! A graham cracker crust is filled with a layer of melted chocolate, marshmallow fluff, and topped the S'mores ingredients.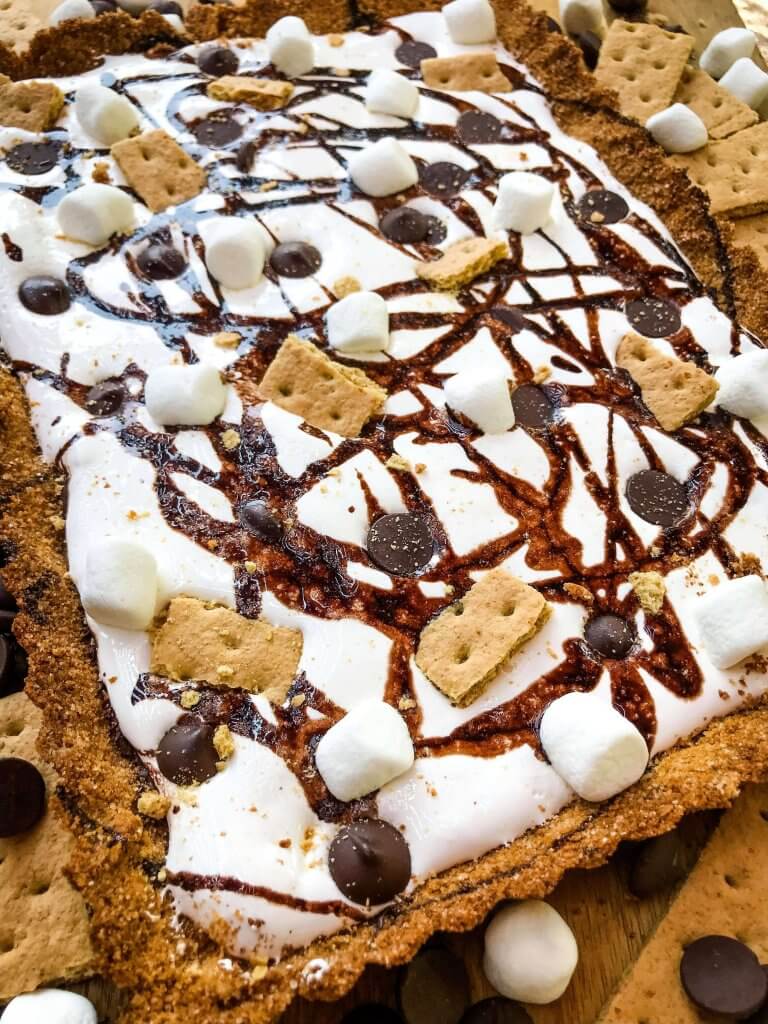 This post contains affiliate links.
S'mores in the summer is pretty much mandatory. Any time we go camping, s'mores is the first thing on the list. I also love to serve up s'mores at summer parties. This S'mores Tart is a great way to enjoy those same classic flavors of graham cracker, chocolate, and marshmallow. You can find more of our s'mores recipes here!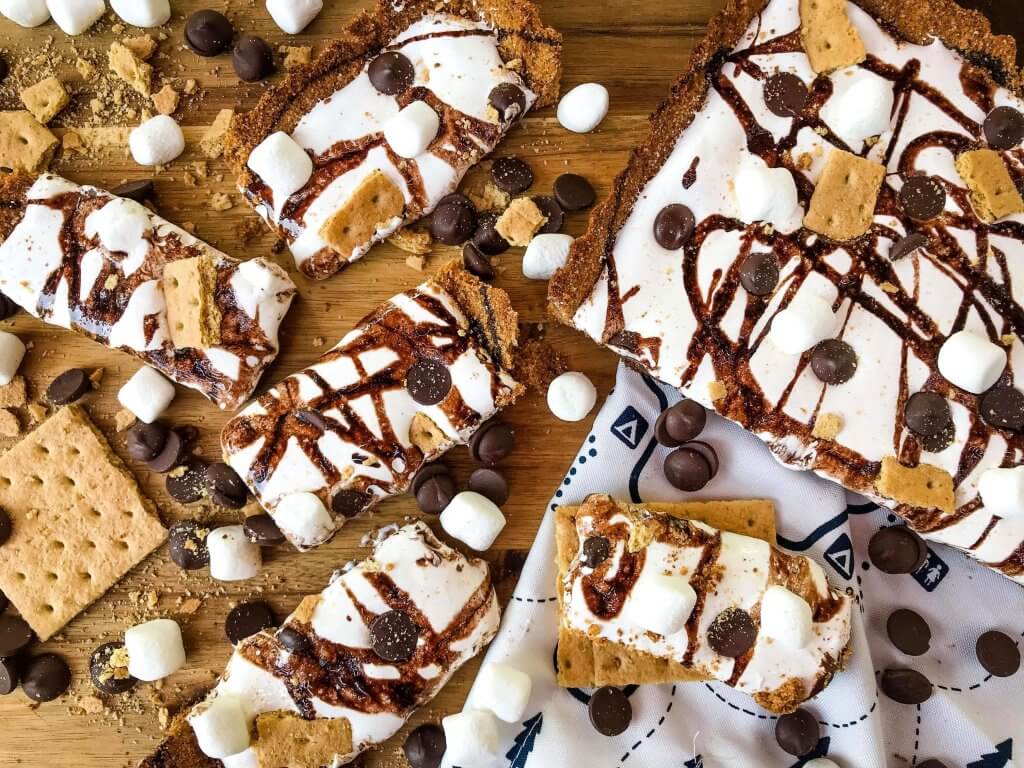 I like to use a rectangle tart pan such as this one, roughly 8 1/2 x 11 or 12 inches. Square, long skinny rectangles, or the traditional circle pan shapes also work, however the crust thickness will vary with how much or little it needs to cover. This would also be fun as little, individual tarts!
The graham cracker crust can be pretty crumbly. The chocolate on the bottom helps to hold it together a little, but try to be gentle with it.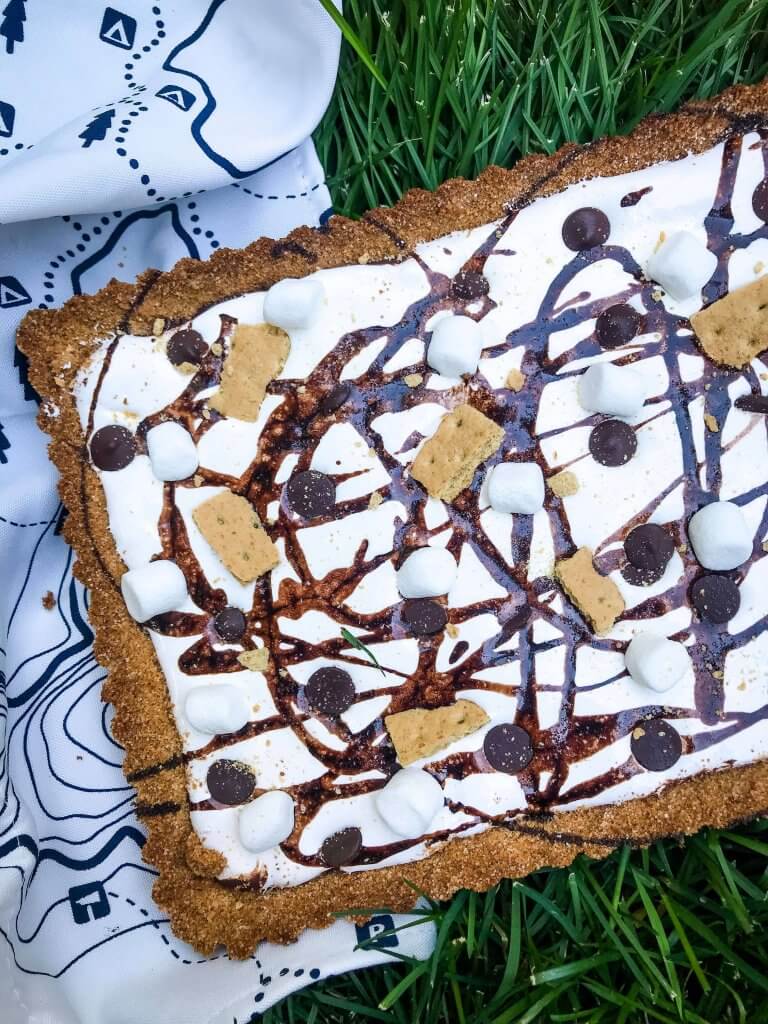 It is best to chill the tart until ready to eat because otherwise the marshmallow fluff will spread and be rather messy when cut. The longer it sits out, the marshmallow starts to fall off, so something to keep in mind with serving! It is very easy to make this S'mores Tart in advance with just a few simple steps. First make the graham cracker crust and bake until just golden. Fill with some melted chocolate chips. The chocolate layer is one of my favorite parts! Finally spread some marshmallow fluff across the top and decorate with more ingredients as desired. It comes together so fast and easily!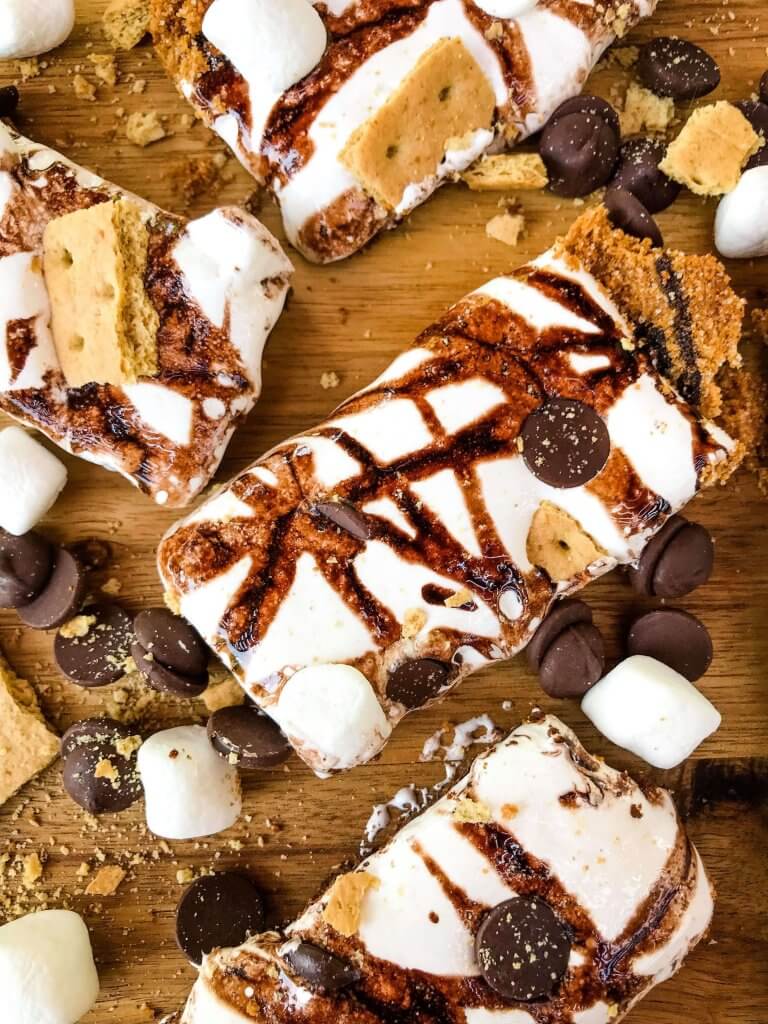 I love my simple and fast tarts for a fun dessert. Find more of our tart recipes here!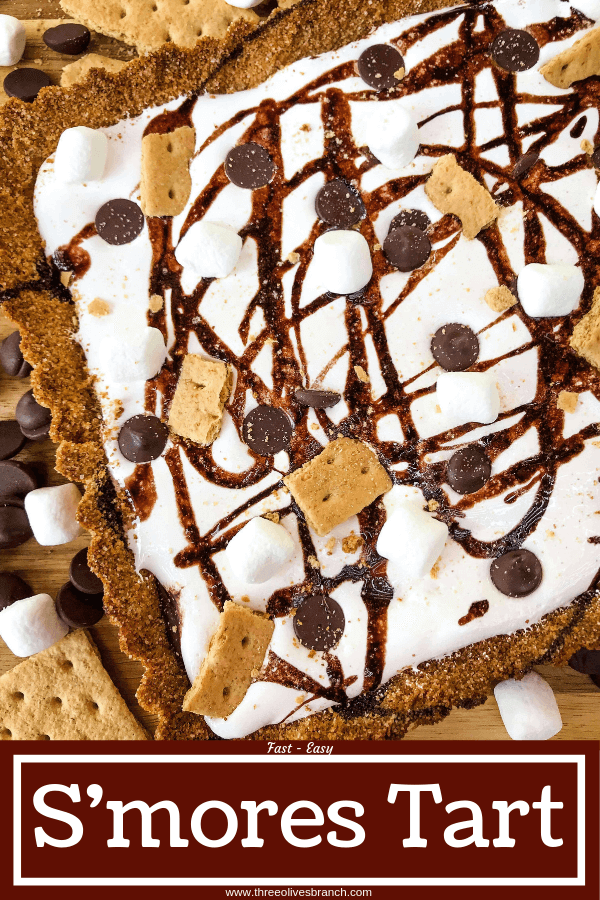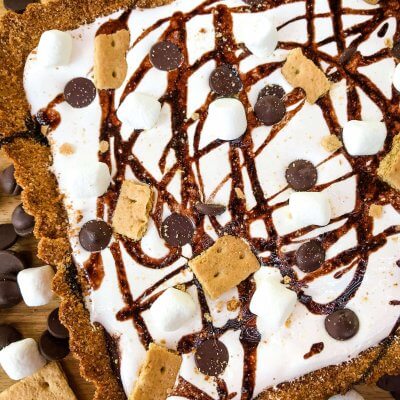 S'mores Tart
Classic s'mores flavor in a simple and easy tart!
Print
Pin
Rate
Instructions
Preheat oven to 375F.

Make graham cracker crumbs either in a food processor or by placing graham crackers in a sealed bag and pounding with a rolling pin or another heavy object.

In a medium bowl, combine the graham cracker crumbs, sugar, and melted butter. Mix to combine.

Press the graham cracker mixture into the tart pan. It will feel a little dry, but press firm and it will solidify when baked. If it feels like your crust is too dry, add a little more melted butter (1/2 - 1 Tablespoon more).

Bake the crust until just starting to golden, approximately 10-12 minutes. Remove the crust from the oven.

While the crust is still warm, melt the chocolate chips in a small bowl by microwaving in 15-30 second increments, stirring in between each time, until melted.

Gently pour the chocolate across the crust and spread across the bottom in an even layer using a spatula. Try using single strokes (like you would brush hair) instead of moving the spatula back and forth. Moving back and forth causes more crust crumbs to get into the chocolate. If the chocolate is not spreading well, place the entire tart back into the warm (but off) oven to help melt the chocolate a little more.

Heat the marshmallow fluff for 15-30 seconds in the microwave until just loosened. This will make it easier to spread. Spoon the fluff across the chocolate and with a clean spatula, spread the marshmallow across the tart.

If needed, place the tart back in the warm (but off) oven for the fluff to fill in any gaps, even out, and become easier to spread.

Immediately decorate the tart with swirls of chocolate syrup, mini marshmallows, little graham cracker pieces, and chocolate chips as desired.

Chill the tart until the marshmallow has firmed up, at least 30 minutes. Cut into pieces and serve.
Nutrition
Calories:

245

kcal

|

Carbohydrates:

41

g

|

Protein:

2

g

|

Fat:

9

g

|

Saturated Fat:

5

g

|

Cholesterol:

15

mg

|

Sodium:

121

mg

|

Potassium:

19

mg

|

Fiber:

1

g

|

Sugar:

30

g

|

Vitamin A:

179

IU

|

Vitamin C:

1

mg

|

Calcium:

27

mg

|

Iron:

1

mg

By