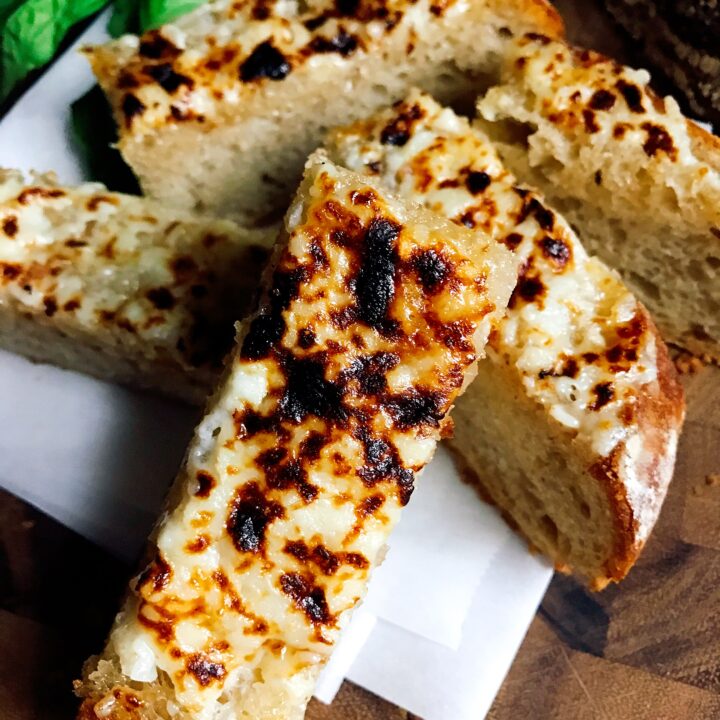 I am not a big bread person, but I am OBSESSED with this fast and easy Sourdough Garlic Bread.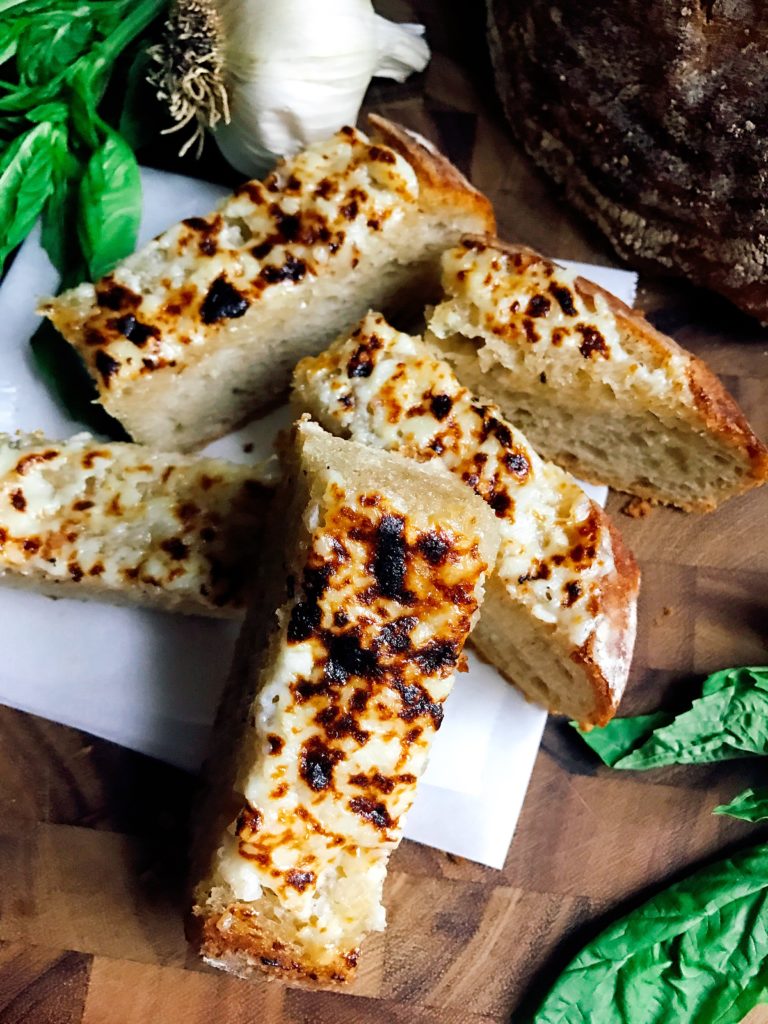 My mom has made it as long as I can remember.  Our family is from San Francisco which means that I grew up eating Boudin Sourdough Bread.  If you do not know what this is, you need to make a trip out there ASAP.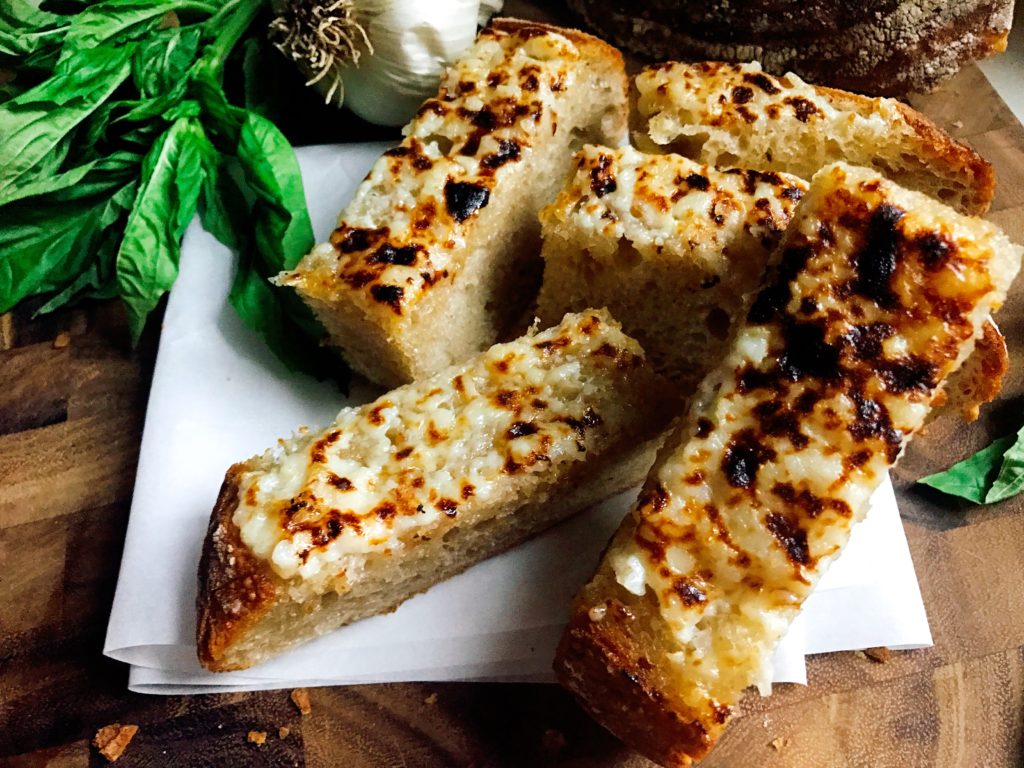 Every loaf is started from the mother dough, which has been around since 1849!  If you ever have a chance to visit San Francisco, take a minute to stop by their factory.  It is at the wharf just off of Pier 39 (a popular tourist spot, so you are probably going to be there anyway!).  You can watch them making various shapes and characters from the street window.  There is a full service restaurant upstairs and a small cafe on Pier 39 itself.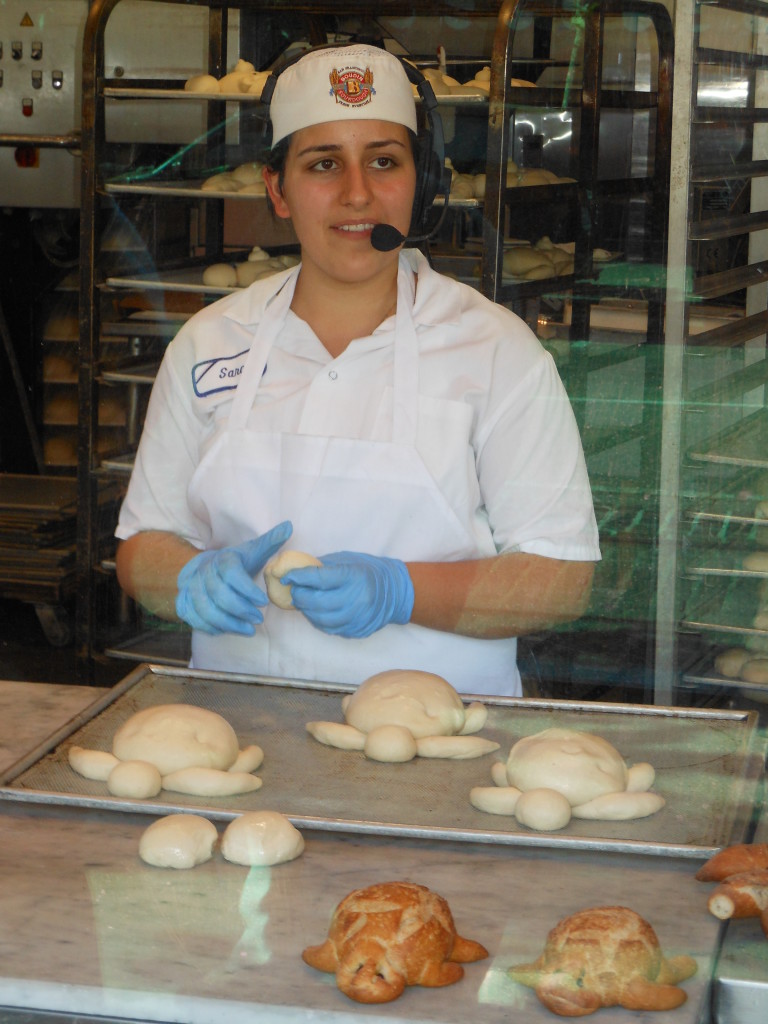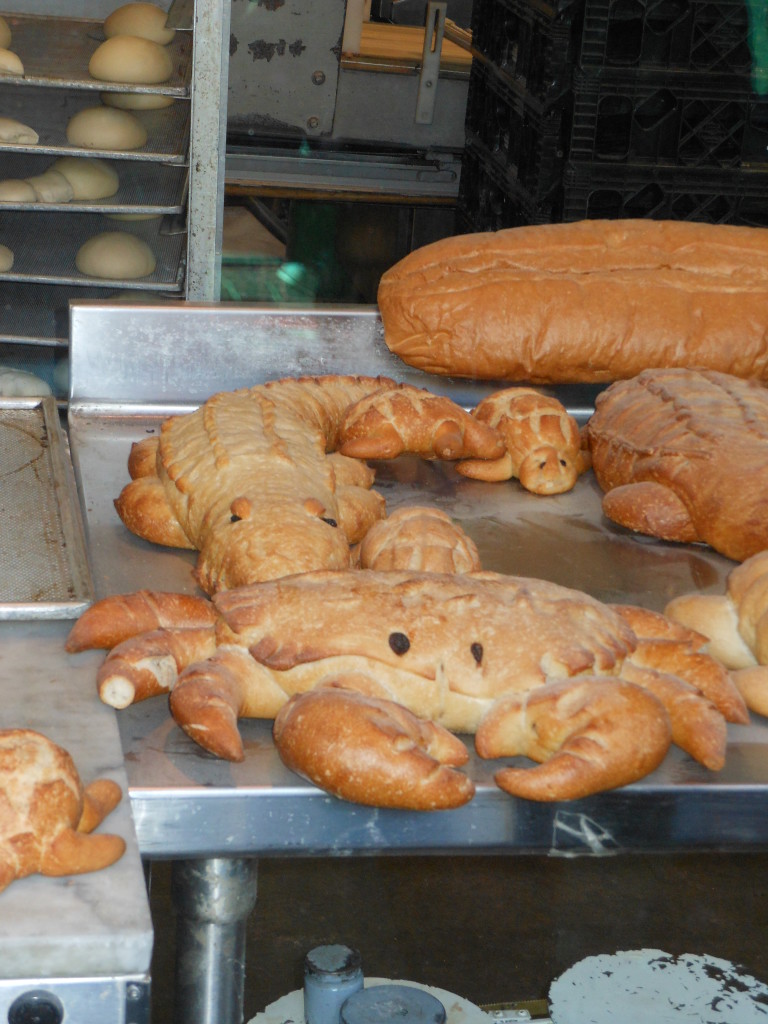 Whenever we are visiting, the first thing we do is grab some bread for the trip.  We also make sure that we eat at either the cafe or restaurant at least once!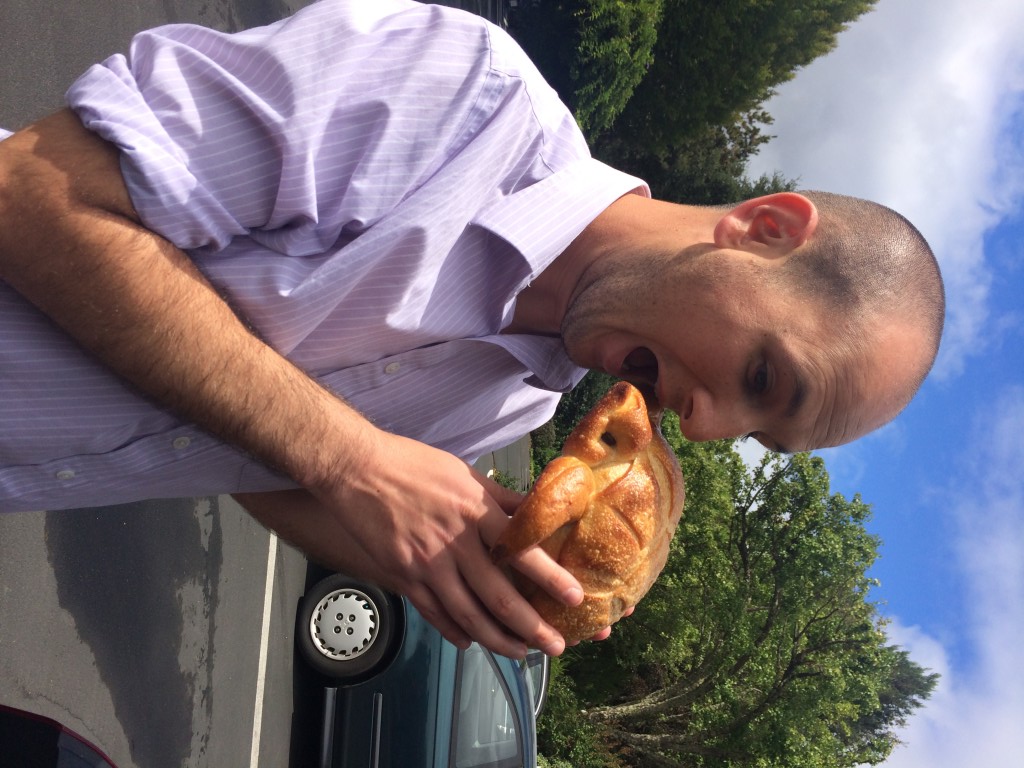 Every time I am in the bay area, you can be sure I am bringing back their travel case of these amazing babies home with me.  You know the people that are in on the secret as they will make comments of jealousy as you walk through the airport with their infamous box.  It is that good.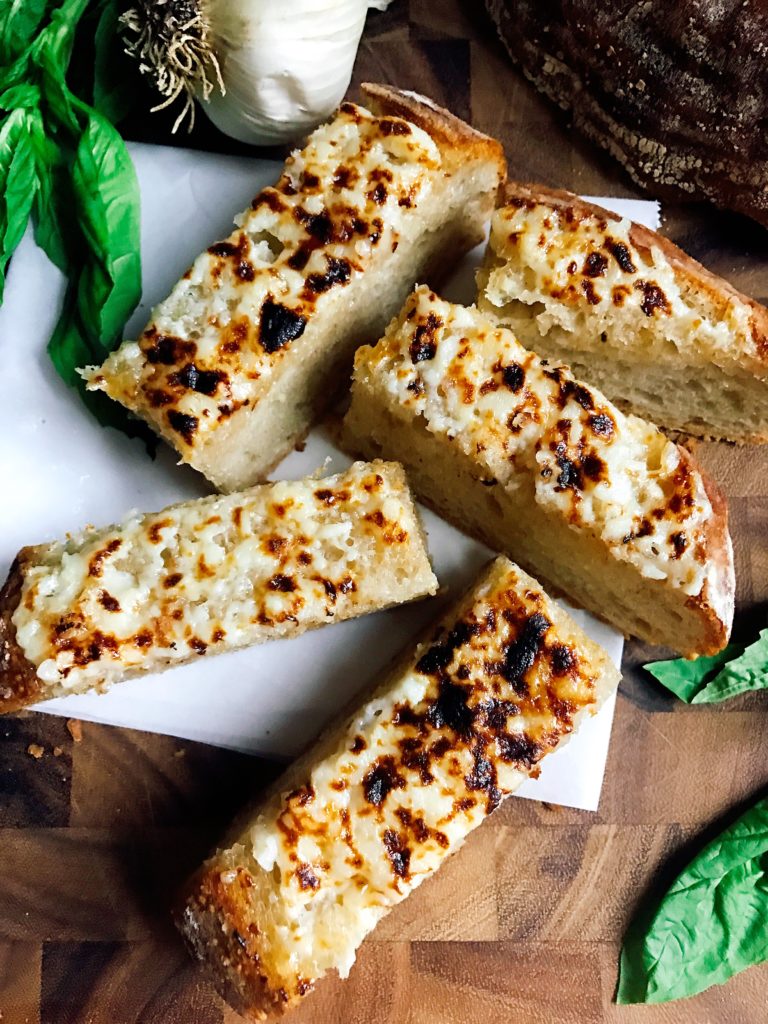 It only takes a few minutes to make your own Sourdough Garlic Bread and it tastes amazing!  You can use any type of bread that you like or have.  The denser, dryer breads that resemble sourdough are best.  I am a BIG fan or garlic, so I put a LOT on my garlic bread.  I find that the paste packs a big punch of the garlic flavor, but it is not too spicy or raw which makes it perfect for kids.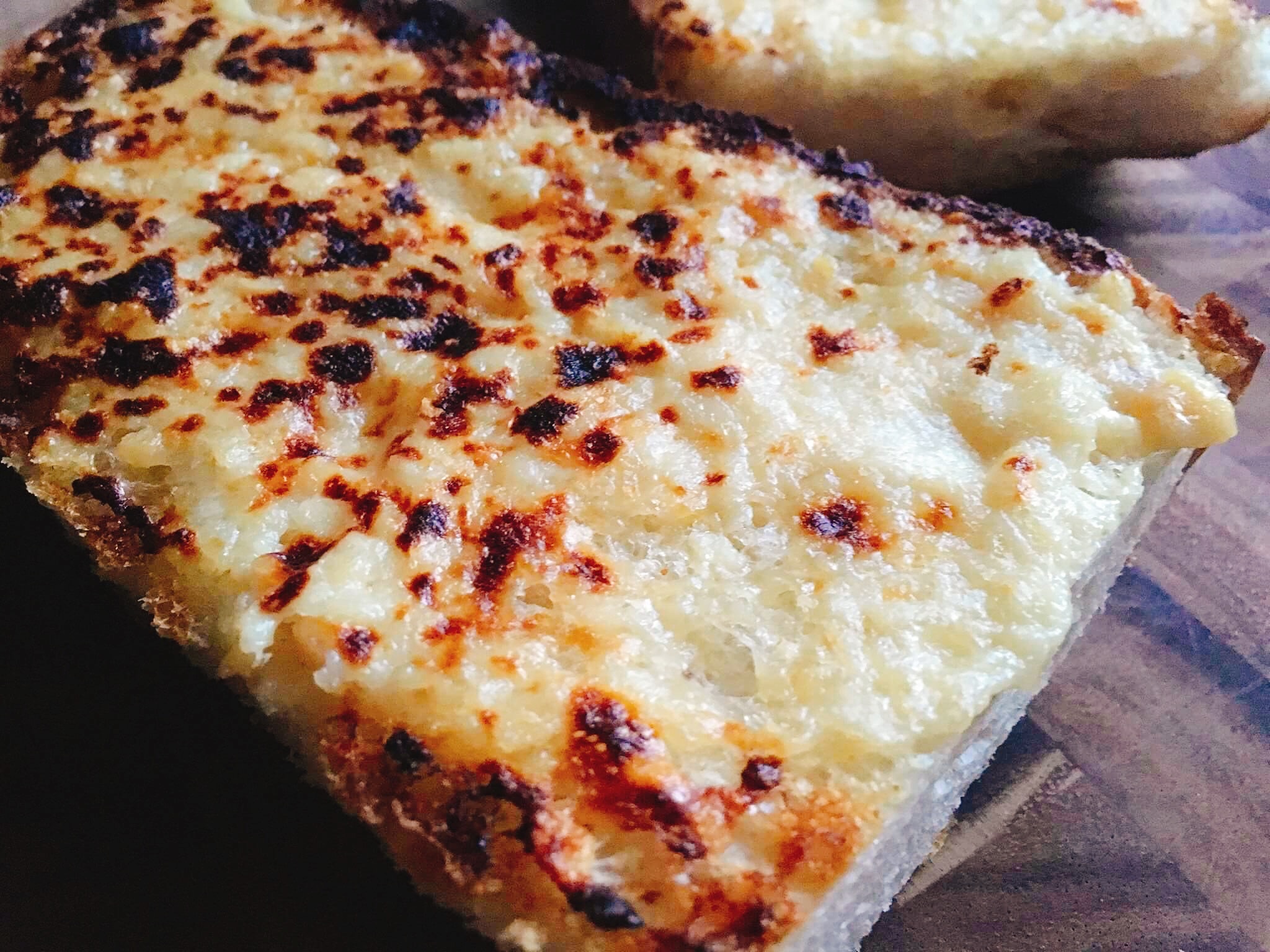 This Sourdough Garlic Bread can be made in just minutes when you are waiting for the rest of your meal to cook.  It is a perfect side to your favorite Italian dish like our homemade basil pesto pasta or our Sundried Tomato and Walnut Linguine with Parmesan Cream Sauce!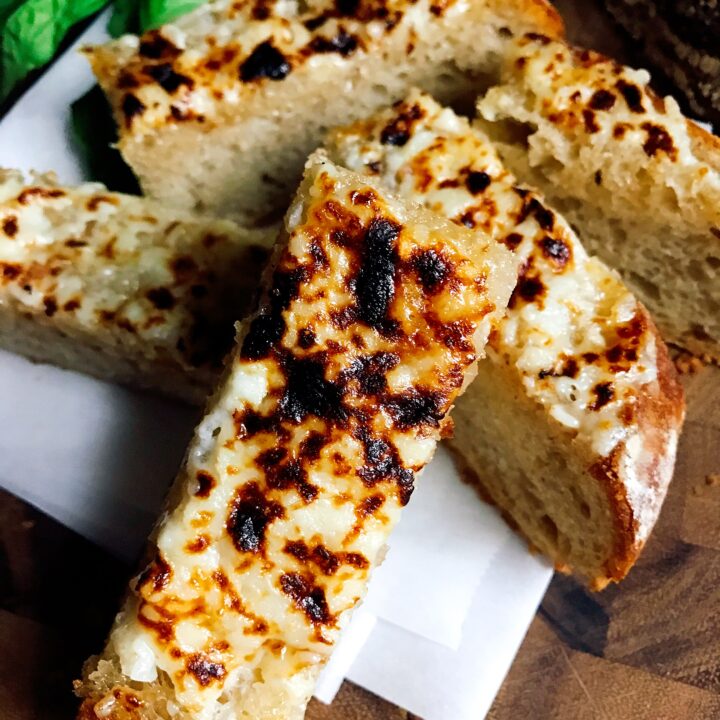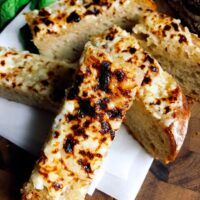 Ingredients
1/2

loaf

sourdough bread

4

Tbsp

unsalted butter

softened

4

Tbsp

garlic paste

(see note)
Instructions
Cut a loaf of sourdough bread in half vertically so that the two ends are separated. Set one half aside.

Using one half of the loaf, slice the bread in half lengthwise as if you are building a sub sandwich so that there is a top slice and a bottom slice.

Spread the softened butter across each bread piece, using more or less as necessary.

Spread the garlic paste on top of the butter.

Set your oven to broil and put a rack on the top most position. Place the bread either directly on the rack or on a baking sheet and place on the top rack directly under the heating coils. Leave the door slightly open.

Broil the bread until it reaches your desired doneness, approximately 3-5 minutes. Make sure that you are watching the bread as it cooks fast and can easily burn. Immediately remove the bread to a cutting board and cut into slices.
Notes
You can find garlic paste at your local grocery store near the fresh herbs in a tube along with other herbs and pastes.

The exact amount of butter and garlic paste that you need will vary with the exact size/shape of your bread.

By