Have you ever gone to a new place and experienced the culture in a new and different way?  I did!  I just got back from a trip to Europe where I combined two of my favorite things: travel and cooking!  We took an authentic Spanish cooking class at Barcelona Cooking!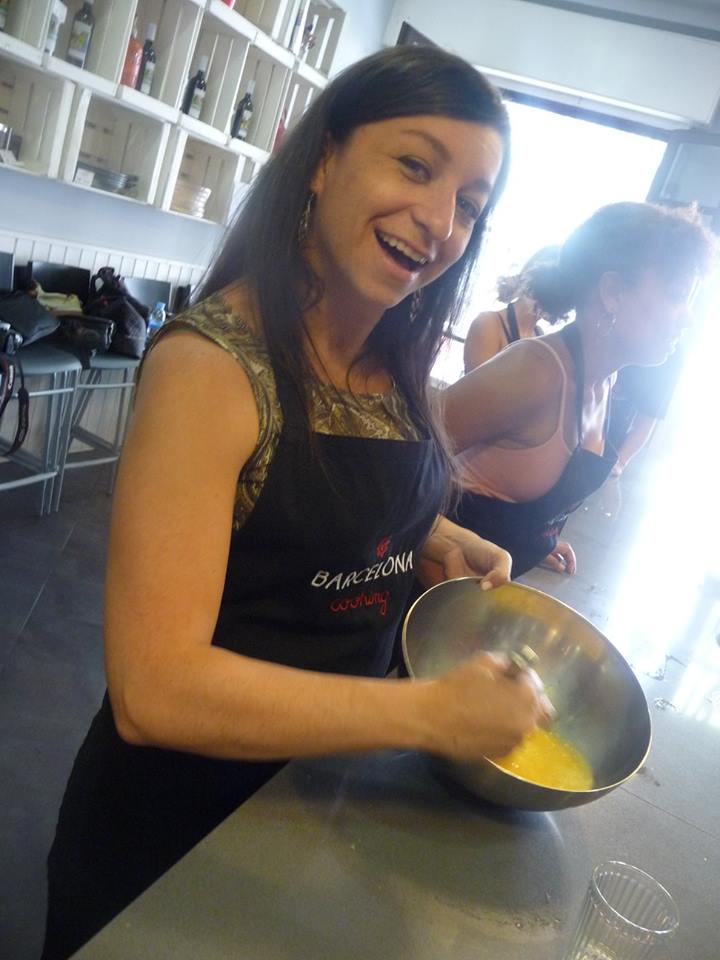 This was such an amazing experience.  I am a big proponent of trying new things and exploring a city off of the beaten path.  Doing something like an authentic cooking class is not only going to give you a unique experience, but also the ability to make the authentic foods at home!  This post is a recap of our Spanish cooking class experience at Barcelona Cooking.  I hope it encourages you to try something similar on your next vacation!
We started off meeting at their facility, located on La Rambla close to the La Boqueria Market.  The group is a maximum of 12 people so it is a very intimate experience where you can learn a lot and be very hands-on with the class.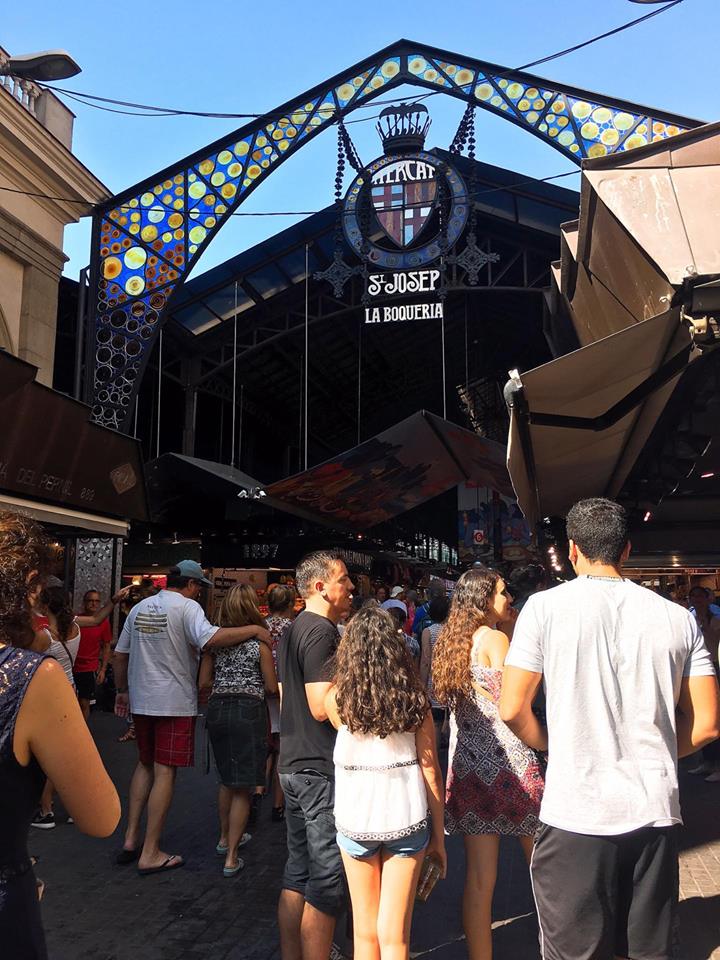 The class started with a guided tour of La Boqueria Market.  This market is a very popular place for residents and restaurants to gather their daily ingredients.  It has everything from seafood and meats to veggies and sweets!  You stop by different vendors and learn about the produce and products of the area.  This is also when you are buying the ingredients you need for the food you are making!  If you go on a Monday, there is no seafood and therefore no seafood paella, so plan accordingly if that is what you want! (They do chicken instead on those days).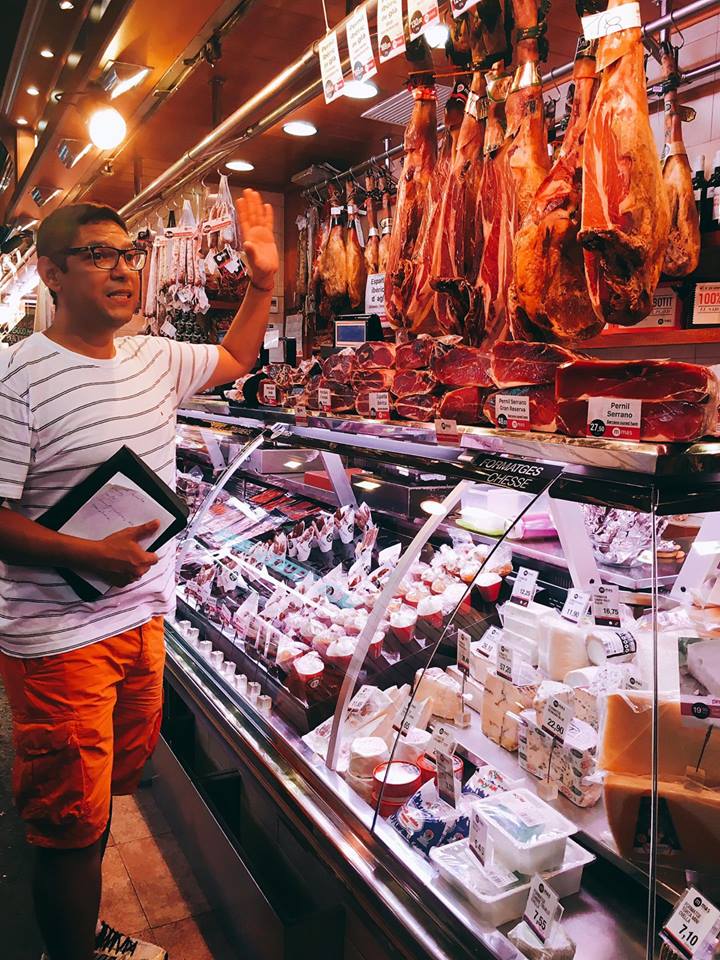 After the market tour, the group heads back to the cooking studio and everyone picks a station.  You do not know what you are in charge of at first.  And I….got the crouton station.  (Ha! 🙂 ) The chef instructor will go around to the different stations and explain what each person needs to do which is helpful to learn about each step since you are only working on one station.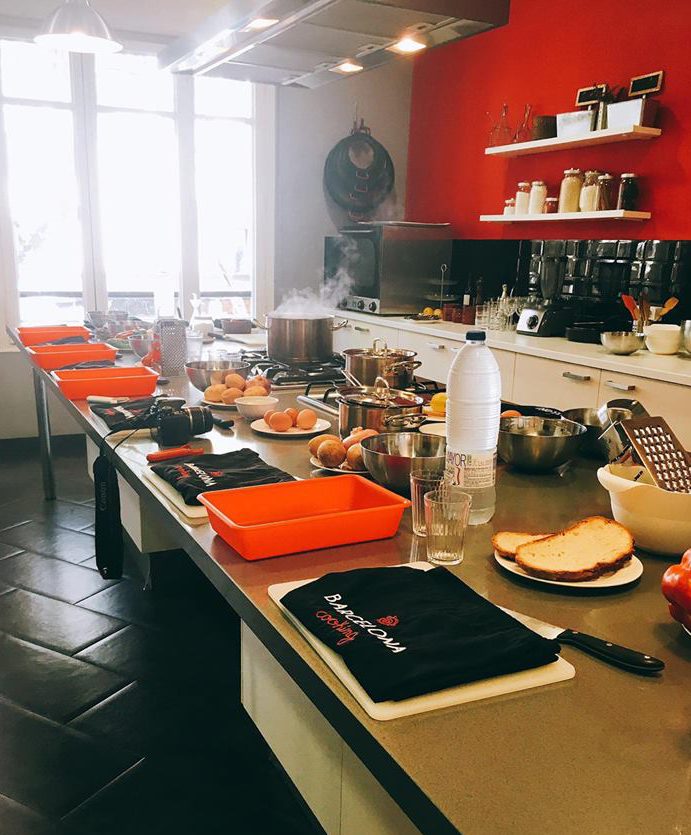 The class includes two appetizers, a paella, and a dessert.  Our specific menu was a Spanish Omelette, Pan con Tomate, Gazpacho, Chicken Paella, and a flan.
I was so excited about this menu, because it incorporates many food staples of Barcelona.  And if I am taking a Spanish cooking class, I want to learn the favorites!
A Spanish omelette is primarily potatoes and some onion that have been cooked in olive oil.  They are then mixed with a few eggs and cooked like a frittata on the stove.  My family and I are no huge egg fans, but everyone in my family LOVED this dish.  The egg ratio is much lower than a standard omelette or frittata which is more my style.  I have so many ideas for this at home, adding in different vegetables and herbs.  Yum!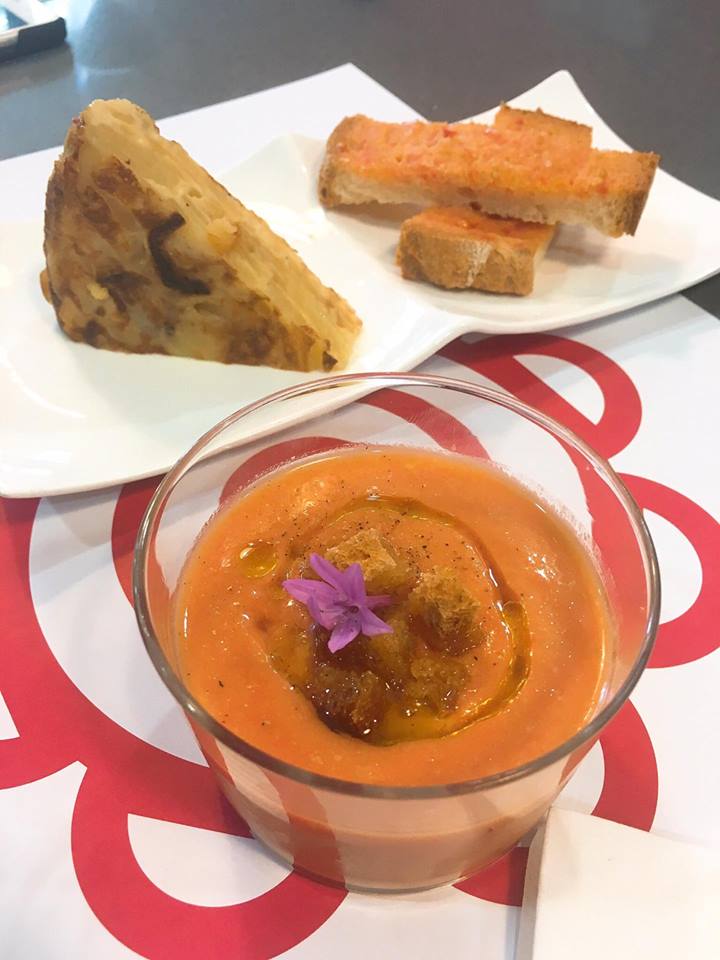 Pan con Tomate is like the bruschetta of Spain.  Bread slices are toasted and then brushed with a little fresh garlic.  The toast is topped with freshly grated tomatoes.  Add a little olive oil and salt, and you have Pan con Tomate!  So simple, but SO good!
Gazpacho is a cold soup.  Ours was made with a base of tomato, peppers, and a little bread to thicken it up (courtesy of my crouton station haha).  Very clean and fresh flavors.
Paella is probably the most iconic dish of Spain.  Made with a rice base, paella incorporates stock, vegetables, and often chicken or seafood into one pot.  Spanish Paprika is a secret ingredient to making paella shine and something they are very proud of.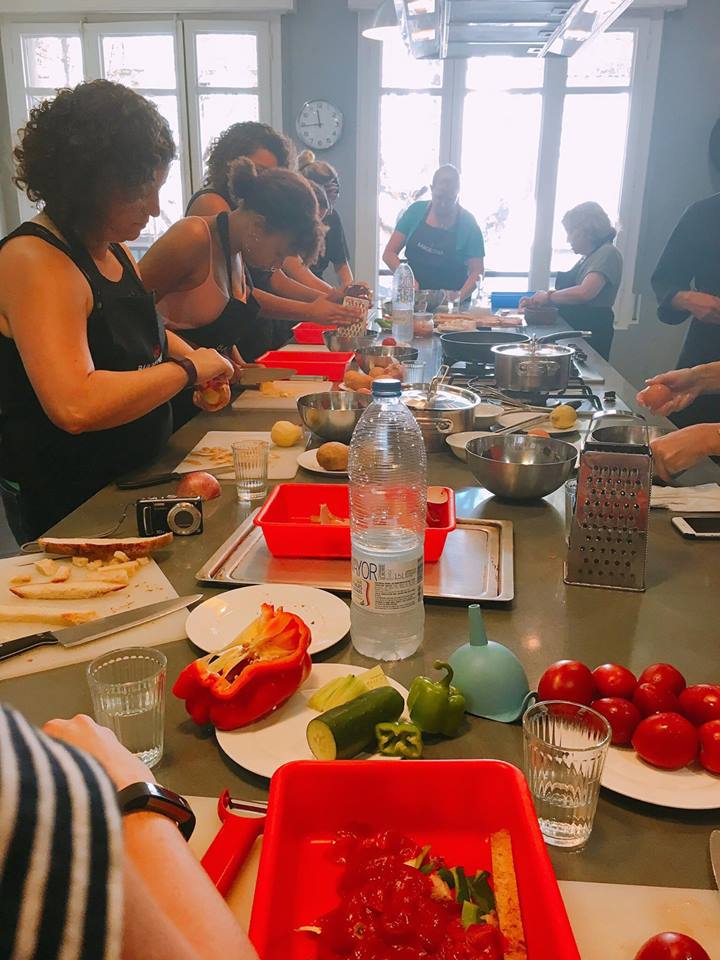 It is definitely a group effort to get everything done as you help others when your station is finished.  The chef instructors are there to assist everyone with questions, techniques, and general knowledge about the food and process.
After the appetizers are finished, it is paella time!
I was lucky enough to assist with starting the paella!  They ask for volunteers to help with different steps, and with a class size of 12 it is very easy to be involved.  Check out the size of that paella pan!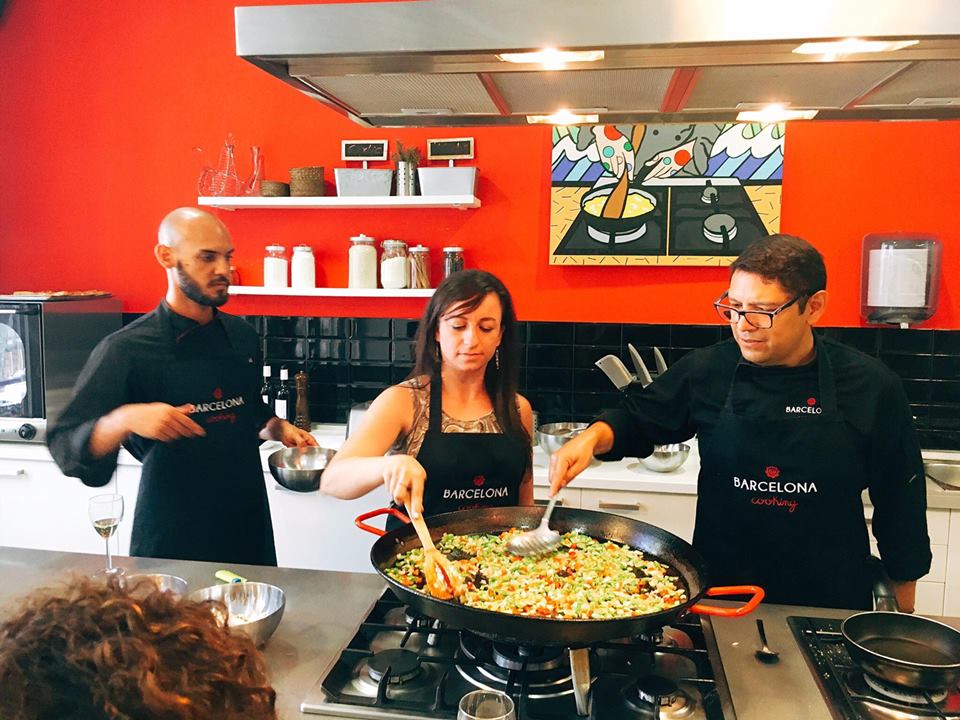 While the paella is cooking, you get to eat the appetizers!  The class also comes with unlimited wine and water as well.
Our group was absolutely fantastic!  Everyone had a lot of fun together and the room was full of laughter and smiles.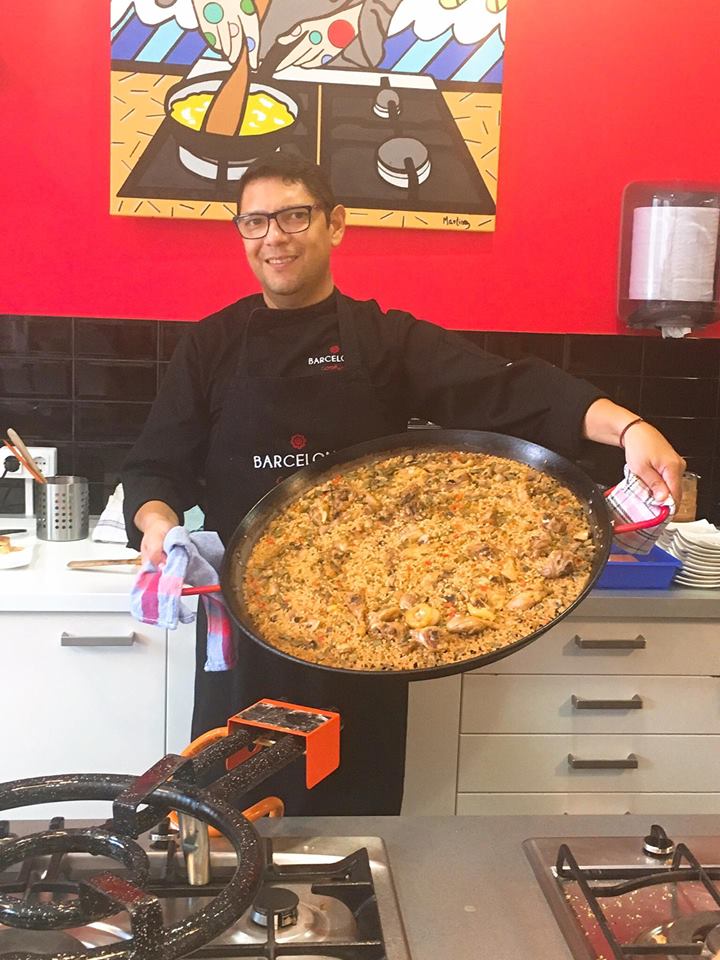 Taking this Spanish cooking class was one of the best decisions we made on our trip.  The food was some of the best that we had the entire time we were in Barcelona!  It was very authentic and similar in style and flavors to what we found at restaurants.  And the best part is that they email you the recipes at the end of the class, so no note taking is needed!

I am so excited to try out the recipes here at home and recreate my Barcelona Cooking experience!  If you are a food lover and happen to be in Barcelona, I definitely recommend checking out one of their classes.  The staff is friendly and knowledgeable, and you will bring back to many amazing memories from a fantastic experience.  Check out Barcelona Cooking here!

By