A healthy snack or appetizer, roasted chickpeas are seasoned with ground espresso, cocoa powder, and cayenne for a spicy savory treat.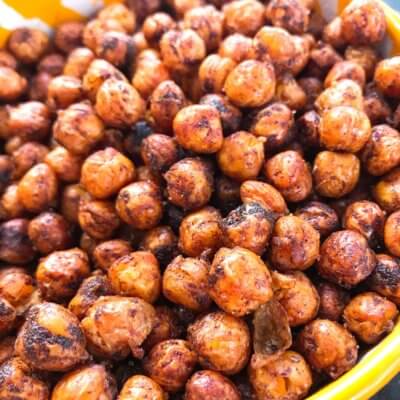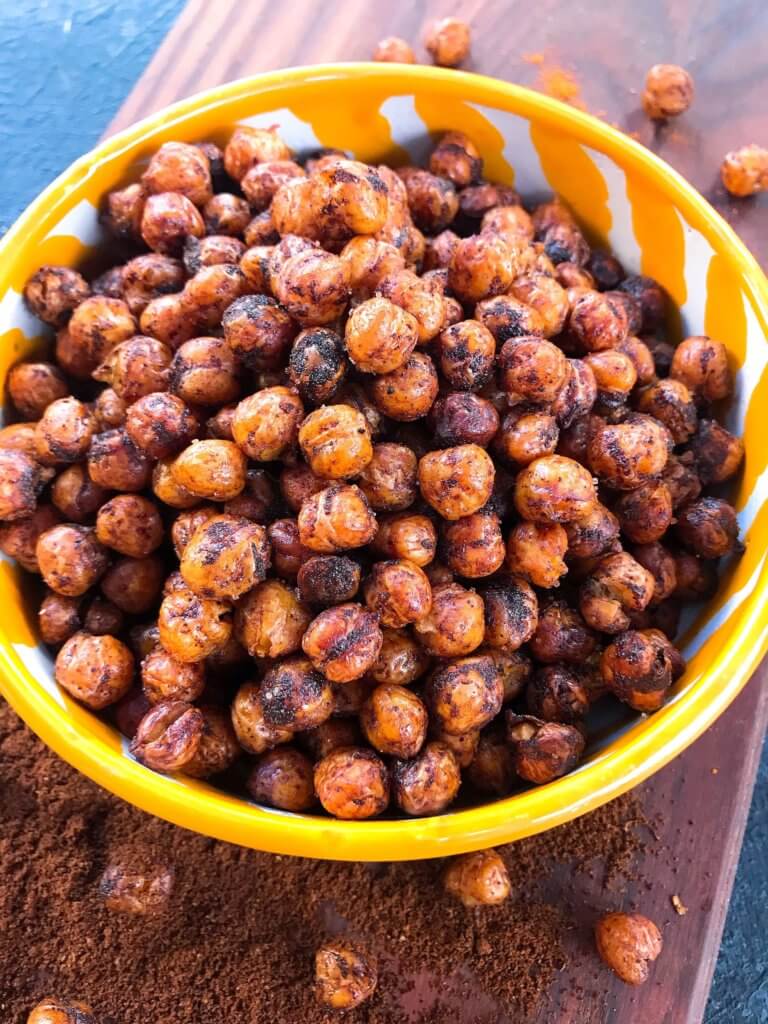 These Spicy Cocoa Espresso Roasted Chickpeas are inspired by steak seasonings that mix cocoa powder, espresso, and cayenne together.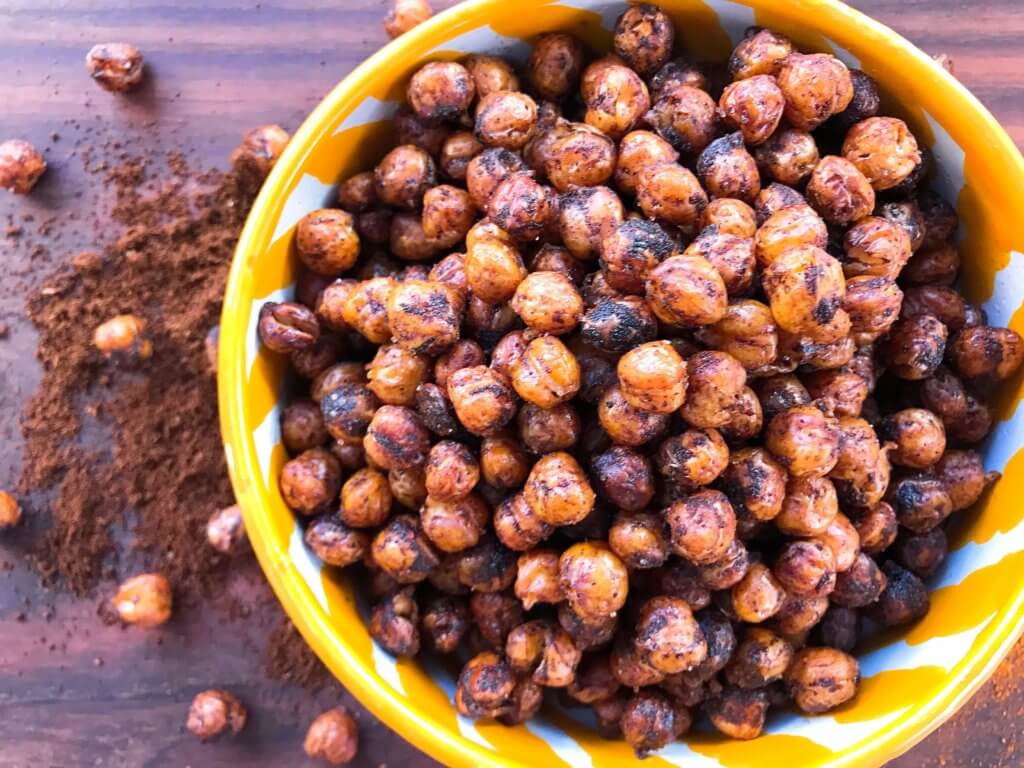 This post contains affiliate links.
Chickpeas are also called garbanzo beans, which is what I called them growing up. Most commonly, I see and hear "garbanzo beans" and have never seen a can that says "chickpeas" but we will stick with the "chickpea" naming in this recipe as that is how roasted chickpeas are known.
Spicy Cocoa Espresso Roasted Chickpeas are gluten free, vegan, vegetarian, and dairy free. Serve them up for game day or entertaining, or just eat them whenever! I keep one of my roasted chickpea flavors on my desk at all times as they make the perfect healthy snack.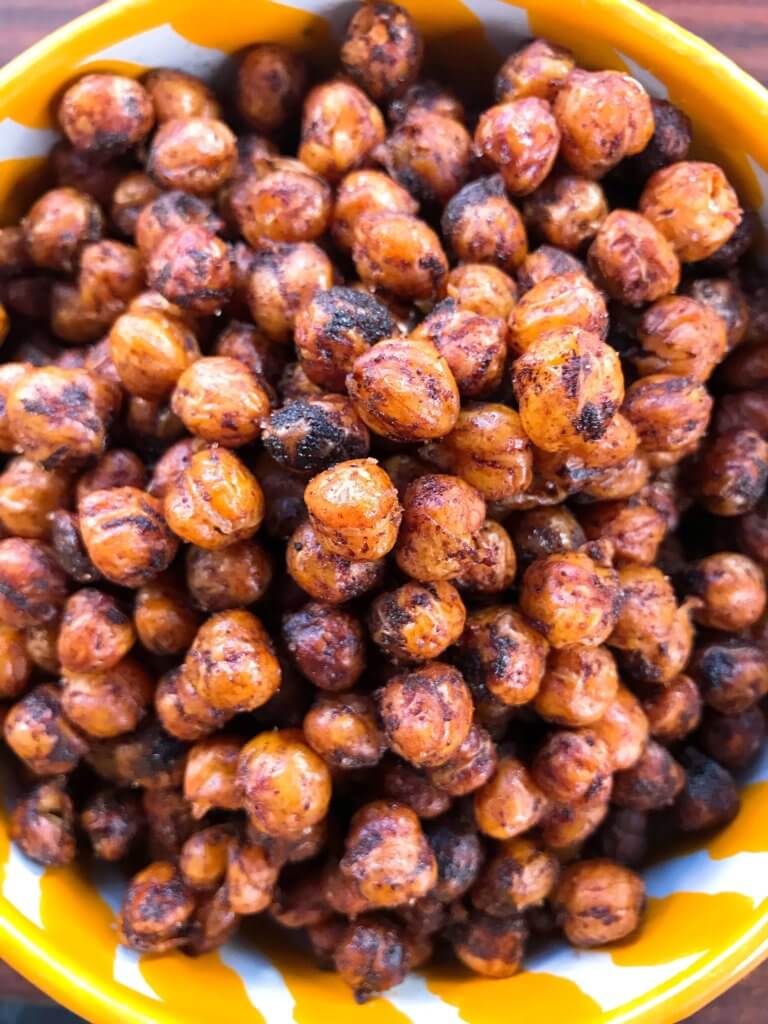 Can I use dried chickpeas/garbanzo beans?
I have not personally tried these with dried beans, but yes, you can. However! You need to cook them first. Do NOT make these with still-dried beans, they will be incredibly hard. You will need to soak the dried beans overnight and cook them before proceeding with the instructions below.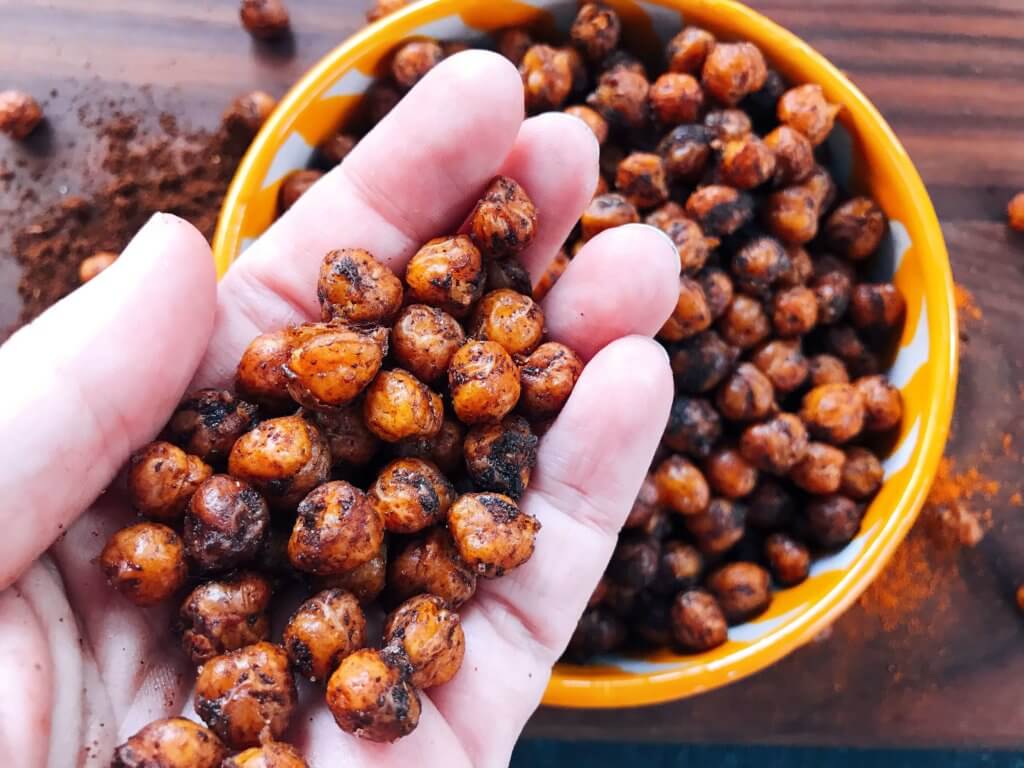 To make Spicy Cocoa Espresso Roasted Chickpeas, first drain and rinse two cans of garbanzo beans. Then dry them off and toss them in a small bowl with some olive oil and salt. Roast them in the oven at 350F for 35-40 minutes and then let them sit in the hot oven, heat off, for a while longer to continue drying out. If you like them extra crunchy, you can roast them at 400F for 30 minutes just watch them closely as they are more likely to burn! When ready, toss the beans with the espresso powder, cocoa powder, and cayenne. Find more of our roasted chickpea recipes here!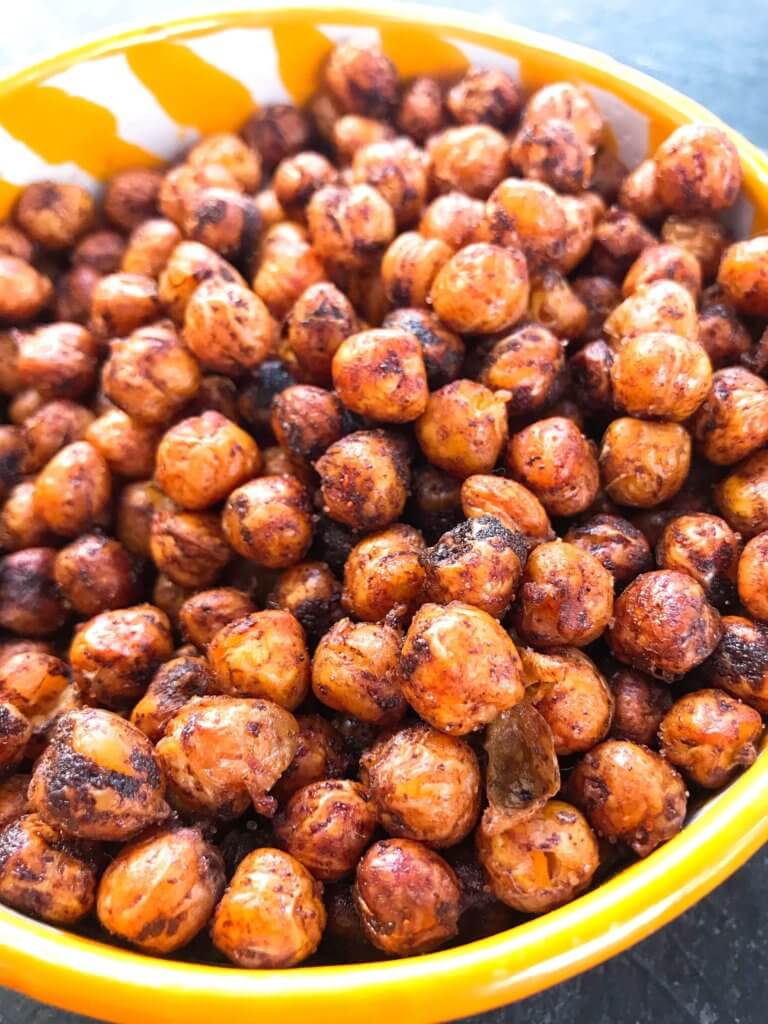 Use as much or little cayenne as you want, as it definitely adds a kick on the back end! If you are worried about spice, start with just a little, maybe 1/4 teaspoon, and go from there. I found 1/2 teaspoon provided a good kick but not "hot."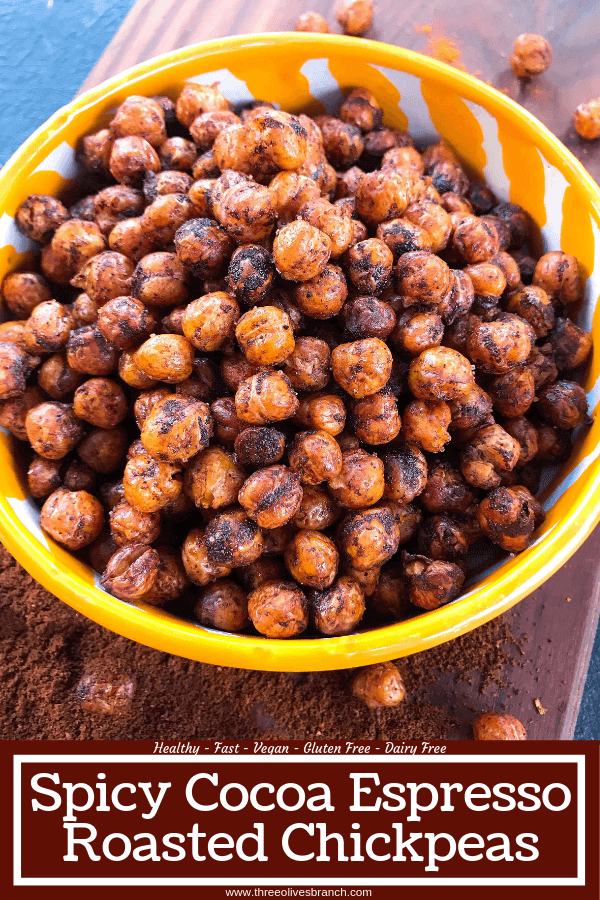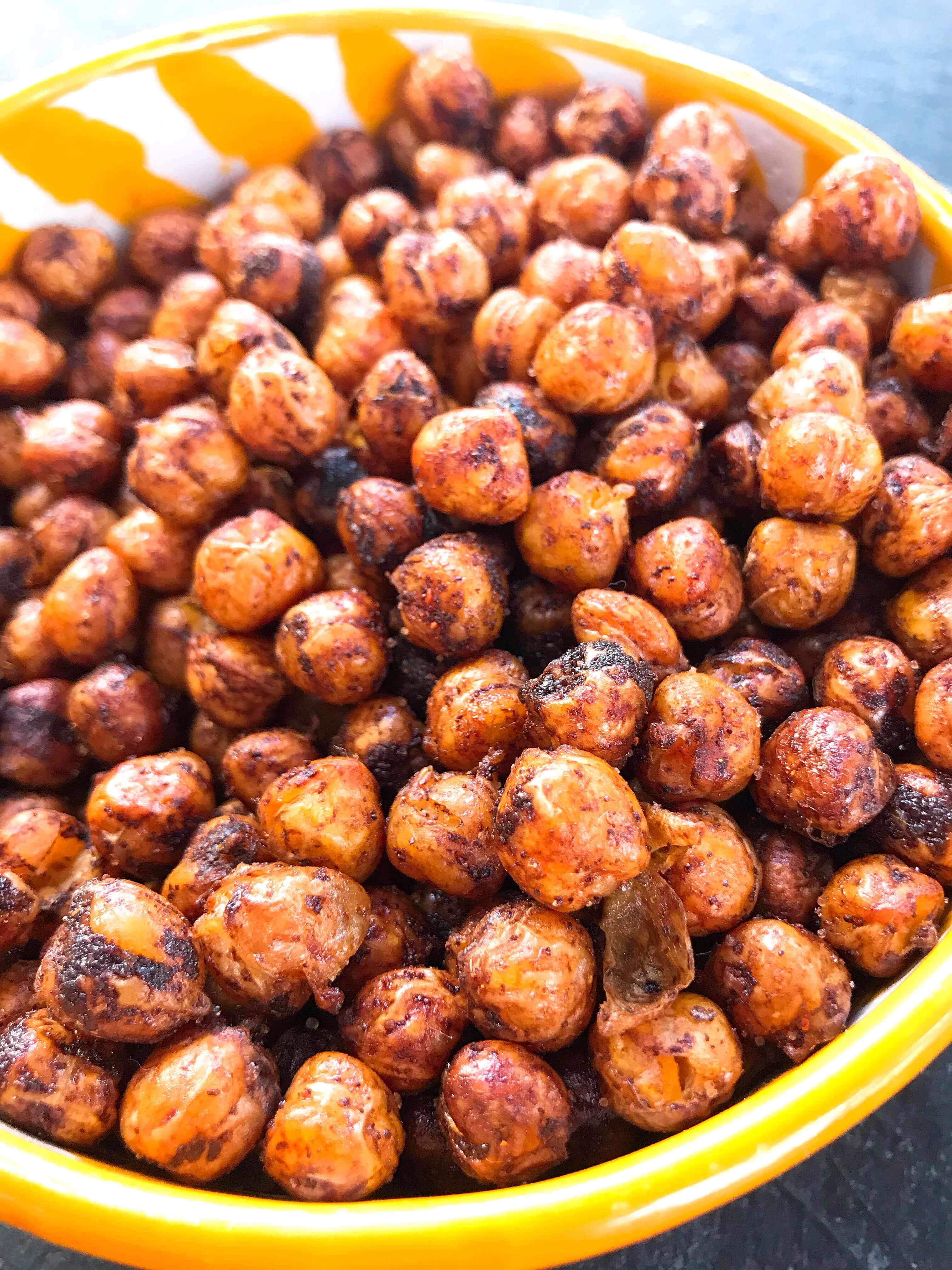 Ingredients
30

ounces

garbanzo beans

(chickpeas) (two 15 ounce cans)

2

Tablespoons

olive oil

1/2

teaspoon

salt

1

teaspoon

ground espresso

(or ground coffee)

1

teaspoon

cocoa powder

unsweetened

1/2

teaspoon

cayenne powder
Instructions
Preheat oven to 350F.

Drain and rinse the chickpeas. Place them between two clean towels or paper towels and gently pat dry, removing as much moisture as you can. (If you want to remove the skins, press more firmly to peel many of them off. Leaving the skin on will provide a little extra crunch and fiber - this is a preference decision).

Toss the dried chickpeas with the olive oil and salt.

Spread the chickpeas out on a silicon baking mat lined baking sheet (or spray tin foil with cooking spray).

Bake for 35-40 minutes until the beans are starting to take on a little color and get dry. Turn off the oven and leave the beans in the oven to continue drying out to your desired crunchiness, checking every 10-15 minutes. (I like mine crunchy and leave them in for 30-40 minutes post-baking).

Put the cooked chickpeas in a small bowl. If dry, add just a touch of oil. Add the espresso powder, cocoa powder, and cayenne, and toss to coat. Adjust seasoning as desired with any of the spices. Let cool outside of a container or bag as any trapped heat will soften the chickpeas again.
Notes
If worried about being too spicy, start with just 1/4 teaspoon of the cayenne and add more as desired.  The exact cayenne you use will also vary in heat.

If you want the chickpeas extra crunchy, you can cook them at 400F for 30 minutes instead of 350F for 35-40 minutes but watch them closely as they can start to over-darken!

By