A delicious, classic dip in a fun potato skin shell! Great for entertaining and game day!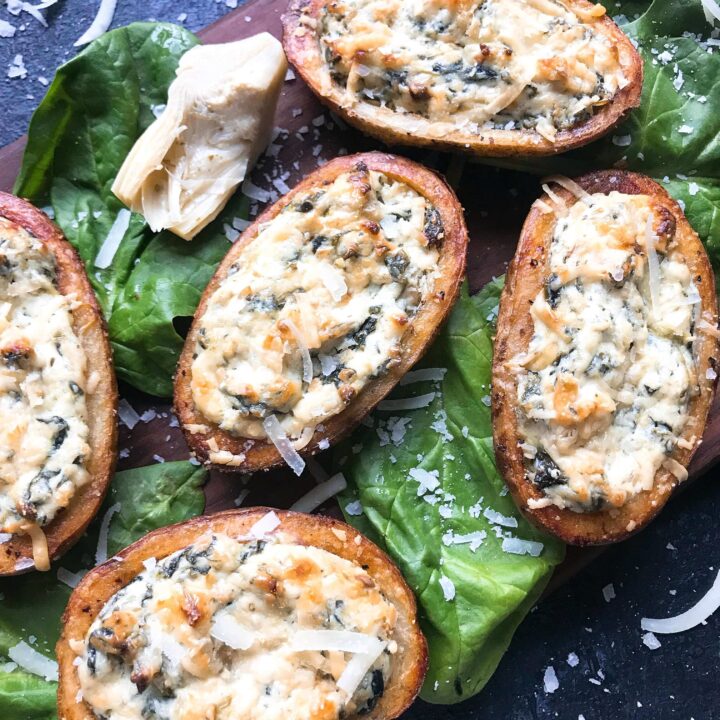 These Spinach Artichoke Dip Potato Skins are one of my new favorites!  A delicious, classic dip is packed into potato skin shells and topped with more Parmesan cheese.  They are perfect for entertaining at parties and game day snacks!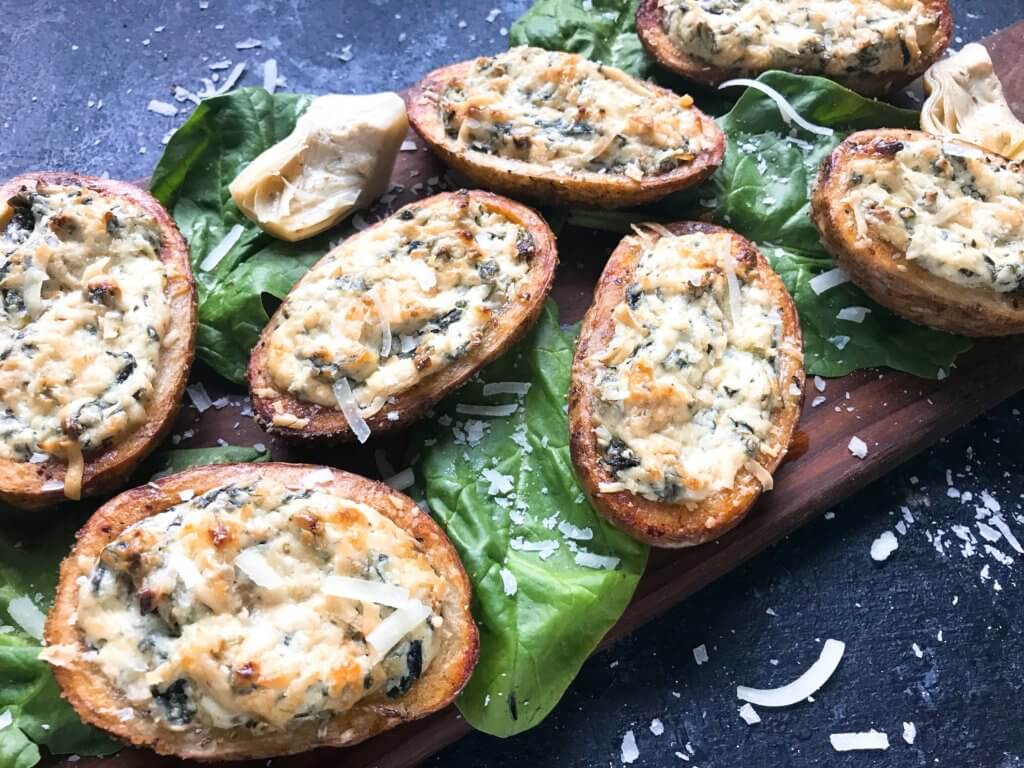 This post contains affiliate links.
I have always been a fan of spinach artichoke dip, but recently I found an amazing way to make the dip that has gotten be obsessed!  I have plans to use the dip in a lot of fun new ways like I have with Mexican Street Corn, and first up was these potato skins.  Seriously good idea, because I have been wanting to make these every weekend for football binge watching.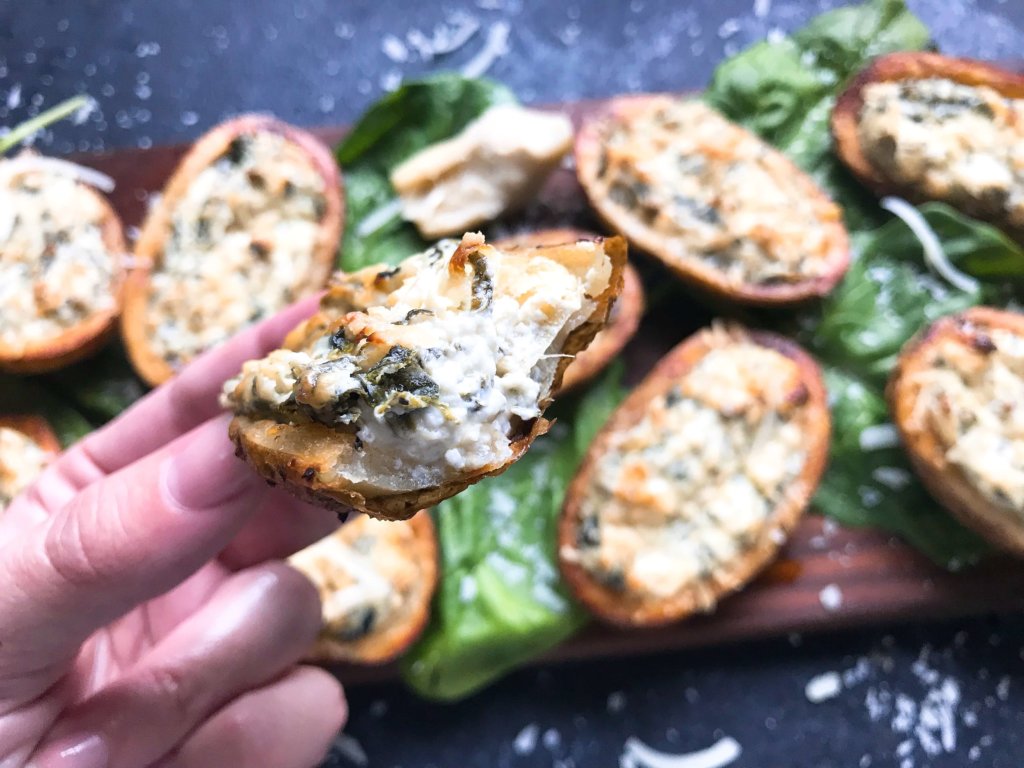 Frozen spinach makes this easy, but you can also use fresh spinach instead.  The spinach is not as broken down (from not being frozen) so it stays in bigger pieces but is just as delicious!  And you might as well make a double batch of the filling and use the leftover as a dip itself, because it is difficult to not be eating it while stuffing the shells!  These Spinach Artichoke Dip Potato Skins are vegetarian and gluten free.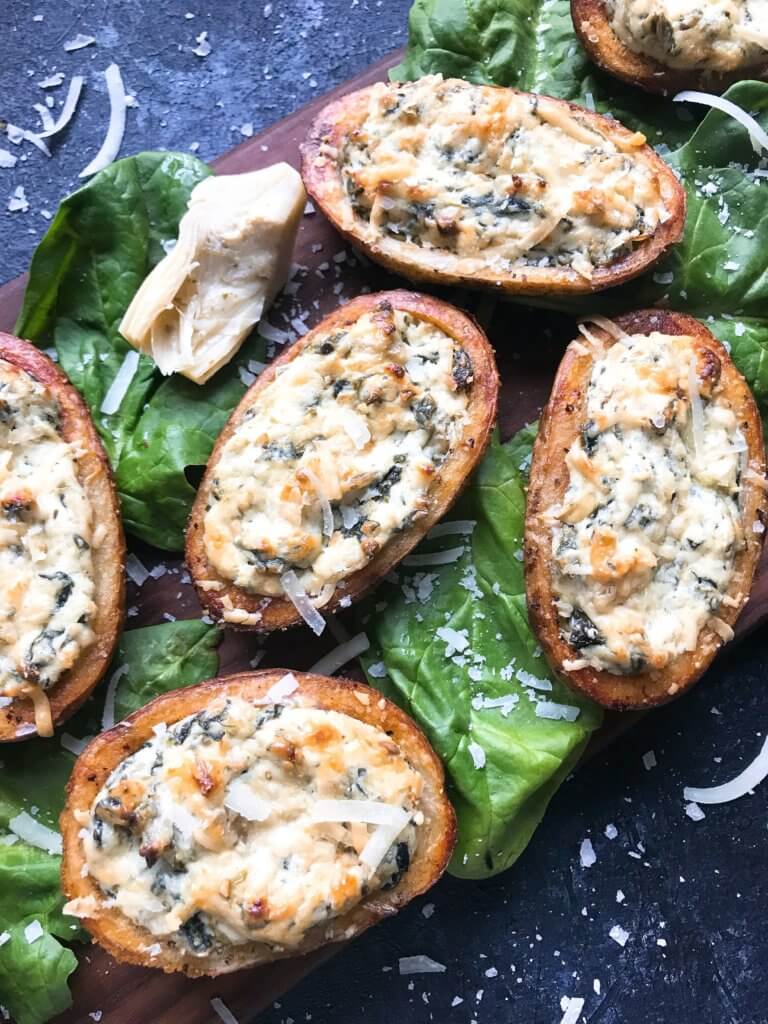 Learn how to make potato skin shells here!  It is my favorite technique as I found using baked potatoes were just too soft and difficult to work with.  Plus my technique above is so much faster!  The topping possibilities are endless!  Now that I have a recipe for perfect potato skins, it is somewhat dangerous because they are so good!  The potato skin shells are great to make in advance.  Just refrigerate until you are ready to load them up and bake.  You can also now find potato skin shells in the freezer section of your grocery store with the french fries.
Have you tried any of our other potato skin recipes?  They are one of my favorite things to make for parties, game day, and holidays.  Find more potato skin recipes here!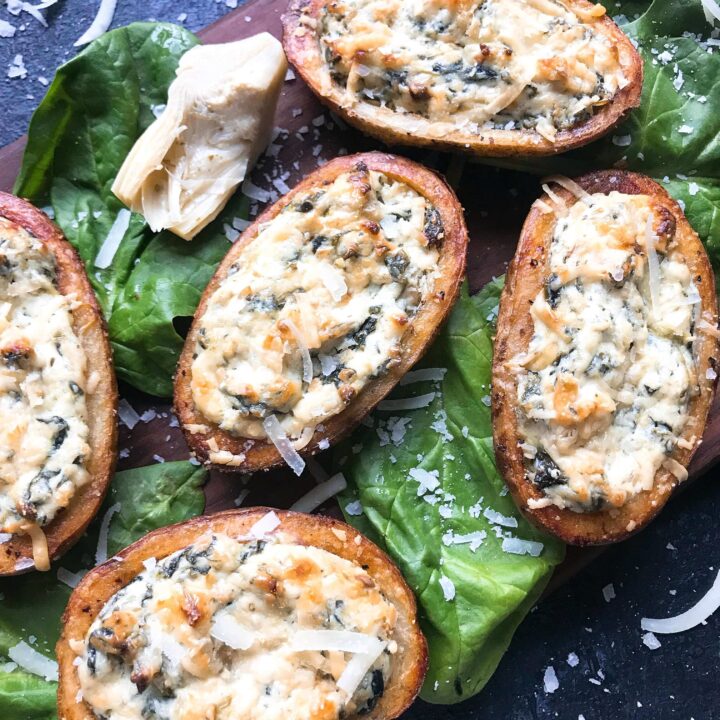 Spinach Artichoke Dip Potato Skins
A delicious, classic dip in a fun potato skin shell! Great for entertaining and game day!
Print
Pin
Rate
Servings:
12
potato skins
Instructions
Make sure you have your potato skins ready to go. See notes for links to recipes for potato skin shells.

Preheat oven to 350F.

Once your potato skins are prepared (see note below for recipe), place them skin side down on a large cookie sheet.

Defrost the spinach if using frozen and squeeze out any excess liquid.

In a small bowl, combine the cream cheese, Parmesan cheese, spinach, chopped artichoke hearts, sour cream, garlic powder, red pepper flakes, and salt. Season to taste as desired with more of any ingredient.

Fill each potato skin shell with the mixture. Sprinkle the tops of the potato skins with some additional Parmesan cheese.

Bake until the cheese on top is starting to brown and the cheese filling is hot and starting to bubble, approximately 12-15 minutes. Serve immediately.
Notes
Learn how to make potato skin shells here! Find more potato skin recipes here!

You can also use 2 cups of fresh spinach instead of the frozen.  Chop as finely as you want it to appear in the mix.

Cooking time assumes that the potato skin shells are already done.  You can easily make the shells in advance, or use frozen ones from the french fry section of your grocery store.

For a truly vegetarian appetizer, ensure you are using vegetarian cheese.

By