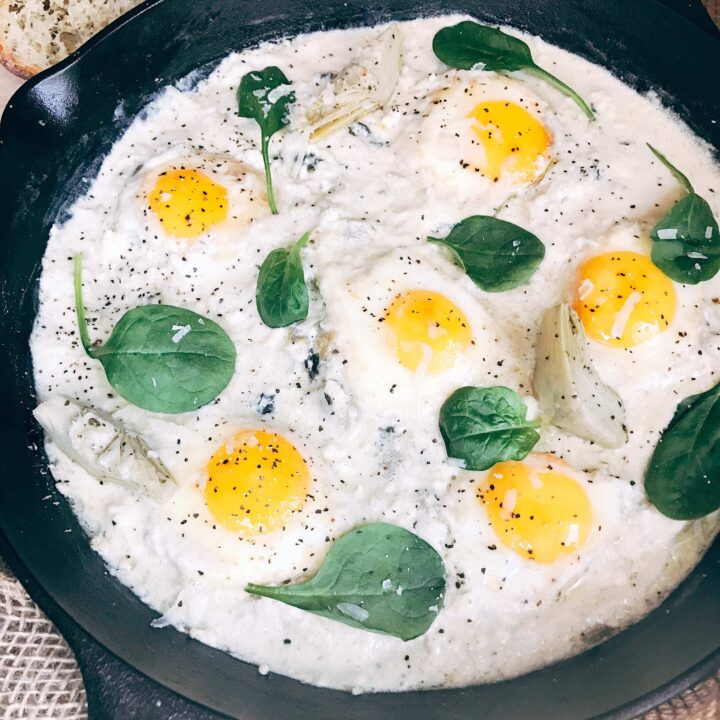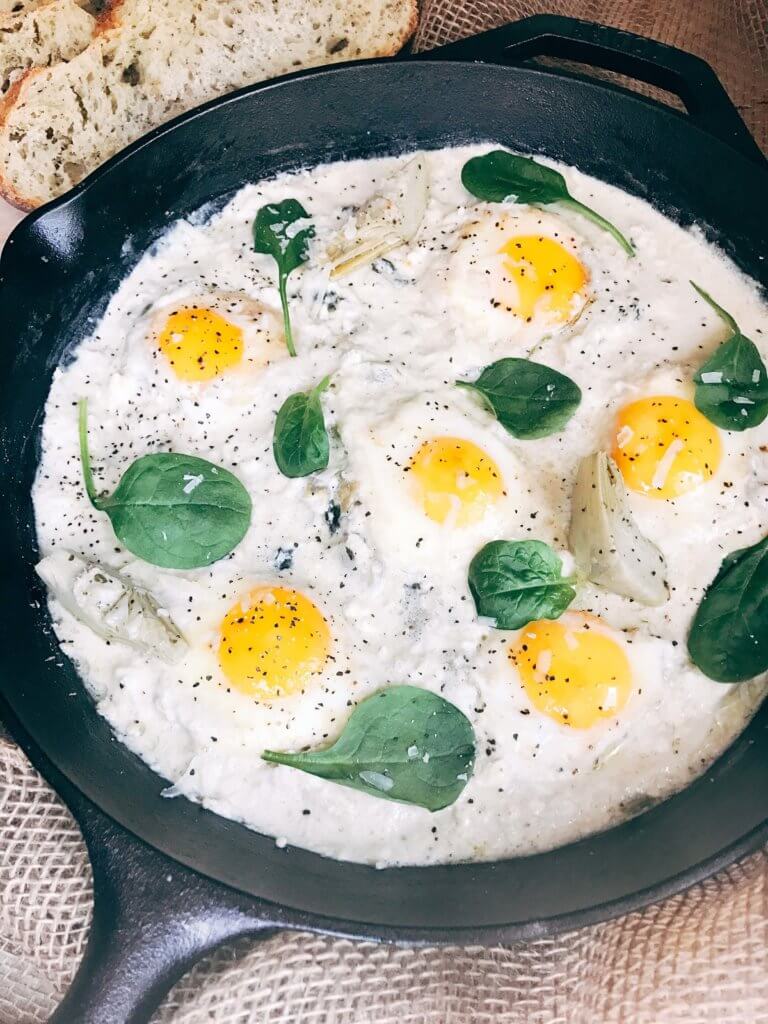 I had been thinking about making shakshuka for a while, and after I made my first one I was hooked!  There are so many different flavor combinations I have thought up now, be sure to stop by later as I get more posted!  I have also been on a spinach and artichoke kick lately (Spinach Artichoke Pesto Pasta, anyone?) and so this Spinach Artichoke Shakshuka seemed like a natural next step.  Shakshuka is traditionally a tomato based sauce and originated near Northern Africa/Middle East (there are debates about this) and is also commonly called Eggs in Purgatory.  But I like "shakshuka" as it is fun to say 🙂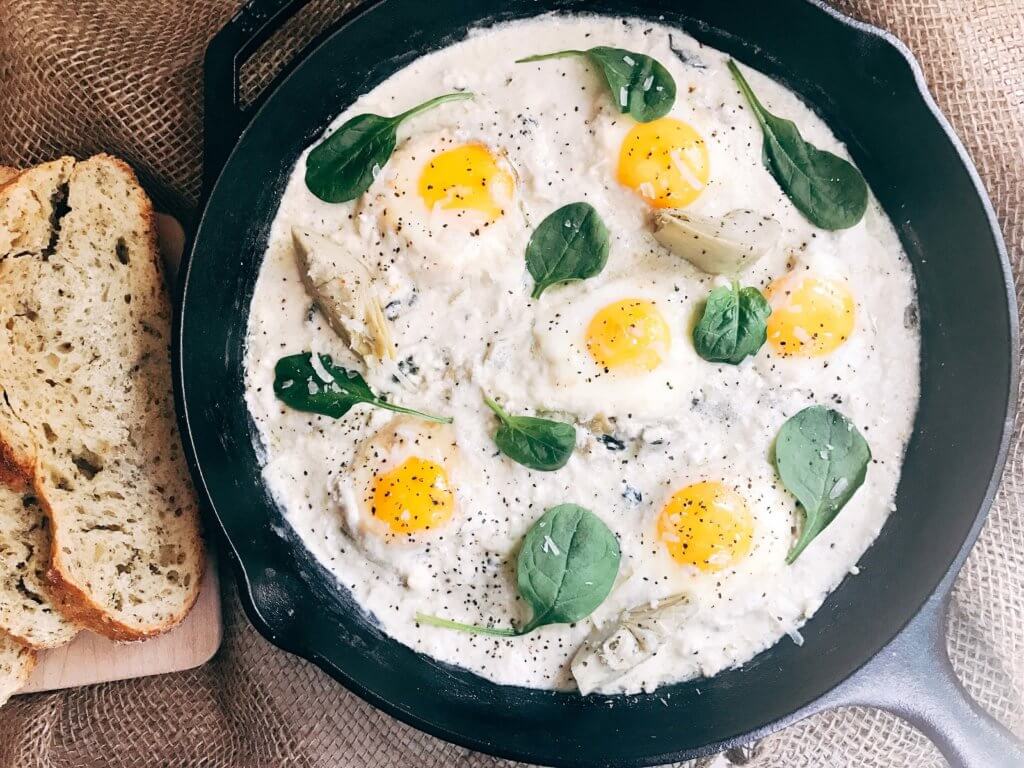 I'm in love with the concept of shakshuka because you can eat it any time of day and it completely makes sense.  Breakfast, brunch, lunch, dinner, snack, it all works.  This Spinach Artichoke Shakshuka is a twist on spinach artichoke dip with a creamy, cheesy sauce.  You can easily throw some ground sausage, diced chicken, or sliced ham in if you need a meat fix, but we have found it is filling and satisfying all on its own as a vegetarian dish.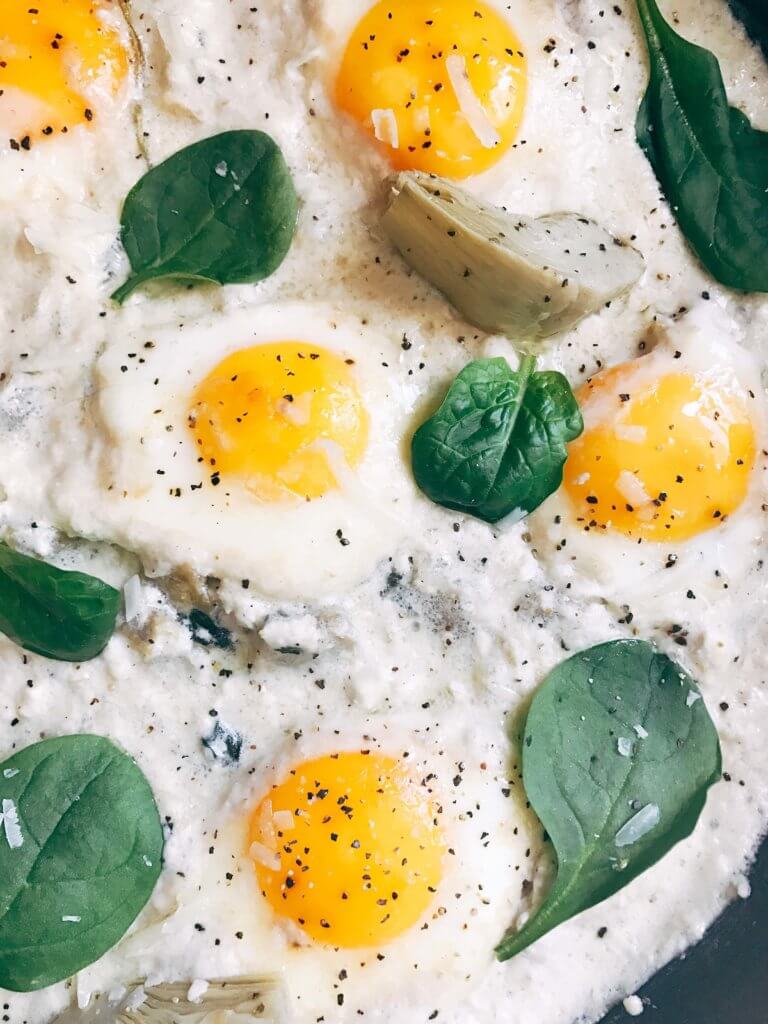 So when I was making this, I noticed that most recipes say to just cover the skillet with a lid to cook the eggs in just a few minutes.  But this made the yolks disappear under the white (not as pretty).  I also tried it in the oven, and the same thing happened.  Heat coming from the top made the white that covers the yolk cook, letting the egg essentially disappear and just look like a white blob.  So if you want to keep the yolk visible like in the pictures, it will take a little longer to cook.  Leave the skillet on the stove top and just cook until the egg white is done to your liking.  No lid, no other trick, just let it sit.  We went for over medium (runny yolk, cooked white) and it took about 12 minutes.  You will also need to add additional milk to the sauce because with the longer cooking time, it will get thicker.  Add more as needed while it is cooking.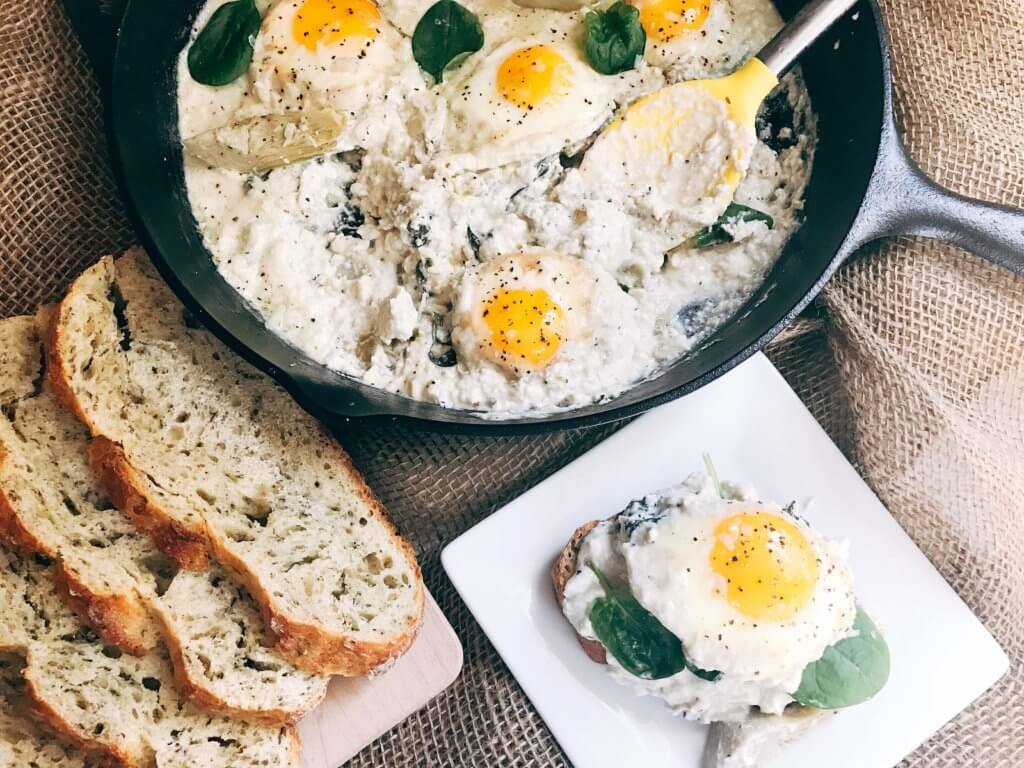 But if you are going for speed, or you do not care if you see the yellow yolk, just cover the skillet and cook until the eggs are done to your liking.  For over medium this only took about 4 minutes for me, but your stove will cook differently.  You can tell if the white is cooked or not by poking it with your finger.  If it feels firm, it is cooked.  If it wiggles or moves, it is not.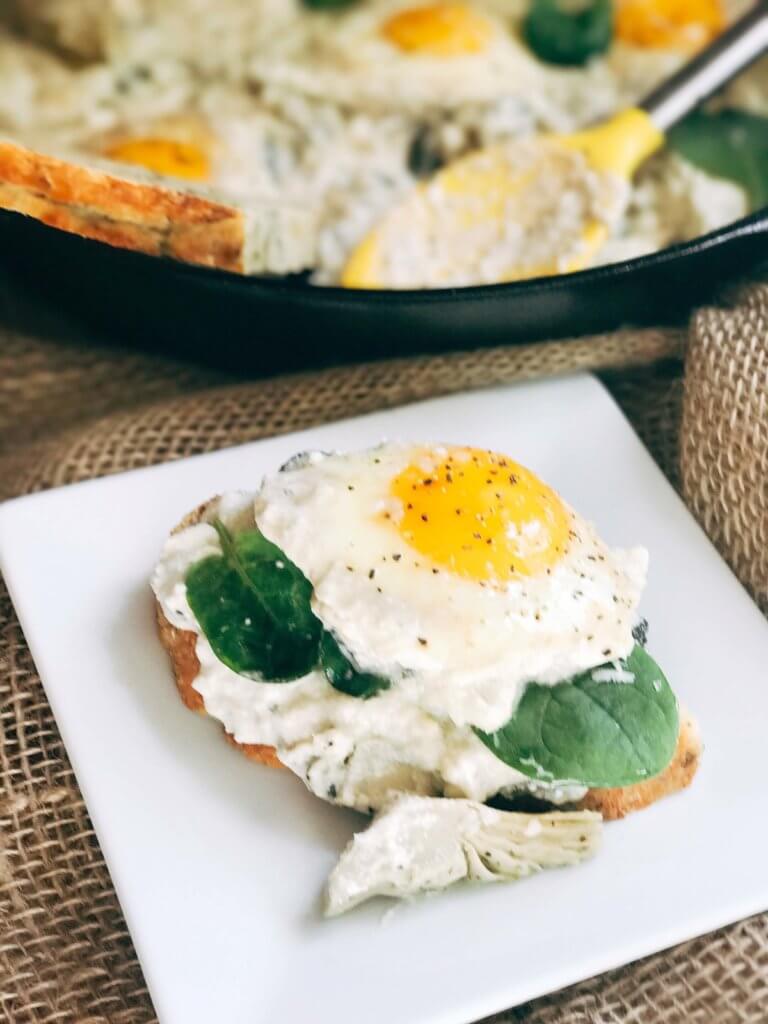 My favorite way to eat Spinach Artichoke Shakshuka has been on a slice of really great bread.  You could also use English muffins, pasta, salads, or anything else you want to!  Two eggs per person is a good sized portion, so you can add as many or few eggs as you want to the skillet.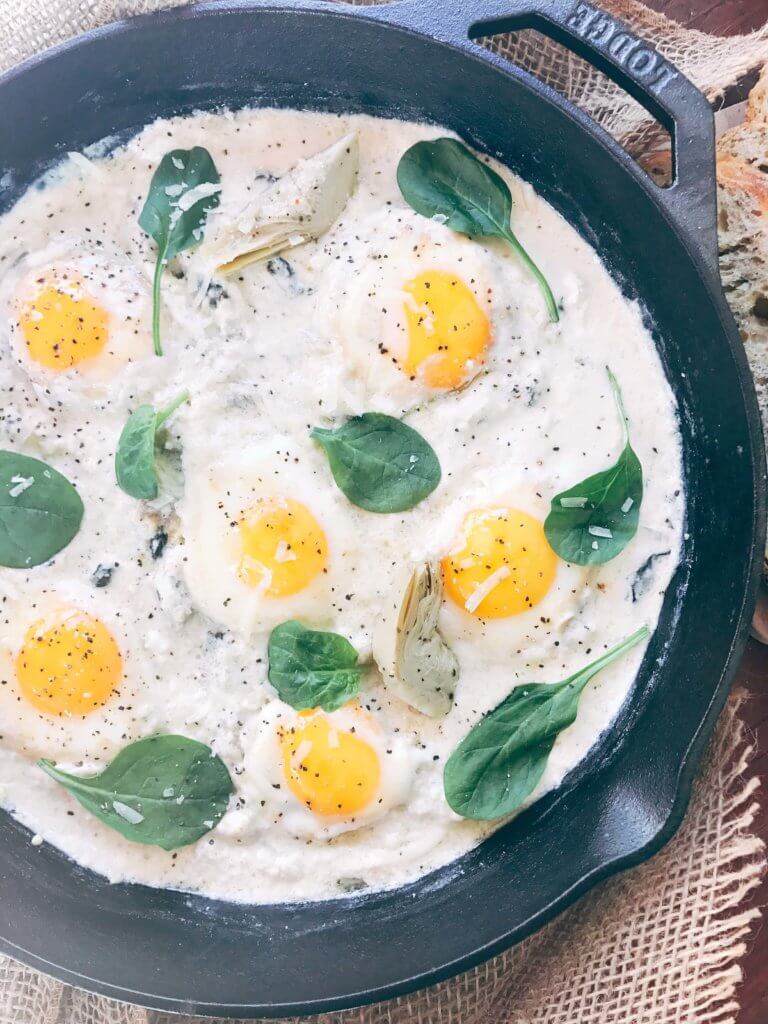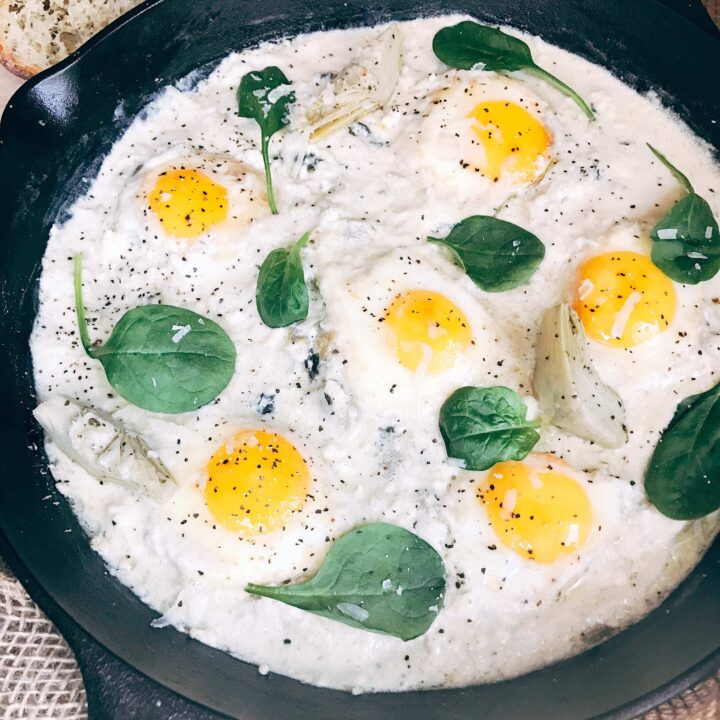 Instructions
Heat a large skillet over medium heat.

Add the oil. When hot, add the onion and garlic powder. Cook until the onions are translucent, approximately 2-3 minutes.

Add the like, cream cheese, parmesan, and sour cream to the skillet. Cook until the cream cheese is melted, approximately 3-5 minutes.

Add the spinach and artichokes to the cheese sauce. Season to taste with salt and pepper.

Using a spoon, create a small divot where each egg will go and crack the eggs into the cheese sauce. Season the tops of them lightly with salt and pepper. Turn the heat down to medium low.

For a fast cook: cover the skillet with a lid and cook until the eggs are done to your liking. For me, over medium (cooked white, runny yolk) took about 3-4 minutes. The time will vary based on your stove and your preferred doneness. If you poke the white or yolk and it is firm, it is cooked through. If it moves or is soft, it is not cooked through. This method is the fastest however the white cooks over the yolk and you will not see the yellow. The egg will be a solid white.

For yellow yolks like the pictures: Cook the eggs on the stovetop without a lid until you reach your desired doneness. For over medium, this took me approximately 12-14 minutes. Because there is no heat from the top, the yolk will stay yellow. If you poke the white or yolk and it is firm, it is cooked through. If it moves or is soft, it is not cooked through. Because this method takes longer, you may need to add additional milk to keep the sauce thinner as it cooks. Use a spoon to gently stir between the eggs to incorporate the additional milk.

Serve warm on a piece of your favorite bread. You can also serve with English muffins, on pasta, on a salad, or as is!
Notes
If you are using frozen artichoke hearts or spinach, make sure they are thawed and drained before using.  For spinach, you will only need approximately 1/2 cup of packed, frozen spinach.

Use how ever many eggs that you want! 2 per person is a good number, or 3 for those that eat a lot.  Think about what else you are serving it with as a guide for how many eggs you need.

By