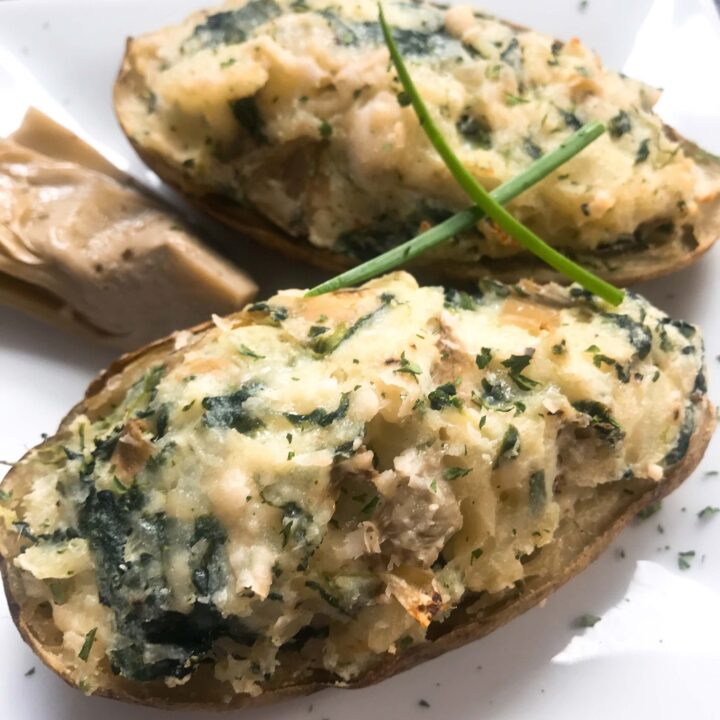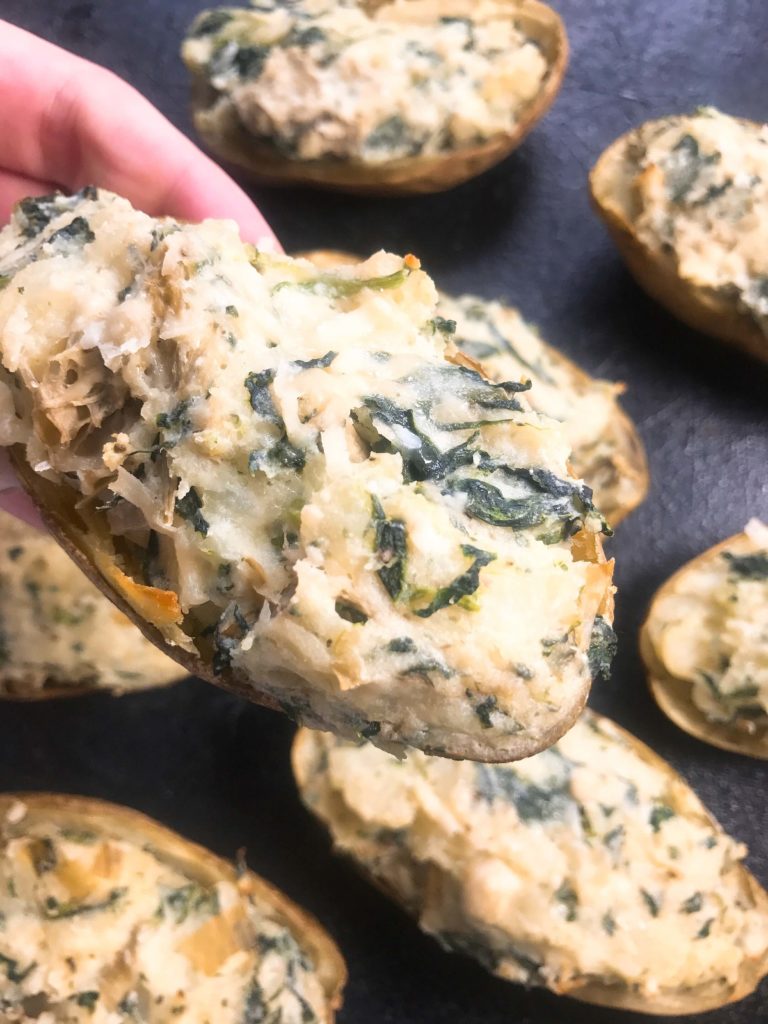 Trying to find fun and delicious side dishes can be difficult.  These Spinach Artichoke Stuffed Potatoes are a great way to get out of the boring-side-dish rut.  Featuring the same flavors as spinach artichoke dip, these potatoes are mixed with spinach, artichoke, cheese, and spices and then baked twice.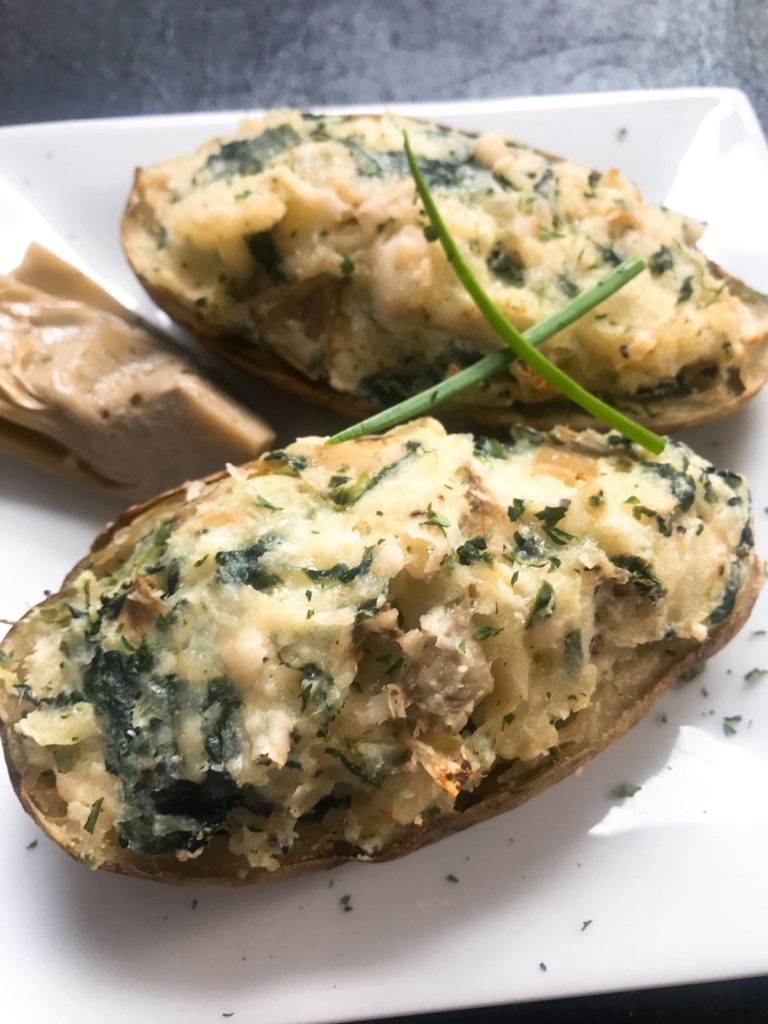 This post contains affiliate links.
Growing up one of my favorite side dishes was a stuffed potato.  Potatoes were mixed with cheese, butter, milk, and spices and then stuffed back into the potato skins and baked again.  Also called twice baked potatoes, these potatoes are a great side dish to so many meals.  I have a love of combining different flavor ideas together.  Spinach artichoke dip is AMAZING so it sounded like the perfect fit for these potatoes, and they are delicious!  These Spinach Artichoke Stuffed Potatoes are vegetarian and gluten free.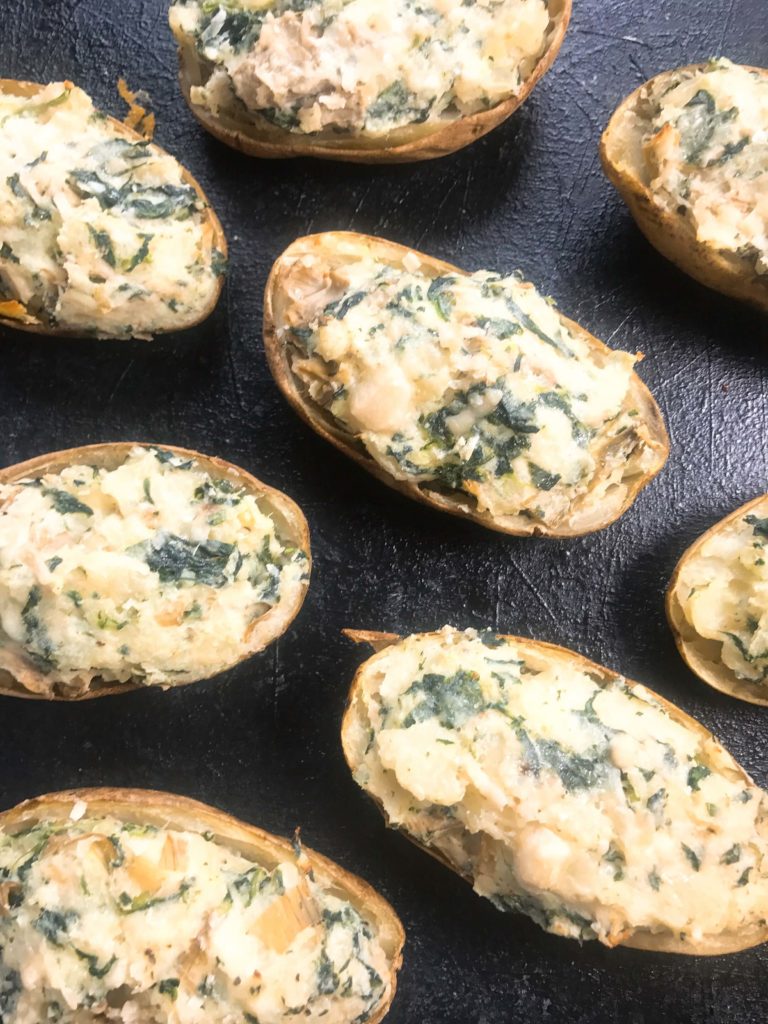 To make these Spinach Artichoke Stuffed Potatoes, you bake the potatoes until they are just tender but not fully to baked-potato-consistency.  They you cut them in half, scoop out most of the whites, and mix them with the rest of the ingredients.  You want the mixture to still be lumpy, not too smooth (no mashed potato consistency!) so there is still some texture to them.  Then fill the skins back up, sprinkle the tops with some more cheese, and bake until cooked through.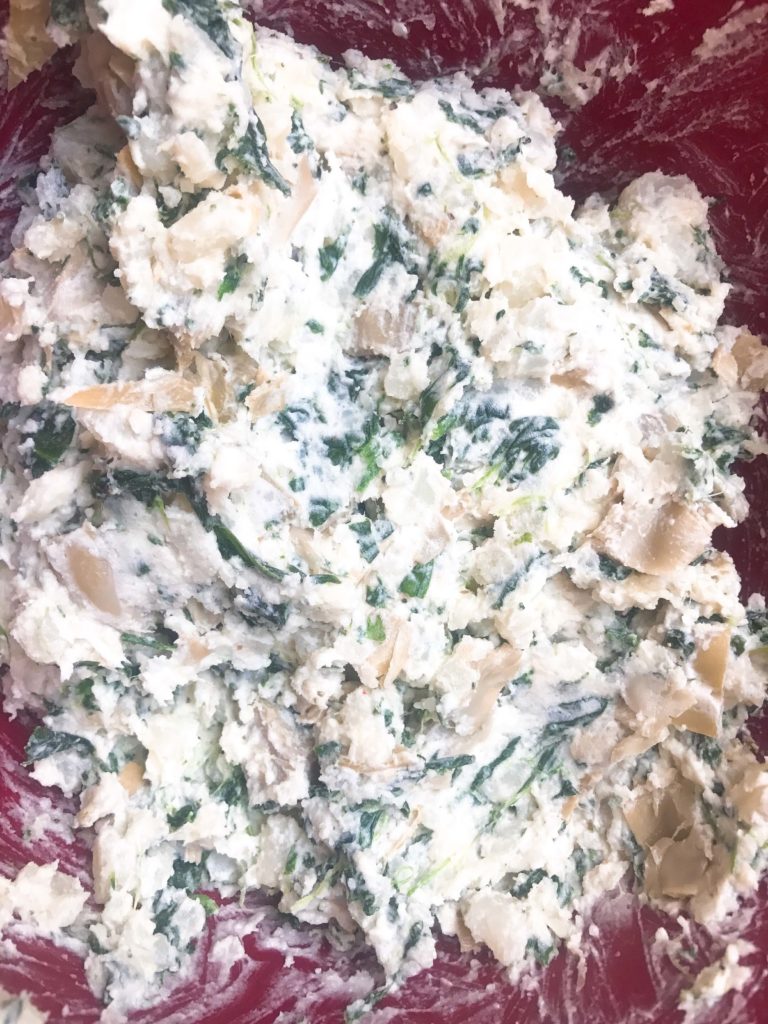 I hope these Spinach Artichoke Stuffed Potatoes inspire you with your next meal.  There are so many great main course options that they would pair great with.  One or two halves is good for each person, and they make great leftovers!  What main course do you want to eat with these potatoes?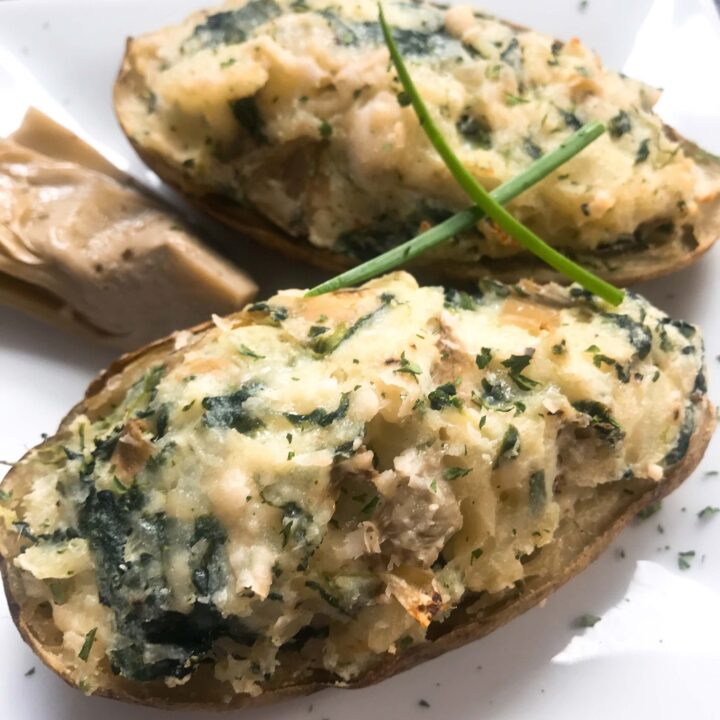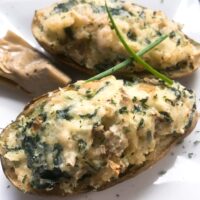 Instructions
Bake your potatoes in the oven at 375F until just soft, approximately 30 minutes.

Remove the potatoes from the oven and cut in half lengthwise. Place a potato half on top of a towel or pot holder and use a spoon to scoop out the insides of the potato. Try not to cut a hole in the skin itself. You can leave a little potato attached to the skin to hold it together. Place the scooped out potato in a medium mixing bowl. Repeat with all of the potato halves.

Defrost and drain the frozen spinach. Drain and chop the artichoke hearts.

Add the spinach, artichoke hearts, cream cheese, Parmesan cheese, sour cream, garlic powder, and salt to the potato. Mix until just combined. The potato should still be chunky and the mixture thick. You are NOT trying to get a mashed potato consistency (unless you want it well mixed). Adjust the taste with additional salt, black pepper, garlic powder, or sour cream as desired.

Stuff the filling back into each potato skin shell, each with a slight mound on top.

Sprinkle some additional Parmesan cheese on top of each stuffed potato if desired. Put the potatoes back in the oven and bake until they are just starting to brown, approximately 15 minutes. Serve warm.
Notes
The potatoes can be baked in advance for faster assembly.

Use vegetarian cheeses for a vegetarian dish, and gluten free cheeses for a gluten free dish (check labels).

Depending on the exact shape and size of your potatoes you may need more or less of the filling ingredients.  Add more or less of each to adjust to your preference!

By