Fresh vegetables cut through the richness of an alfredo based pizza.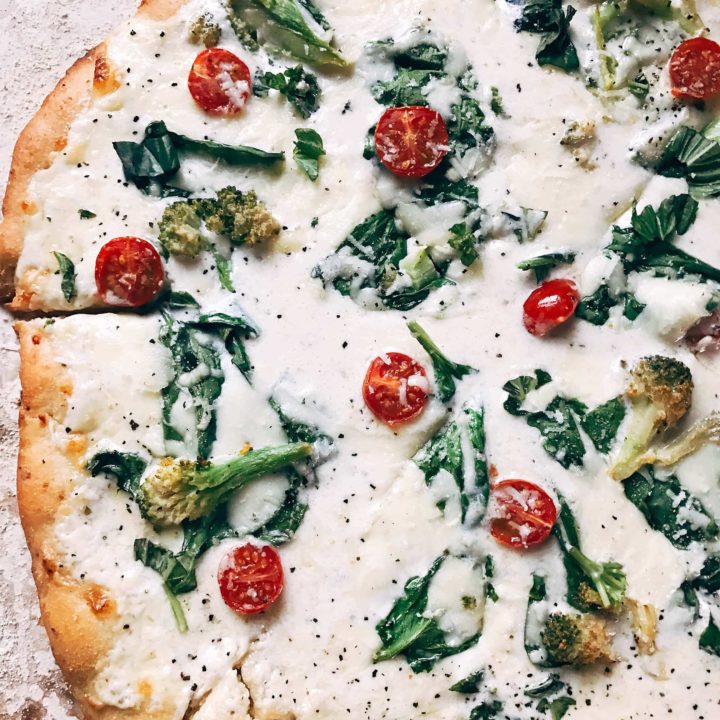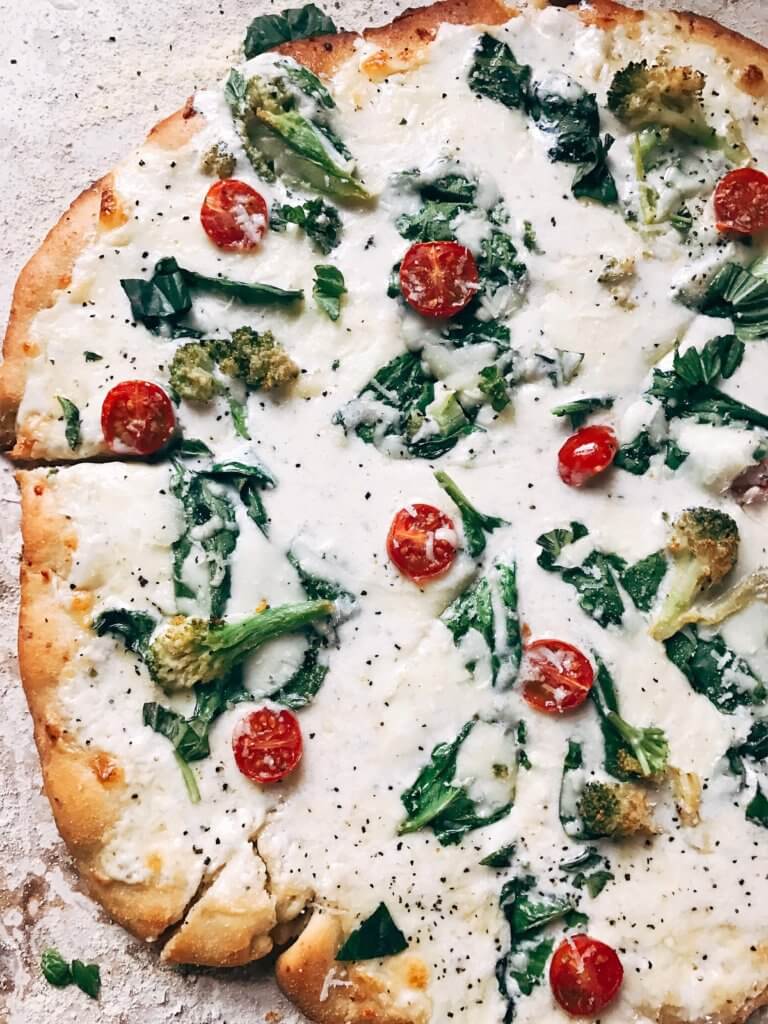 We recently had a dinner party with a pizza night theme.  Have you ever done a pizza night?  It is one of my favorite dinner themes to do.  And some of our guests are in love with my Copycat Olive Garden Fettuccine Alfredo, so I decided to turn it into a pizza with this Spinach Broccoli Alfredo Pizza!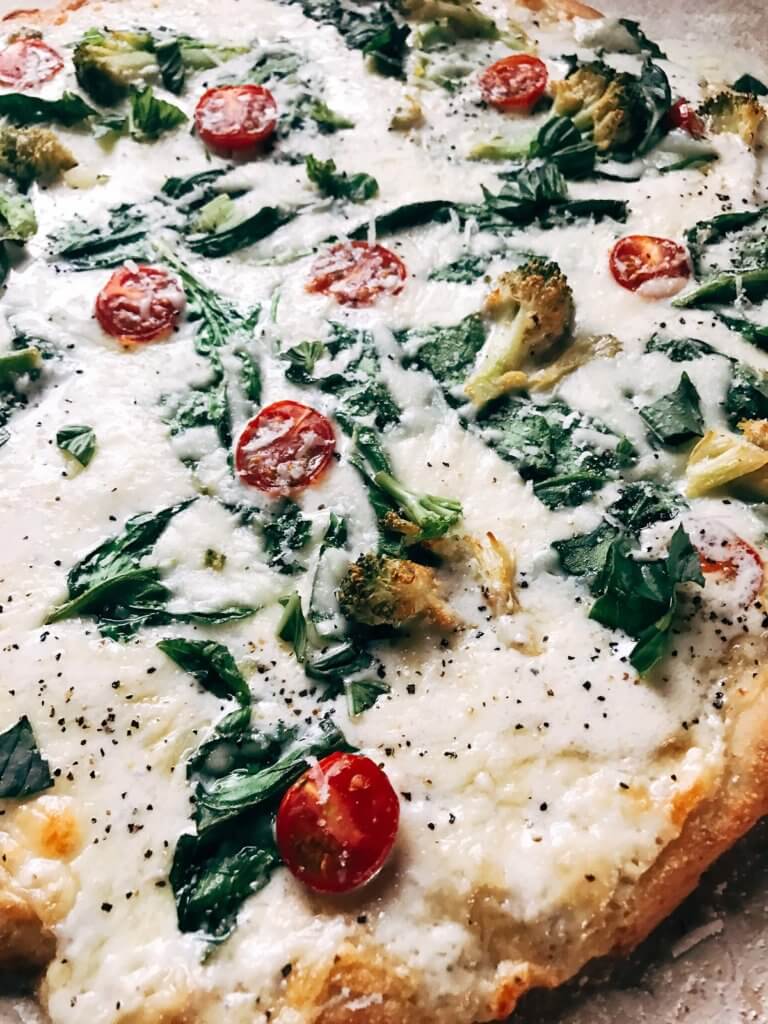 This post contains affiliate links.
Whether I am making one or four types, for a group or just us, it is such a fun experience.  I tend to make each pizza different flavors and cut them all up for everyone to pick from, but it is also a lot of fun to let everyone build their own!
Making your own pizza elements is completely worth the time and effort!  And it is really rather simple to make your own dough and sauce.  Learn how to make this Parmesan Black Pepper Pizza Dough here (no boring dough in this house!) which is enough for two thin crust 12″ pizzas like you see here, or one thick crust pizza.  It is a perfect pairing for the Spinach Broccoli Alfredo Pizza!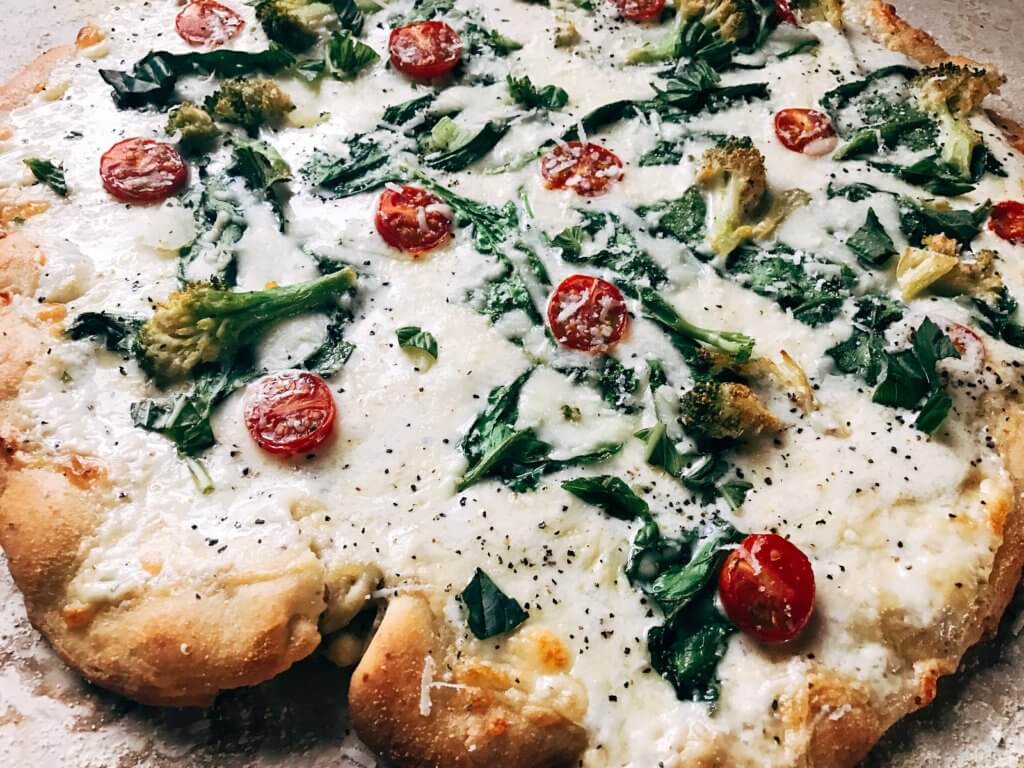 I make pizzas with a stone that goes in my oven and I use a handy pizza peel to transfer the pizza around.  (This pizza peel is pretty close to what I have, and this pizza peel is just GORGEOUS).  I think it is worth it to have these gems because the stone makes my pizza crisp up beautifully and the peel makes it so easy to get the dough/pizza in and out of the oven.  But you can also use a plain cookie sheet if you want instead of the stone, and something like a thin, flexible cutting board for the peel.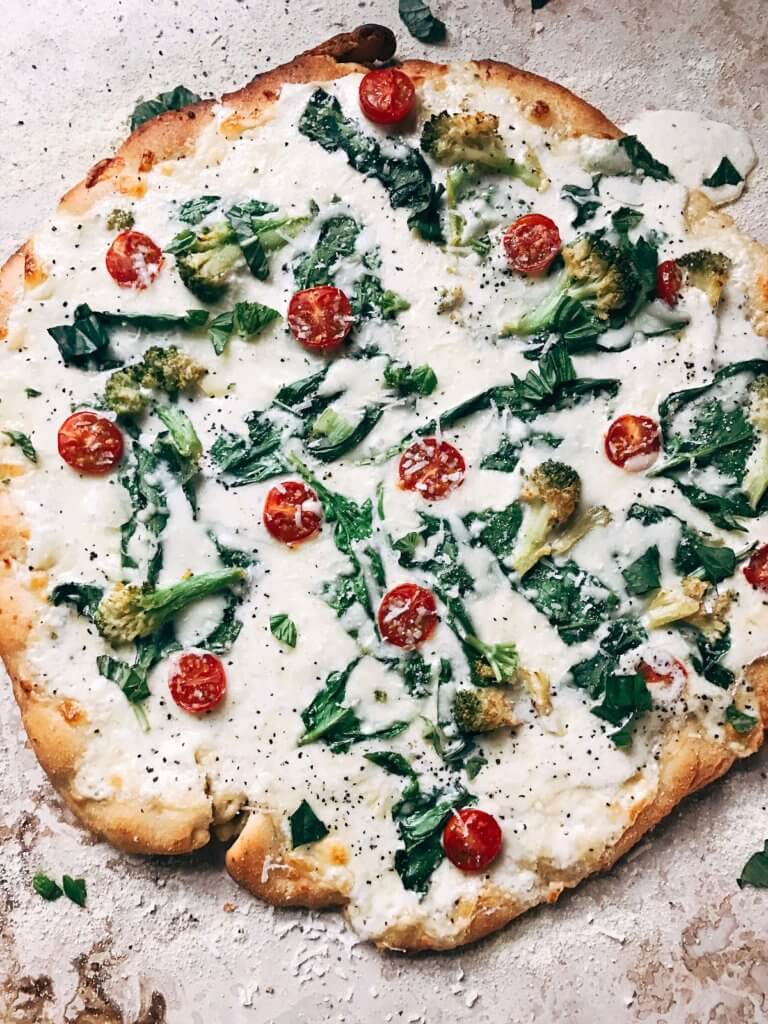 Being creative and experimenting with pizza is so much fun!  And you can customize this Spinach Broccoli Alfredo Pizza by using any of your favorite vegetables.  What are your favorite pizzas to make?
Find more of our ever-popular pizza recipes here!  From dough to sauce to toppings, we have you covered.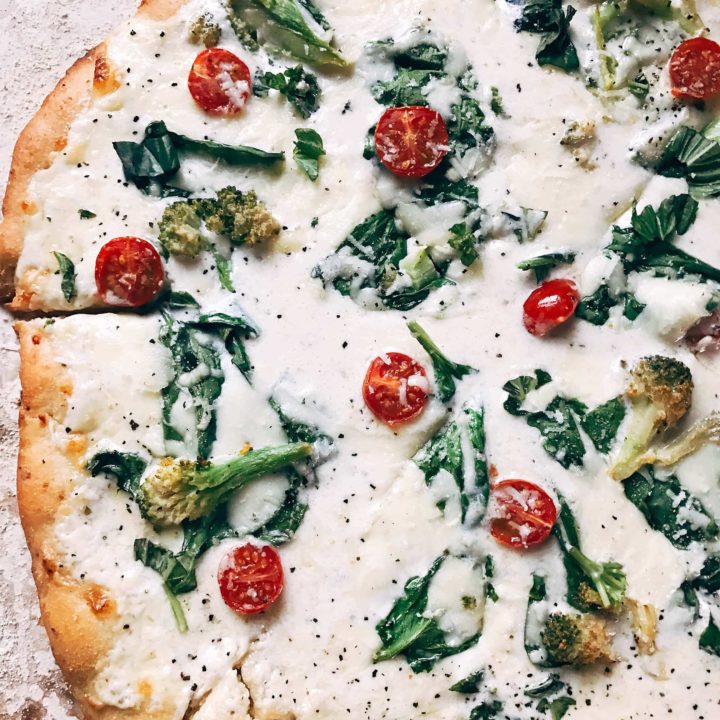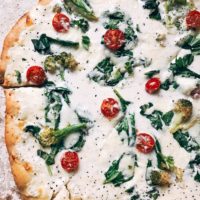 Spinach Broccoli Alfredo Pizza
Fresh vegetables cut through the richness of an alfredo based pizza.
Print
Pin
Rate
Instructions
Alfredo Sauce
To make the sauce, melt the butter in a medium saucepan over medium heat.

Add the nutmeg and cream to the butter. Whisk to combine. Simmer until the cream is heated through.

Turn the heat down to medium low. Add the Parmesan cheese. Stir occasionally until the cheese is melted. You do not want the heat too hot as it will cause the cheese to break and get lumpy.

When melted, add salt and pepper to taste. The sauce should be rather thick, much thicker than a normal pasta sauce. Set aside.
Pizza Assembly
Prepare the pizza dough if not completed already. If following one of our recipes, follow instructions until the crust is par-baked (just barely cooked) and set aside.

Preheat oven to 450F. Place your pizza stone or baking sheet in the oven to heat.

Place your pizza crust on a peel or another surface that will allow you to easily transfer it to the oven. Something like a thin and flexible cutting board should work.

Season the crust edge if desired by lightly brushing the crust with a little olive oil and sprinkling with some Parmesan, garlic salt, or black pepper.

Spread out the alfredo sauce across the pizza to taste. The sauce should be pretty thick in texture.

Spread the mozzarella out across the pizza, with more or less to taste.

Spread your spinach, broccoli, and tomatoes (or vegetables of choice) over the pizza. Sprinkle with the fresh Parmesan.

When the oven is finished preheating, transfer the pizza to your pizza stone or baking sheet.

Cook until the cheese has started to turn brown, approximately 10-12 minutes (or to your desired doneness).

Remove the pizza from the oven. Sprinkle the fresh basil on top and some red pepper flakes if desired for an extra kick. Serve warm.
Notes
If you do not have a crust ready to go, this recipe will take longer than stated.  Get the recipe for Parmesan Black Pepper Pizza Dough here.

Please note that the exact cook time will vary with your oven.

If you use a different pizza crust, the cook time will vary based on size and thickness.

Make the sauce and crust in advance for a quick dinner!  These pizza crusts freeze well.

The better quality ingredients you use, the better it will taste!

A par-baked pizza crust means that it is not raw. It is typically cooked just enough where the dough is no longer raw but it is not done (no golden brown edges). This ensures the crust cooks all the way through and that the addition of toppings does not leave a raw center.

We found that the tomatoes really provided a great acid to the pizza that cut the heaviness of the sauce.  Any vegetables that you love would be perfect.

By