Homemade Strawberry Lemon Cinnamon Rolls with lemon icing glaze. Fresh strawberries and strawberry jam with cinnamon in a homemade dough. Bright spring and summer flavors for home breakfast and brunch baking recipes. #cinnamonrolls #strawberrylemon #bakingrecipes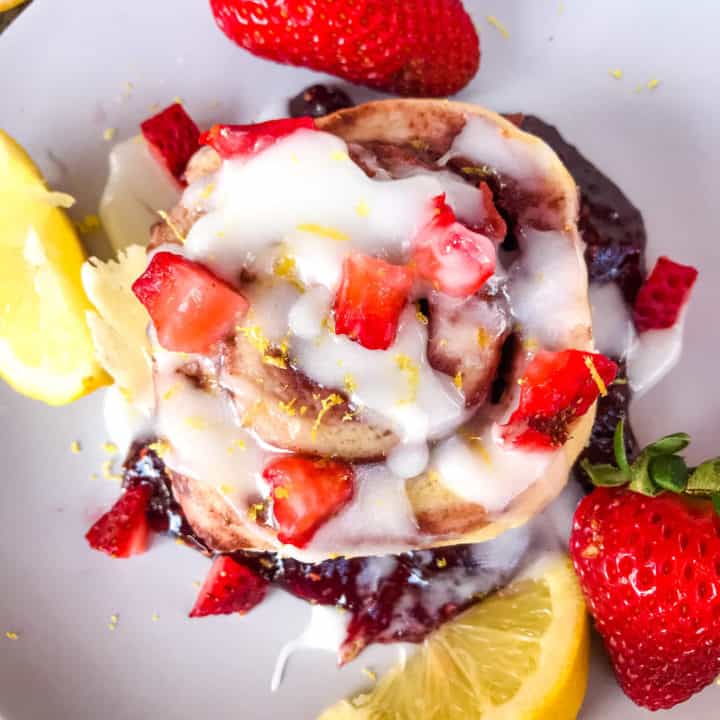 Homemade Strawberry Lemon Cinnamon Rolls make a great breakfast or brunch! Rolls flavored with lemon are filled with fresh strawberries, strawberry jam, and topped with a lemon glaze.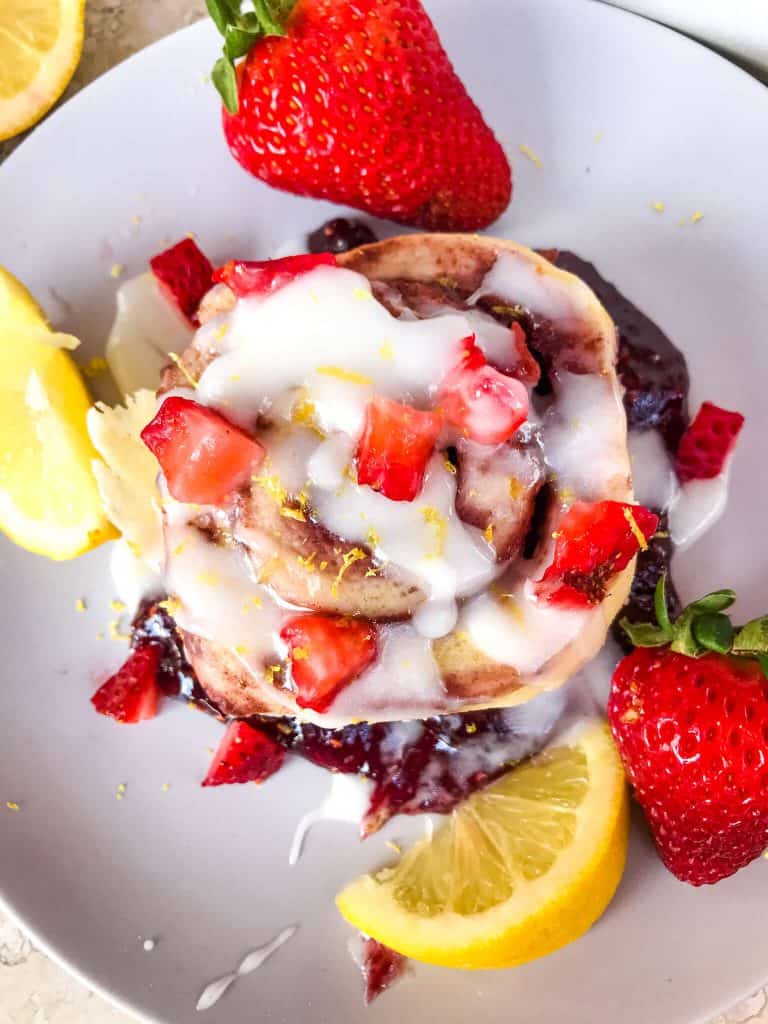 This post contains affiliate links.
I am a huge fan of homemade cinnamon rolls. I have been experimenting with different flavors over the years, and they have become a special breakfast. Every holiday I make at least one kind of fresh cinnamon rolls. These Strawberry Lemon Cinnamon Rolls are perfect for spring and summer! Find more of our cinnamon roll recipes here and a fun collection of 20+ Unique Cinnamon Rolls from across multiple sites here!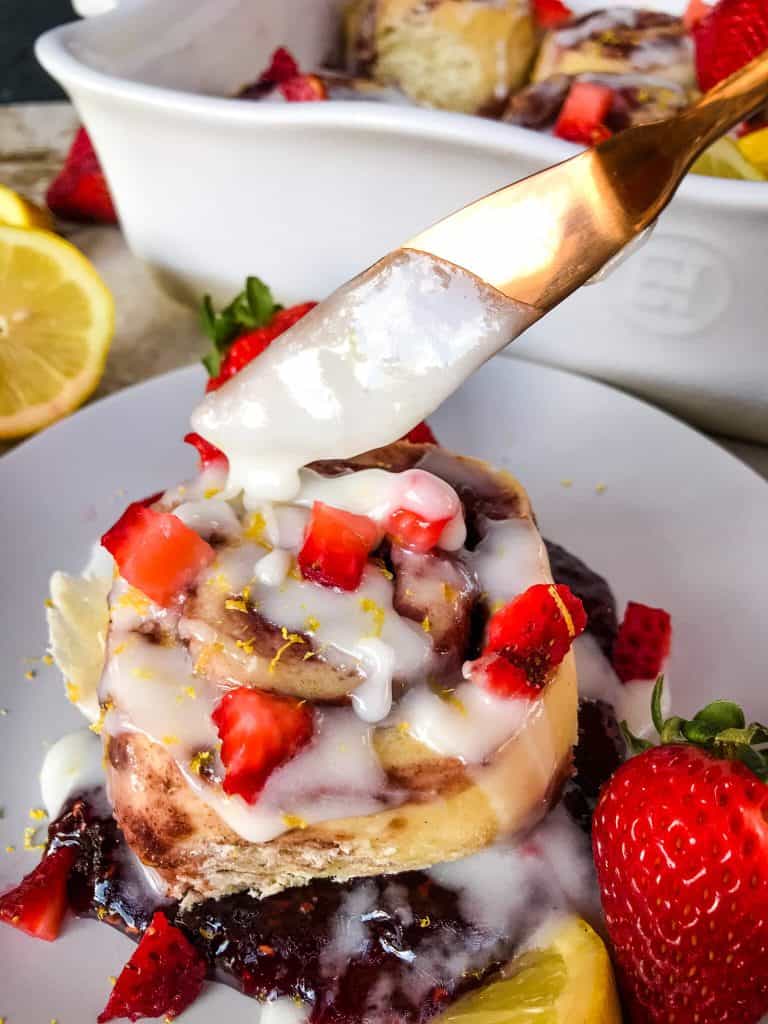 This lemon icing glaze is amazing! It brings such a great citrus flavor to the rolls. By itself, it will taste very strong, but is balanced with the cinnamon rolls. If you would prefer a toned down lemon flavor, replace half of the lemon juice in the glaze with water or milk.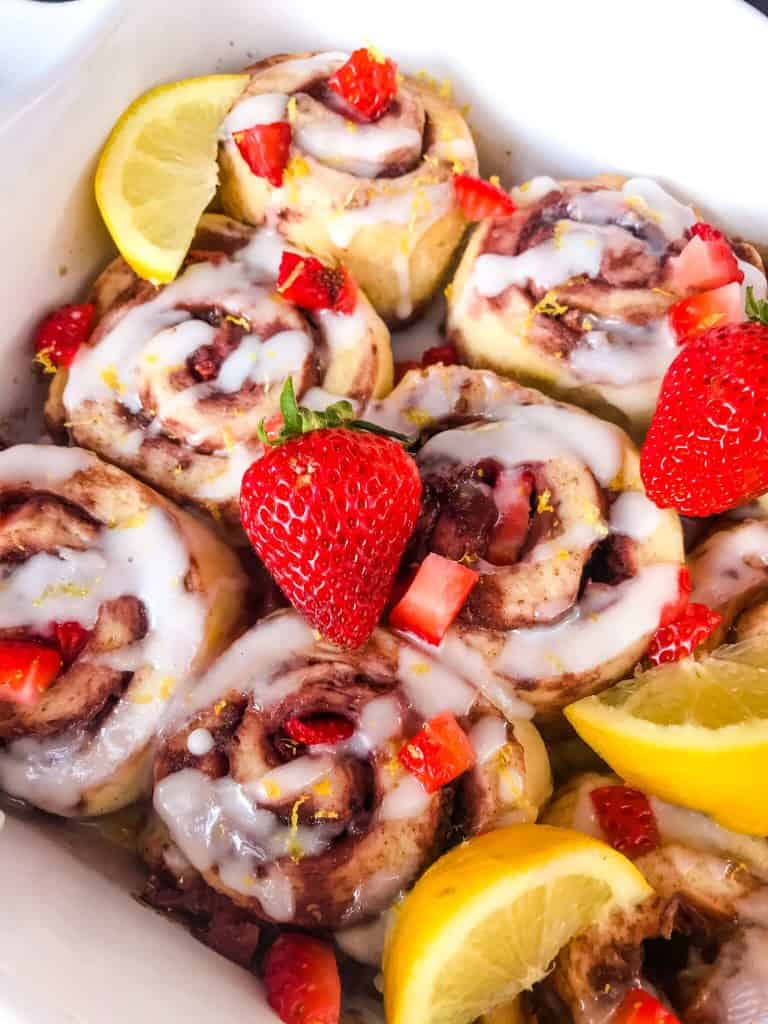 My all-time favorite jam or jelly is this raspberry preserves which has the seeds in it. I have made these Strawberry Cinnamon Rolls with the raspberry preserves as well as a homemade strawberry jam, and it always turns out amazing! Use any berry jam or jelly that you love, although, sticking with strawberry is the best option here to keep with the strawberry lemon theme.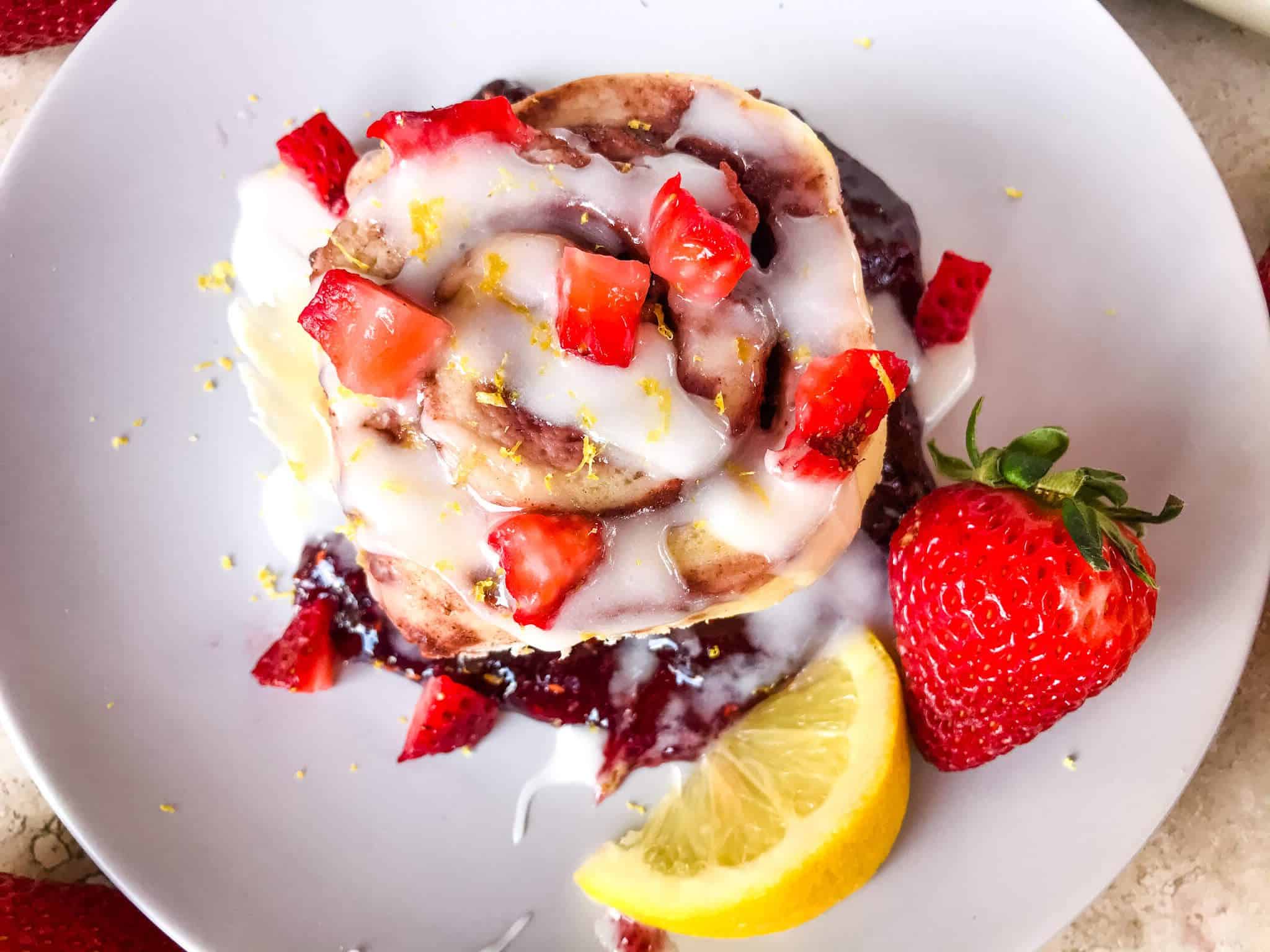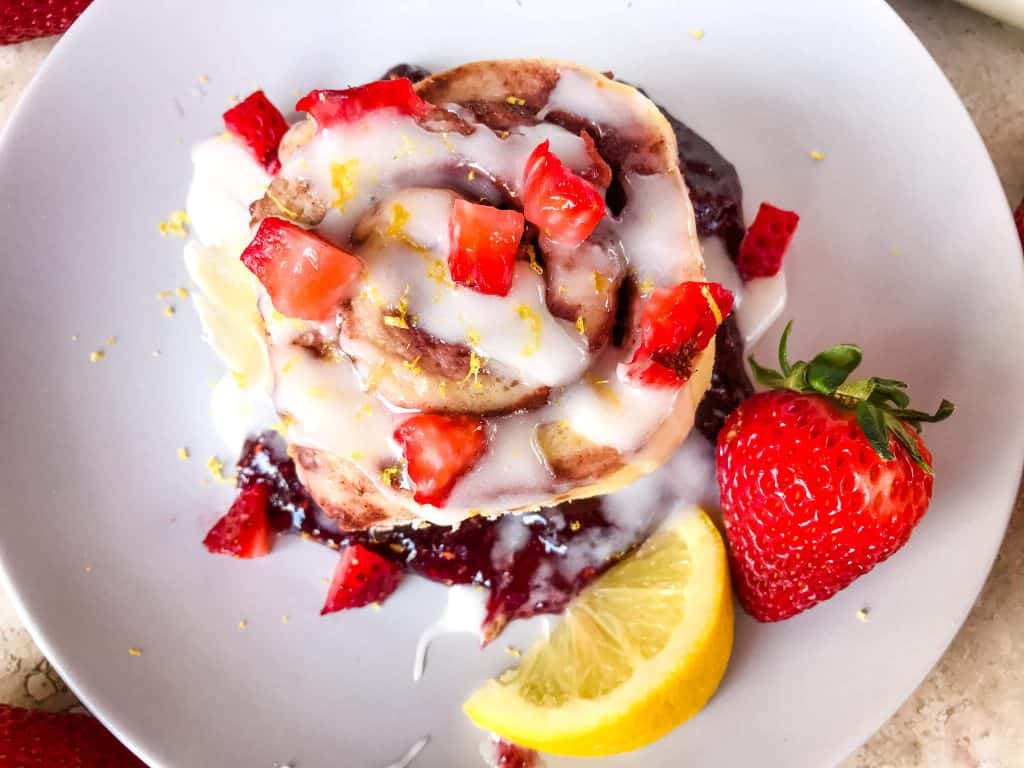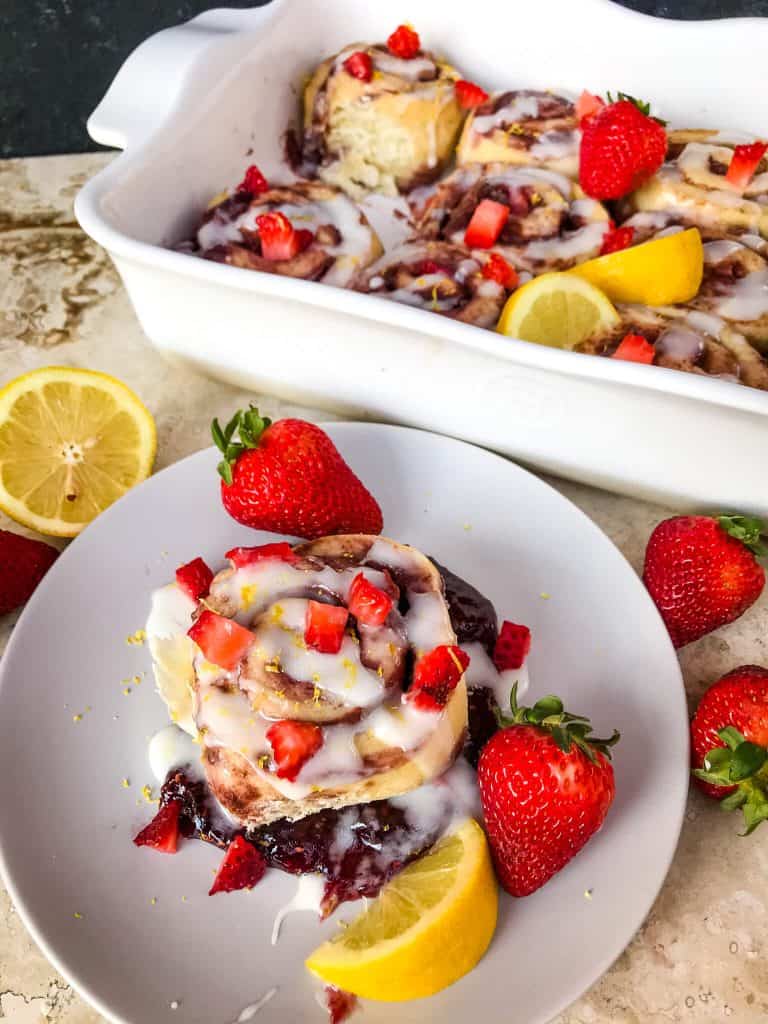 You can make these fruit cinnamon rolls with either active dry or instant yeast. I typically use active dry, which requires kneading (which I do in a stand mixer) and proofing time. I also have used instant yeast and skipped the kneading and rising times. It works both ways, but the instant yeast version tends to result in rolls that are a little smaller since they do not grow as much and therefore are a touch denser. But they are great regardless!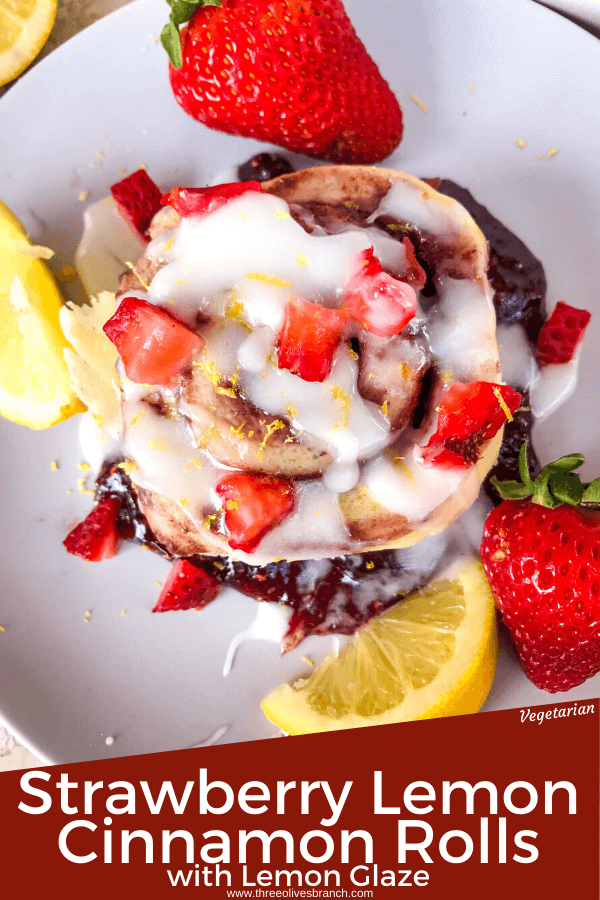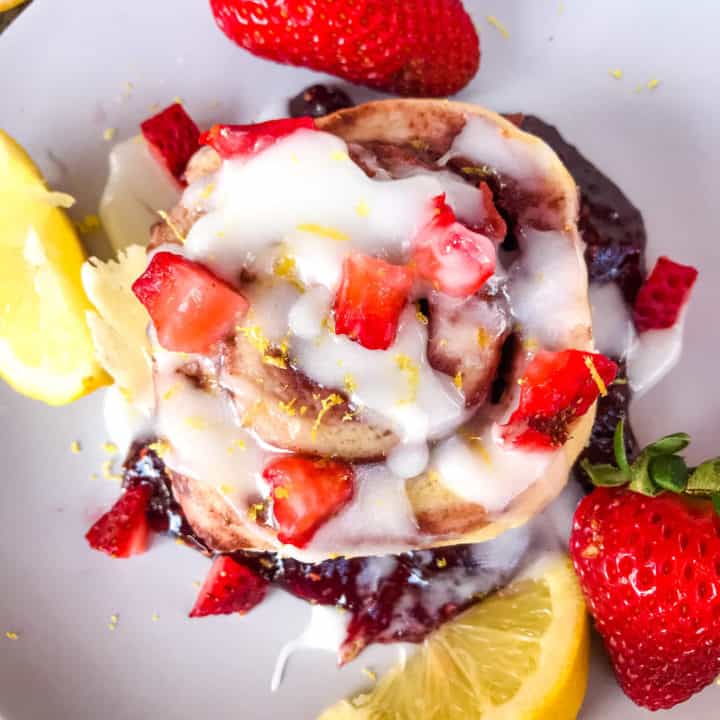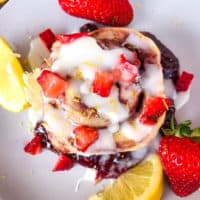 Strawberry Lemon Cinnamon Rolls
Homemade Strawberry Lemon Cinnamon Rolls with lemon icing glaze. Fresh strawberries and strawberry jam with cinnamon in a homemade dough. Bright spring and summer flavors for home breakfast and brunch baking recipes. #cinnamonrolls #strawberrylemon #bakingrecipes
Print
Pin
Rate
Ingredients
Glaze
1 3/4

cups

powdered sugar

(approximate, more or less for desired glaze consistency)

1

lemon

juice and zest

2

Tablespoons

milk
strawberries

for decorating

lemon zest

for decorating
Instructions
In a small bowl, dissolve yeast in 1/2 cup warm water as per package directions for the correct temperature to ensure that you keep your yeast alive (typically between 100-110F).

In a large bowl, mix the milk, sugar, melted butter, salt, egg, and zest and juice of a lemon. Add two cups of the flour and mix to combine.

Add in the yeast water mixture. Add additional flour, 1/2 cup at a time, until the dough is easy to handle (the amount of flour that you need will vary).

Roll the dough out onto a lightly floured surface and knead for 5 to 10 minutes. (You can knead in a stand mixer as well at speed 1 or 2 as per mixer instructions. I have found a stand mixer takes longer). The dough is ready when you can stretch it thinly to see light through it without it breaking, and the dough bounces back when you press it with your finger.

Place the dough into a greased bowl (you can use 1-2 tsp of vegetable oil to coat the bowl you mixed everything in). Cover bowl with saran wrap and then a kitchen towel. Let sit until the dough has doubled in size, approximately 60-90 minutes.

When dough has doubled in size, punch it down. Then put it back on a floured surface and using a rolling pin, roll the dough into a rectangle approximately 15x9 inches.

Spread the jam out across the dough. You want a decent layer but not too much as it will just squeeze out. Sprinkle the jam with the cinnamon.

From the long edge, tightly roll the dough all the way to the other long edge and pinch dough together to seal.

Using a serrated knife, cut the log in half. (The serrated knife will help prevent the dough from flattening when cutting). Then cut each half into half again so that you have four equal pieces. Lining up two pieces at a time, cut each into three rolls so that you have a total of 12 rolls.

Coat the bottom of your 9x13" baking dish with some melted butter and sugar to coat. Place the cinnamon roll slices close together (four rows of three) in the dish and let them rise until the dough has doubled again, approximately 45 minutes. (If you are making these the night before, once the rolls have doubled in size, cover them in plastic wrap and place them in the refrigerator. In the morning, pull them out to warm to room temperature before baking).

Preheat the oven to 350F. Once the rolls have doubled in size, place them in the oven and bake for about 30 minutes or until they are starting to brown.

While the rolls are baking, prepare the glaze. Whisk together the powdered sugar, lemon zest, lemon juice, and milk until smooth. Add more powdered sugar if needed to reach your desired consistency.

When the rolls are done, let them cool slightly and then top with the icing. Top with additional strawberries and lemon zest if desired. Serve warm.
Notes
Make these rolls the day before for a quick breakfast.  Just heat each roll for a approximately 15 seconds in the microwave for a warm treat.
You can use instant yeast and avoid the kneading and proofing times, which makes it much faster, however I have found they do not grow as big and are more dense.
Nutrition
Calories:

462

kcal

|

Carbohydrates:

90

g

|

Protein:

6

g

|

Fat:

9

g

|

Saturated Fat:

5

g

|

Cholesterol:

38

mg

|

Sodium:

291

mg

|

Potassium:

157

mg

|

Fiber:

4

g

|

Sugar:

46

g

|

Vitamin A:

290

IU

|

Vitamin C:

20

mg

|

Calcium:

60

mg

|

Iron:

3

mg

By