This Sweet Crepes Recipe is an easy way to make dessert or breakfast and brunch crepes! A sweet batter makes them perfect for sweet and fruit fillings. A thin French inspired batter similar to pancakes.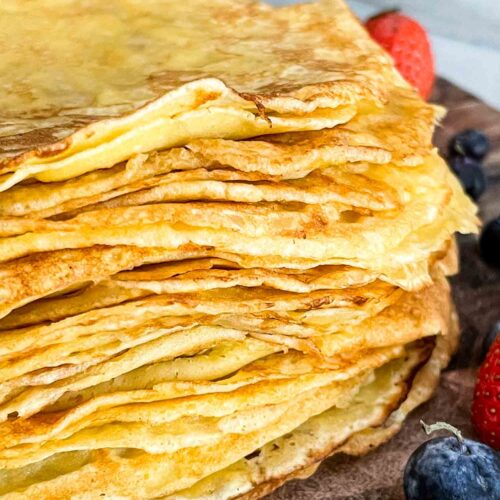 This easy Sweet Crepes Recipe is a delicious way to make this French classic at home! Similar to a thin pancake, crepes can be filled with numerous fillings and served for breakfast or dessert.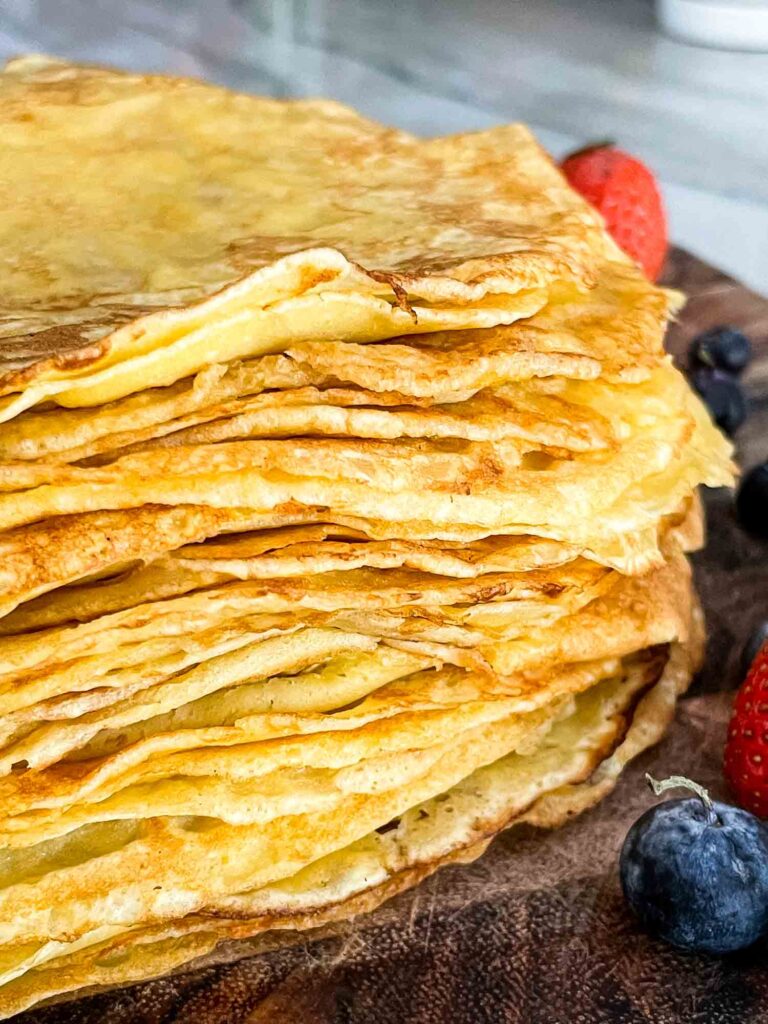 Homemade Crepes
These crepes are so fun and delicious!
This recipe is for a sweet crepe which means it has a little sweetness added into the batter, making them perfect for a dessert or breakfast.
And they freeze well! You can freeze them in a stack and simply thaw completely when ready to use them.
Below you can find tips, answers to your common questions, and ideas for what you can fill these amazing crepes with!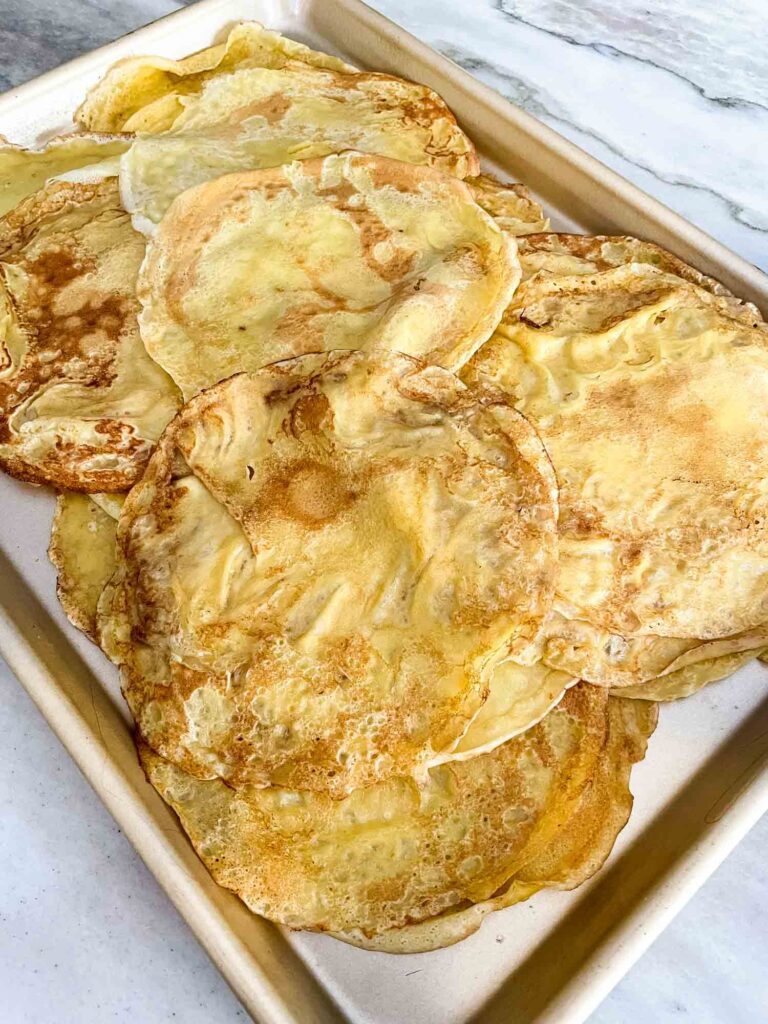 What is the Difference Between a Crepe and a Pancake?
Pancakes have a rising agent such as baking powder or baking soda which makes them puff up and be fluffy.
Crepes are very thin but also have a more tender texture in part to the thinness as well as the resting time to reduce gluten development.
What is the Secret of a Great Crepe?
After making the batter, the secret is in letting it rest at least an hour!
This resting time lets bubbles settle, which means the crepes will be less likely to tear than crepes with bubbles.
It also lets the flour better absorb the liquids, and for the gluten that was whipped around in the blender to relax and not create tough crepes.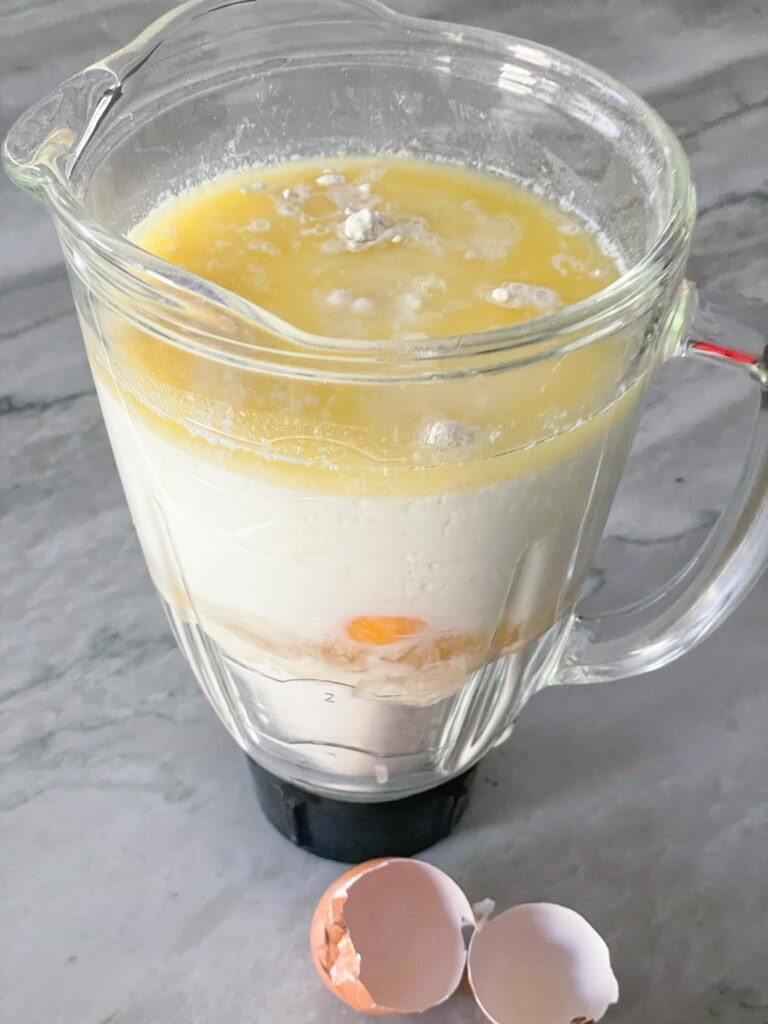 What is Crepe Batter Made Of?
Here are the ingredients you need to make these sweet crepes!
Flour
Large Eggs
Milk
Water
Butter
Salt
Vanilla Extract
Sugar
Whole milk is best for its richness. Down to 2% will work, but is thinner and also has less body to it. Anything less will likely feel watery.
How Do You Make Easy Sweet Crepes?
First melt some of the butter and let it cool a couple minutes just so it is not piping hot. This could cook the eggs!
Then put all ingredients except for the unmelted cooking butter into a blender and blend until smooth.
Let it rest in the refrigerator for an hour or more.
When ready to cook, heat a small skillet over medium heat. Add a small piece of butter and 3-3.5 Tablespoons of batter into the pan. A 1/4 cup measuring cup is 4 Tablespoons, so I like to use this and fill it up 3/4+ full for fast and easy pouring.
Immediately tilt the pan in a circular motion to spread out the batter across the pan.
Let it cook 15-20 seconds, flip, and cook another 10 seconds.
Slide out of the pan onto a baking sheet and repeat with the remaining batter.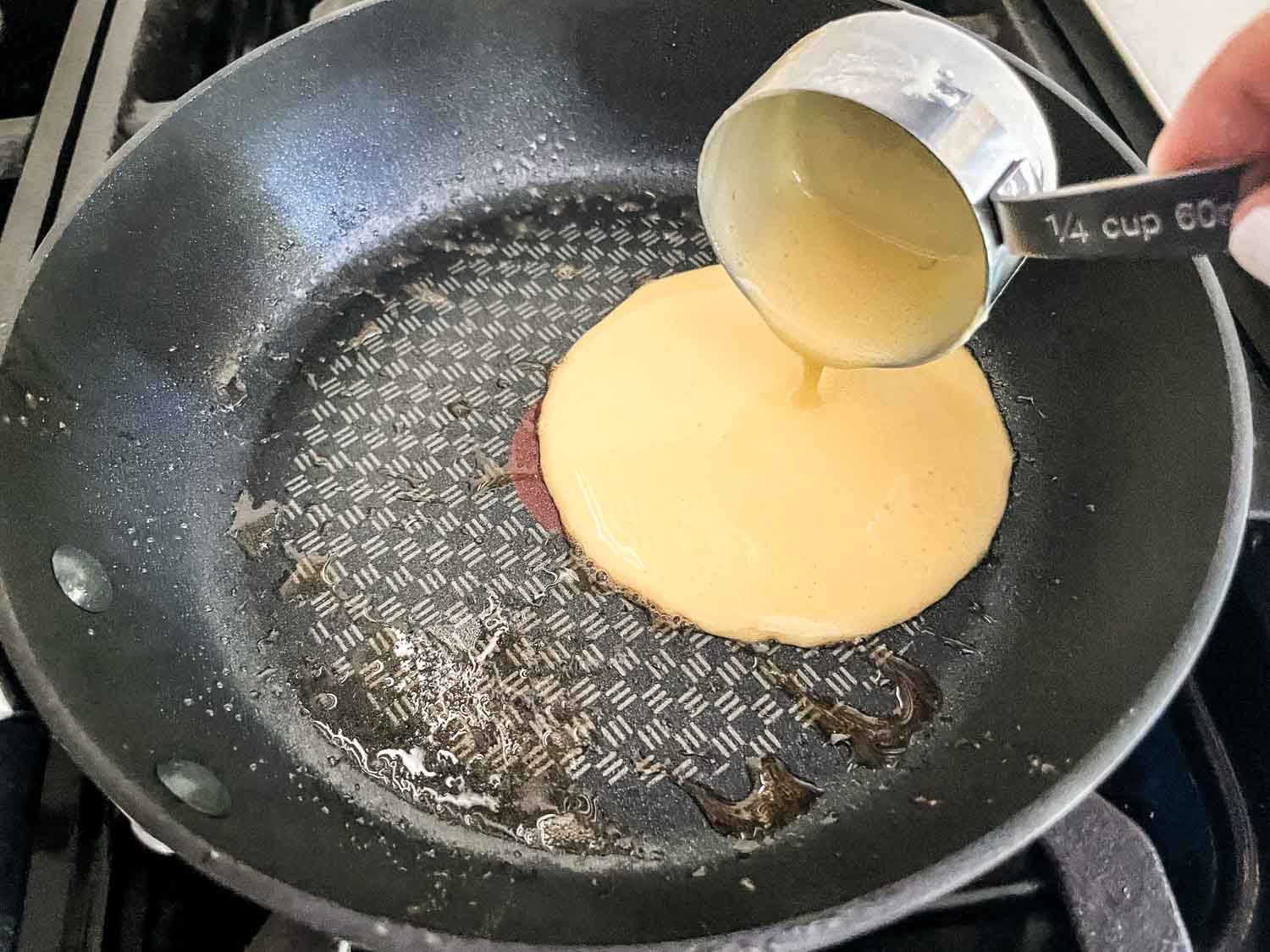 How Long Should Crepe Batter Rest?
At least an hour, up to 24 hours. So this is a great batter to make the night before you want to use them for breakfast! Or earlier in the day if for dessert.
What Temperature Do You Cook Crepes At?
Start at medium heat. If your stove runs hot, go just under.
As you cook, if you feel like it is cooking too fast, turn down the heat just a little.
But don't go too low! If not hot enough, the batter dries out too much.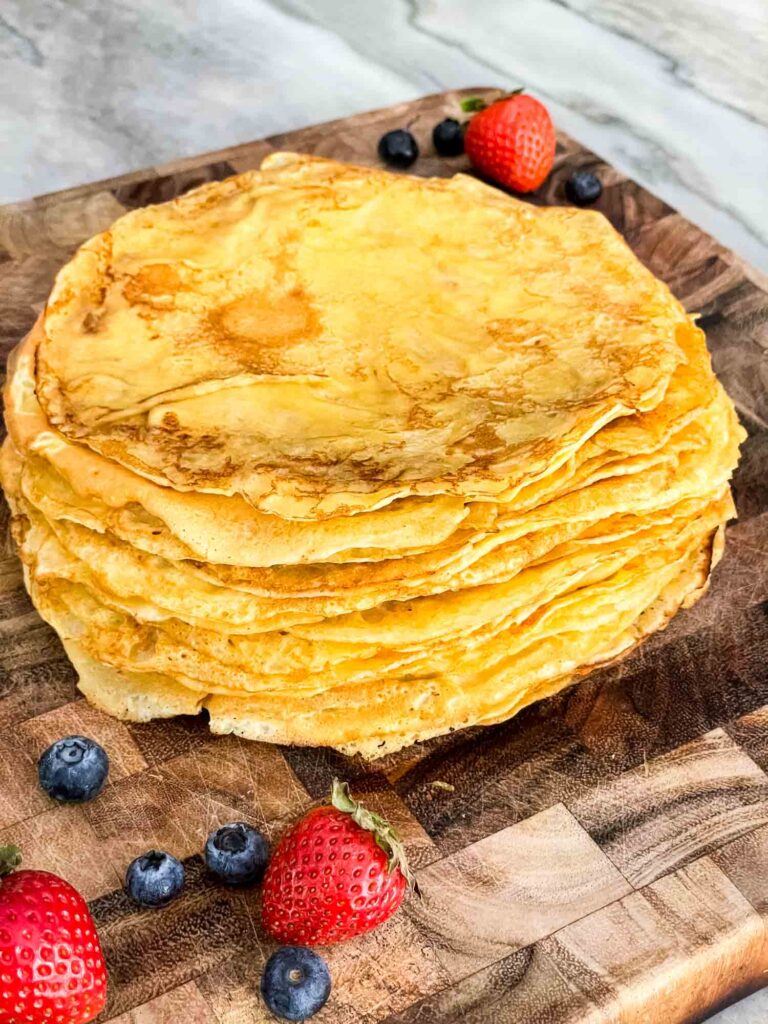 Is a Crepe Pan Necessary?
No way!
Just use an 8-inch skillet instead.
You can use a larger skillet if desired, but will need to use more batter for each and will get a smaller quantity.
I like to use a nonstick small skillet to help prevent the crepe from tearing.
Using Butter, Non-Stick Spray, or Nothing in the Pan for Cooking
I tried all three of these options when cooking the crepes, and found a clear favorite.
The butter brought great color to the crepes plus helped them cook to a great texture. And the browning color means more flavor!
The nonstick spray did its job and the crepes did not stick, but we missed out on any of the true browning, therefore lacking a little added flavor, and the texture came out a little different. Much flatter.
Cooking in a nonstick skillet without anything worked, but the crepe still stuck a little due to its thinness and tore. It also lacked the color and texture.
Overall I definitely recommend the butter method, but nonstick spray would work as an option if you do not want the added butter.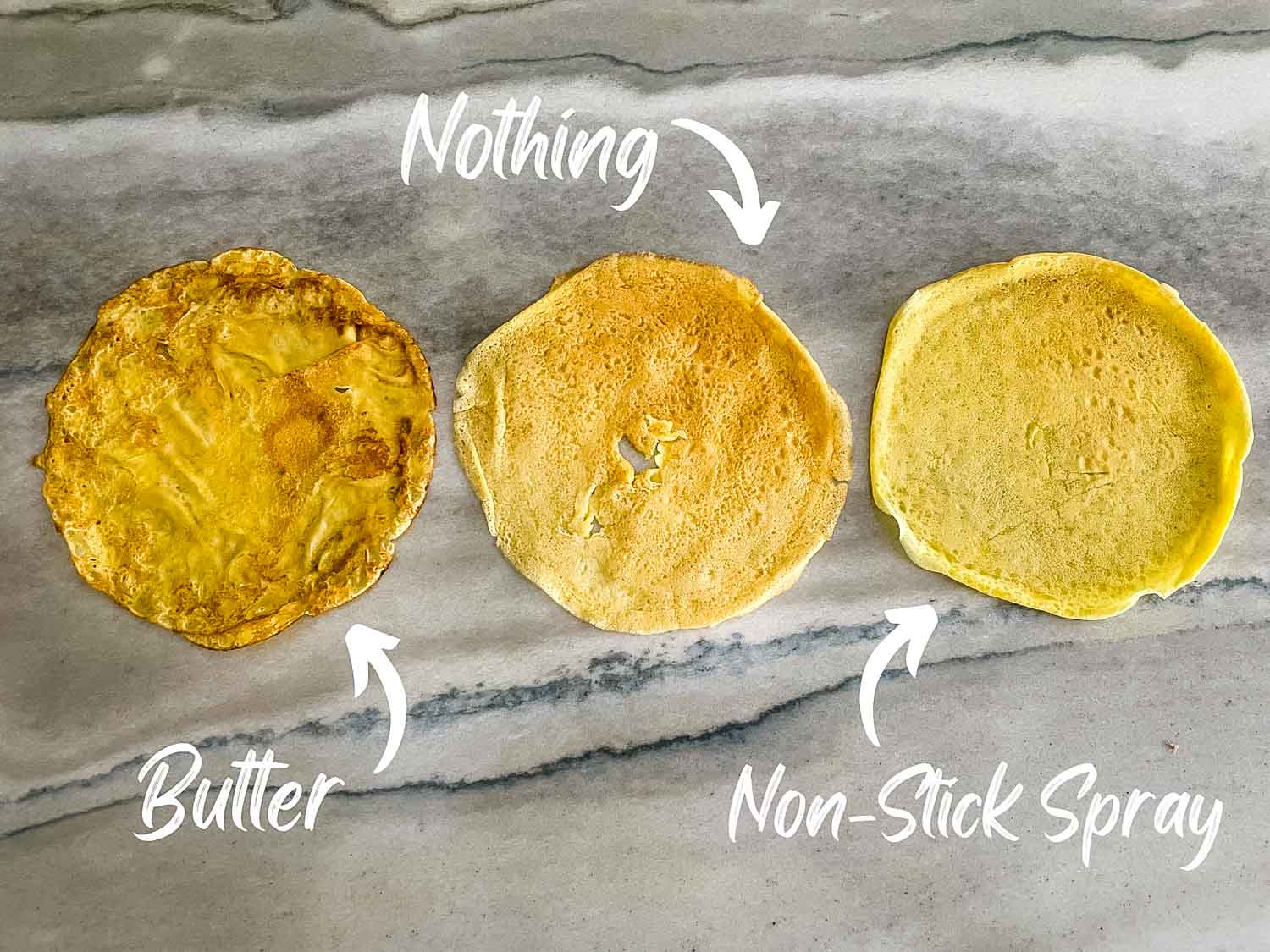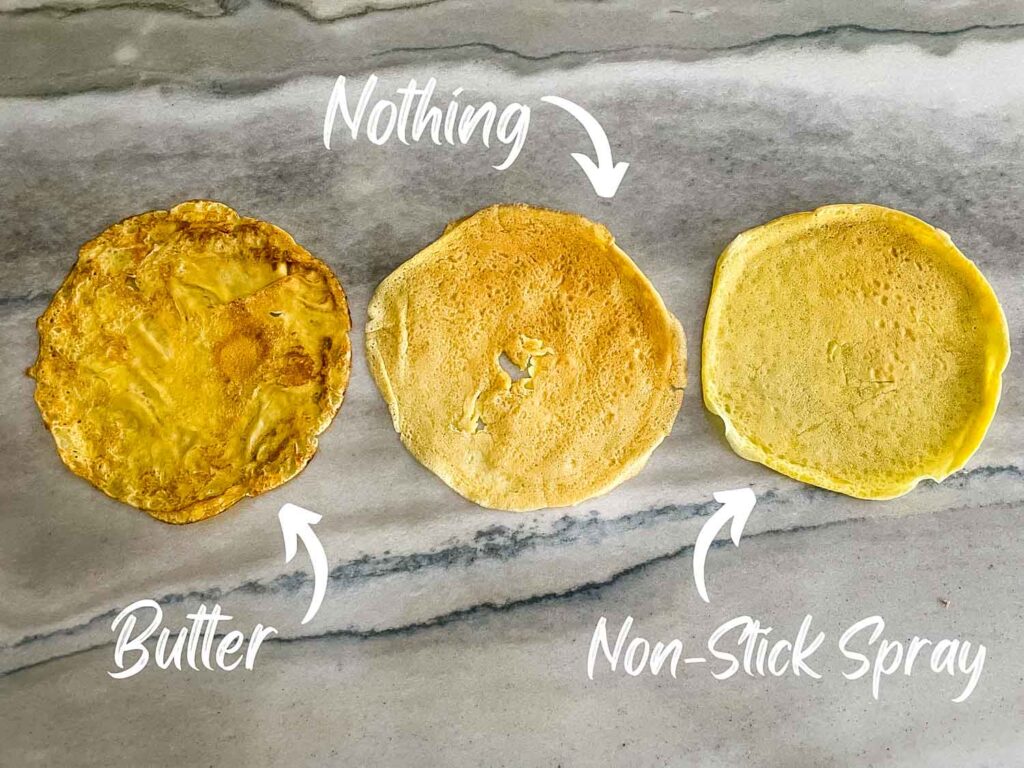 How Do You Flip a Crepe Without Tearing It?
I use a thin rubber spatula. A flat rubber spatula or tool is best as the rubber is softer on the edges than metal.
I shimmy it under the crepe, in the middle, all the way across.
Then gently lift, move to the side and lay a hanging edge down on the skillet and move your hand across the pan, turning your wrist, to flip it over into the pan.
Why are my Crepes so Dry?
Most likely you had them cooking too long, which dried them out. Try using a slightly higher heat for faster cooking.
What Can You Put in a Sweet Crepe?
There are so many options of what you can fill a sweet crepe with! Below the recipe are our current collection of sweet crepes.
Here are some other ideas:
Whipped Cream
Caramel
Pie Fillings
Ice Cream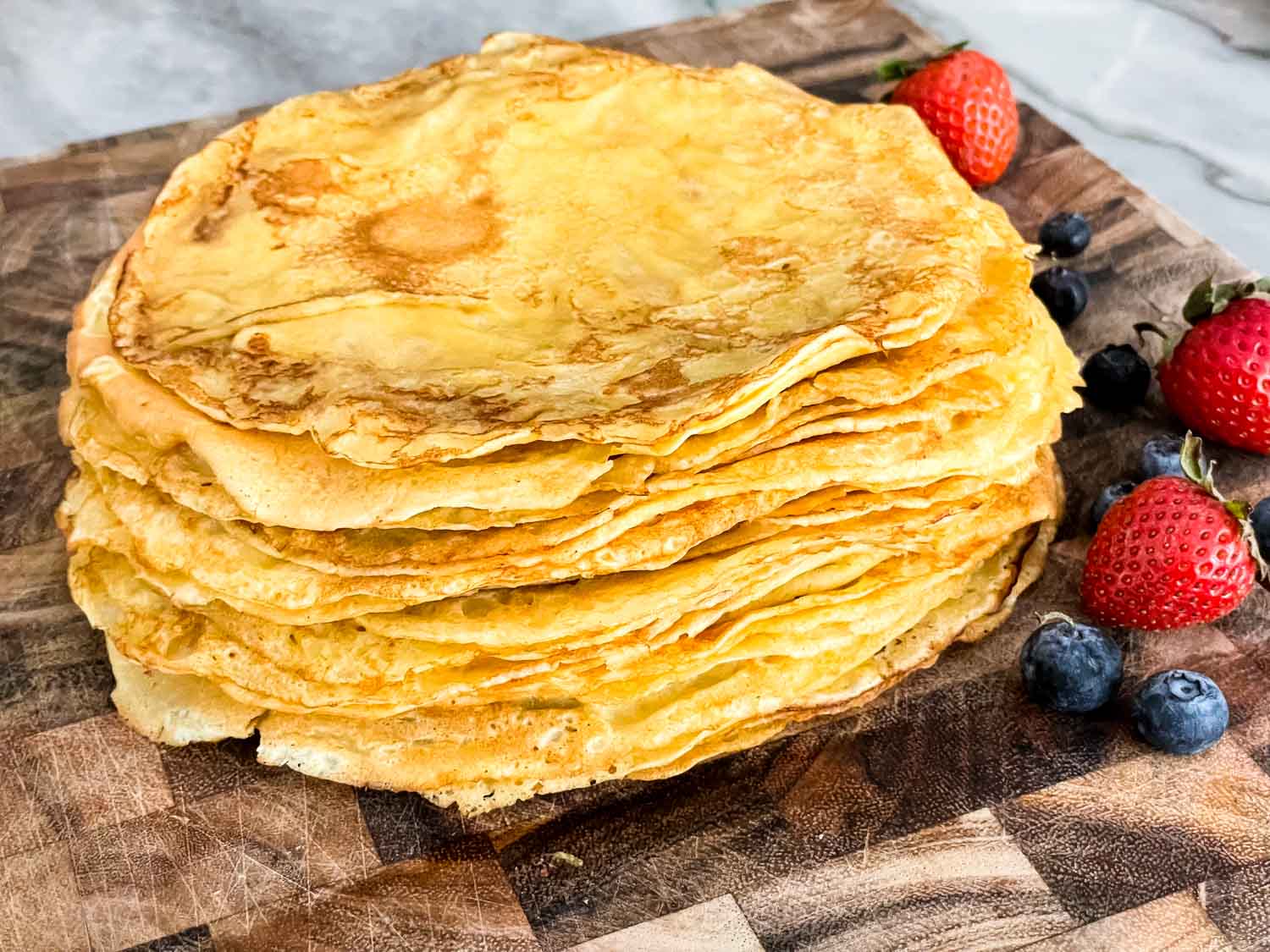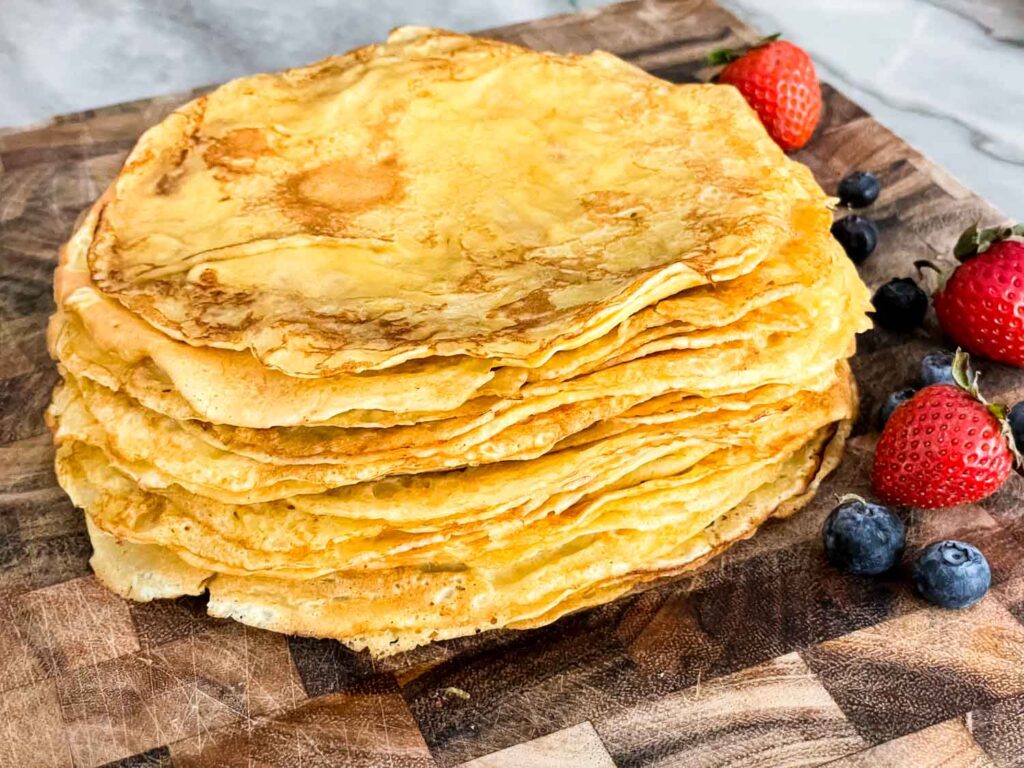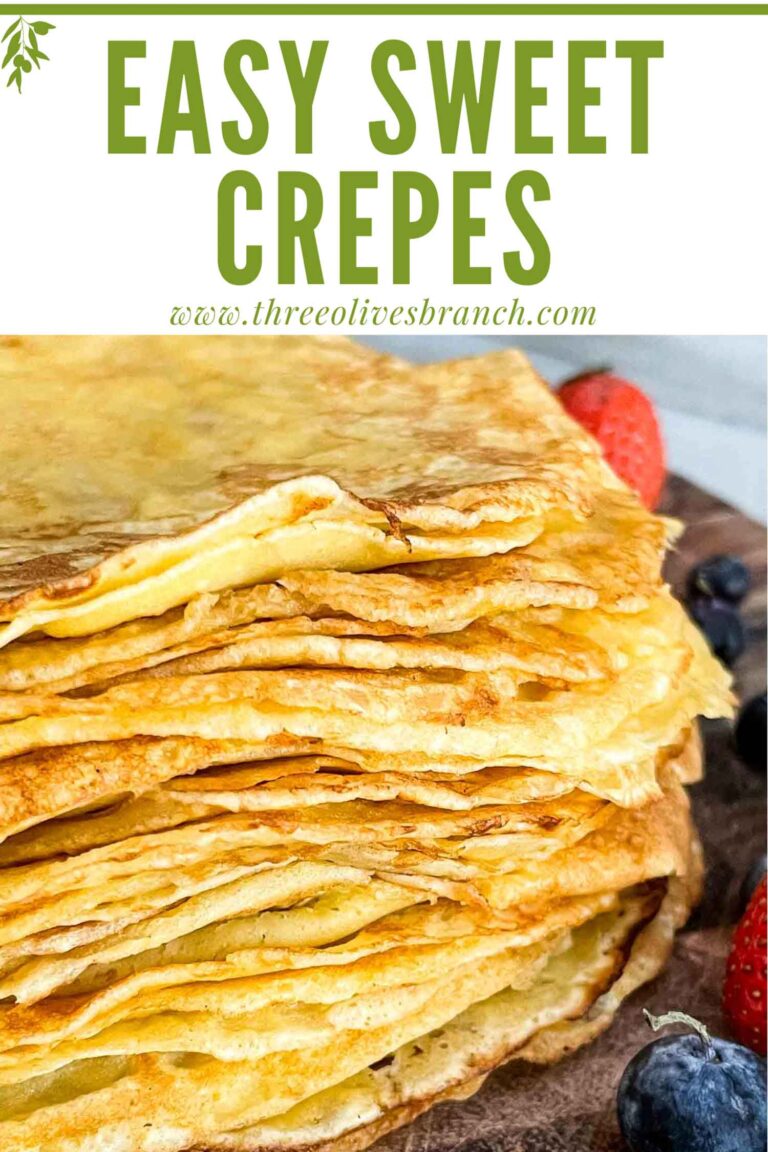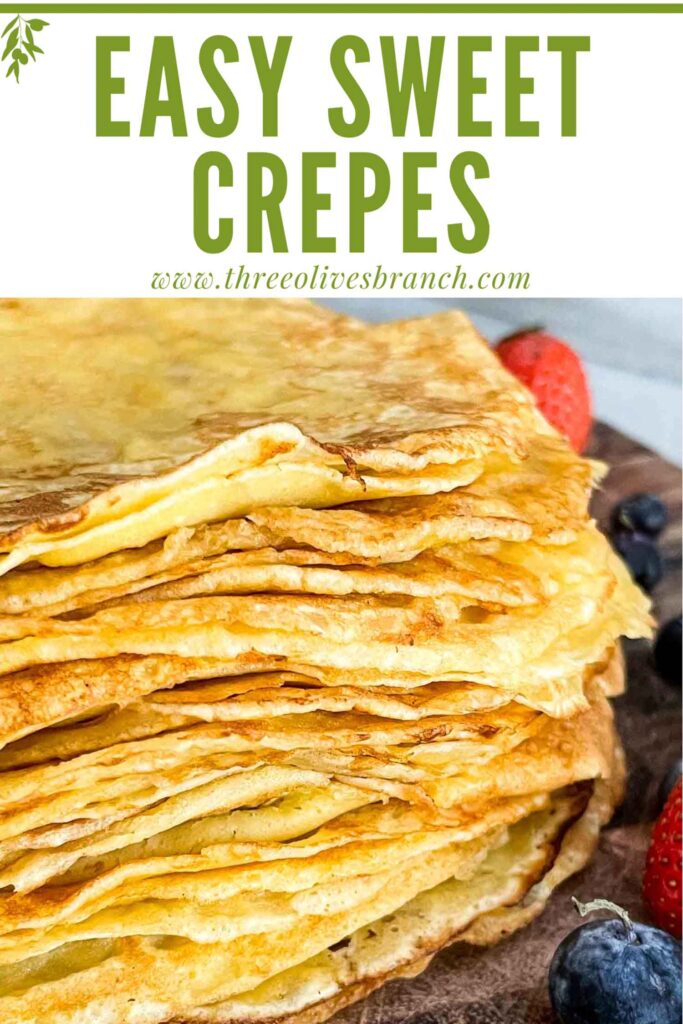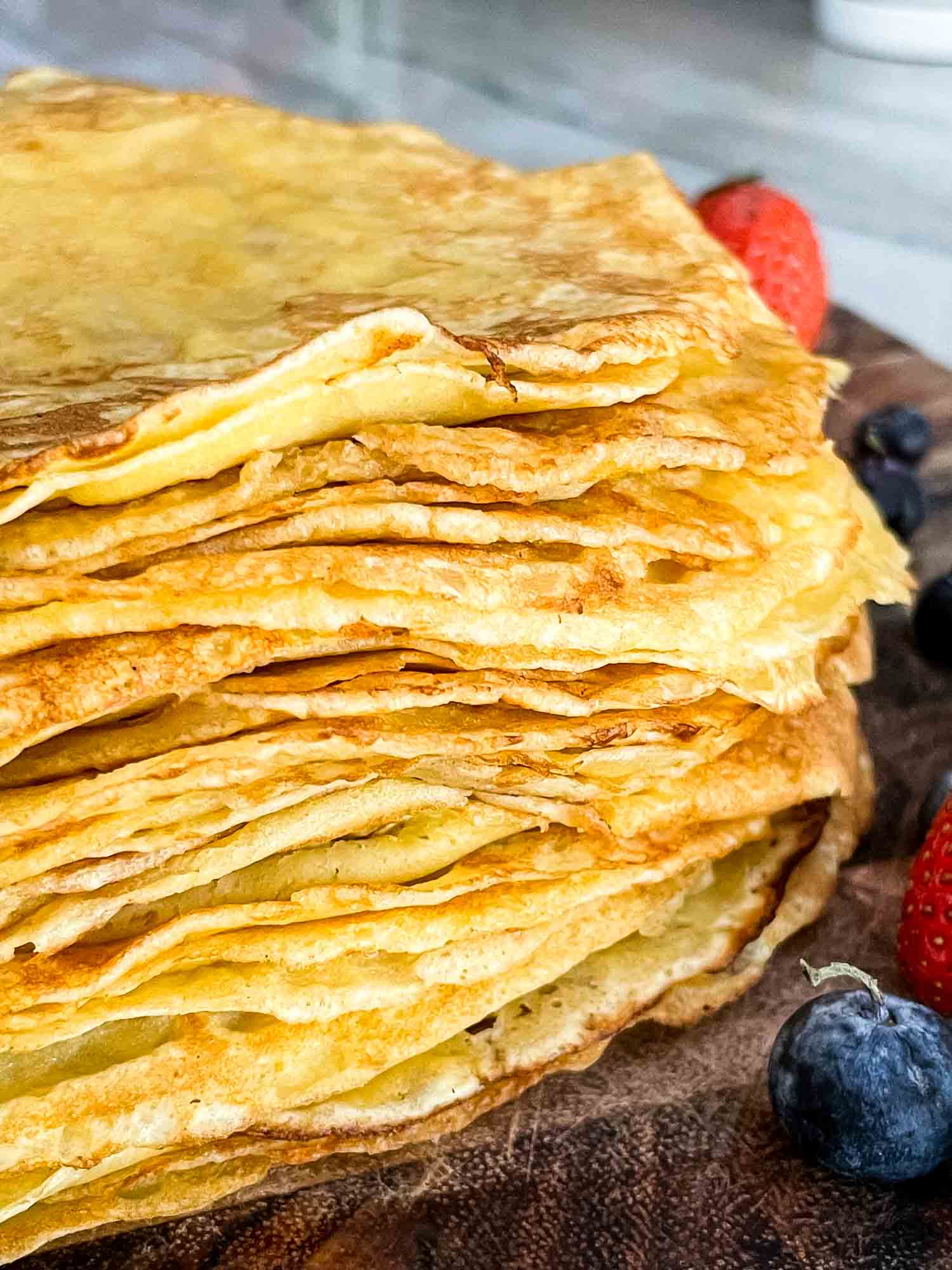 Ingredients
Instructions
Melt 3 Tablespoons of butter in the microwave in 30 second intervals. Set aside and let cool slightly, about 3 minutes.

In a blender, combine all ingredients except the remaining solid butter for cooking, and blend until combined, 15-20 seconds.

Chill the batter in the refrigerator for at least one hour, up to 24 hours. This will help the bubbles settle and the crepes less likely to tear.

When ready to cook, heat an 8 inch skillet over medium heat.

Put a small piece of the unmelted butter into the pan and tilt for it to spread across the pan.

When melted, immediately add about 3 Tablespoons of batter to the pan and again immediately swirl the pan, tilting it in a circle, to spread the batter out.

A 1/4 measuring cup is 4 Tablespoons, so I like to use this and aim for 3-3.5 Tablespoons, just shy of the cup, for fast and easy pouring.

Put the skillet down and cook 20-30 seconds until the bottom is starting to lightly brown and there is little to no raw batter on top.

Using a spatula, get under the crepe across the middle, gently lift, and gently flip in the pan.

Cook the second side about 10 seconds.

Slide out of the pan onto a baking sheet.

Repeat the process with the remaining batter, letting the crepes stack up on the sheet.

Do not place in a warm oven as this dries them out!

Crepes can be filled with your favorite fillings.

Store in an airtight container in the refrigerator up to 3 days. Or freeze in a sealed bag/container for up to 2 months. If frozen, thaw completely before pulling them apart.
Notes
If you use a larger pan, you will need to use around 4 Tablespoons (1/4 cup) of batter.
Store in an airtight container in the refrigerator up to 3 days. Or freeze in a sealed bag/container for up to 2 months. If frozen, thaw completely before pulling them apart.
Nutrition
Serving:

1

crepe

|

Calories:

54

kcal

|

Carbohydrates:

8

g

|

Protein:

2

g

|

Fat:

1

g

|

Saturated Fat:

1

g

|

Polyunsaturated Fat:

1

g

|

Monounsaturated Fat:

1

g

|

Trans Fat:

1

g

|

Cholesterol:

25

mg

|

Sodium:

20

mg

|

Potassium:

42

mg

|

Fiber:

1

g

|

Sugar:

2

g

|

Vitamin A:

62

IU

|

Calcium:

25

mg

|

Iron:

1

mg

By