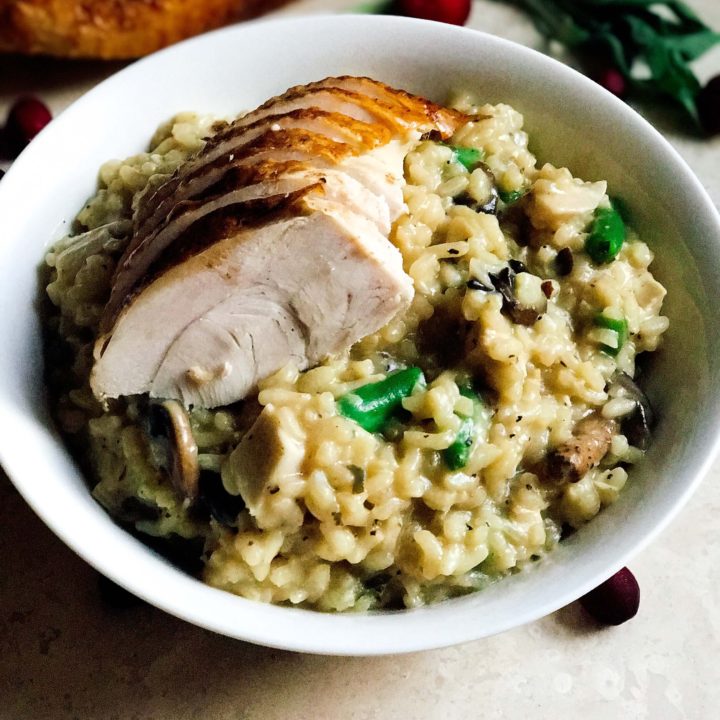 This shop has been compensated by Collective Bias, Inc. and its advertiser. All opinions are mine alone. #HonestSimpleTurkey #CollectiveBias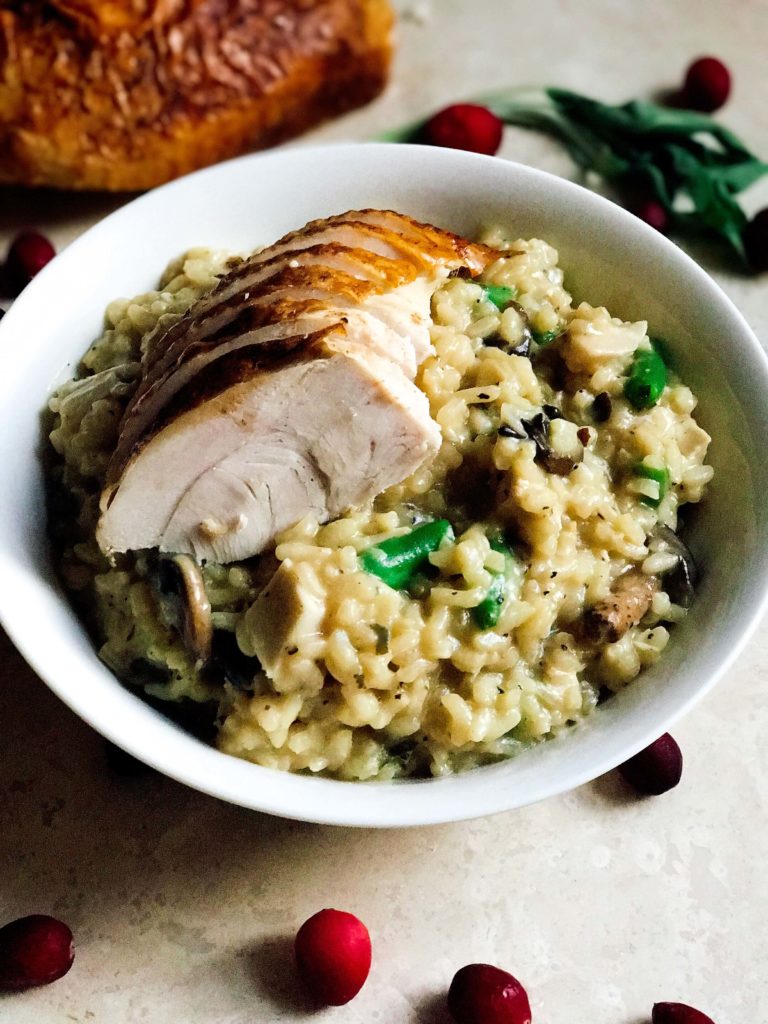 Thanksgiving is coming!  It is my absolute favorite food holiday.  My family has a traditional menu that we make with only a few tweaks or changes each year.  This always includes a Honeysuckle White turkey no matter what.  We strive for excess food, because leftovers, and when it all said and done, we experiment with new recipes to use these leftovers.  One of my favorites is this Thanksgiving Leftovers Risotto!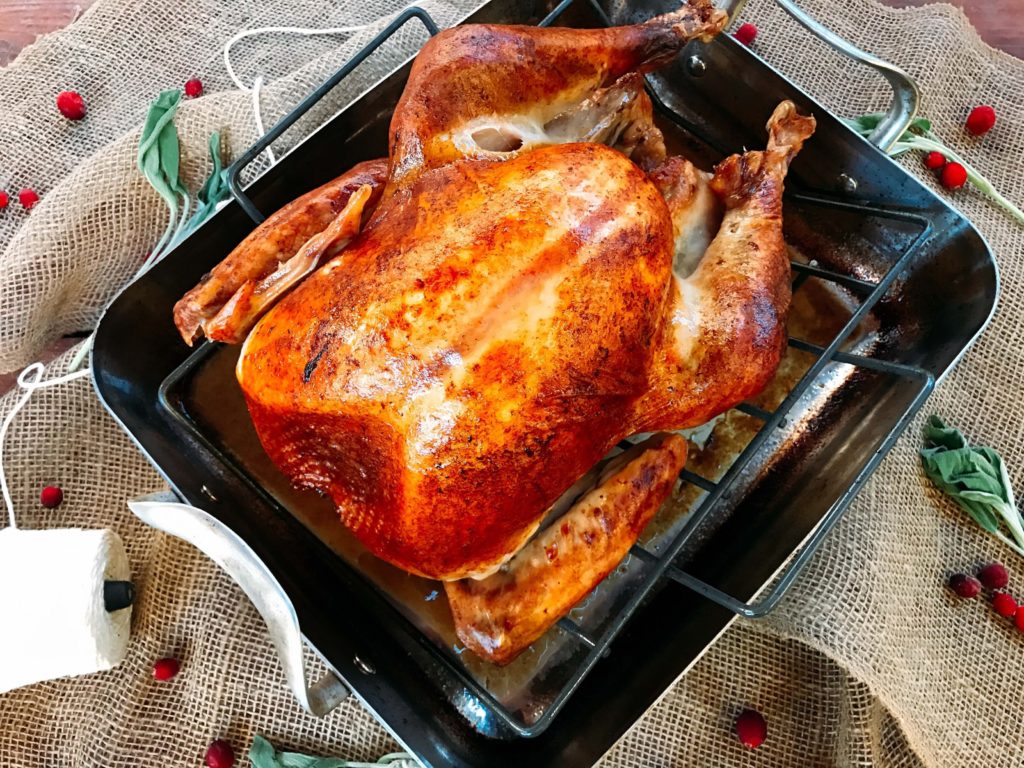 Honeysuckle White is THE ONLY turkey that my family uses every year for Thanksgiving.  When you are cooking for a special holiday, you want to serve the best.  After making many turkeys over the year in a house full of cooks, we found that Honeysuckle is the best choice!  The Honeysuckle White turkeys tend to be less fatty, more moist, and overall better tasting.  Honeysuckle White turkeys also have no growth promoting hormones and no added hormones or steroids.  They are USDA process certified and raised by independent family farmers. We also love that they are focused on high standards and providing transparency to customers about how the food is made and who is making it.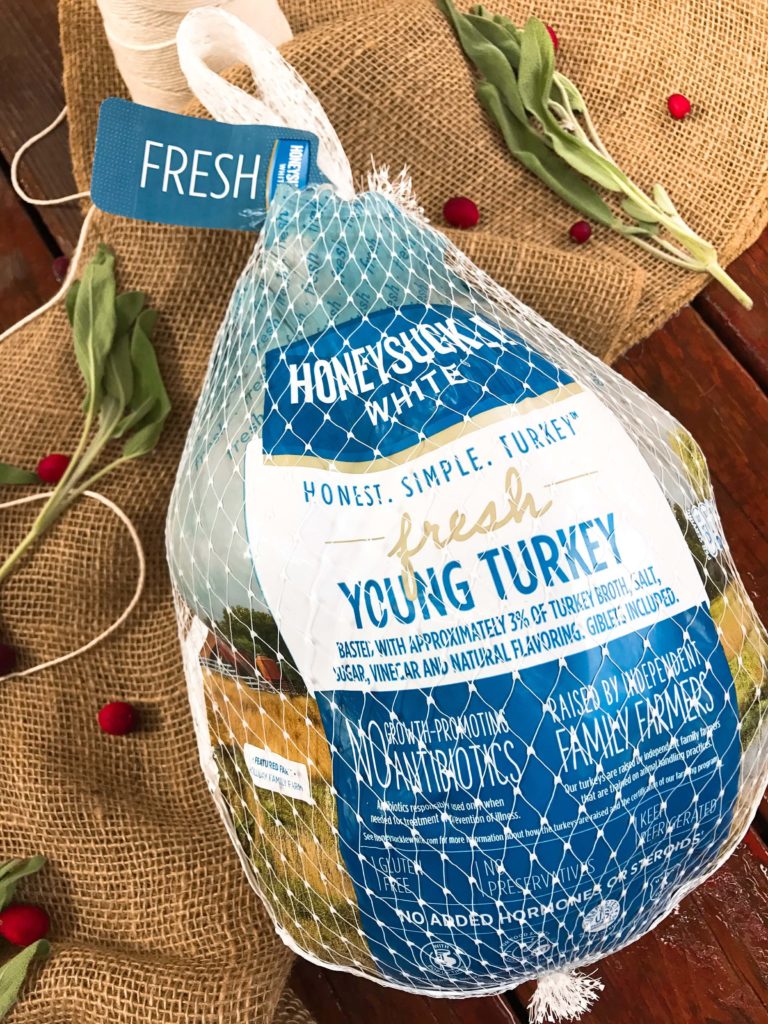 From now through 11/21/16 you can find an in-store coupon nationally to save $2.50 off your Honeysuckle White Whole Turkey.  Other select stores have a coupon for $2 off any one Fresh Honeysuckle White Whole Turkey.  They are easy to find in the meat section of your local Kroger store, typically in those large bins.  Find your closest store here!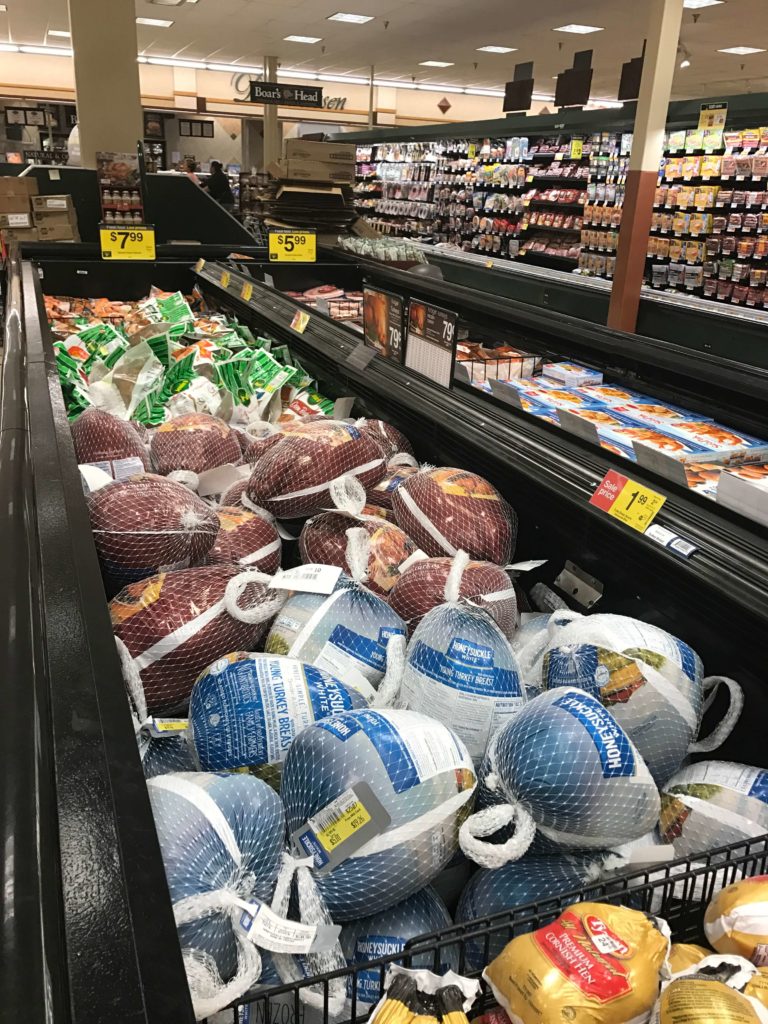 How to Cook the Perfect Turkey
You can follow any recipe that you love for making your turkey, but there are a few tips to keep in mind regardless.
Thawing the Turkey: You should be thawing your turkey in a refrigerator to keep it at a safe temperature.  The time this takes depends on the size of your bird, but count on it taking at least a day.  If you are worried about leakage, you can fit it inside a large pan or dish while in the refrigerator.
Prepping the Turkey: There are some hidden items in the turkey that you need to be aware of!  The giblets are stored in the neck area, so be sure to pull that pouch out.  There are also typically "pieces" inside the cavity itself.  Pull those out as well.
The turkey comes with a hard plastic contraption that holds the legs together with the bird.  You can leave this in place through the cooking process.  If you choose to remove it, you will want to use twine to tie the legs back toward the bird for an even cook.
Cooking the Turkey: I bend the wings backwards and tuck them under the neck area or behind its back so they do not overcook.  You can secure them with twine if you wish.  The back of the Honeysuckle package has guidelines for cooking time, but regardless you want to make sure that the turkey hits at least 165 degrees F.  It comes with one of those pop up thermometers, but I always use my own meat thermometer just to be sure.  You want to take the temperature in the middle of a thick part of the meat, and I do this in a couple different spots just to be sure.  My turkey was just shy of 15 pounds and took about four and a half hours to cook.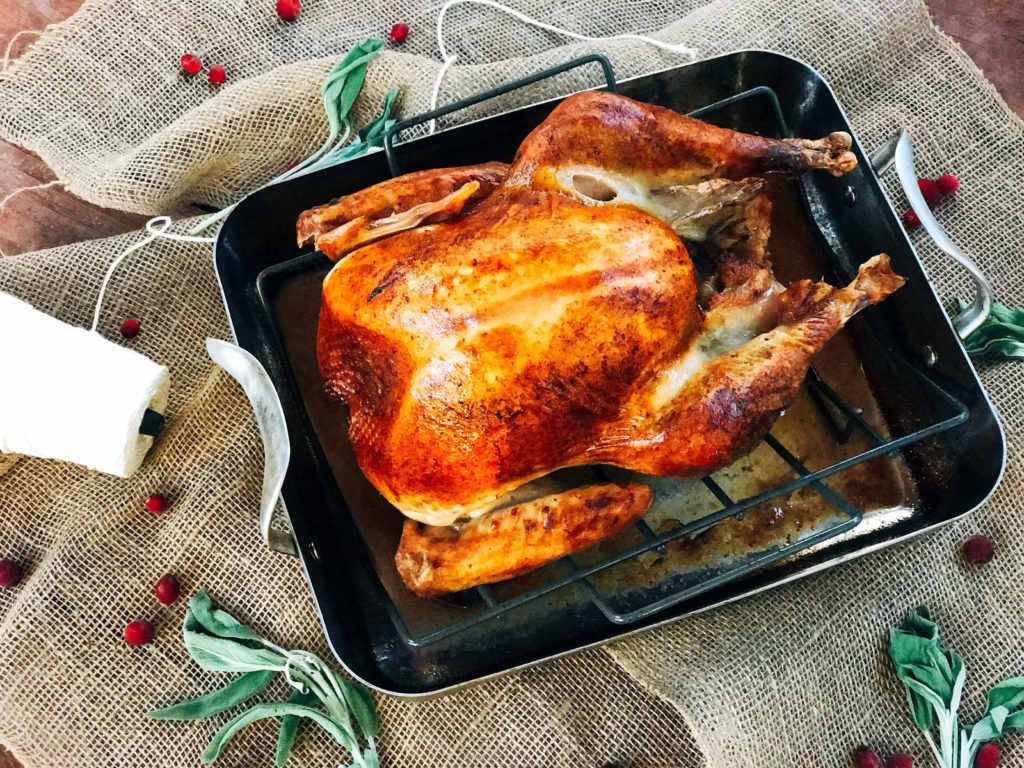 We always make a HUGE turkey in our house so that we have plenty of leftovers!  While we enjoy the classics like turkey sandwiches and turkey soups, I also like to make unique dishes with our leftover turkey.  One of my favorites is a Thanksgiving Leftovers Risotto.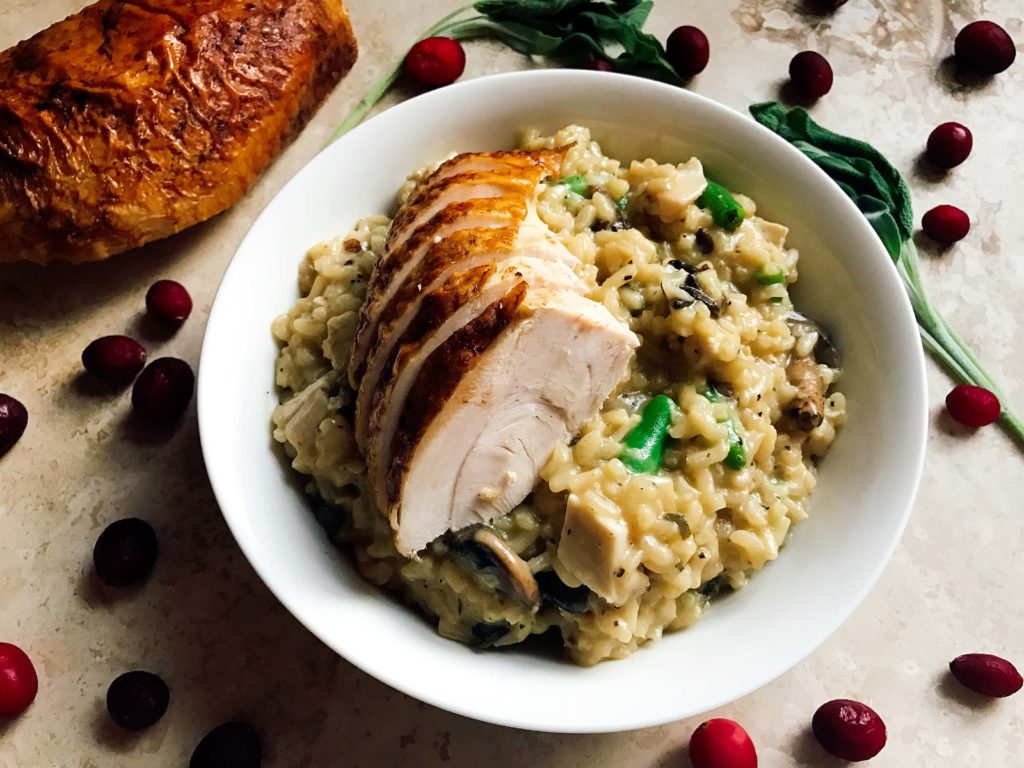 I use a Parmesan risotto base for this recipe.  Then I add sage, a traditional Thanksgiving flavor, in addition to the leftovers of turkey, green bean casserole, and gravy.  It is absolutely delicious and a perfect way to enjoy your leftovers without getting tired of them.  Do you have a favorite way to eat Thanksgiving leftovers?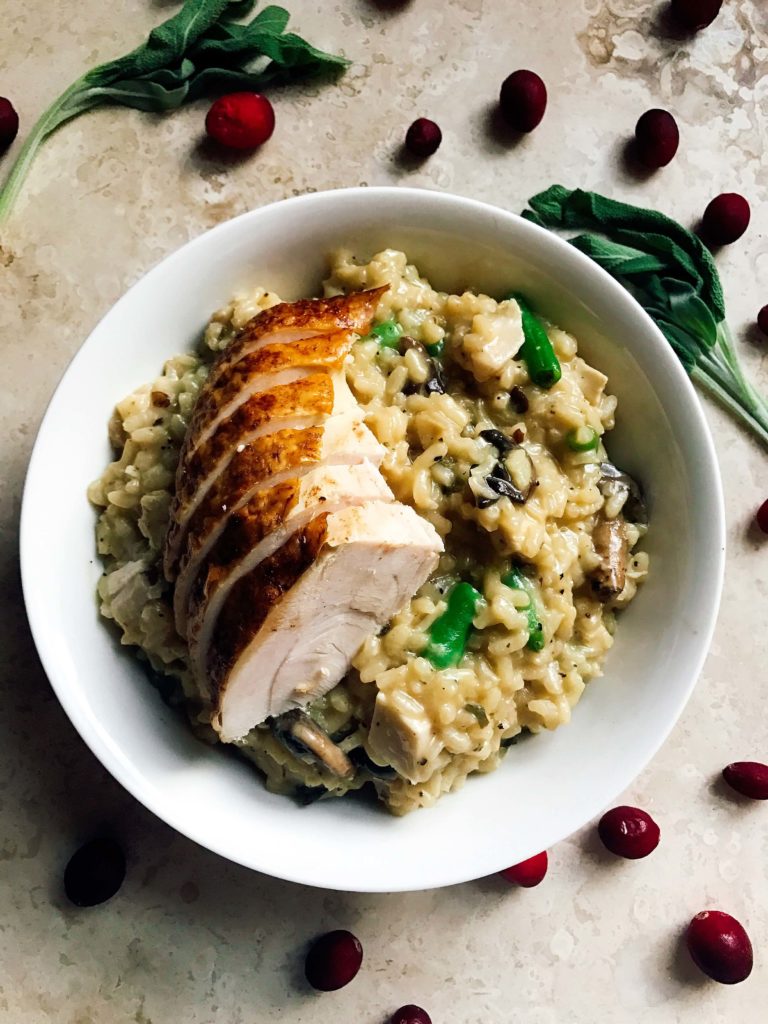 Want more risotto?  Try out our Sausage, Tomato, and Roasted Garlic Parmesan Risotto!  You might also like this Roasted Leek and Brie Risotto, Balsamic Caprese Risotto or Roasted Asparagus and Sweet Corn Risotto.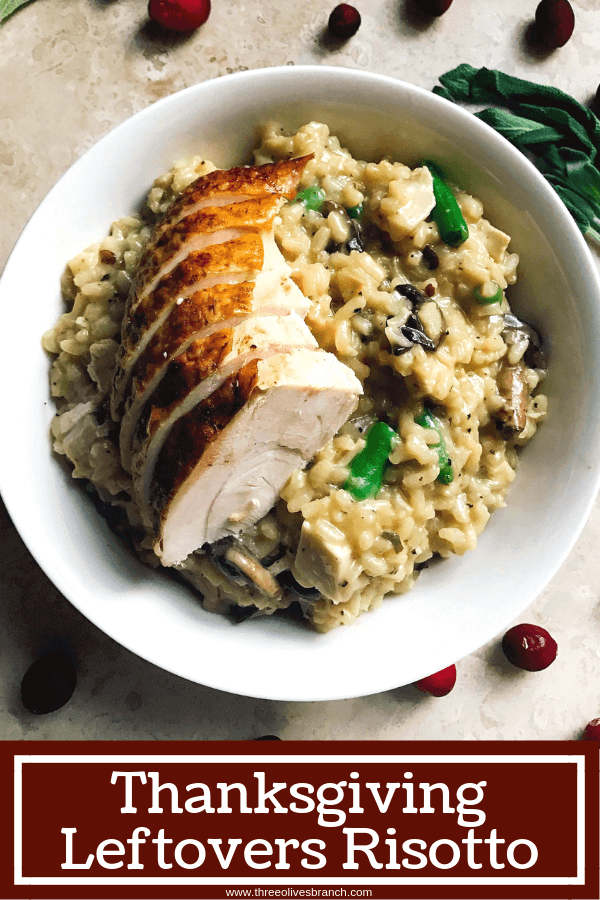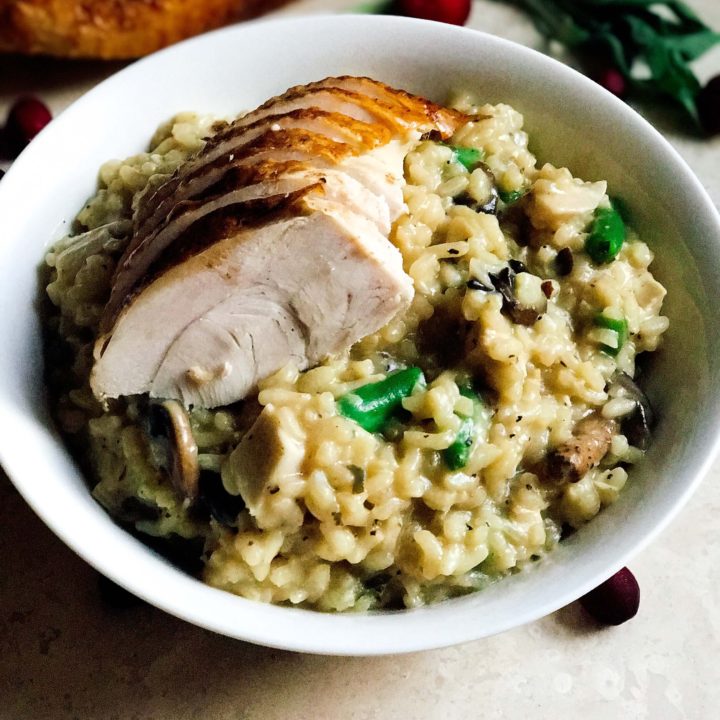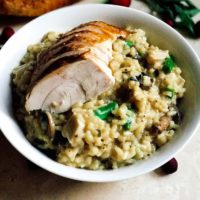 Ingredients
1

Tablespoon

vegetable oil

4

ounces

mushrooms

variety of choice, sliced

4

Tablespoons

unsalted butter

2

Tablespoons

fresh sage

finely chopped

2

Tablespoons

red onion

finely diced

1/4

teaspoon

garlic powder

1 1/2

cups

arborio rice

1

cup

white wine

(not sweet) (see note)

6

cups

chicken stock

(or turkey stock)

1

cup

turkey

white and/or dark meat, chopped

1/2

cup

green bean casserole

(or frozen green beans) (see note)

1/4

cup

gravy

(see note)

3/4

cup

freshly grated Parmesan

salt

black pepper
Instructions
Heat the oil in a large pot over medium heat. Add the mushrooms and cook until they have released their moisture, approximately 5 minutes. Remove the mushrooms from the pot and set aside.

Place the stock in a pot and heat over medium low. You want the stock to be warm when adding it to the risotto so that the temperature change does not affect the rice.

Add 2 Tbsp butter to the pot and let melt. Add the red onion and sage. Cook until the onions are translucent, approximately 3-5 minutes.

Add the rice and stir. Continue cooking to slightly toast the rice until it is just starting to show a little brown color, approximately 3-5 minutes.

Add the white wine to the pot. Cook until the rice is almost dry, where most of the wine has been absorbed.

Add 1/2 cup of stock to the rice. Stir continuously until most of the stock has been absorbed. Repeat this process one cup of stock at a time until the rice is cooked thoroughly. You want the rice to have just a little bit of bite left so that it is not completely mushy. Depending on your rice, you may need more or less stock for the right consistency so start tasting the rice after 4 cups have been added.

When your rice is cooked through, remove the pot from the heat.

Add in the turkey, green bean casserole, gravy, mushrooms, and Parmesan. Stir to combine.

Season to taste with salt and pepper as needed. Add additional turkey, green bean casserole, or gravy as desired to taste.
Notes
Any white wine is fine, just make sure it is something you enjoy drinking as the flavors will concentrate into your food.

Try to avoid any crunching onion topping of the green bean casserole as it will just get soggy.  Any other parts (beans, mushrooms, water chestnuts, etc) are fine.  If you do not have a green bean casserole, frozen green beans work just fine.

If you do not have leftover gravy, you can skip this ingredient.

Freshly grated Parmesan is important because the cheese is a strong flavor in the risotto.  Using a quality cheese will make it taste better.  I have not made this with the canned cheese.

By