Fresh and bright flavors of tzatziki in a deviled egg for an extra creamy and fresh appetizer or snack! Perfect for parties, holidays, and gatherings.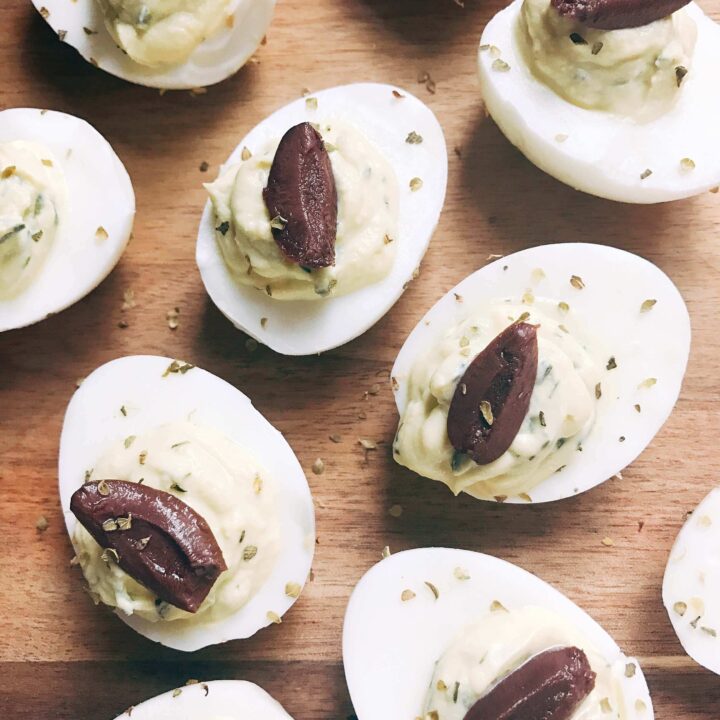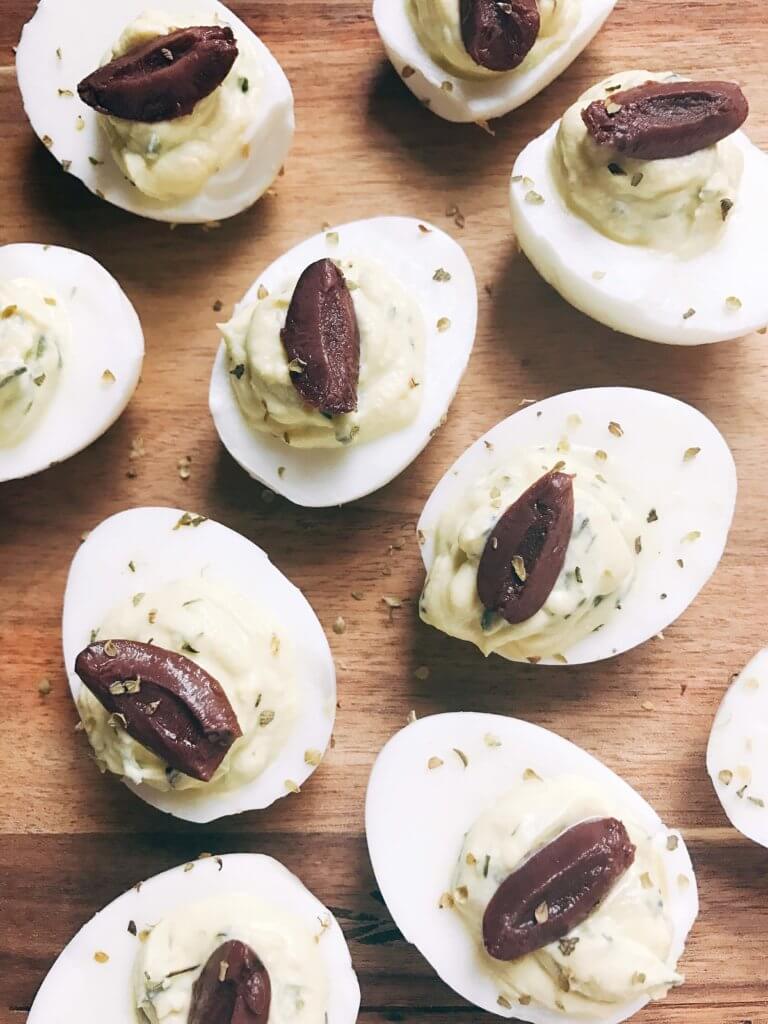 Deviled eggs are a staple in our family for all holidays, events, and gatherings.  They are a simple and easy appetizer to prepare and are always a hit!  I try to shake things up with new flavors like with these Tzatziki Deviled Eggs!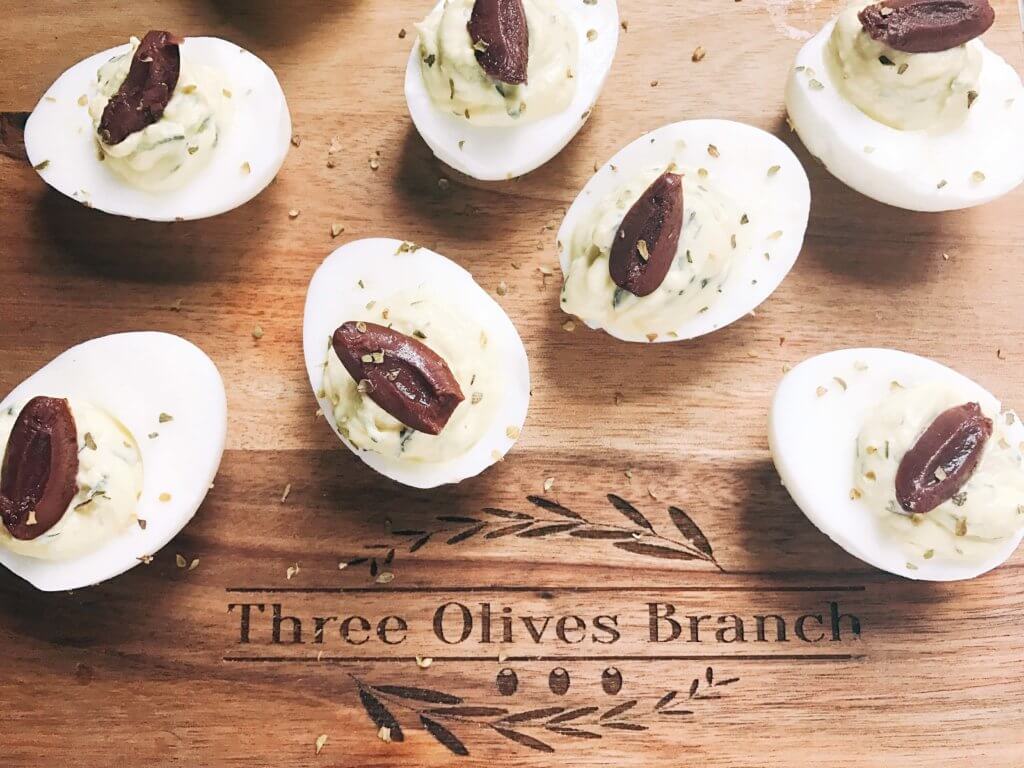 These Tzatziki Deviled Eggs use the traditional flavors of a tzatziki sauce in the yolk mixture.  I am NOT a fan of yogurt, but tzatziki is one of my favorite things!  I was in Greece and found this amazing sauce everywhere I went.  So I tried it, because I believe in trying new and different foods when you travel, and I fell in LOVE.  Tzatziki does not taste like yogurt at all, thanks to all of the great flavors mixed in.  Fresh cucumber, dill, lemon, and garlic make tzatziki shine.
This post contains affiliate links.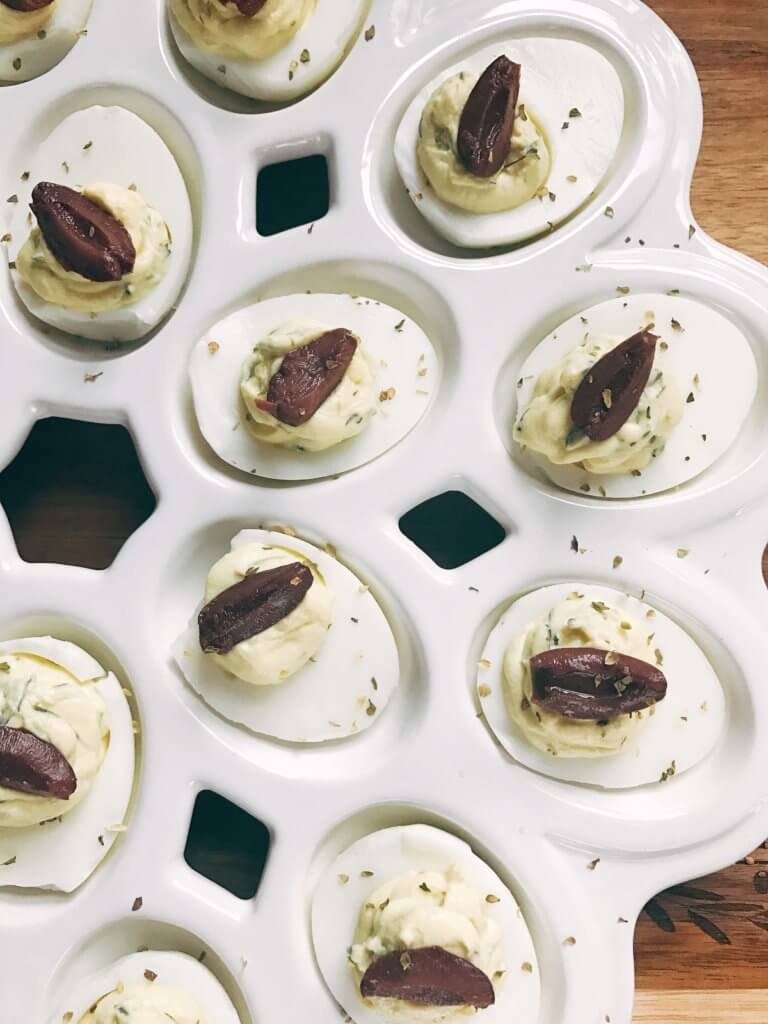 Cooking and peeling hard boiled eggs can be….challenging.  You can see a couple of these eggs were "difficult."  I do love to purchase the pre-boiled, pre-peeled eggs that you can find at your grocery store to make assembly even faster and the eggs a perfect shape.  They won't have the bumps and divots that you see here! 😀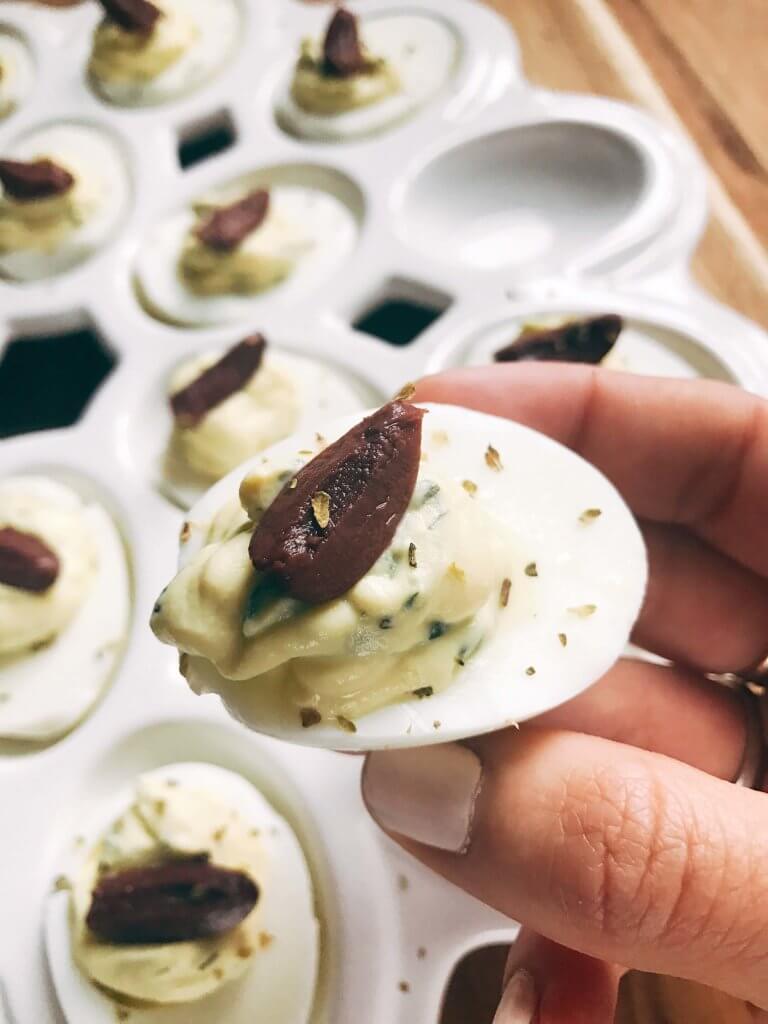 I topped off these eggs with Kalamata olive pieces, keeping with the Greek salad theme.  You can also use tomatoes, cucumbers, feta cheese, or nothing at all!  The yogurt makes these Tzatziki Deviled Eggs extra smooth and creamy.  Bright and fresh flavors make them perfect for spring and Easter, or as a lighter and fresher appetizer option.  Love tzatziki?  Check out our other tzatziki inspired recipes here!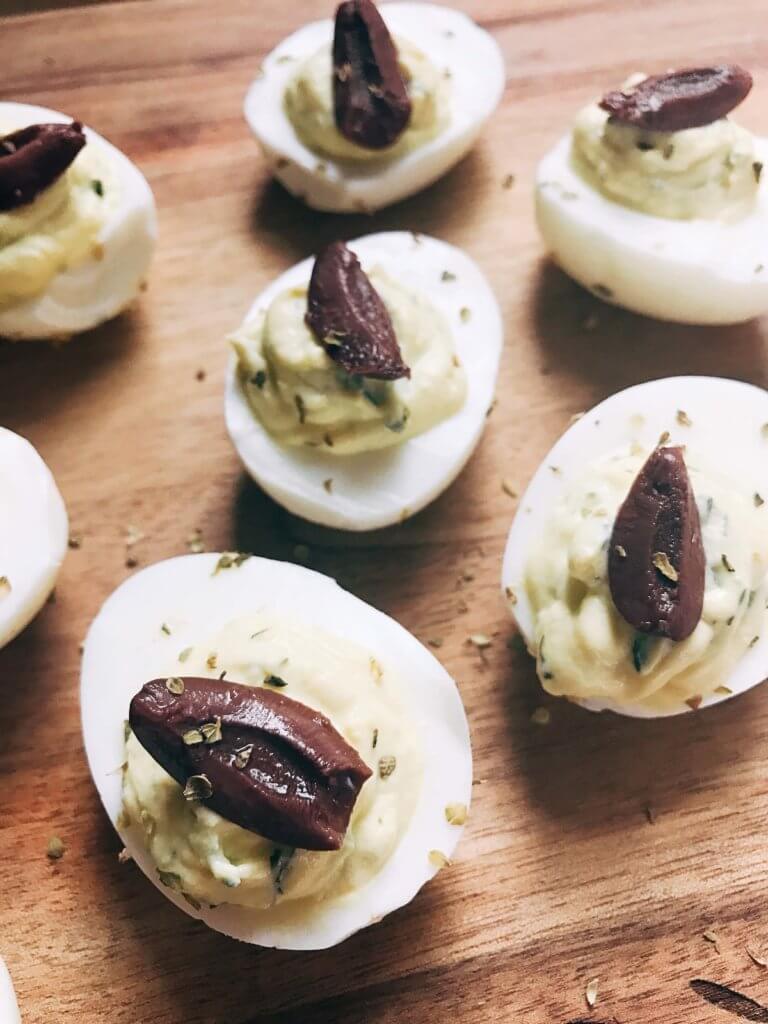 I am always on the hunt for new appetizers.  Find more deviled egg recipes and appetizer ideas here!
What is your favorite appetizer to bring to a party or event?  Do you like to shake things up, or do you stick with traditional foods?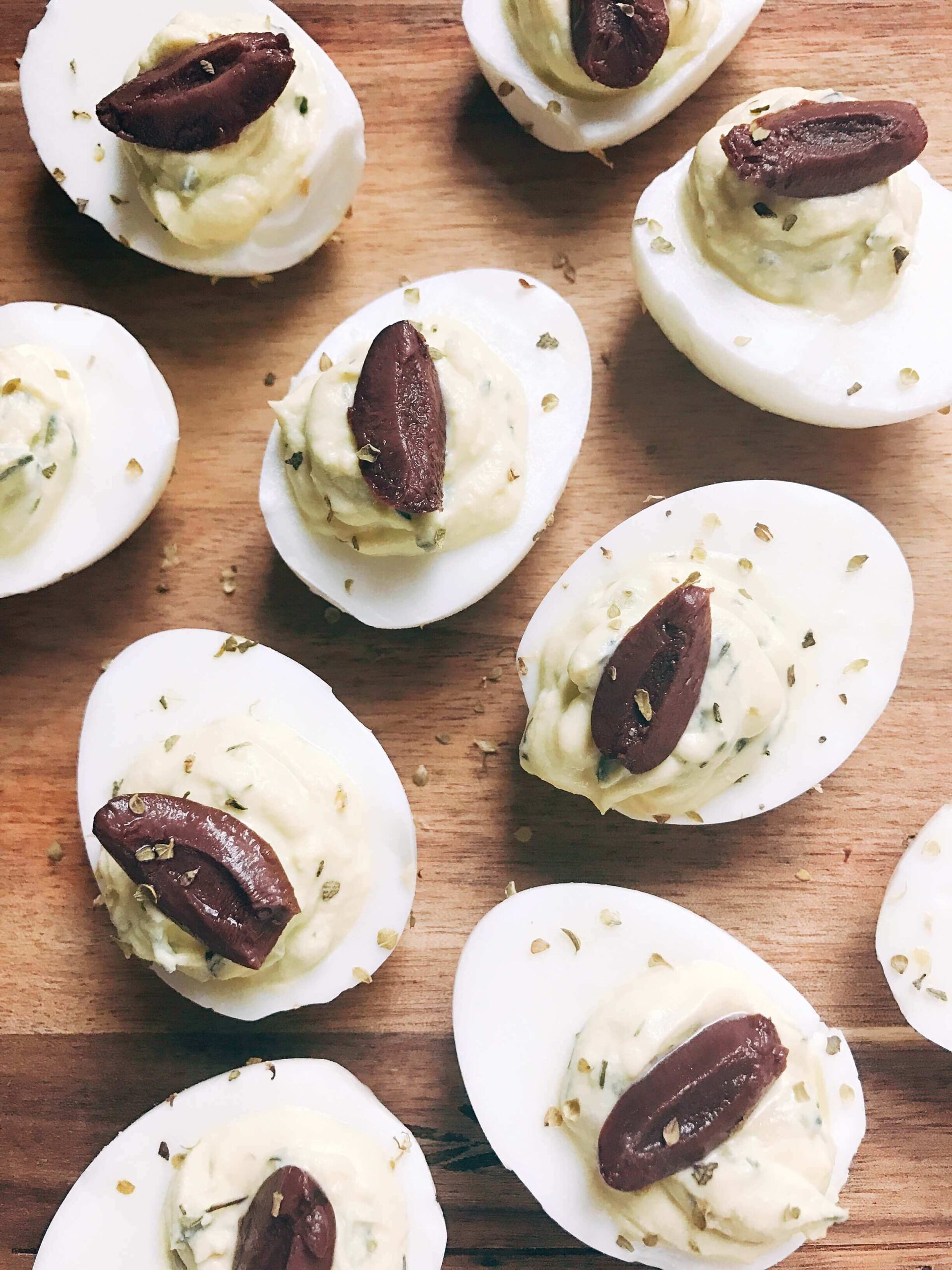 Servings:
12
deviled eggs
Instructions
Cook and peel the hard boiled eggs if not done already.

Cut each egg in half. Scoop out the yolk into a small bowl. Set aside the egg whites.

Mash the egg yolks to your desired consistency. Add the yogurt, cucumber, dill, garlic, oil, lemon juice, and salt. Stir to combine. Season to taste with lemon, salt, dill, and yogurt to your desired flavor and consistency.

Using a piping bag or spoons, fill each egg white with the yolk mixture. Garnish if desired.

Chill until ready to serve.
Notes
If you already have tzatziki made (maybe for a veggie dip?) you can simply use 5-6 Tablespoons of prepared tzatziki instead of the listed ingredients.

You can decorate the eggs with your favorite Greek salad ingredients, such as Kalamata olives, cucumber, tomatoes, feta cheese, or fresh dill.

By