Have you ever gone on vacation and realized at your destination that you forgot to pack something EXTREMELY obvious???  (I have! Forgot my razor and sunblock when we went to Jamaica – oops).  Or maybe you are plagued by constantly feeling like you are forgetting to pack something and being paranoid that you will not remember until it is too late?
After many, many, many domestic and international trips, I have build up an Ultimate Packing List!  This list has most everything that you could possibly need for a vacation (not including very specific adventures such as hiking, scuba diving, etc).  I love to use this list every time I am going somewhere to make sure that NOTHING gets left behind.
Many items on the list may not be applicable to you or your destination, but having them all in the same place anyway ensures that you only need ONE list and that it is all there.  Keep reading to find your FREE PRINTABLE of this Ultimate Packing List!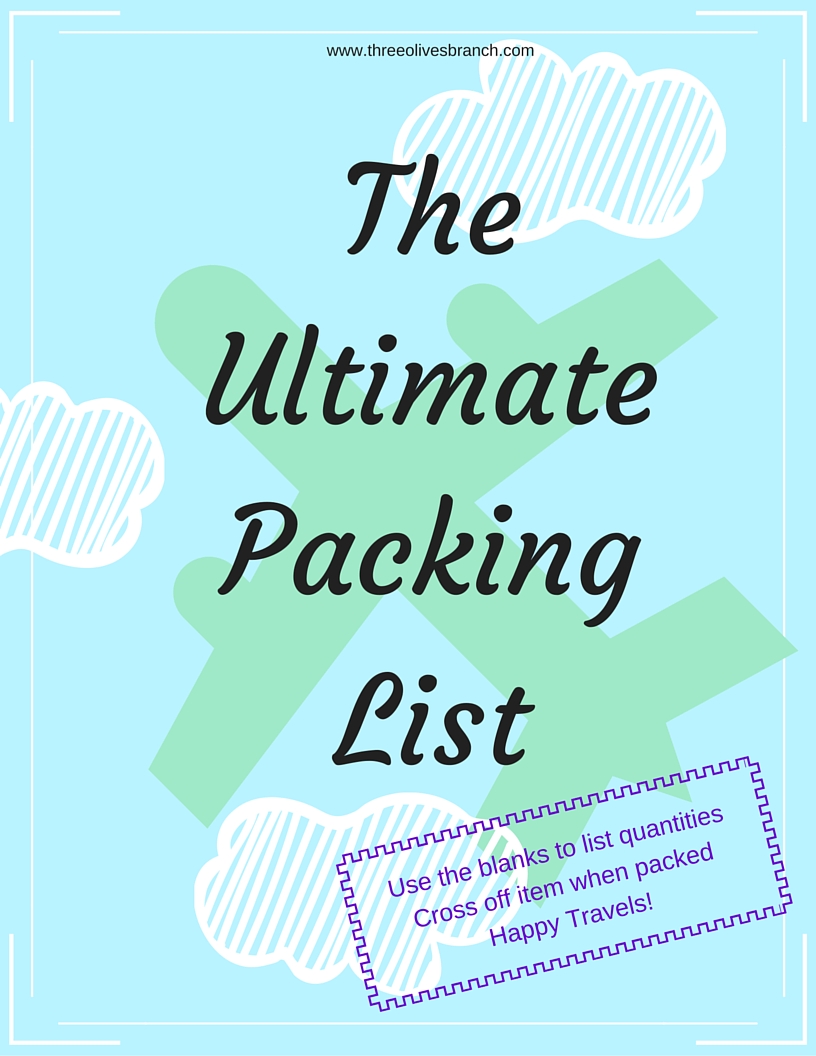 Now many items on the list make sense and are typical packing options.  But there are a few that may seem a little odd, so I am going to run through why I have put them on this list and the benefit of taking them with you on your trip!
This post contains affiliate links.
---
I used to not think this was necessary, but I love using a laundry bag in my suitcase!  As you start wearing through your clothes, it is a great way to keep what is clean apart from what is dirty, especially on longer trips.  There are a lot of different styles, sizes, colors, and materials out there, so find one that works best for your family such as these cloth travel laundry bags.
This is only really needed if you are going oversees in order to make your electronics compatible with the outlets of your destination.  A conveter changes the voltage flowing through the socket to the appropriate level for your appliance which is important!  If you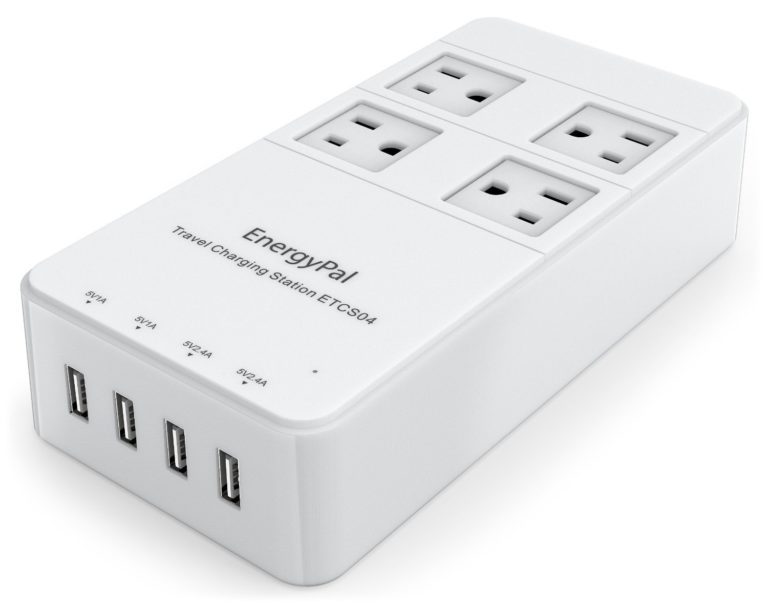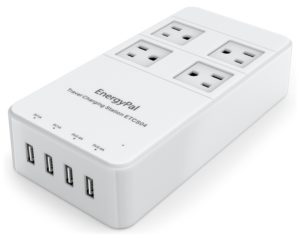 do not have one, the 220V of Europe could fry your 110V curling iron very quickly.  An adapter does not convert the voltage, but just provides a way to change the plug shape to fit in a socket.  Some items are built to handle a range of voltage, such as 110-240 (you can find this information on the detailed label on the product) so no converter would be needed.
This is my favorite converter that I have found.  It also has multiple ports to use multiple items at once as well as USB ports for mobile device charging.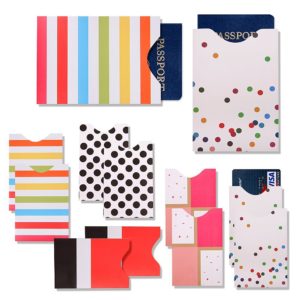 Now that Passports and cards have chips in them, you are at a possible risk of having your information and data stolen.  This actually happened to my parents in an airport not long ago.  Their personal identity was stolen and they started having problems with their bank accounts, etc.  People have the ability to put card readers in a bag or suitcase which they can then stroll near people and the device reads the chips through the fabrics and bags, stealing your personal information.
To prevent this from happening, you can purchase some very affordable RFID blocking sleeves.  Simply slip your cards and passport into the sleeves and the readers will not be able to get any information from your cards.  One popular way to test this is by putting the sleeve over a badge ID that can open a door and see if the door scanner can still read the card or not.  These are my favorite RFID sleeves that I have gotten to date because they have fun designs and various designs so that not everything looks the same.  An alternative is purchasing an RFID wallet where the entire wallet is protected and there is no need for individual sleeves.
I always seem to need to cart things around, and the reusable grocery bags are perfect!  Durable, light, and collapsible.  The bags are also convenient when you go to destinations that charge you for plastic bags at the store (which is becoming more and more common).  You can find a pack of them here with different color options if you need to stock up!
Ziploc Bags
These bags are so completely versatile!  They are a recent addition to my list and I seriously do not know how I did not add them sooner.  There are so many uses for these things.  Use them to collect sand and trinkets from a beach, as a way to protect a phone or device at the pool or beach from water, or even for organization.  You only need to bring a few, but odds are you will be thankful you have them at some point!
Wine Opener
Bringing a wine opener is more of a vacation-specific tool for me, but I do use it decently often.  Many times I will need one handy to open up some wine that we have purchased locally when having a "picnic" with our locally found snacks (see below) or if we plan on sitting on patios and having some wine.
Steak Knife
This item probably sounds odd, but I seriously take it almost every time I travel which has earned it a place on my Ultimate Packing List.  One of my favorite things to do on vacation is hit a local farmer's market, specialty shop, or local stand and purchase different cheeses, breads, fruits, etc for a snack or lunch.  The knife is completely necessary for me to cut up all those yummy things!  (I have found that cutting boards are not really needed as I almost always have a bag or box of some sort that works as a cutting surface).  Remember to keep that knife in your checked baggage (I like to put it in a front pocket) and packed safely to prevent cutting yourself when taking it out!
One thing that I worry about on trips, especially longer ones, is having enough space to bring souvenirs back (especially when we are talking larger items like wine, ceramics, and platters).  I always bring a lightweight, empty duffel bag with me that I can throw inside a suitcase like this one.  The duffel bag is perfect for fitting large items inside it that you can bring as a carry on to make sure that those ceramics do not break!  A traditional carryon suitcase is ideal, but if you do not want to be lugging around yet another suitcase, the duffel bag is perfect.  (Did you know both duffel and duffle and acceptable ways to spell the bag?)
Notepad
This is something I do not need too often, but it has been completely necessary a time or two.  Most lists or notes you can use on your phone, but sometimes that old fashioned pen and paper is needed!  Once we were in the middle of Tuscany completely lost (they do not have road signs – lots of fun I tell you) and we would stop at random places to try and get directions.  In the middle of nowhere they were not as adept to English, so we were speaking back and forth in broken attempts to talk to one another.  But once we were able to ask for a map, they were able to draw things out for us, and we found our way!!!
This may not seem odd, but it is something that you DEFINITELY need on your list and should never, ever forget!  This portable charger is absolutely amazing.  I have tried other kinds and none of them hold a candle to this beauty.  It holds a charge for a very long time and charges my phone fast!  This is the largest one that they have, but it has two different USB ports in it and can charge my phone from empty to full about five times before I need to charge it again.  The charge is fantastic and you don't have to constantly be worried about making sure the charger it self is full.
I got one of these for my sister for a trip to Ireland and they were in the middle of nowhere when their GPS system died on them.  But then she discovered that its cord would fit into the port on this charger, and she was able to get it back up and running again!  It completely saved them from the stress and aggravation of being lost.  Get one of these amazing chargers here! 
---
Want to get a FREE PRINTABLE of this ULTIMATE PACKING LIST?  

Click here!

(And access an ink-friendly version here!)

Make sure that you subscribe to this site to stay in the know about new content and more printables like this one!  We only send out a few each month, so we will not spam you and you can unsubscribe at any time.  You can find the subscription sign up at the top of the page!

Happy travels!

By