A simple and easy side dish or meal that is vegan and gluten free. Use it as a side dish or a meal on its own!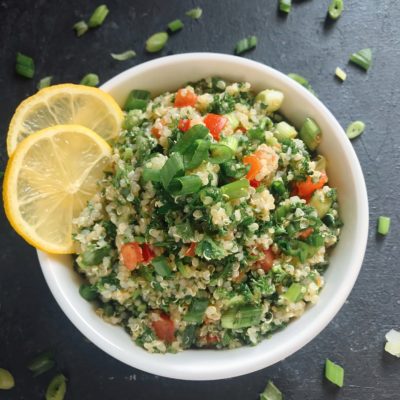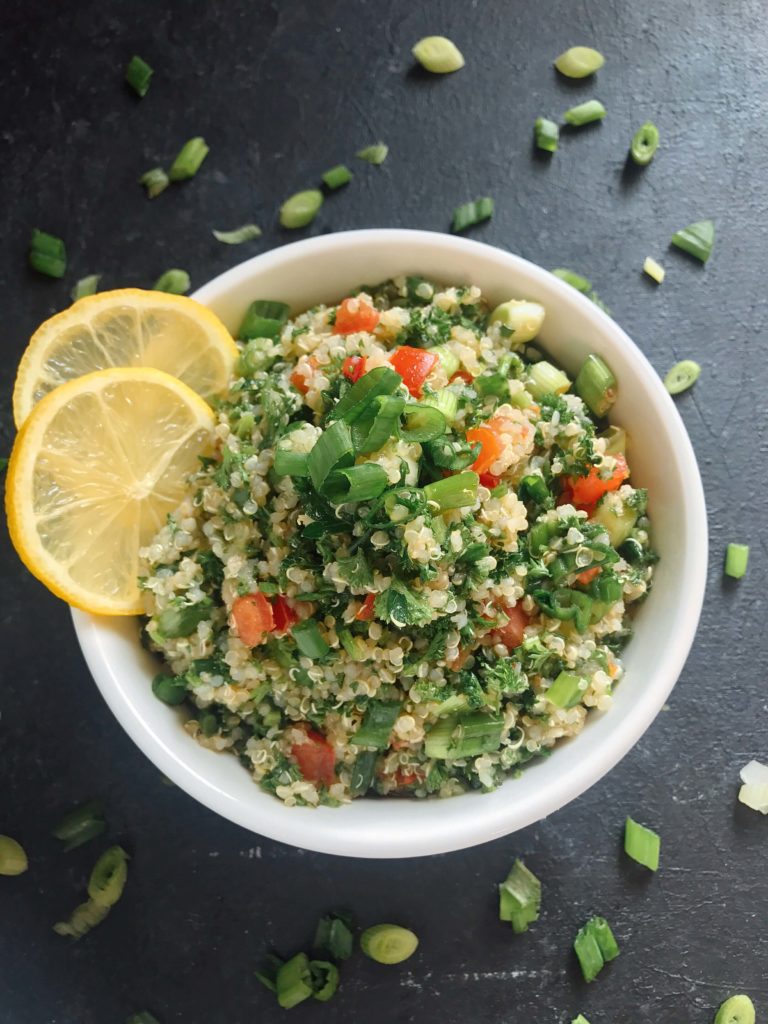 Vegan Quinoa Tabbouleh is a quick and simple dish that is great as a side or meal.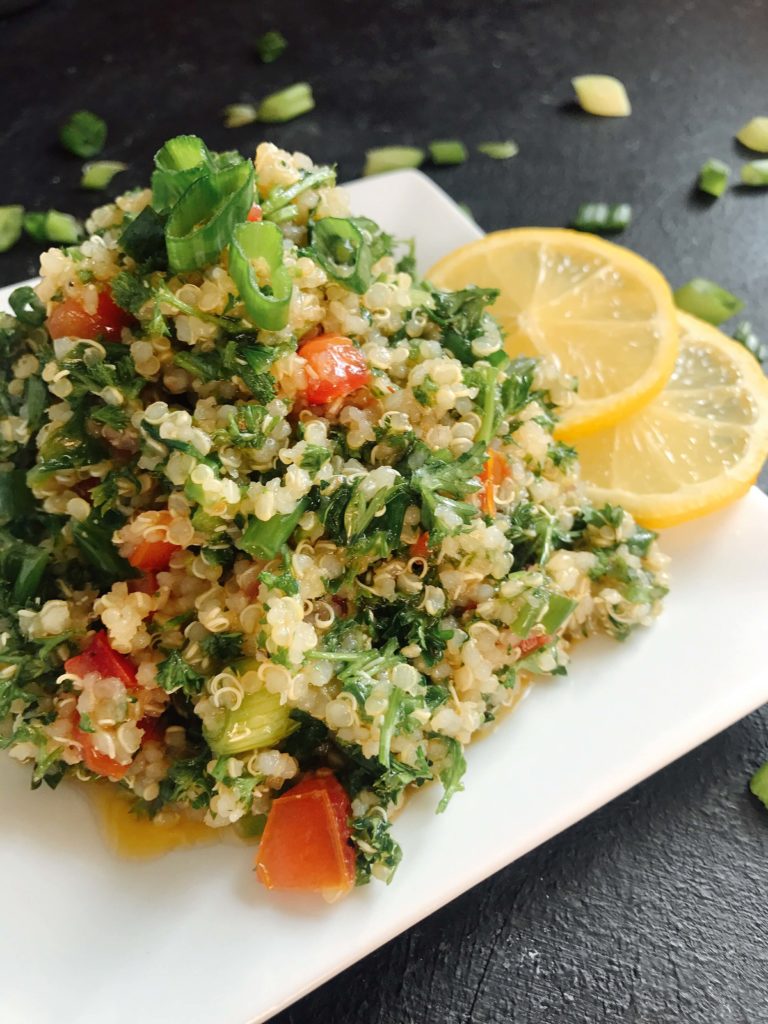 This post contains affiliate links.
Tabbouleh (or tabouleh, or tabouli) is a Middle eastern dish made of chopped herbs, bulgur wheat, and other spices.  There are a few variations out there but typically parsley, mint, tomatoes, lemon, and green onions are pretty common.  I took a twist and used quinoa in place of the bulgur wheat for a simple and healthy side.  I love using quinoa and always have some on hand, so I figured a new quinoa option would be the way to go!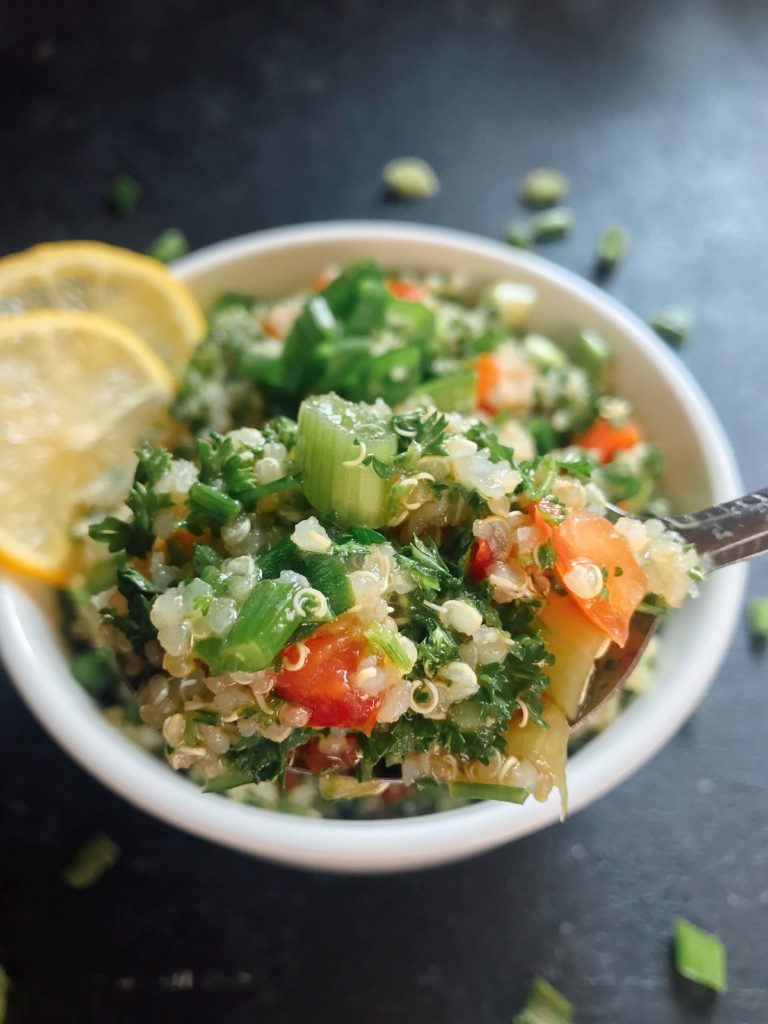 It might seem like a lot of "green stuff" goes into this Vegan Quinoa Tabbouleh, but it is really quite balanced!  The tang of the lemons and silkiness of the olive oil balance the fresh parsley and green onions for a fresh side dish.  I need to start making larger batches of this tabbouleh, because I can eat a LOT of it!  It is perfect as a lunch in itself or a quick snack.  New Year Resolutions are in full swing right now, and many people are aiming to eat healthier, but food should still be delicious and fun!  That is why I love this Vegan Quinoa Tabbouleh, because it is packed full of flavor and nutrition.
I also like to keep my parsley a little rough on the finely chopped side, and not on the minced or pulverized side, because I do like some texture.  Chop the parsley as coarse or fine as you like, just be careful not to add three cups of minced parsley right off the bat or else it might take over! The key here is to start with 1.5-2 cups and then add more as you want.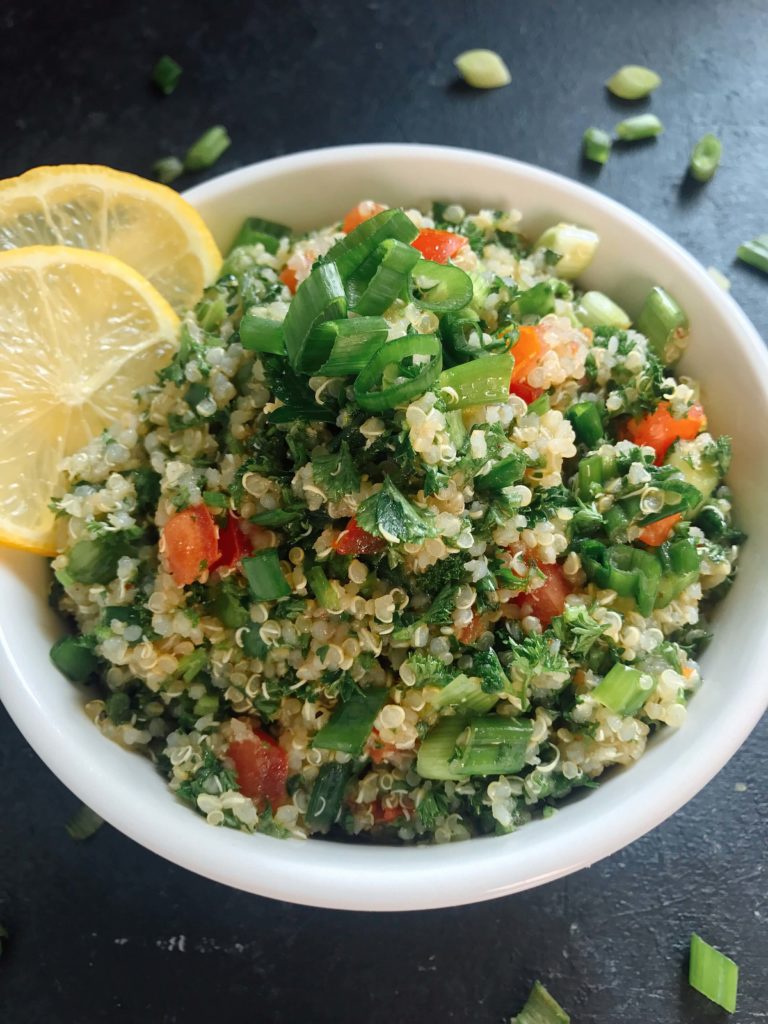 This side is perfect with our Vegan Ratatouille Stuffed Tomatoes, coming soon!  Vegan Quinoa Tabbouleh is a flexible dish, great warm or cold.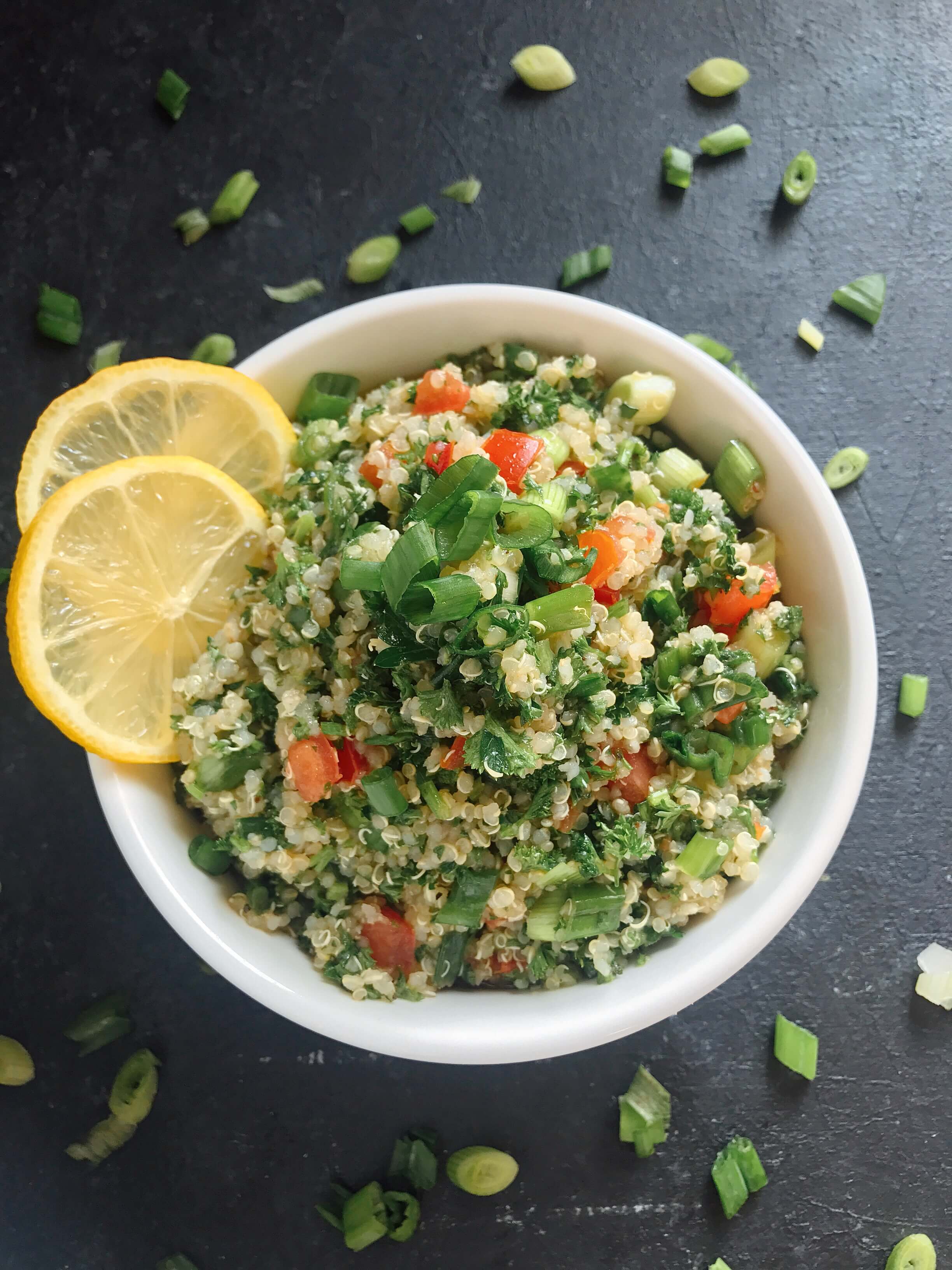 Instructions
Get your quinoa cooking as per package directions. This takes approximately 15 minutes.

While the quinoa is cooking, prepare the rest of the tabbouleh. Finely chop the parsley and place in a medium bowl. Add the mint, olive oil, juice of two lemons, tomatoes, green onions, salt, and black pepper. Stir to combine.

When the quinoa is done, add it to the parsley mixture. Stir to combine. Season to taste with additional salt, pepper, and lemon. Add additional parsley or mix ins if desired. This tabbouleh is great warm or cold.
Notes
The mint adds a great flavor to the tabbouleh, but can easily be omitted.

Try to keep the parsley not minced, or not chopped too finely.  The smaller you cut your parsley, the more you will need to fill two cups worth.  Start with two cups and add more as desired once all combined.

This is a great recipe for leftover quinoa if you have it precooked.

This is not an oily side, but it is not dry either.  If you are worried about having too much oil, start with 1/4 cup and gradually add more as desired.

Try to use a good quality olive oil here because you will definitely taste it and it is not cooked.

By