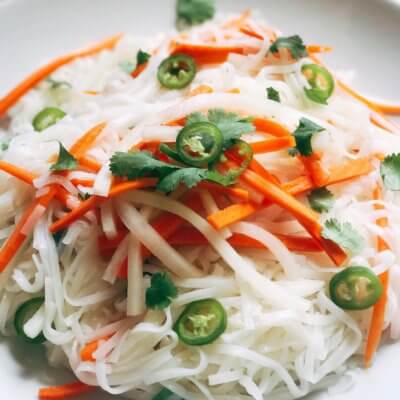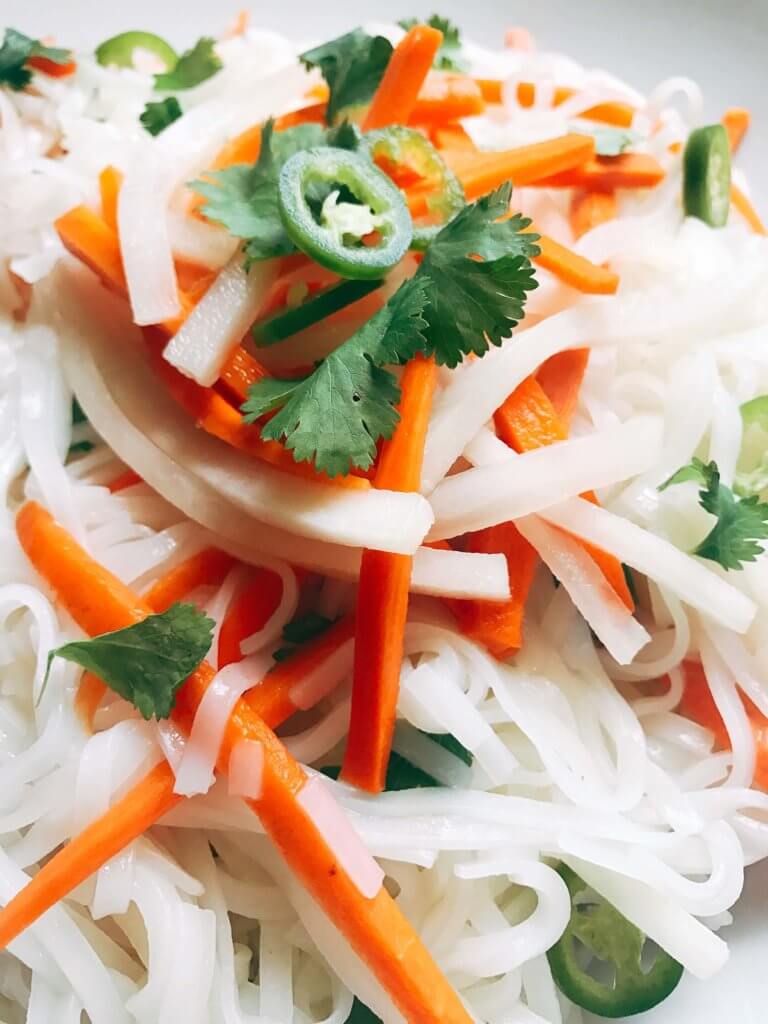 Summer is here!  And that means I am spending a lot of time grilling and eating fresh and bright foods.  This Vietnamese Pickled Vegetable Rice Noodle Salad is a fun twist on a classic pasta salad that you can serve up to wow your guests with something unique and, best of all, simple to make!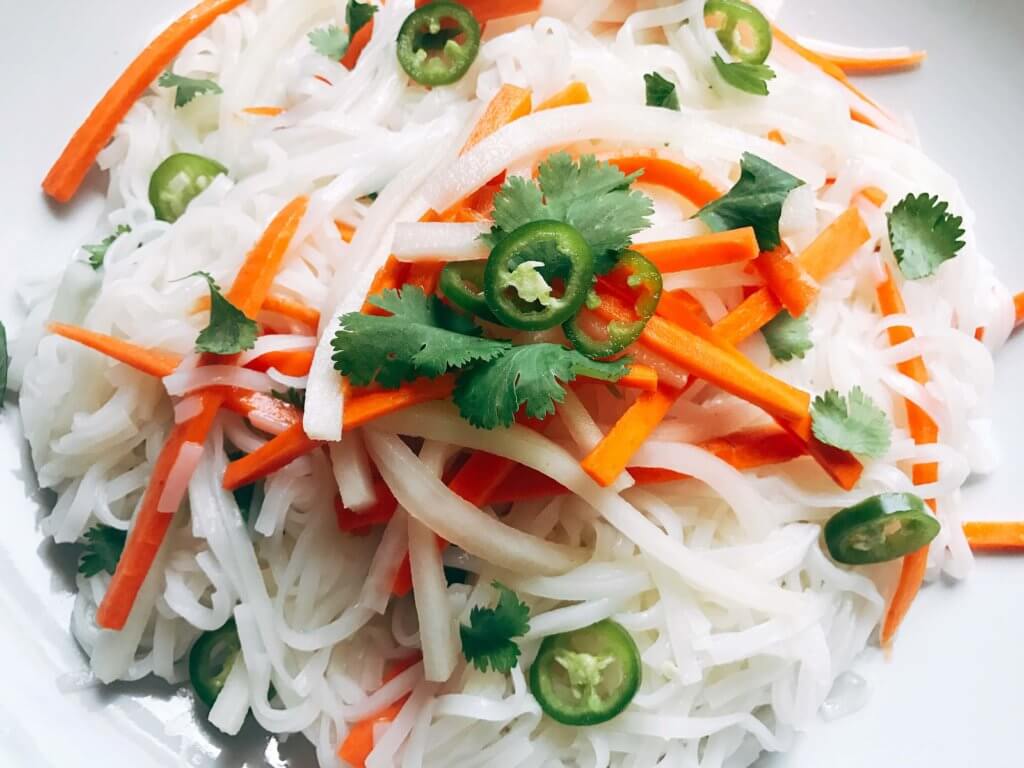 This post contains affiliate links.
I love quick, simple, and easy recipes that are fast to make when I am headed to a cookout or grilling event.  Vietnamese Pickled Vegetable Rice Noodle Salad is all of these things, plus something different, fun, and light which makes it perfect in my book!  Side dishes can be heavy at grill outs, so bringing something light and fresh is typically what I aim for.  Add some chicken, tofu, or shrimp and this is dinner in itself!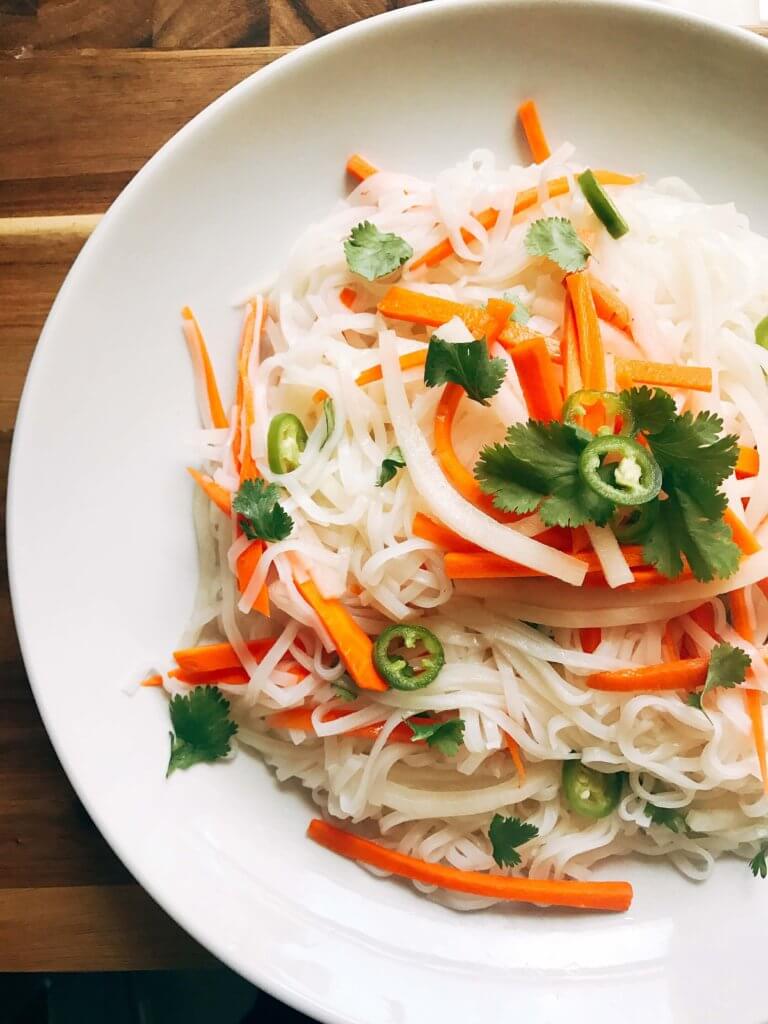 This vegan and vegetarian side dish is also gluten free!  So it is a great option to bring to a summer BBQ or party to meet most dietary restrictions.  Make it spicy with sliced serranos or jalapenos.  Add as many or few pickled carrots and daikon radish as you want!  I find that it tends to be best with a healthy dose of the vegetables for some crunchy texture.  I could eat this stuff all day, especially in the summer.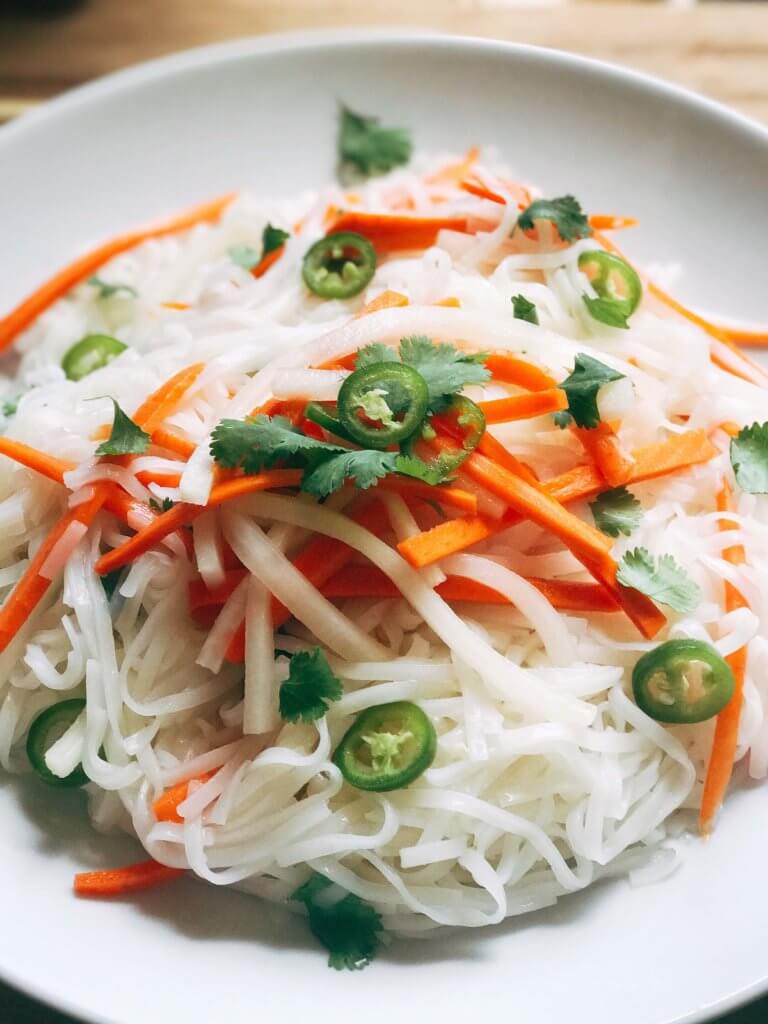 If you want to cut down on the vinegar, you could skip the pickled vinegar "juice" and go with something light and simply, like lime juice and a little olive oil.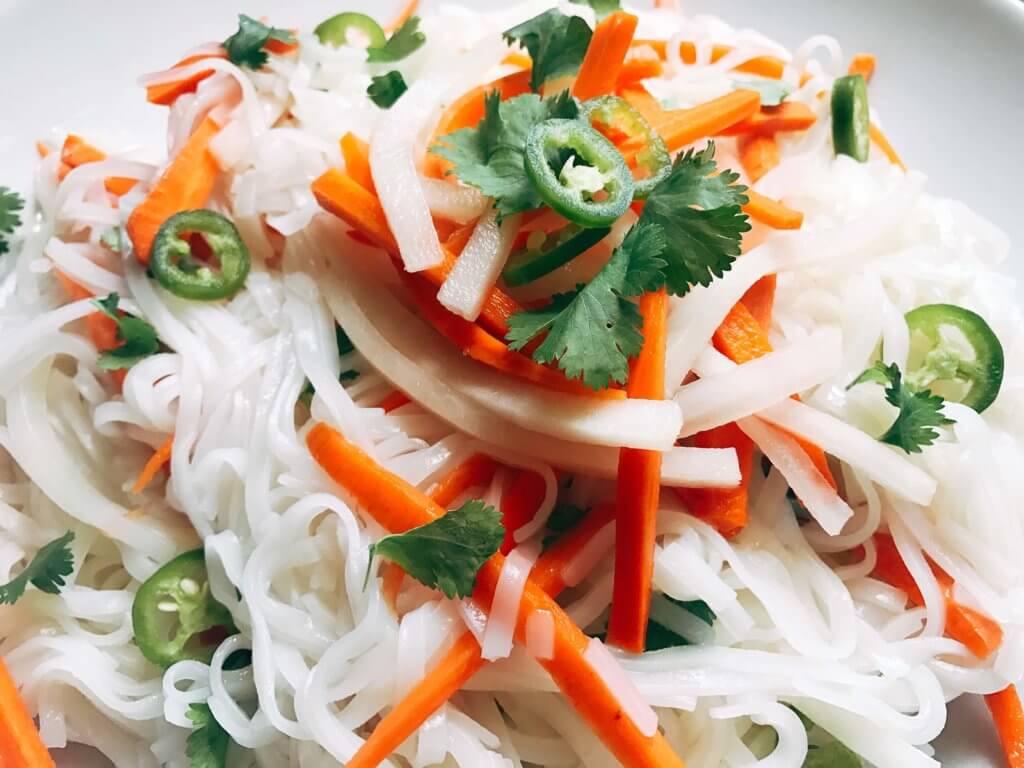 I love finding new side dishes like this Vietnamese Pickled Vegetable Rice Noodle Salad that I can share with all of my friends and guests.  What would you serve it with?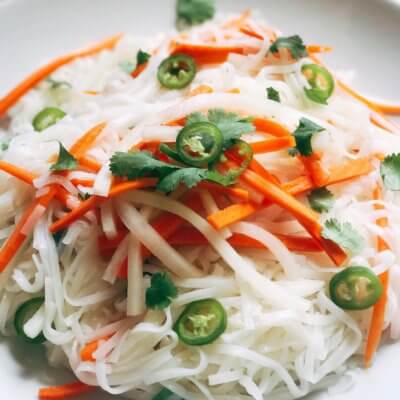 Ingredients
Noodle Salad
8

ounces

rice noodles

(I use the Pad Thai thickness)

1

cup

Vietnamese pickled vegetables

3

Tablespoons

fresh cilantro

(optional) (chopped)
Instructions
Pickled Vegetables
If you do not have pickled vegetables ready: In a small pot over high heat, combine the vinegar, water, salt, and sugar. Stir to combine and boil until the sugar is dissolved, approximately 3-5 minutes. Remove from heat and set aside.

Meanwhile, cut the carrot and radish into matchsticks. Make sure they will fit in the mason jar or container you are using. I made mine approximately 4" long and 1/8" thick.

Mix the carrots and radish together, and put them in one pint sized mason jar.

Pour the vinegar mix over the vegetables. Cool to room temperature, screw on the lid, and refrigerate for at least one hour.
Rice Noodle Salad
Head a medium pot full of water until boiling. Add the rice noodles and cook until soft, approximately 3-5 minutes. Drain and set aside. Chill until ready to serve.

When ready to serve: In a large bowl, combine the rice noodles, the pickled vegetables, cilantro, and 1/2 cup of the pickled vegetable vinegar mixture. Toss to combine.

Add more of the vinegar mixture and salt to taste. Serve immediately.
Notes
Make it spicy by adding thinly sliced serrano or jalapeno either to the vegetables when being pickled or directly into the salad itself.

You can use all carrot, all daikon radish, or mix in some of your other favorite vegetables as well such as cucumber or bell pepper.

This salad tastes best when you have given the noodles time to chill.  It is a great dish to make ahead, but do not pour the liquid on the noodles until you are serving to prevent the noodles from soaking up all of the moisture.

By