A fresh vegan spring roll that uses the flavors and ingredients of a banh mi for a twist on a classic.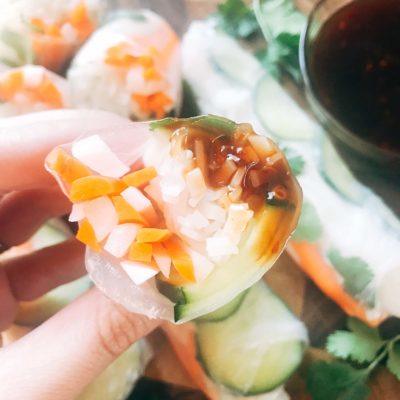 I have been loving banh mi anything lately, and these Vietnamese Vegan Banh Mi Spring Rolls are one of my new favorite things!  Pickled vegetables, rice noodles, and cucumber are rolled up in rice paper.  The rolls are dipped in a sweet and  tangy hoisin sauce, making these rolls perfect for lunch, a snack, or appetizer!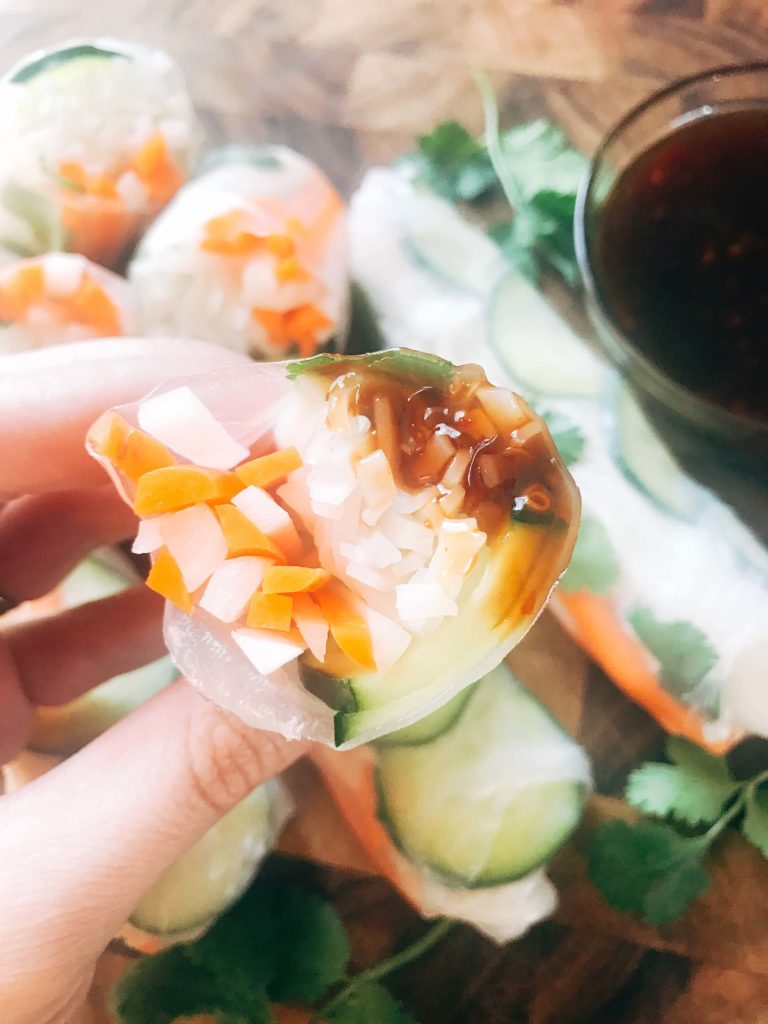 This post contains affiliate links.
These Vietnamese Vegan Banh Mi Spring Rolls are fresh and light which makes them perfect for warm weather, lunch, or an appetizer.  And they are easy to customize to exactly how you like them with more or less of each ingredient.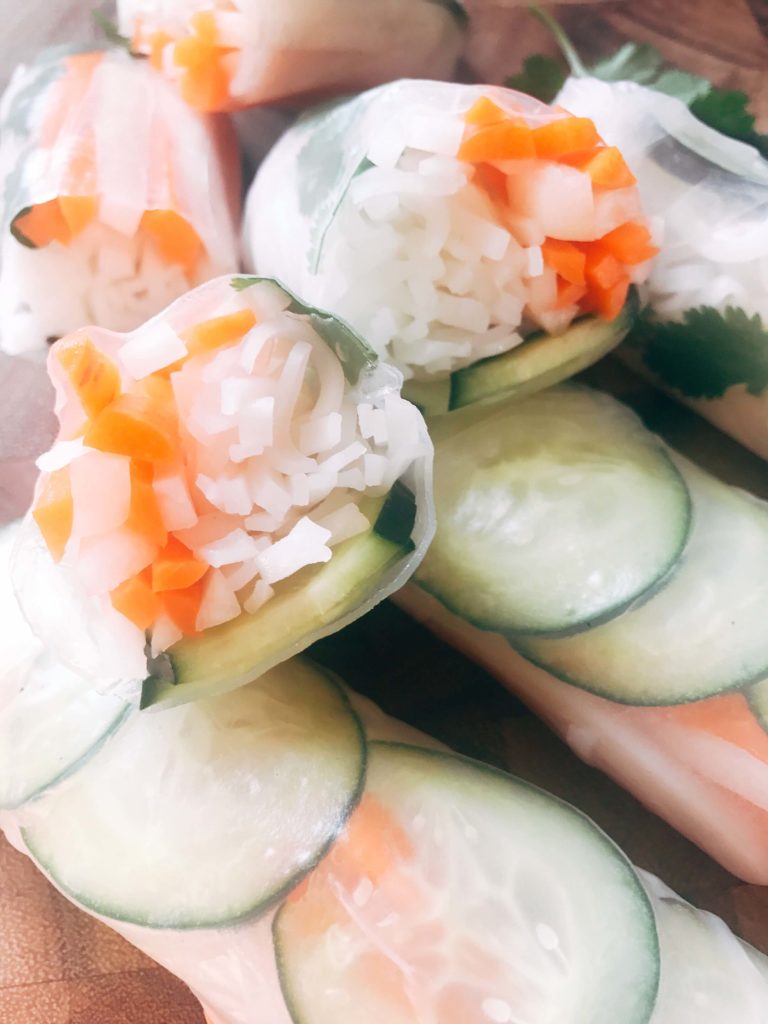 I love to make my own Vietnamese pickled vegetables.  It is so easy to make, and you can flavor them exactly how you like them.  I like to make mine with less carrots and more daikon radish.  Find our recipe for Spicy Vietnamese Pickled Vegetables here!  Skip the serrano pepper if you do not want to add any spice.  One batch will be just about right to make these Vietnamese Vegan Banh Mi Spring Rolls.
These rolls are vegan, vegetarian, and gluten free which makes them perfect for feeding a crowd to accommodate different dietary needs while serving up something delicious.  I just love that the rice paper is see through so you can see all of the pretty ingredients on the inside.  Looking for more recipe inspiration?  Try our Vietnamese Pickled Vegetable Rice Noodle Salad here!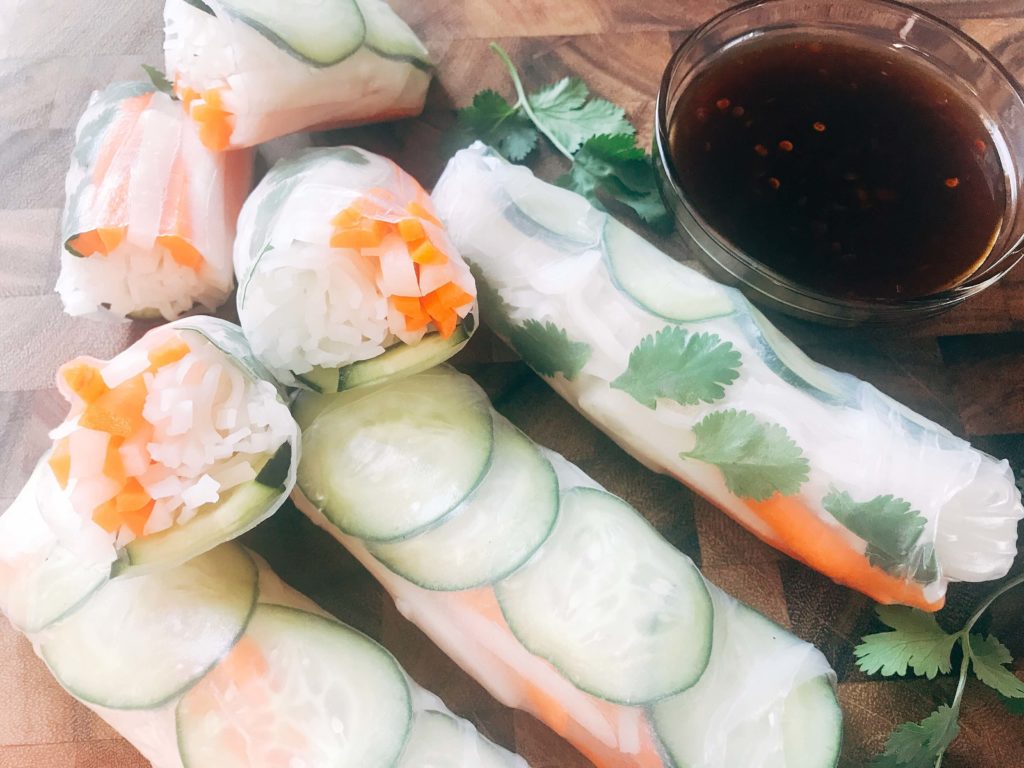 Vietnamese Vegan Banh Mi Spring Rolls are quick and simple to make.  Get all of your ingredients ready and then dip the rice spring roll paper into warm water.  Lay out on a flat surface, and start layering the cucumber, pickled vegetables, cilantro, and rice noodles.  I like to add a little of the brine from the pickled vegetables for extra flavor and moisture.  Fold over the sides and roll it up!  Serve with the Sweet and Tangy Hoisin Sauce below, or with your favorite Asian inspired sauces.  These rolls are pretty large at approximately 8 inches long and can be served either whole or cut in half.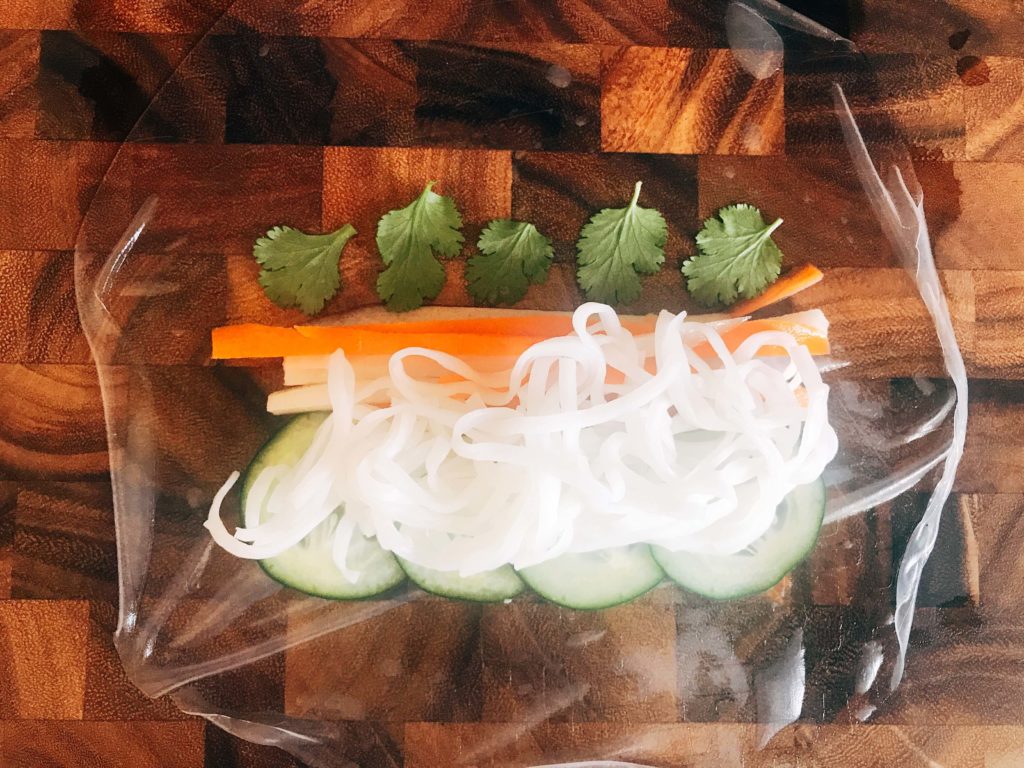 Ingredients
Vegan Vietnamese Banh Mi Spring Rolls
12

spring roll wrappers

7-8

oz

rice noodles

1

medium

cucumber

very thinly sliced

1

batch

Vietnamese pickled vegetables

(in brine)

fresh cilantro

(optional)
Sweet and Tangy Hoisin Dipping Sauce
Instructions
Cook the rice noodles as per package directions until al dente. Drain.

Heat an inch or two of water in a large skillet over medium heat.

Have all of your ingredients prepped and ready to go for assembly.

Take one of the spring roll wrappers and hold with both hands at the top. Dip the bottom half into the warm water in the skillet until the wrapper just softens (it is easier if it is not too soft). You are looking for it to no longer be hard and to have some flex to it.

Pull the wrapper out of the water and rotate your hands to the now soft side of the spring roll wrapper. Dunk the second, still dry, half into the water and hold until it is soft as well. (Alternatively, you can lay the entire wrapper in the water at once, however I find it more difficult to get it out of the water and laying flat as it folds on itself more easily).

Place the softened wrapper on a flat working surface.

About 2/3 of the way down, layer four thin cucumber slices, slightly overlapping, in the middle. Just above the cucumber, add some of the pickled vegetables (a bundle approximately 1.5-2 inches wide) across the same width as the cucumber slices. Just above the pickled vegetables, add fresh cilantro leaves if desired across the same width as the vegetables.

Add approximately 1/3 cup of the rice noodles on top of the cucumber slices. Pour 1 teaspoon of the pickling liquid from the pickled vegetables onto the rice noodles.

Fold both sides of the rice paper wrapper in and over the filling.

Fold up the bottom of the rice paper wrapper over the noodles and continue tightly rolling all the way up.

Repeat with the remaining ingredients to make the rest of the rolls.

Make the sauce by combining the hoisin, sweet chili sauce, rice vinegar, and soy sauce in a small bowl. Whisk to combine and adjust flavors to your preference (more sweet chili sauce for a sweeter sauce, more vinegar for a tangy sauce, etc). You could also serve these with any sauce you prefer.
Notes
I use the pad thai style noodle, which is similar in thickness to linguine.  You can also use the thin rice noodles if preferred.

This recipe uses the large, round rice paper spring roll wrappers and not the small square ones.  You can find these round wrappers online here or in the Asian or ethnic section of your grocery store.

You may need more or less of each ingredient depending on exactly how much you put into each roll.

These rolls are very large, approximately 8 inches long.

You can use any Vietnamese pickled vegetable that you like.  Find our recipe for them here!

By