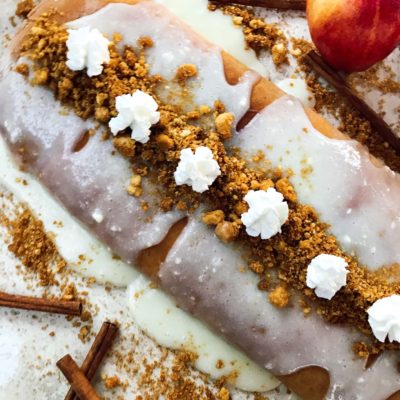 This shop has been compensated by Collective Bias, Inc. and its advertiser. All opinions are mine alone. #YourSeasonIsServed #CollectiveBias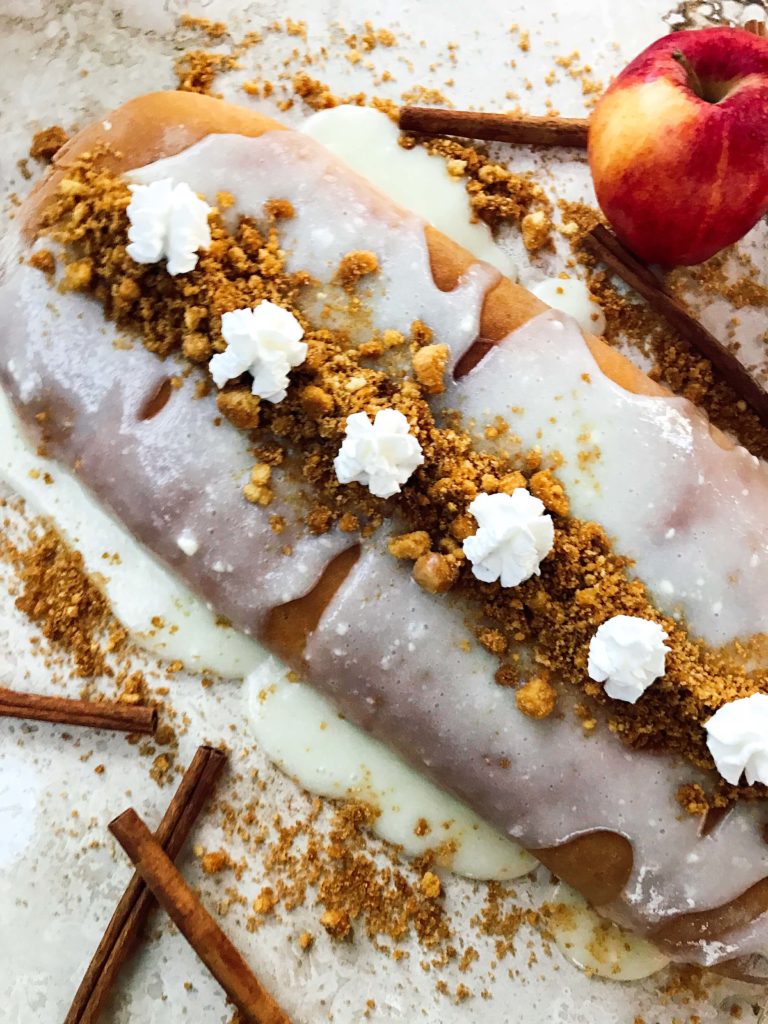 Sweet rolls or cinnamon rolls are some of my favorite things to make during the holidays.  I love using flavors that are seasonal and evoke memories.  This Apple Pie Sweet Roll Log is full of cinnamon and apple flavors for a fun dessert or breakfast!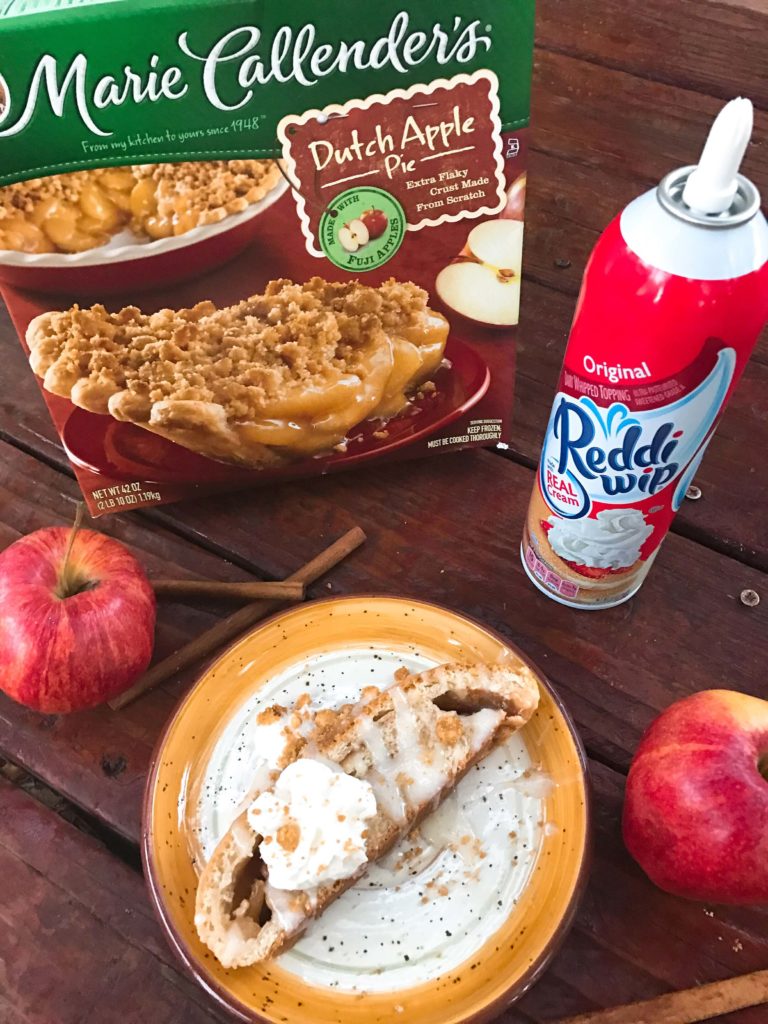 So technically, this and several of my other sweet rolls have started off as a breakfast item.  Considering this Apple Pie Sweet Roll Log is pretty much pie, dough, and glaze, it does fit into the dessert category as well.  But I say argue away for breakfast!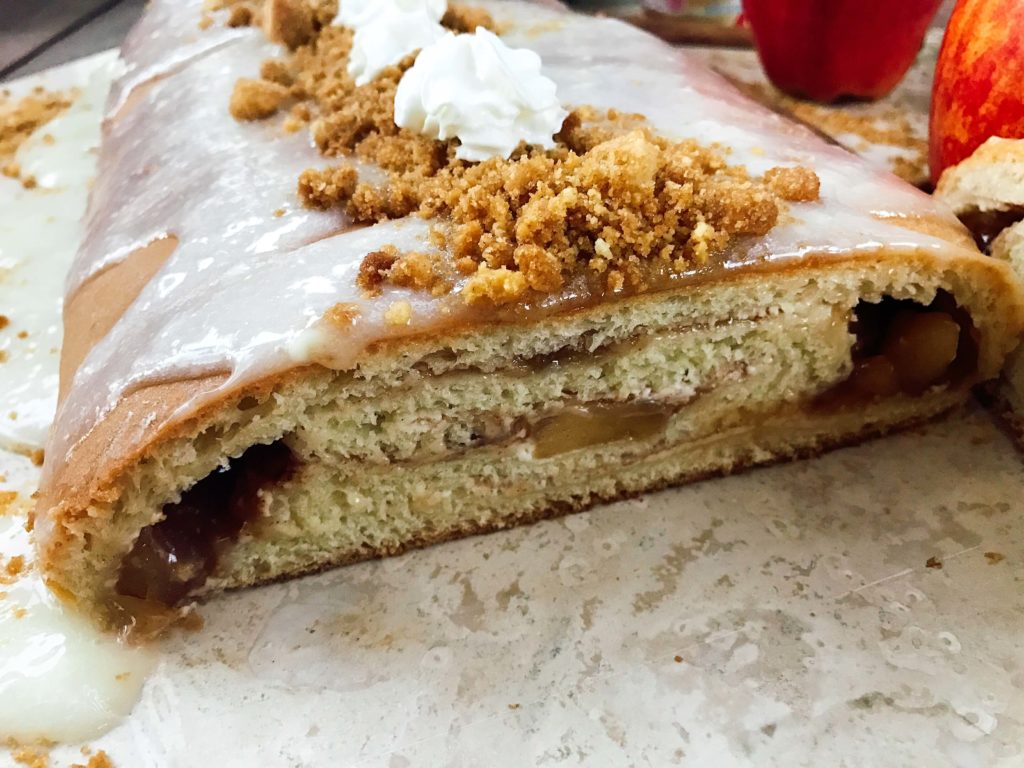 I remember going to our local Marie Callender's when I was little with my grandparents.  The restaurant is no longer there, but I love that I can use these Marie Callender's pies at home.  They take me back to being in the restaurant!  All of these ingredients including Marie Callender's Dessert Pies and Reddi-wip® products can easily be found at your local Kroger and Kroger banner stores (like King Soopers!).  Find a store near you here!
And this Apple Pie Sweet Roll Log is perfect when topped off with some Reddi-Wip!  It tastes great and is made from real cream.  Most people I know love to pile it on!  Receive a FREE Reddi-wip® (6.5 oz) when you buy one Marie Callender's Fruit or Cream Pie (11/16-11/24).  Discount automatically applied at register with qualifying purchase. Must use shopper card with purchase. Participating locations only. Offer expires 11/24/16. See store for additional details. Limit 1 per transaction.
One thing that I absolutely love about this recipe and my other sweet/cinnamon rolls is that they can be made the day before.  Fast breakfast or dessert!  To get started, you first make the dough, let it rest, and then roll it out.
While the dough is resting, I bake the pie itself and let it cool.  Then I spread the cream cheese and vanilla mixture on the dough, followed by some extra cinnamon.  The pie filling goes on top and I love to add some pie crust chunks as well!  I also love to add some chopped pecans, but sadly I have too many people that do not like nuts around.  I am outnumbered and it is horrible.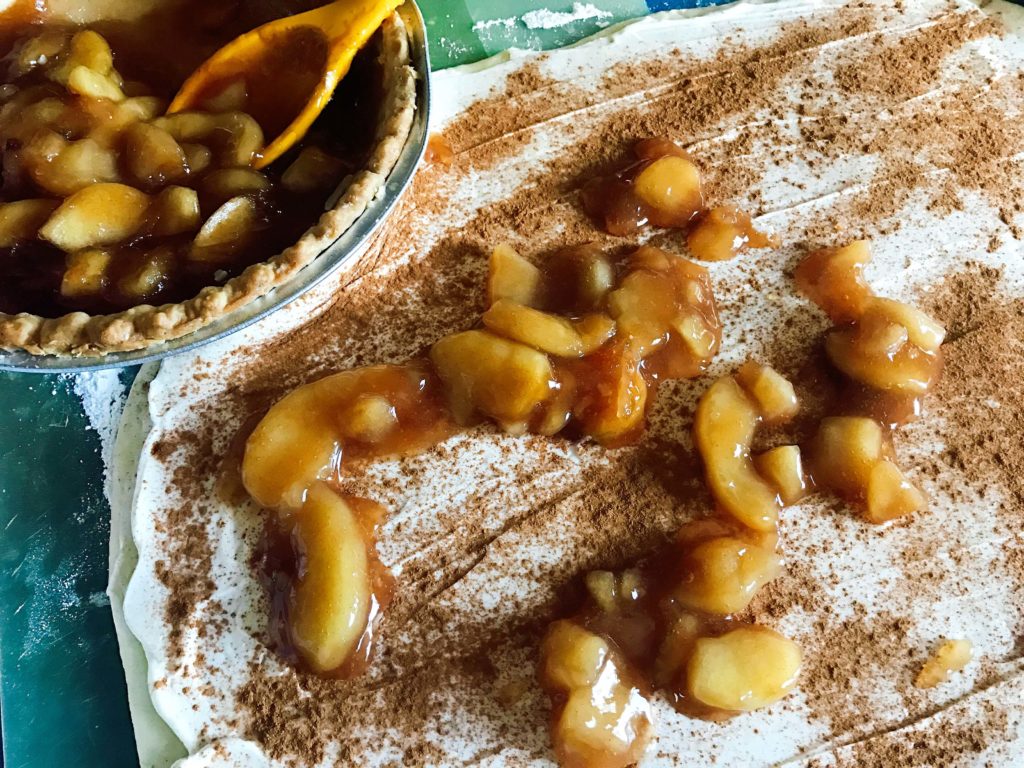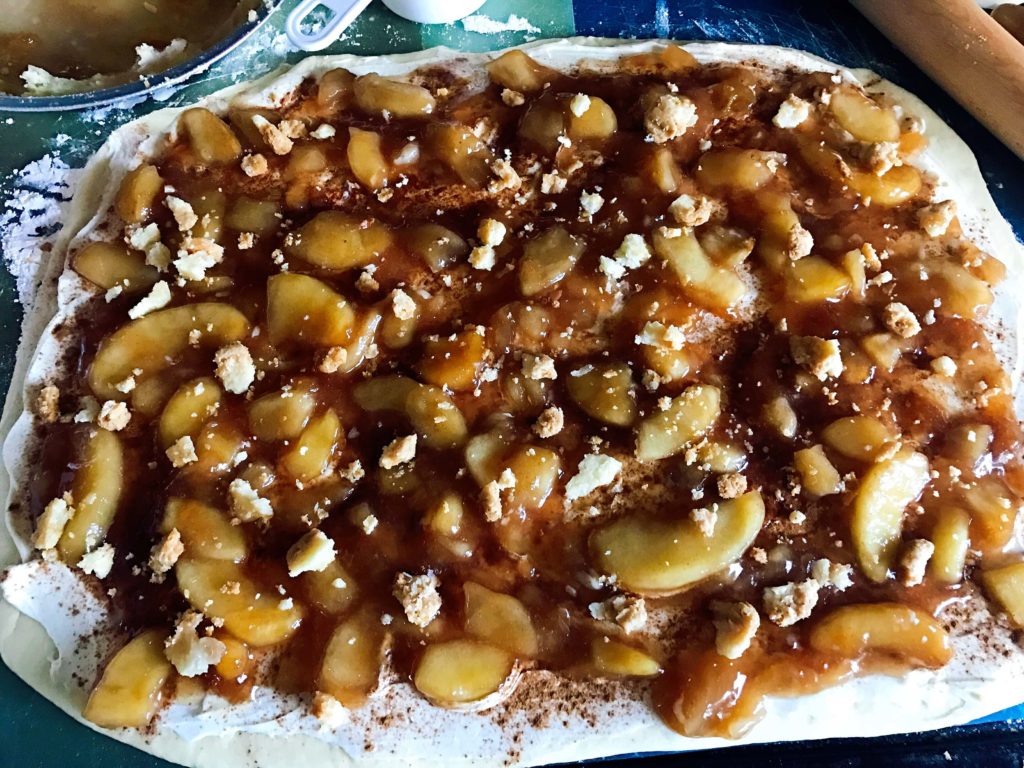 Roll it all up on top of a thin, flexible cutting board or parchment paper.  Something thin and flexible to help you roll and move the dough.  It then is transferred to a baking sheet and sent off to the oven!  This is where you can let it sit overnight.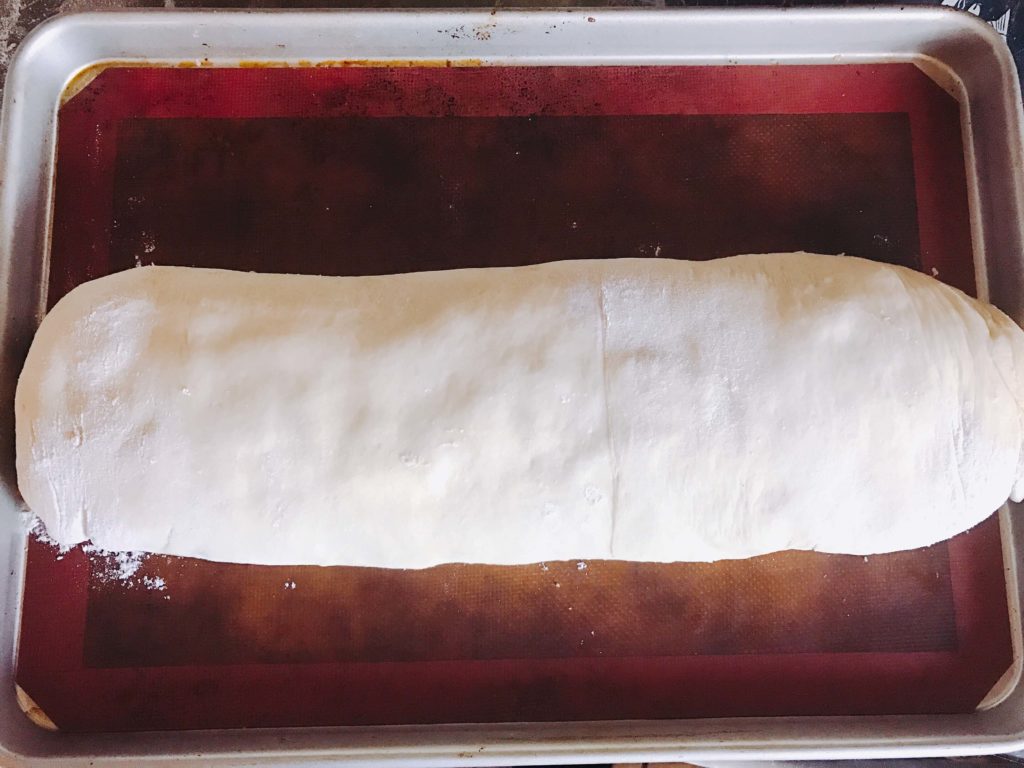 Once baked, I top it off with some cream cheese glaze and the pie crumble topping.  Yum!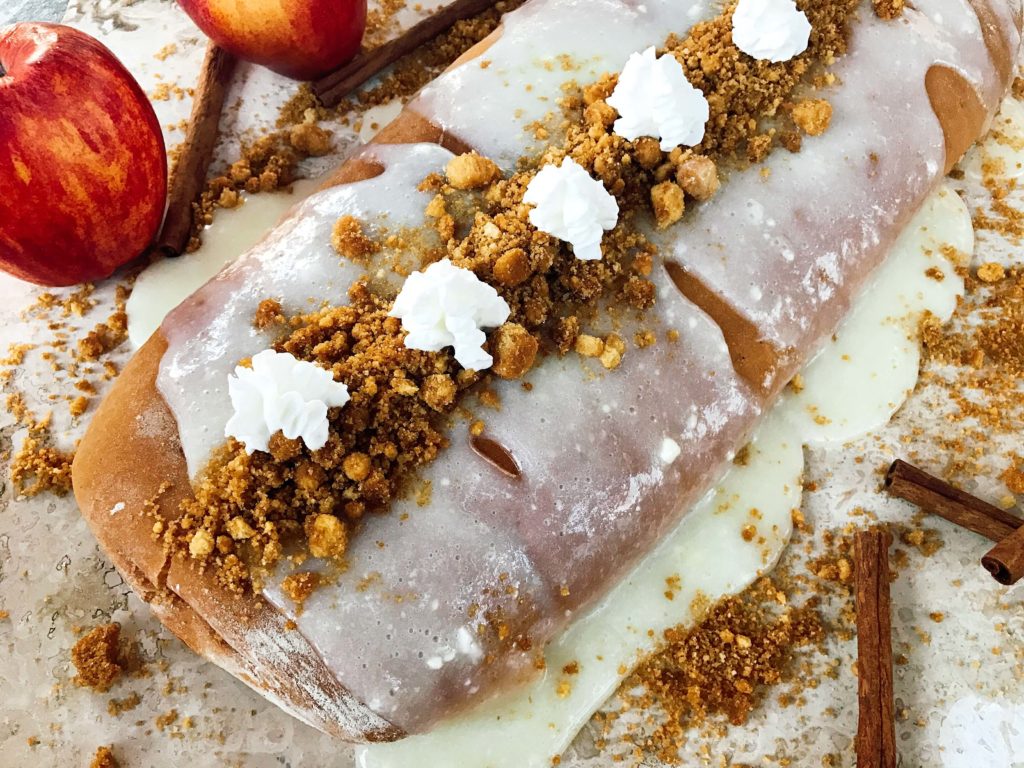 You can make these into individual rolls instead if you wish, however I found that this log tends to be rather wet and difficult to cut into rounds due to the large apples and sauce.  You can follow instructions for how to cut the log into rolls in our Blackberry Toasted Coconut Sweet Roll post.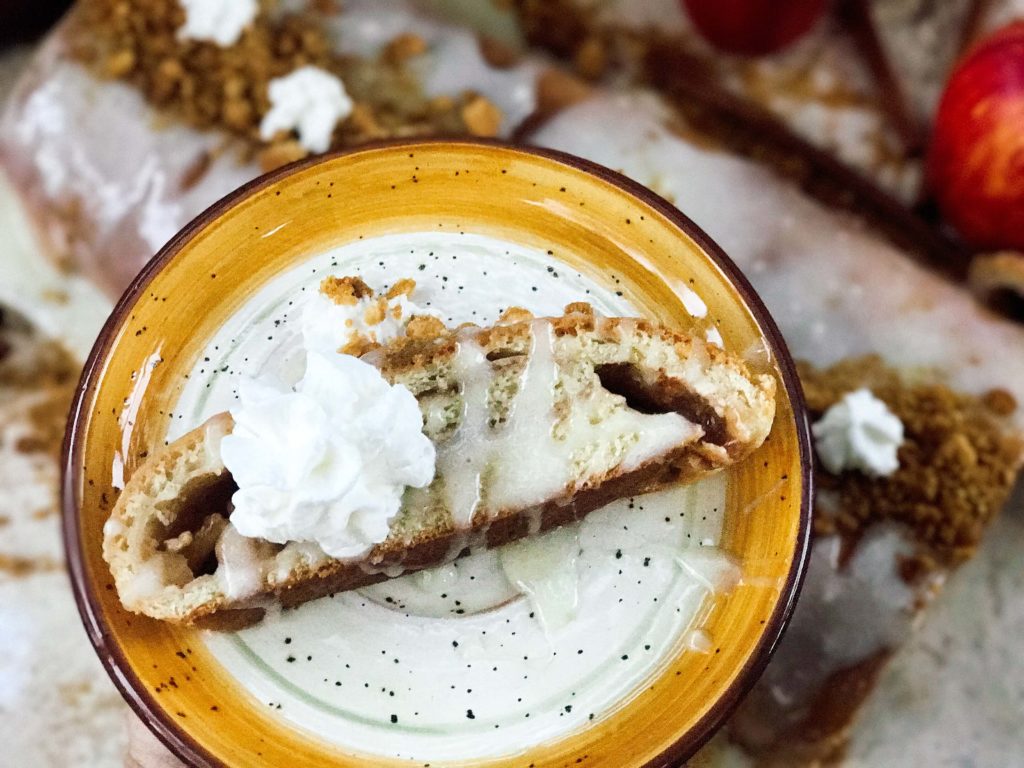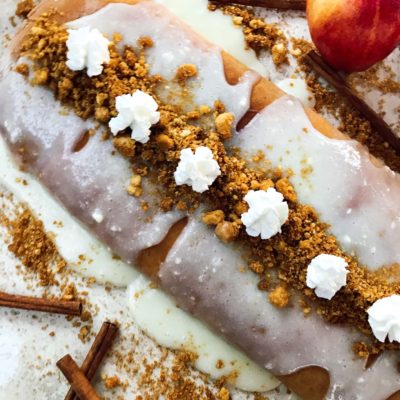 Instructions
Scald your milk by heating 3/4 cup of milk over medium high heat in a skillet. Once the milk is simmering, turn the heat off. You should have approximately 1/2 cup left. Measure out the 1/2 cup milk and discard the rest. (This is important because milk has a protein that prohibits yeast from rising properly. Heating the milk will break this protein and allow the yeast to do its thing).

In a small bowl, dissolve yeast in 1/2 cup warm water as per package directions for the correct temperature to ensure that you keep your yeast alive (typically between 100-110F).

In a large bowl, mix the 1/2 cup scalded milk, sugar, melted butter, salt, and egg. Let it sit if the temperature of this mixture is over 110F otherwise it will kill the yeast. Once at 110F or below, add the yeast mixture and mix to combine.

Add in 2 cups of flour and mix until smooth. Add additional flour, 1/2 cup at a time, until the dough is easy to handle (the amount of flour that you need will vary).

Roll the dough out onto a lightly floured surface and knead for 5 to 10 minutes. Place the dough into a greased bowl (you can use 1-2 tsp of vegetable oil to coat the bowl you mixed everything in). Cover bowl with saran wrap and then a kitchen towel. Let sit until the dough has doubled in size, approximately 60-90 minutes.

While the dough is rising, bake the pie according to package directions. Do NOT put the crumble topping on the pie, but rather set it aside. When done, remove the pie from the oven and set aside. Spread out the crumb mixture topping from the pie on a small baking sheet and bake for approximately 10 minutes until golden brown. Remove from oven and set aside.

When dough has doubled in size, punch it down. Then put it back on a floured surface on top of saran wrap, parchment paper, or something else that is thin and flexible to easily move the log later. Using a rolling pin, roll the dough into a rectangle approximately 15x9 inches.

Combine the filling's cream cheese and vanilla extract in a small bowl. Spread the mixture over the dough in a thin layer. Depending on the exact size of your dough, you may need a little more to coat it all.

Sprinkle the 1 tsp cinnamon across the cream cheese mixture. Then scoop out the apple pie filling and spread across the dough.

Crumble some of the pie dough into small chunks and spread across the filling, approximately 1/2 cup. This is optional. Add the pecans if desired.

From the long edge, tightly roll the dough all the way to the other long edge and pinch dough together to seal. The log will likely be somewhat large and difficult to manage due to the excess moisture from the pie sauce and the large apple chunks.

Using the parchment paper, saran wrap, or other thin item that you rolled the log out onto, flip and move the log onto a large baking sheet, seam side down. It will likely be just as long as the baking sheet. If you wish, you can place the roll in the refrigerator at this point until ready to bake.

Preheat the oven to 350F.

Place the roll in the oven and bake until the crust is golden brown, approximately 35-40 minutes. There should be color across the entire log and it should be somewhat firm when the dough is pressed.

Remove the roll from the oven and set aside. Prepare the glaze. Do not pour the glaze on until the log has cooled, otherwise it will run right off.

Top the glaze with the pie crumb mixture and Reddi-wip.
Notes
If you love the glaze like I do, double the glaze recipe.

The roll can be made all the way up to the point before they go in the oven and then left overnight in the refrigerator to save time in the morning. Just bring your dish to room temperature as the oven is heating so that it is not ice cold going in the oven. I have had a cold dish explode on me before from the change in temperature 🙂

By