Birria Quesadilla is an amazing Mexican recipe of shredded beef seasoned with smoked dried peppers and cheese in a tortilla. A spicy and delicious chuck roast recipe for an appetizer, game day, or main course.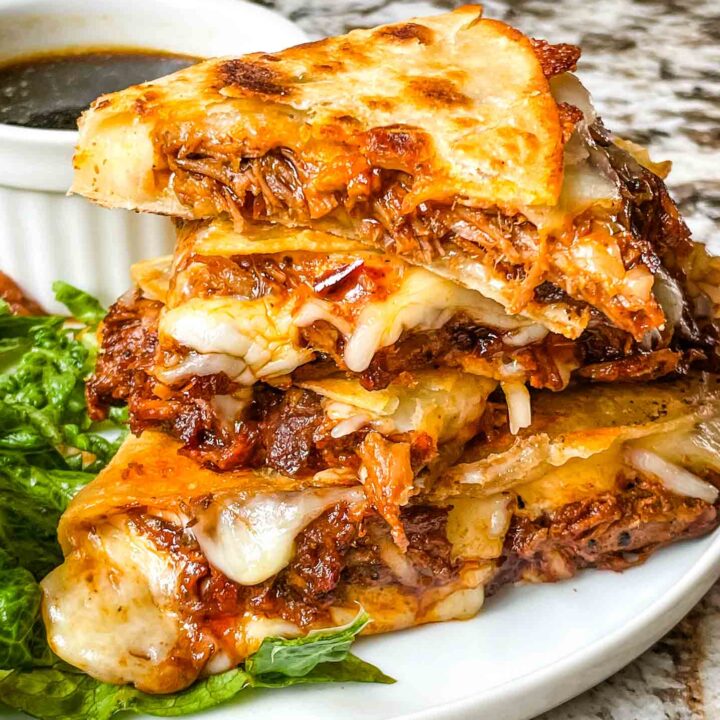 This Birria Quesadilla is packed with a smoked pepper shredded beef and cheese for a delicious appetizer, snack, or meal!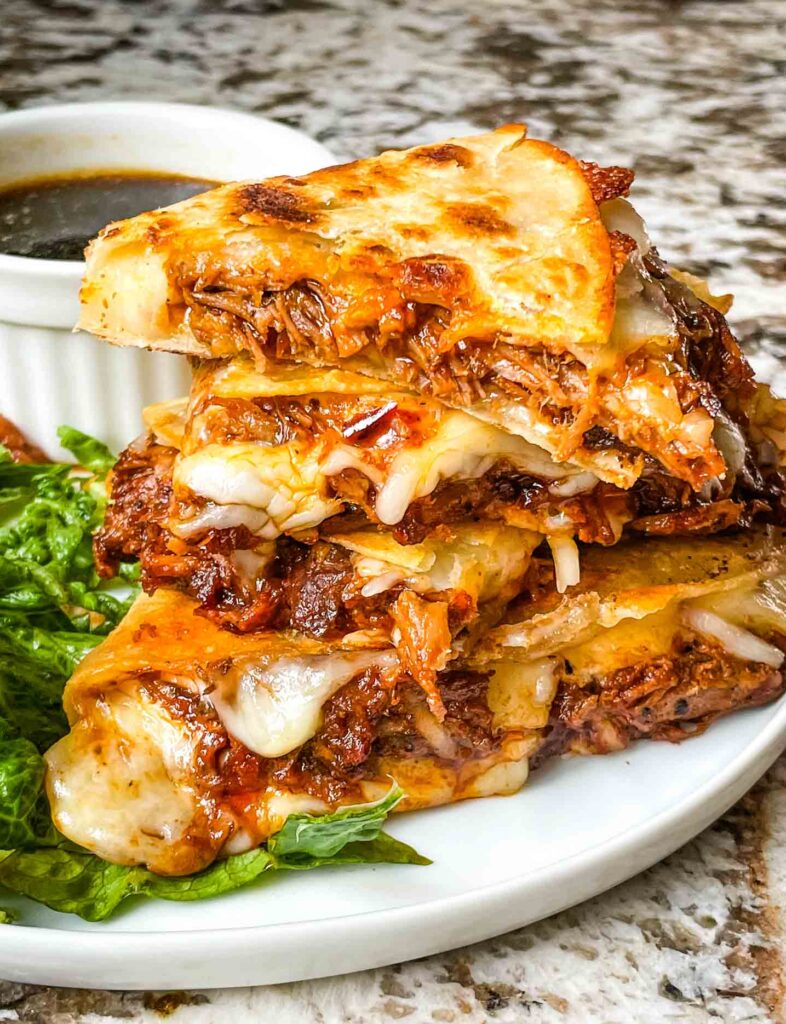 Birria Quesadillas Recipe
I have fallen in love with Birria de Res and the amazing, smoky flavors that dried peppers bring to the beef.
We have always been shredded beef lovers in my family and this recipe is a delicious twist!
You can also use the Birria de Res for any Mexican recipe like enchiladas, burritos, and more!
Here we use it in a cheesy, gooey quesadilla that is sure to be a hit for any appetizer or even as a main course.
I could not get enough of it when I made it! It is just too good!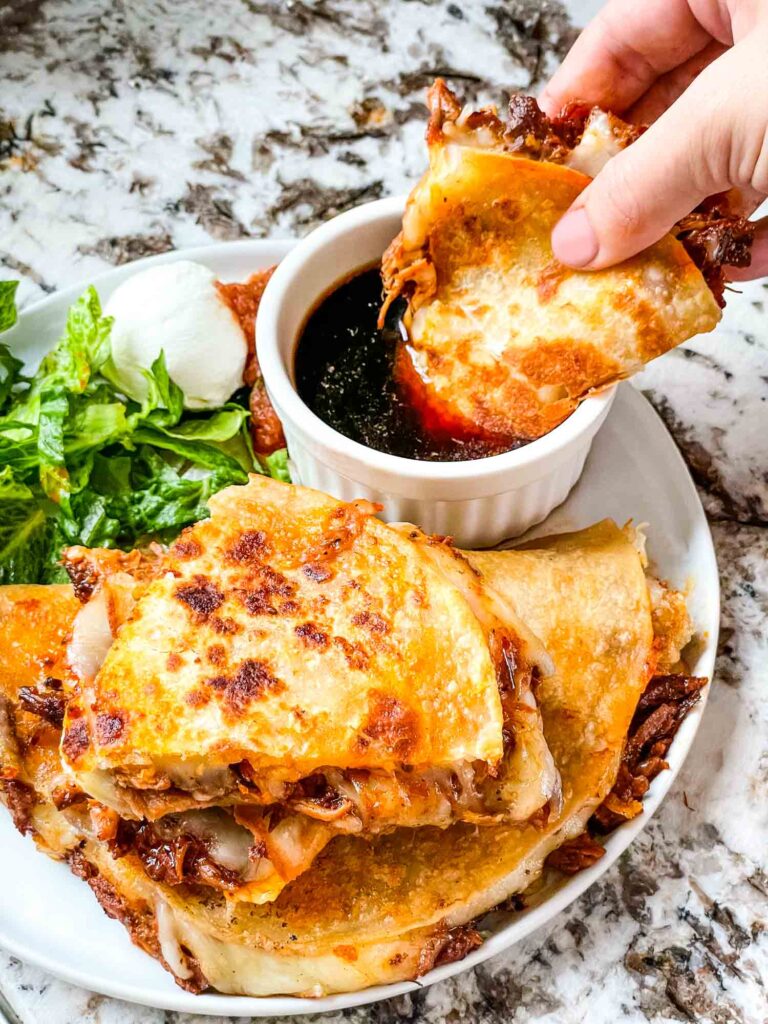 What is Birria Sauce Made Of?
A birria sauce is made with a variety of dried, smoked peppers and combined with spices. Head over to our main post for Birria de Res for more information and tips about this classic recipe. Here are the ingredients you need to make birria de res:
Chuck Roast
Guajillo Peppers
Ancho Peppers
Chile de Arbol Peppers
Roma Tomatoes
Garlic
White Vinegar
Cumin
Thyme
Oregano
Cinnamon
Cloves
Bay Leaves
What are Birria Quesadillas Made Of?
After you have your birria made, this is what you need to make a birria quesadilla:
Birria Mixture
Birria Consume (the liquid from the peppers, optional)
Oaxaca Cheese (or another melty white cheese like mozzarella, pepperjack, or monterey jack)
Large Flour Tortilla
Butter
What does Birria Taste Like?
This sauce is a combination of slightly spicy, deep flavors.
The dried peppers bring a subtle smoky flavor.
The sauce reminds me of a smoky enchilada sauce.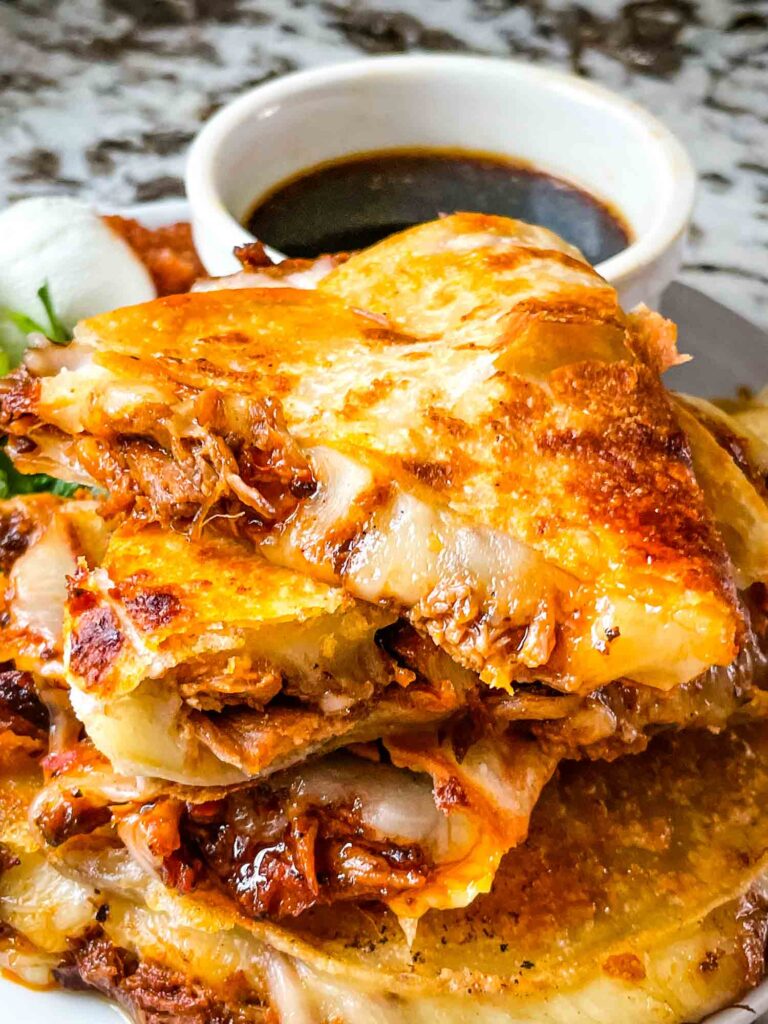 How did Birria get Popular?
Primarily it is believed that the popularity of birria came from successes of making it in Los Angeles food trucks.
What is the Difference Between Birria and Barbacoa?
Barbacoa is shredded beef, and birria is a variation of barbacoa. The barbacoa, or shredded beef, is cooked in a sauce. The sauce is what makes it birria de res.
You could use birria de res in place of barbacoa in many different recipes as desired like enchiladas or burritos.
How to Make a Birria Quesadilla
To make the birria, first soak the peppers in hot water.
Then blend the peppers with the tomatoes and spices.
Cook the beef until tender with the sauce and then shred.
Have your tortillas, cheese, and birria ready to go. Heat a skillet with a little butter and place a tortilla in it.
Scatter the cheese across the tortilla, and layer the beef on top.
When the tortilla is starting to brown and the cheese is starting to melt, fold the tortilla in half and cook both sides as needed until a light golden brown.
Cut into pieces and serve with condiments like lettuce, sour cream, and salsa. My favorite is my Salsa Chile de Arbol!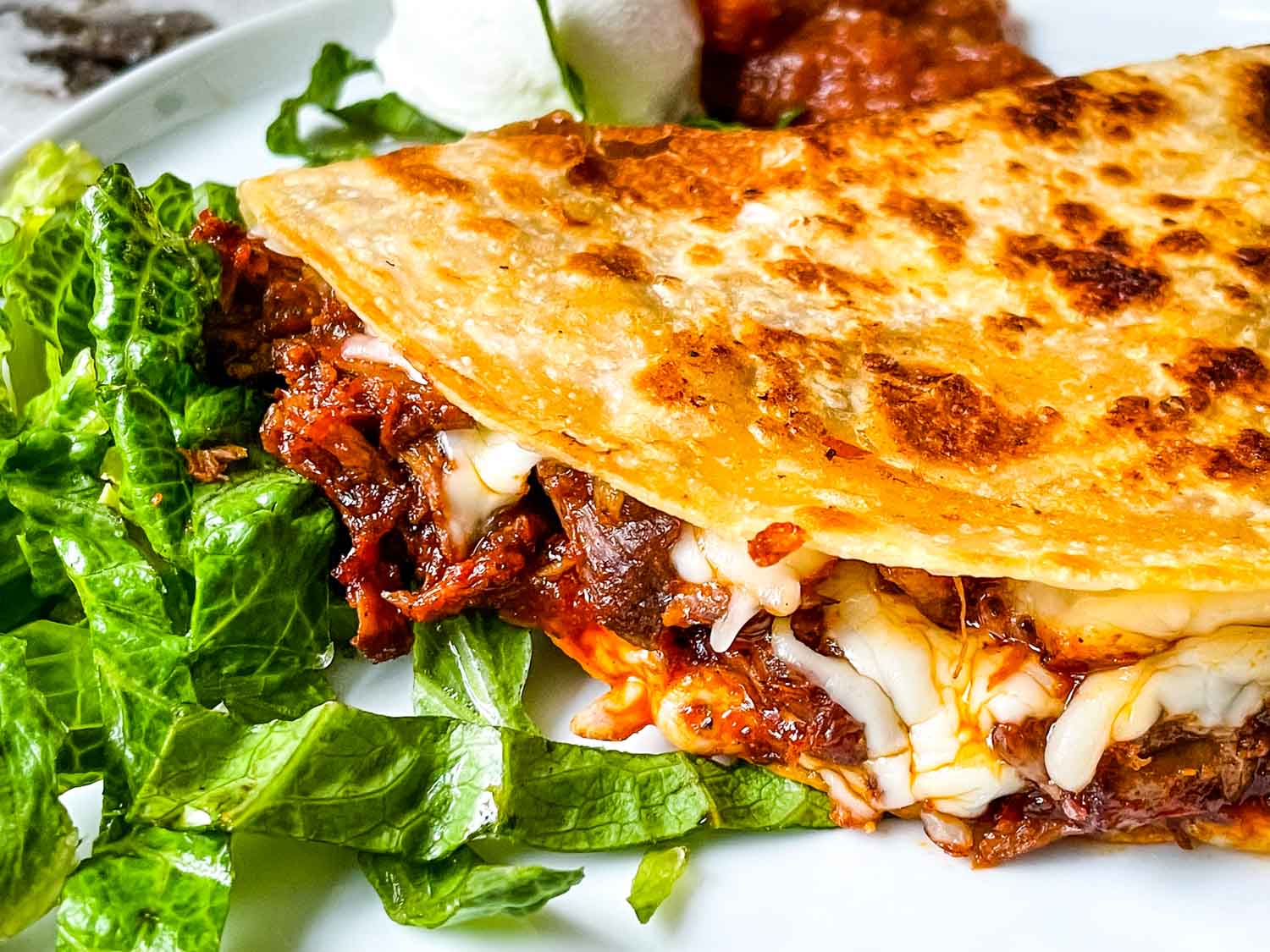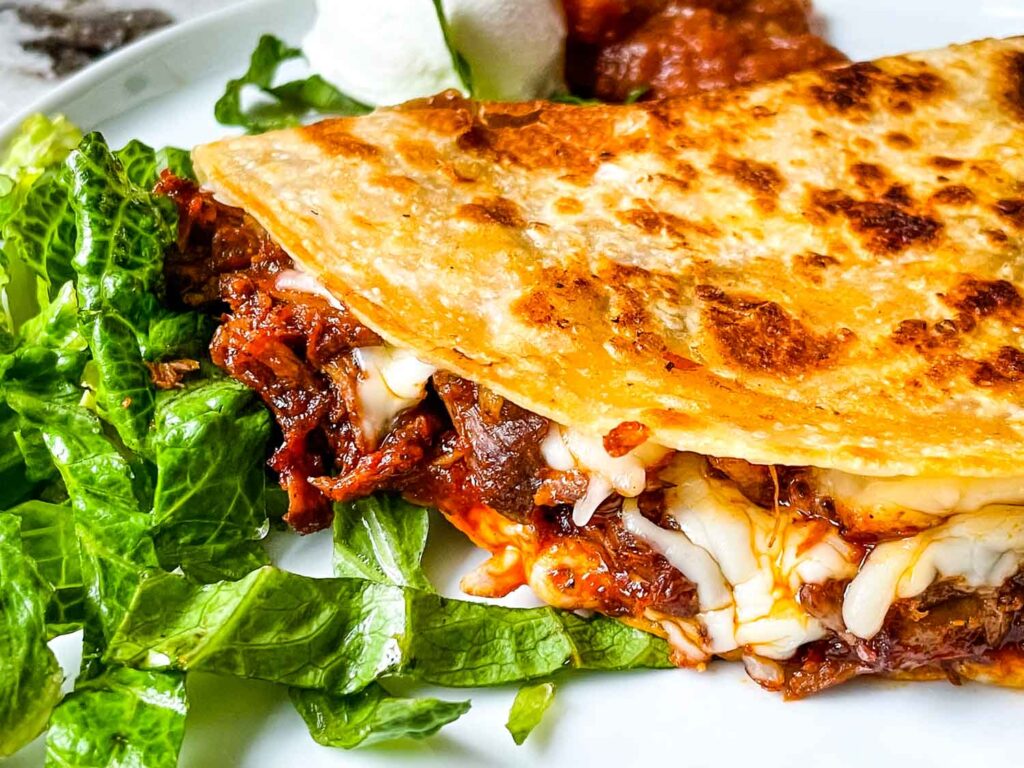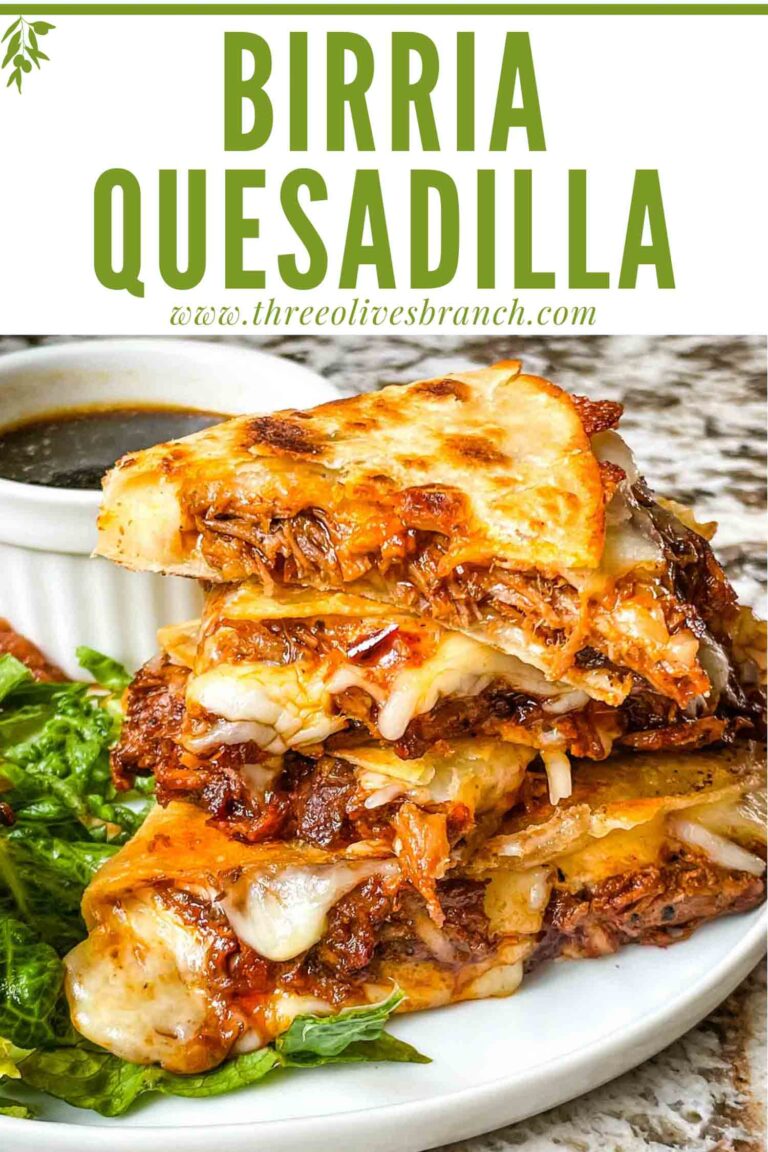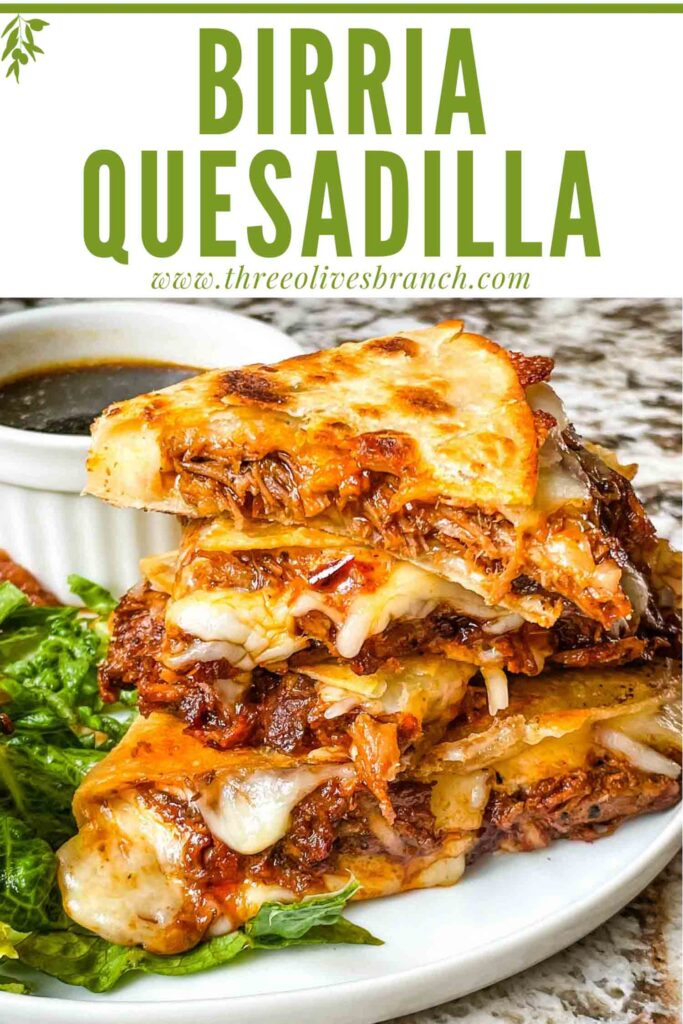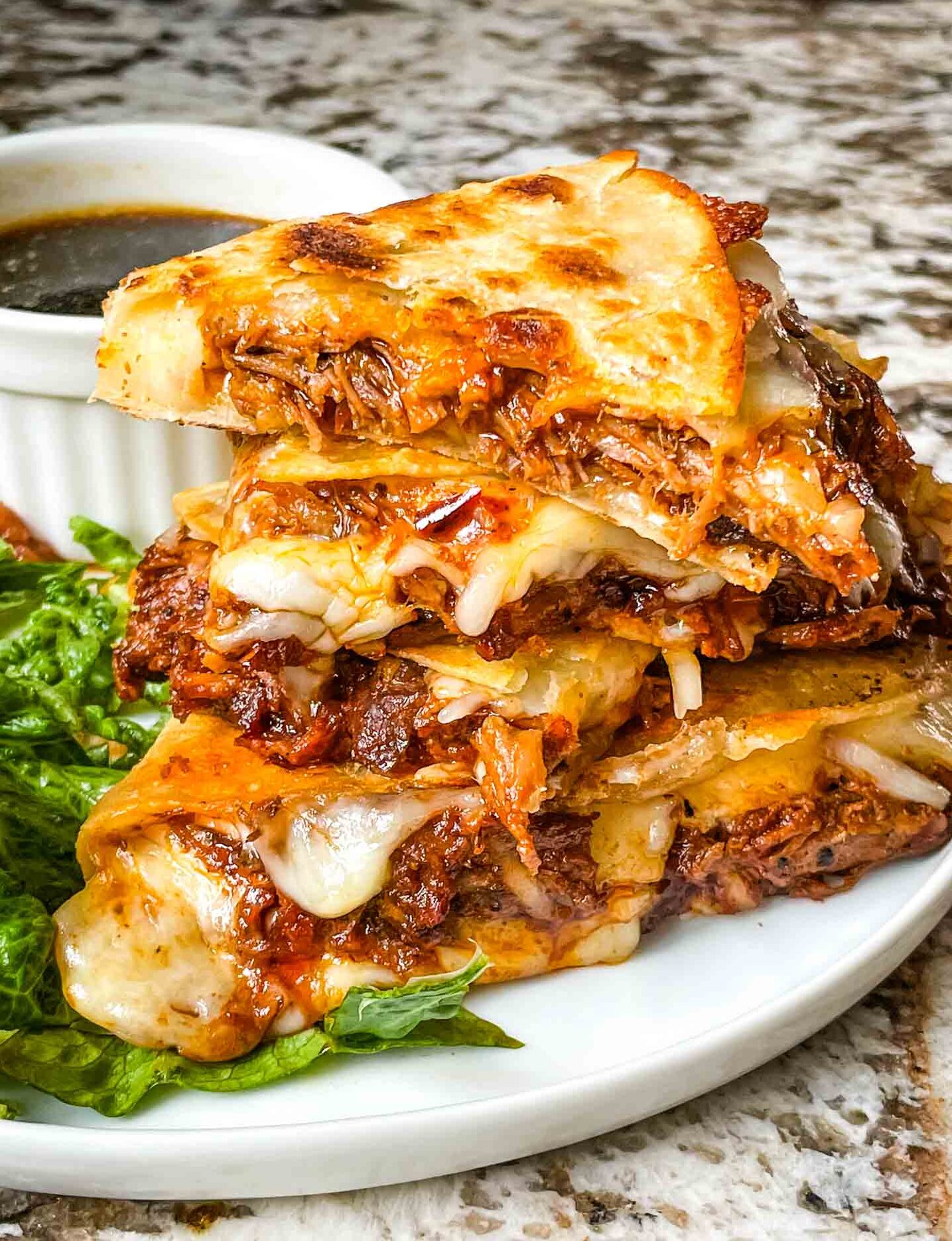 Ingredients
For Each Quesadilla
1

teaspoon

butter

(per quesadilla)

1

large

flour tortilla

(per quesadilla)

¾

cup

Oaxaca cheese

or mozzarella, pepperjack, or Monterey jack (per quesadilla)

¾

cup

birria

(from recipe above) (per quesadilla)
Instructions
Fill a pot with 4 cups of water and bring to a boil. Add all of the dried peppers and boil for 5 minutes. Remove from heat and let soak until soft, at least 15 minutes.

Heat a grill pan over high heat. Blister the tomatoes on all sides until they are starting to peel, approximately 5 minutes. Remove from heat and set aside. (You can also do this by broiling in oven, turning as needed.)

Dry the beef roast with paper towels and season all sides with salt and pepper.

Heat a Dutch oven pot on a stove over medium high heat.

When hot, add the meat and sear on all sides, approximately 10 minutes. Remove the pot from the heat, but leave the beef in the pot. We will be cooking in this later.

Make the sauce: put the tomatoes in a blender. Add all of the dried peppers (simply pull off their stems and discard stems before adding).

Add the vinegar, garlic, black pepper, clove, cinnamon, thyme, oregano, and ¼ teaspoon salt. Add 1/4 of the chile pepper water and blend until smooth. Do not discard the remaining chile pepper water, you will use it later.

Push the sauce through a fine mesh strainer using a spoon or spatula into the beef pot. Once strained, discard the pieces you removed that are in the strainer.

(Optional, if you want a smooth sauce. Otherwise you can skip this.)

Toss the beef in the sauce to coat. Add the bay leaves to the pot. Cover the pot and place in oven.

Cook for approximately 3 hours until the beef is falling apart and easy to shred with a fork.

Shred the beef and set aside. You can mix it with some of the pepper sauce, but note the more sauce you use, the spicier it will be.
Making the Quesadillas
Heat a skillet to medium heat. Have all of your quesadilla ingredients ready to go (tortilla, butter, cheese, shredded birria).

Add the butter and when melted, immediately dunk the tortilla into the remaining pepper water and place the tortilla in the skillet.

The dunking is optional but adds great flavor!

Immediately sprinkle the cheese across the tortilla, and then the birria across the tortilla.

When the cheese is starting to melt, fold the tortilla in half using a spatula.

Cook 1-3 minutes per side until a light golden brown. If getting too hot, reduce heat to medium low.

Cut into pieces and serve with your favorite condiments like salsa, sour cream, lettuce, and guacamole. Serve the extra pepper sauce (from soaking) in small ramekins for dunking. Repeat as needed for all quesadillas you are making.
Notes
Use more ancho and less chile de arbol for a milder heat, and more chile de arbol for a hotter spice level.
Three pounds of roast will give you approximately 16 portions for quesadillas. Use leftovers for anything like tacos, enchiladas, quesadillas, or burritos!
Nutrition
Serving:

1

serving

|

Calories:

231

kcal

|

Carbohydrates:

8

g

|

Protein:

20

g

|

Fat:

14

g

|

Saturated Fat:

7

g

|

Polyunsaturated Fat:

1

g

|

Monounsaturated Fat:

5

g

|

Trans Fat:

1

g

|

Cholesterol:

63

mg

|

Sodium:

190

mg

|

Potassium:

454

mg

|

Fiber:

3

g

|

Sugar:

4

g

|

Vitamin A:

1917

IU

|

Vitamin C:

4

mg

|

Calcium:

31

mg

|

Iron:

2

mg

By