Blackberry Bourbon Sidecar recipe is an elegant and simple drink. Made with berries, thyme, lemon, orange liquor, and bourbon. Fast and easy cocktail recipe that is great for a party, fancy or casual. A copycat inspiration from Capital Grille.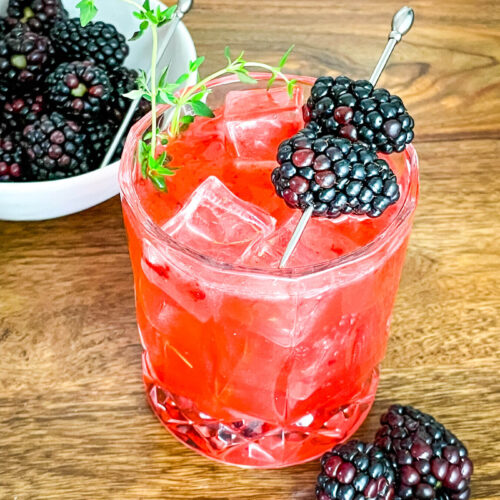 If you want simple elegance in a glass, this cocktail recipe is for you! A classic cocktail with fresh herbs and berries makes an amazing and simple drink. Perfect for the holiday season.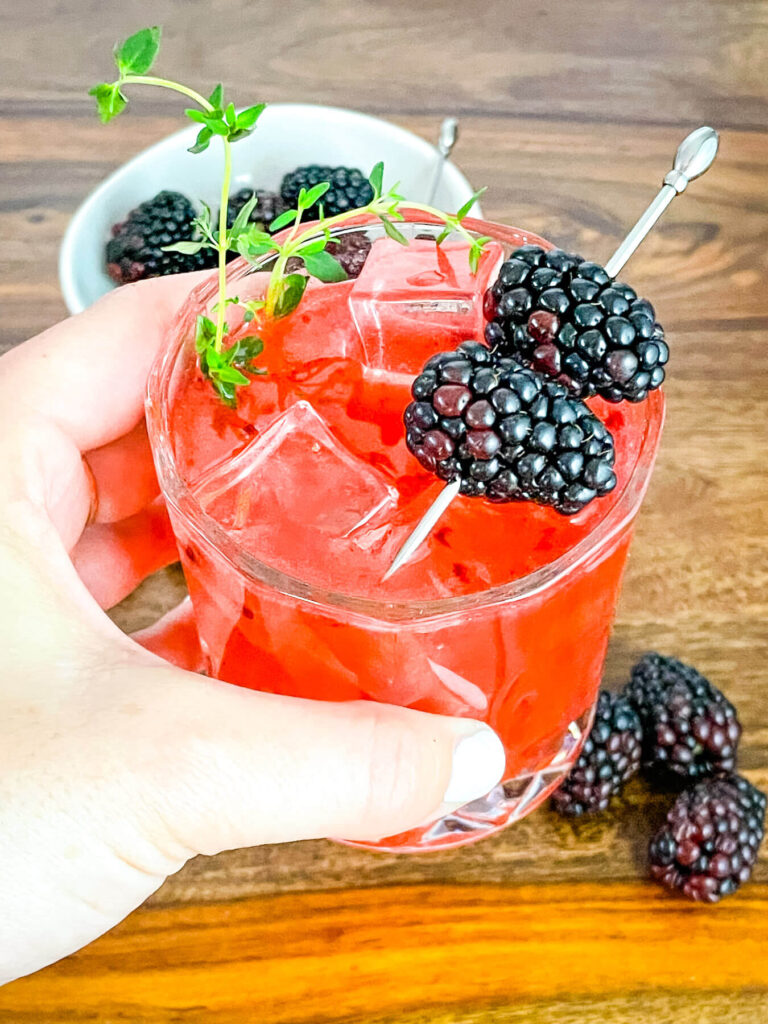 Blackberry Cocktail
This berry cocktail was inspired by one by the same name that I had at The Capital Grille.
I just love finding unique cocktails and this one caught my eye! Making a twist on a classic cocktail, like my Cranberry Old Fashioned, always gets rave reviews from guests.
It was beautiful, aromatic, and delicious. A great balance of a little sweet and tartness, with an earthy touch. And I have wanted to recreate it ever since!
So I took a traditional Sidecar cocktail recipe and adjusted it to incorporate the flavors and ingredients that the restaurant used in a copycat recipe.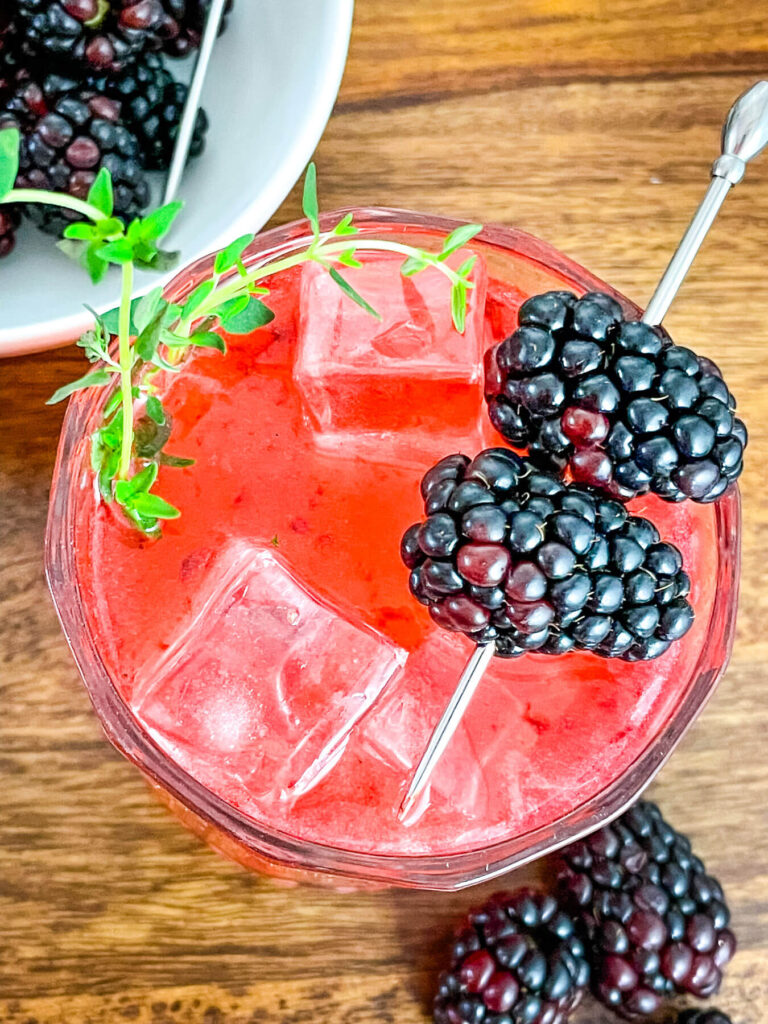 Why is the drink called a sidecar?
Rumor has it that it was created in a bar in London for an American army captain that used a motorcycle sidecar.
Ingredients
This is what you need to make this copycat drink recipe:
Bourbon (whiskey would work, too)
Lemon Juice
Cointreau
Thyme
You can use either fresh or frozen blackberries that are thawed. But the frozen ones will not make a great garnish.
Is triple sec the same as Cointreau?
Both are a liqueur made from orange peels. But the biggest difference is that Cointreau is a stronger alcohol content than triple sec.
You can use either one based on what you have on hand and the flavor will not really change. But the alcoholic content will vary slightly.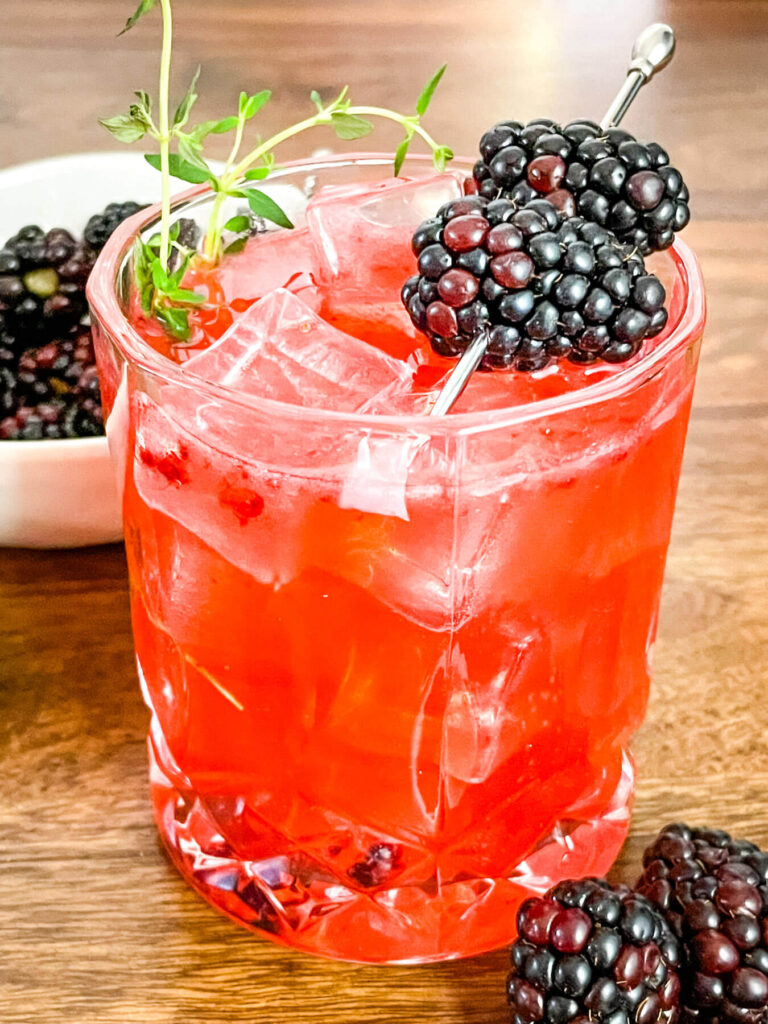 Instruction Overview
I love a simple, fast, and easy cocktail and this one fits those requirements!
Even with how elegant and delicious it is, minimal work is required.
This cocktail can also be made in large batches so it is ready to go for a crowd. Serve it in a pitcher or punch bowl if you want! No sparkling elements means it won't go flat or stale.
So here is what you need to do!
First muddle the blackberries with the bourbon in a cocktail shaker or a tall glass.
Add the Cointreau, lemon juice, a sprig of thyme, and a big scoop of ice. Then shake until the shaker is really cold, about 30 seconds.
The ice from shaking is going to help blend the ingredients together and cause friction, especially with the thyme, to bring the flavors out and meld them together.
The garnishes are completely optional but they are beautiful! And having the sprigs of thyme in the drink gives you a waft of an amazing, woodsy scent as you are about to drink from the glass.
What does "muddle" mean?
Muddling means you are pressing and mashing the ingredients together.
To muddle the pear, place the fruit in the cocktail shaker with the vodka. You want some liquid in there to help break up the fruit.
Then use a muddler to repeatedly press and twist the ingredients together, breaking the pear up and helping all of the ingredients meld.
No muddler? You can also use the end of a wooden spoon or something that has a thick handle.
Recipe Video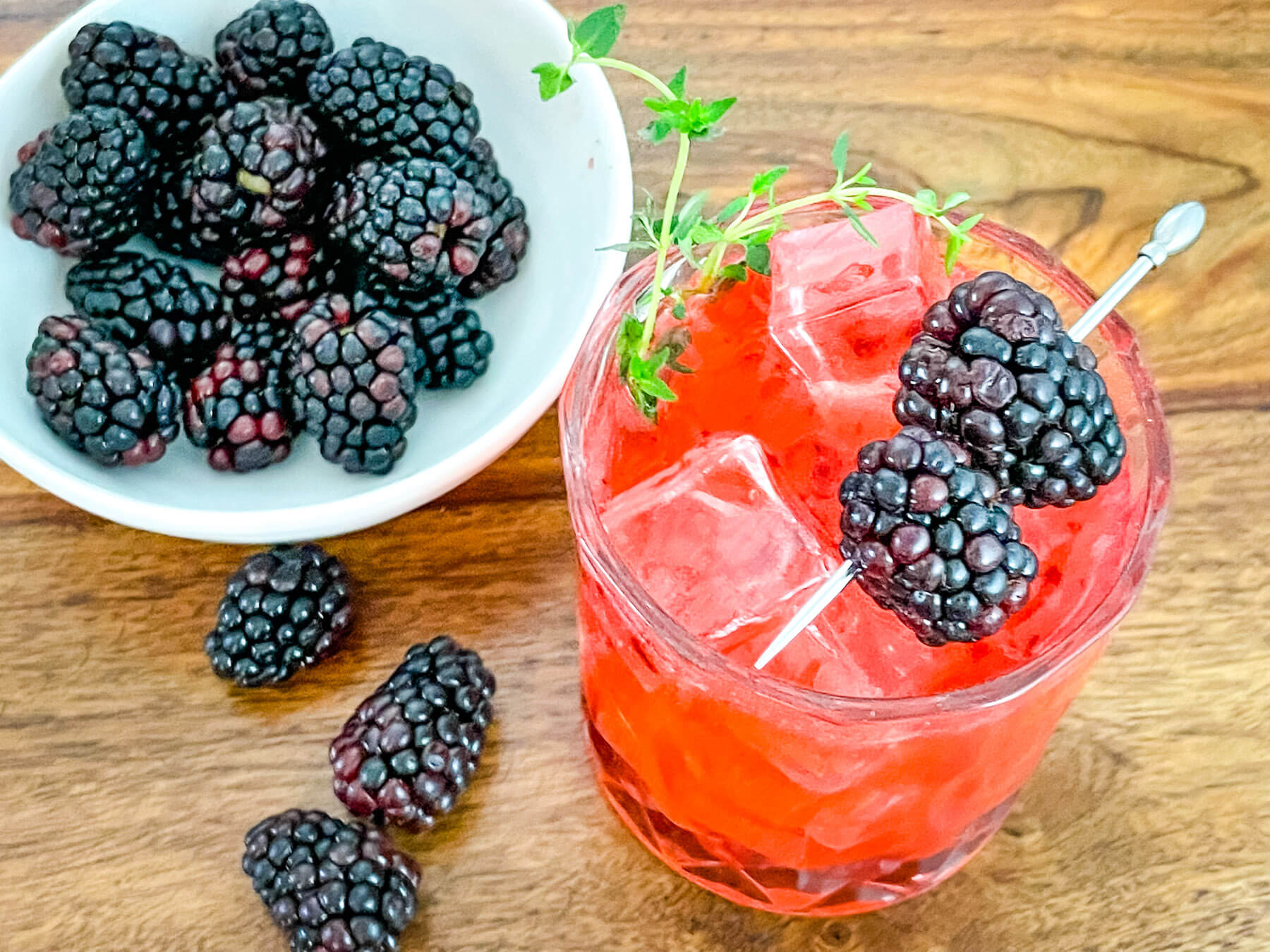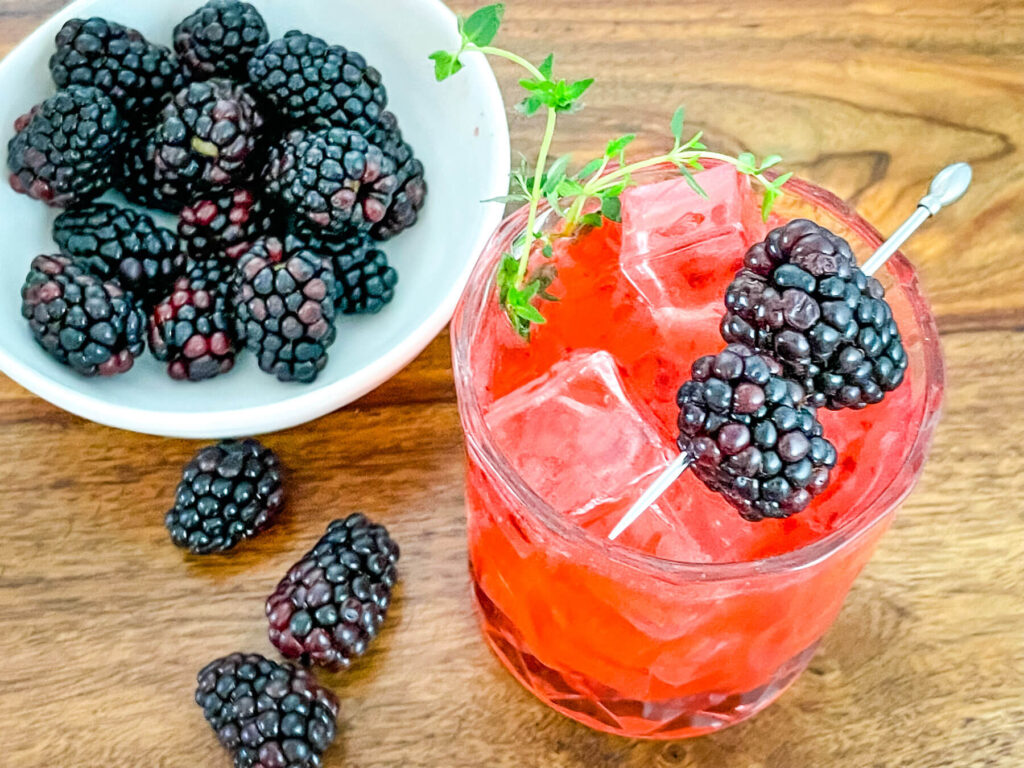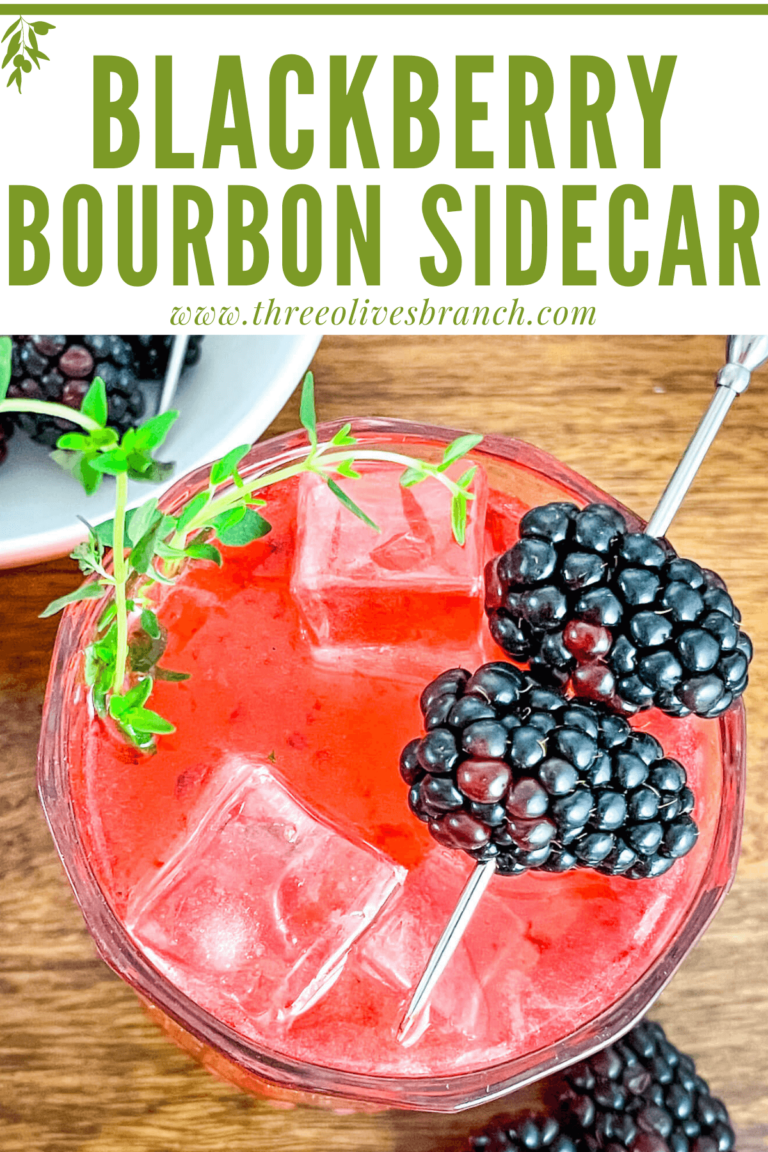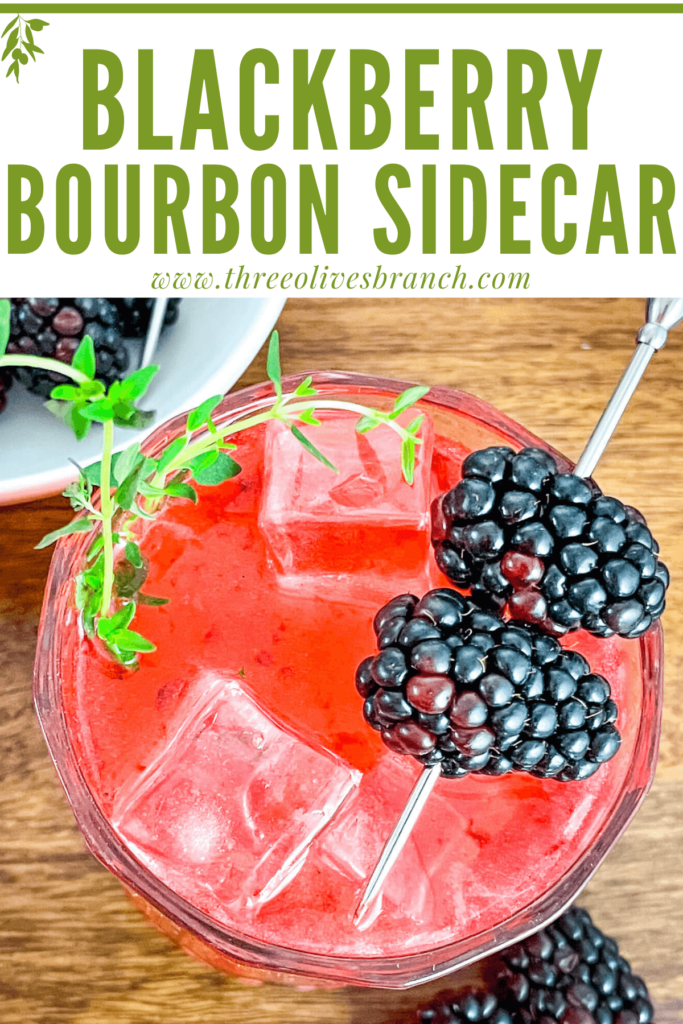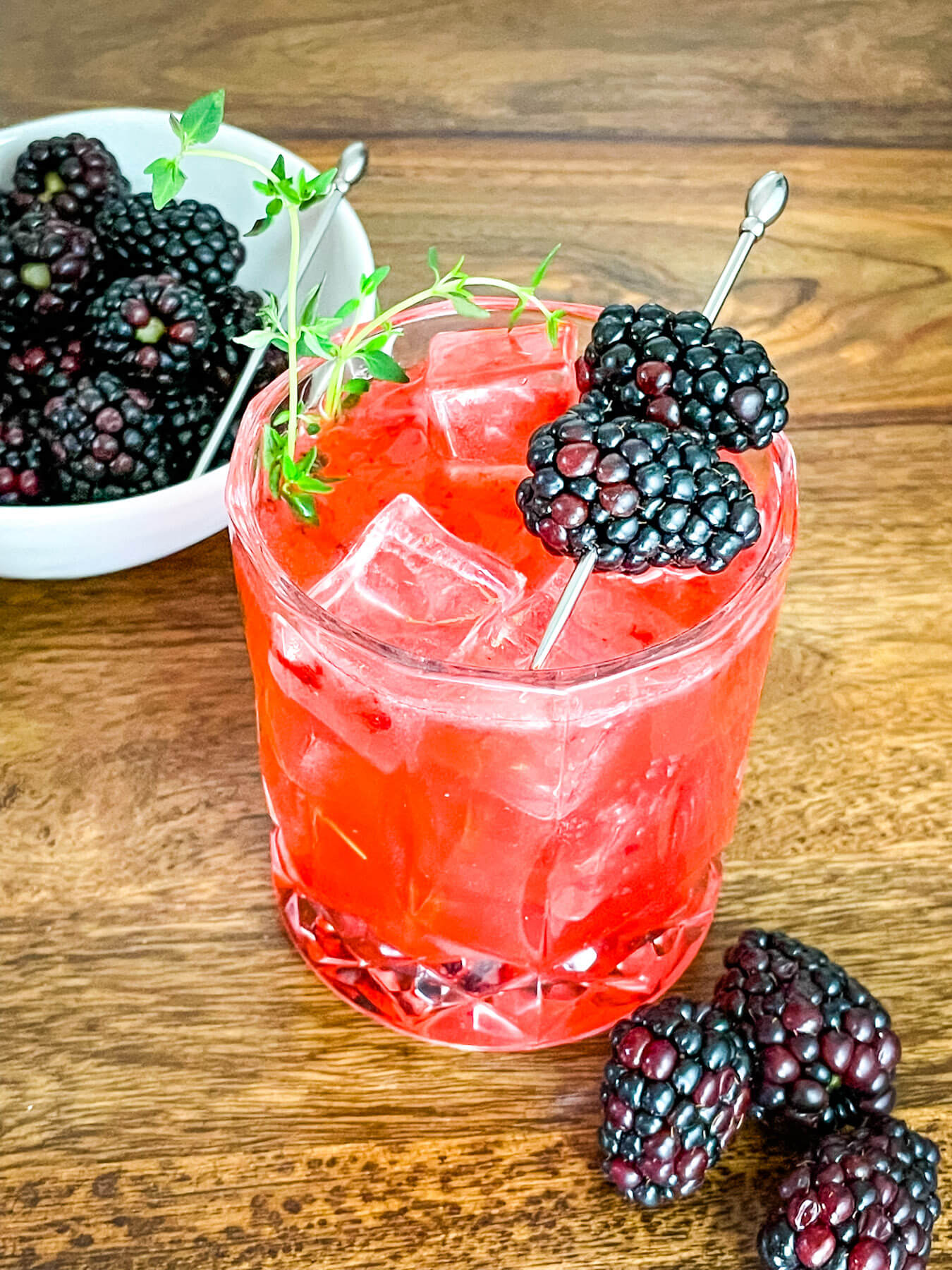 Ingredients
¼

cup

blackberries

about 4-5 large berries, (fresh or frozen), plus more for garnish, optional

1

ounce

bourbon

(or whiskey)

¾

ounce

Cointreau

(or triple sec)

¾

ounce

lemon juice

1

sprig

fresh thyme

plus more for garnish, optional
Instructions
Place the berries and bourbon in a cocktail shaker or tall glass. Muddle and break up the berries.

Add the Cointreau, lemon juice, and one sprig of thyme with a big scoop of ice. Cover and shake 30 seconds until very cold.

Fill the serving glass with ice. Strain the cocktail into the glass.

Garnish with additional berries and/or thyme. Serve.
Video
Notes
Don't have a jigger to measure ounces? Once ounce is two tablespoons.
Nutrition
Serving:

1

drink

|

Calories:

152

kcal

|

Carbohydrates:

12

g

|

Protein:

1

g

|

Fat:

1

g

|

Saturated Fat:

1

g

|

Polyunsaturated Fat:

1

g

|

Monounsaturated Fat:

1

g

|

Sodium:

3

mg

|

Potassium:

93

mg

|

Fiber:

2

g

|

Sugar:

9

g

|

Vitamin A:

126

IU

|

Vitamin C:

17

mg

|

Calcium:

16

mg

|

Iron:

1

mg

By