This easy Blender Parmesan Cheese Hollandaise Sauce is perfect for eggs benedict or vegetable dishes. Keto and gluten free.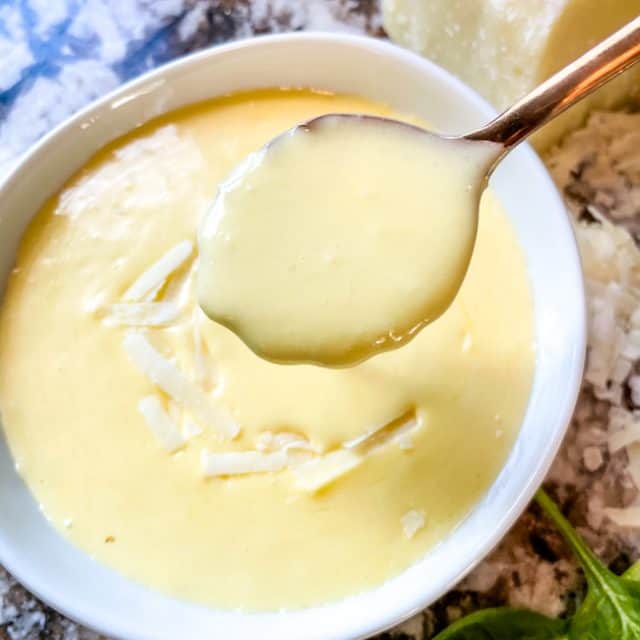 Blender Parmesan Cheese Hollandaise Sauce is a fast and easy way to have homemade hollandaise! Gluten free and low carb keto hollandaise sauce.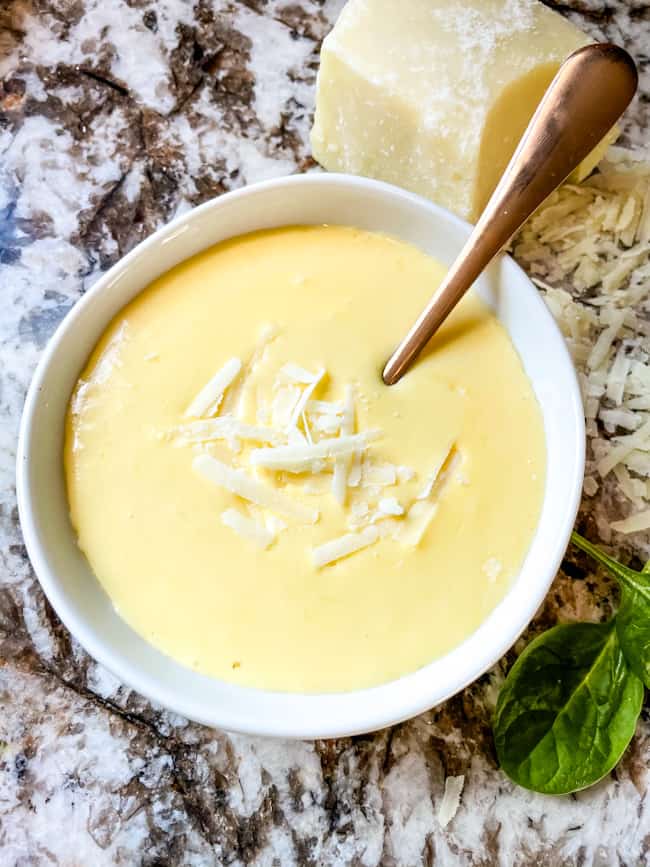 Blender Hollandaise
I have always loved hollandaise sauce but the classic way of making it over a double boiler takes both time and energy. So much whisking!
Ever since I fond a great blender hollandaise, I have been a happy girl.
But it is also dangerous because it is so easy to make! So now I make it somewhat often.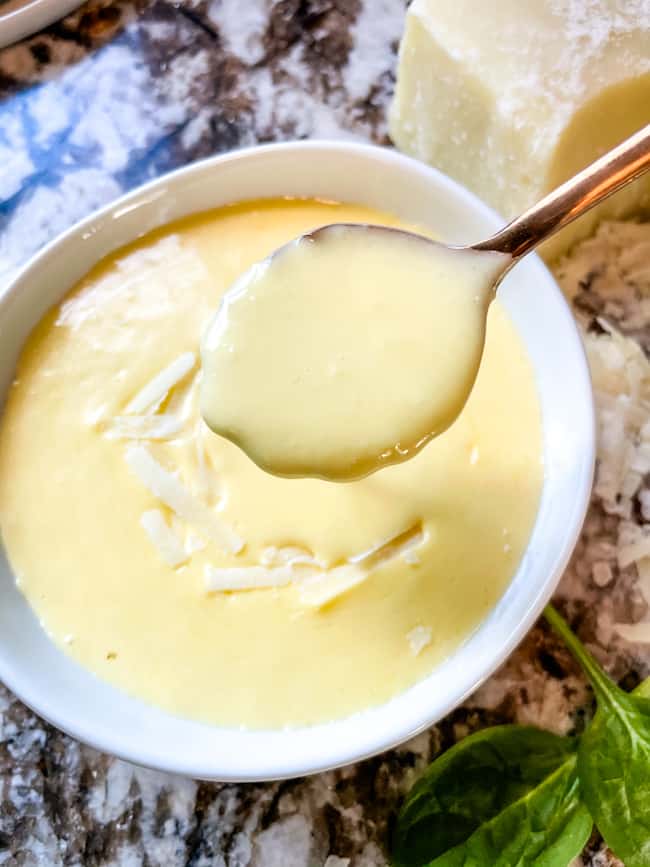 This Blender Parmesan Cheese Hollandaise Sauce is a great way to add a little extra flavor to a keto hollandaise sauce.
The Parmesan brings that sharp, nutty cheese flavor.
I love to use it for Italian inspired eggs benedict recipes like my Eggs Florentine Benedict or Italian Prosciutto Eggs Benedict.
It would also be great on vegetable side dishes like asparagus or broccoli.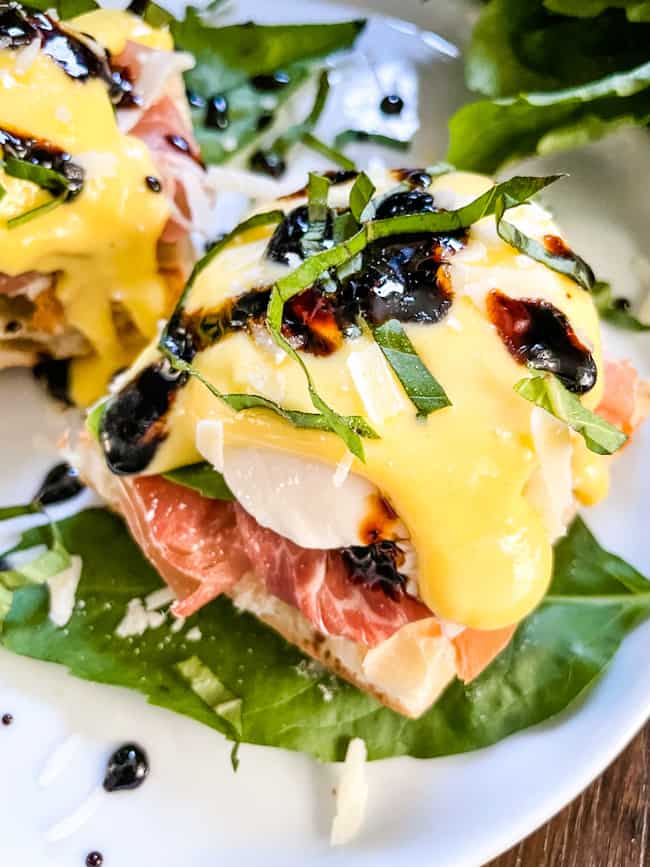 What is Hollandaise Sauce?
Hollandaise sauce is traditionally made with egg yolks, butter, and lemon.
It is considered one of the five French "mother sauces" which are sauces that many others use as a starting point to make new sauces.
How to Make Hollandaise
Hollandaise is typically made in a double boiler, where the egg yolks are beaten with a whisk over steaming water.
The whisking continues until everything is incorporated and the sauce is thicker and larger in volume.
It is traditionally used for eggs benedict but also great on vegetable sides.
How to Make Hollandaise in a Blender
I prefer to make this sauce in a blender because it is much faster and easier, and still tastes great!
Simply blend the egg yolks, lemon, hot sauce, and salt until the yolks are a light and pale yellow.
Add the Parmesan to the melted butter and stir until it is melted.
Then slowly stream in the melted butter and cheese mixture as it continues to blend.
That is it! Just season to taste as desired and you are ready to serve.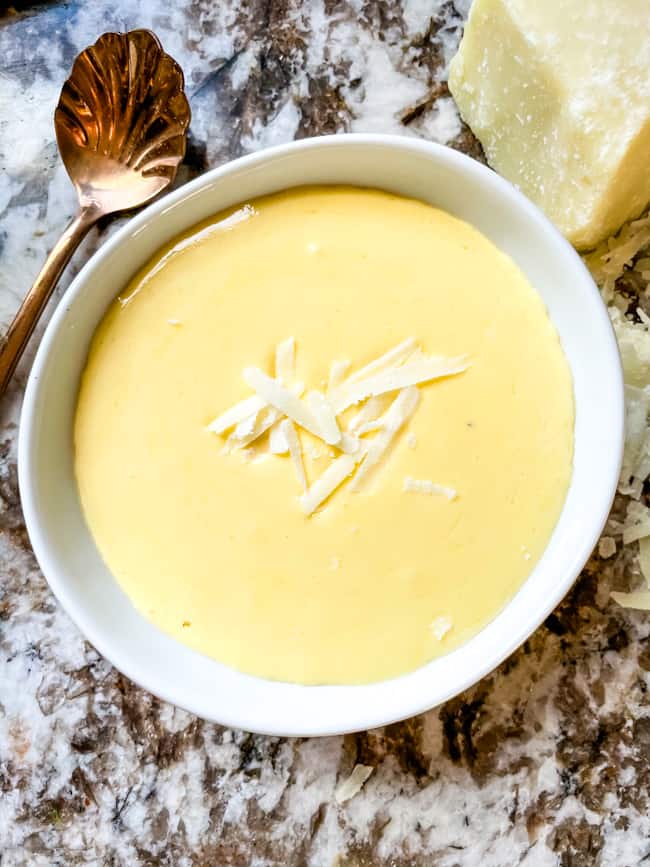 What Cheese is Best to Use?
I recommend using freshly grated Parmesan cheese instead of the canned cheese for this recipe.
The cheese will integrate more easily and bring a truer Parmesan taste to the sauce.
I also found that the smaller the cheese is to start with, the better it will incorporate into the sauce. This means less lumps (even though the lumps are small).
By adding the cheese to the butter before blending, it also gives the cheese a head start at melting into the sauce.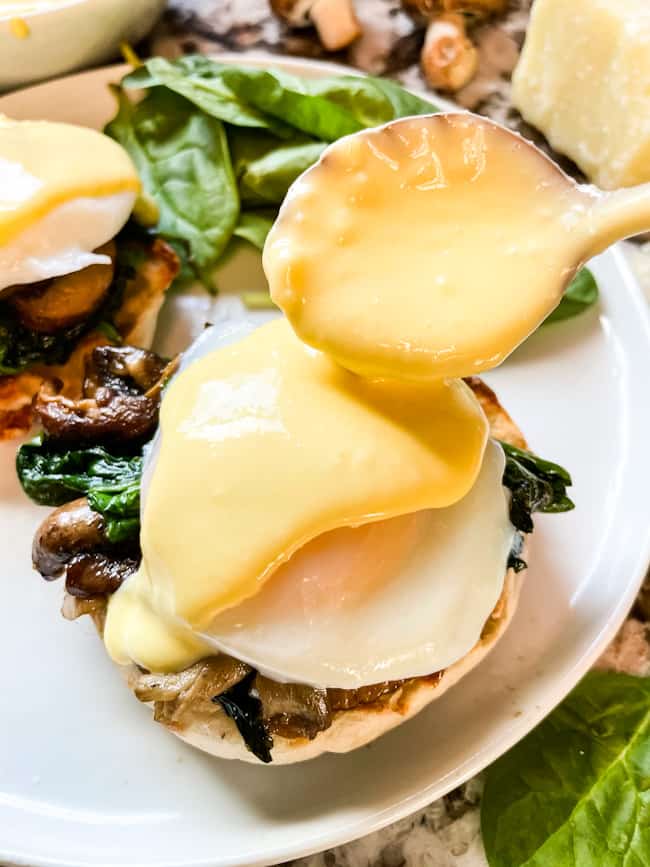 Reheating Hollandaise
Hollandaise cannot be reheated in the microwave, even under gentle heat.
The eggs will curdle and you will end up with scrambled eggs!
Instead, I recommend simply scooping some of the cold hollandaise onto warm food, like a fresh poached or fried egg. The residual heat will loosen the sauce and slightly warm it.
Alternatively, you can pull it out of the refrigerator ahead of time for it to slowly come closer to room temperature.
My fastest trick is I put the hollandaise in a glass bowl on top of a hot, but off, burner. Move the bowl around and stir it every few seconds to prevent any spot from getting too hot.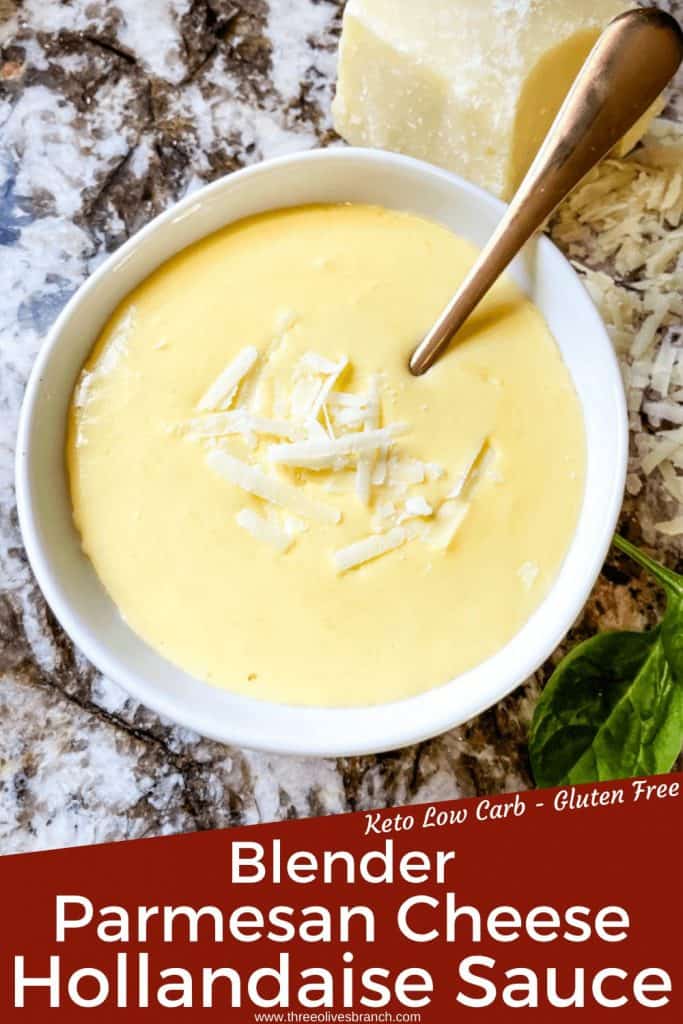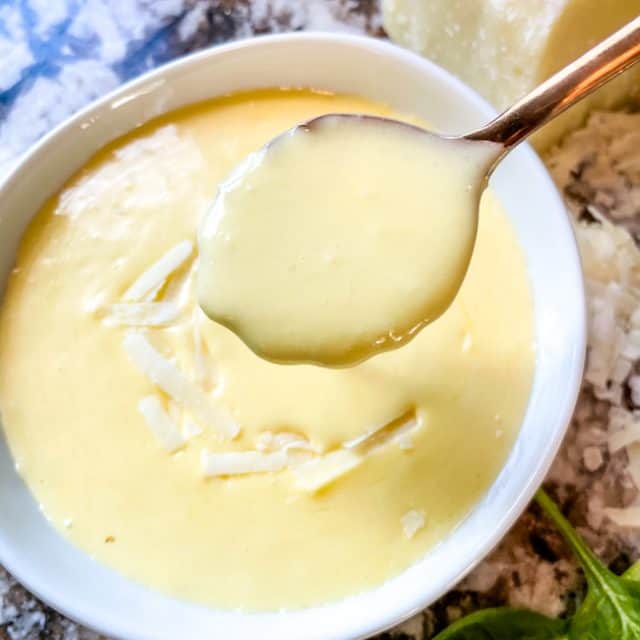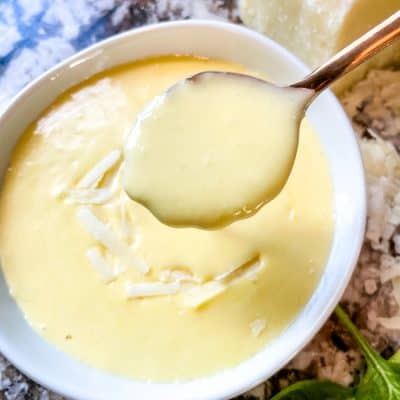 Blender Parmesan Cheese Hollandaise Sauce
This easy Blender Parmesan Cheese Hollandaise Sauce is perfect for eggs benedict or vegetable dishes. Keto and gluten free.
Print
Pin
Rate
Instructions
Put the egg yolks, juice from 1/2 lemon (approximately 1 Tablespoon), a couple dashes of hot sauce, and a pinch of salt in a blender. Blend briefly to combine.

Heat the butter in a large glass in the microwave until melted. Start with 30 seconds and heat an additional 10 seconds as needed. (Be careful, if left too long heating it will explode in the microwave).

Add the Parmesan cheese to the warm butter and stir to combine.

With the blender running on medium speed, slowly feed the butter cheese mixture into the blender feeding tube.

Continue processing until fully combined and volume has increased, approximately 30 seconds.

Season to taste with hot sauce, salt, and lemon as desired.
Notes
Hollandaise cannot be reheated in the microwave because it will scramble. I simply put it on top of warm food and it will quickly soften and return to a sauce state.
It is best to use fresh Parmesan cheese as well as cheese that has been finely grated as it will more quickly integrate into the sauce with less bumps.
Nutrition
Serving:

1

serving

|

Calories:

315

kcal

|

Carbohydrates:

2

g

|

Protein:

8

g

|

Fat:

31

g

|

Saturated Fat:

18

g

|

Cholesterol:

256

mg

|

Sodium:

203

mg

|

Potassium:

53

mg

|

Fiber:

1

g

|

Sugar:

1

g

|

Vitamin A:

1059

IU

|

Vitamin C:

7

mg

|

Calcium:

171

mg

|

Iron:

1

mg

By