Eggs Florentine Benedict is a delicious twist on the breakfast classic! English muffins are topped with spinach, mushrooms, perfectly poached eggs, and a Parmesan cheese hollandaise sauce. A delicious and elegant breakfast for holidays like Mother's Day, Christmas, Easter, and more. #eggsbenedict #florentine #brunchrecipes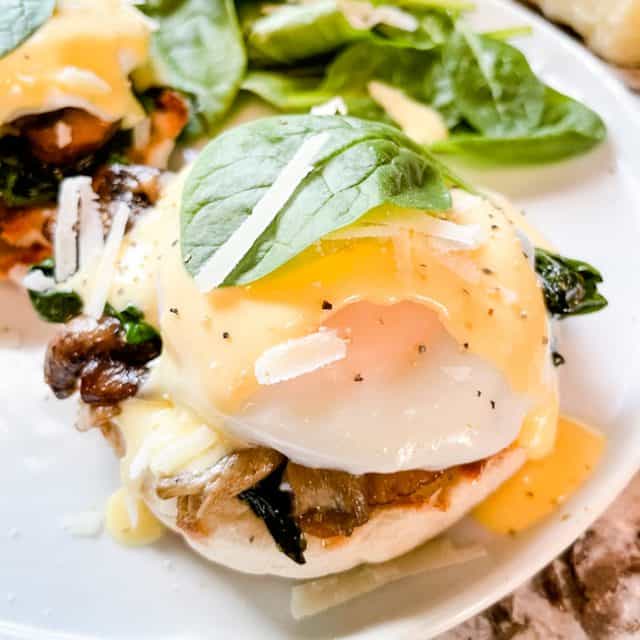 Make a fun and elegant breakfast with this Eggs Florentine Benedict! Toasted English muffins are topped with spinach, mushrooms, perfectly poached eggs, and a Parmesan cheese hollandaise sauce.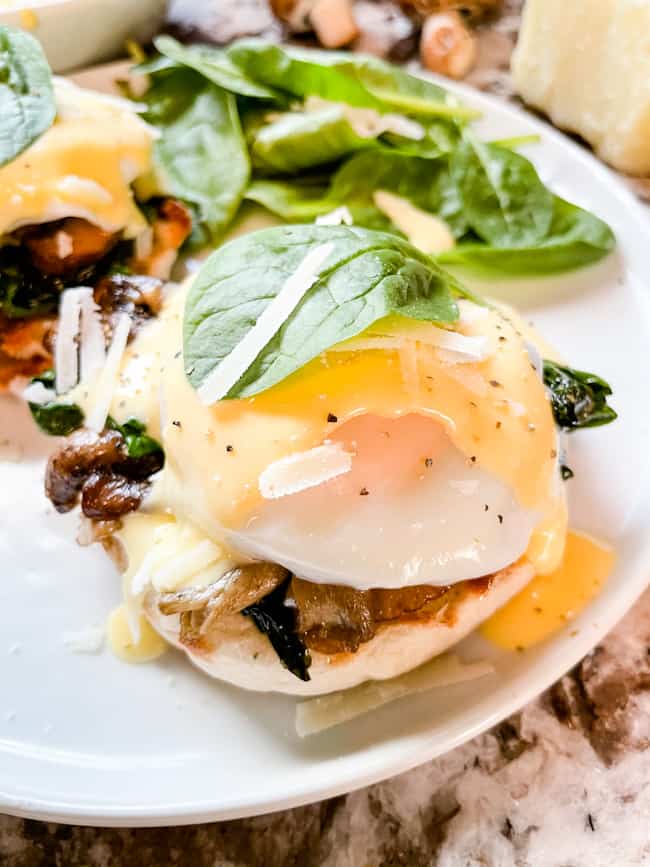 Spinach and Eggs
I just love a good eggs benedict.
They are perfect for a fun holiday breakfast, a brunch gathering, or even as a way to enjoy the weekend.
I have found an easy blender hollandaise sauce that tastes just like the hand-whipped version. Pair that with my tips for cooking poached eggs and you will want to make this amazing Italian eggs benedict regularly!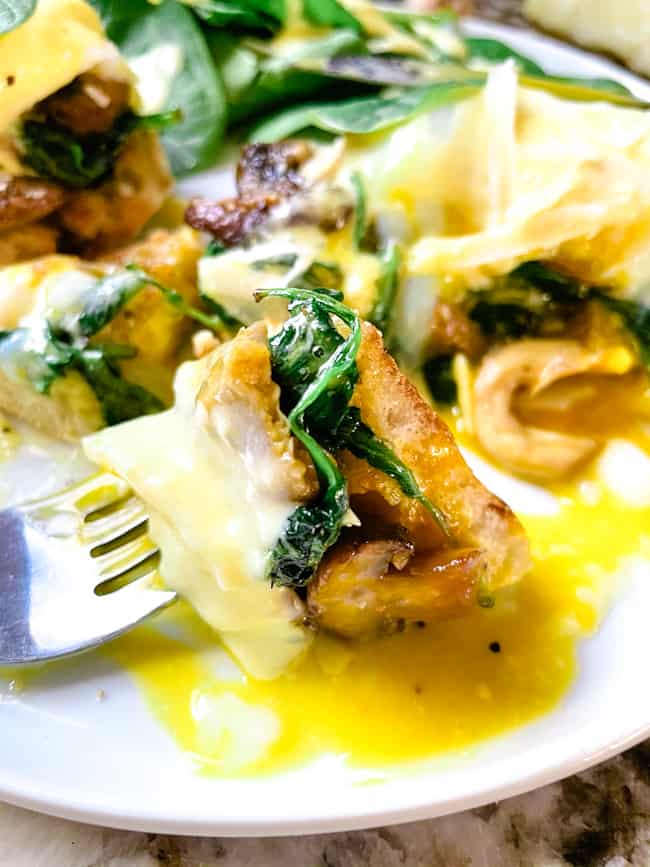 What Makes a Dish Florentine?
This means "of the style of Florence"
Is Eggs Florentine French or Italian?
It originates from France but is rather common in Italian cooking as well.
What Does "Florentine" Mean?
Florentine is something you might see in various French and Italian recipes.
It simply means that the recipe incorporates spinach.
Most often, you will see spinach accompanied by mushrooms. Eggs and chicken are also common flavor pairings.
Why are Eggs Florentine Called That?
There is a strong tie between French and Italian food!
When the Medici family moved to France, they brought a lot of Italian foods with them.
It is believed that while this originated in France, the Eggs Florentine origin was because of Catherine Medici whom was from Florence and introduced Spinach to France.
What is the Difference Between Eggs Benedict and Eggs Florentine?
They both tend to have a light, creamy sauce.
Eggs Florentine will have spinach as explained above.
And in this recipe, we combine them both for a creamy, dreamy breakfast and brunch recipe!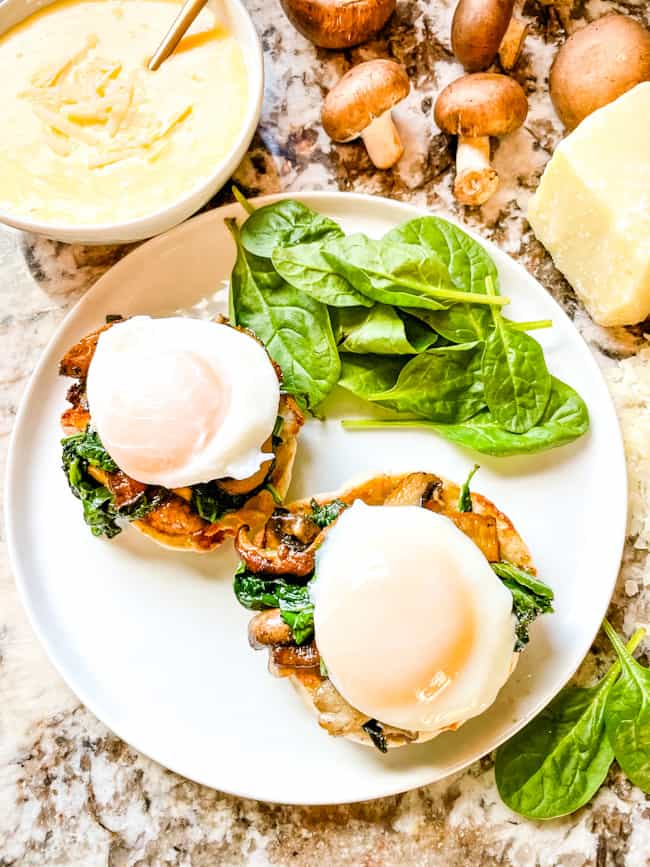 Cooking Poached Eggs
You can find more tips for cooking poached eggs here on the site.
I find the vortex method to be the most effective for cooking the eggs and keeping each egg somewhat compact without a bunch of strands.
Alternatively, do not poach your eggs and cook them however you like them!
I personally love eggs benedict with fried eggs either over medium or over hard instead. It is much faster and easier to cook than watching poached eggs.
Scrambled eggs would also be great! You do you.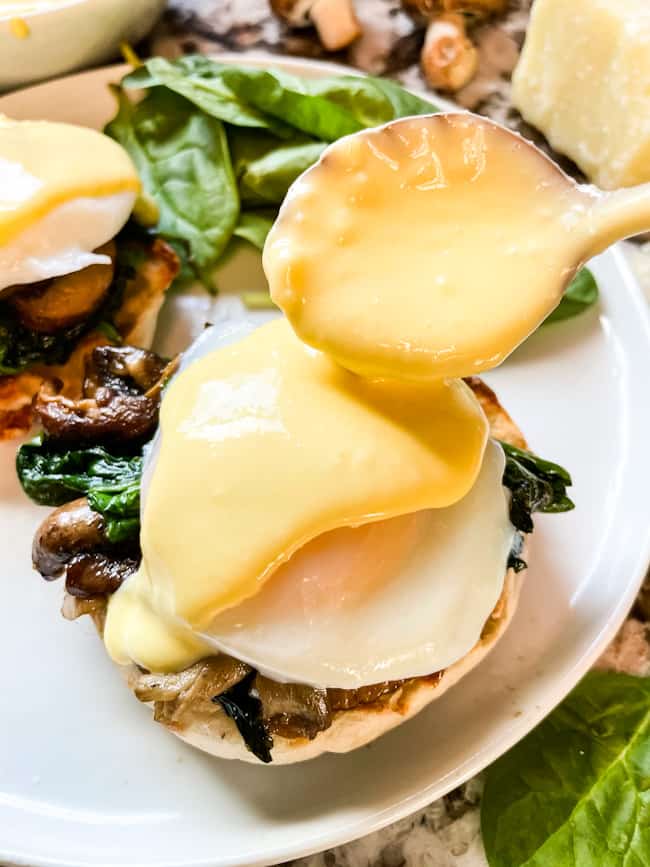 What is in Eggs Florentine Benedict?
Here is what you need for this recipe:
Eggs
Spinach
Mushrooms
Garlic Powder
Vegetable Oil
Salt
Black Pepper
English Muffins
You can use any hollandaise you prefer, but I love this Blender Parmesan Hollandaise for how easy it is plus its hint of cheese that pairs perfectly with this dish!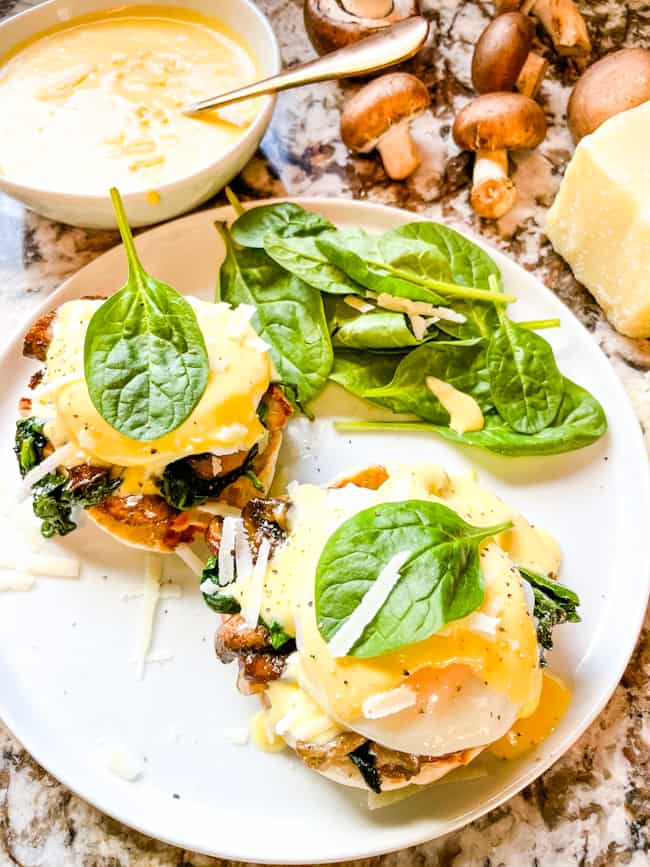 What is Hollandaise Sauce?
Hollandaise sauce is a classic sauce made primarily of butter, eggs, and lemon.
It is one of the mother sauces in French cooking that many other sauces are based on.
Traditionally, the sauce is made by hand whisking the eggs for a LONG time over gentle heat. I made it this way a few times, and it is a lot of work and takes a little while.
For this Eggs Florentine Benedict, I like to use my Blender Parmesan Cheese Hollandaise Sauce.
Make a sauce in a blender instead of hand whisking for eons? Yes, please!
Not only is it ridiculously easy and fast to make, it also brings a little nuttiness and flavor from the Parmesan cheese addition. And I think it tastes just as amazing as the hand-whisk method.
You can use any hollandaise that you like and it will still taste great!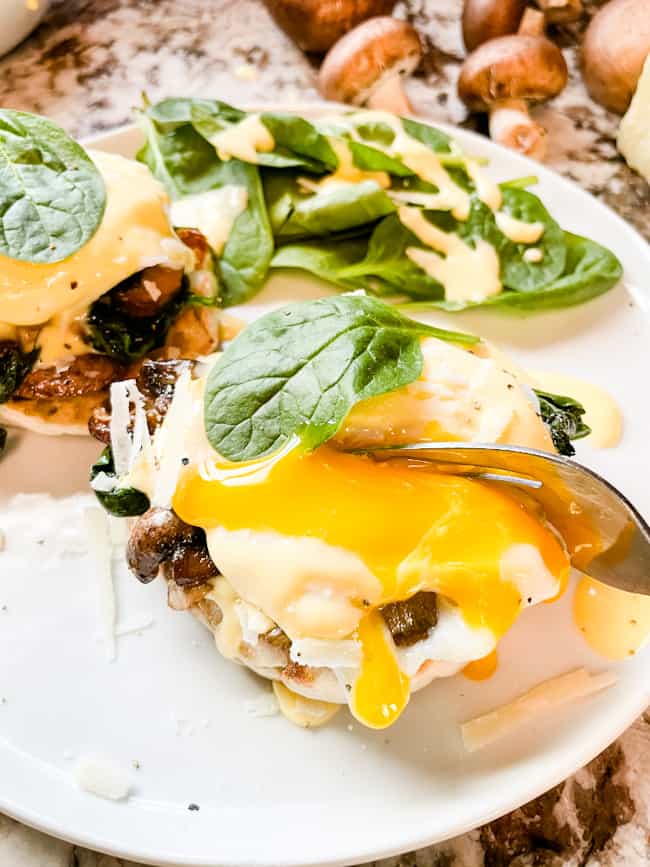 How to Make Eggs Florentine Benedict
To make the eggs, get a pot of water cooking and create a vortex by stirring it quickly and making it spin.
Strain the eggs in a fine mesh strainer to help remove some of the whispy straggler pieces of whites. Not mandatory, but helps give you pretty and smooth eggs.
Add your eggs one at a time, and this spinning motion will hep the whites stick together and not spread out too much.
When cooked to your preference, remove from the water and set aside. I like to put them in small bowls for easy moving later.
Repeat with all the eggs you need.
Meanwhile, make the blender hollandaise sauce if not done already.
Also while cooking the eggs, get a large skillet heated with some oil and first brown the mushrooms. Do not touch them so they can develop! Then add the rest of the vegetables and seasoning, and cook the vegetables until just tender.
Toast your English muffins.
And now you are ready to assemble! Stack some of the spinach Florentine mixture on top of the muffins, followed up an egg and some hollandaise. Serve immediately.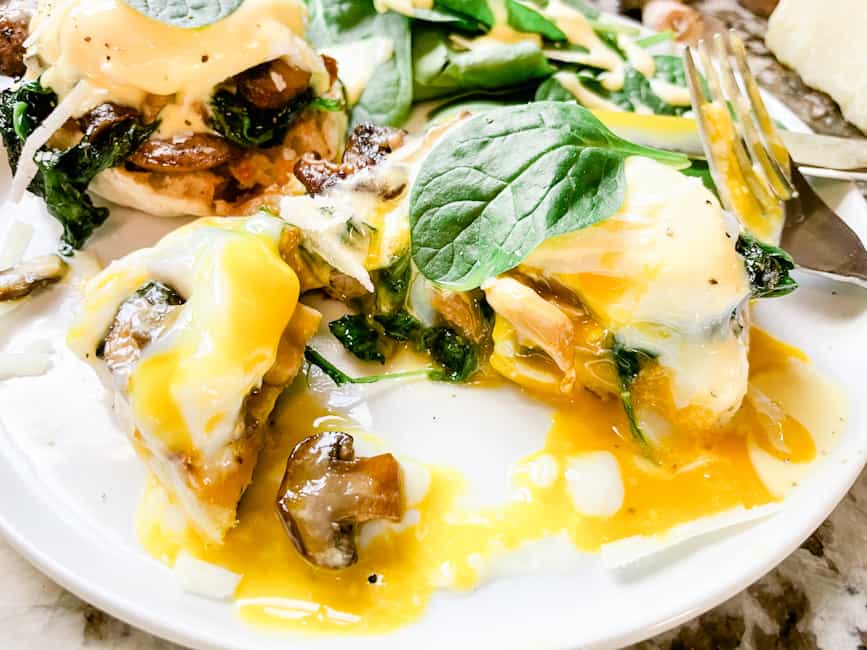 Can I Reheat Eggs Benedict?
Technically, yes, you can reheat this. But you will want to do it carefully.
The hollandaise sauce will turn into scrambled eggs if heated. Instead, I put the cold leftover sauce directly on whatever is warm, such as a freshly cooked egg.
The heat from the food will loosen the sauce without scrambling it.
Reheated eggs are not very pleasant as they become overcooked and rubbery in the microwave. I recommend cooking a fresh egg.
You could reheat a poached egg by very gently putting it back into warm water just for a couple minutes, which is a good compromise. But fresh is best.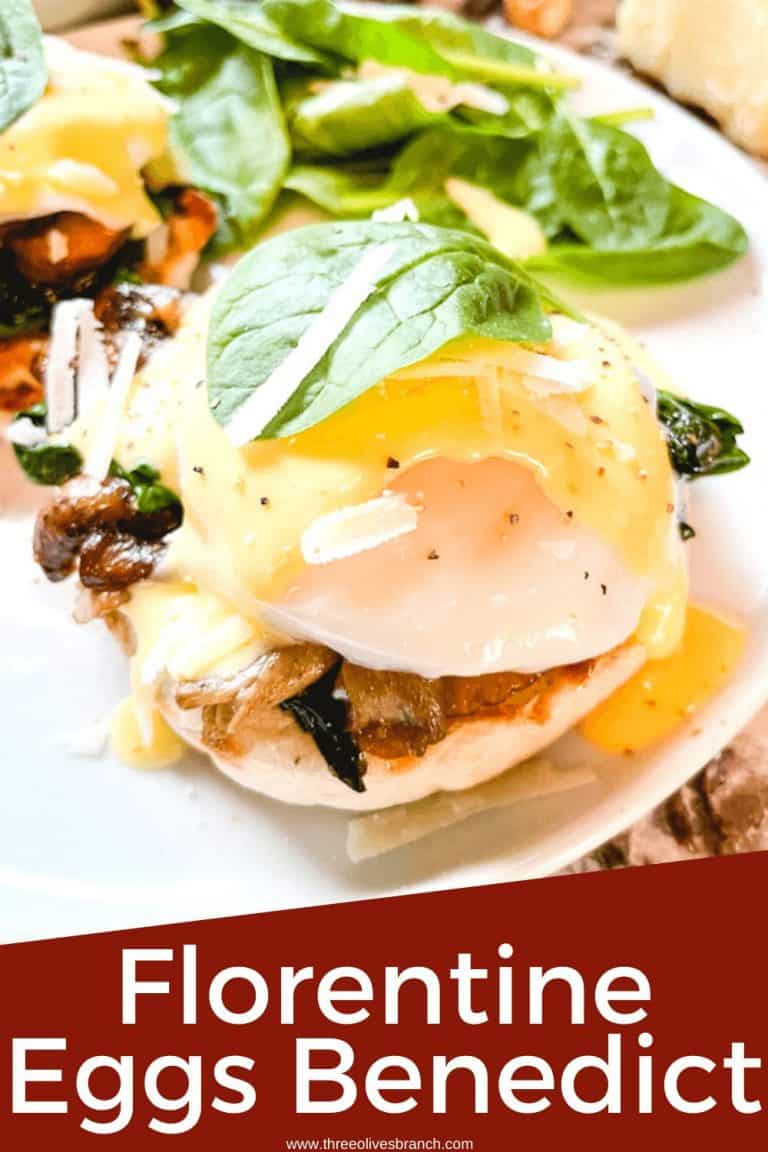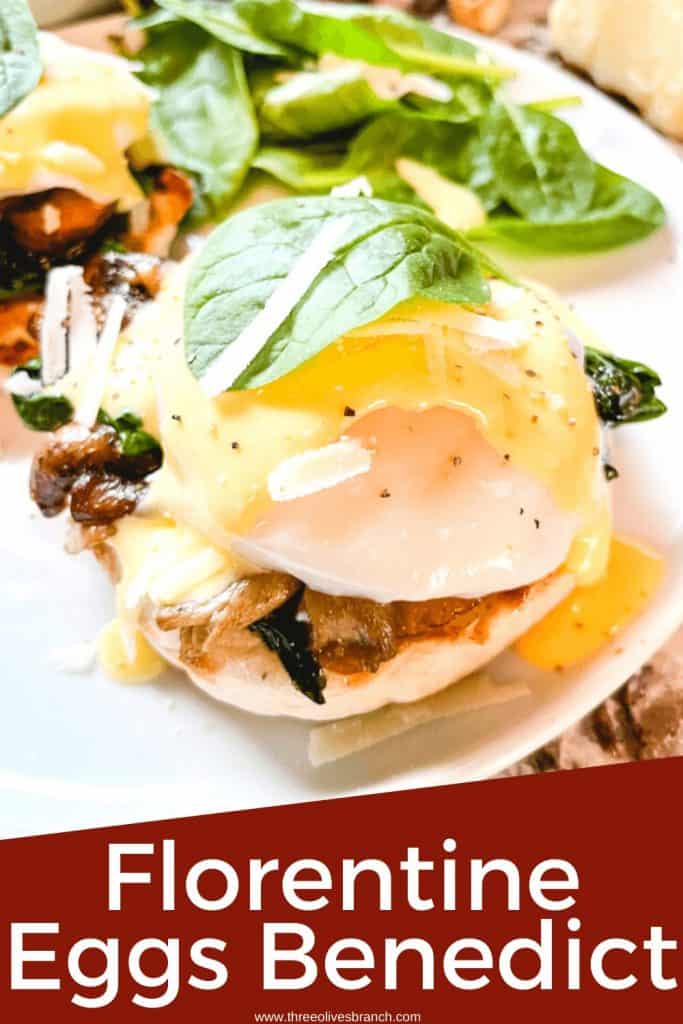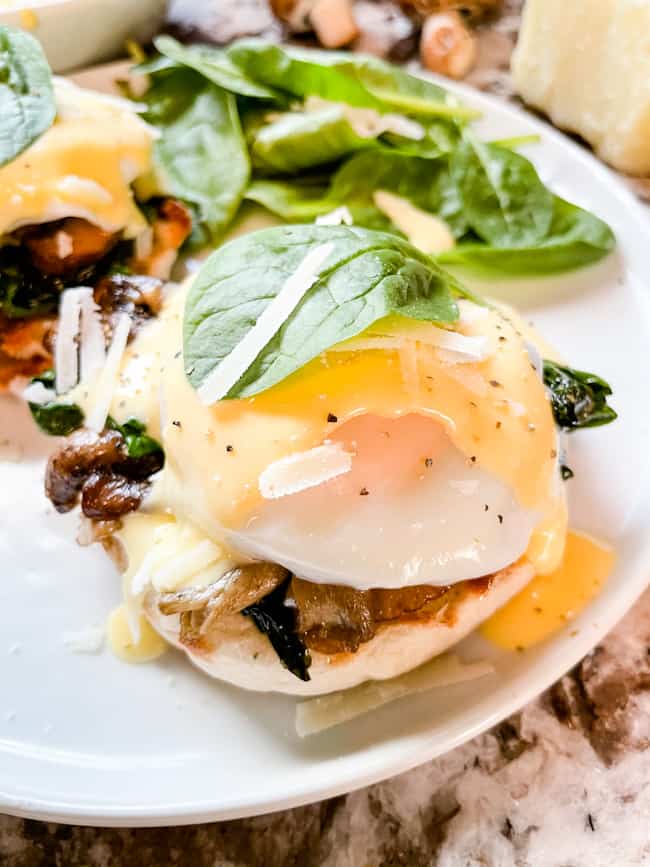 Instructions
Heat a large pot of water over medium heat.

Create a vortex with a spoon in the pot and lower an egg into the water.

Cook until your desired doneness, approximately 3 minutes for a runny yolk but cooked egg white. (Test by gently poking the egg with your finger when lifted out of the water – if the white is somewhat firm, it is cooked).

Remove the egg from the water with a slotted spoon to drain and place in a small bowl or on a plate. Repeat with eggs as necessary.

Meanwhile, heat a large skillet over medium heat.

Add 2 Tablespoons of oil to the skillet. When hot, add the mushrooms. Do NOT touch the mushrooms and let them cook until they are starting to release their juices, approximately 3 minutes (not touching them helps them brown).

Add the garlic powder, 1/4 teaspoon salt, 1/4 teaspoon black pepper, and spinach to the mushrooms. Stir. Cook until the spinach is wilted, approximately 2-3 minutes. Remove from heat.

Cut and toast your English muffins to your desired doneness.

Place the toasted muffins on the plates.

Scoop the mushroom and spinach mixture onto the muffin pieces.

Place a poached egg onto each stack. Gently slide the egg onto the stack from the bowl or plate that you stored them on.

Top each stack with 2 Tablespoons of your hollandaise sauce.

Garnish with spinach leaves or Parmesan if desired. Serve immediately.
Notes
Get more cooking poached eggs tips for perfect eggs. I also like to just fry up eggs instead of poaching for a faster meal.
Our blender Parmesan cheese hollandaise sauce is perfect for this recipe, or use any of your favorite hollandaise sauces.
It looks like a lot of spinach, but spinach loses a LOT of its volume when it is cooked!
Nutrition
Serving:

1

stack

|

Calories:

328

kcal

|

Carbohydrates:

19

g

|

Protein:

12

g

|

Fat:

24

g

|

Saturated Fat:

10

g

|

Cholesterol:

190

mg

|

Sodium:

591

mg

|

Potassium:

412

mg

|

Fiber:

2

g

|

Sugar:

1

g

|

Vitamin A:

2380

IU

|

Vitamin C:

8

mg

|

Calcium:

65

mg

|

Iron:

2

mg

By