Bourbon Apricot Pork Chops are a perfect weeknight dinner idea! Gluten free and dairy free pork recipe made in 30 minutes in one pot with a simple fruit sauce.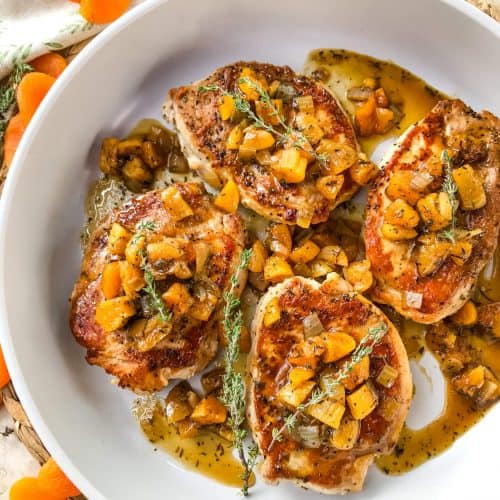 Get these Bourbon Apricot Pork Chops on the table in just 30 minutes! Pork chops are seared in a skillet and topped with a bourbon and apricot pan sauce for a fast and easy dinner.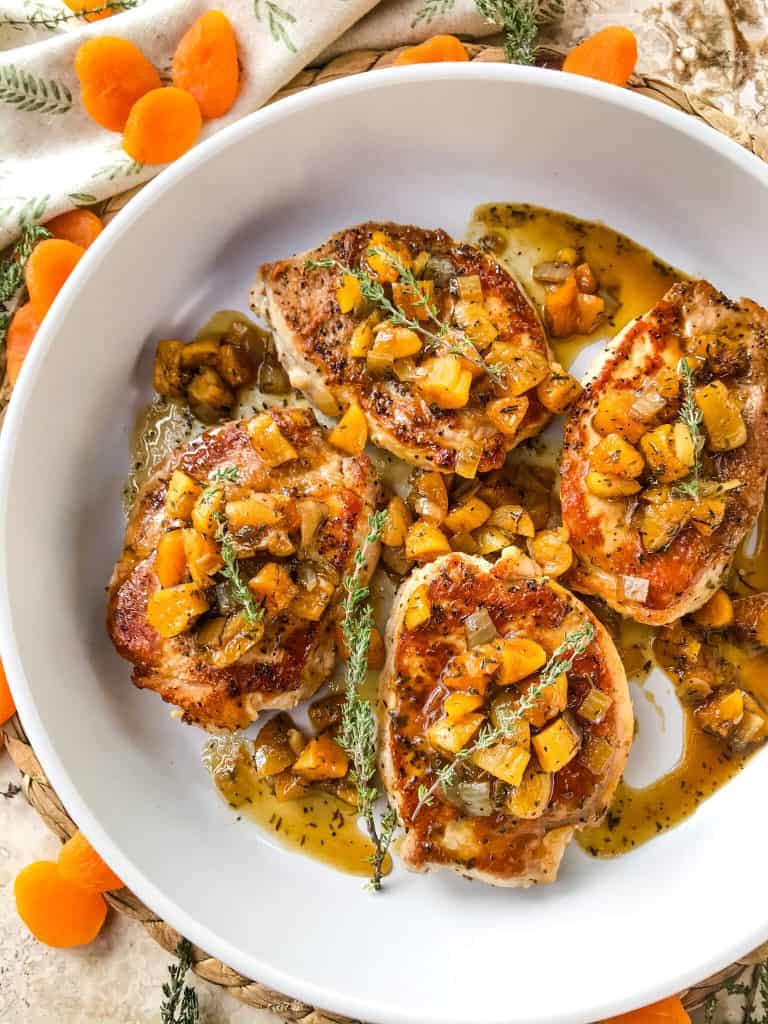 Why You Will Love This Recipe
I love a good, fast dinner option during the week, but still want it to taste good. So anything fast and delicious is perfect.
These Apricot Bourbon Pork Chops are incredibly easy and fast to make, perfect for a weeknight dinner recipe. 
The natural sweetness of apricots lends a tangy touch to the recipe, perfectly balancing the richness of the bourbon and the savory pork.
The tender and juicy pork chops provide the perfect canvas for this combination of flavors.
Apricots in any form remind me of my grandparents. They always had a bowl of fresh apricots in their kitchen, and dried apricots to snack on. So whenever I walk past some fresh apricots in the store, the smell instantly takes me back to their house.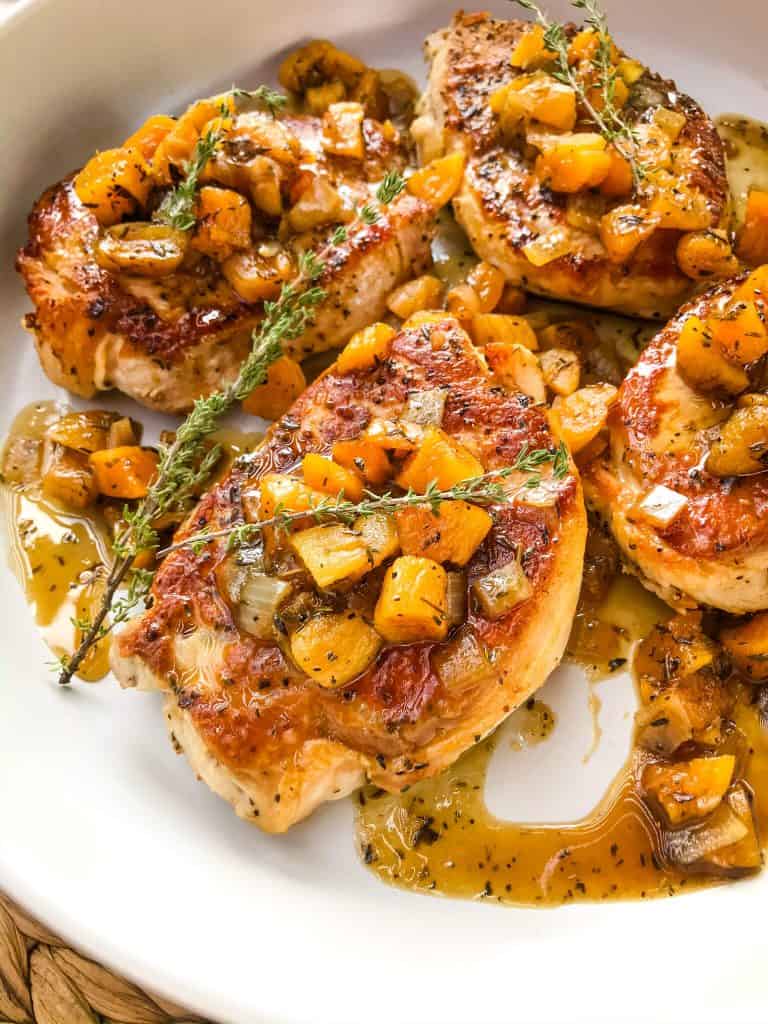 Ingredients
These are the ingredients you need for this 30 minute pork chop recipe:
Pork Chops – You can use boneless or bone-in. Bone in gives you move flavor and will also take a minute or two longer to cook.
Dried Apricots
Bourbon – Whiskey would also work great!
Yellow Onion – or white onion
Chicken Stock
Thyme – Dried or Fresh is fine
Apple Cider Vinegar – white vinegar would also be fine
Oil
Salt
Black Pepper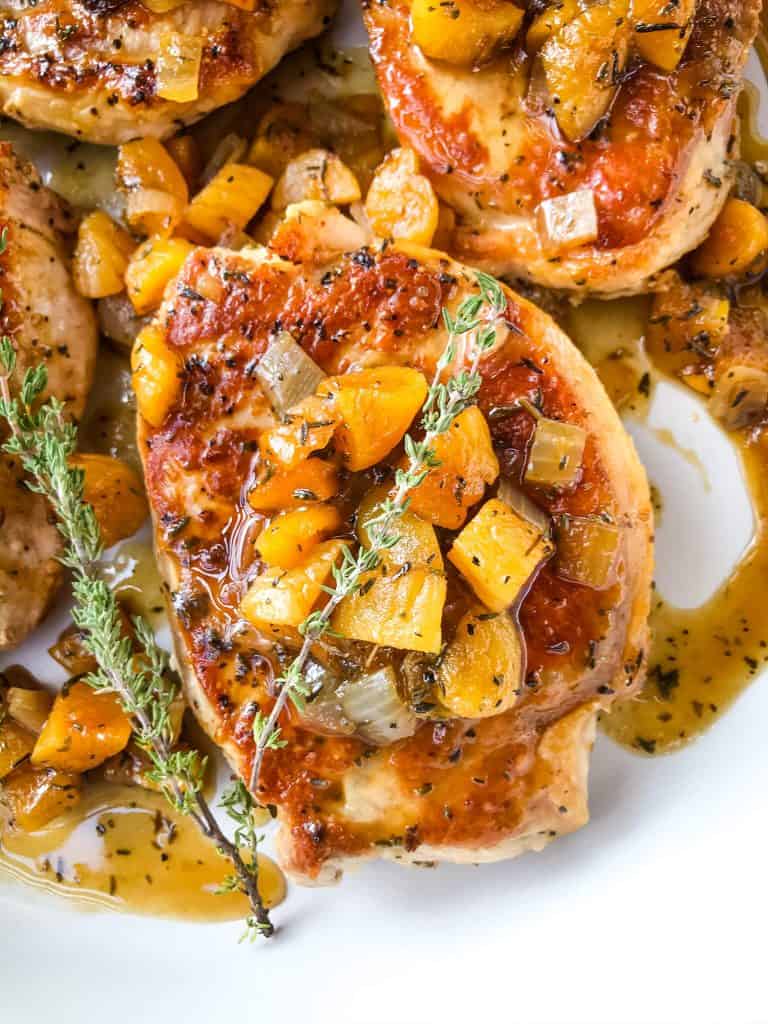 Instruction Overview
To make easy pork chops, first sear the pork chops in a large skillet on both sides. 
Remove and set aside, covered, to rest. 
Make the pan sauce by heating a little oil in the same skillet and sauteing some diced onion. 
Add the bourbon and dried apricots, then the thyme and chicken stock. 
Cook the sauce until it reduces slightly. 
Add the vinegar and season to taste as desired. 
Serve the pork chops either in the sauce, or with the sauce on the side. 
That is it!  A delicious, quick weeknight meal.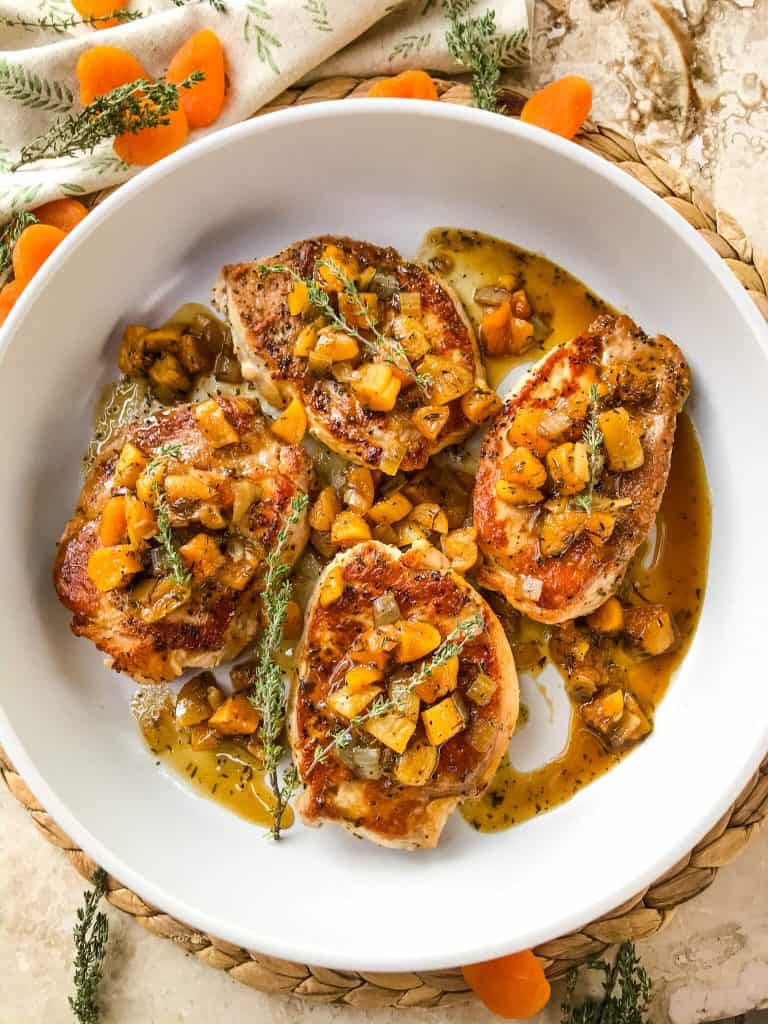 Kim's Tips
Serve up these pork chops with a rice pilaf (my favorite!) or mashed potatoes and a vegetable. The pan sauce also works great as a sauce or gravy for the starch and vegetable, so double up those ingredients if you want extra sauce!
Looking for more quick and easy meal ideas? Find more pork chop recipes here!
FAQs
What is the secret to making tender pork chops?
You want to sear the pork to get great color, but not overcook them. They will get tough when overcooked.
Is it better to bake or pan fry pork chops?
Cooking pork chops on a stove, as a pan fry method, will make it easier to control the temperature and doneness of the pork so that it does not overcook.
Should you oil pork chops before seasoning?
There is no need. The salt and pepper will stick to the pork without oil. And then you can cook the pork chops in oil to sear.
Should I use boneless or bone-in pork chops?
Either one will work fine. Bone-in pork chops lend some additional flavor and take 1-2 minutes longer to cook.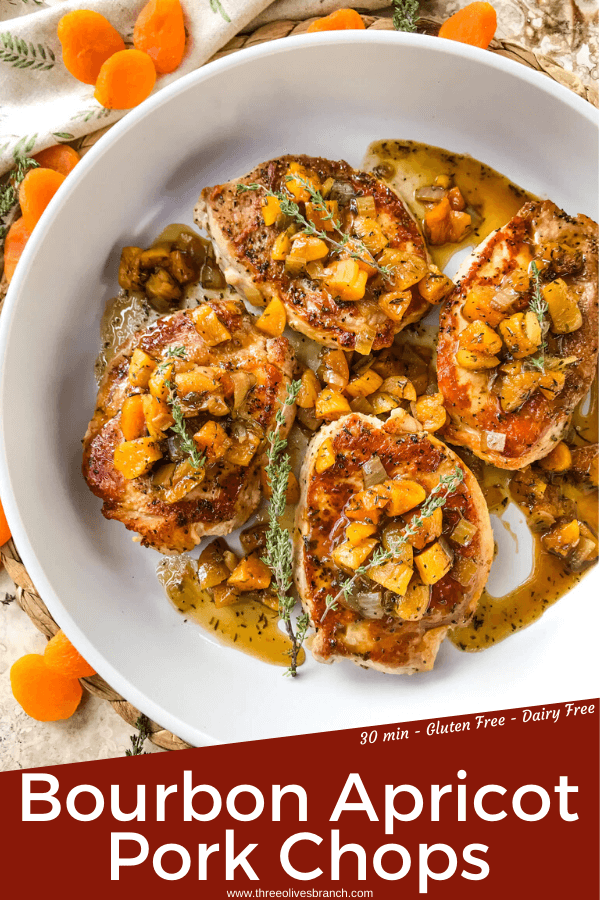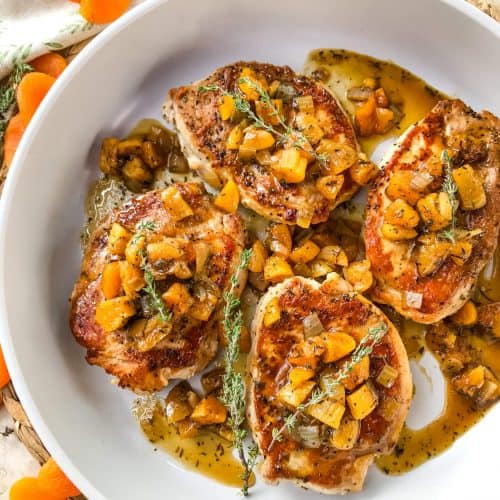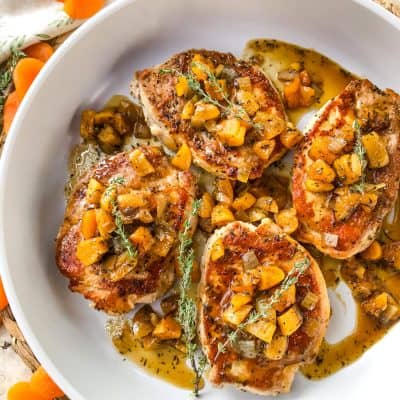 Bourbon Apricot Pork Chops
Bourbon Apricot Pork Chops are a perfect weeknight dinner idea! Gluten free and dairy free pork recipe made in 30 minutes in one pot with a simple fruit sauce.
Print
Pin
Rate
Instructions
In a large, deep skillet, heat the 1 Tablespoon of oil over medium high heat.

2 Tablespoons vegetable oil

Sprinkle both sides of the pork chops with salt and black pepper.

4 pork chops,

salt,

black pepper

When the oil is hot, add the pork chops. Sear until browned, approximately 3 minutes.

Reduce heat to medium. Flip the pork chops and continue cooking until cooked all the way through, reaching the temperature of at least 145F in the middle.

Remove the pork chops. Set aside and cover.

In the same skillet, add the remaining 1 Tablespoon of oil.

2 Tablespoons vegetable oil

When the oil is hot, add the onion and cook until just softened, approximately 2 minutes.

Add the chopped apricots and bourbon. Stir to scrape up any browned bits in the pan.

1/2 cup dried apricots,

1/2 cup bourbon

Add stock and thyme, and simmer sauce over medium low until it starts to thicken, approximately 7 minutes.

1 cup chicken stock,

1 teaspoon dried thyme

Add the vinegar and stir. Season as desired with additional salt and black pepper. If too thick, add additional water or stock.

salt,

2 Tablespoons apple cider vinegar,

black pepper

Add the pork chops and any juices back to the skillet (or serve sauce separately). Serve immediately.
Notes
You can use bone in or boneless pork chops.  I prefer bone in as it lends extra flavor.
I like to serve these with mashed potatoes and vegetables, using the sauce as a gravy. These are also great with rice!
Nutrition
Serving:
1
serving
|
Calories:
406
kcal
|
Carbohydrates:
14
g
|
Protein:
31
g
|
Fat:
17
g
|
Saturated Fat:
9
g
|
Cholesterol:
92
mg
|
Sodium:
153
mg
|
Potassium:
771
mg
|
Fiber:
2
g
|
Sugar:
10
g
|
Vitamin A:
586
IU
|
Vitamin C:
1
mg
|
Calcium:
26
mg
|
Iron:
2
mg
More Pork Chop Recipes
Pork Chop Recipes
Delicious pork chop recipes for delicious, quick dinners.

By